An Industrial Warehouse Conversion in London
In Hackney in East London stands this Victorian warehouse. The industrial warehouse has recently been converted into a contemporary home by Giles & Pike Architects.
The warehouse was completely dilapilated when architect Matthew Giles started to redesign it into a modern home for a young professional.
The Victorian building had already been extended in 2008. To connect the new structure with the old a diagonal concrete wall was installed. The building also got new windows (including many skylights) to flood the new home with natural light.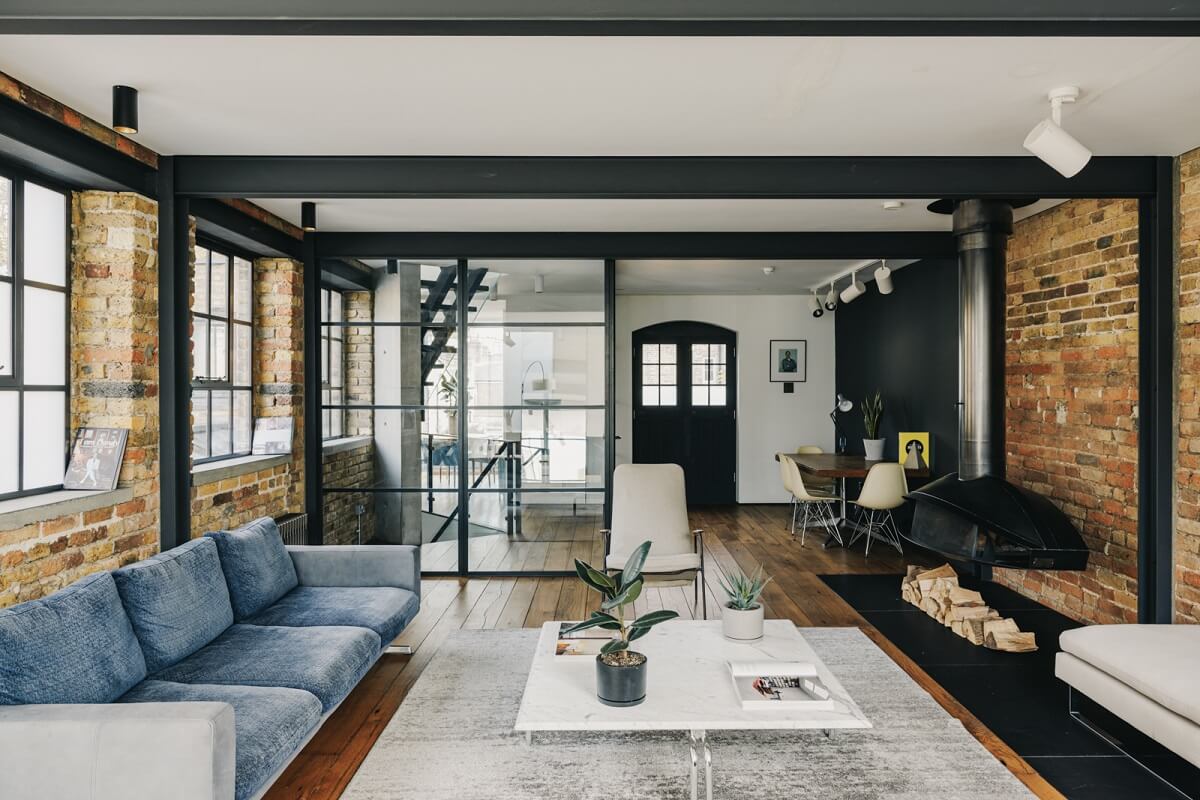 There aren't many internal walls in this contemporary home. On the first floor (pictured above) lies an open-plan sitting room with dining area and home office. Industrial glass walls seperate this room from the hallway with staircase making it feel airy and light.
Industrial and raw elements are seamlessly combined with modern architecture and furnishings.
The home office in the main living room with midcentury desk and large windows.
Blue is the only accent color in this home. You see it here as accent wall by the dining table. But also the kitchen and home office have blue accents.
On the first and second floor you will find these reclaimed oak wooden floors.
The ground floor has been lowered to garden level to create a seamless indoor/outdoor connection. Concrete floors and exposed brick walls create an industrial look.
The home office on the ground floor has three skylights making it flood with natural light. Plants and a blue accent wall add color to the space.
There is only one bedroom (though the ground floor home office can also be turned into a bedroom). The master bedroom has large windows and reclaimed oak floorboards.
A sliding door leads to the modern bathroom with freestanding bath and black-tiled shower.
Take a look at these warehouse conversions:
This modern industrial warehouse conversion is currently for sale at The Modern House.