Loft Style Spaces in a Renovated Salvation Army Hall
An outstanding renovated Salvation Army Hall stands in the heart of a charming English town in Devon. The hall was designed in 1930 by the Salvation Army architect Sir Oswald Archer.
The hall holds historical significance as it was associated with the renowned social reformer William Booth. Booth is widely known for founding the Salvation Army in 1878, an organization dedicated to aiding the destitute and vulnerable in Victorian East London. The Salvation Army rapidly expanded nationwide and became an international network.
The historic building has recently been renovated into a magnificent home with large loft-style living spaces and a wonderful roof terrace overlooking the Devon countryside.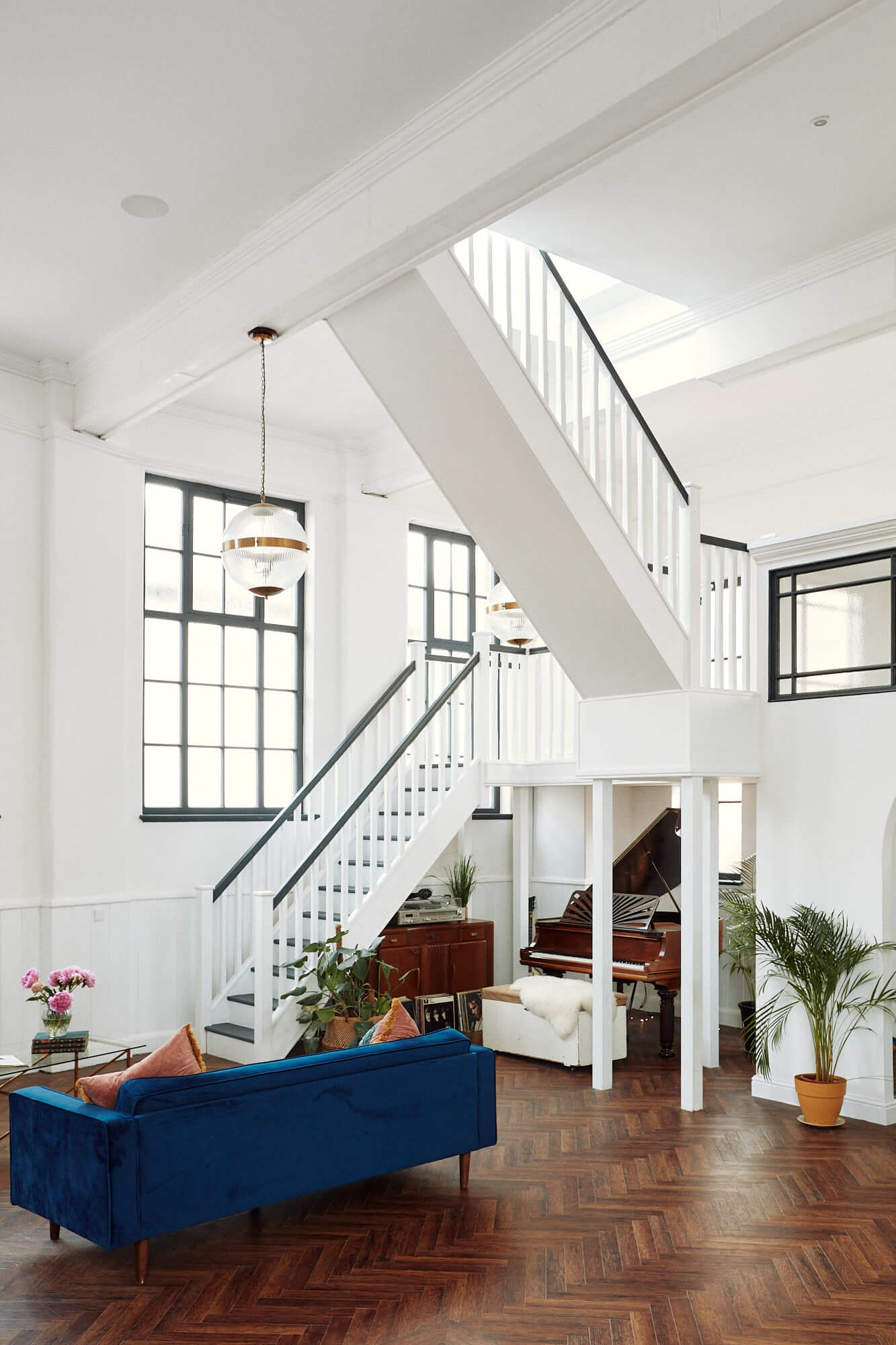 The loft-style living space is dramatic and stylish. The parquet floorboards in a herringbone pattern add warmth to the grand space. The crittall-style windows have original fluted glass and they are painted in dark hues.
An original wooden bench is now part of the dining area with a large wooden table with blue painted legs.
The bespoke kitchen is designed in moody dark blue tones, accented with eye-catching brass hardware and topped with fresh white quartz surfaces
From the stairs in the living room you enter the main bedroom.
The master bedroom is light thanks to its high ceiling and large window. Opposite the bed are built-in wardrobes.
The master bedroom has an en suite bathroom with double wash basins and a walk-in shower.
The Jack-and-Jill basins have been cleverly crafted from a marble-topped, antique mahogany washstand. 
The house ahs two more bedrooms on the first floor.
The house has two more bathrooms, one has a large slipper bath.
The other bathroom has a walk-in shower with Venetian plaster walls.
Open stairs at the front of the plan ascend to the unique geodesic dome crowning the roof of the building.
The house has a large roof terrace with panoramic views of the Devon countryside. Timber decking runs underfoot, while raised beds gracefully line almost the entire outline of the terrace. 
The red brick building has a beautiful arched entry. The large timber doors are painted in soft 'Hague Blue' by Farrow and Ball.
This former Salvation Army Hall is now for sale at Inigo