A Modern Split-Level Home with Colorful Rooms
On a quiet mews in the London area Brockley stands a stunning modern split-level home where you won't find a white wall or ceiling. The self build property is a three-bedroom house with a large workspace attached to it.
What I most love about this house is the split-level design. It adds such an interesting architectural design feature to a home and depending on where you are in the house, the look and views differ. The high ceilings have different angles which also gives a unique architectural feature to the house.
This modern split-level house in London features colorful rooms, sleek black elements, and plenty of skylights to provide every room with natural light. This house is fun, colorful, and an architectural masterpiece.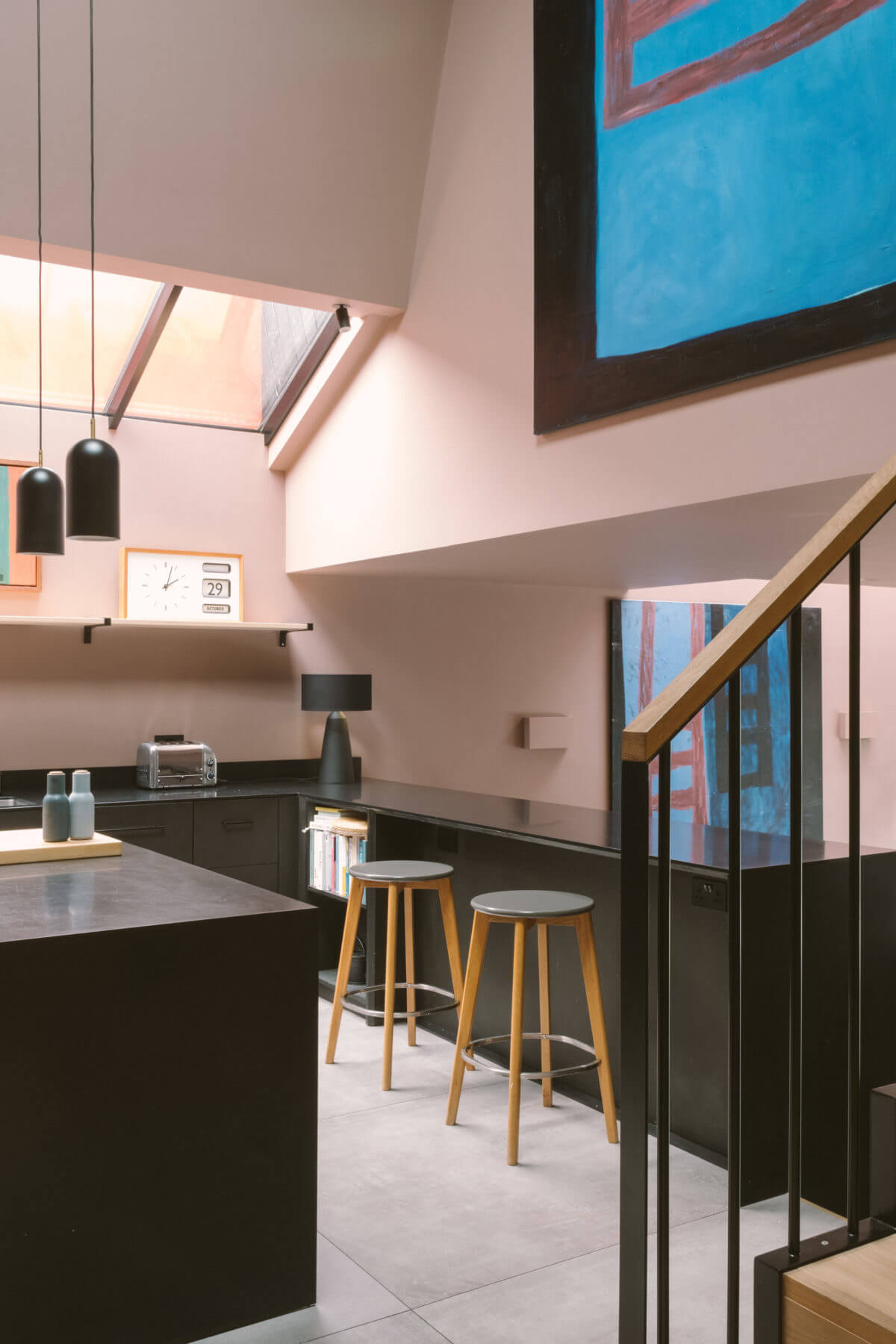 The grond floor is home to a kitchen and living room. Skylights runs the length of the house which lets in natural light on different angles.
On the ground floor, black elements like the kitchen and built-in cabinets are combined with soft pink walls. The modern black kitchen features a bar, that is a bookcase/television cabinet on the living room side.
The home features a beautiful combination of colors and materials. Pink walls are combined with a raw brick wall and stone floors.
The sunken living room features a custom made bookcase and storage element that also hides the television.
The living room is a beautiful light room with glass sliding doors that open up to the garden and skylights above the sofa.
The garden is landscaped with indigenous New Zealand plants.
The raw brick wall has an industrial ribbed glass window where you can see a little bit of the large workspace that is attached to the house.
On the first floor, there is a second sitting room that connects all three bedrooms on this floor. All rooms are on slightly different levels which adds a playfulness to the floor.
Every room of the house is decorated with bold, colorful abstract artwork.
The small kids bedroom is completely painted in a soft blue shade. One wall is used for a custom-made wardrobe, seating, and bookshelves element.
The bathroom next to the kids bedroom is painted in a mint green shade and also has mint green floor tiles.
The master bedroom has skylights and blue/gray walls and an ensuite bathroom.
The master bathroom has blue walls, a bath, vanity, and floor tiles.
This split level home in London is available for hire at Shootfactory.