A Serene Renovated Victorian House in London
If you've been following The Nordroom for a while then you know how much I love Victorian houses. Whether they still show original features or if the house has been completely renovated, as long as the restoration is done well I'm a huge fan of these houses.
Today, we can tour an extensively remodeled Victorian house designed by Studio KP. The 2,000 square feet London family home has an open playout where the living room, hallway, and kitchen space flows together seemlessly.
Studio KP decorated the entire in a soft color palette, which creates beautiful serene spaces. Much care and attention have gone into the furnishings, decor, and material choices of this home and you can definitely see that in the end result. It's a beauty.
Take a look at the Studio KP instagram page for more images of their work.
At the front of the house is a serene sitting room with bay window and a woodburner. The woodburning stove has a limestone surround.
The woodplank accent wall adds a natural tone to the sitting room.
A custom-made bookcase sits in one corner which is now a perfect reading spot with the curved chaise longue.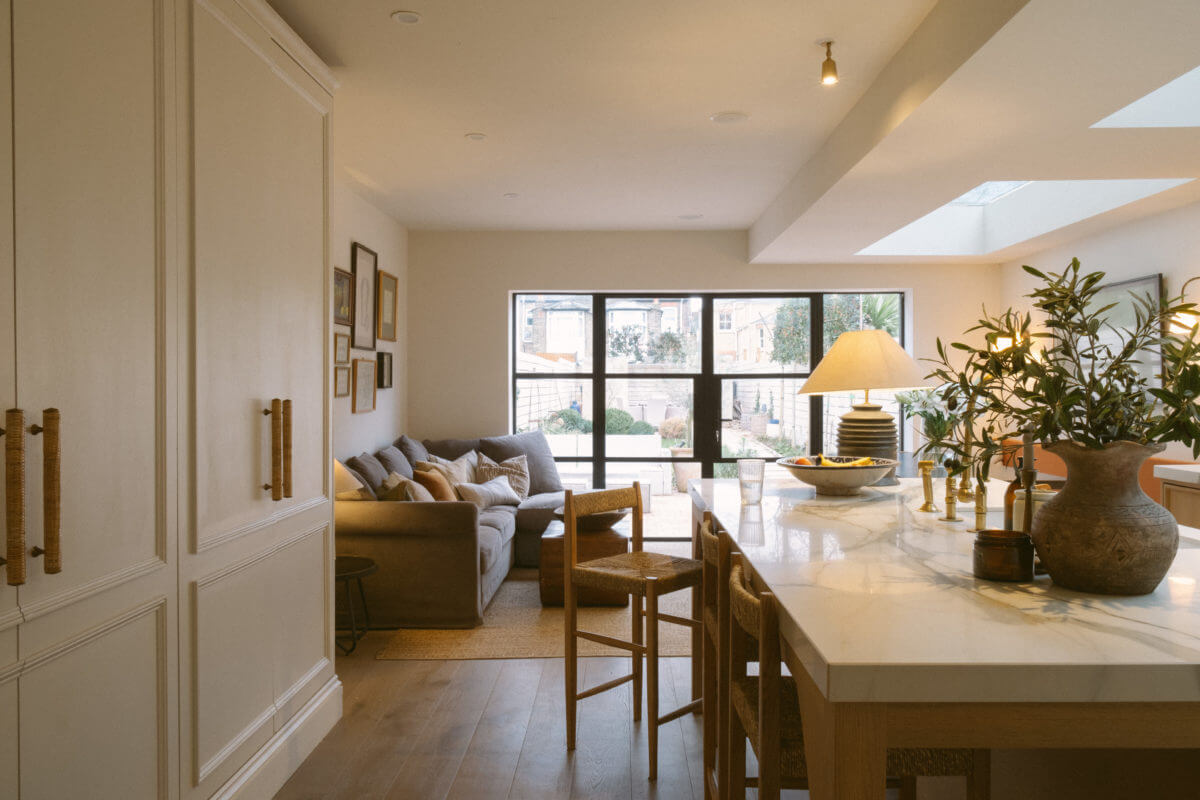 From the living room, you walk right into the kitchen which is also a dining room and lounge space.
The kitchen has an island with breakfast bar. The cabinets are made of American solid oak which is paired with marble worktops and backsplash.
The extended kitchen has two large skylights to add extra natural light.
Next to the kitchen is a small wood-paneled utility room and the ribbed glass sliding door leads to a powder room.
Next to the kitchen, a custom bench has been fitted to create many seating spaces.
The crittal doors open up to the garden with two patio areas.
The entire home has an engineerd oak floor, with the exception of two bedrooms that have carpets.
The American solid oak returns in the bathroom with a beautiful oak vanity.
The wood paneling that could also be seen in the living room and utility room adds a slight beach style to the home.
On the top floor lies the master ensuite with an oak wall and a gray and white bathroom.
The ensuite bathroom has a stunning striped walk-in shower with a bench and a freestanding bath.
This serene Victorian home in London can be rented on Shootfactory. Photography by Richard Oxford