Styling Ideas From 6 New IKEA Bedrooms
If there is one home brand where you get inspiration for your home over and over again it's IKEA. And today I share with you 6 new IKEA bedrooms that are packed with design ideas.
From cozy and colorful bedrooms with classic furnishings to a hotel-style bedroom and studio apartment. Find inspiration for your new bedroom from these IKEA bedrooms.
A cozy green IKEA bedroom
Let's start with this new IKEA bedroom in one of the most trending colors of this moment: green! This bedroom has lovely green walls and a nice green floral feature wallpaper behind the bed.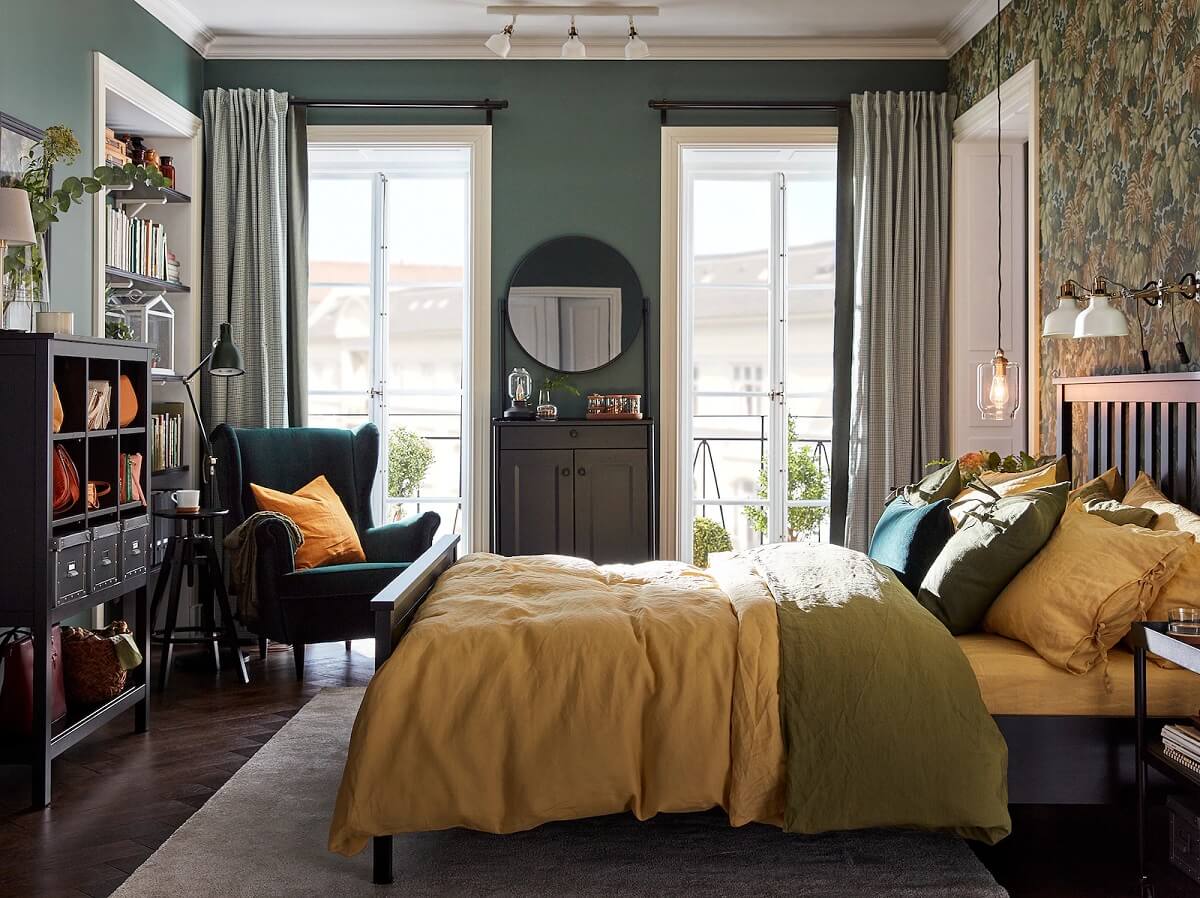 The green is combined with dark wooden furnishings, a green velvet Strandmon armchair and yellow accent colors.
A functional IKEA studio apartment
If you have followed this blog for a while then you know I love studio apartment. And since IKEA is the Queen of small spaces and home organizing they also share amazing studio apartments with us.
This studio is a combination of white, sand tones and wood. A light look with enough textiles to make it look warm and cozy.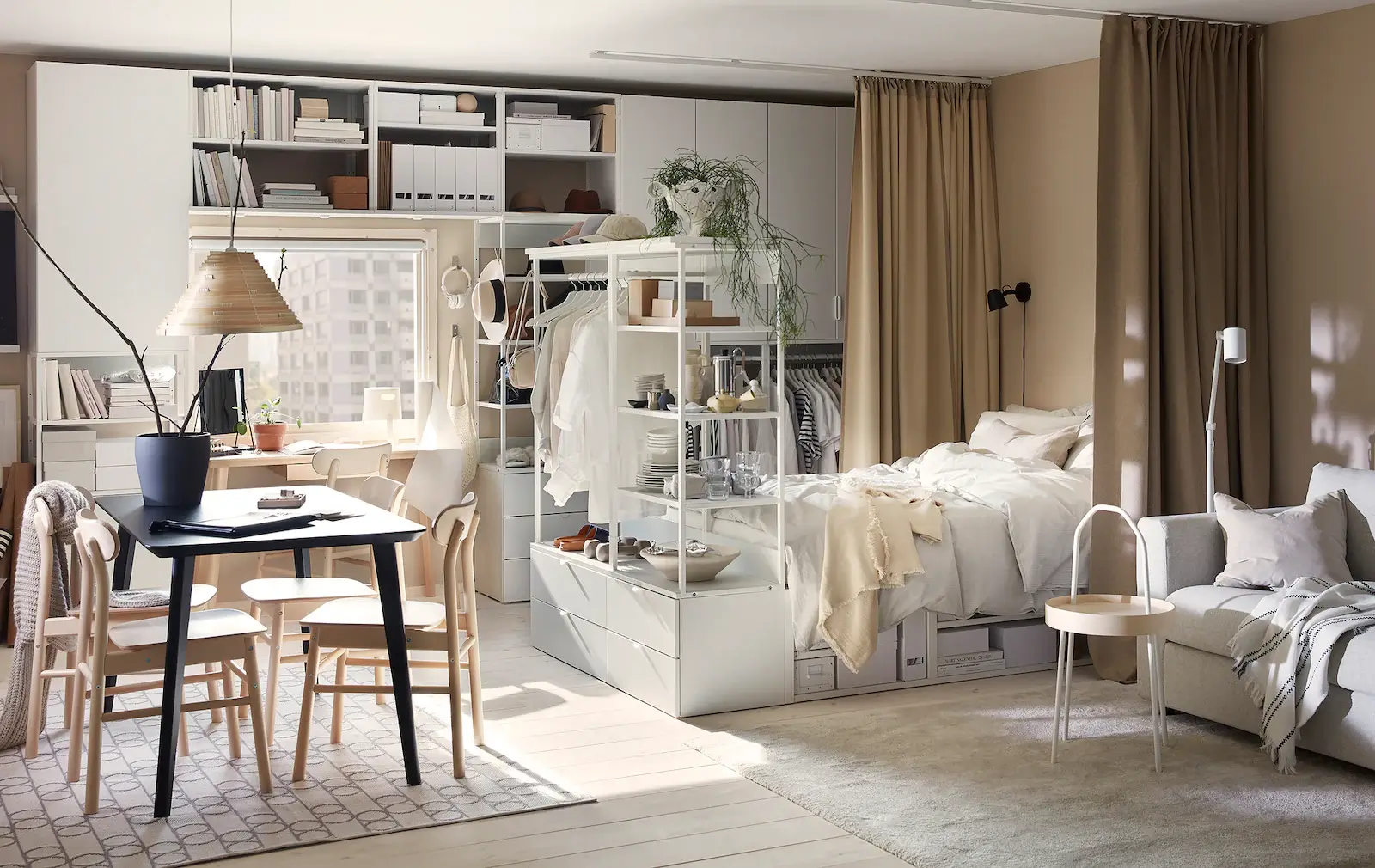 If you want to design a functional studio apartment, you want to create several zones in your studio. In this IKEA studio they have implemented several ways to seperate your sleeping area from the living area.
Curtains around the bed
By adding curtains around your bed you can close of your bed when you have visitors. Or during the day when you don't want the feeling of living in your bedroom. IKEA used blackout curtains, but when you're studio isn't flooding with light I'd suggest sheer curtains.
Bookshelves
Bookshelves are ideal for creating zones in a room. By using bookshelves that are open at the front ánd the back you create an airy feel and light can flow through.
Rugs
There are rugs under the sofa/seating area and the dining table. It's a subtle but effective way to create zones in your studio apartment.
One wall is used for a wall mounted storage system with open and closed storage. This way you don't have to clutter up your space with more drawers and cabinets.
How to design a studio apartment: see layout ideas, space saving ideas and many functional and stylish studio apartments in this post.
A warm purple IKEA bedroom
Do you prefer a bit more color? This IKEA bedroom is painted in a warm aubergine color. The dark brown furnishings add to the warm look. While the tropical wallpaper in the wardrobe area adds a fun touch.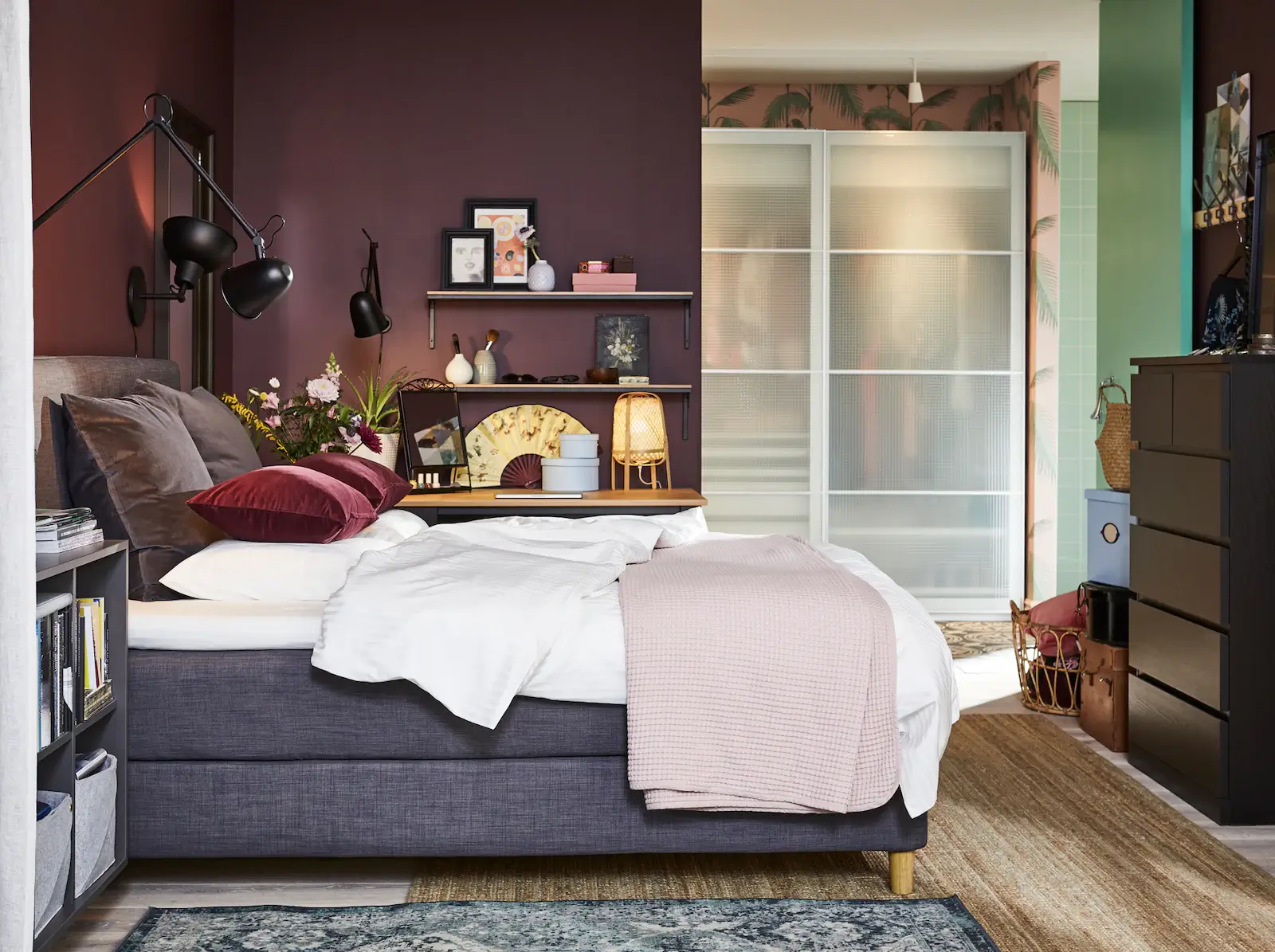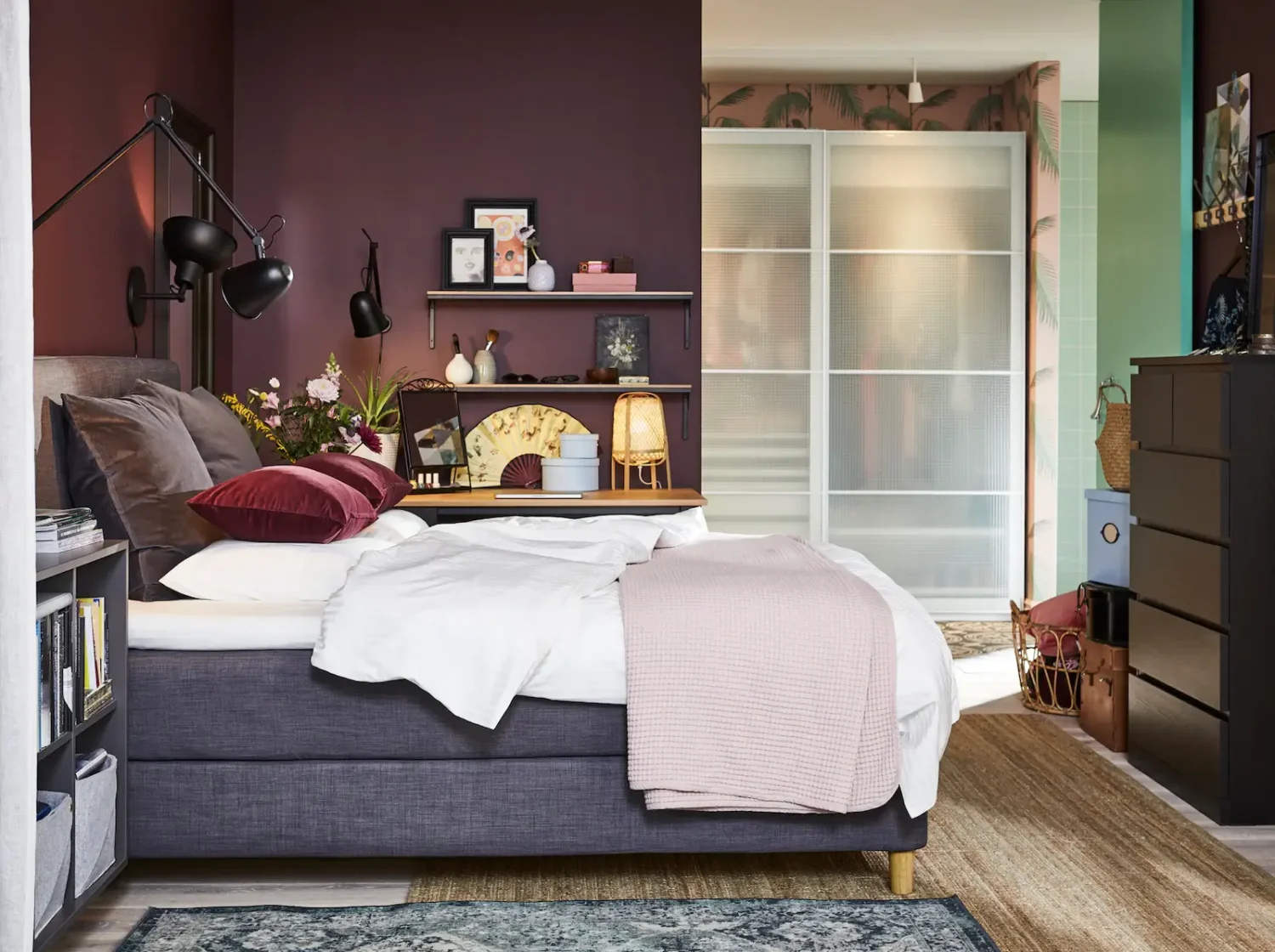 To add extra warmth to a room you can add layere textiles. In this bedroom you see a blue rug atop a jute rug (for a natural touch). And velvet pillows also add warmth.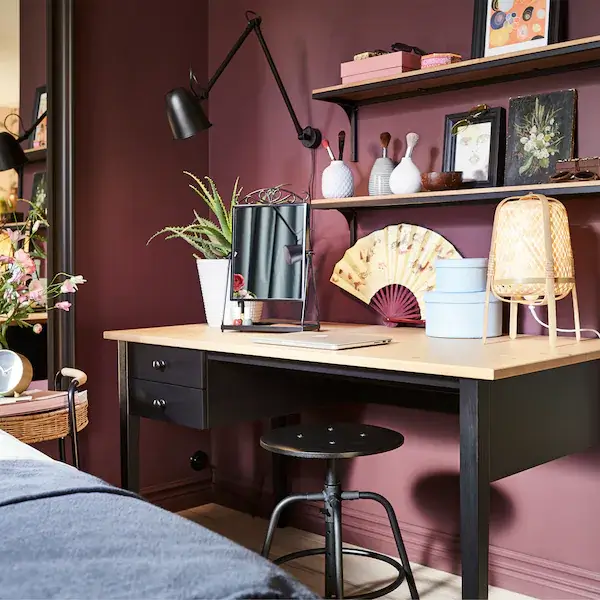 A blue IKEA bedroom with walk in closet
This bedroom is a perfect example if you want to create a hotel-style bedroom. This bedroom is also painted in a trending color: blue. To create a walk in closet a wall with glass panes is added. This give a spacious feeling and it's a wonderful design feature.
A dusty pink IKEA bedroom
A Mediterranean look for your IKEA bedroom. The powder pink walls are combined with natural materials such as a rattan headboard.
An IKEA studio with walk in closet
Another studio apartment, because I love them so much. And again this one is designed to perfection by IKEA. This studio has a walk in closet that can be closed off by the curtains surrounding it. After all.. nobody always has a perfectly neat closet right?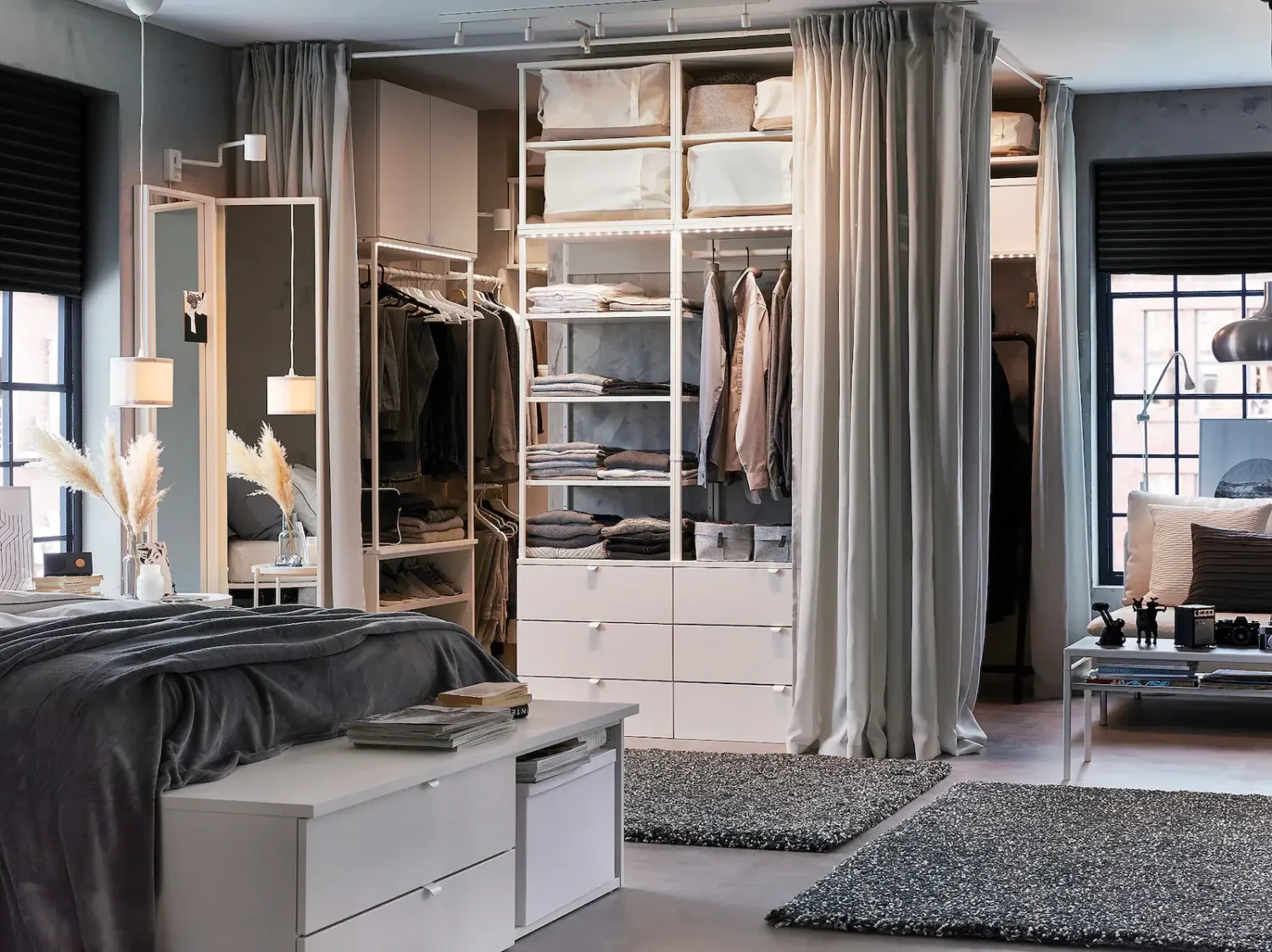 The IKEA PLATSA system is perfect if you need to add a lot of storage in your room. You can mix this system however you want. Including a bedframe with drawers or wardrobed with open and closed storage.
See also: Clever and stylish home organizing ideas from IKEA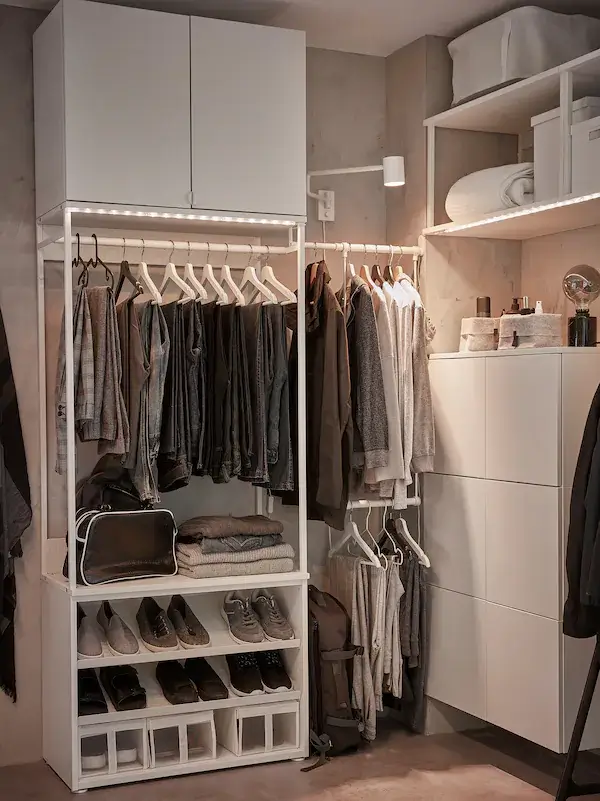 Which one of these IKEA bedrooms is your favourite? I love the green IKEA bedroom, so cozy!