The Colorful Home of Artist Bobo Wallmansson
The paintings of artist Bobo Wallmansson hang on the walls in many homes. Including his own colorful eclectic house 10km south of the city Borås in Sweden.
His home used to be a weaver's house built around 1915. Nowadays the building is divided into four apartments/homes. Two of which you will see in this home tour.
Both apartments are decorated in a colorful eclectic style. With loads of art (including Bobo's own characteristic works) and vibrant furnishings and patterns.
The first apartment is 190 square meter and has four bedrooms. The blue/green kitchen with skylight and fireplace is the heart of the home. The (new) kitchen has limestone countertops and a large wooden chopping block.
The large window gives a peek to the hallway. On the floor are white painted wooden floorboards (very Scandinavian).
This open plan kitchen/living space has two dining areas and several cozy seating spots. Including this lovely seating area in front of the fireplace.
The second dining spot with large artwork by Bobo Wallmansson.
More color in the living room with three large pink paintings by Bobo and vibrant furnishings.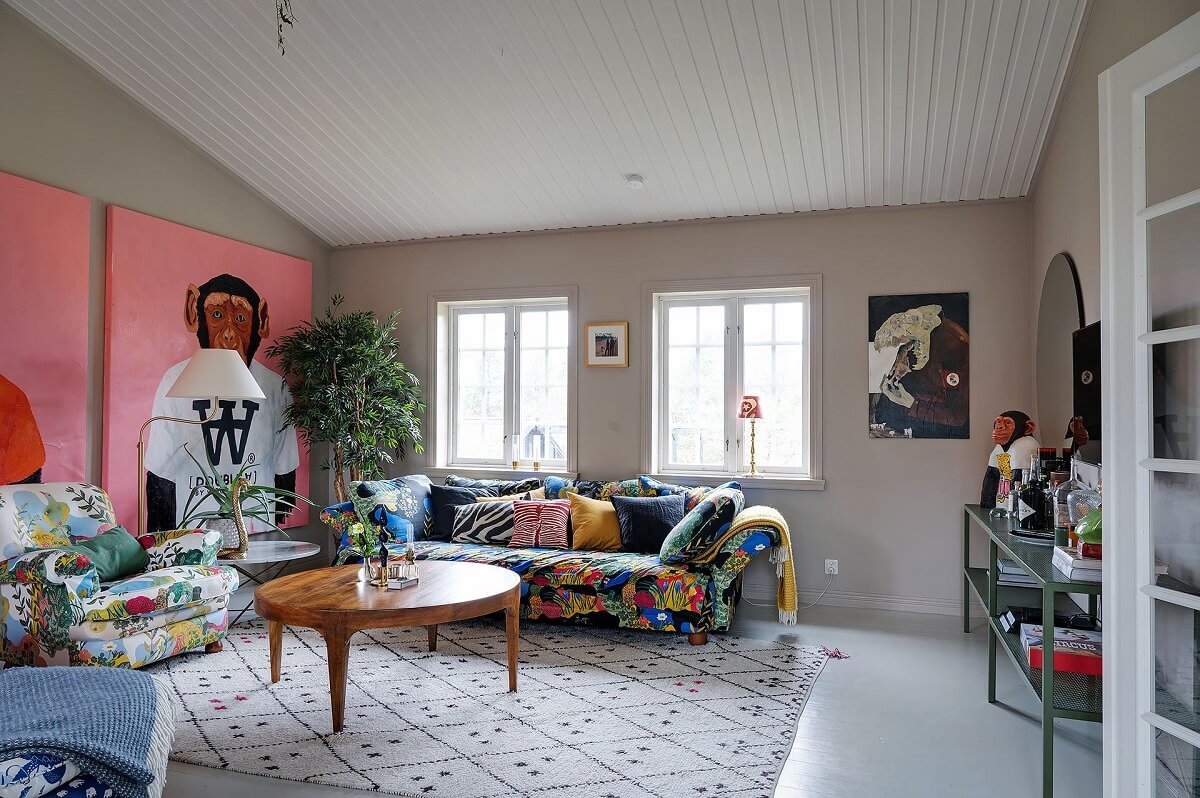 The bedroom is painted in a bright coral pink color.
The second apartment has just as much color and vibrant textiles as the first apartment. The apartment is 110 square meters big and has two bedrooms.
The open-plan living room and kitchen with a neutral base of light pink walls and white painted wooden floorboards. This is combined with a green kitchen and an eclectic mixture of furnishings.
Many of the textiles, including these curtains, are by Svenskt Tenn.
The bedrooms are decorated in a calmer palette. Though they have bright color pops.
Take a look at these colorful homes:
photography by Fredrik J. Karlsson for Alvhem