How To Decorate A Studio Apartment
A studio apartment design requires creative and practical thinking. In this blog post, I'll show you how to decorate a studio apartment. The post includes layout studio apartment ideas and space-saving tips. But also plenty of pictures that will give you the best studio apartment design ideas.
Living in a small studio apartment doesn't mean you can't have a beautiful and functional home. And in this post, you can see how you can make a studio apartment work for you. But first things first, what exactly is a studio apartment?
What is a studio apartment?
A studio apartment is a small home where the living room, bedroom, and kitchen are all located in a single room. Some studio apartments however have a separate kitchen. Even though the apartment is then technically a 2-room apartment this is still considered a studio apartment because the living room and bedroom are still combined.
Most people will associate a studio apartment with student living (I too lived in a studio when I first left home) but studios aren't just for young people and they certainly don't have to look like a dorm room.
In this post, I will show you how to decorate a studio apartment to make it feel like a proper home where you can live, entertain and sleep in a stylish way.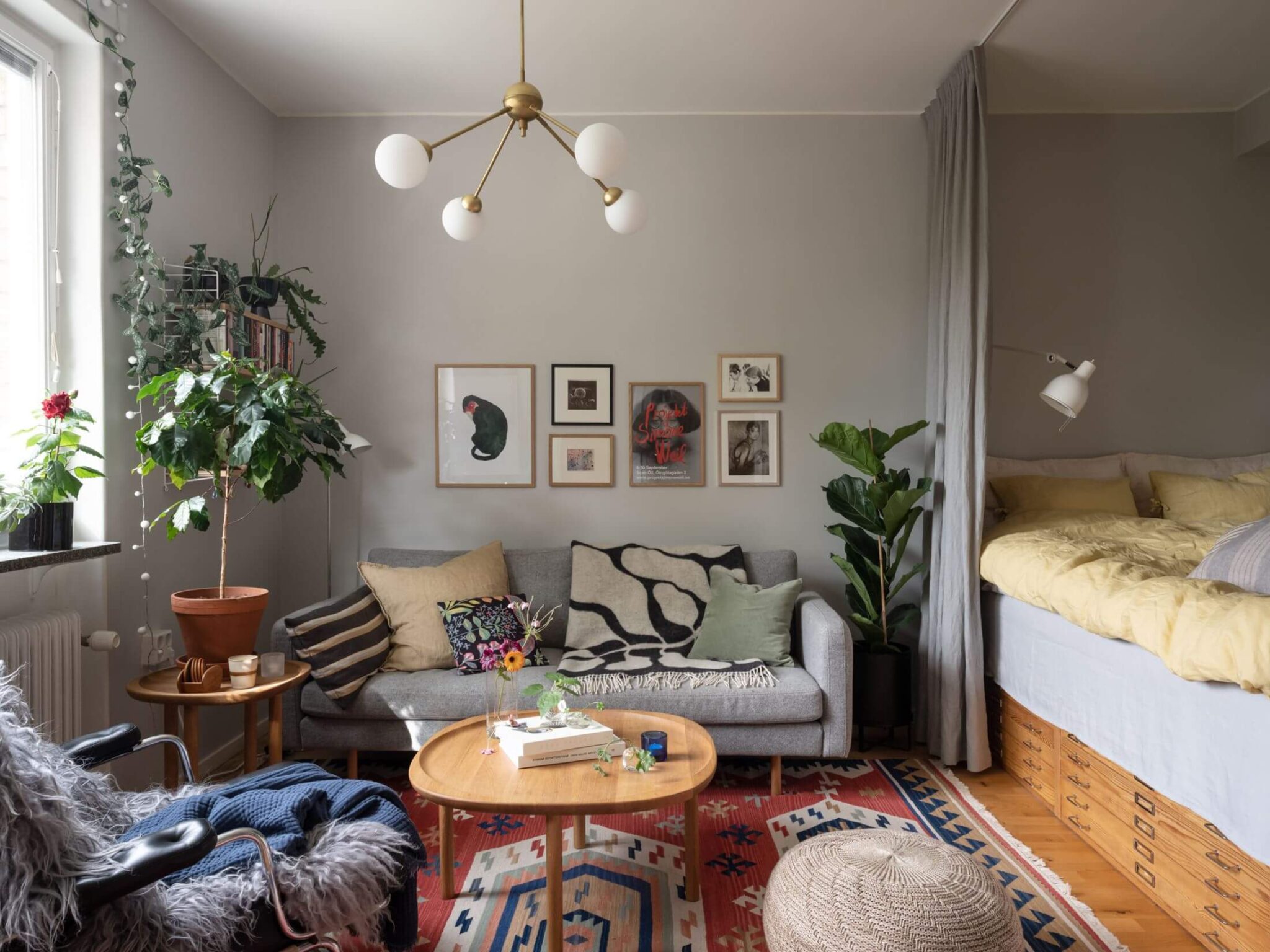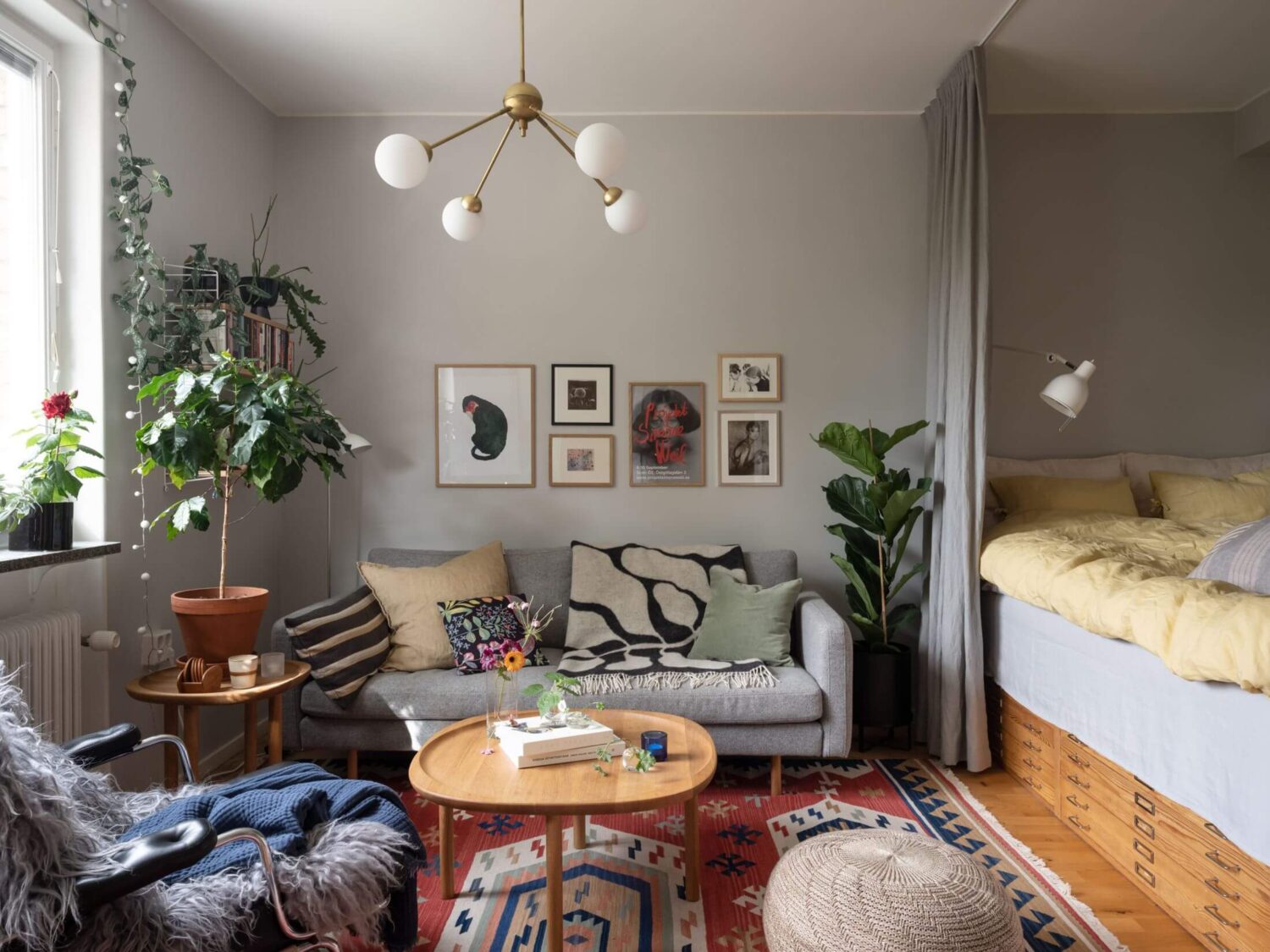 Studio Apartment Design Ideas
First off when you want to design your studio apartment you have to think about what you want from a home. You really can do everything in a studio apartment if you design it thoughtfully.
Do you love cooking & dinner parties? then prioritize your kitchen and dining area. Do you work/study from home? make sure you have a proper desk area.
This doesn't mean that you have to cut back in other areas of your tiny home, but it's all about what you value most in your apartment and make that your priority.
In this post, I will show you how you can divide your studio into separate zones, give tips on how to use your space smartly, and give you some examples of the best color schemes in a studio apartment.
How to divide a studio apartment
Ideally, you want to create separate zones in your small studio, one for living/dining and a separate zone for sleeping to give the illusion of a 1 bedroom apartment.
There are many ways in which you can divide the space in your studio apartment. From dividing bookshelves to loft beds or getting creative with color and textiles. Scroll down for ideas to divide a studio apartment.
Divide a studio with bookshelves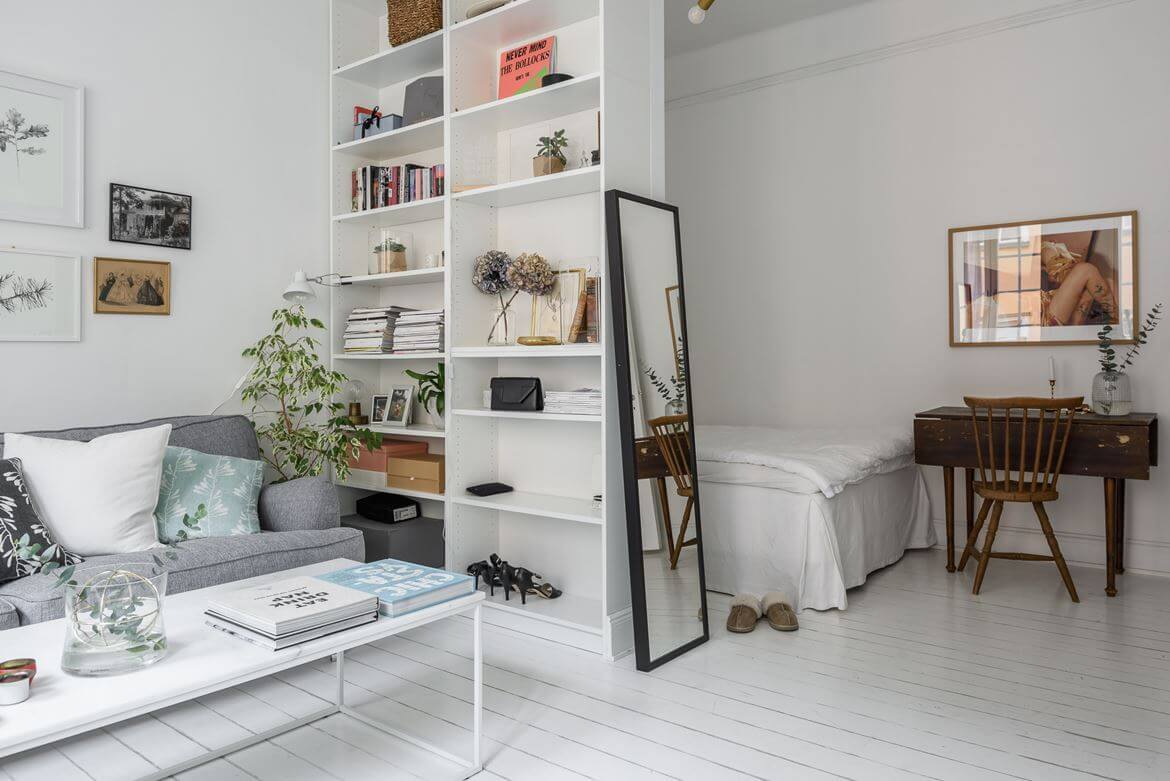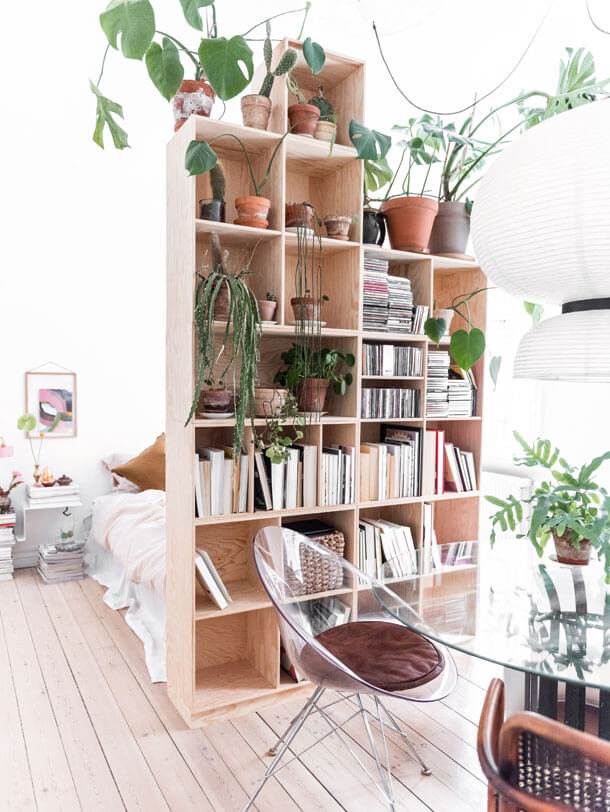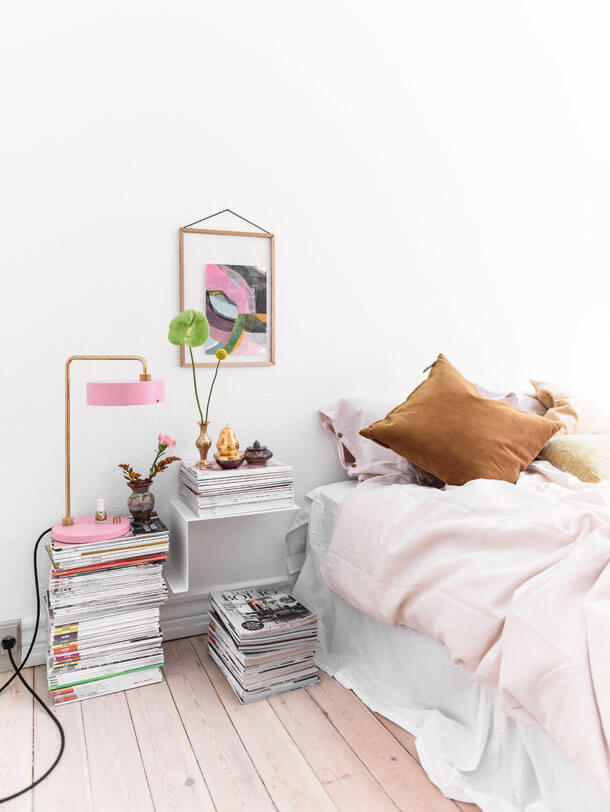 A bookcase behind the bed et viola! you have created a seperate bedroom area. Style the bookcase with plants, books and unique items to make it a statement piece (photo: Mikkel Dahlstrøm)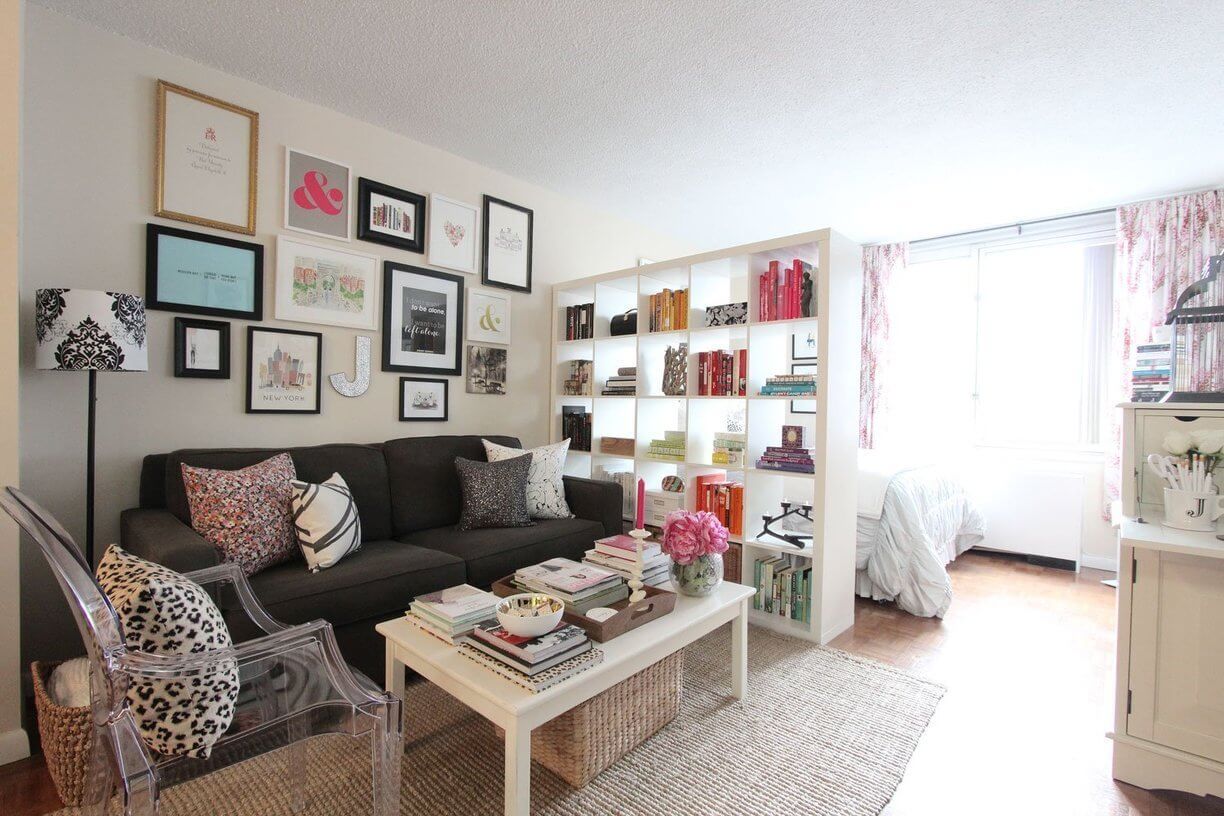 The IKEA Kallax bookcase is often used for dividing spaces. It works so well because not only does it create storage spaces but because the cubicles are open which you can see through and it also lets through natural light & which makes it feel less cramped.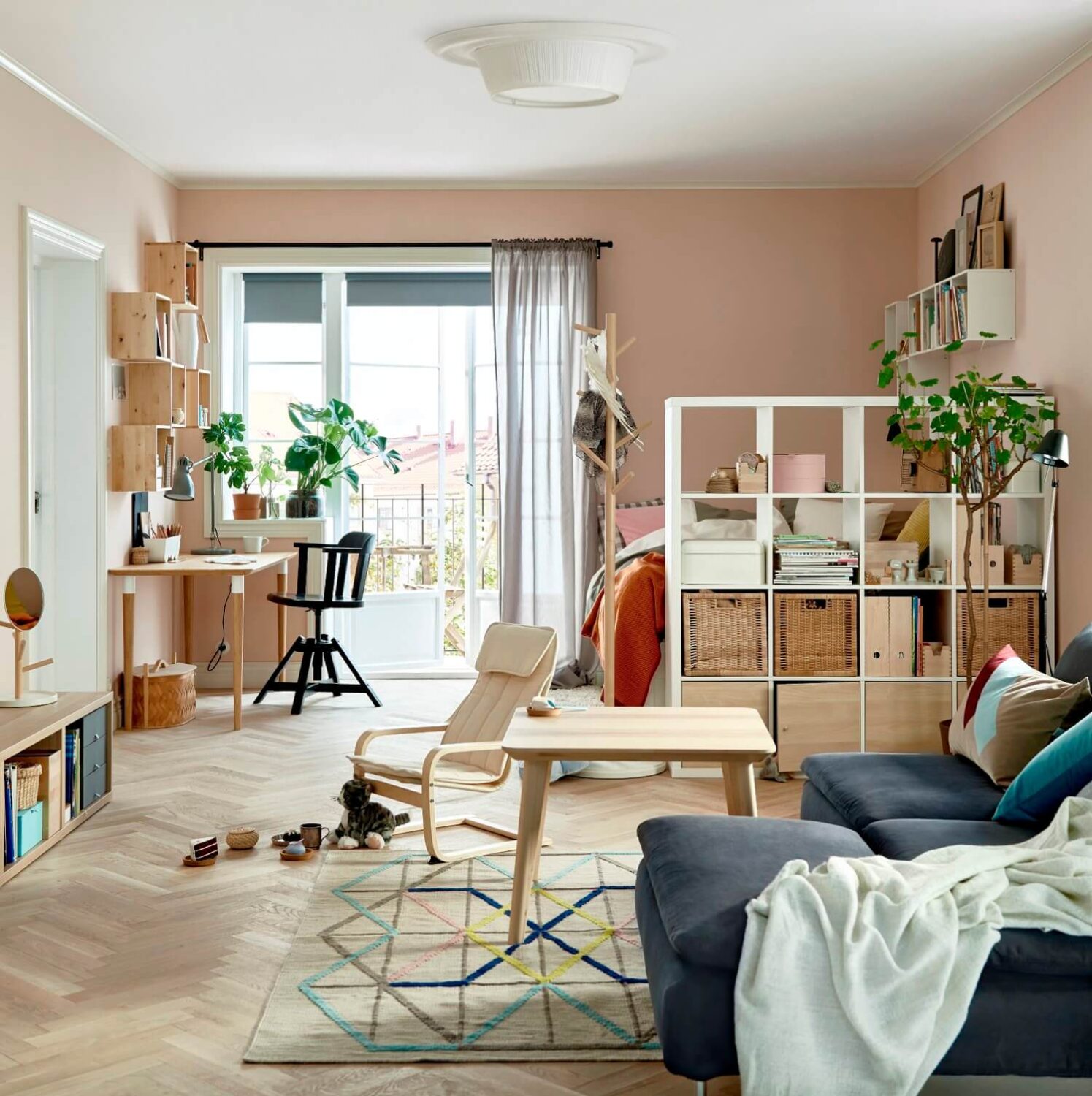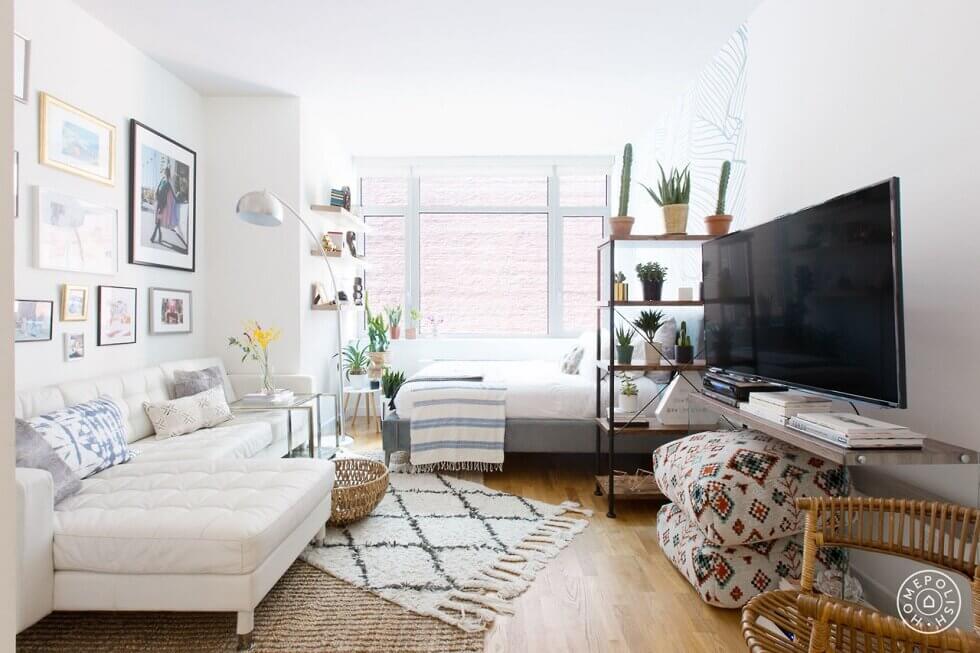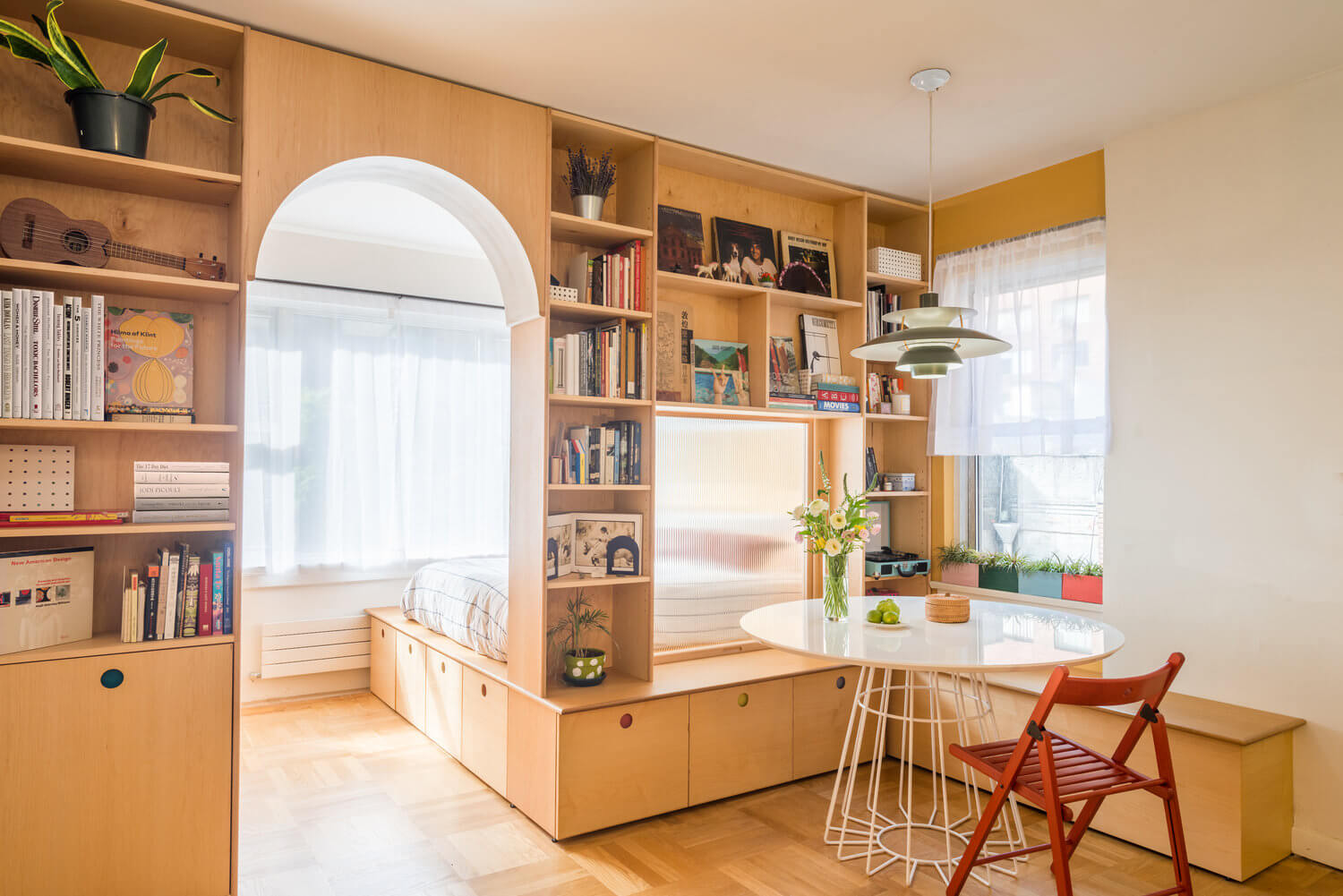 Above you see an example of some amazing DIY work. A studio apartment now looks like a 1-bedroom apartment thanks to the plywood bookshelf.
The openings make sure there's no natural light lost and underneath cabinets create that much-needed storage space if you live in a small home.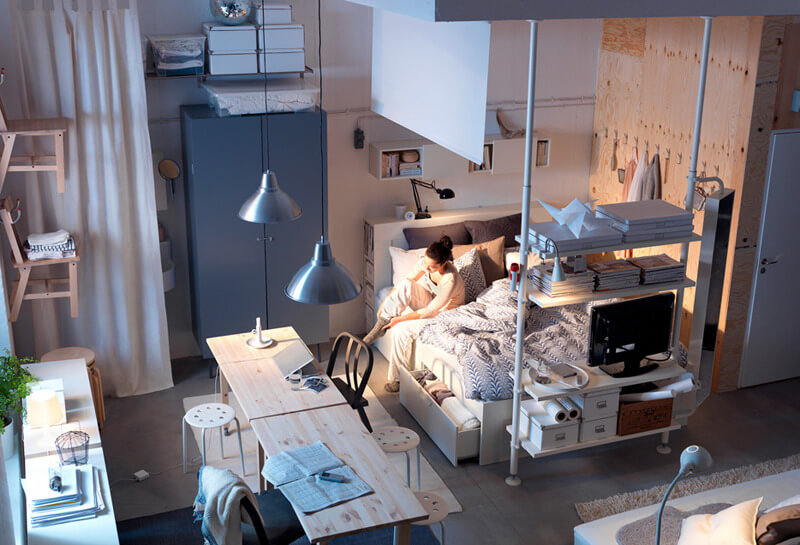 Divide a studio with rugs
You can use rugs to create separate zones. Usually, they are used in the sitting area of a studio. Not only are they great for dividing purposes but they also bring warmth and texture to a space.
The colorful rugs not only bring a vibrant look to this studio apartment but they also divide the space into a living and bedroom area.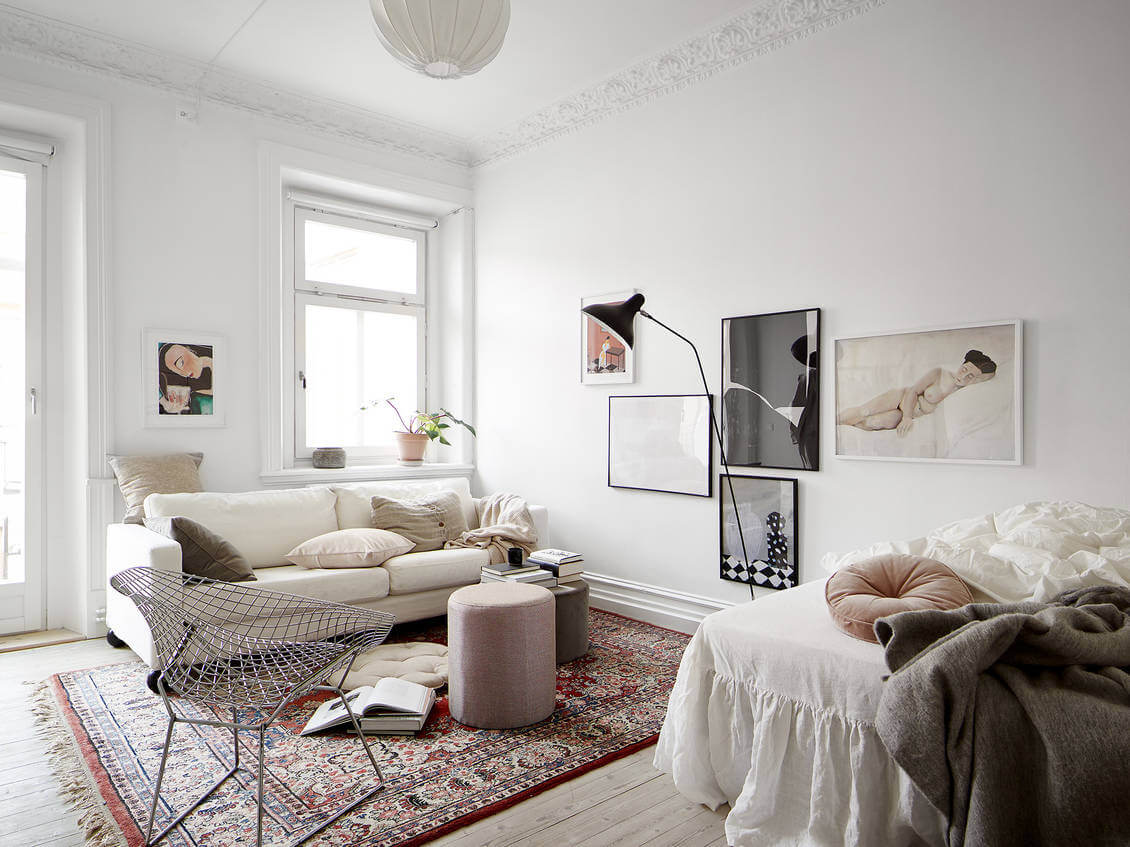 Above the rug defines the sitting area, plus it brings color to an otherwise neutral studio.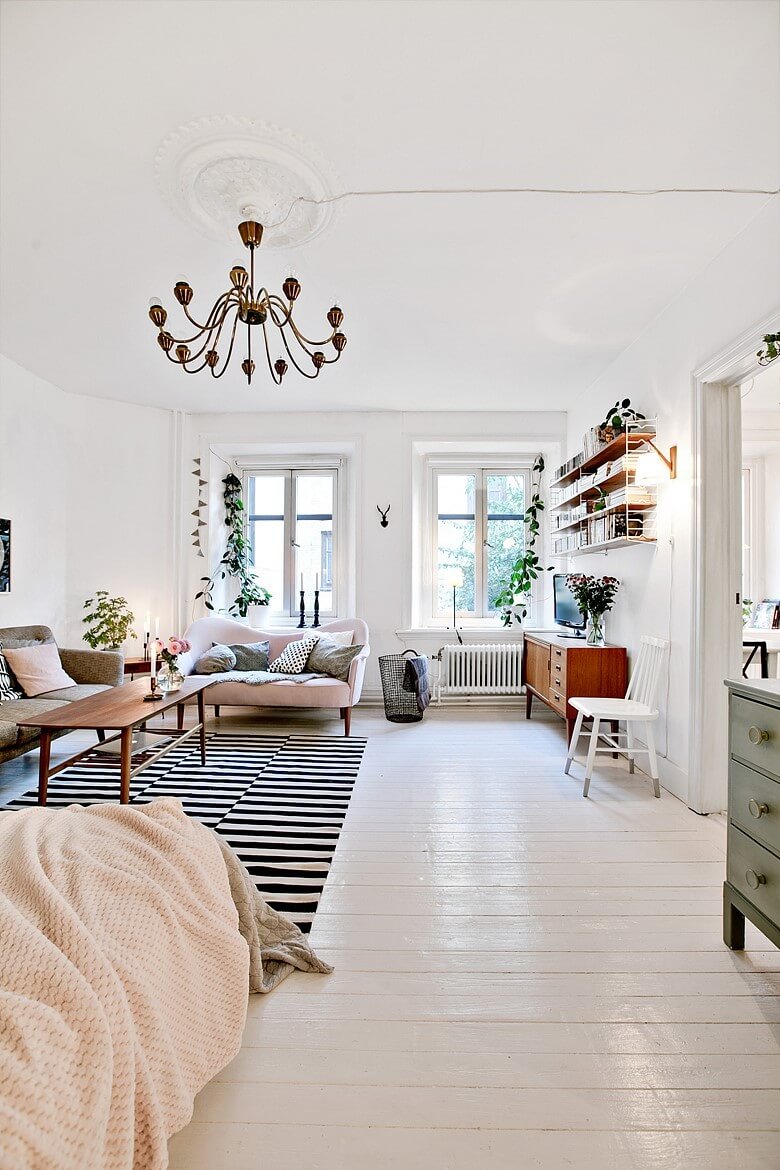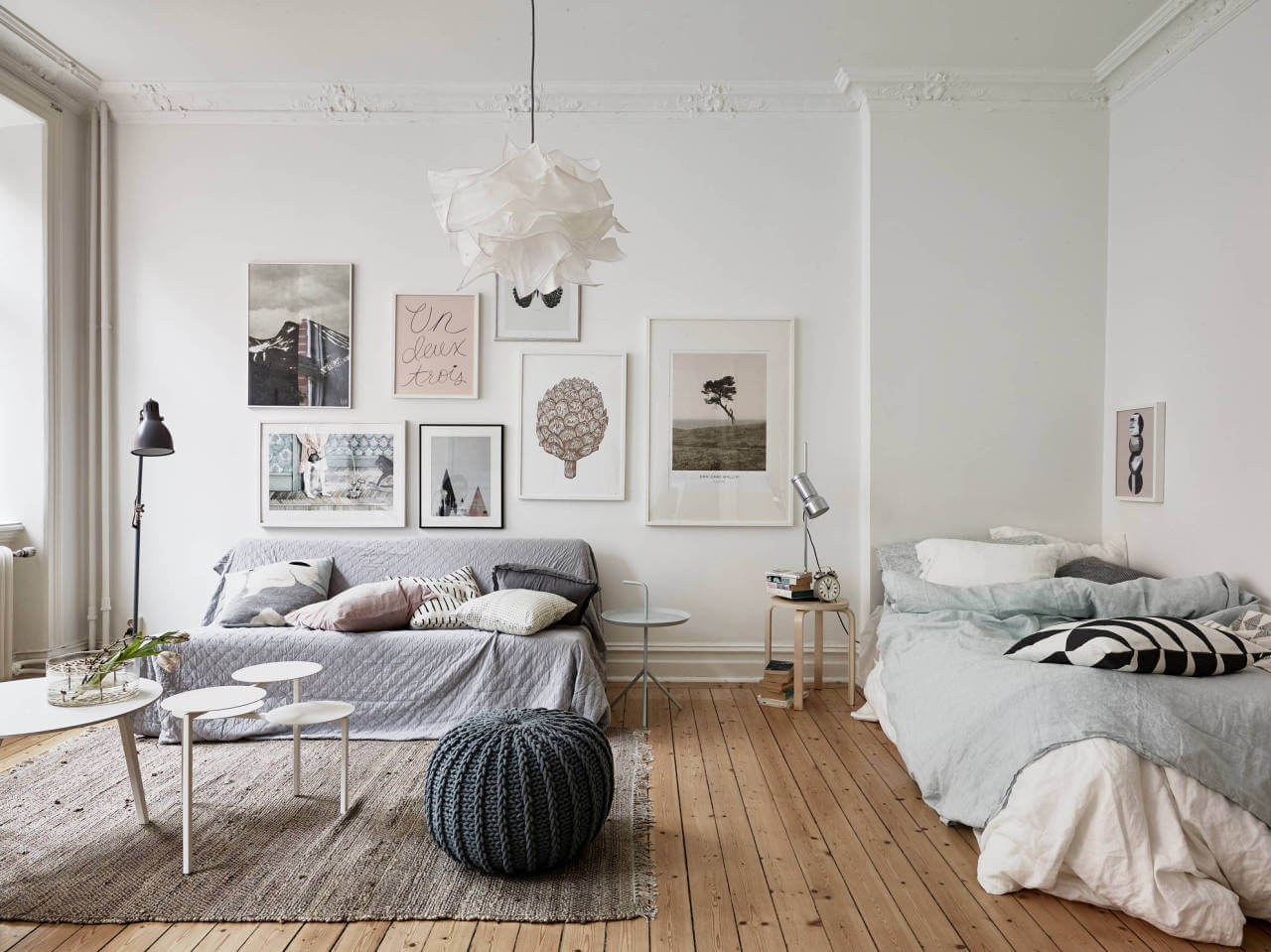 Not only the rug helps in dividing the studio, but the artwork as well. By only placing artwork above the sofa and keeping the bedroom area free of wall art do you create different zones.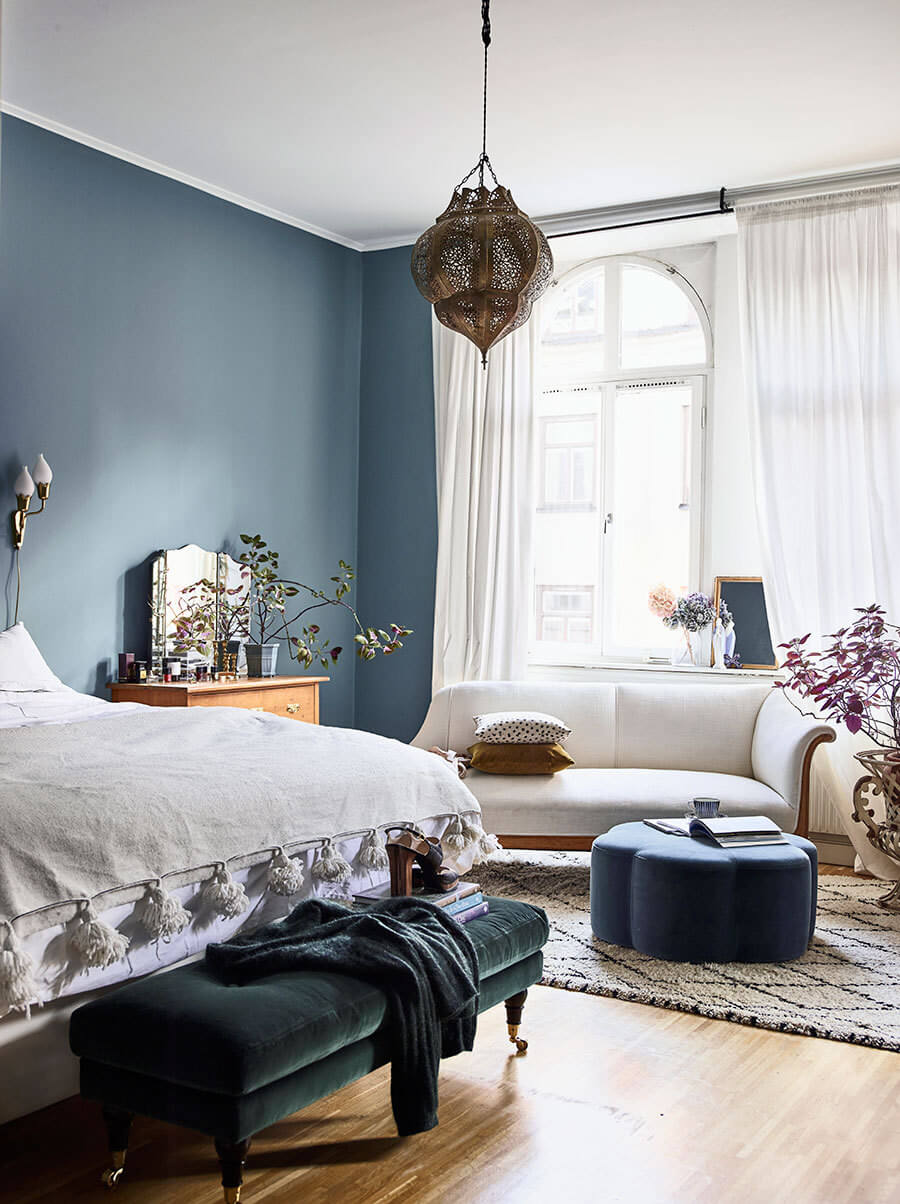 The rug in this space by Amelia Widell creates a cozy sitting nook (photo: Andrea Papini)
Divide a studio with (movable) screens
Screens are ideal in a studio apartment because they are so flexible. You can move it to any area you want to block from view (you know.. when you haven't done the dishes or you haven't made your bed) plus you can also use it to hang clothes or other items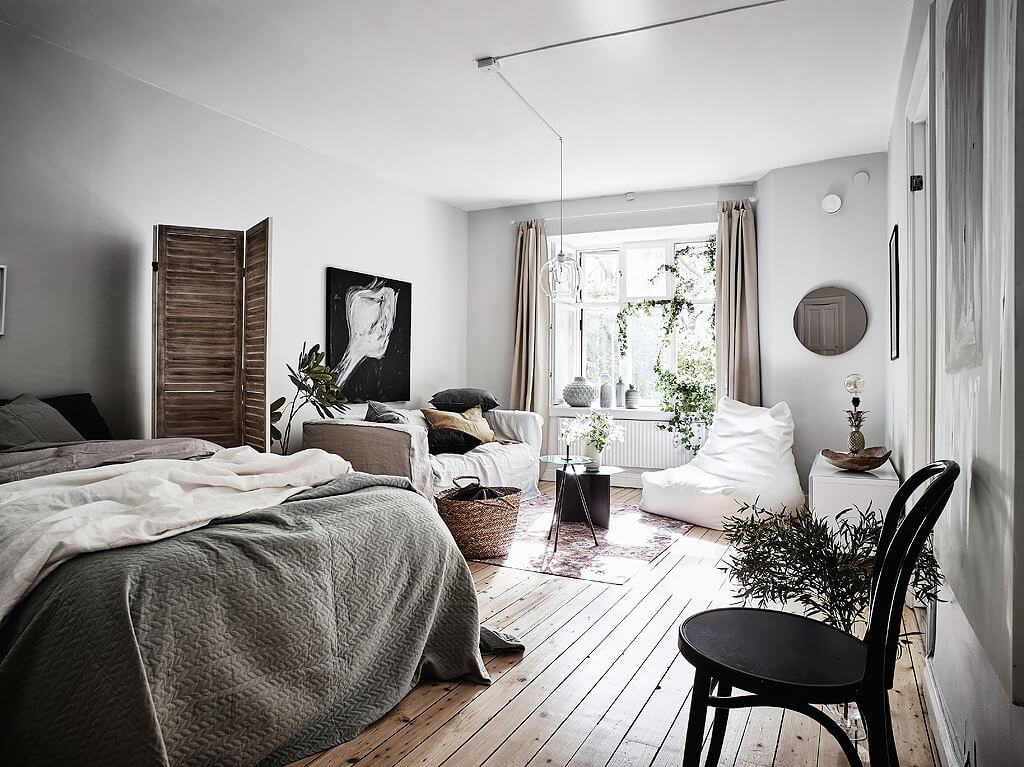 The advantage of screens is that you can pull them out as much if you want. Haven't made your bed? Well let's hide it, but if you want your studio to be one open space just pull the screen close and put it away.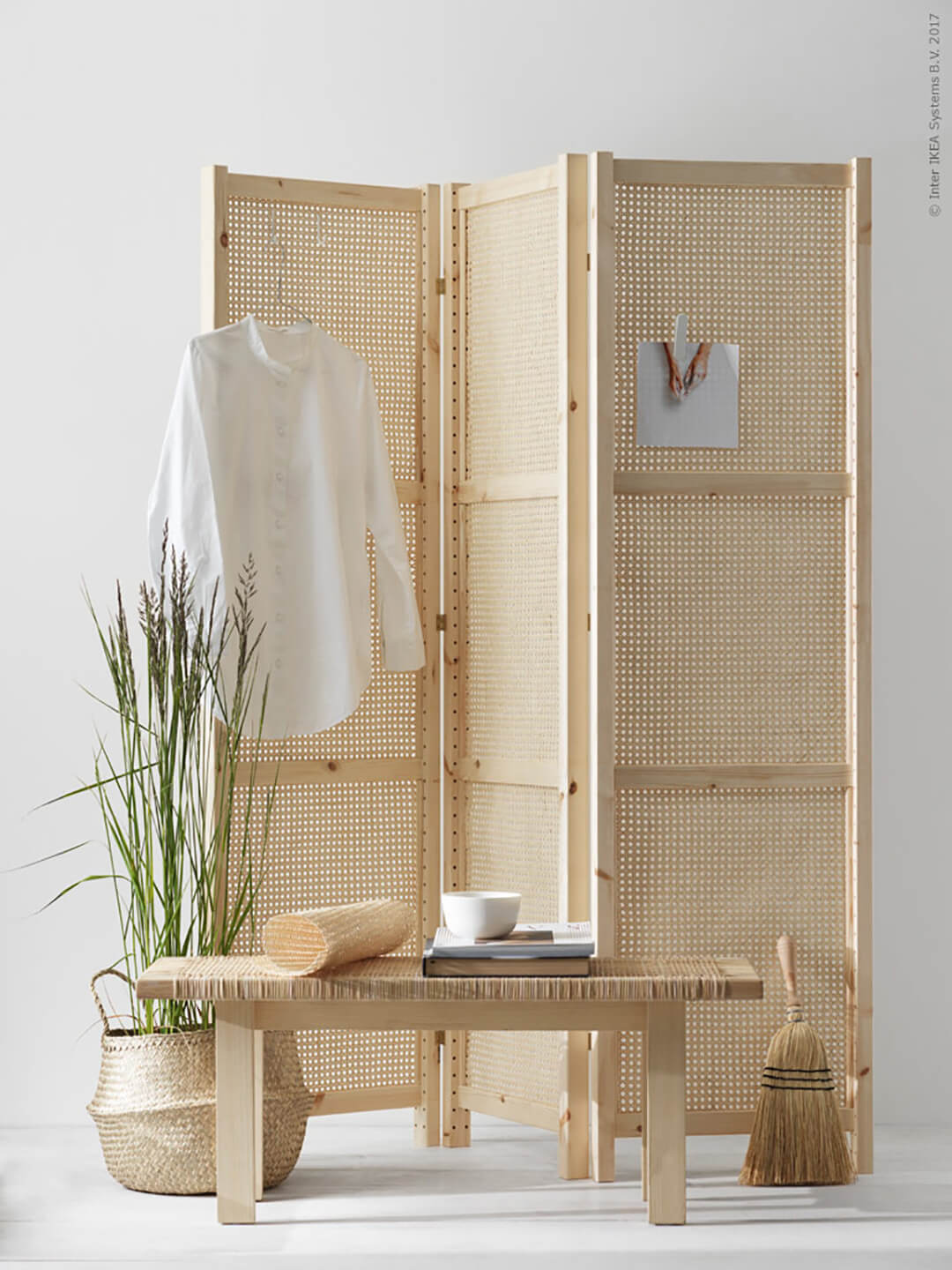 A DIY folding screen created with IKEA Ivar by Pella Hedeby for a natural look in your studio (see the tutorial here)
Divide a studio with a loft bed
If you don't mind climbing up every evening and if you're not afraid of falling out of bed then you can choose a loft bed to create a separate sleeping area in your studio apartment. It saves a ton of room plus your bedroom area is pretty much out of sight.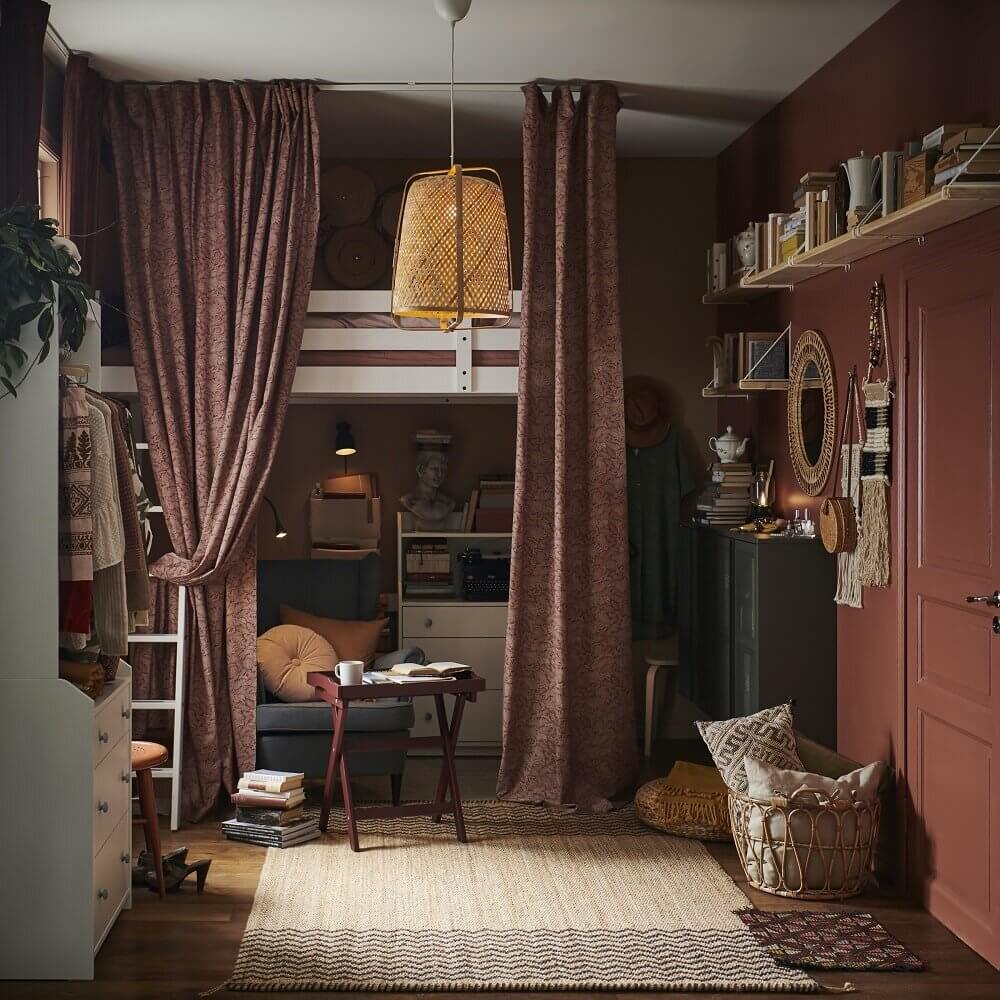 A warm brown/red studio apartmeny by IKEA with a loft bed and a cozy seating space underneath the bed. The textures, warm colors and decor make a this a super hygge room.
A pink studio apartment with a loft bed, underneath the loft there's a walk-in closet!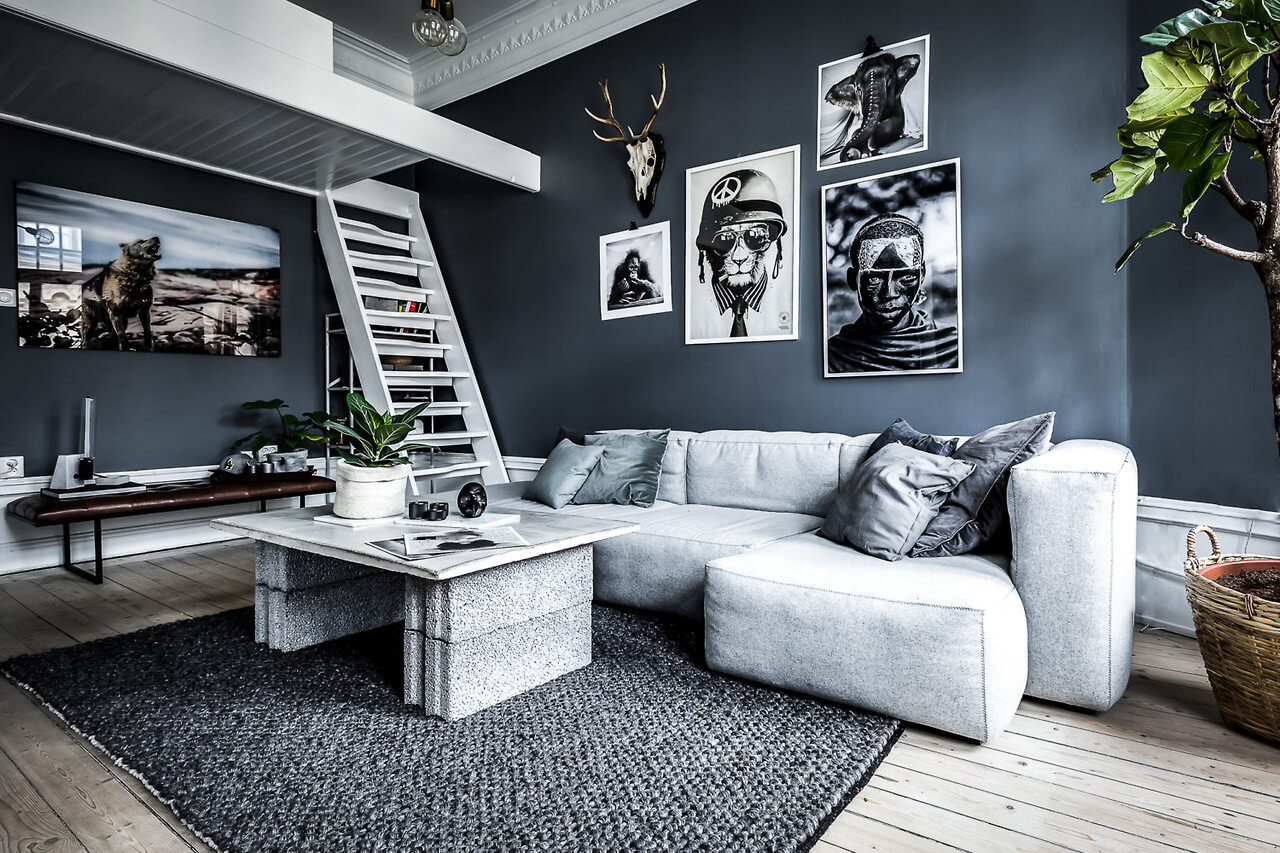 If rising too high isn't your thing, you can opt for the middle. This small studio is created by Pella Hedeby for IKEA has a middle-high loft bed with underneath storage.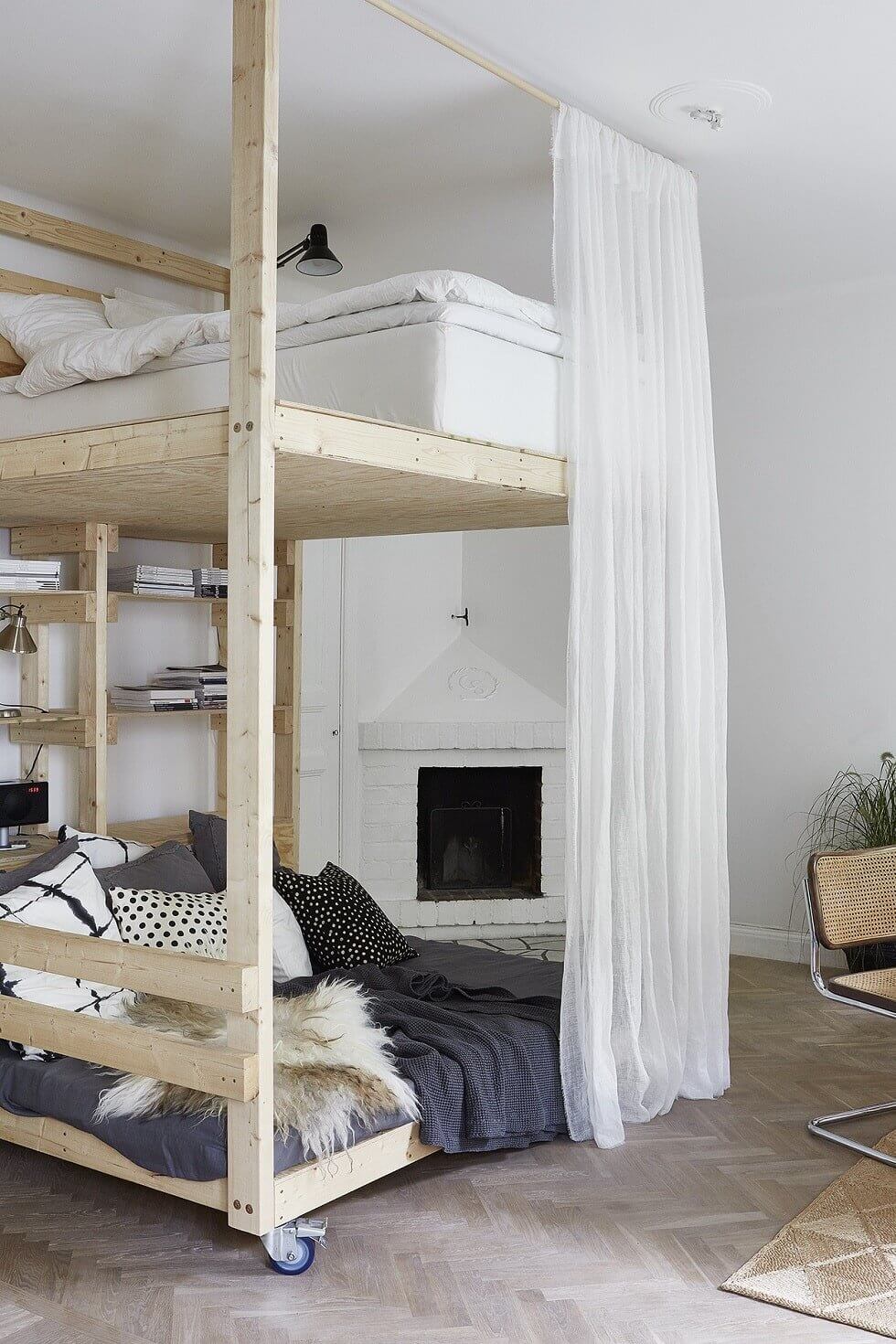 The idea above is for the DIY-ers among us. It's a loft bed, sofa, and shelving system in 1 and on top of that, it's also on wheels for more flexibility.
IKEA knows how to decorate a small space. This IKEA studio apartment has a loft bed that creates a cozy sitting nook with a large bookcase for extra storage.
The loft bed in this Scandinavian studio apartment makes sure that there's enough space for a large work area in the studio. I love the detail of the curved loft bed, a nice design touch.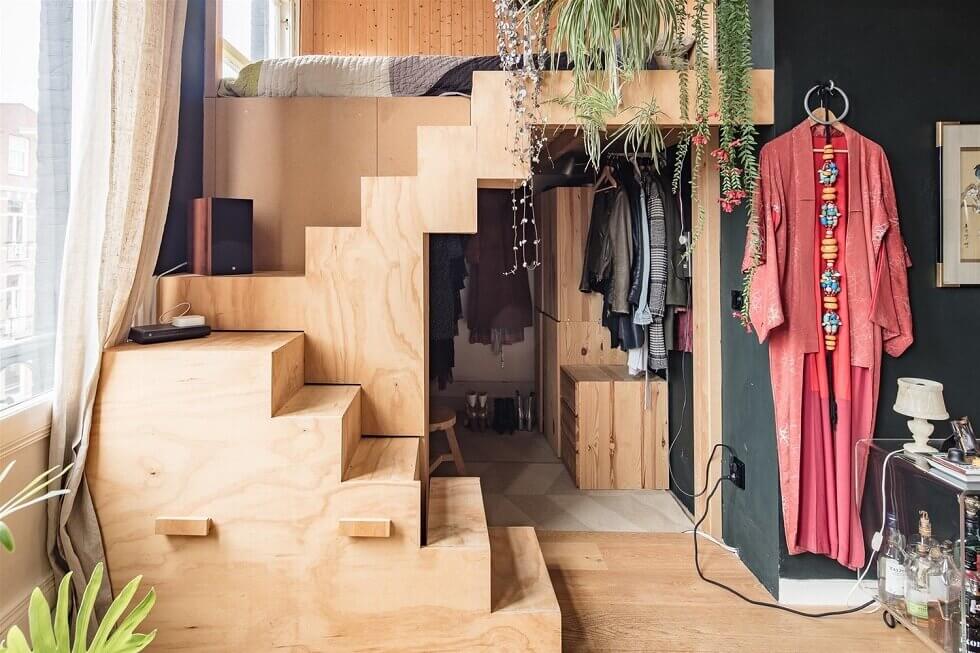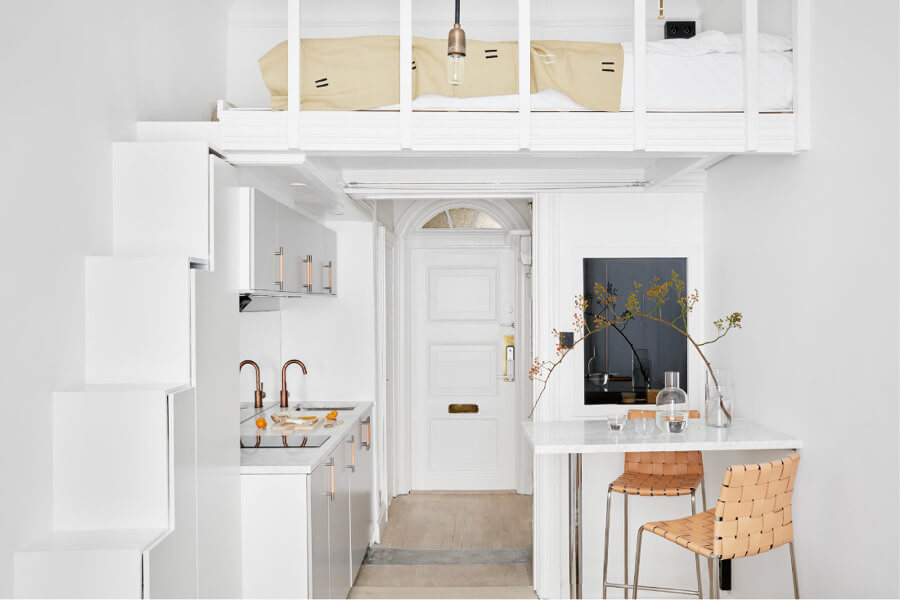 Scandinavian minimalism with the loft bed above the kitchen and small dining space. The loft stairs have a double funstion, they're also storage
See also: small bedroom decorating ideas
Divide a studio apartment with curtains
By using a curtain to divide your studio apartment you can hide a certain aspect of your studio. It can be used to create a separate bedroom area but you can also use it to hide shelves that might look cluttered. And bringing some texture into a home is always a good idea to add warmth to a space.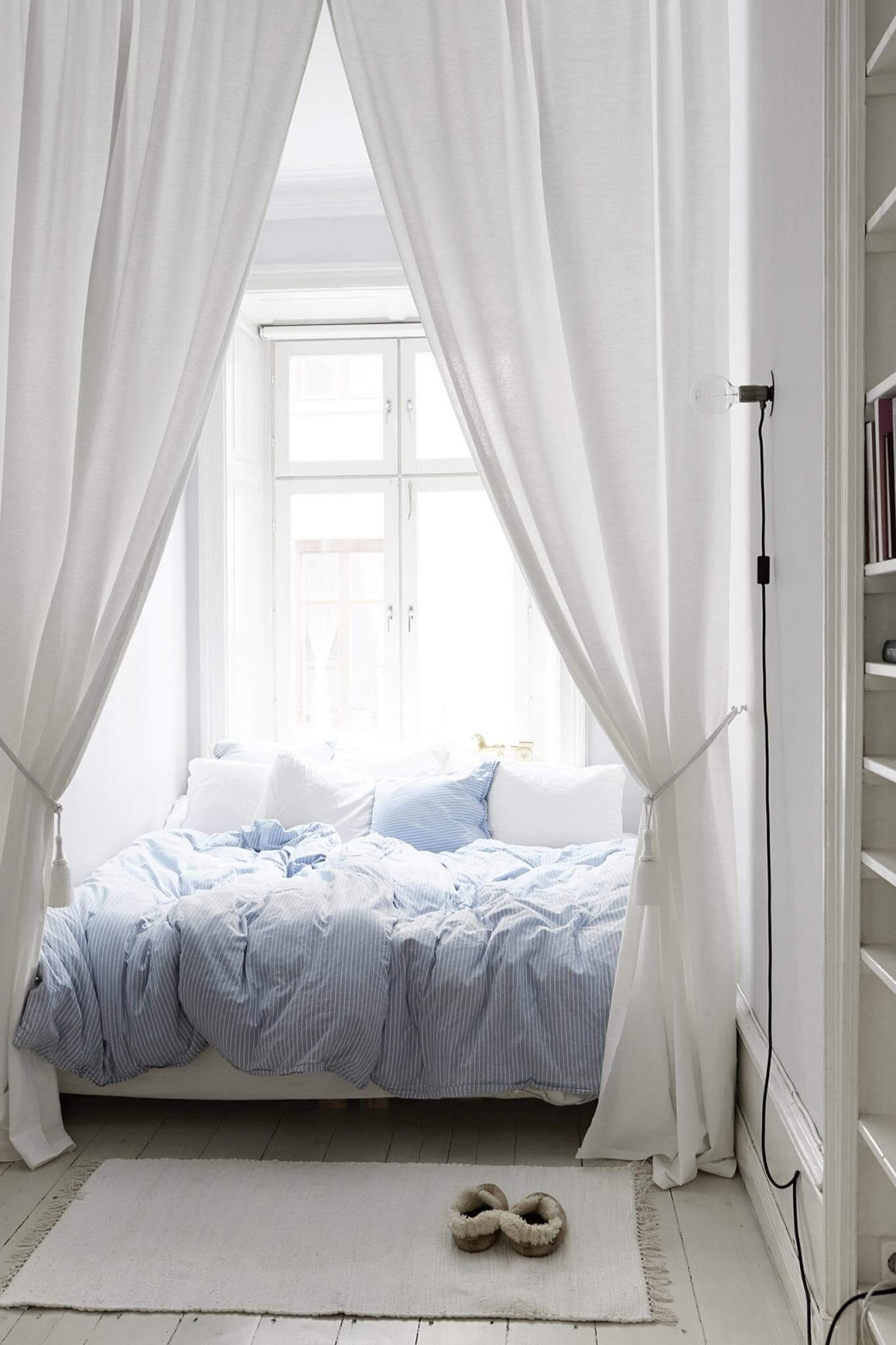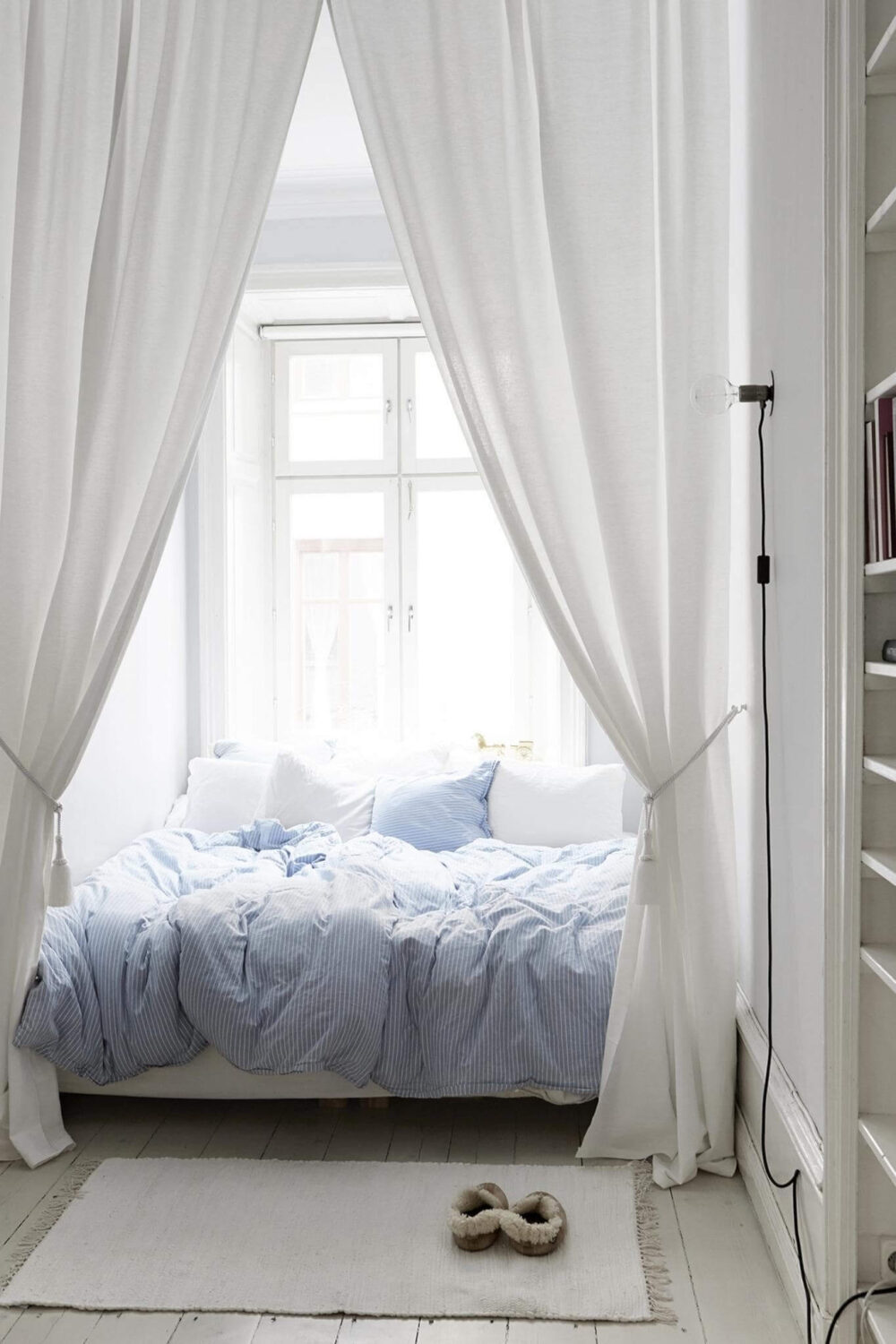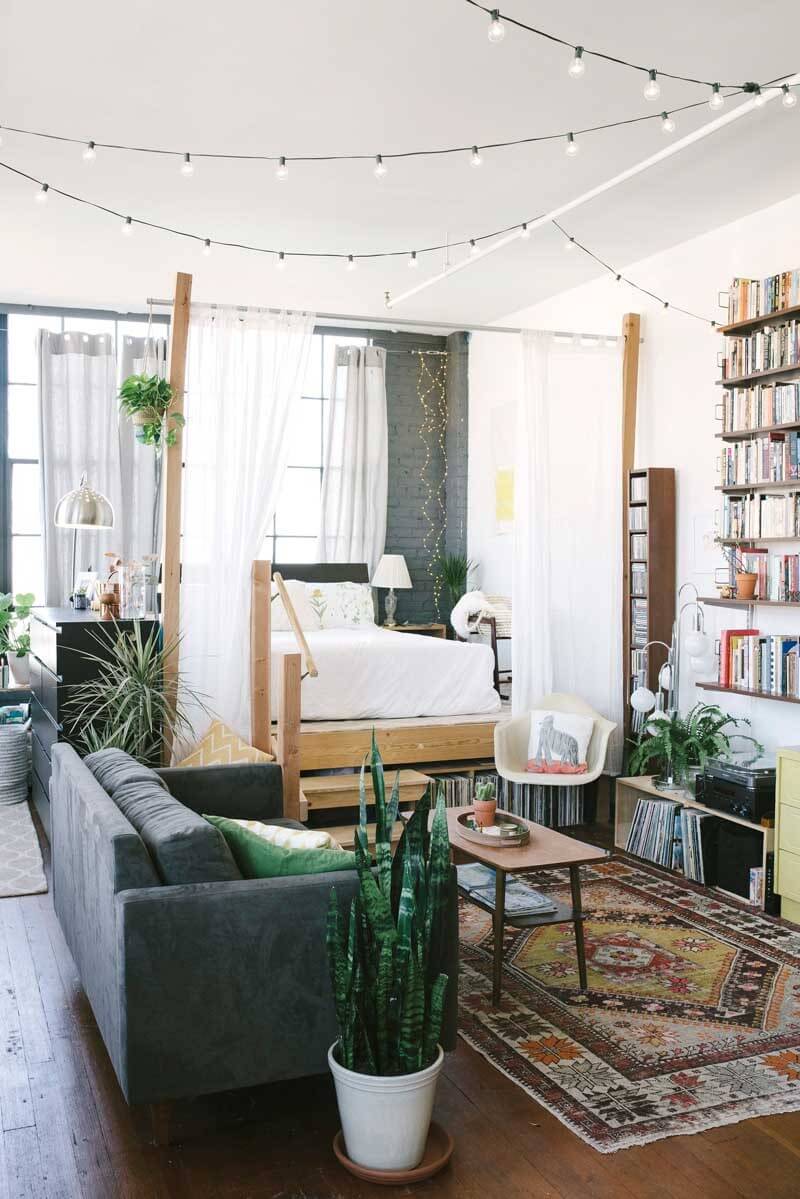 In the studio above, the bedroom area has been raised, with a curtain to the living area that can be closed to create more privacy.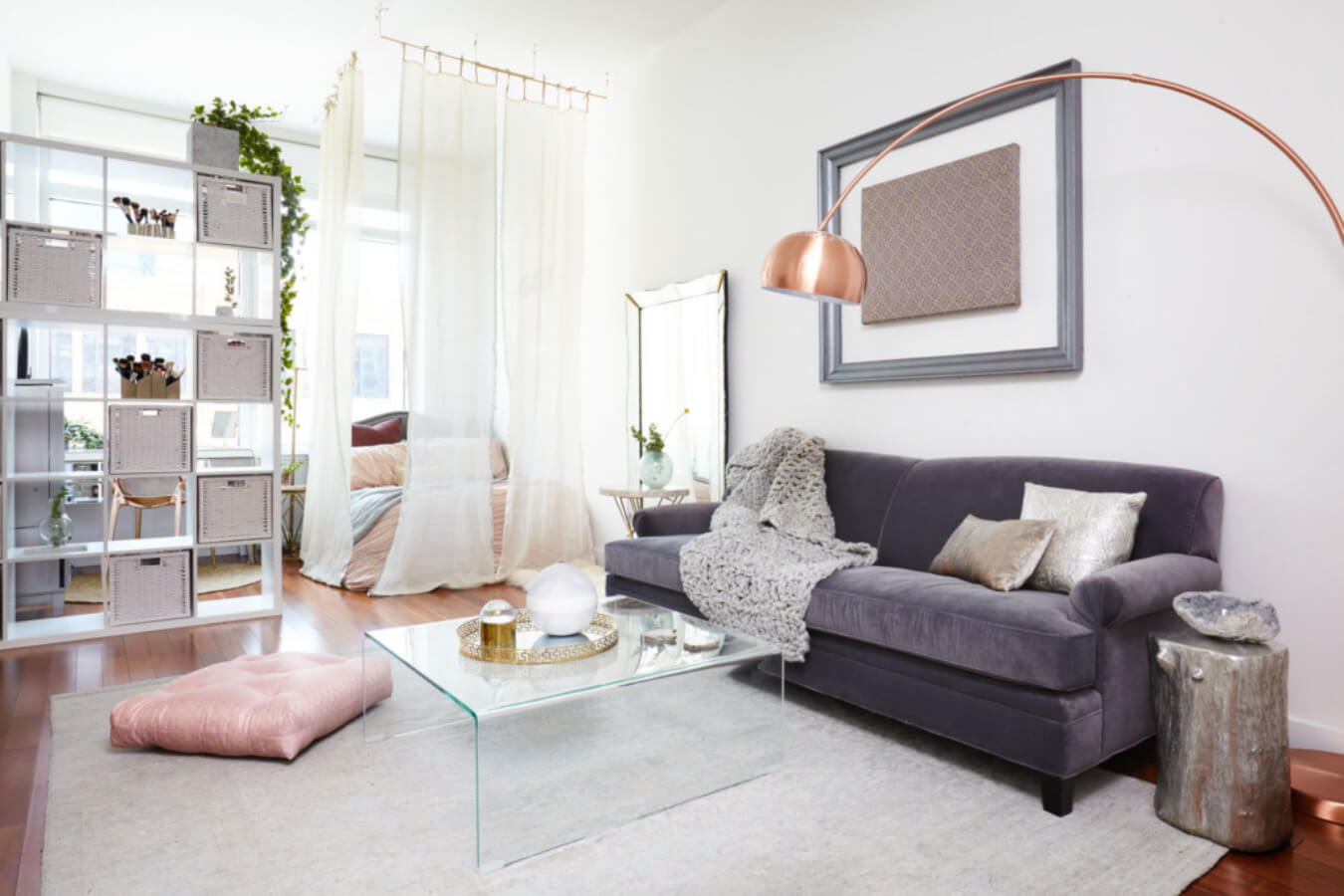 This studio apartment uses multiple dividing options. A large rug in the sitting space, a curtain around the bed ánd a bookcase to create a seperate work area.
You can also use sheer curtains to create the illusion of a separate bedroom area, it created just enough privacy for your bedroom space without losing too much natural light.
See also: Studio Apartments with a Curtain Room Divider
Divide a studio with a (glass) wall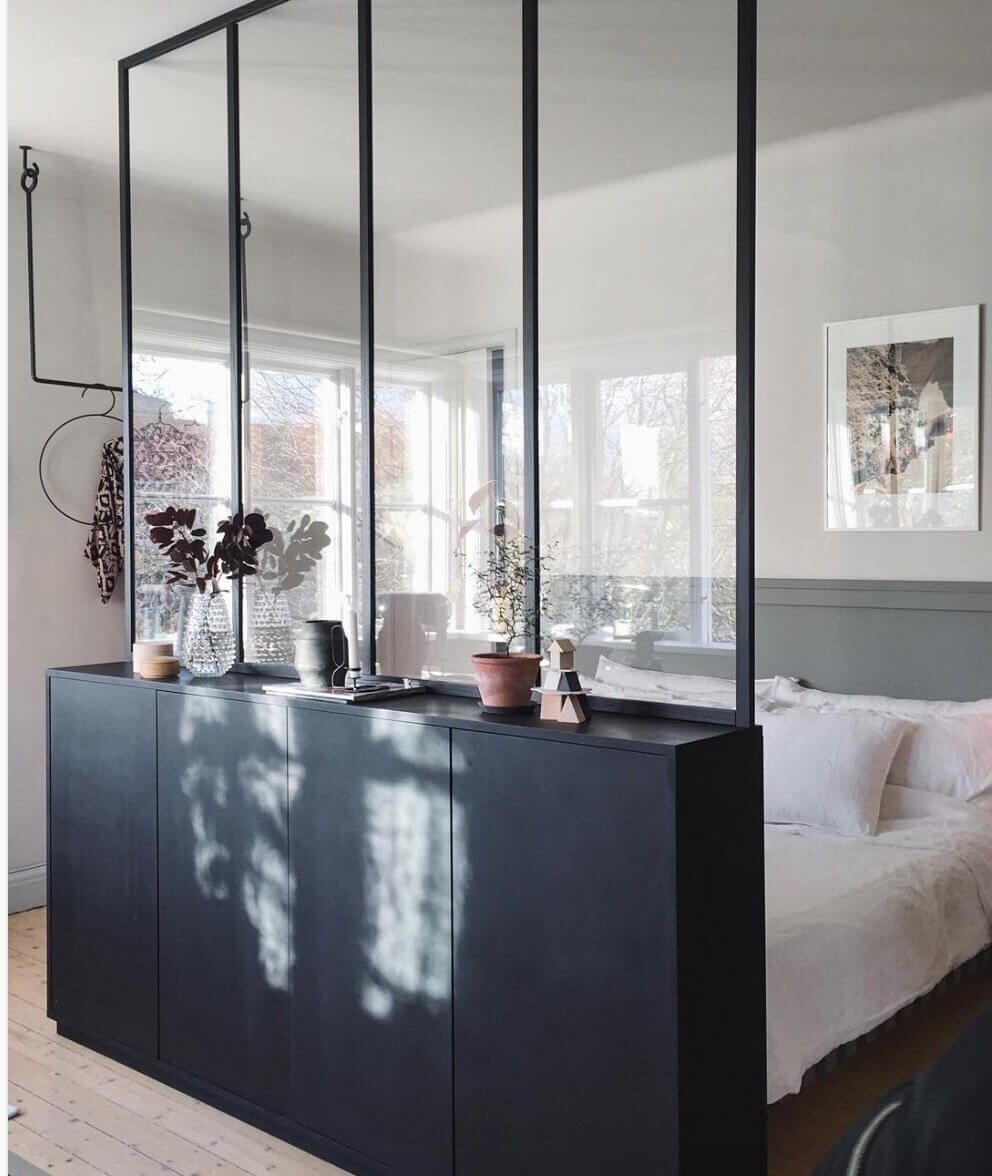 IKEA Ivar cabinets with a industrial glass wall above to separate the bedroom area from the living area.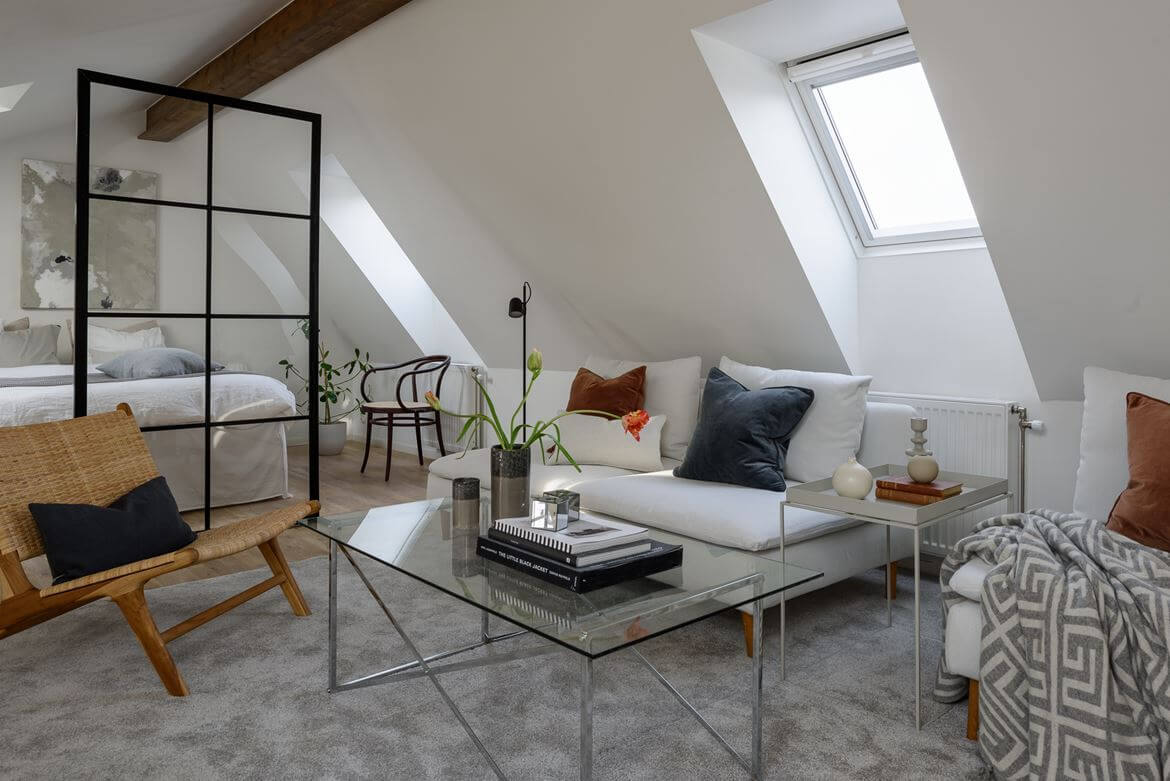 A narrow glass wall divides the sleeping and living area. By using glass walls you don't lose natural light, which can be useful if the light only comes from one side.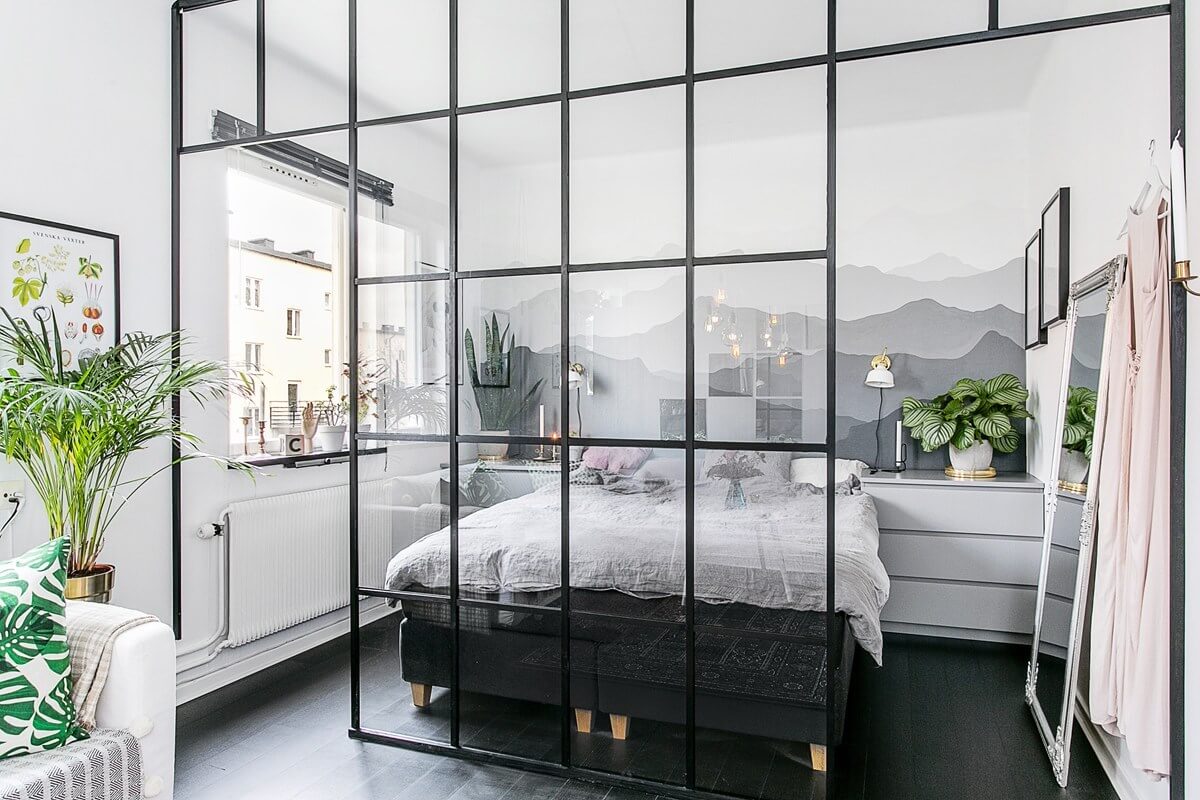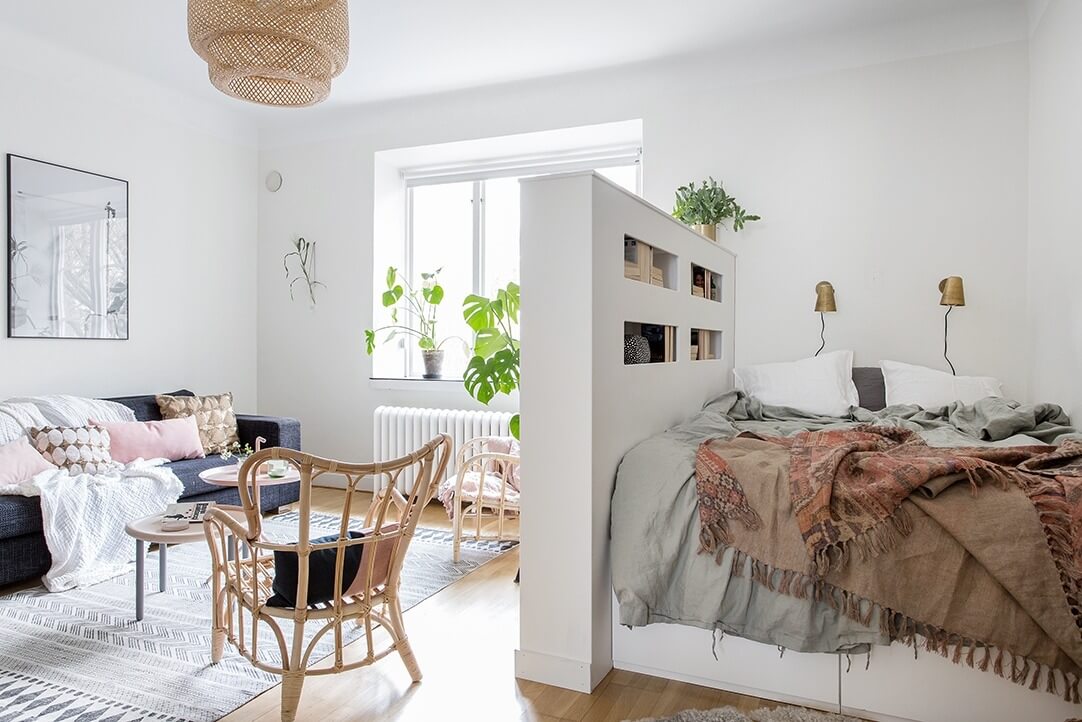 You can add a half-high wall to create some privacy for your bedroom area but it won't make the room feel cramped or dark. And the wall can be used to show art or hang a television.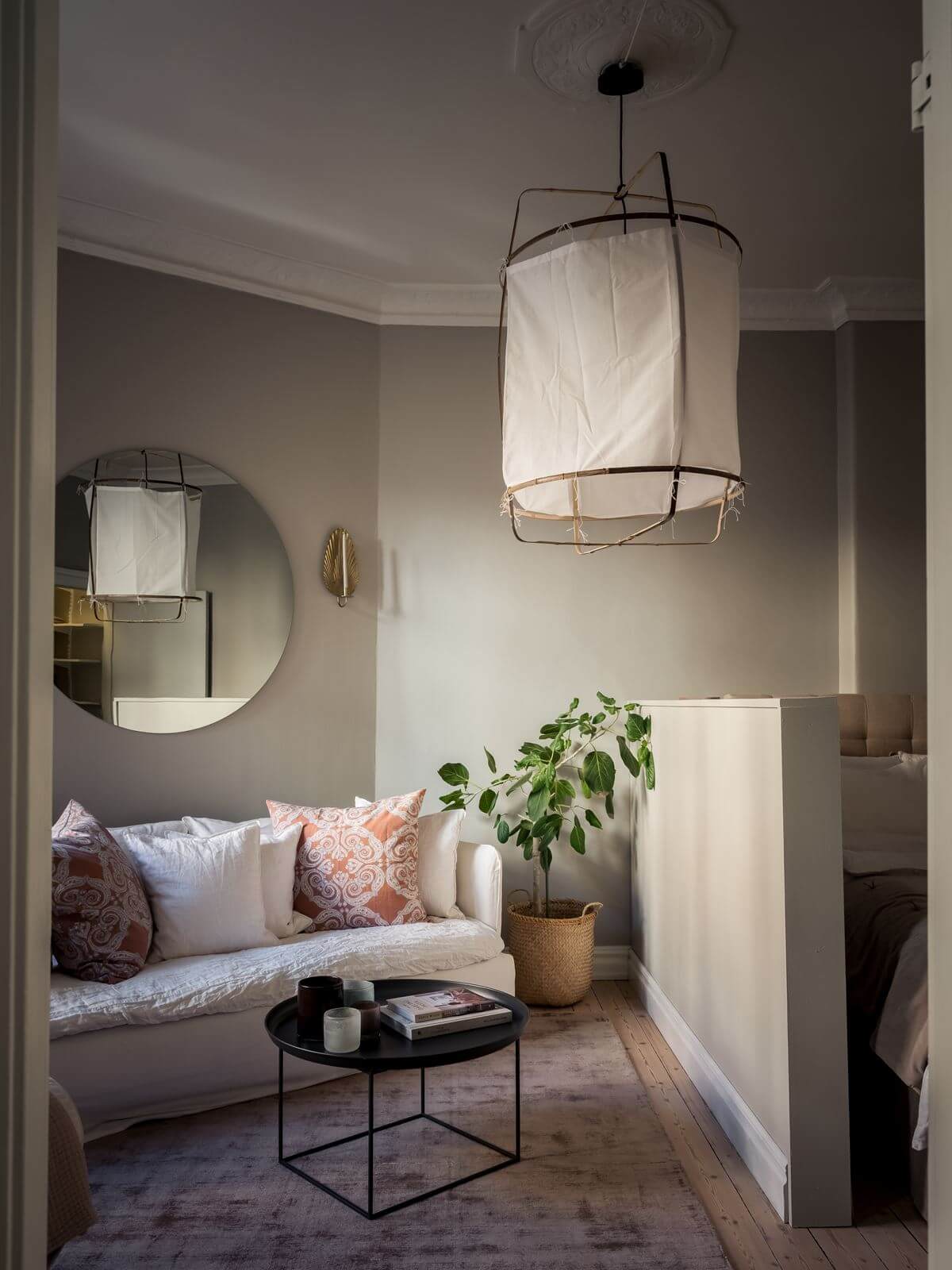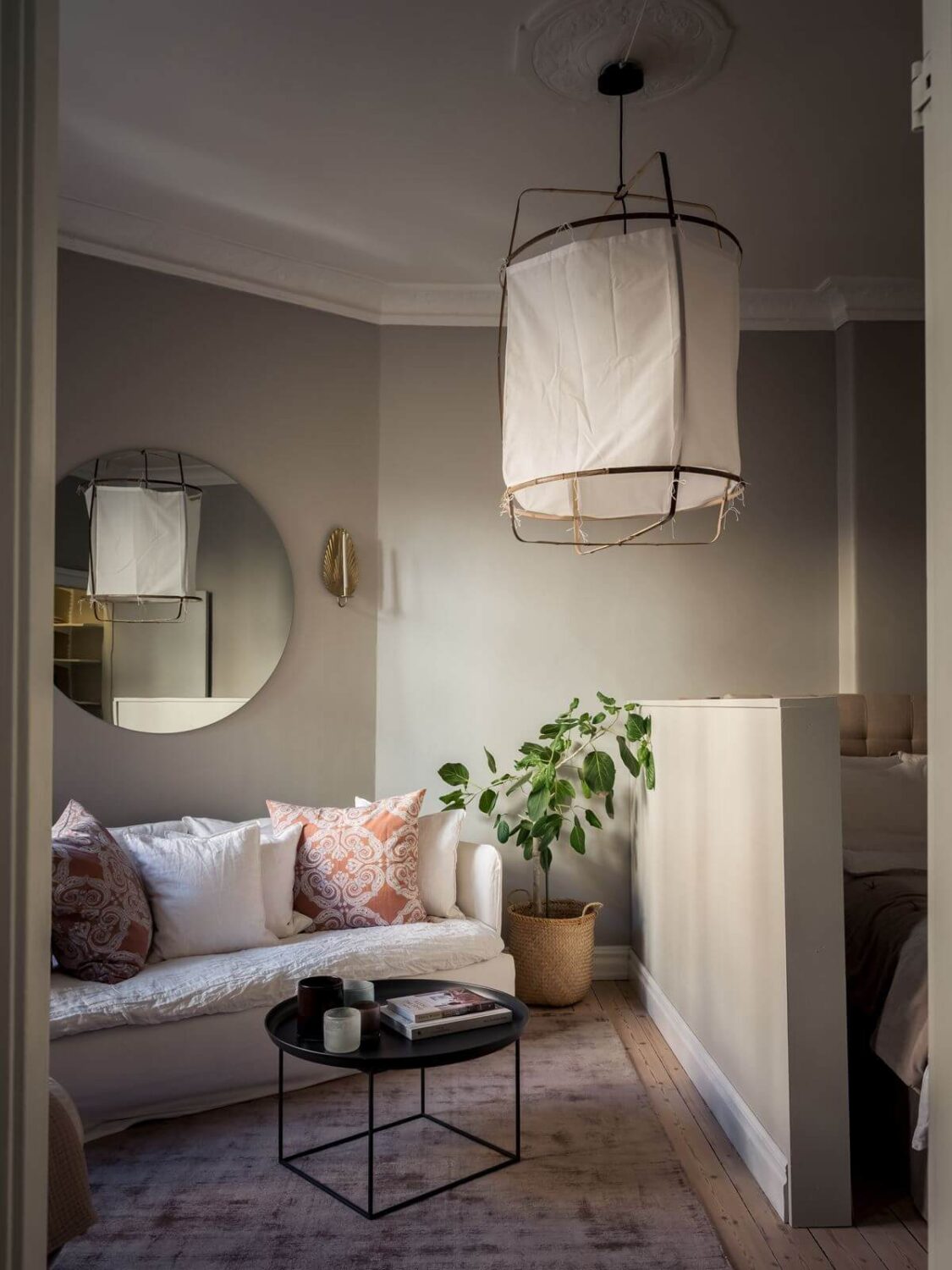 Divide a studio with a canopy bed
A canopy bed creates a separate zone for your bed, plus you can use it to hang curtains to close it off even more or you can use it to showcase your clothes or add some greenery with hanging plants.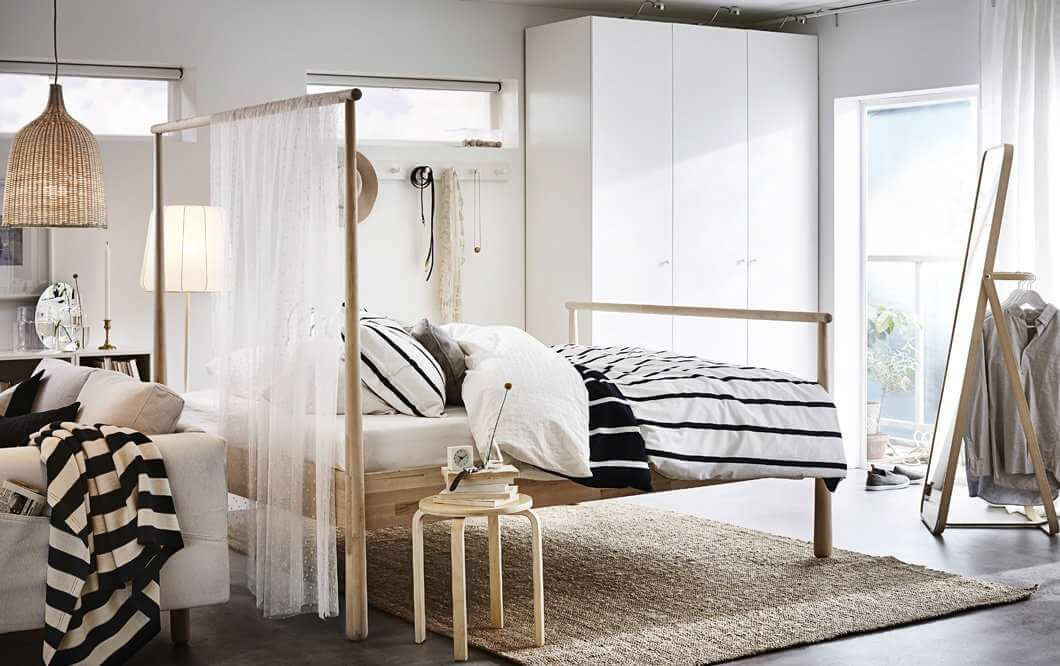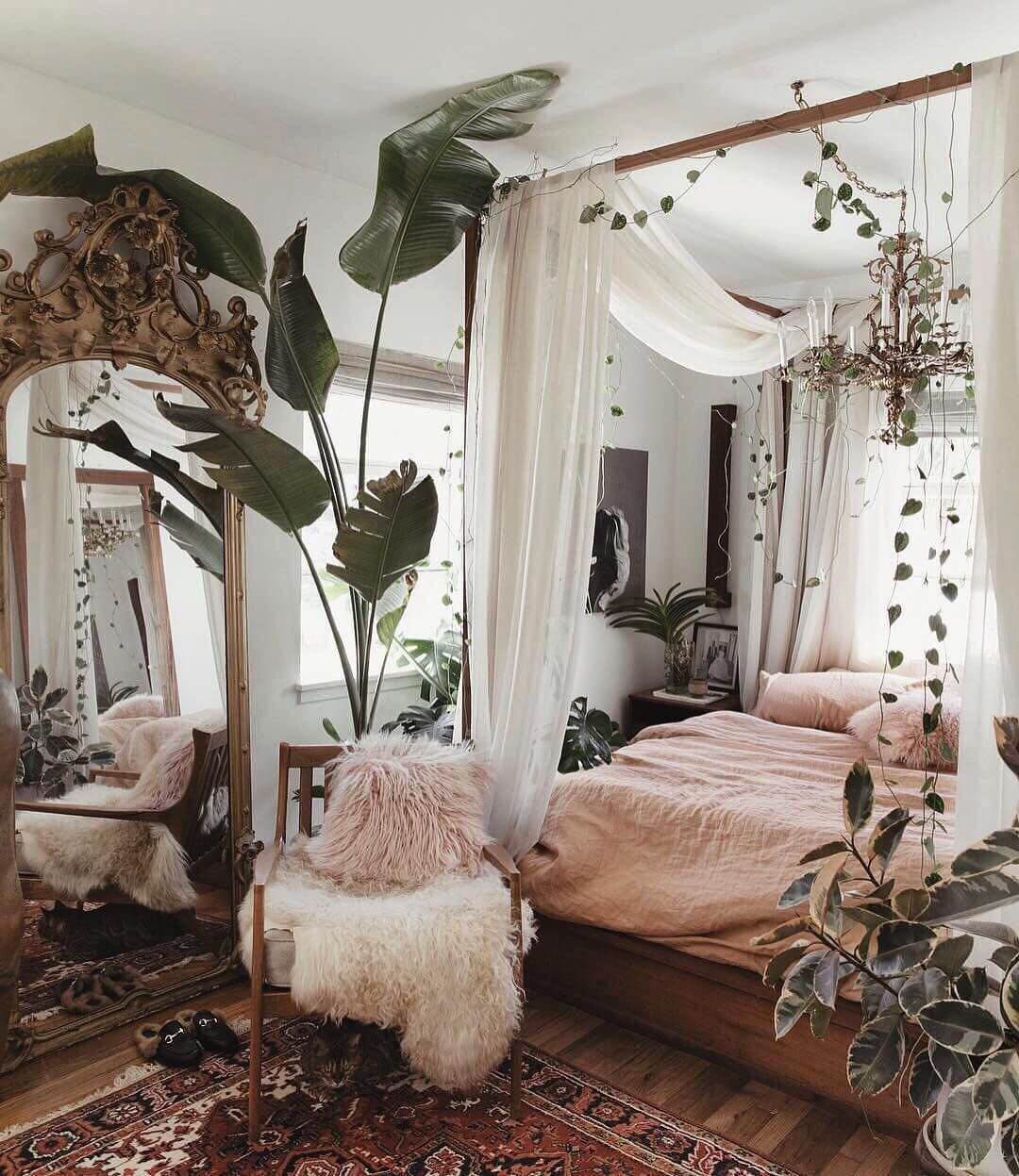 Divide a studio with clever furniture placement
By placing your furniture in a certain way you can easily create zones in your studio. A good example is by placing your sofa by the foot of your bed, that way you don't always have to look at your bed (you can even add a screen as well to hide it even more)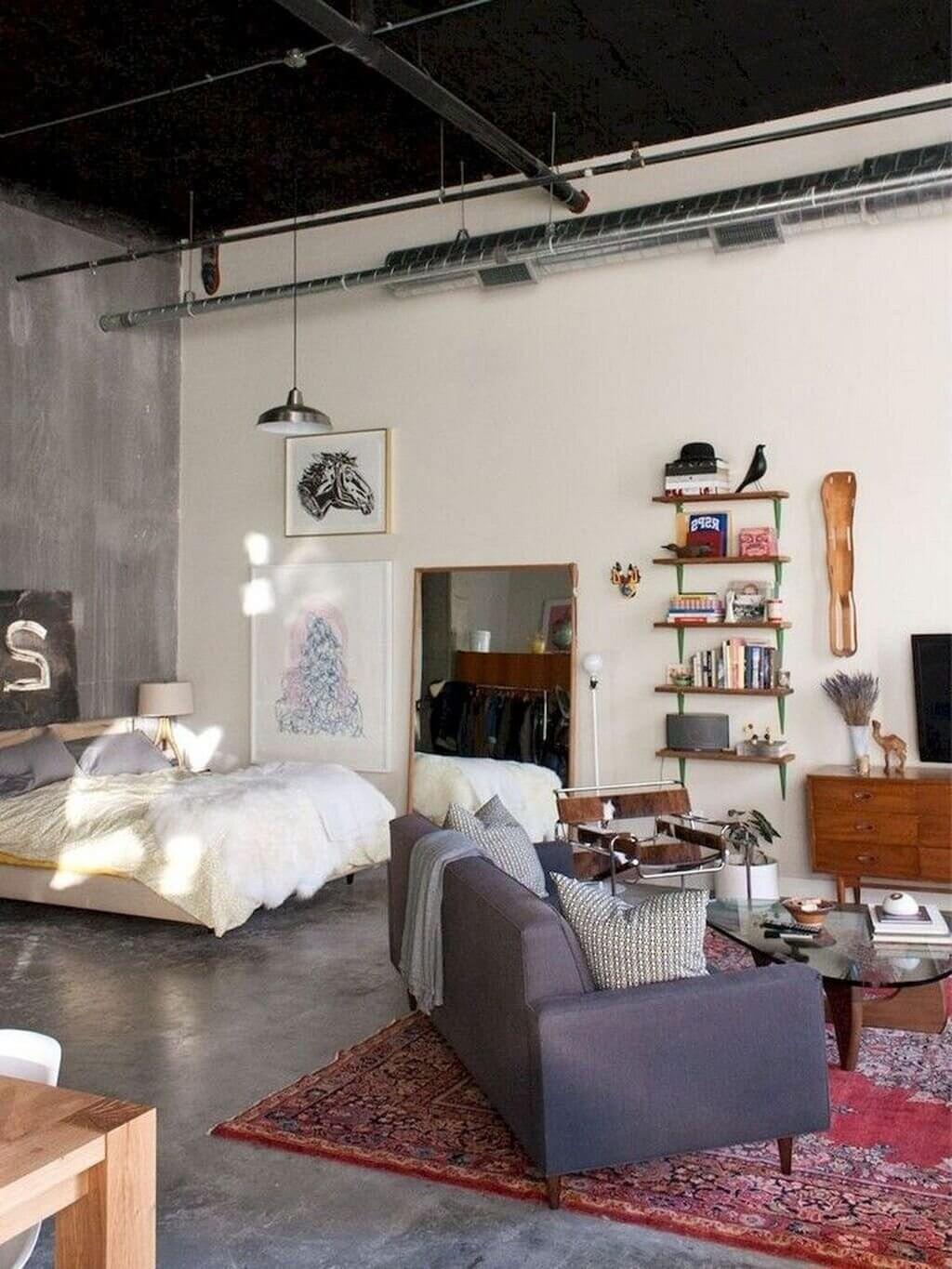 An industrial studio apartment is divided by placing the sofa on an angle to the bed. A warm rug helps divide the studio into living and sleeping
IKEA is probably the king of small space design. Above you see an attic studio with a desk behind the sofa(bed).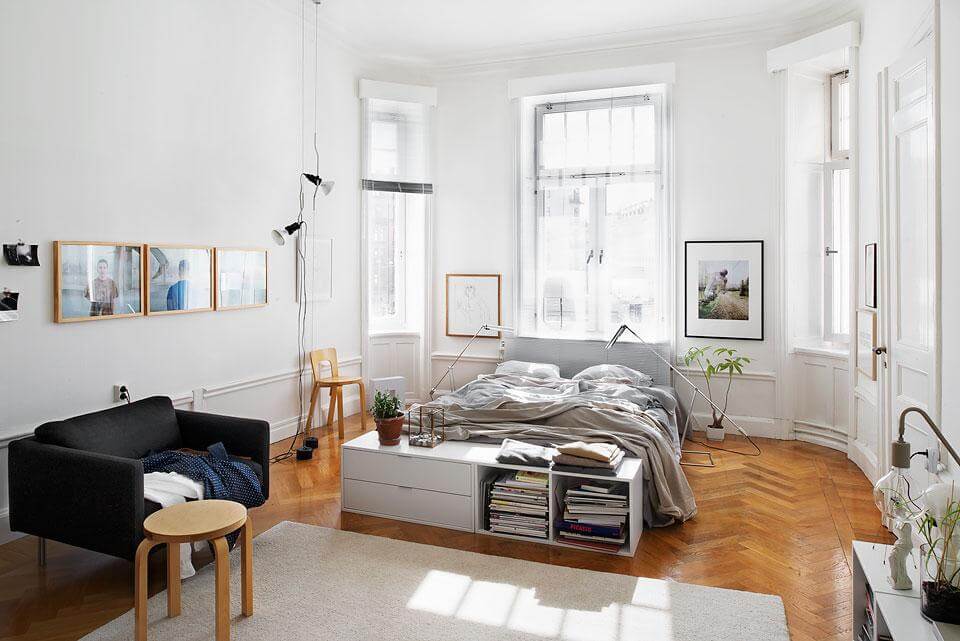 A vintage L-shaped Arne Vodder desk creates a divide between living and sleeping area.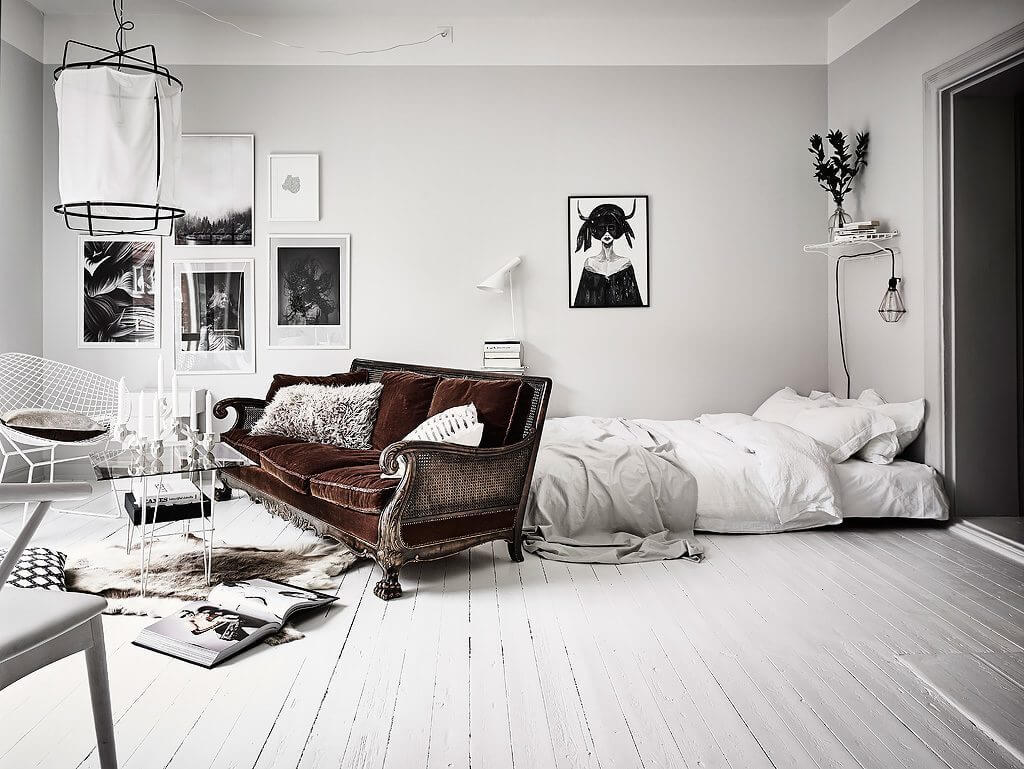 A vintage sofa by the foot of the bed to create a separate living area. I love how it's placed with an angle that can be smart if your studio is narrow.
Because the sofa is placed in the middle of the studio it creates a dynamic division between living and sleeping.
Divide a studio by using the nooks in your space
If you're in a bit of luck, your studio apartment has a nook. You can use this if you want to create separate zones in your studio. Often the nook is used to place the bed, but you can also create a home office in your studio nook (for example if you work from home a lot). You can see small home office ideas (including home offices in a closet/nook in this blog post)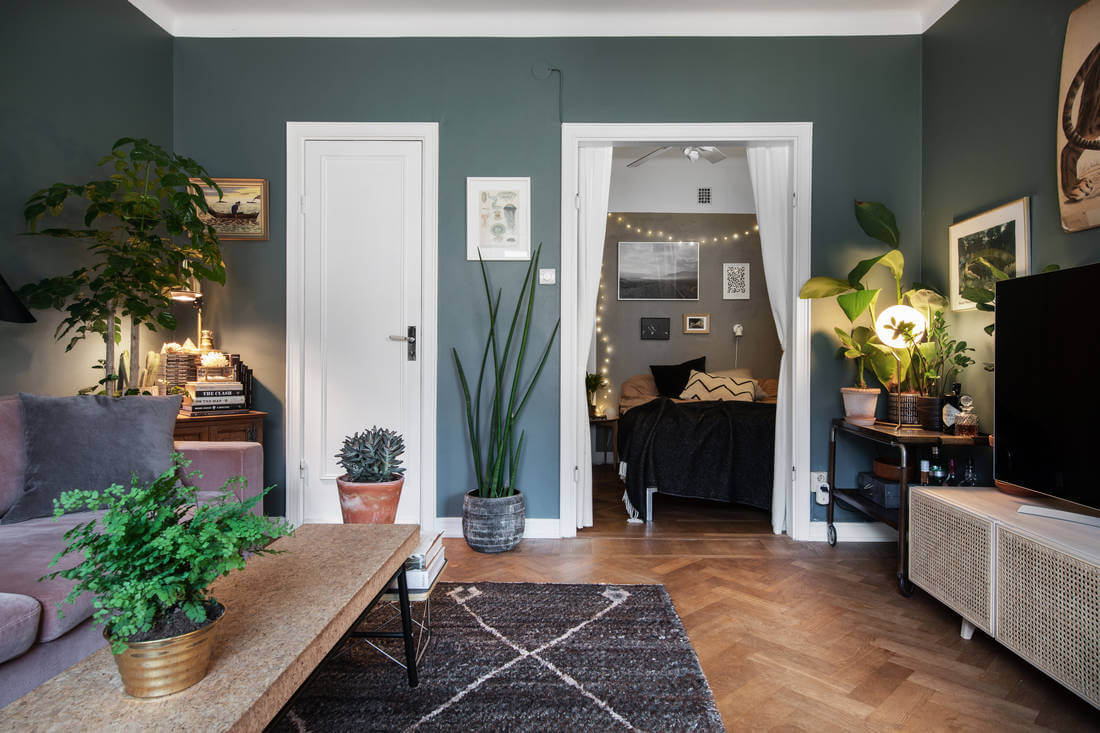 They were lucky in the home above, the nook is big enough for a double bed and can be closed off with a curtain. Of course, you don't have to use the nook for the bed perse, for example, if you live with someone in a studio and you work/study from home you can also create a closed-off workspace in a nook. Or maybe a crafts area that you don't always want in sight.
A nook just big enough for a bed made of IKEA Malm dressers to add that much needed storage space in a studio apartment.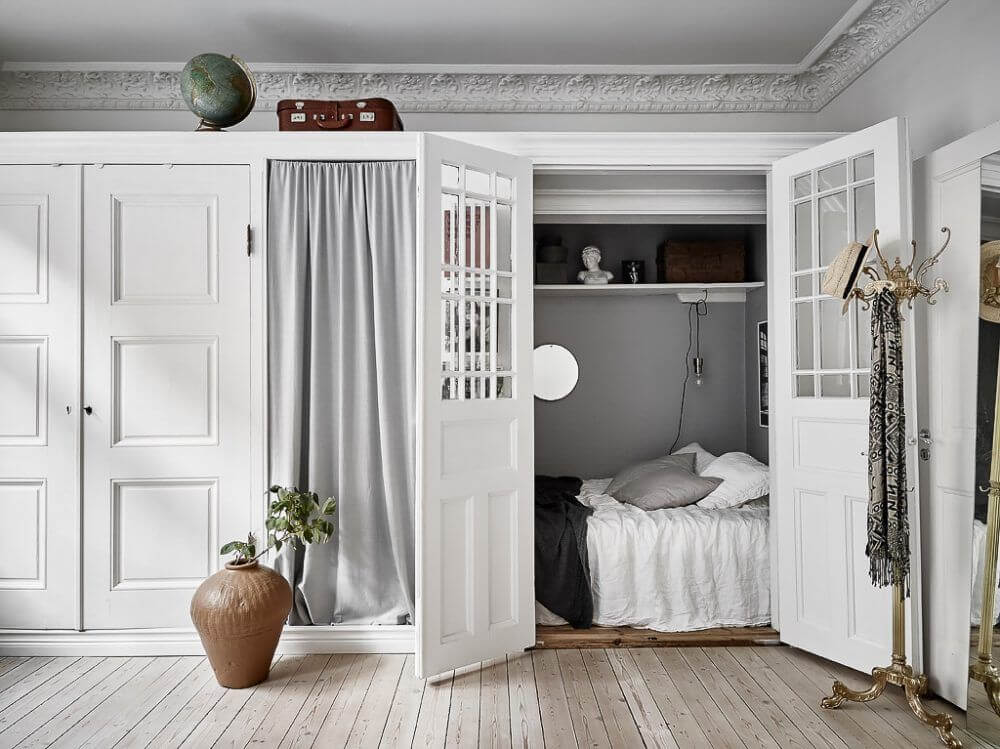 If your studio doesn't have a nook in the floorplan, you can create one by adding a closet wall to your studio as you can see above. You can close the doors during the day and at night you can crawl into your bedroom space.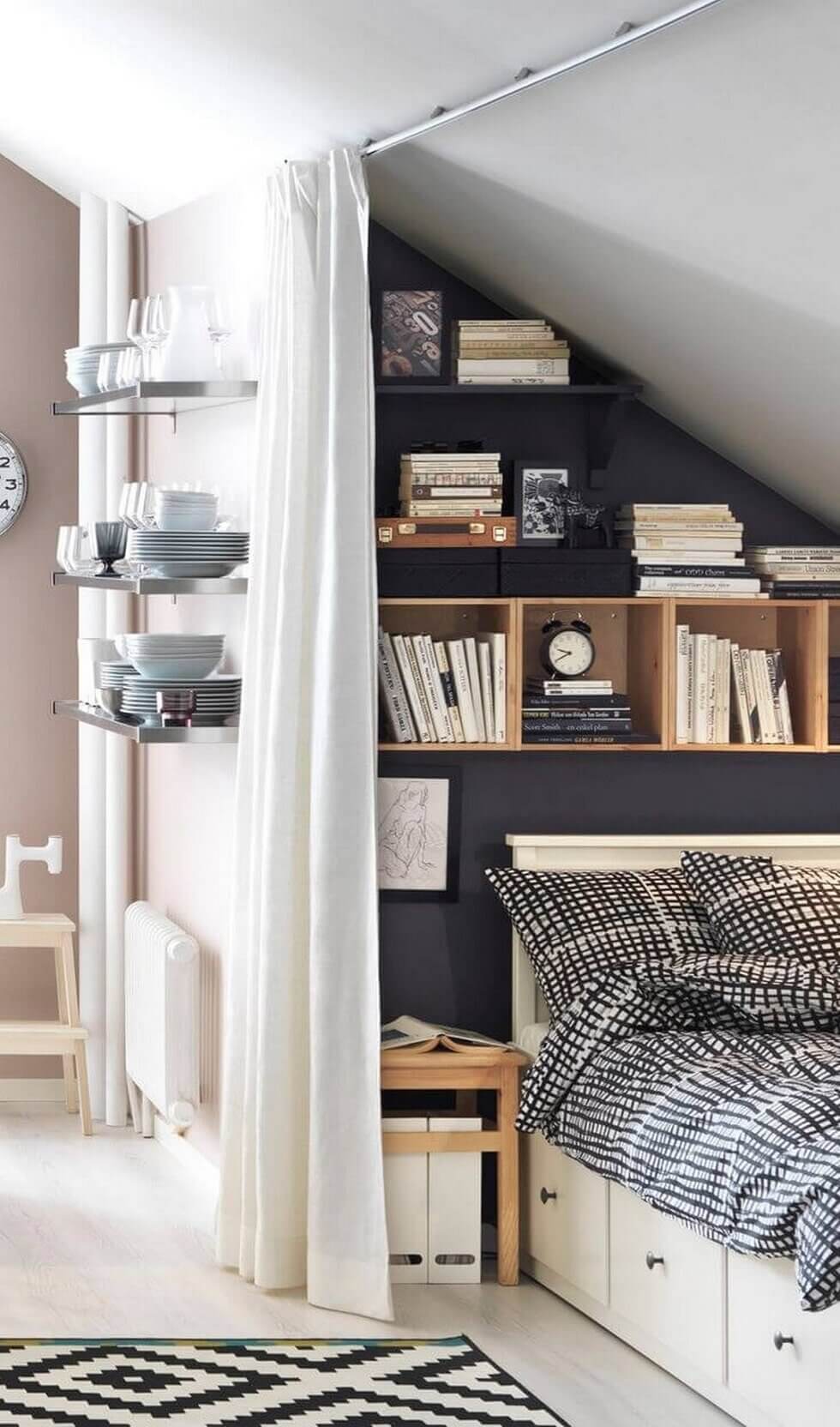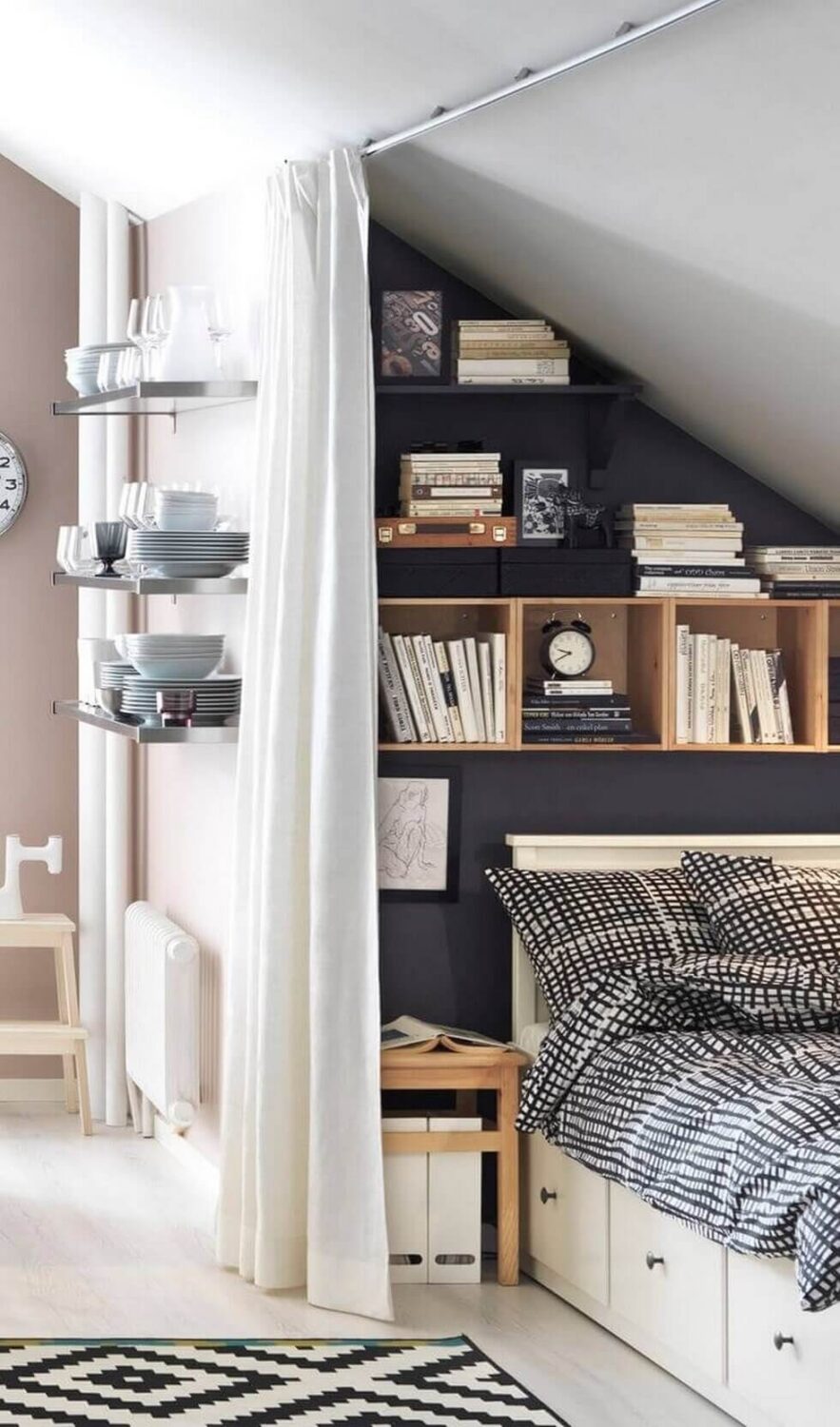 A dark painted bedroom nook under a slanted ceiling that can be closed off with a curtain.
Divide a studio apartment by using different paint colors
Another way to create different zones is to use your paintbrush. By painting one area a different hue you can give the illusion of a separate zone. (if you want to keep the look of your studio calm then you can opt for 2 colors from the same palette. More on color palettes are below in this post)
See also: 43 Ideas To Divide a Studio Apartment Into Multiple Rooms
Multifunctional & flexible furniture in a studio
Multifunctional furniture is a must if you live in a studio apartment. I've already featured the bookshelves above, where you combine storage space with a room divider but there are other options as well.
Multifunctional furniture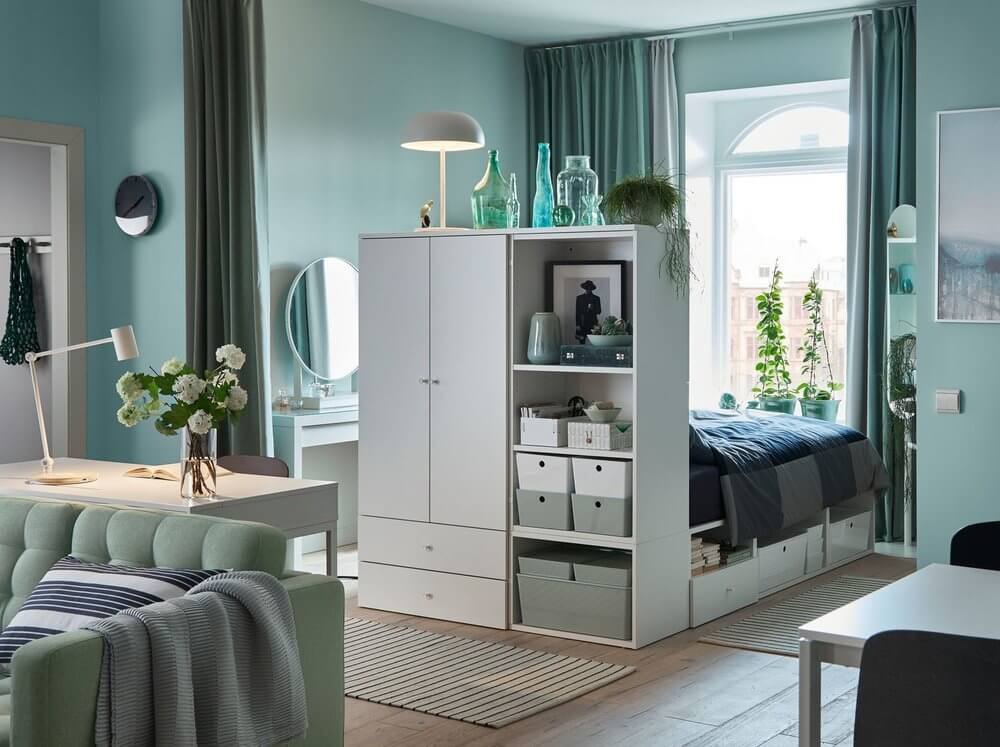 New at IKEA this year is the PLATSA bedframe. It's a system that you can design yourself to accommodate your needs. Above there's a wardrobe with open shelves but you can also add only the open shelves or drawers, whatever you need! It's not only is multifunctional but it also creates a seperate bedroom area. Plus the bed has underneath storage which is incredibly useful if you live in a small space. Use all the space you have!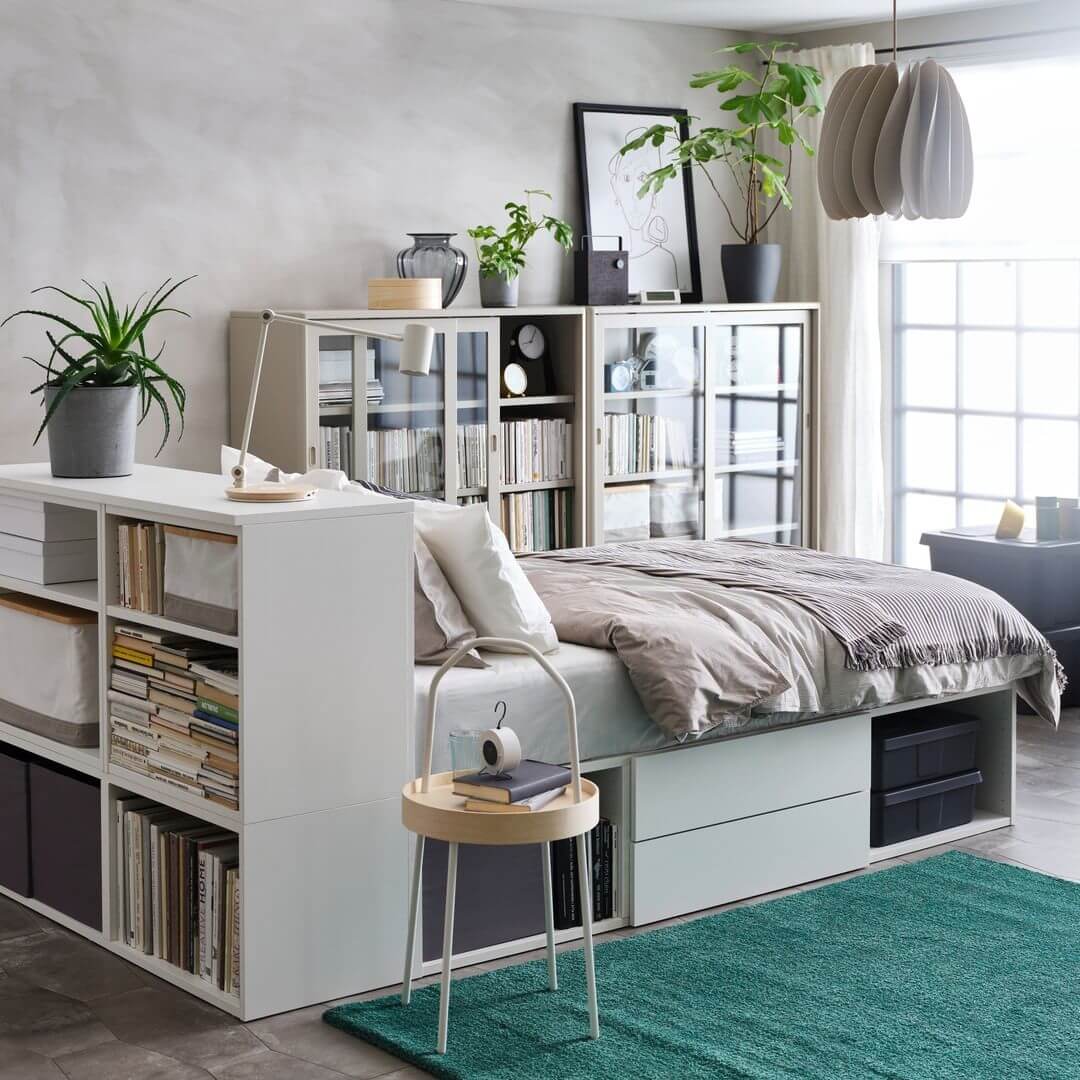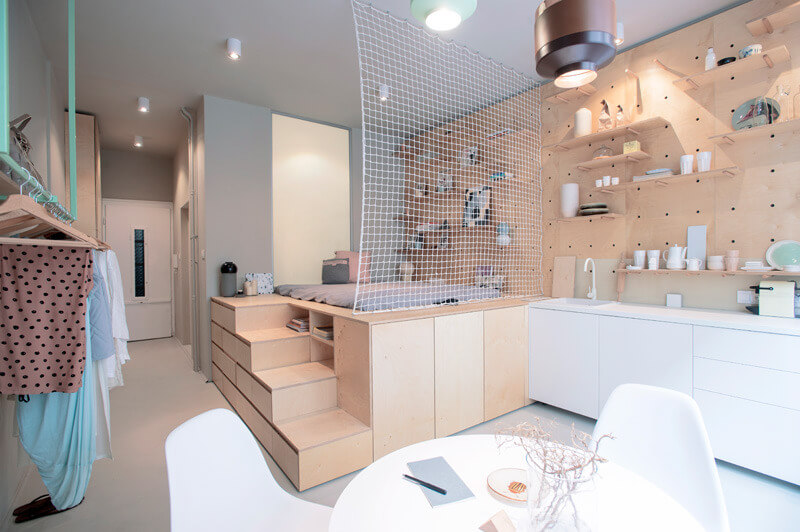 A bedroom block with plenty of storage underneath and a pegboard wall that can be used however you need it.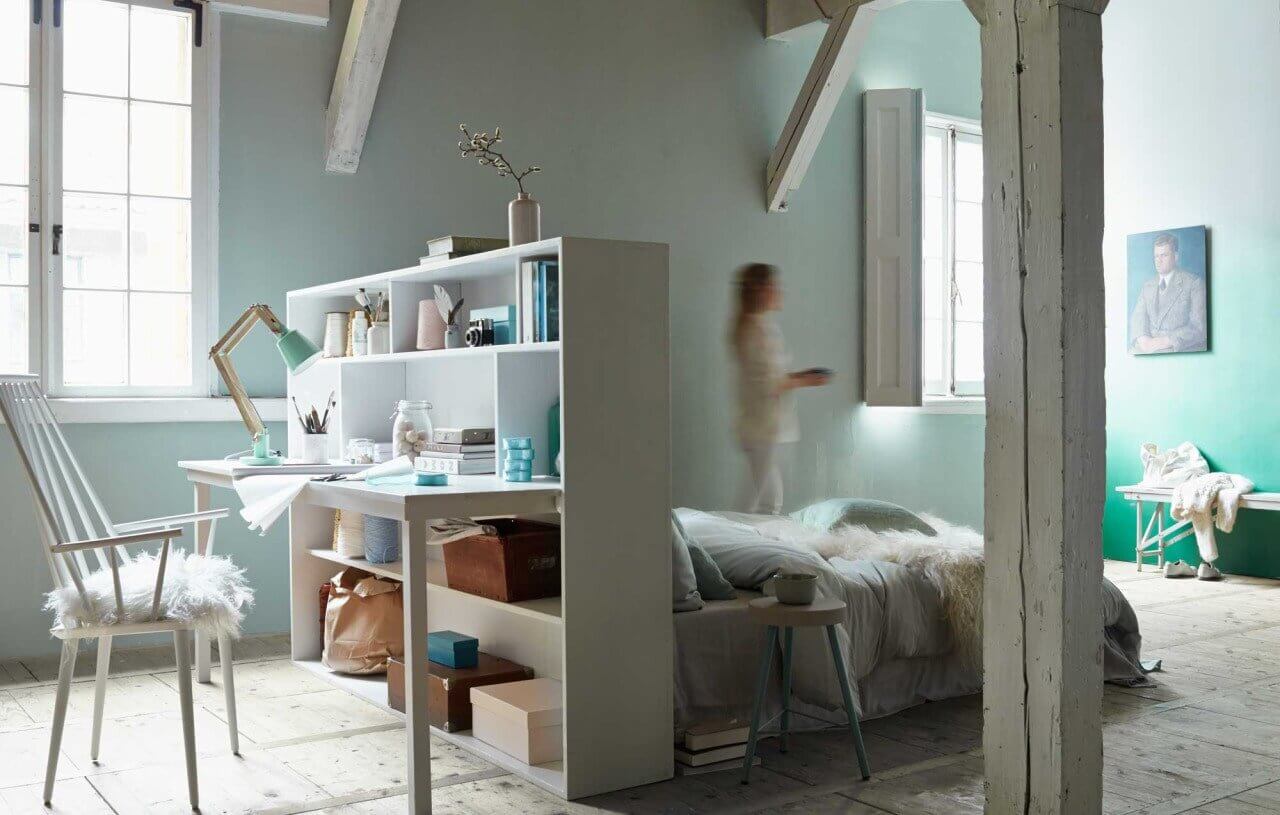 A bed headboard has a double duty by also using it as a bookcase and desk area.
A studio with a sofa bed
A studio with a murphy bed
A murphy bed is perfect if you're low on space ánd you want to hide your bed during the day. Just flip it up in the morning and you suddenly gain a lot more moving space.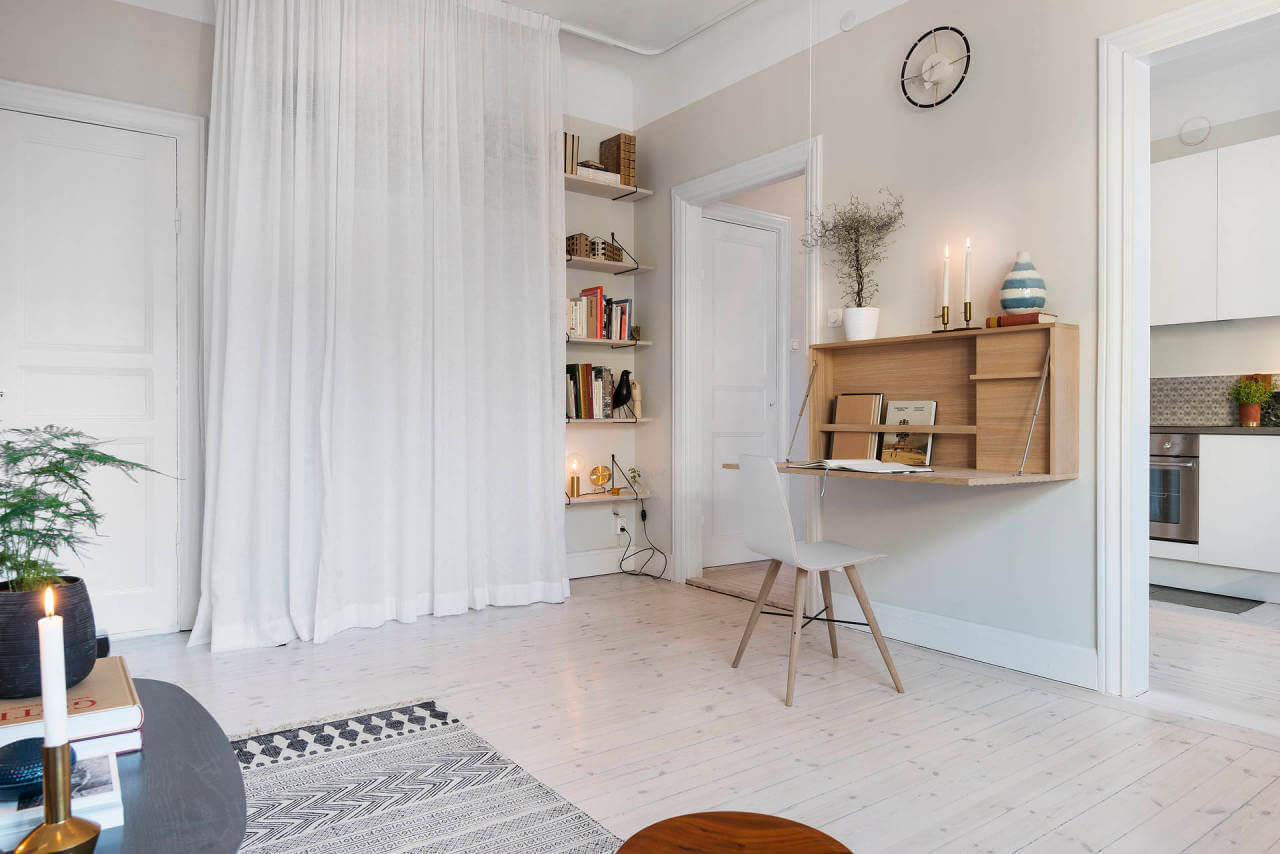 The murphy bed in this studio is behind custom painted panels, not only does it hide the bed during the day buy it's also a nice statement piece in your small home (photo: Elaine Musiwa)
A studio with folding tables
Folding tables were made for small spaces. There are several options if you want to use this space-saving idea. There are several fold-out tables and desks that you can buy (take the IKEA Norden for example), you can make one yourself and even attach it to the wall.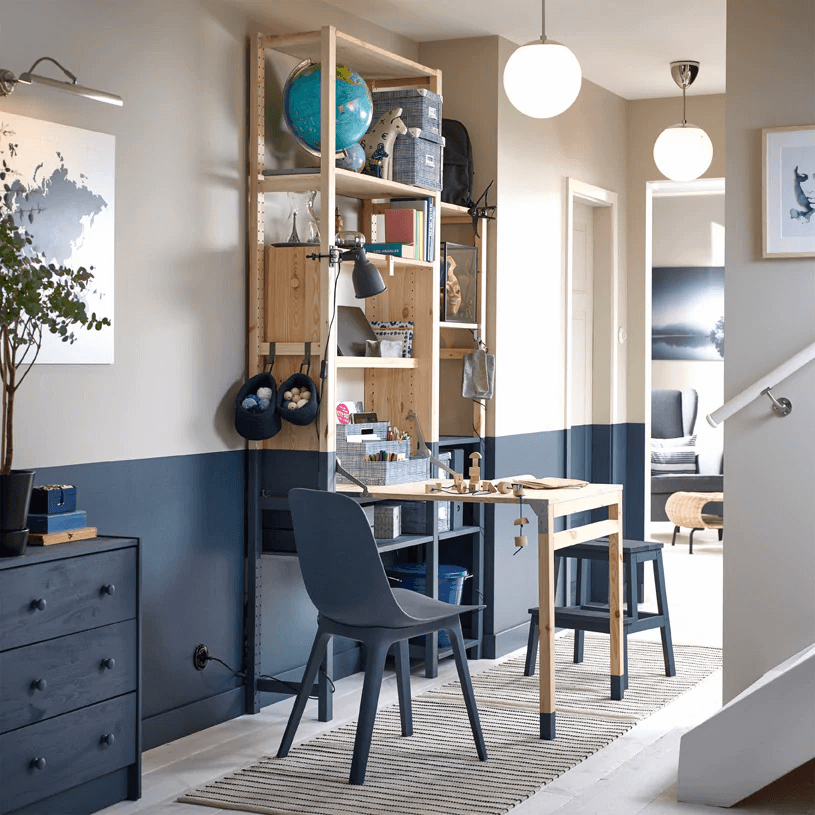 A workspace created with the IKEA Ivar system. The table can be folded up when you no longer need it (and great paint idea as well!).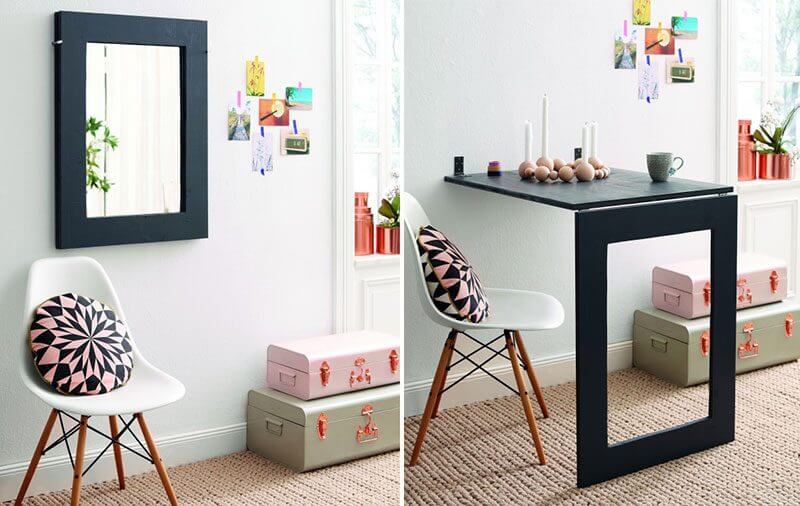 A folding table that serves as a mirror when you fold it up to the wall Ps: instead of a mirror you can also showcase art when it's folded up (see the tutorial on Handimania)
A mid-century fold out desk by Urban Outfitters, not only space saving but also super stylish
Color schemes in a studio apartment
Most articles about the design of studio apartments will say that you have to paint your small home in a neutral, light color scheme, I disagree! I'm not here to tell you that one color scheme is the best option for a studio apartment.
I think color in home design is very personal, some people like things minimalistic and neutral, and others prefer to make a colorful statement. Don't think too much about what others advise, what do you want? What are the colors that make you happy and want to surround yourself in every day?
There is no right or wrong when it comes to decorating your home, if you like an abundance of color, go for it! You can incorporate color in many different ways, paint the walls, add colorful furniture or add colorful touches with fabrics and home decor.
If you feel a bit lost when it comes to chosing the right colors then there are few 'color guidelines'.
Colors in the same temperature create a harmonious look.

Colors can be divided into 2 groups, there are warm colors (such as beige or brown) and cool colors (such as blue and green).

Monochrome colors.

While a color temperature is quite a broad spectrum you can narrow it down and choose a monochrome palette. These are colors in the same hue such as soft pink and bright pink or the Scandinavian white/grey/black palette.

Contrasting colors enhance each other

. If you choose 2 colors on the opposite side of the spectrum then these will enhance each other and you will create a strong colorful statement. Think for example pink with blue.
Below you can see examples of studio apartments in all kinds of color schemes, so you'll see that there's no one 'perfect' color scheme for a studio.
This studio apartment falls under the categorie 'contrasting colors' purple vs. yellow and red vs. blue. It's a lot of color but it does create a fun, bright and personal home (photo: Mathieu Lacote)
Come over to the dark side! Completely covered in black paint, vintage furniture, and a canopy bed this studio certainly makes a statement. Who says a small home should be white? (styling: Rydman & photo: Boukari)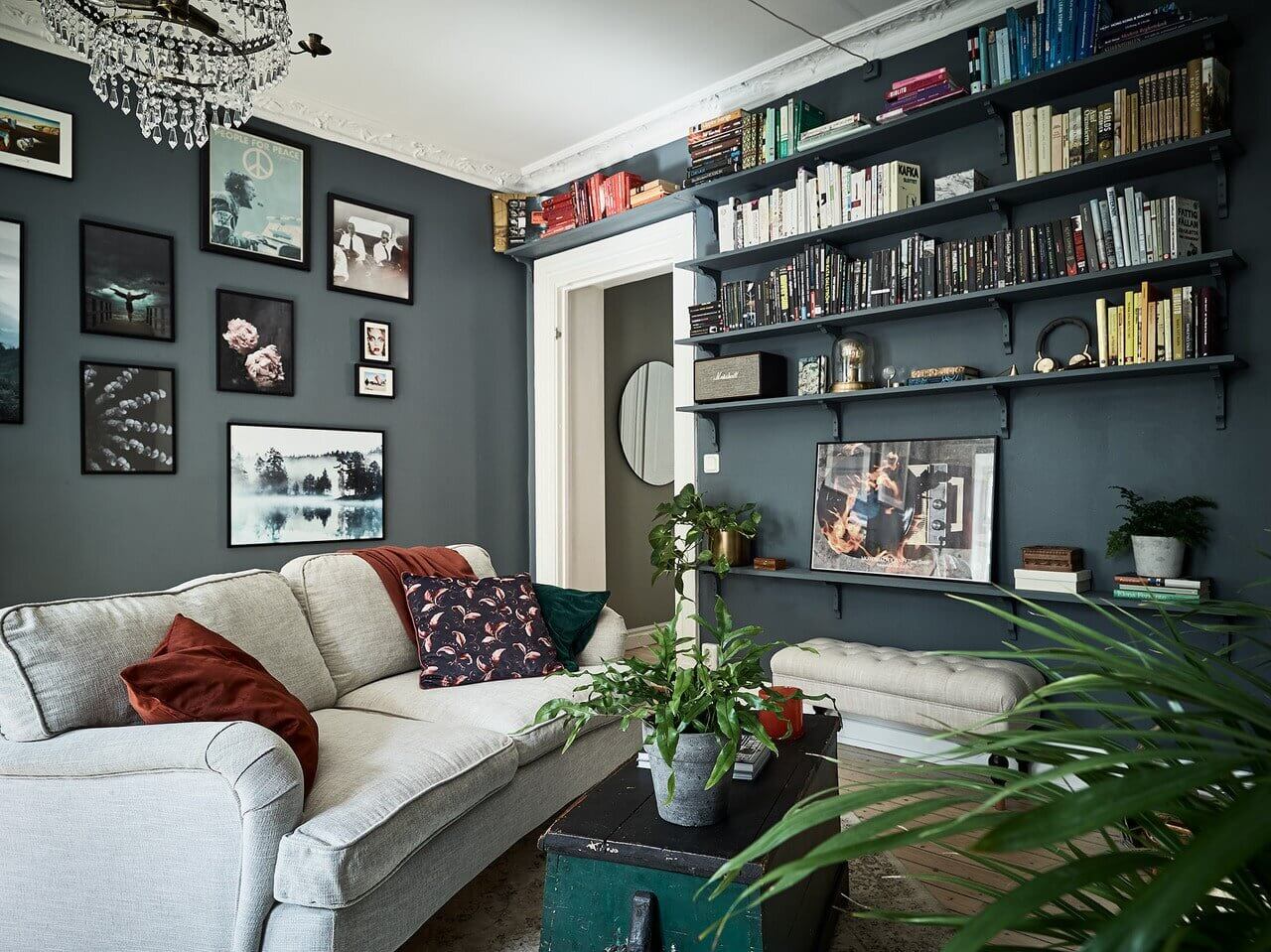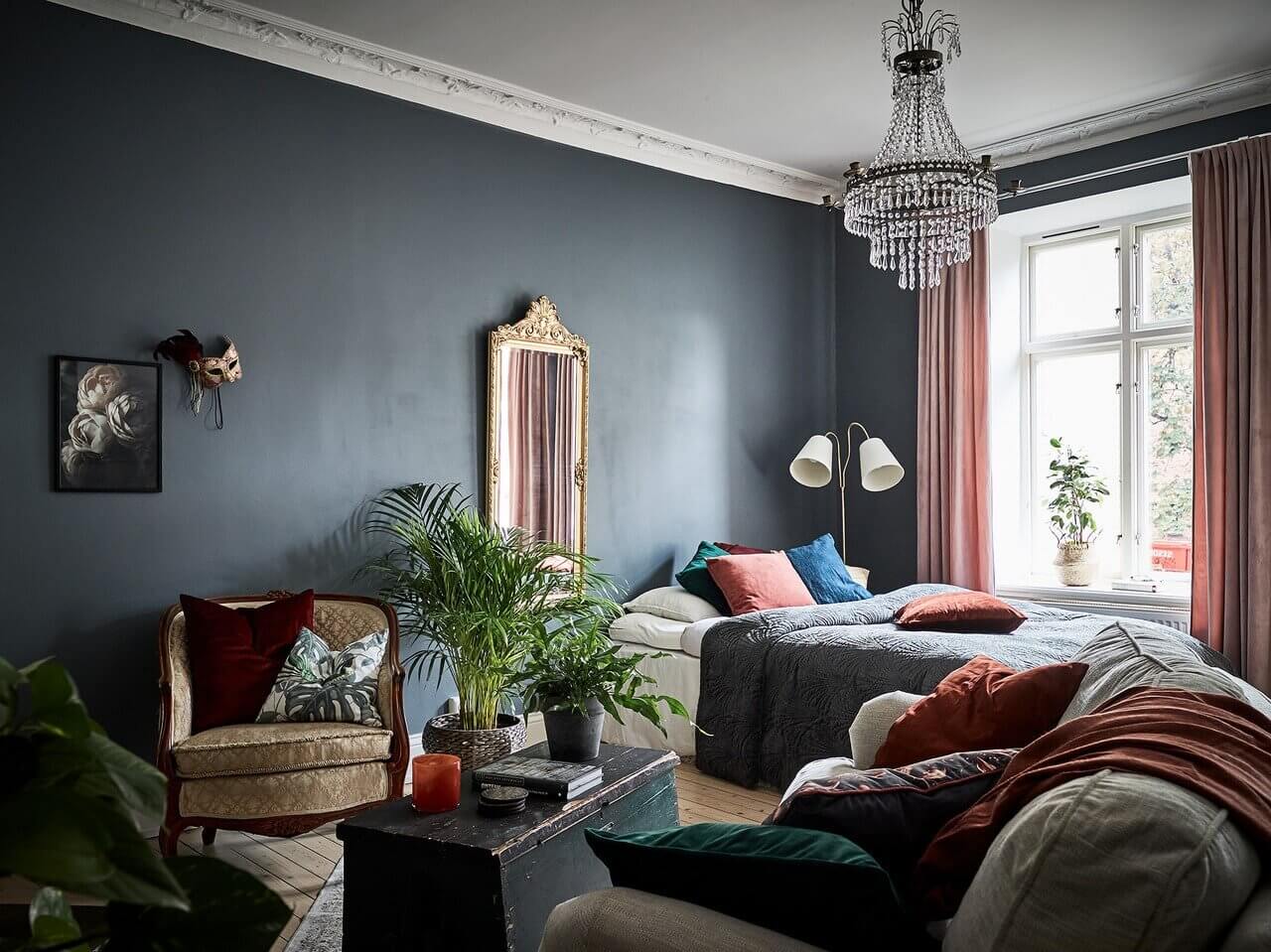 Slightly less extreme than the previous example but this studio is also painted in dark colors with vintage furniture. Add some pink as a contrast to the blue tones and you'll create a beautifully warm home. (oh and see the shelf above the doorframe, very clever!)
Colorful walls and textures in a vibrant studio apartment.
You might think that monochrome is only white/grey interiors but this is also monochrome. Soft pink walls with a darker pink velvet sofa all from the same color palette It's colorful but in a calm way.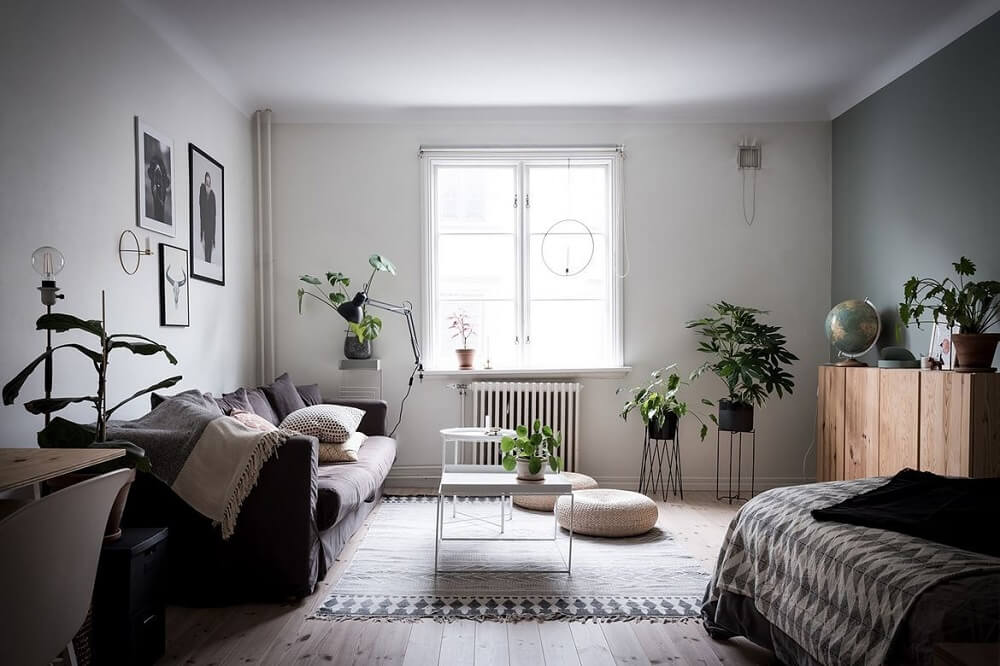 A cold color palette in this studio apartment by combining greys with green. If painting all walls is a bit too much for you but you still want to add color then you can choose to create a statement wall.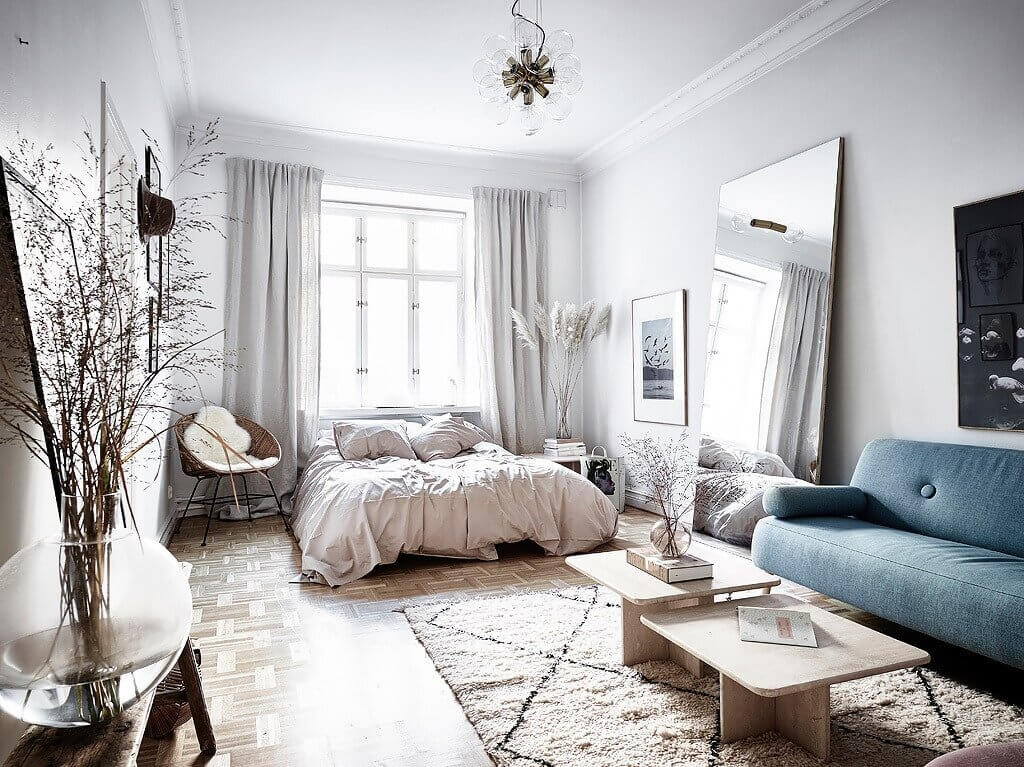 A light grey base is spruced up with blue and soft pink. Pink and blue are always nice contrasting color combinations.
Light and calm. If you prefer a minimalistic look for your studio apartment you can go for a light monochrome color scheme with light greys, beige and light wood furnishings (and a brass/mustard yellow color touch).
Space saving ideas for a studio apartment
It might sound logical but use all the space you have if you live in a studio apartment. That often means you have to go up! I've already shown loft ideas in this post to create a separate sleeping area and open up floor space and also other multifunctional furniture.
Another clever way to save space is by using curtains or sliding doors instead of normal doors (after all a normal door needs extra space to open up). Don't forget all the spaces that you normally would ignore such as the space above & behind doors.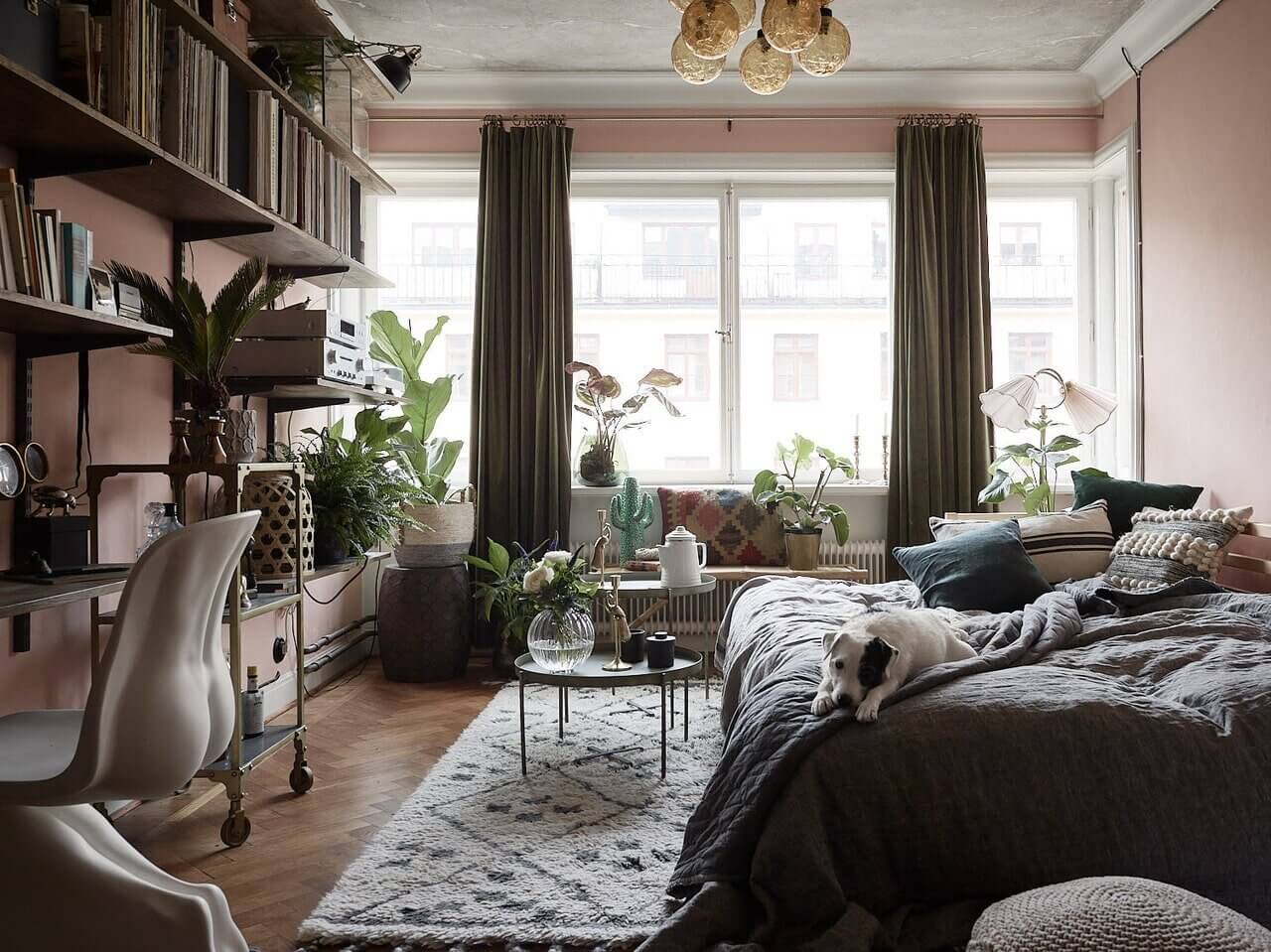 In the studio above the wall shelves go all the way up to the ceiling to use all the storage space you can get. Plus the shelves also function as a workspace which makes it multifunctional!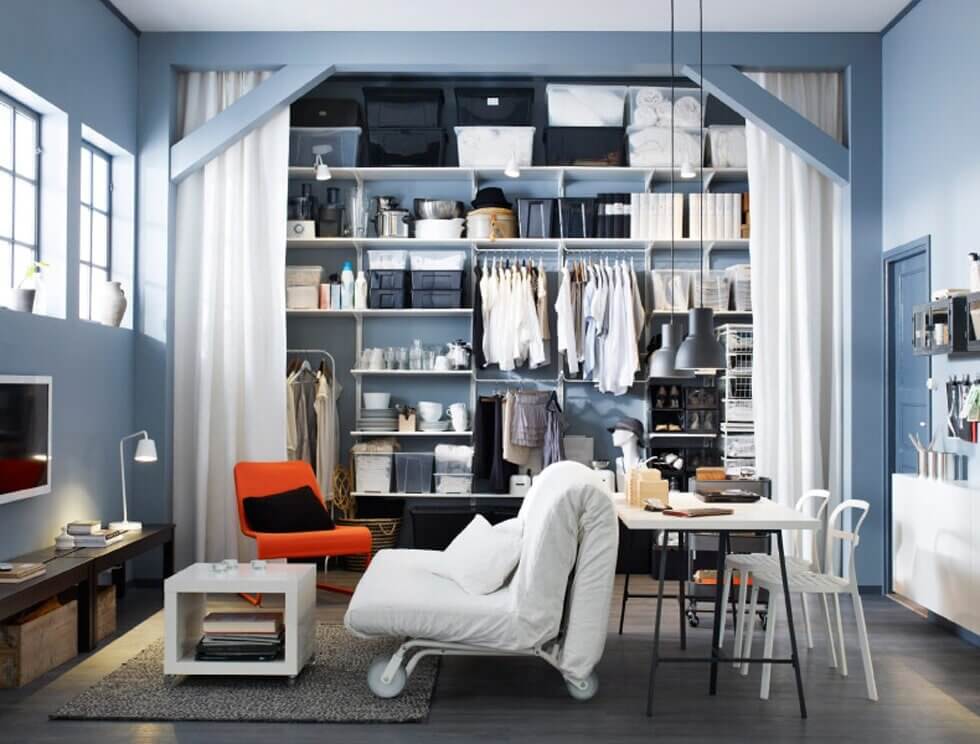 One wall in this IKEA space is completely used as storage space. With a curtain you can easily hide it from view to create a cleaner look.
It has already appeared in this post a few times but a bed with storage underneath is the perfect way to add storage space ánd create a bit of a divide between the bedroom and living space.
The plus side of a storage bed like the one featured above is how it opens. In contrast to beds with storage drawers this option doesn't need too much space around the bed to open up. Perfect for all your season clothing and other items you don't need that often.
The space above doors that most people ignore is perfect for shelves
So what can we take from this post about how to design a studio apartment?
first think about what's in important for you in a home, prioritize your main function
take a good look at the layout of your space, are there nooks? do you want to create different zones? where is the light coming from?
get multifunctional furniture
think about the color scheme you want in your home (and ignore people who say studio apartments should always be decorated in light colors)
go up! and use all the space you have
But most importantly this post on how to design a studio apartment shows you that even though you might live small you certainly don't have to compromise on style.
Do you want even more studio apartment inspiration? Check out the studio apartment tag on The Nordroom or take a look at The Nordroom's studio/loft apartment board on Pinterest