52 Studio Apartments with a Curtain Room Divider
Living in a studio apartment comes with its challenges. You have to live in a small room where you live, eat, and sleep. To maximize the space and create a sense of a proper one-bedroom apartment, you can divide a studio into several spaces.
Many studio owners choose to design their studio apartments with a curtain room divider. A curtain is a simple and effective item to create separate areas in a one-room apartment. And a curtain room divider comes with many advantages. You can easily add color, texture, patterns, and personality to your studio room with a curtain.
In this post, I will show you how you can design a studio apartment with a curtain room divider. These examples show the versatility and effectiveness of a curtain as a room divider.
How Do You Create a Separation in a Studio Apartment?
There are multiple ways to divide a studio apartment into several spaces. To separate a studio into several zones, you can use curtains, foldable screens, bookshelves, clothing racks, sliding screens, or even big plants.
Each studio divider has its own perks and downsides. You have to determine what suits your space and style the best.
See also: 43 Ideas To Divide a Studio Apartment Into Multiple Rooms
Why Should You Use a Curtain Room Divider?
A curtain room divider is a simple, affordable, and stylish way to separate a space. A curtain is available in various styles, colors, and textures. Choose a sheer curtain if you want to keep the room as light as possible or a thick curtain if you want to create a cozy bed nook.
If your style is eclectic or colorful, you can opt for a bold-colored curtain or one with a fun pattern. The many options you have with the style of a curtain make it a perfect item to use as a room divider.
Another great feature of the curtain room divider is that you can easily change the room's appearance. For example, during the winter months, you can opt for a moody or earthy tones curtain; in the summer months, you can add lighter or more vibrant colors. With a simple switch in curtain style, you can create a completely different look in your home.
Studio Apartments with a Curtain Room Divider
These studios show the many ways in which you can decorate a room with a curtain.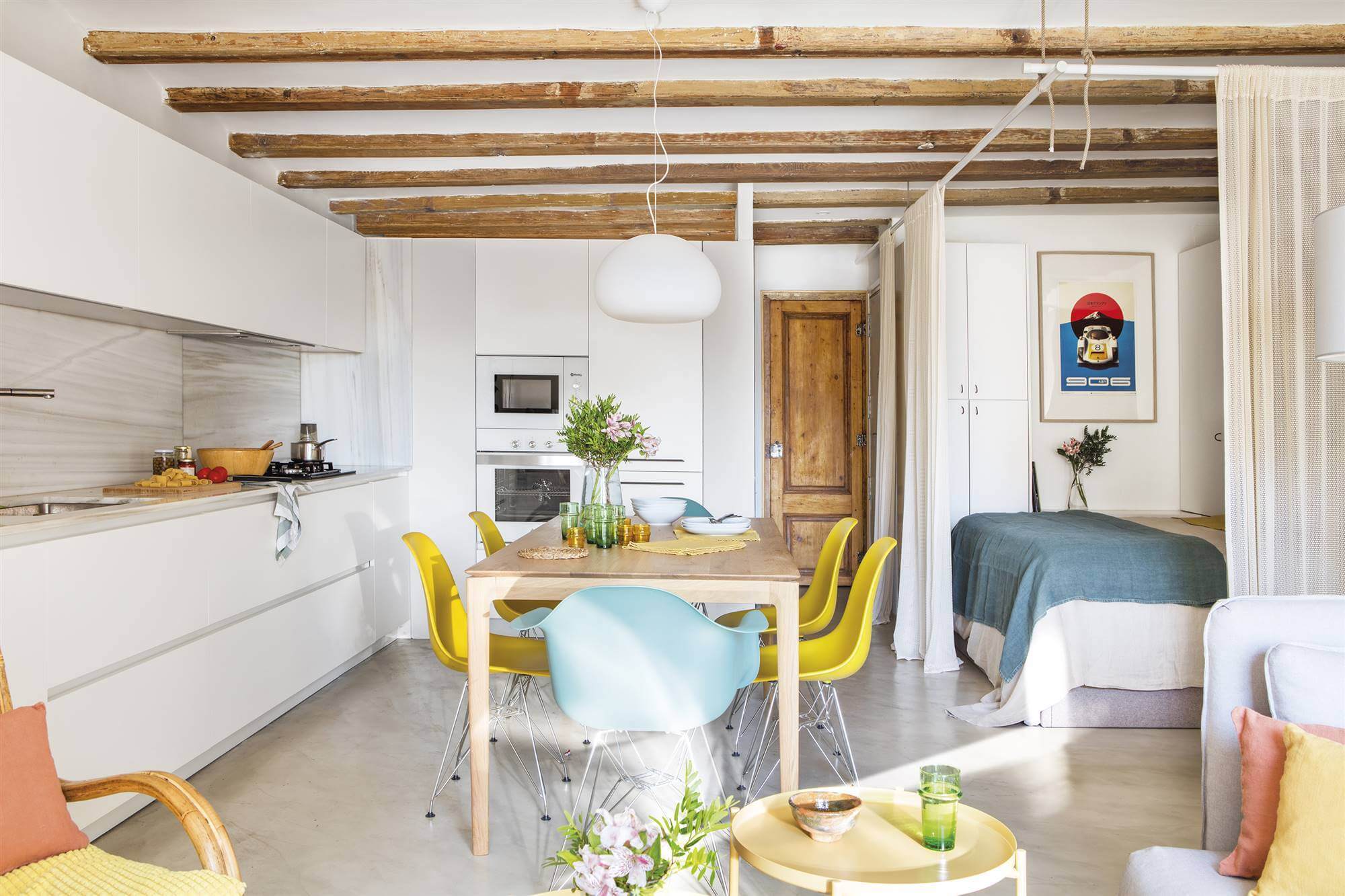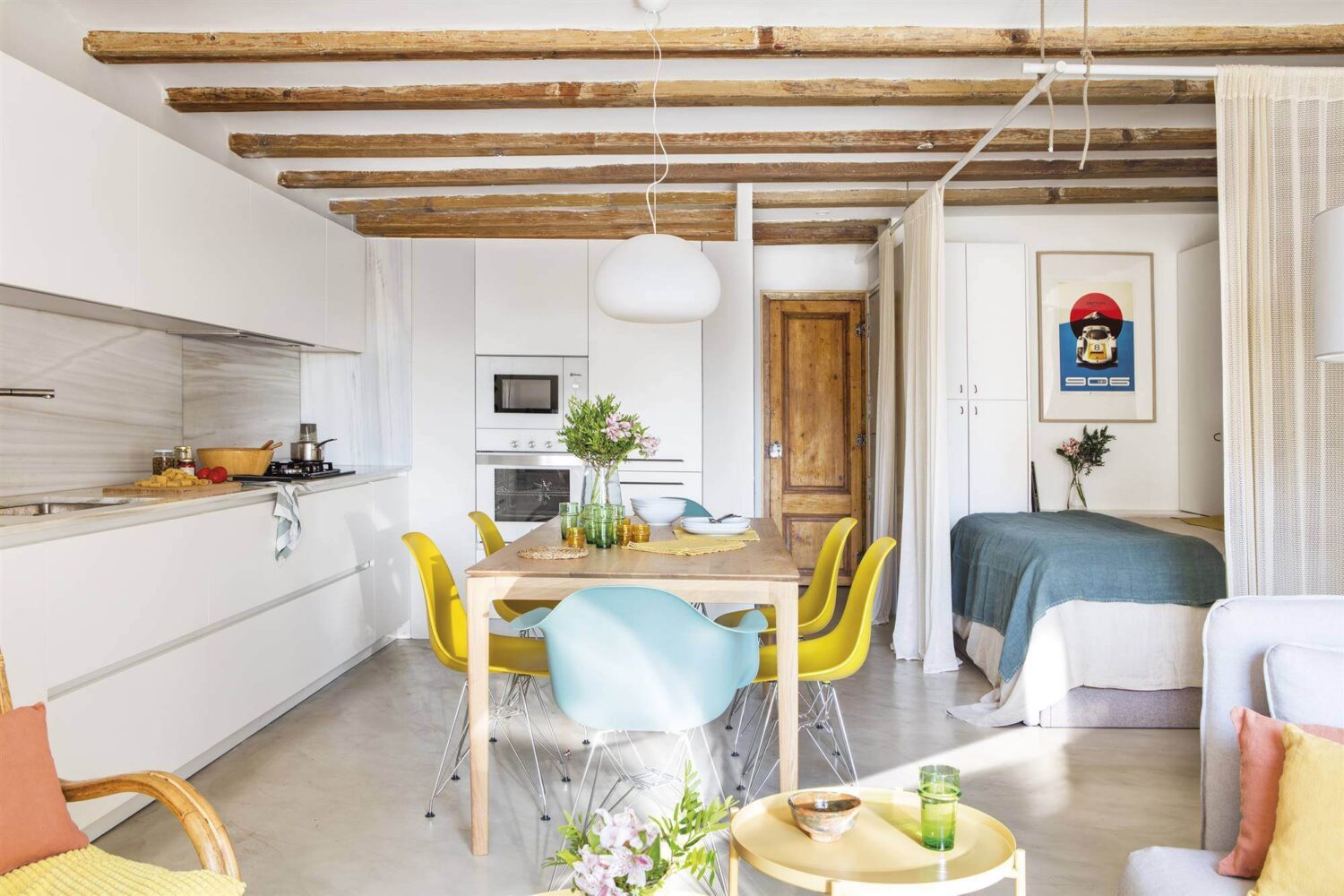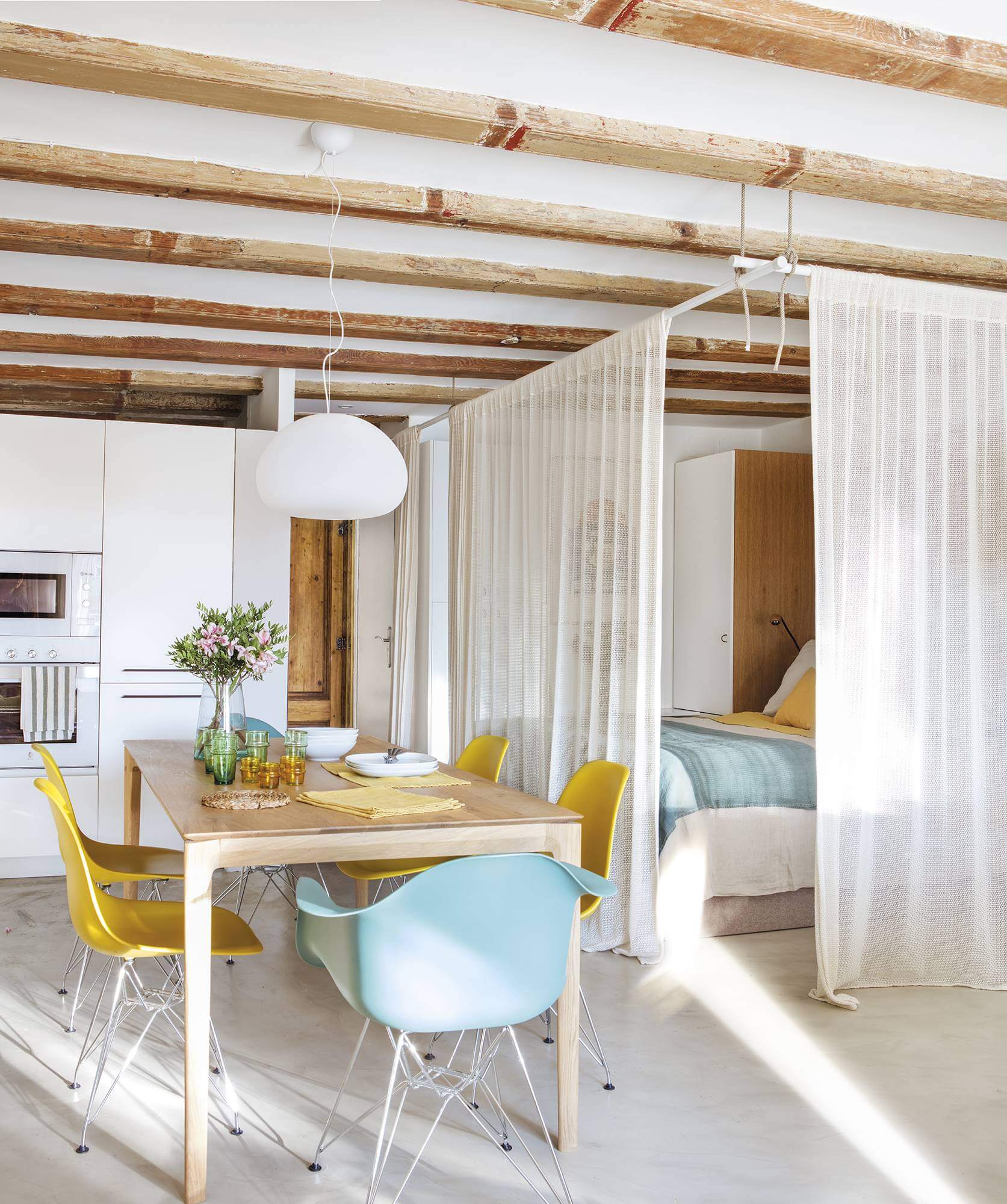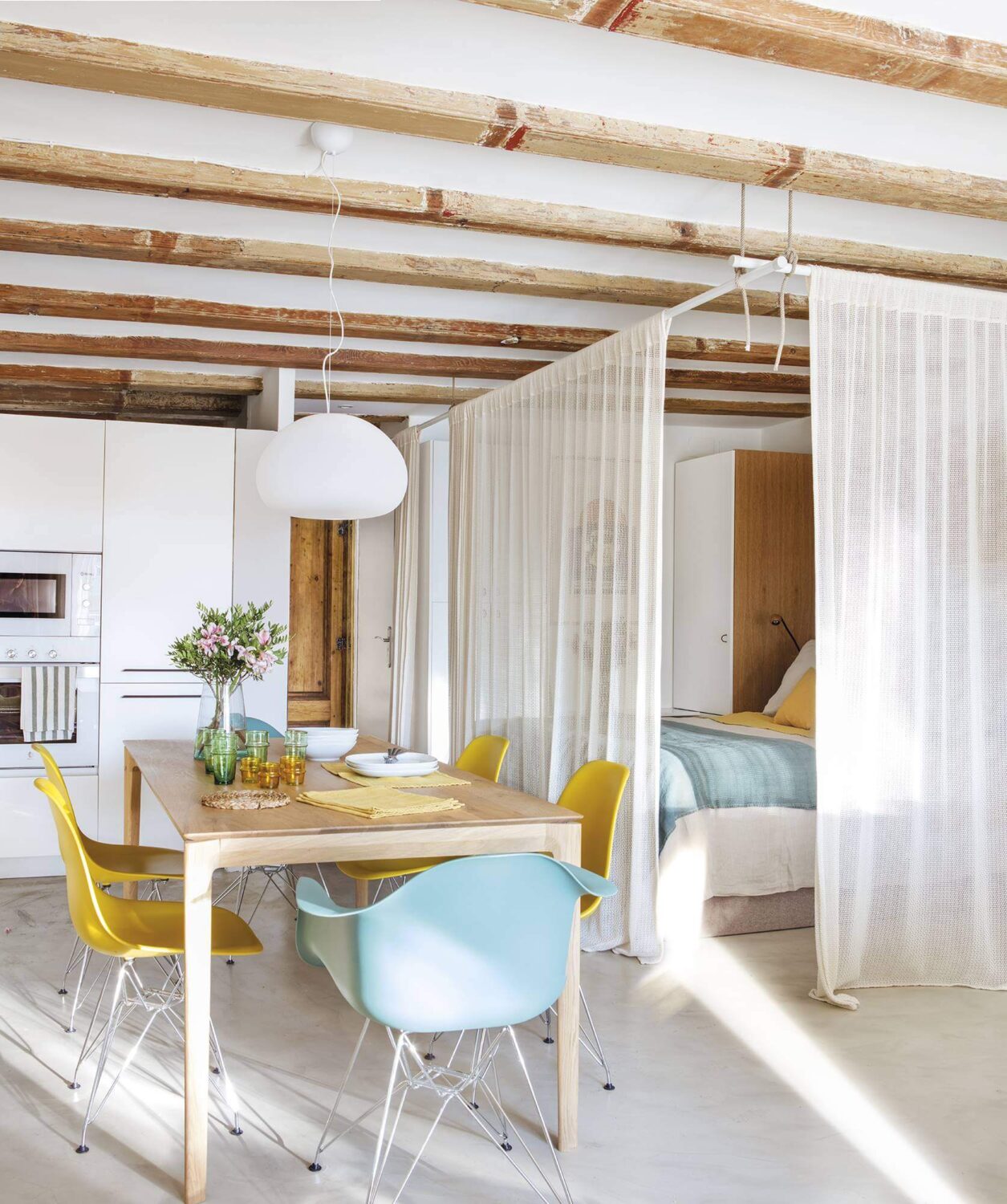 1. Sheer Knitted Curtains
These sheer knitted curtains not only create a separate bedroom area, but the knit also adds texture to the room. The curtain's texture is good enough to let through the natural light while hiding the bed from view.
The curtain rods have been fixed to the roof with thick robes, which, together with the exposed wooden beams, add a rustic touch to the space.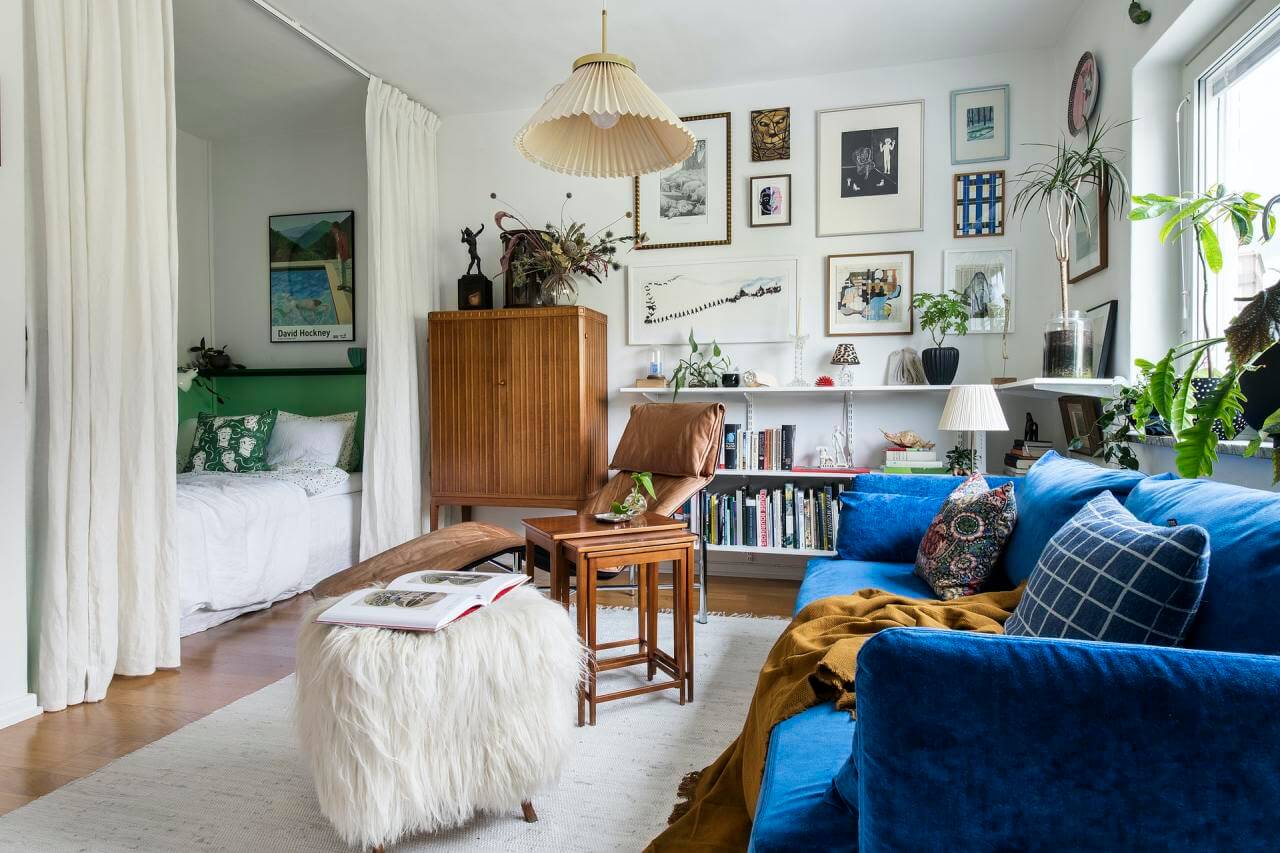 2. White Curtains Hide a Half Painted Wall
The color base of this studio apartment may be white, but the owners added bold color pops with a blue couch and a green half-painted wall in the bed nook that can be hidden from view with an off-white white curtain.
See also: Two-Tone Walls Ideas: Create A Color Blocking Accent Wall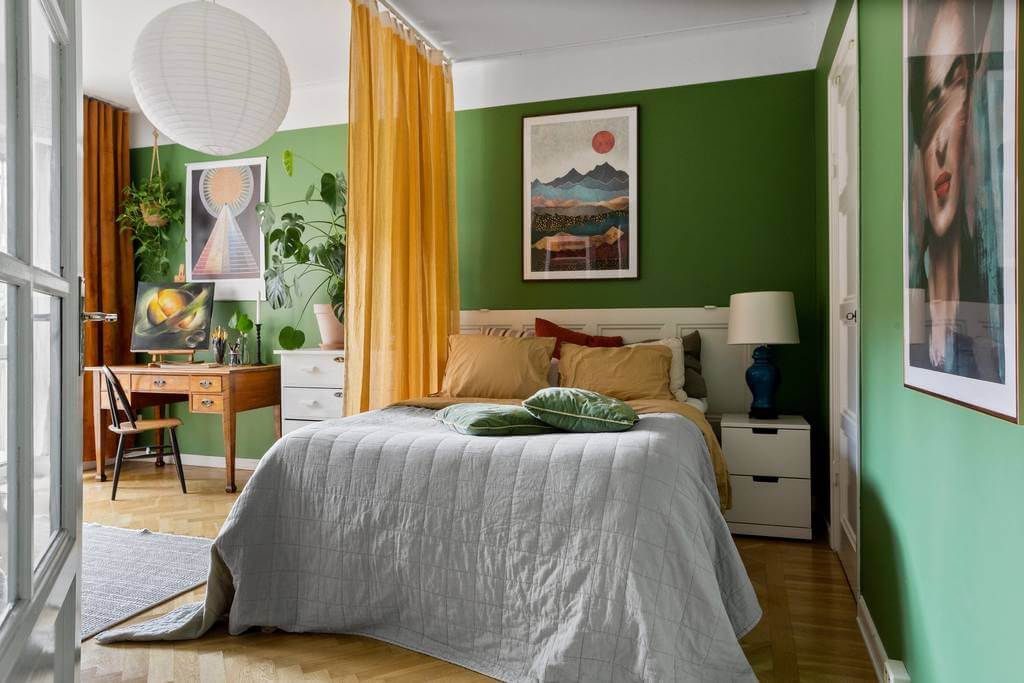 3. Add A Vibrant Color Pop
Don't be afraid of using bold colors when you decorate a studio apartment. Color shows a person's personality, adding a cheerful tone to any room. In this studio apartment, the green walls are combined with a vibrant yellow curtain divider.
4. Combine a Curtain with a Bookshelf
Next to curtains, bookshelves are a popular way to separate a room into different areas. You don't have to choose between a bookcase and a curtain. In this apartment, the owner separated the bed area on two sides.
They added a bookcase at the foot of the bed that can also be accessed from the couch. The bookcase is a multifunctional furniture piece in a studio. It not only separates the room but it also adds much-needed storage space.
The curtain is added to the other side of the bed so it can mostly be hidden from view when you have guests over.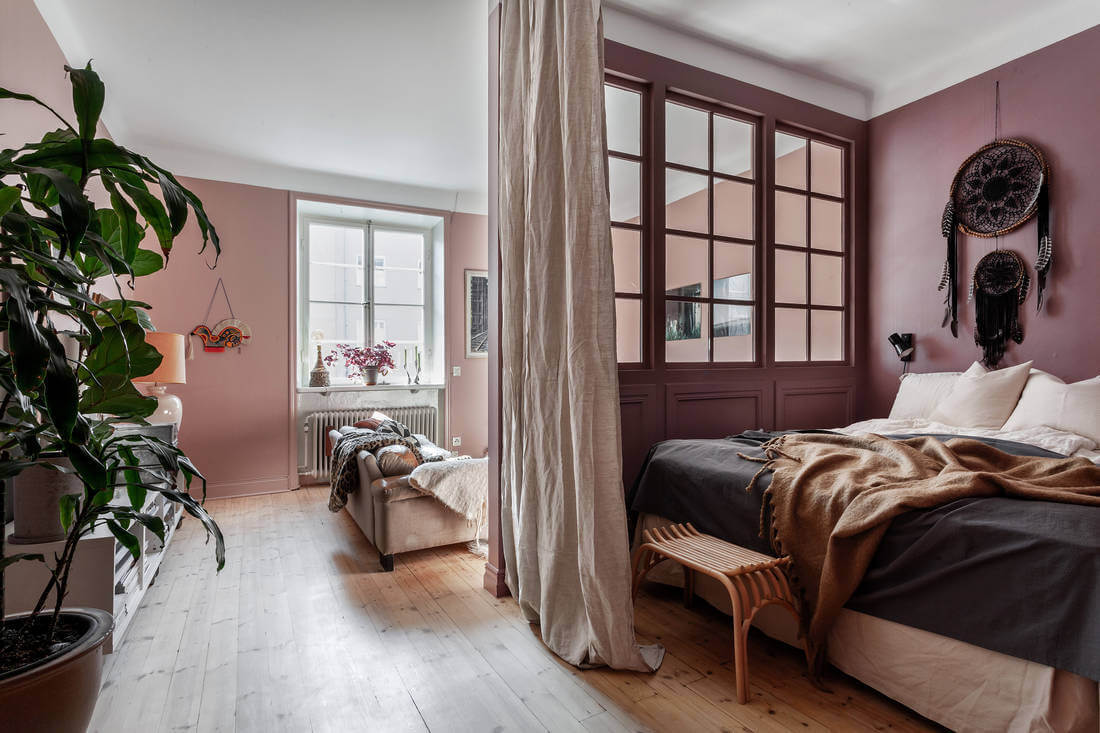 5. Combine a Curtain with a (Half) Wall
A studio apartment is not a large space (otherwise, it would be a loft), so you don't want to make the room even smaller by adding walls to create a separate bedroom. The owners of the above apartment found the perfect middle ground between adding walls and still maintaining an open-plan space.
A wall with windows has been placed between the bed and sitting areas. It doesn't run the entire room width to maintain a spacier feeling. The windows make sure that the "bedroom" also gets natural light.
The curtain has been placed at the end of the bed so it can be turned into a separate bedroom when needed, but it can also stay open to make the bed area feel larger.
6. Add Pattern
Parisian apartments are small, but designer Marianne Evennou managed to create a functional and stylish studio apartment. As you will see in this article, white is a popular color for a curtain room divider in a studio apartment. But a curtain is such a great item for adding pattern and color.
Marianne added white and blue striped curtains to create a separate bedroom in this Paris studio apartment. The walls of the bed area are painted in a moody blue shade, but with the textiles of the bedding, she added bright color accents.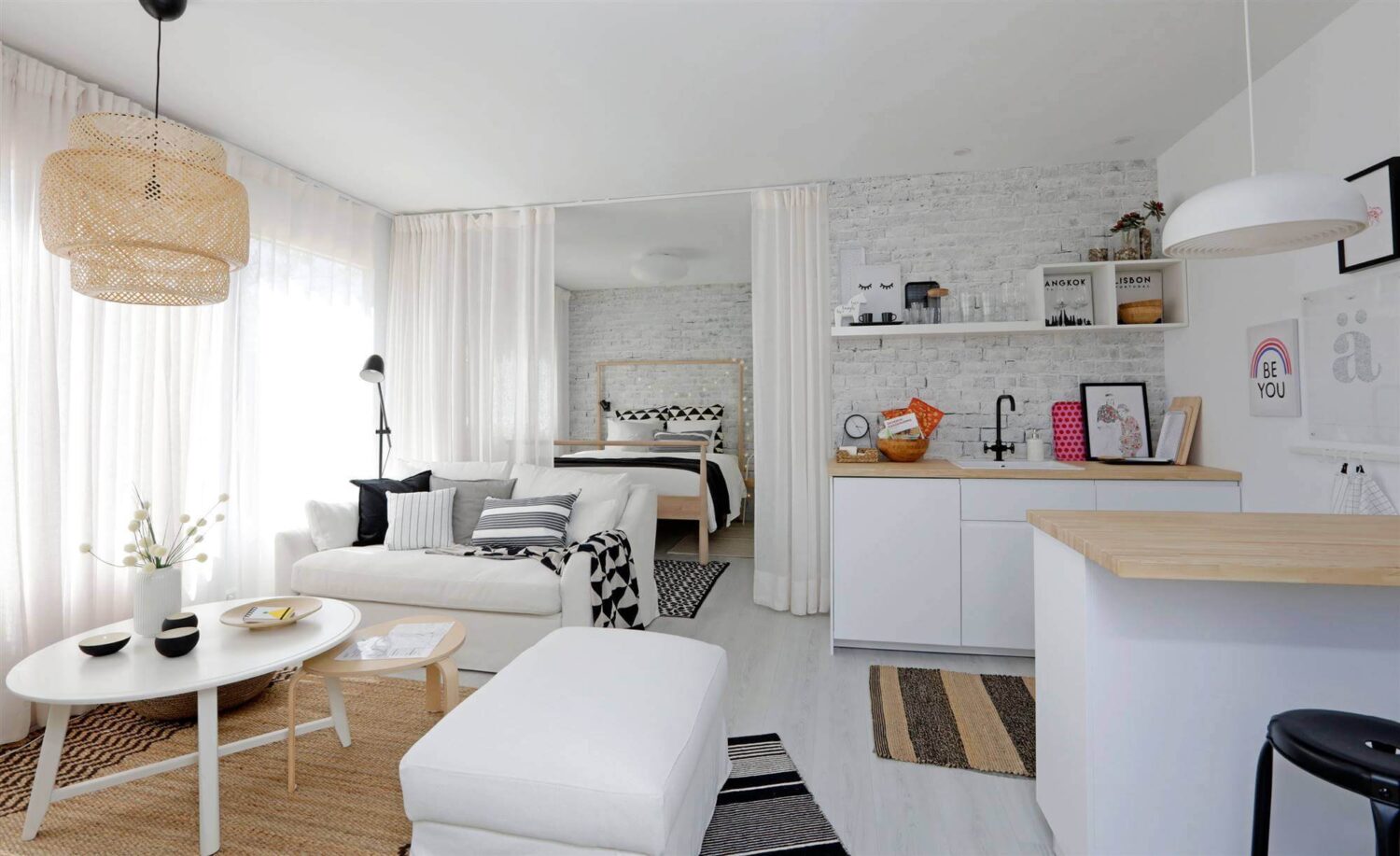 7. An L Shaped Room with a Curtain at the Foot of the Bed
With an l shaped room, creating the illusion of a one-bedroom apartment is very simple. Simply add wall-to-wall curtains at the foot of the bed, and you've created a separate bedroom.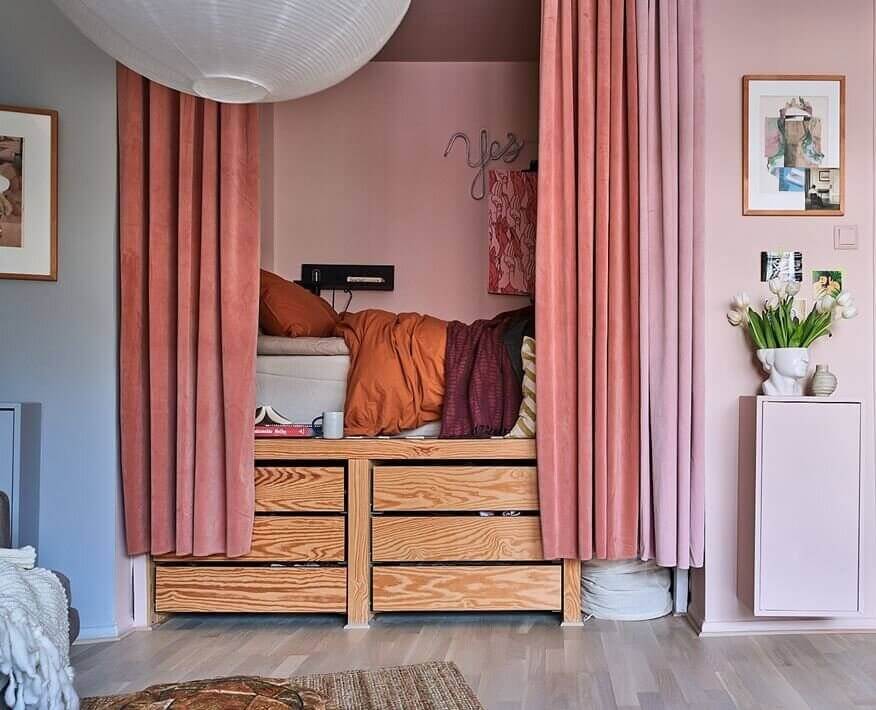 8. Ton Sur Ton Curtains
Ton sur ton means two different shades of the same color. In this bed niche, they added two shades of pink curtains that can hide the bed niche. The outer curtain is the same color as the walls, and that is combined with a darker shade of pink.
This studio apartment also makes clever use of the available space. Behind the bed is plenty of storage, and a wall shelf doubles as a nightstand and bed light.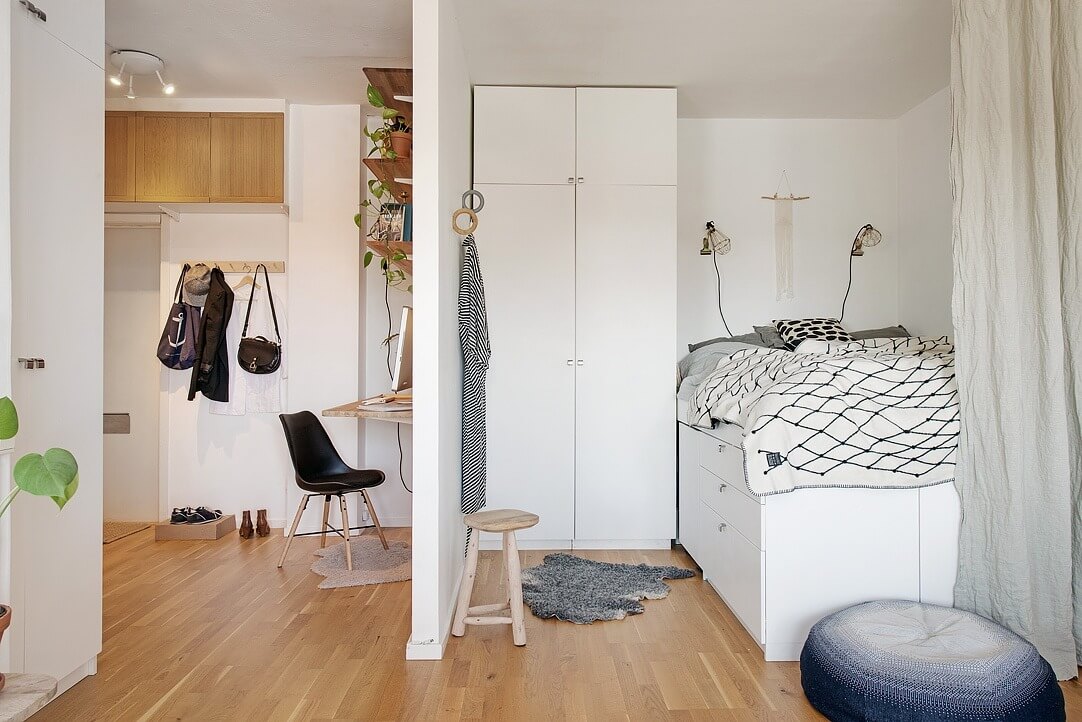 9. Creased Curtains That Add Texture
Creased curtains in a neutral color add just a little more texture than a normal light-colored curtain. This studio is lucky to have a wall between the bed area and the hallway. There is no door, so it feels spacious, but the bed area can be completely closed off with the curtain.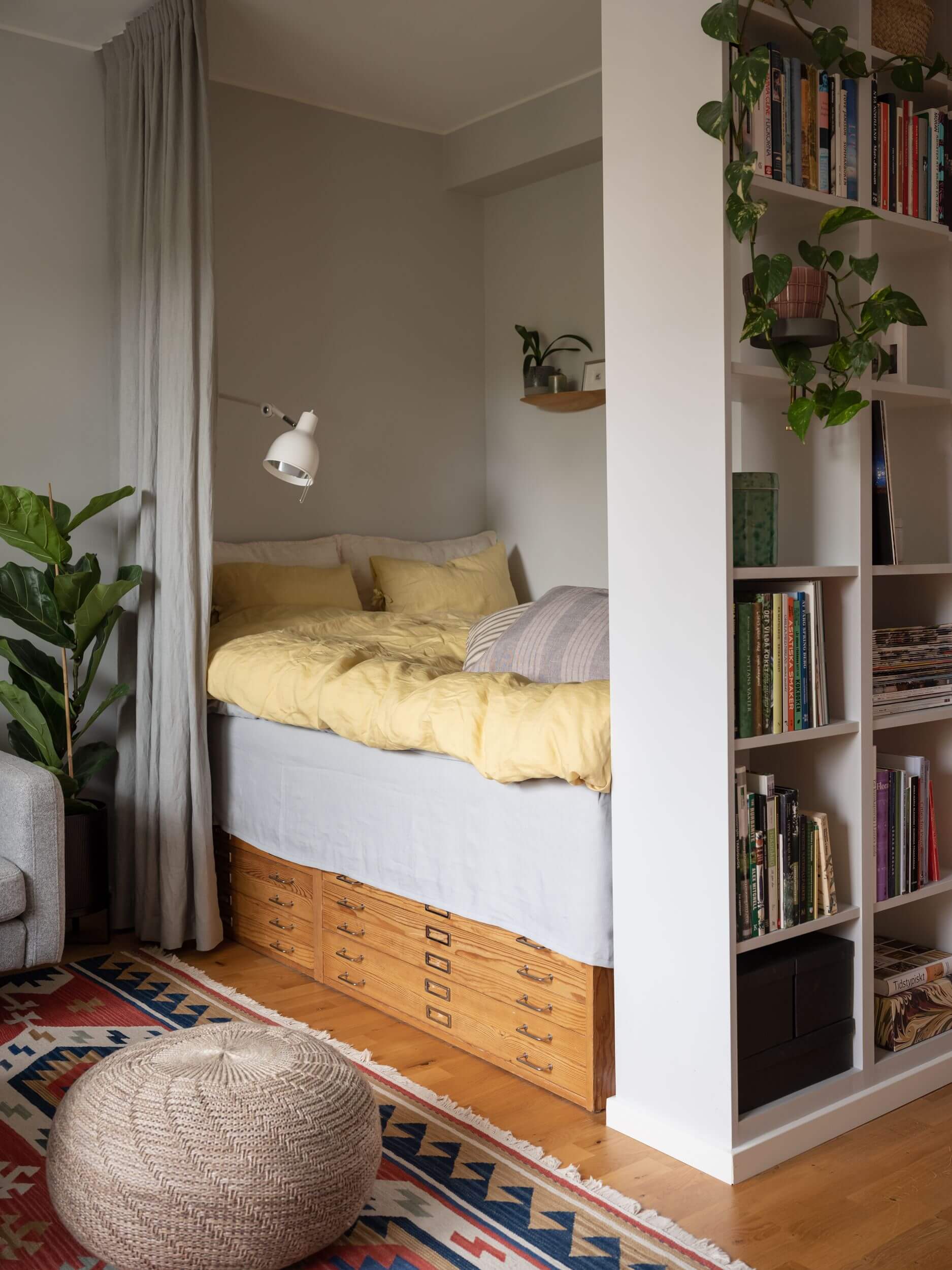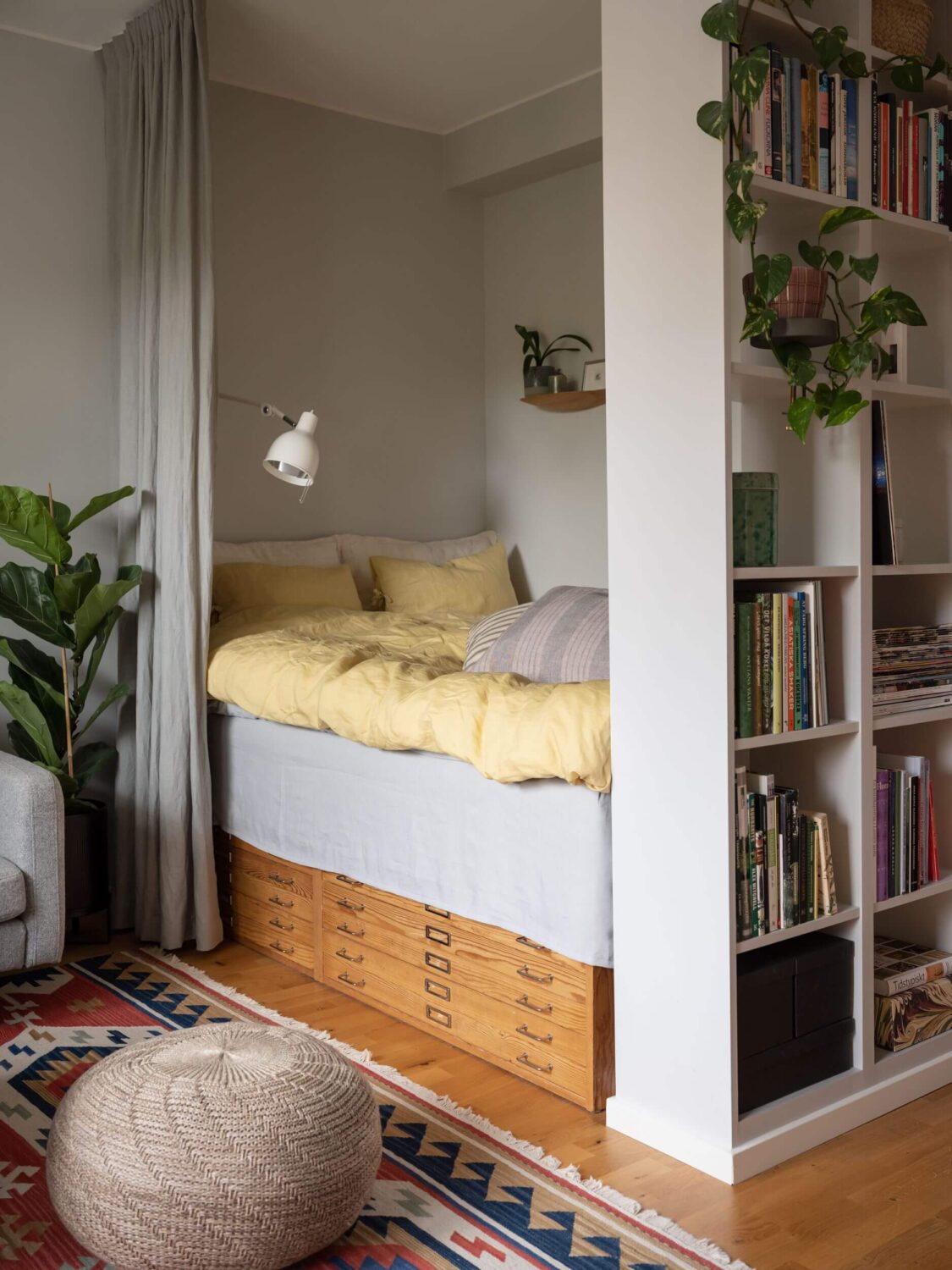 10. Double Storage and a Curtain Divider
We've already seen the combination of a curtain with a bookcase. But in this midcentury studio apartment, they added another storage element: the raised bed with underneath drawers.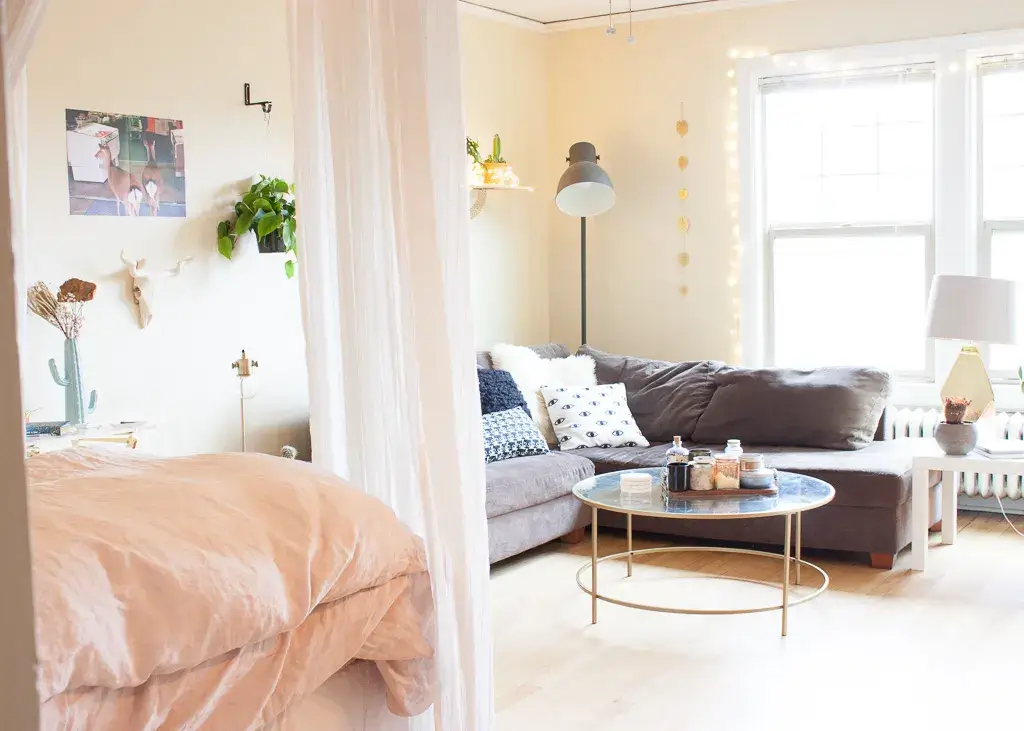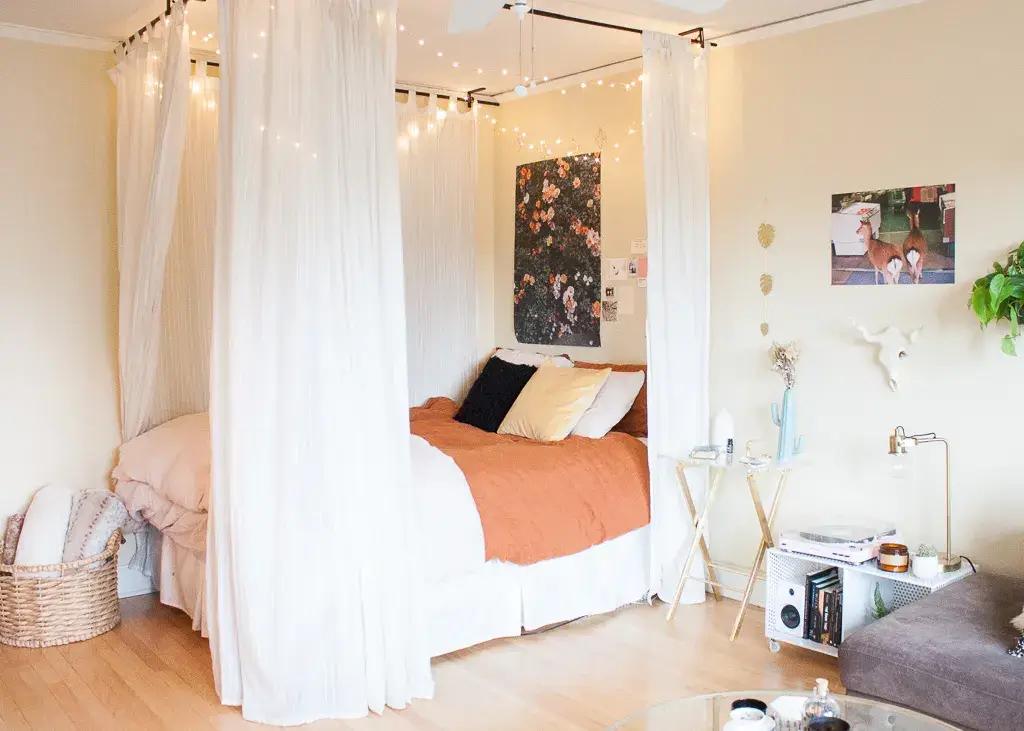 11. Curtains and String Lights
What's cozier than string lights? String lights in combination with curtains that create a cozy bed nook. In this beige studio apartment, the curtains have been placed on three sides of the bed, even against the wall, while string lights have been added to the ceiling. This must look extremely lovely at night with the curtains closed.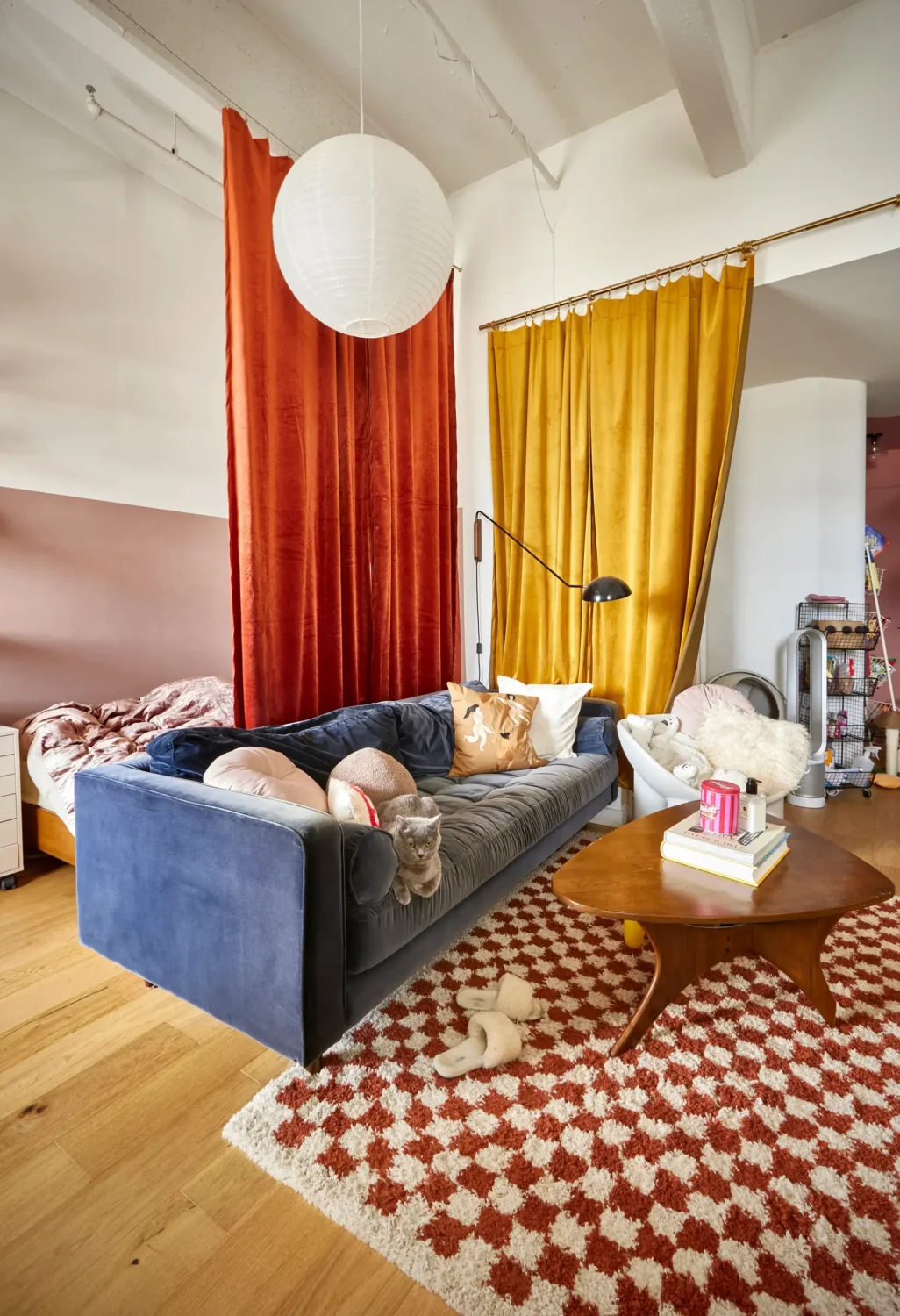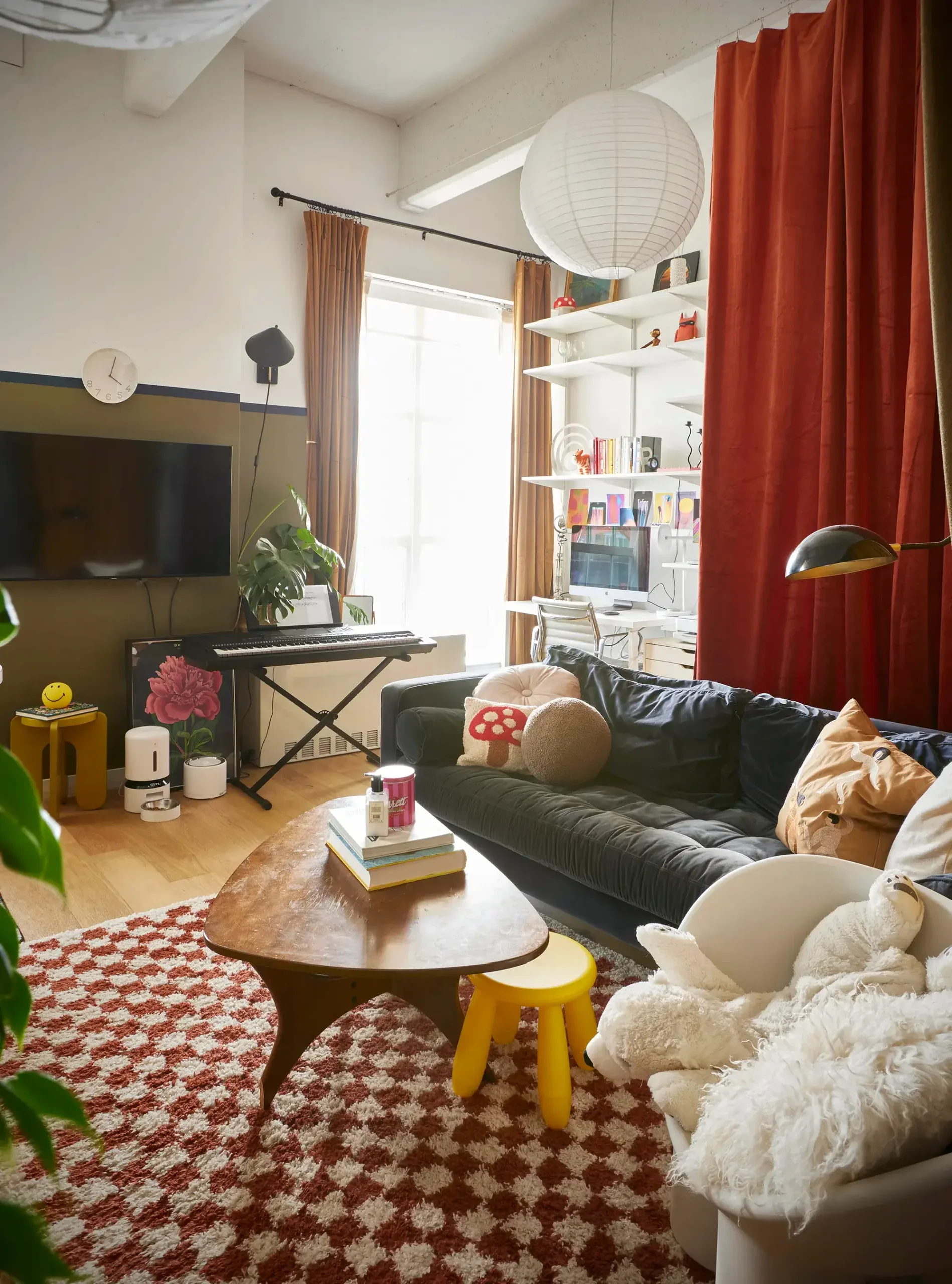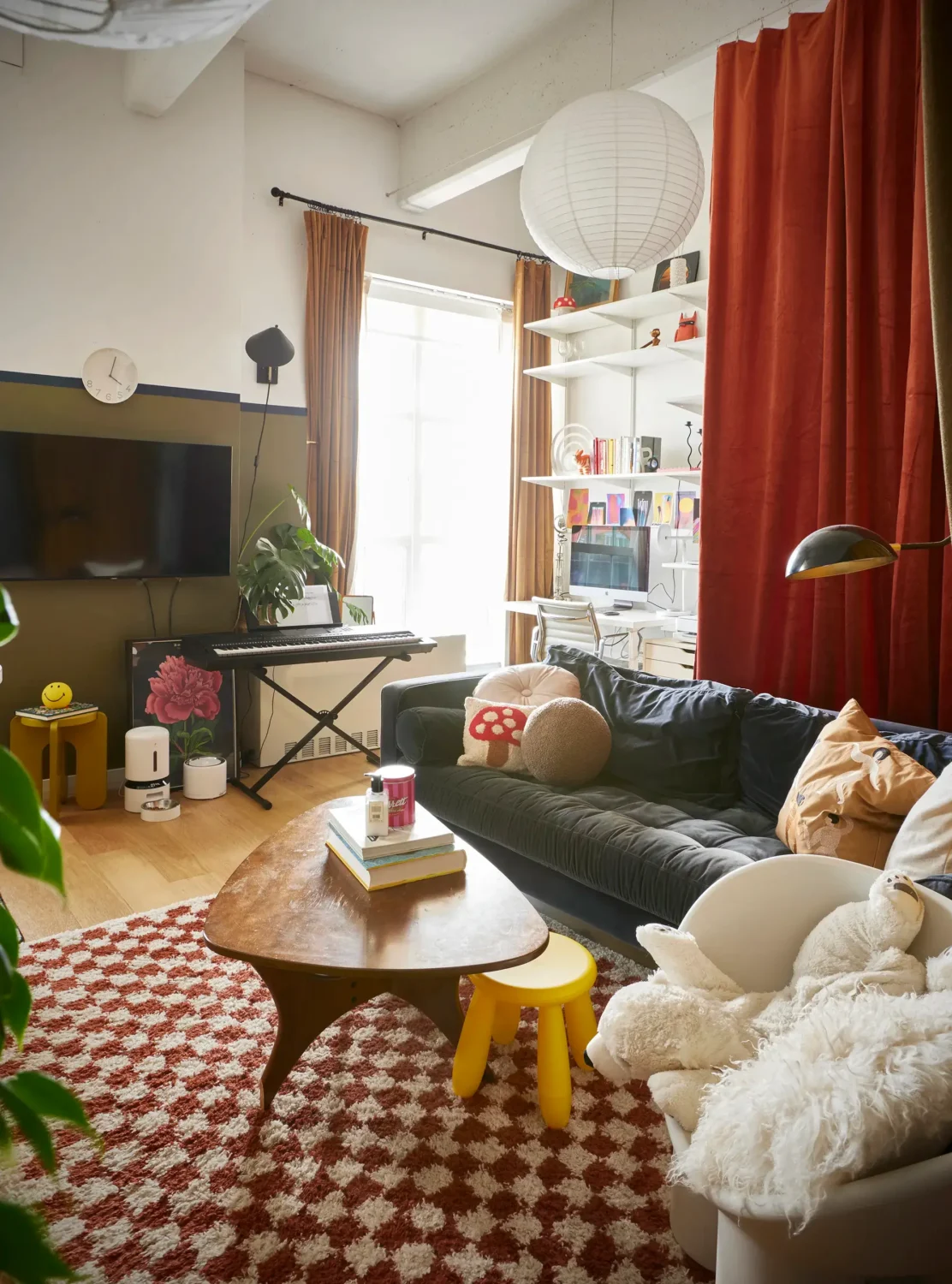 12. Double Up and Add Color
This studio doesn't have one but two dividing curtains. An orange-red curtain is placed behind the couch to hide the bed, and a second yellow curtain is added next to the couch, which can hide the kitchen from view.
This studio apartment is also a perfect example of using color in a studio. Green, pink, red, yellow, and blue are combined to create a vibrant home without it being completely overwhelming.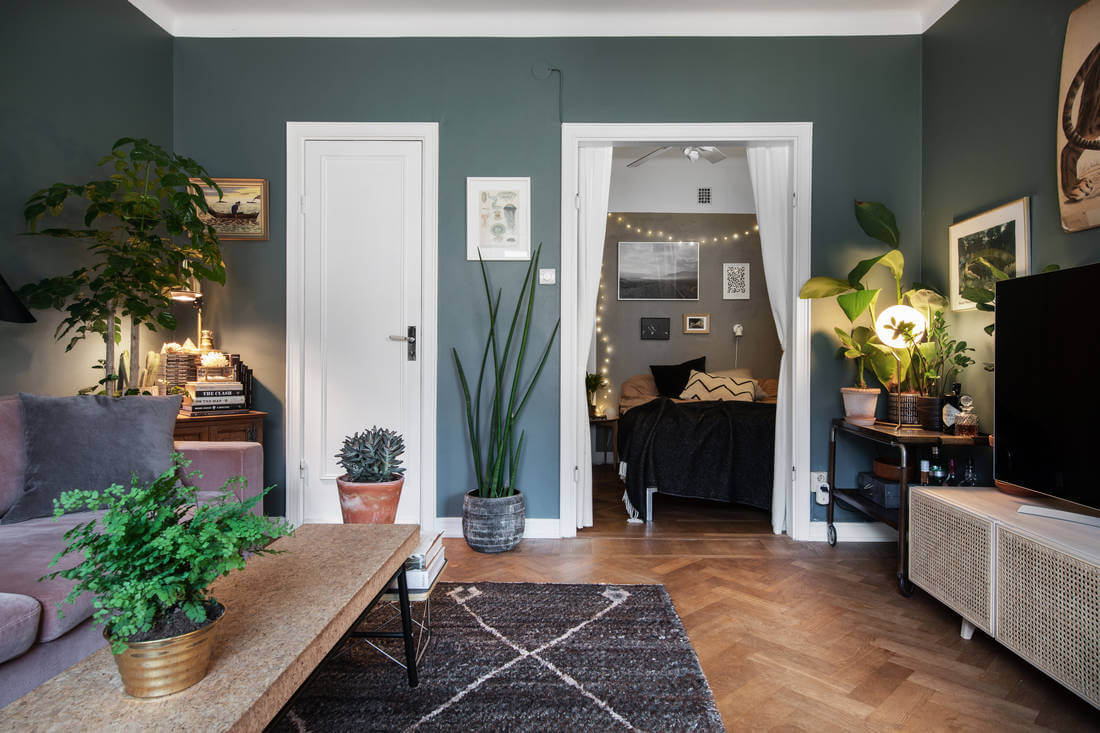 13. Muted Colors with White Curtains
The entire studio apartment is decorated in muted color tones, but the white curtains add a freshness to the room. The curtains can stay open for an open feeling but closed off when you need more privacy.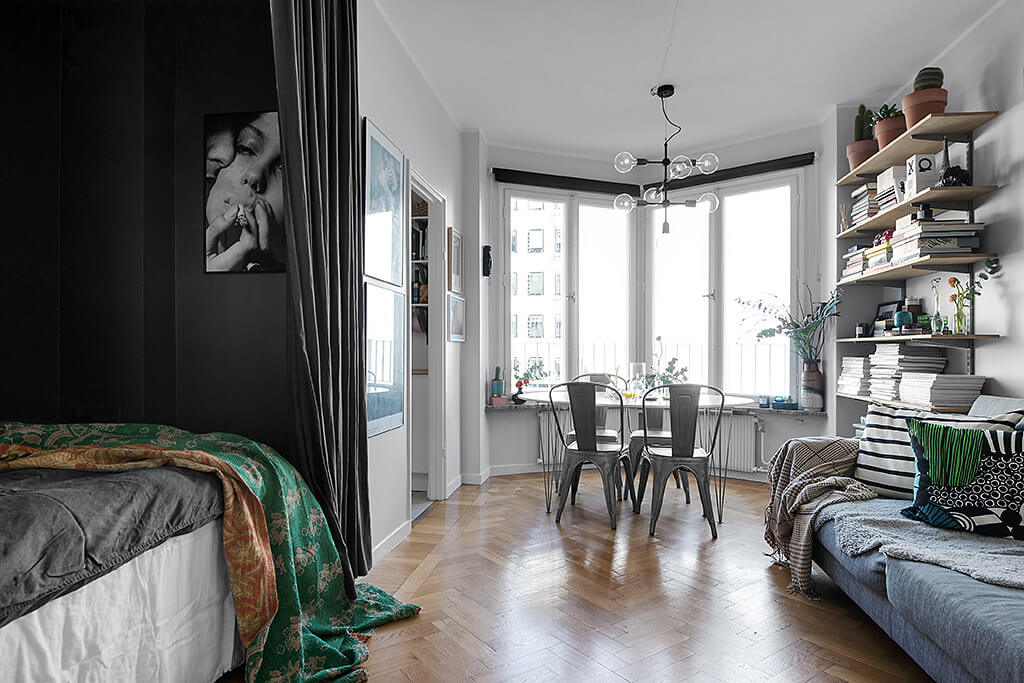 14. A Moody Gray Bed Niche
The entire bed area is decorated in a gray color scheme, from the paint on the walls to the curtain that can hide the bed from view. A gray bed niche is a subtle but effective way to define the bed zone as a moody color suits a bedroom very well.
See also: How To Design A Studio Apartment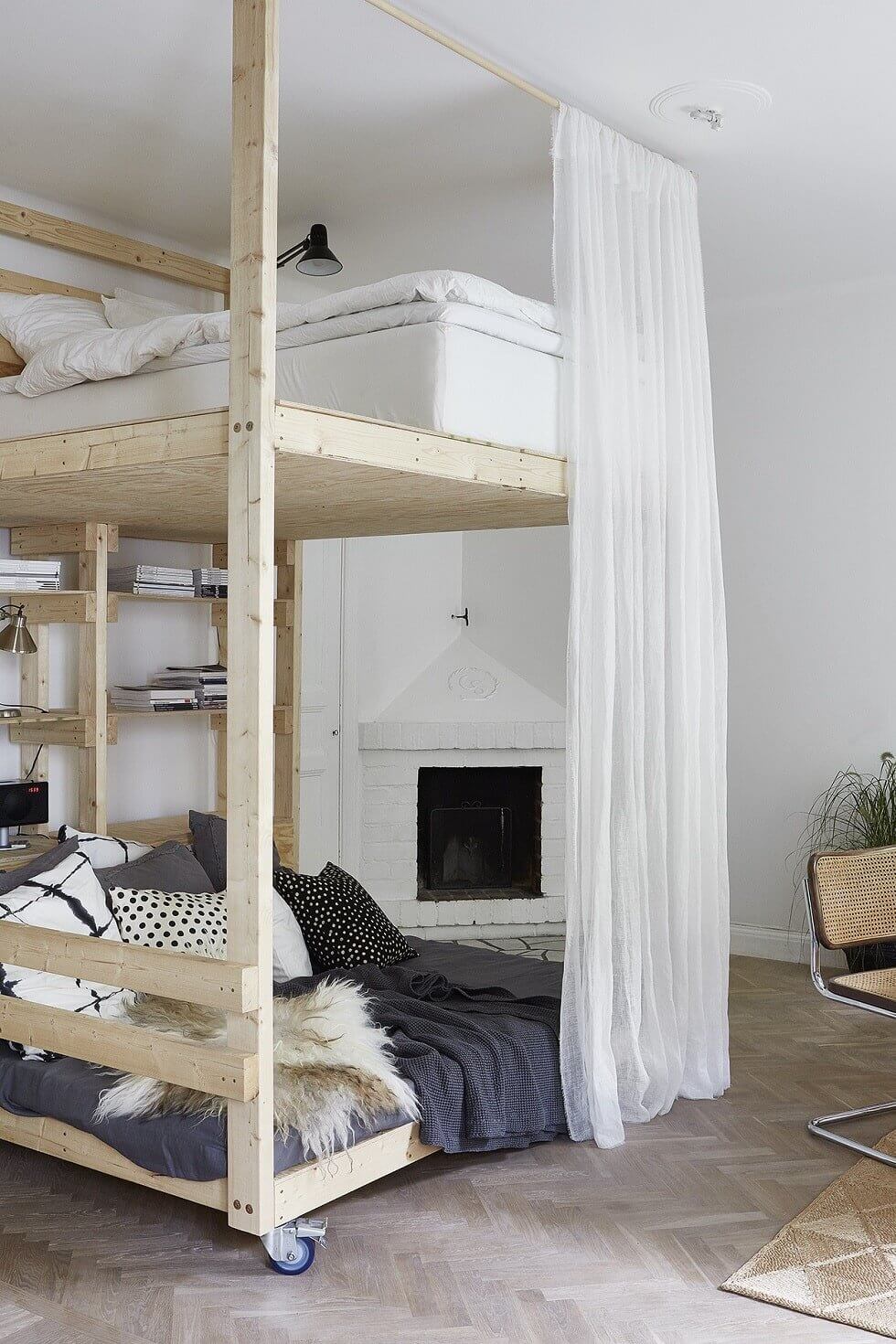 15. A Movable Bed and Sofa with Sheer Curtains
This DIY project is perfect if you want more flexibility in your studio. A combined loft bed, couch, and bookshelves are created from wood. A sheer curtain at the foot of the bed can create more privacy.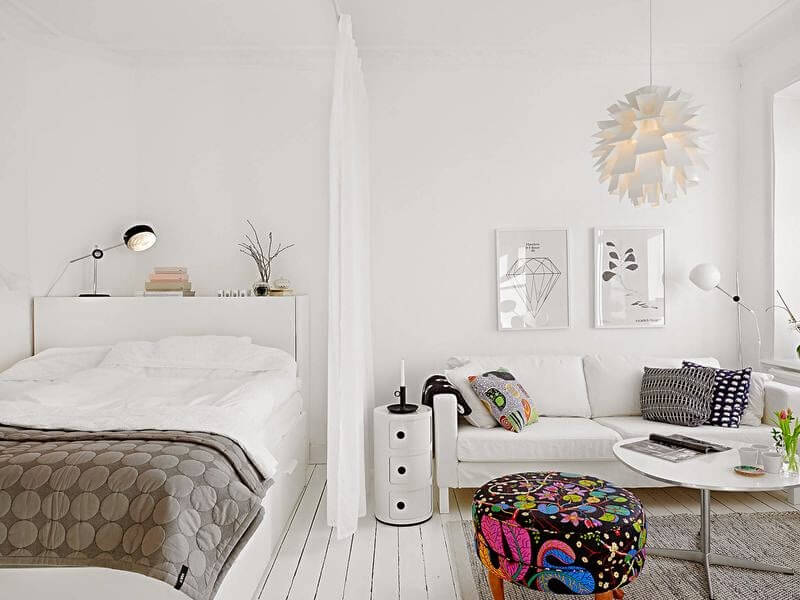 16. An All-White Look
A very Scandinavian look for a small studio apartment. White-painted floorboards are combined with white furniture and a white curtain that divides the room. Color accents can be added with the accessories.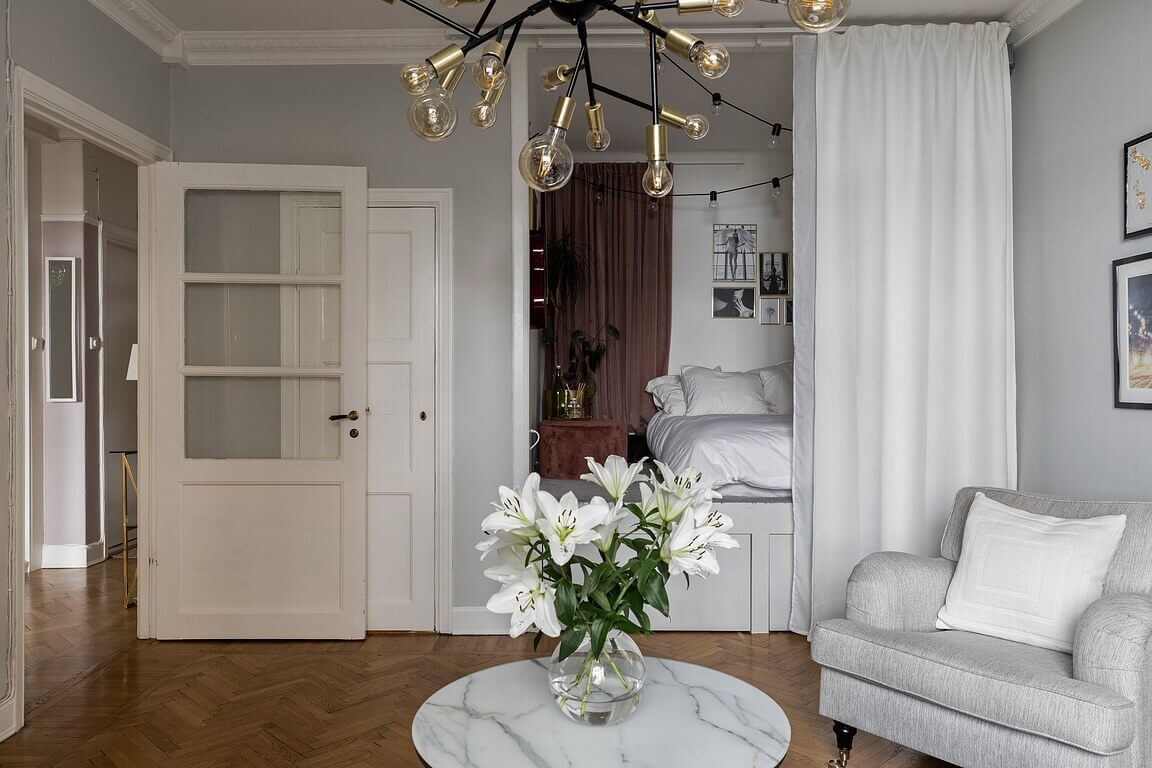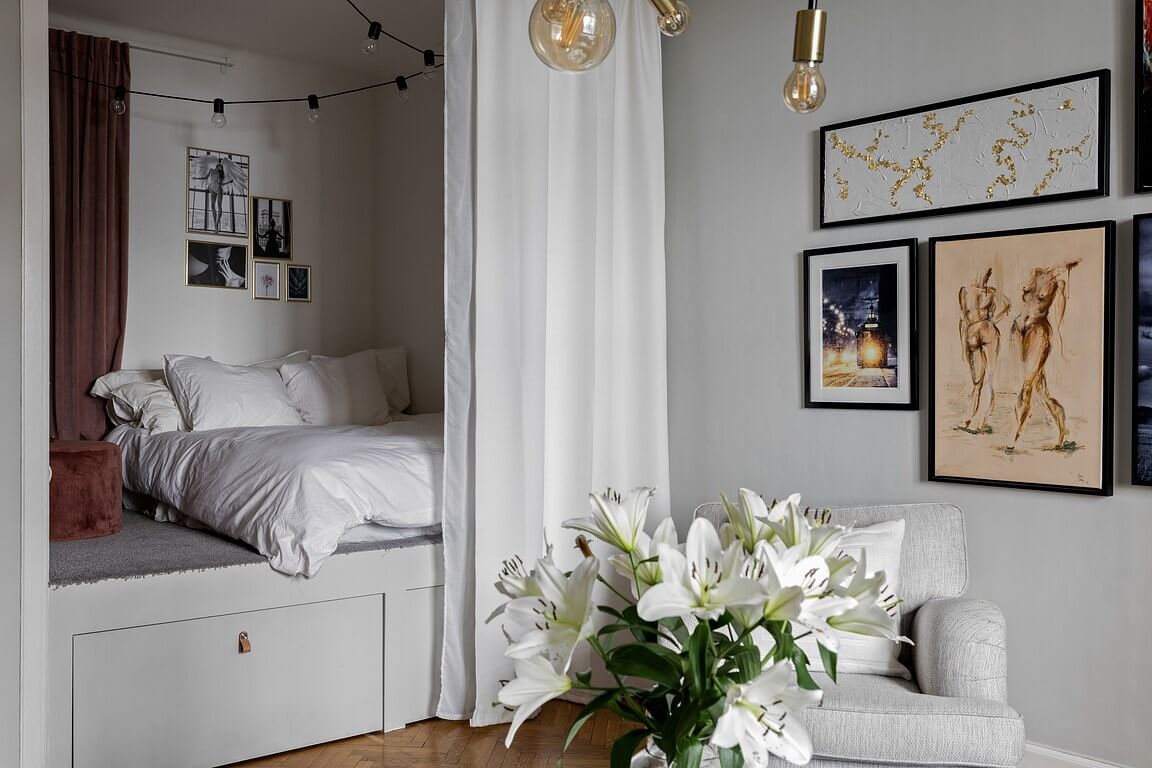 17. Two Curtains
The platform bed area can be closed off with a simple white curtain. However, they added a second curtain on the wall, adding a warm color accent to the gray and white studio room.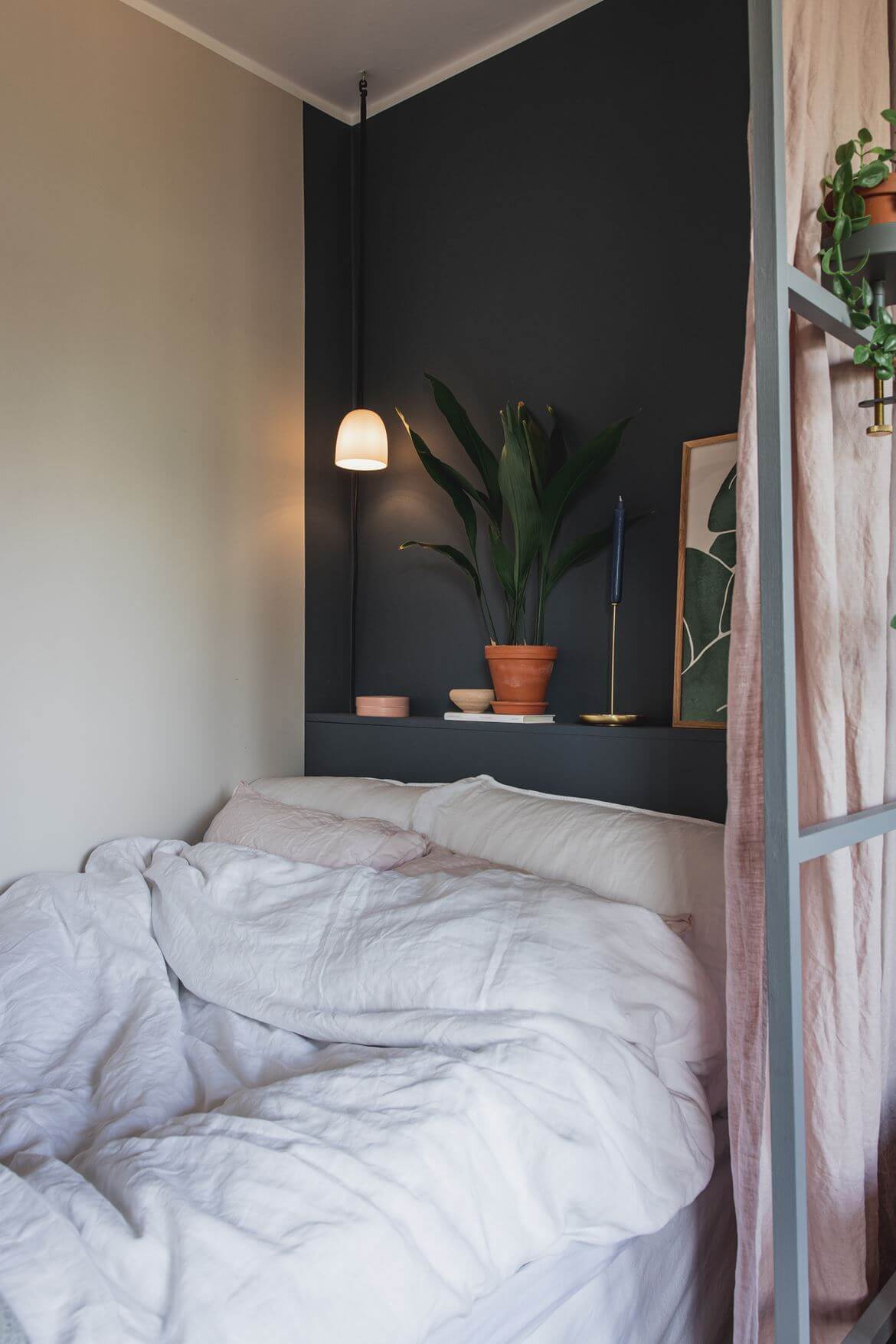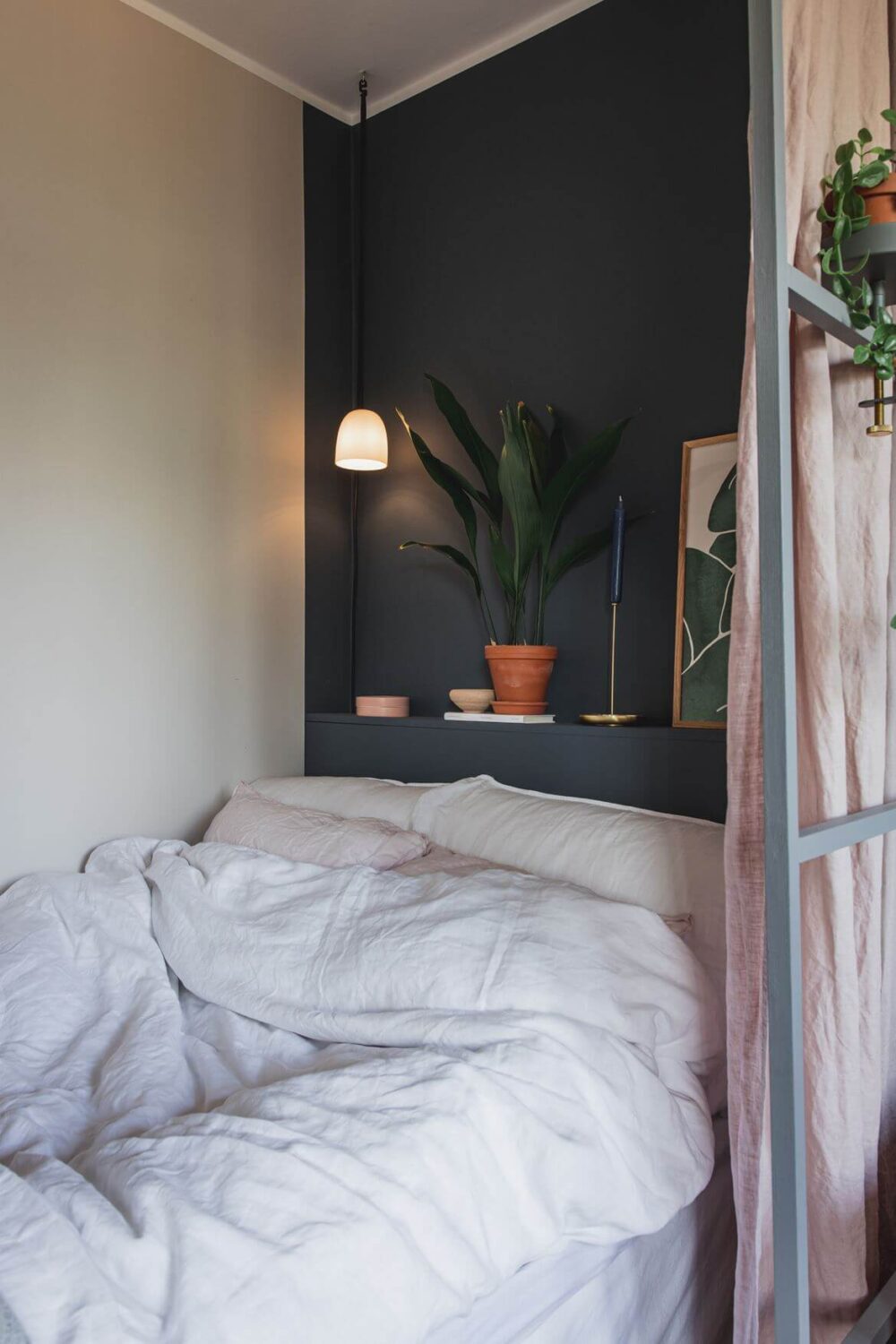 18. A Curtain with a Steel Frame
Pink and blue is one of the great color combinations of the interior design world. And a dark color is a great choice for a bed niche. The blue accent wall has been fitted with a storage niche, so you don't need a nightstand, and on one side of the bed, they placed a soft pink curtain in combination with a steel frame that serves as a room divider.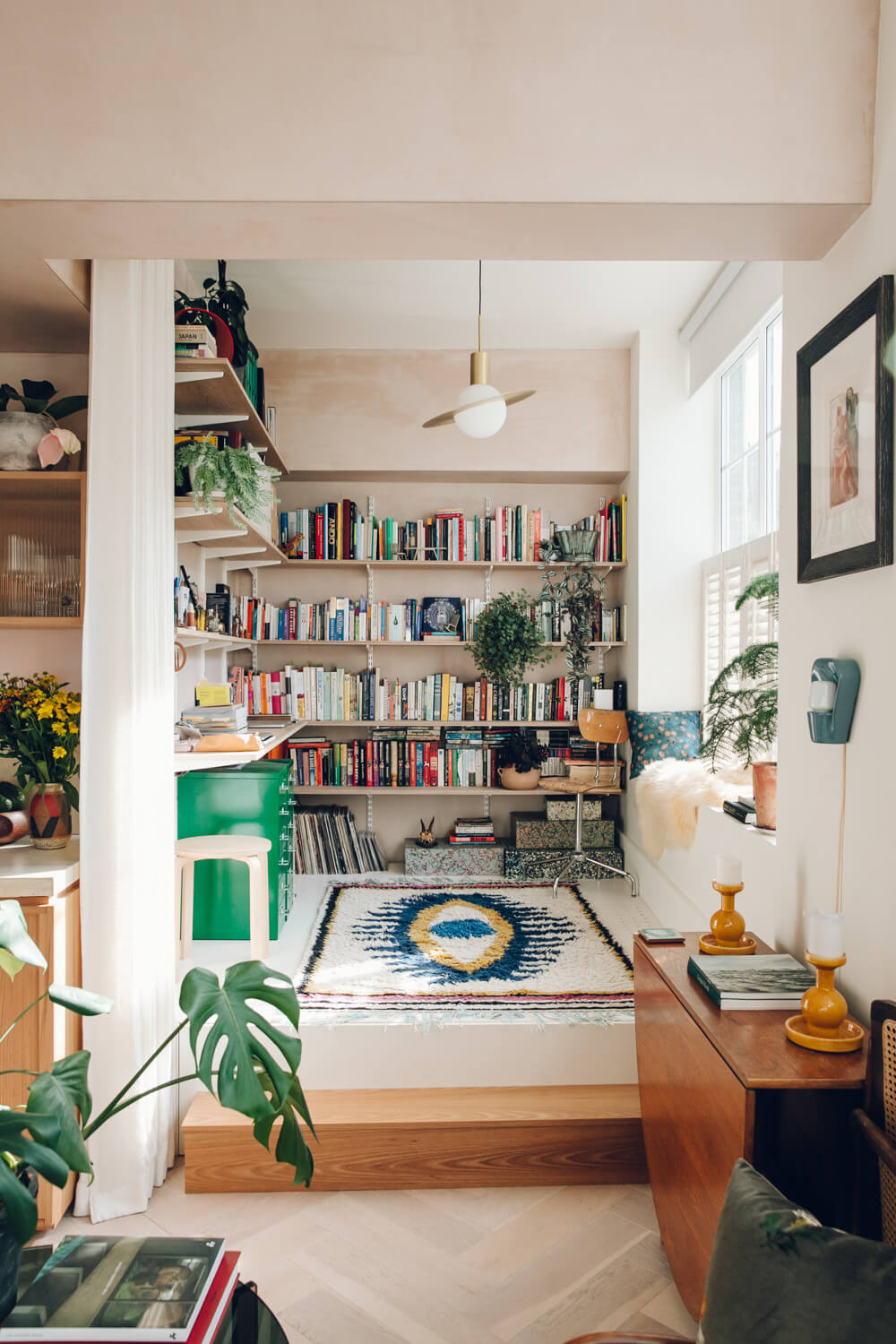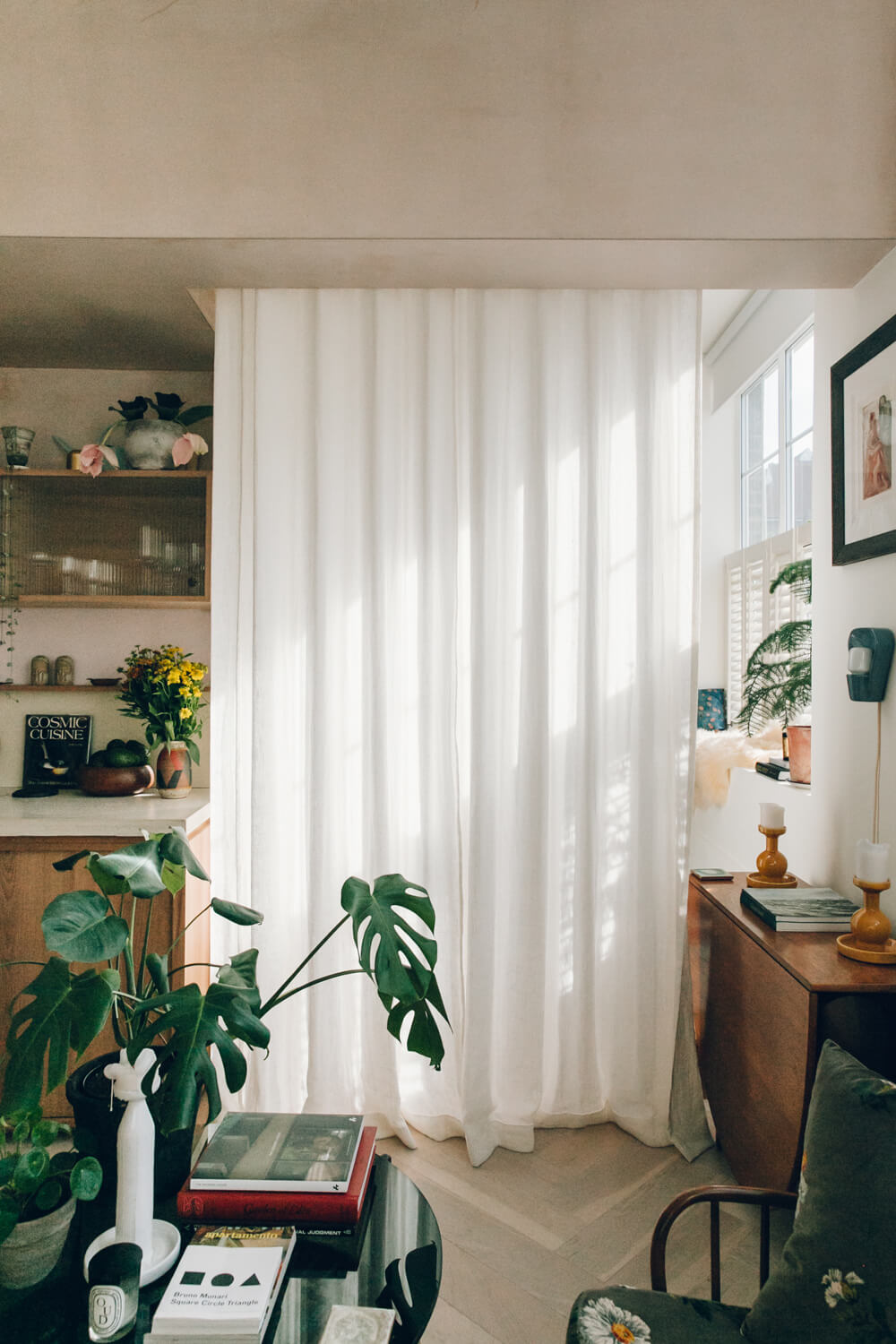 19. A Multifunctional Bed Nook Surrounded by Books
As mentioned, an l shaped room is perfect for creating a separate bed area. But this raised area is not just used for sleeping. The walls are lined with bookshelves, and the storage system includes a desk.
During the day, this area can be used as a home office, while at night, they simply place a mattress on the floor and create a separate bedroom with the curtains closed.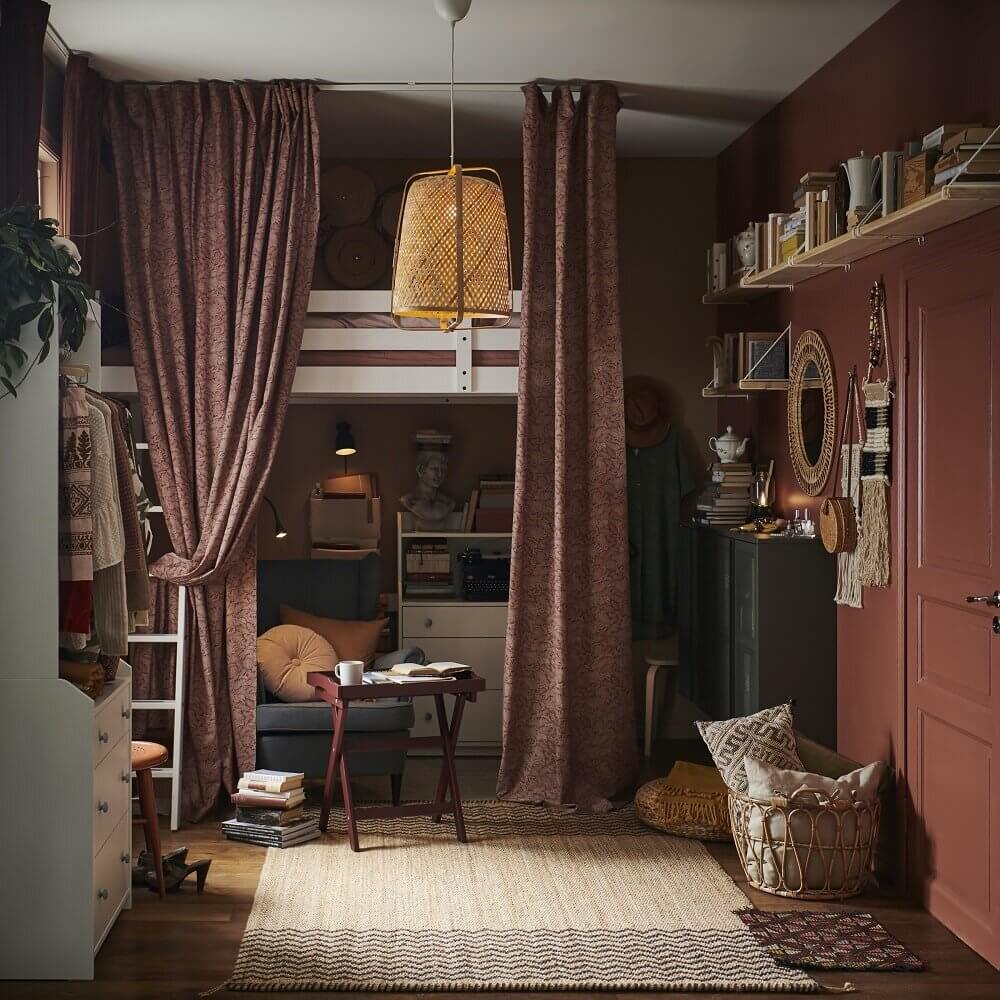 20. A Loft Bed with Thick Textured Curtains
These deep red curtains are not just used as a room divider. They also add a warm color and texture to the room.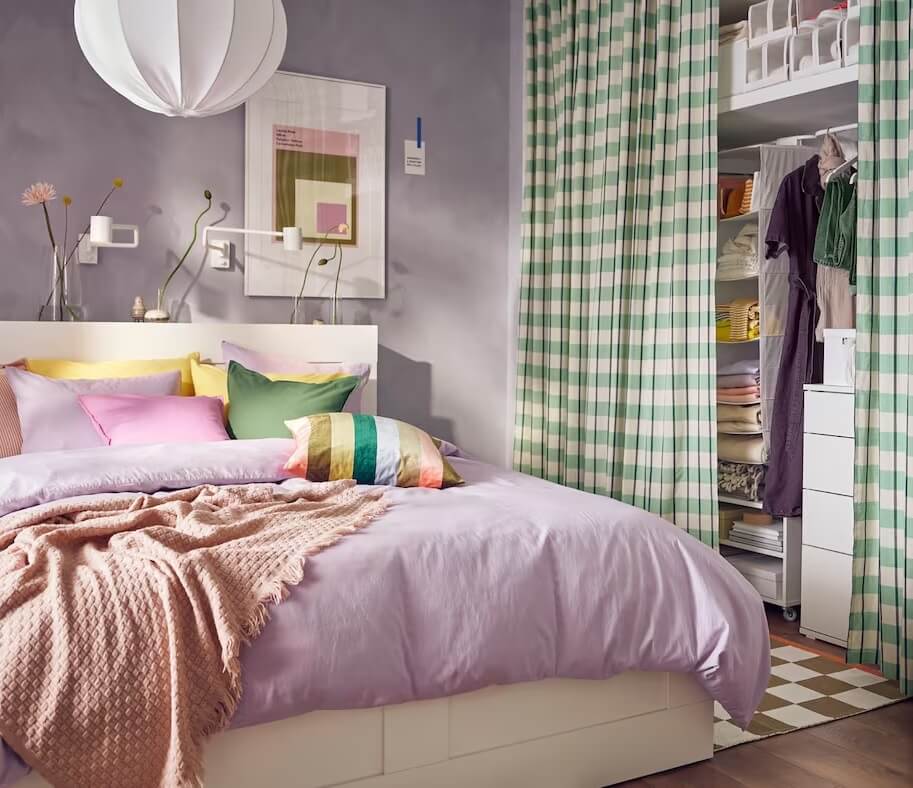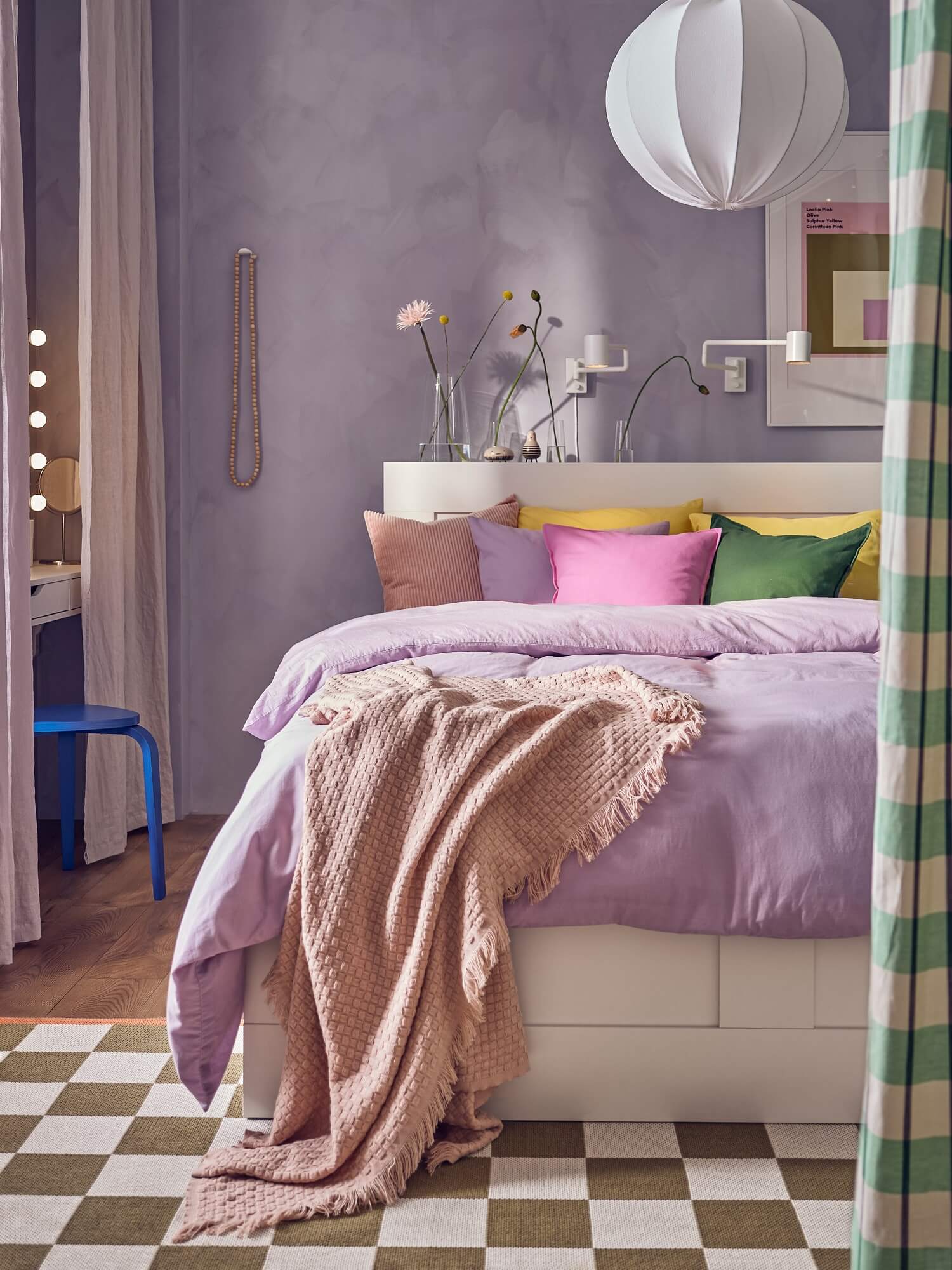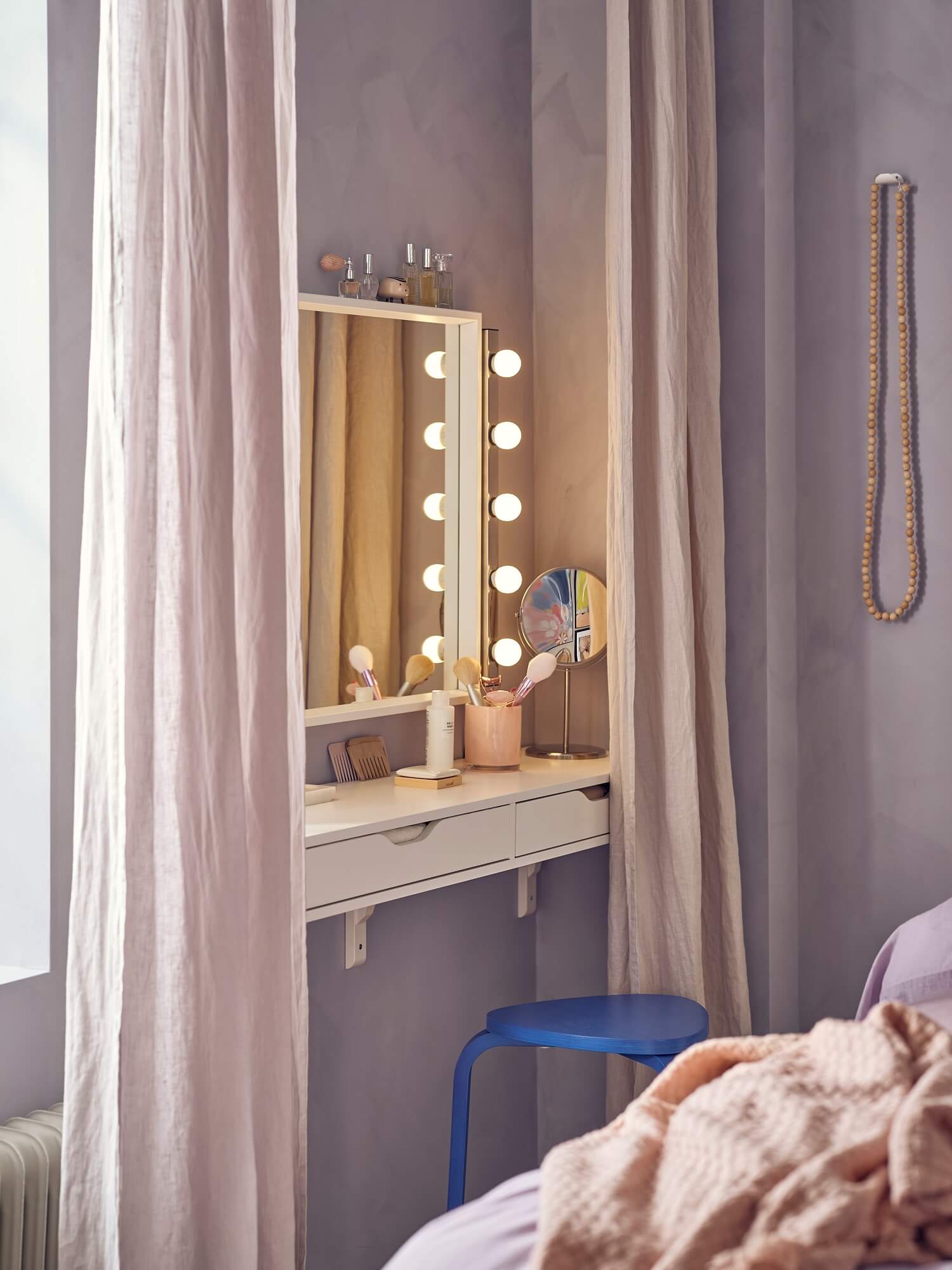 21. Double the Fun
Two curtains have been added to this lavender IKEA studio apartment. Behind the bed is a checkered green and white curtain that can hide the bed area from view. And they also used this curtain to hide the wardrobe.
But they also added a curtain in an unusual space. Next to the bed is a vanity table that can be hidden from view with a pair of partly translucent light gray curtains.
22. Surround the Bed
You can take inspiration from this studio apartment for a serene studio style. Partly translucent white curtains have been placed around the bed, decorated with calm green bedding and a natural wooden bed frame.
The white curtains let through natural light so it doesn't get too dark, creating a sublime serene natural look to the room.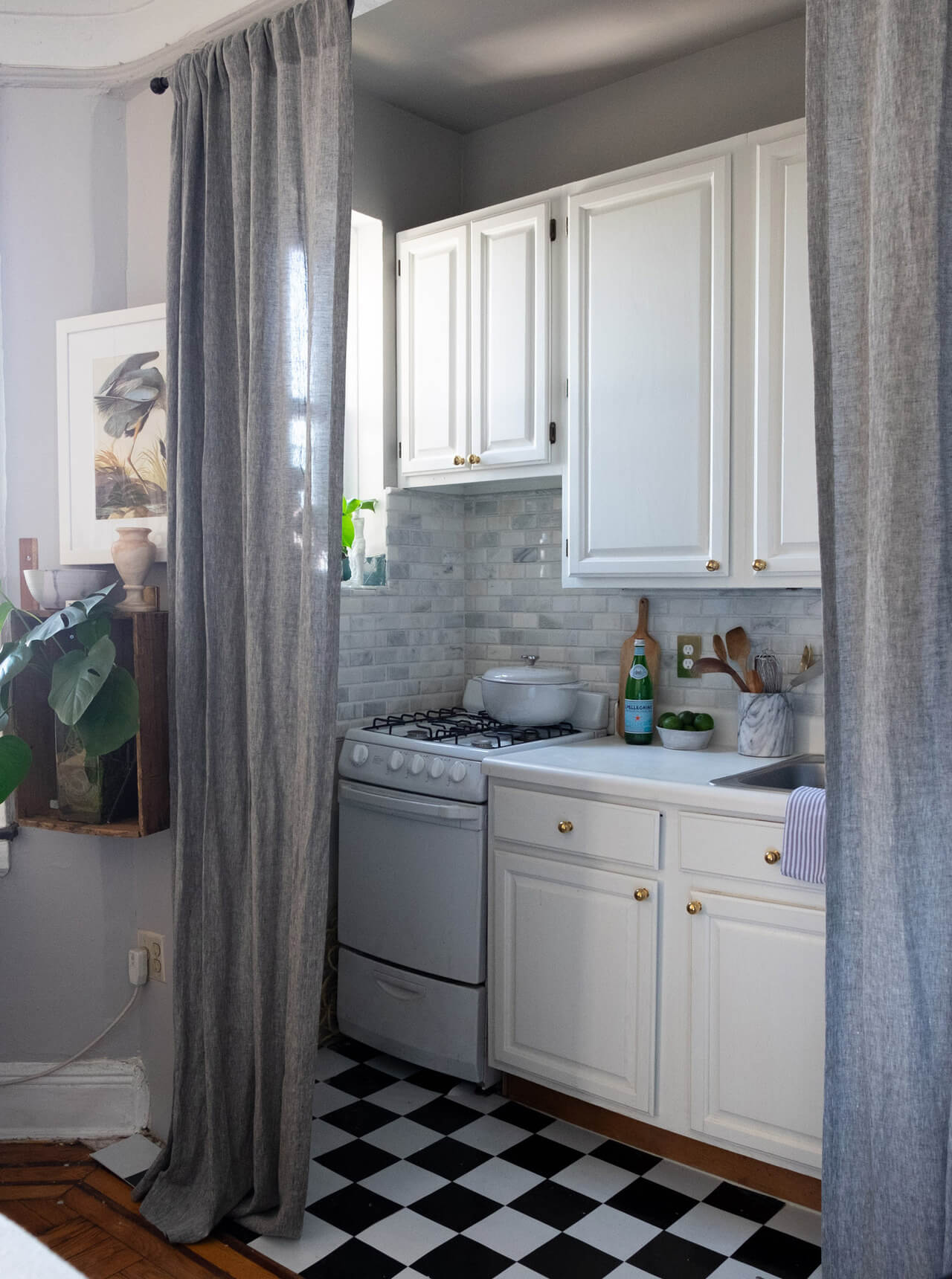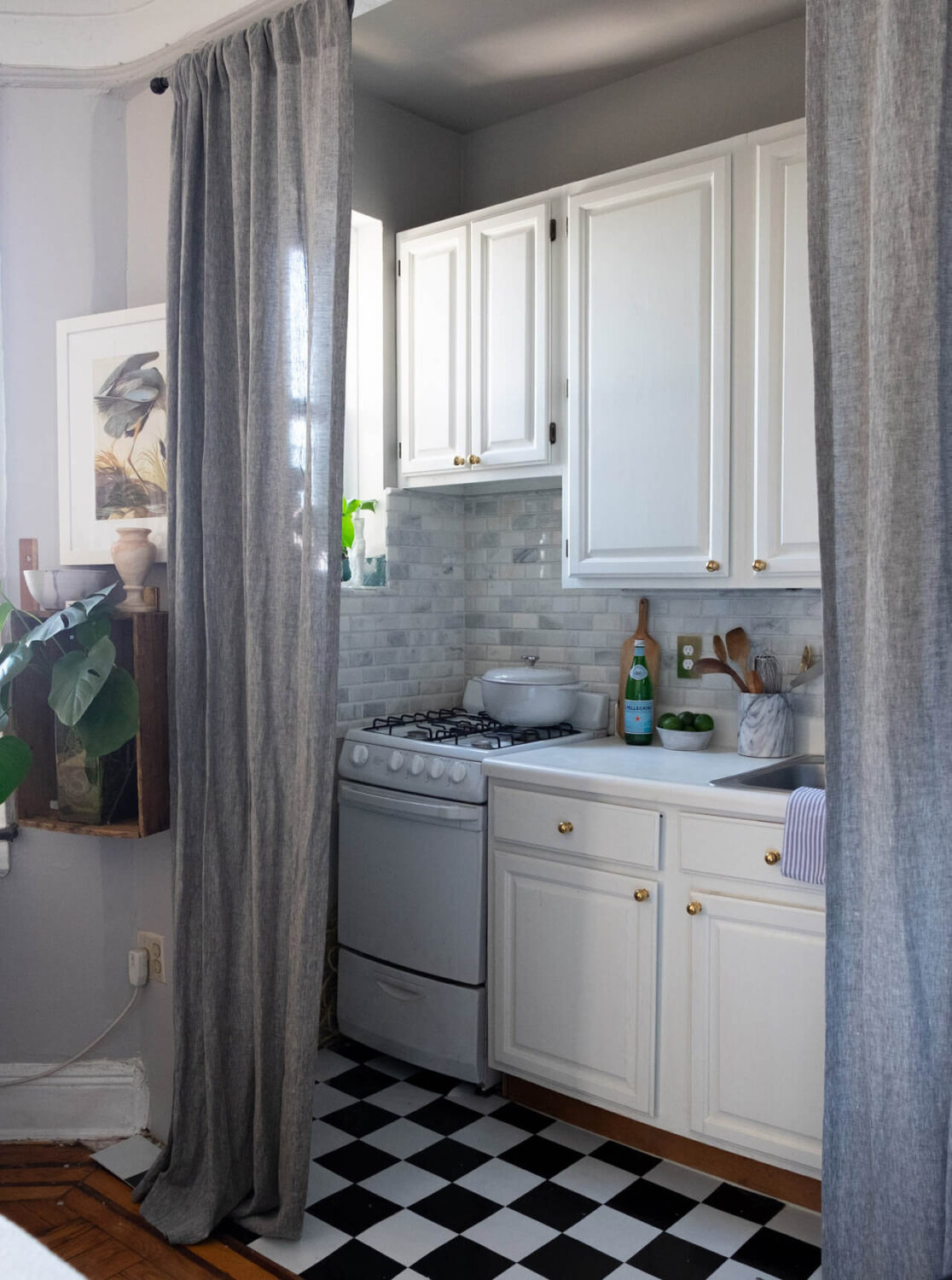 23. Hide the Kitchen
A curtain is often used to create a separate bed area, but in this New York studio apartment, they used it to hide the kitchen. This studio is extremely small, and the kitchen is in the middle of the room, which can make the small home look messy. Gray sheer curtains can close off the kitchen from the rest of the room.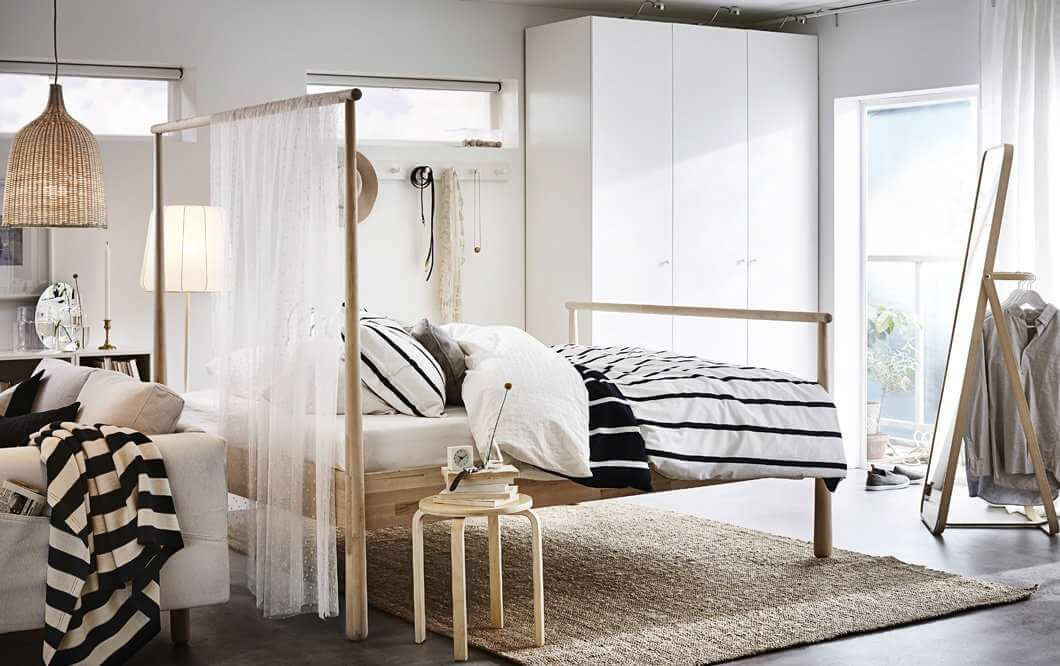 24. A Simple Sheer Curtain
A simple sheer curtain attached to the high wooden frame of the IKEA GJÖRA bed adds a subtle room divider to the studio. A curtain like this doesn't block natural light, so the entire room stays light.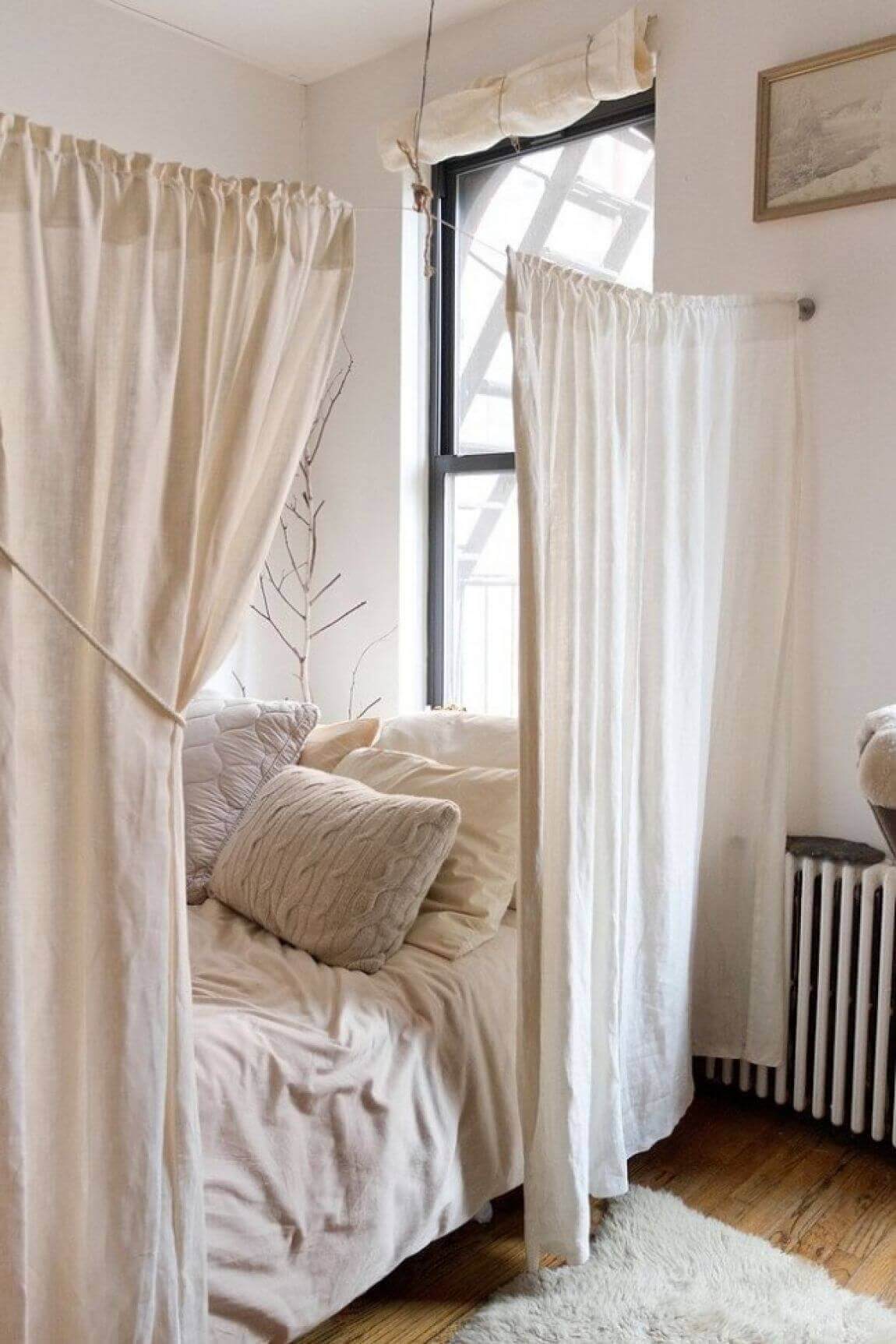 25. A Lower Curtain
If you don't want to block light but still want to add a dividing curtain, you can choose a sheer curtain, or you can leave fix the curtain rod at three-quarter height. The bed is still hidden from view with the curtains closed, but the natural light won't get blocked.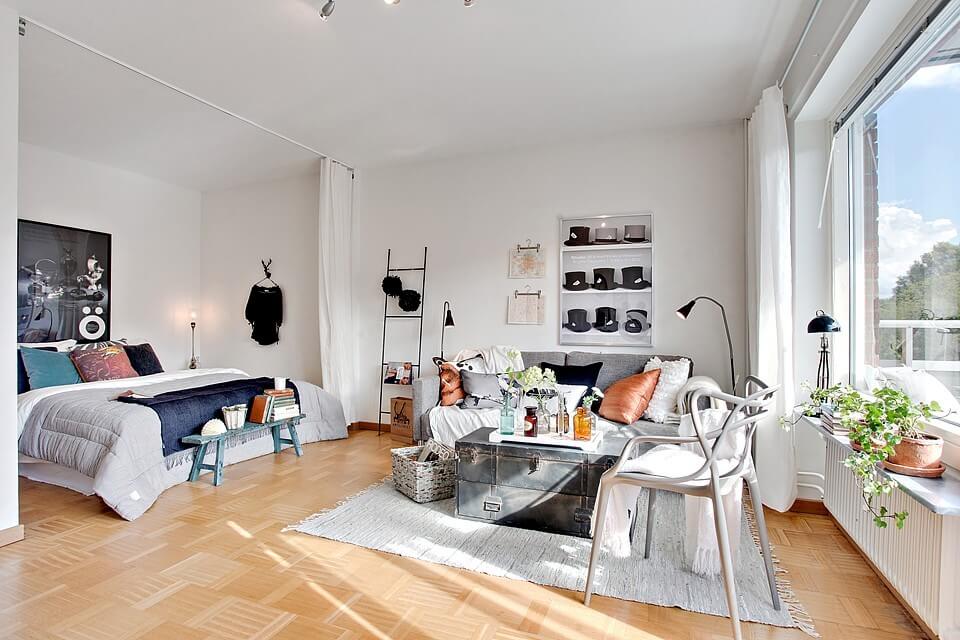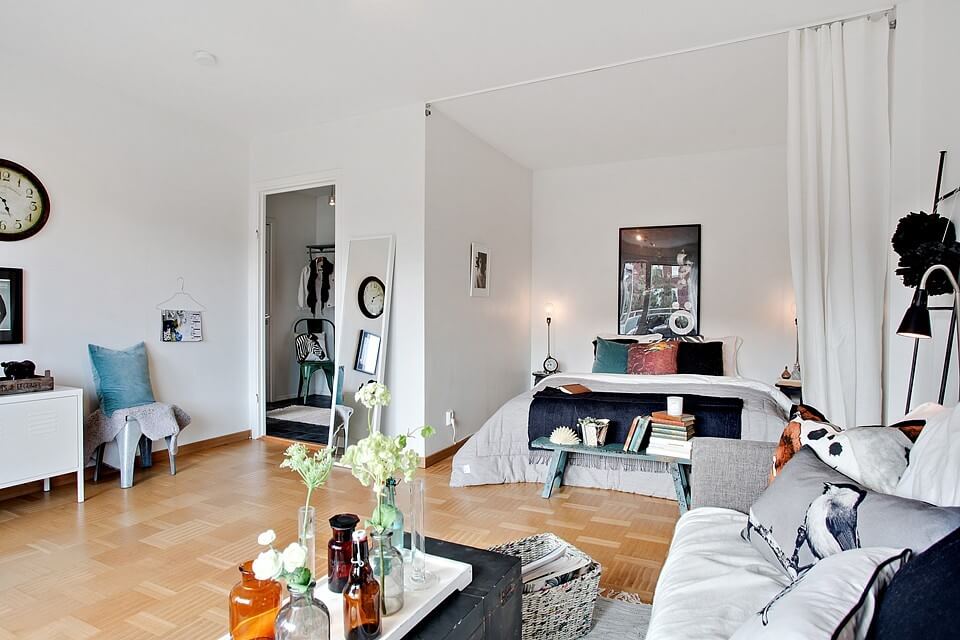 26. At the Foot of the Bed
This studio apartment has a large nook perfect for a double bed. A curtain is added from wall to wall, which can hide the bed.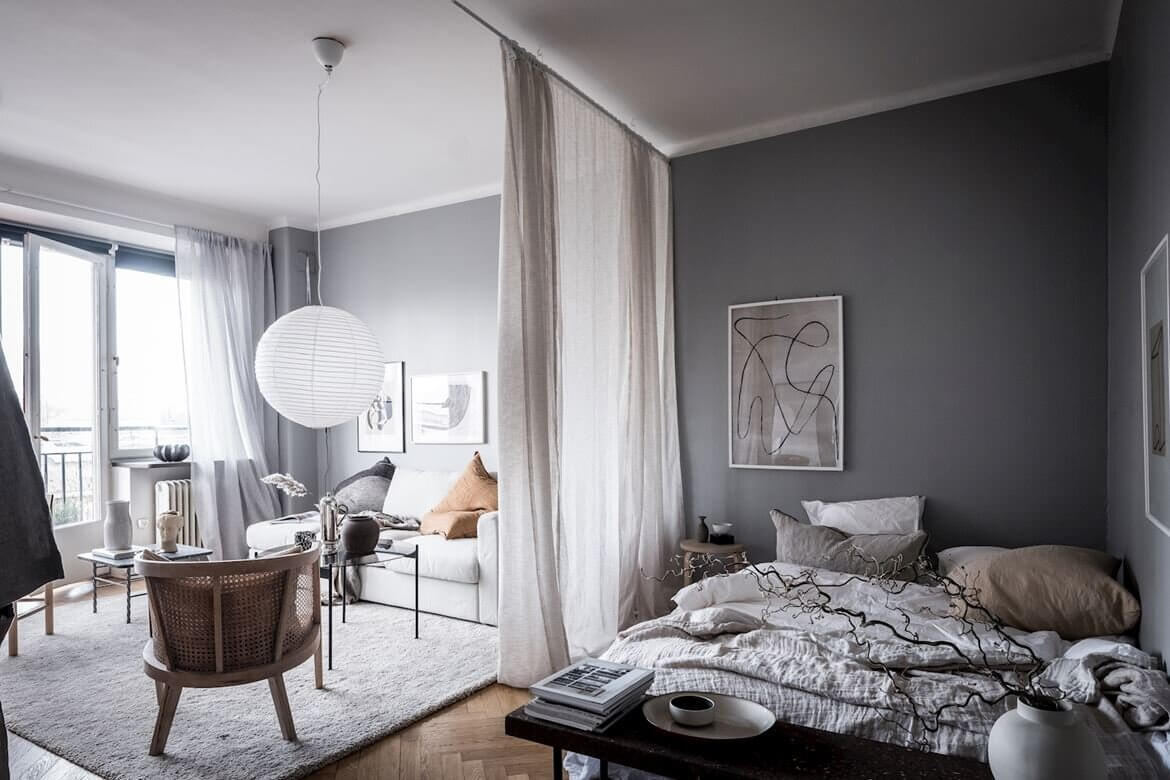 27. Shades of Gray
This studio apartment is decorated in several shades of gray with white accents. The monochrome color palette is combined with layered textiles, making it feel very cozy.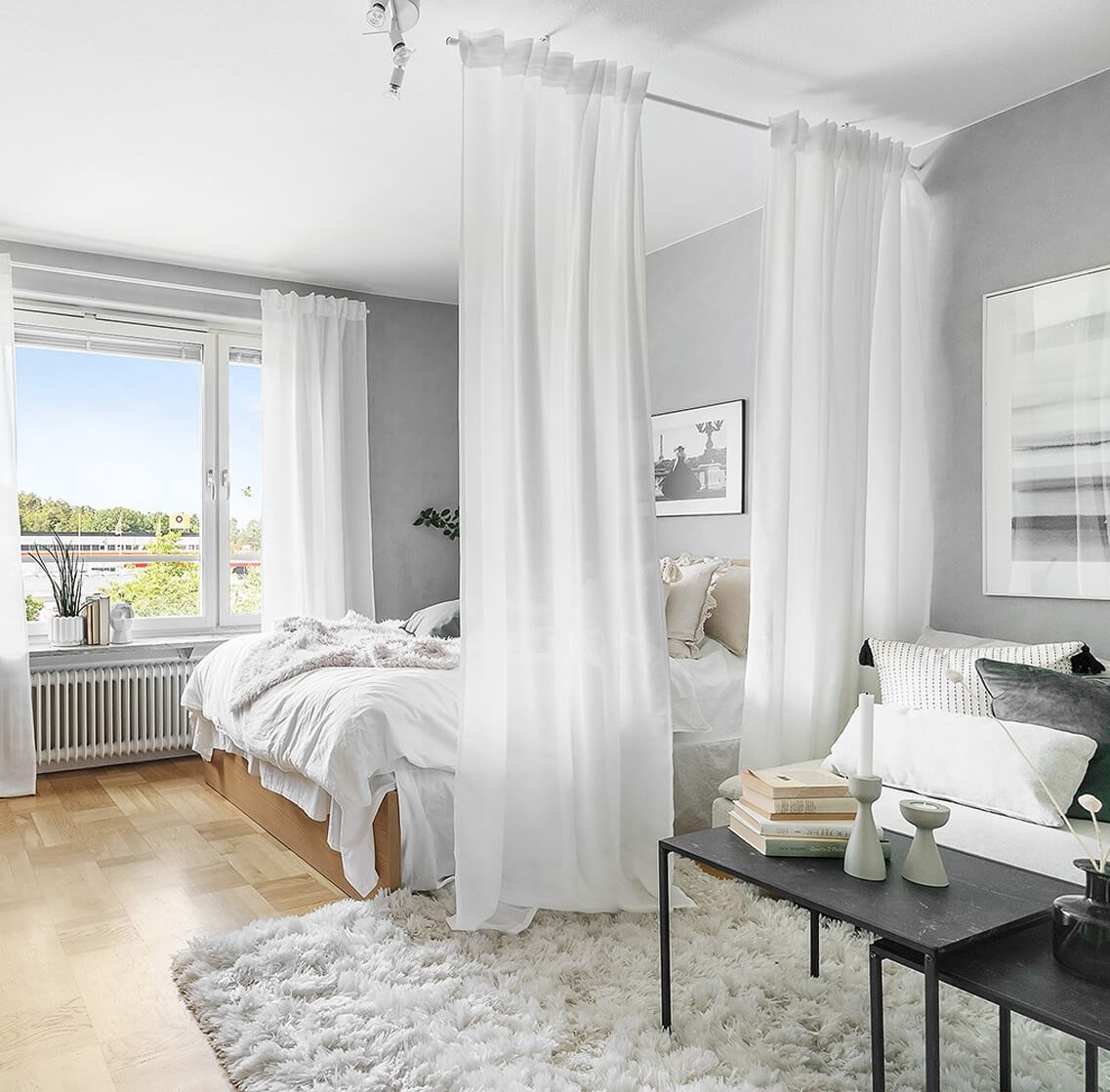 28. Two Bright White Curtains
Instead of one curtain between the couch and the bed, you can add two curtains with an open space in between. It hides the bed more than one curtain, but you retain a feeling of openness.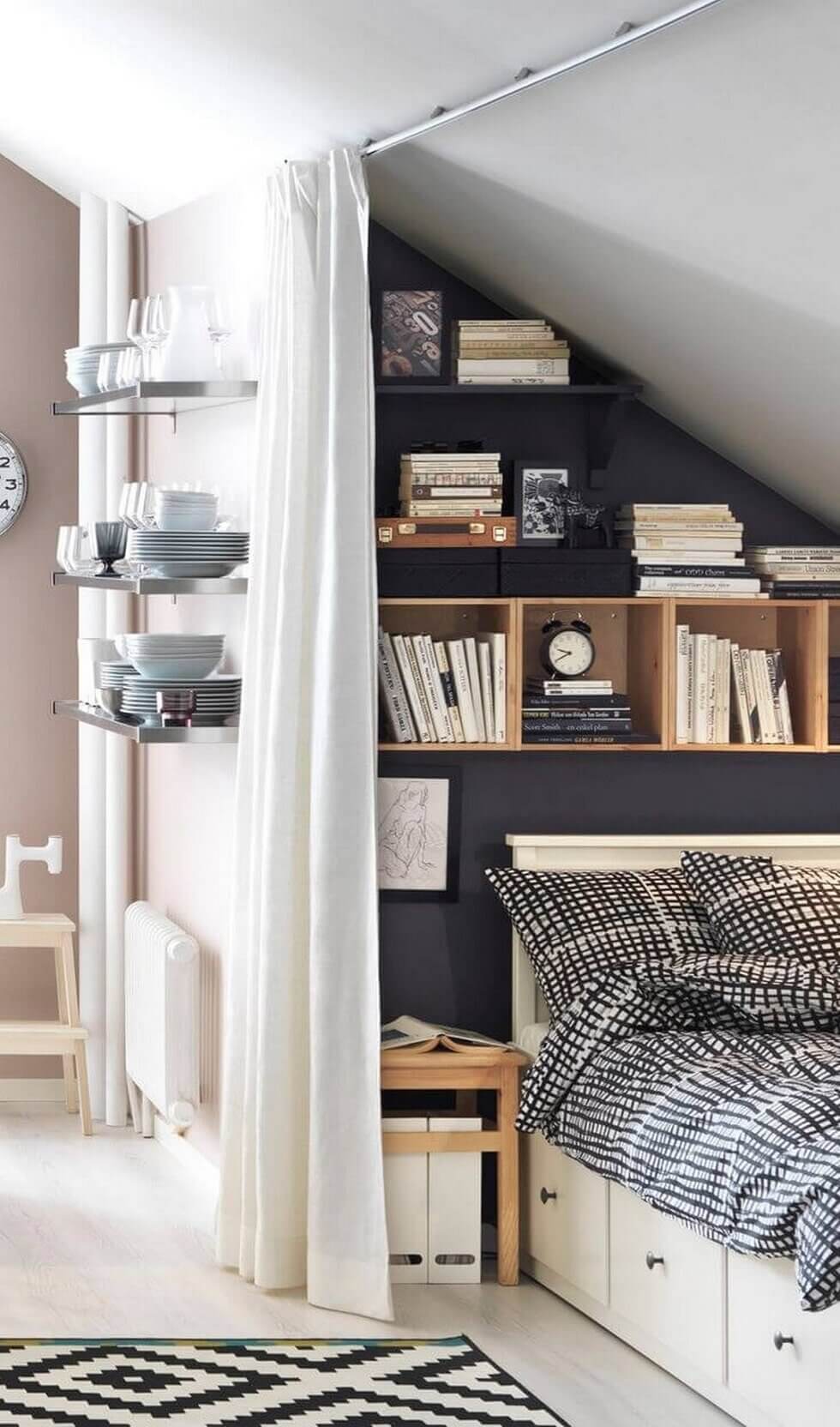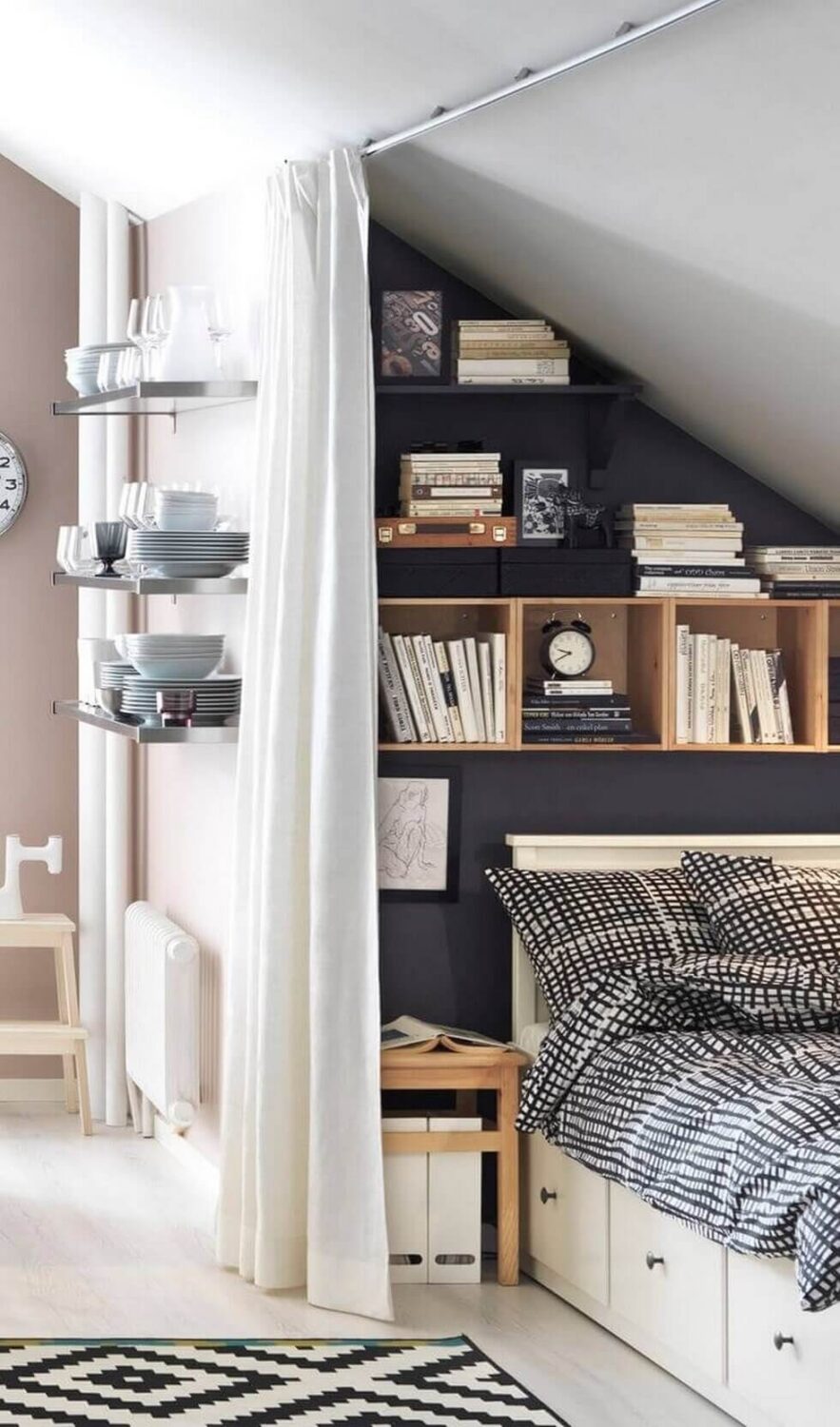 29. Hide the Bed Space Under the Slanted Ceiling
The space under the slanted ceiling is perfect for your bed, and with a curtain, this can easily be closed off from the rest of the room. It's also useful if you use the room under the sloped ceiling as storage space.
See also: How To Decorate A Bedroom with a Slanted Ceiling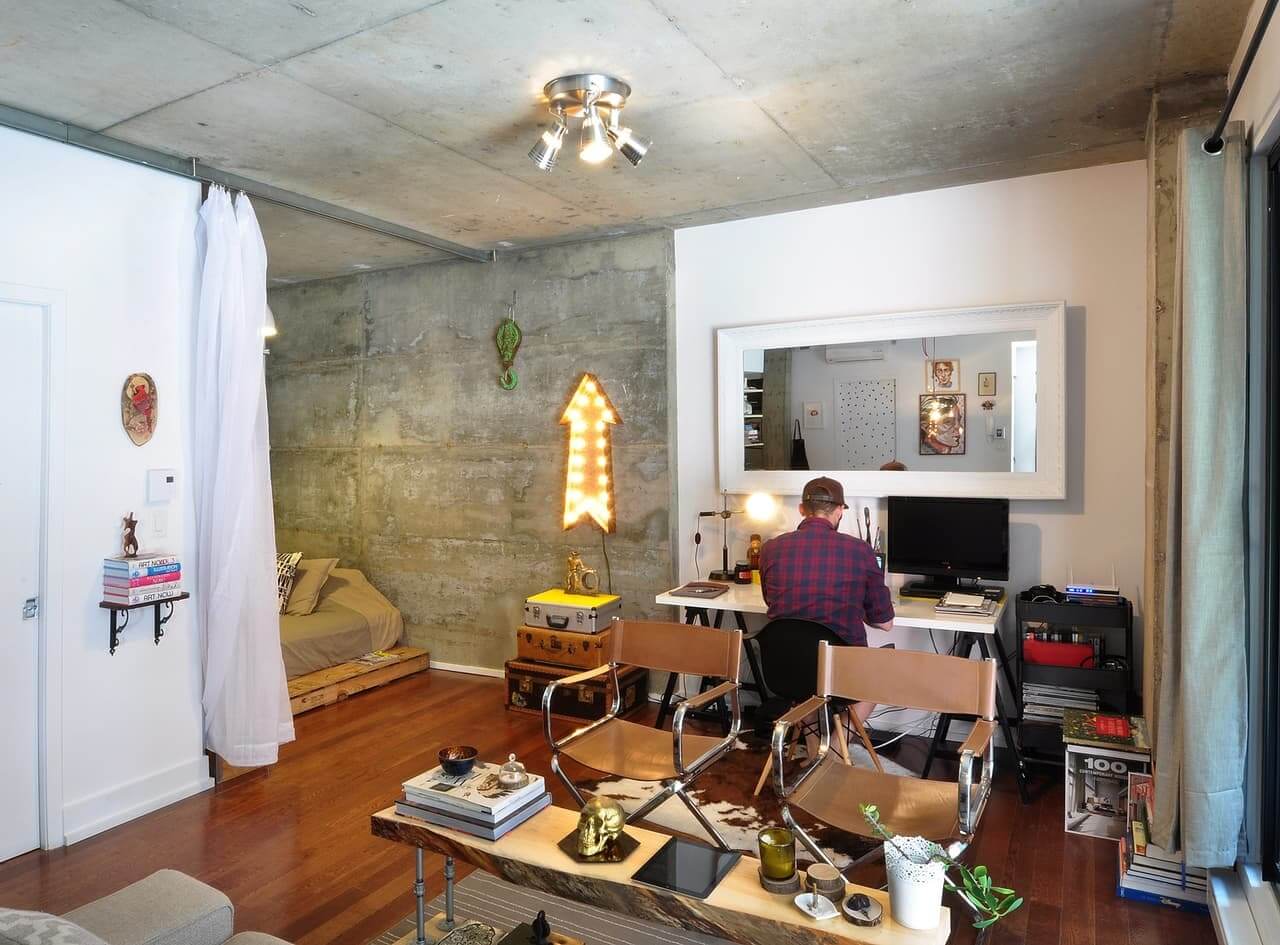 30. An Industrial Bed Nook
The raw concrete wall already creates a natural room divider, but the l-shaped room also has a curtain that can hide the industrial bedroom space from the rest of the room.
31. A Romantic Touch
The curtain is tucked behind the nightstand when it's opened. It adds a romantic touch to the studio room.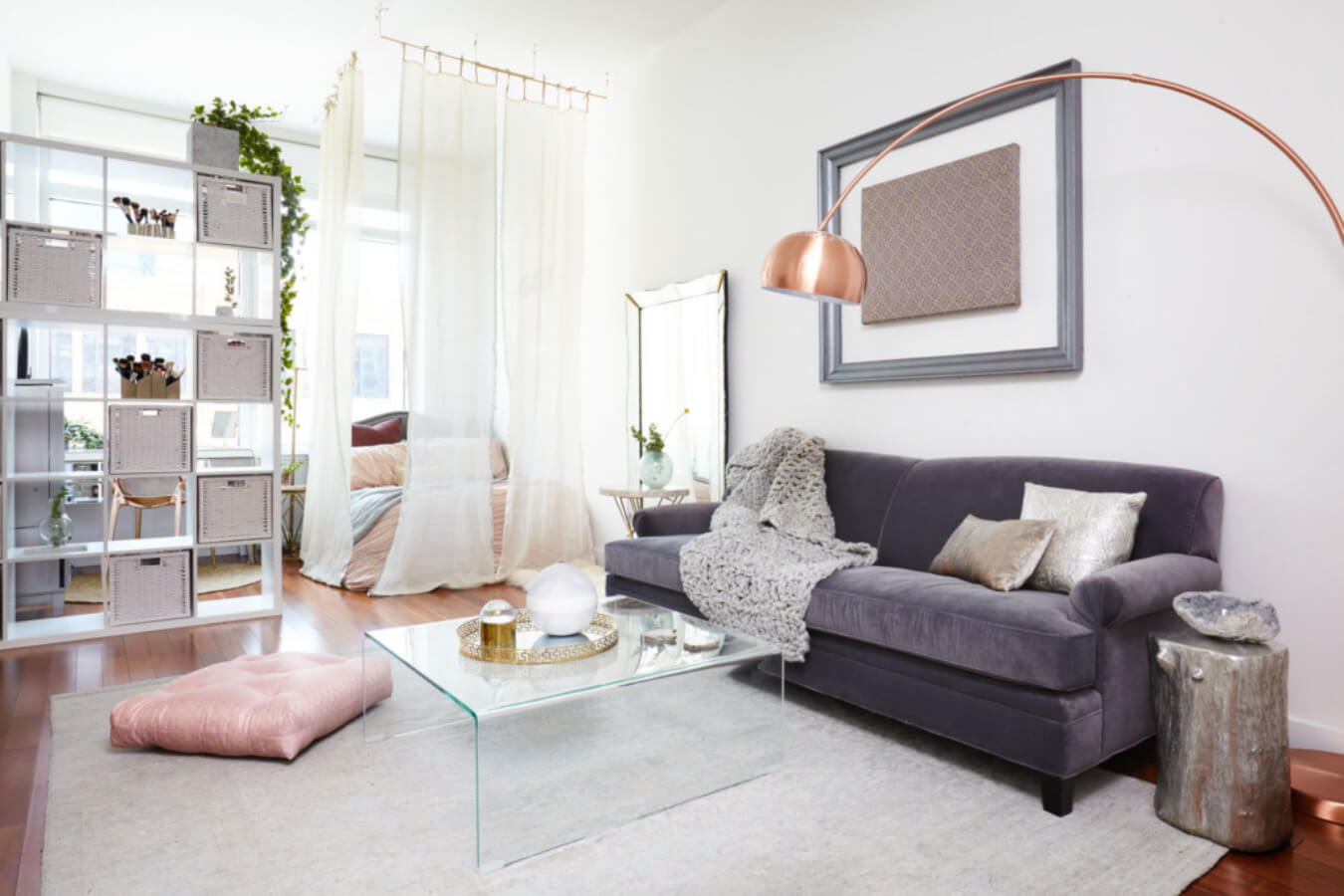 32. Sheer Curtain Panels
Three simple sheer curtain panels have been placed around the bed for a simple division between the living area and the bed. It feels very open, but it hides the bed just enough.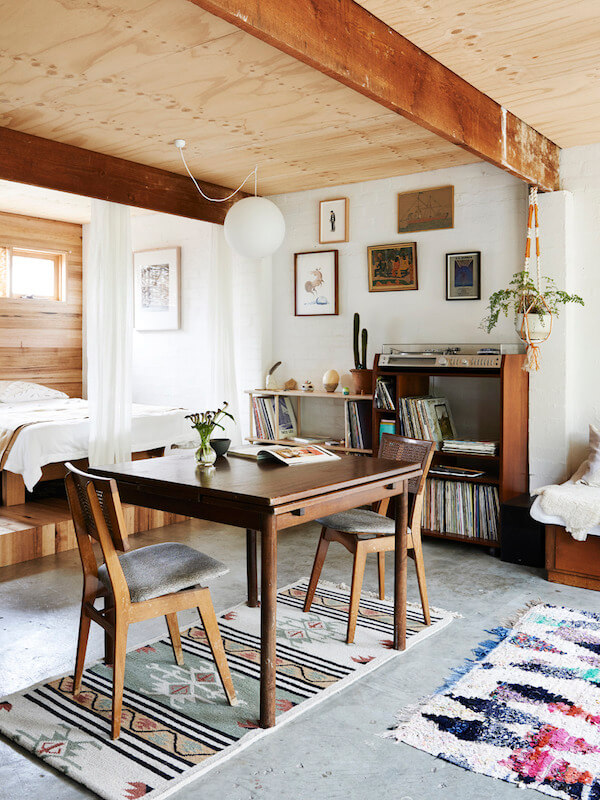 33. A Wooden Bed Platform with Sheer Curtain
This garage has been turned into a studio apartment. The main area has white walls and a concrete floor, but the bed area is warm with a wooden platform and a wooden accent wall.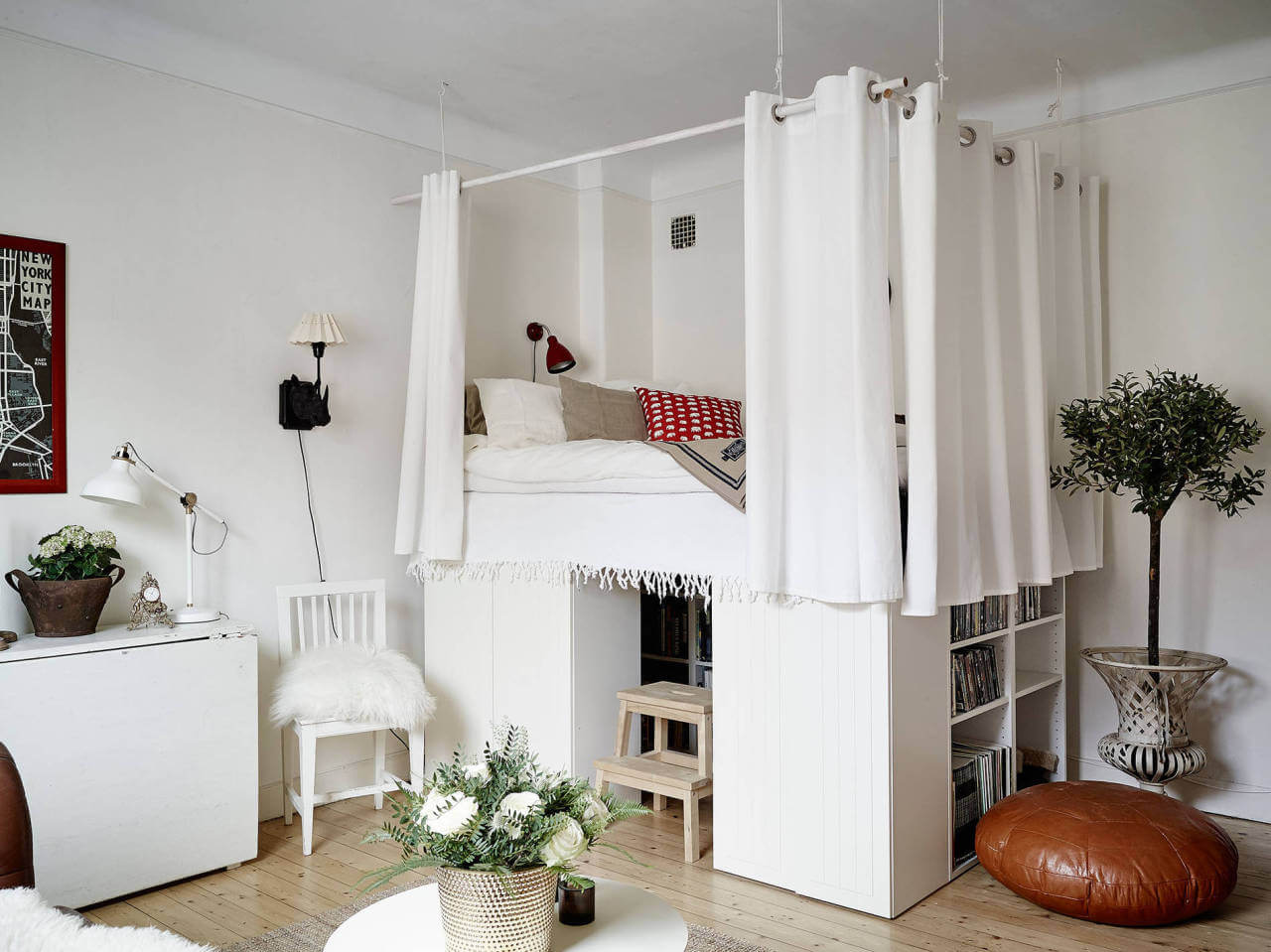 34. Short Curtains and Storage
A loft bed has been made from bookcases to combine storage with sleeping. Short curtains have been placed around the bed so you can hide the bed while still being able to access the cabinets.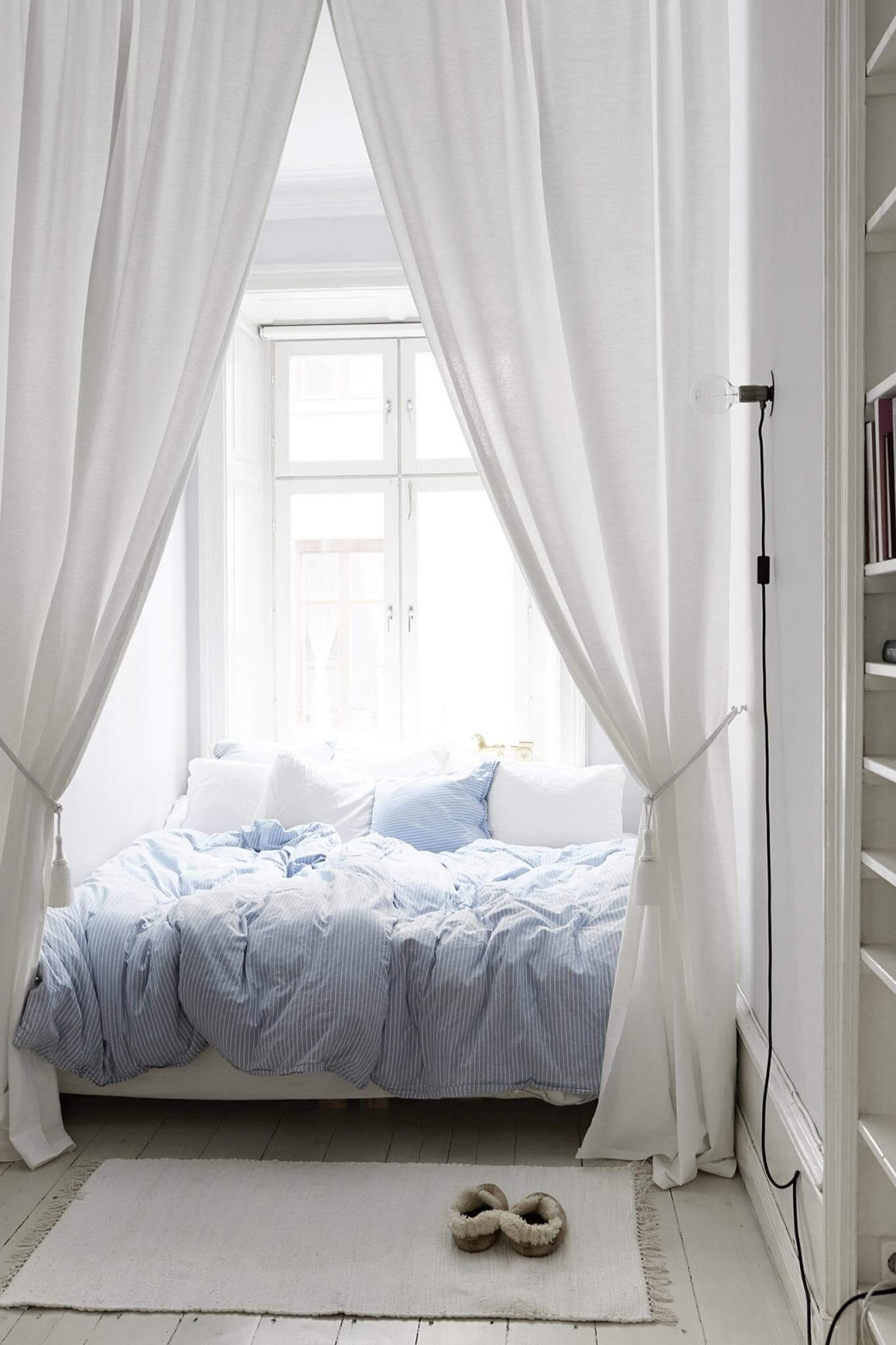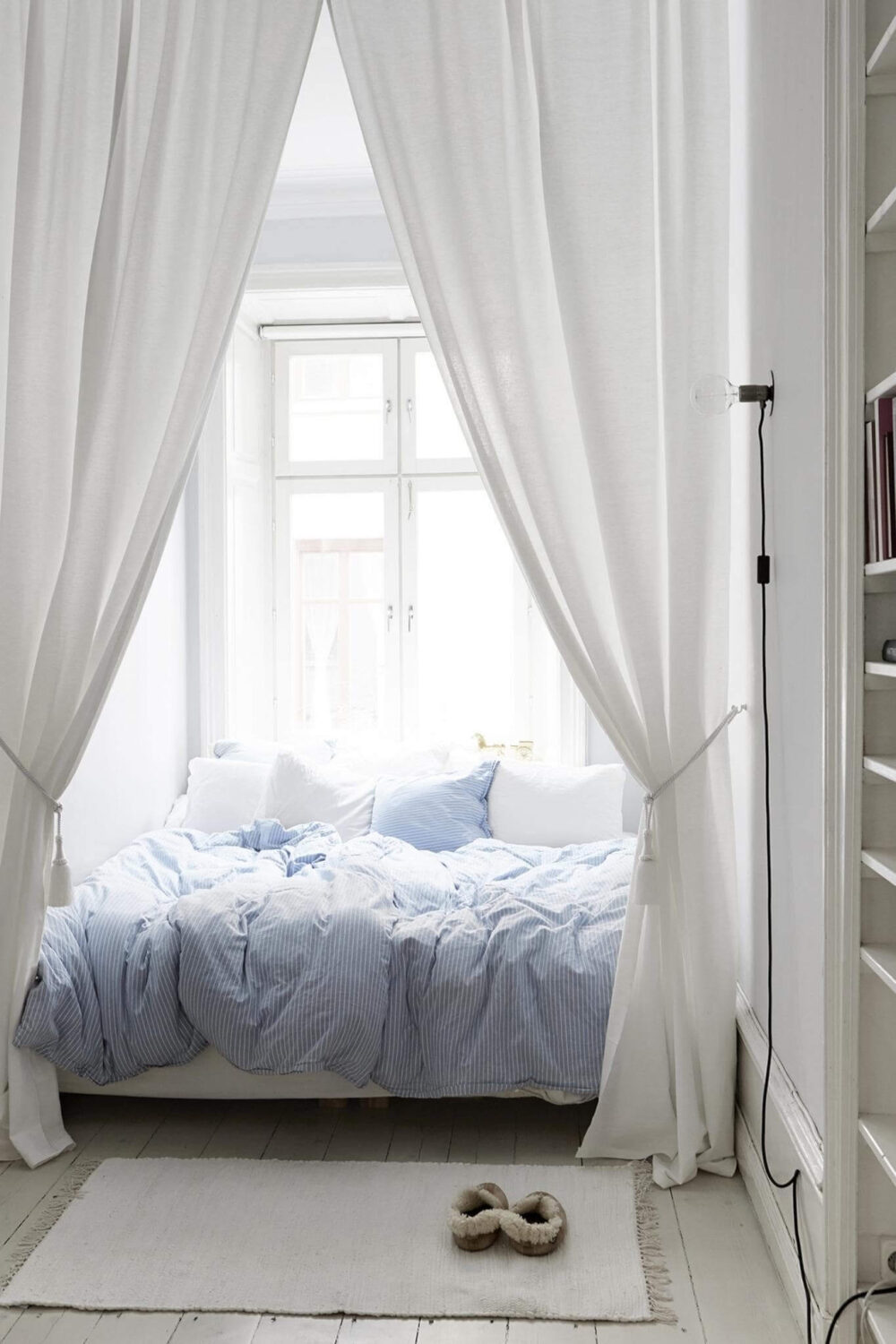 35. High Floor To Ceiling Curtains
This room has high ceilings, and floor-to-ceiling curtains accentuate the high space. By tying the curtains open this way, you always retain a feeling of a separate space and still take advantage of the light coming through the window.
36. Keep it Simple
White on white with gray accents. For a clean and minimalistic design style, you can opt for this simple color palette with a white curtain divider.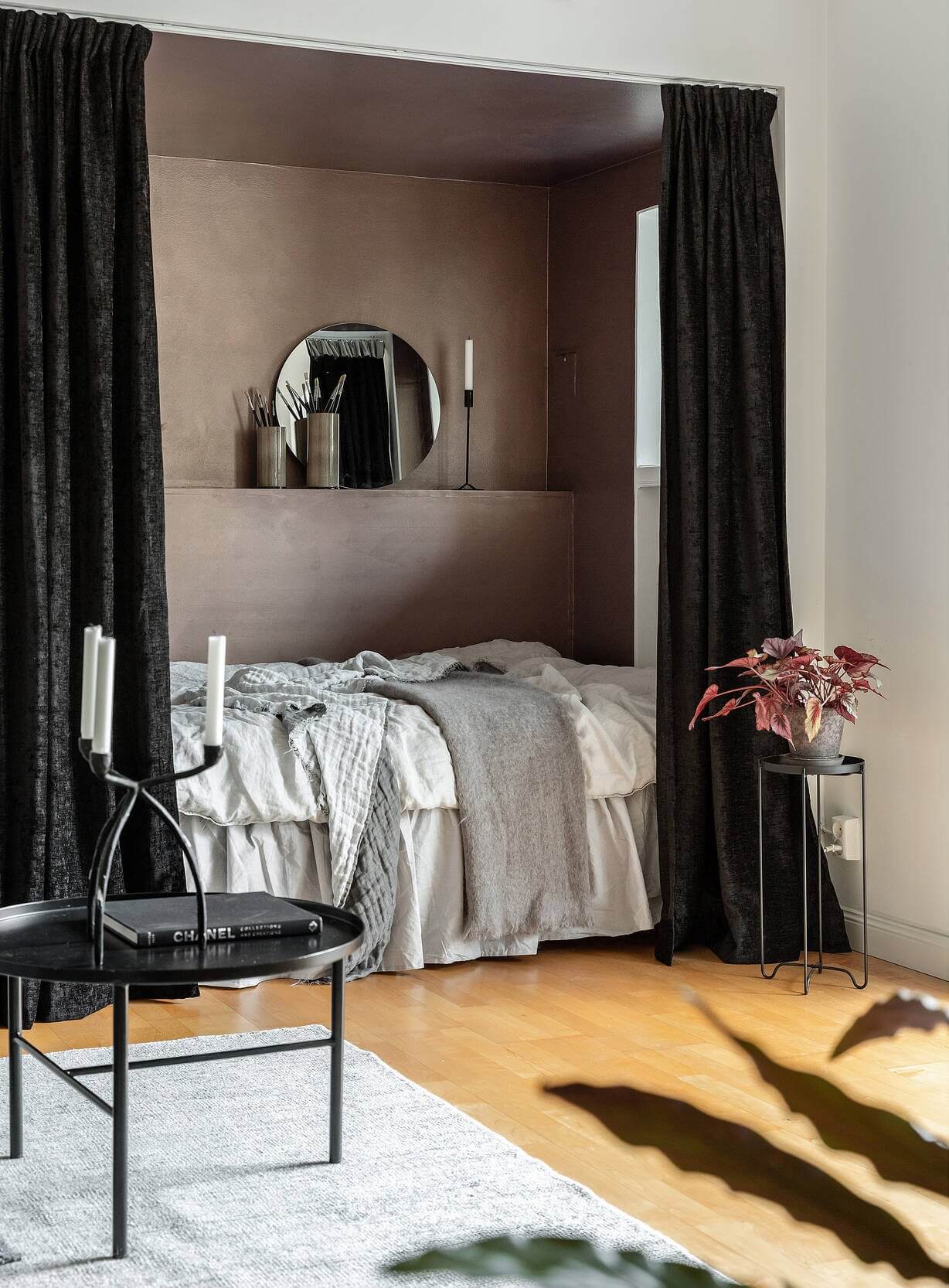 37. Earthy Pink with Dark Gray Curtains
Painting the bed nook a different color from the rest of the studio apartment is a great way to create a division between the areas. In this studio, they painted the niche a muted pink shade combined with thick dark gray curtains. The niche has its own window, so it doesn't feel claustrophobic even with the curtains closed.
38. Different Shades of Gray
The niche in the room has been painted in a dark gray accent color. The niche is just wide enough for a double bed. A simple metal string has been fitted between the walls for the curtain.
39. A Curved Curtain Rails
In this studio apartment, the owners added a curved curtain rails that runs around the bed. If you don't have a niche where you can place the bed but you want to hide the bed from view completely, then this is a great idea.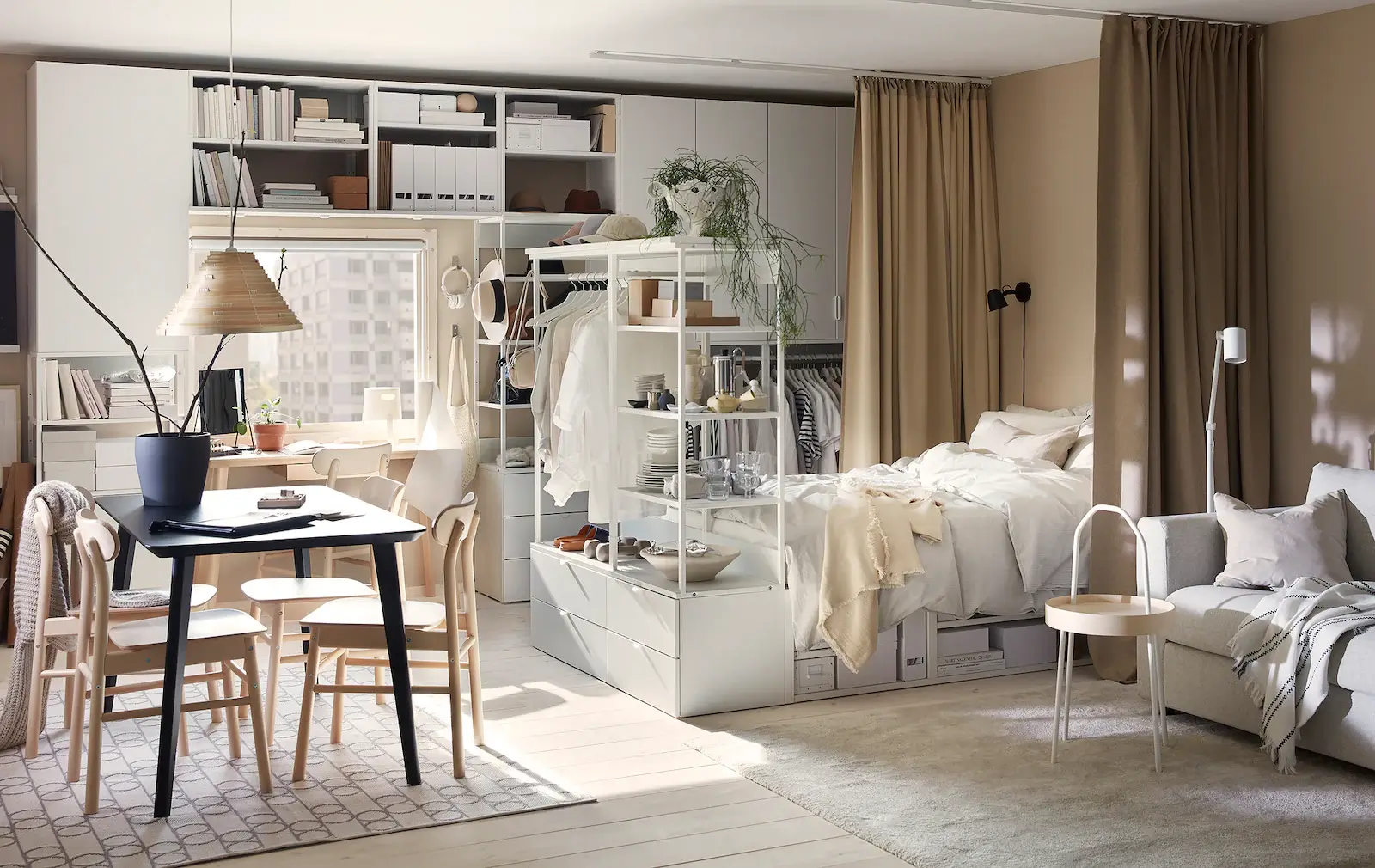 40. Two Curtains and An Open Cabinet
IKEA is known for having many products that make small-space living much easier. This studio apartment designed by IKEA is packed with small space ideas. Two taupe curtains flank the bed to create a cozy bed nook.
The open cabinet at the foot of the bed serves a double purpose, it helps create a cozy bed nook and adds much-needed storage space. The open structure of the wardrobe/shelving system keeps the room light and open.
And for more small-space inspiration, look at the cabinet on the wall. It makes the most of the available space, even adding storage above the window. And the open and closed cabinets are multifunctional.
41. Layered Textiles For a Cozy Space
Even when using only light colors, you can still make it look cozy by layering the textiles, as seen in this studio. A few earthy-colored pillows add warm accents to the room.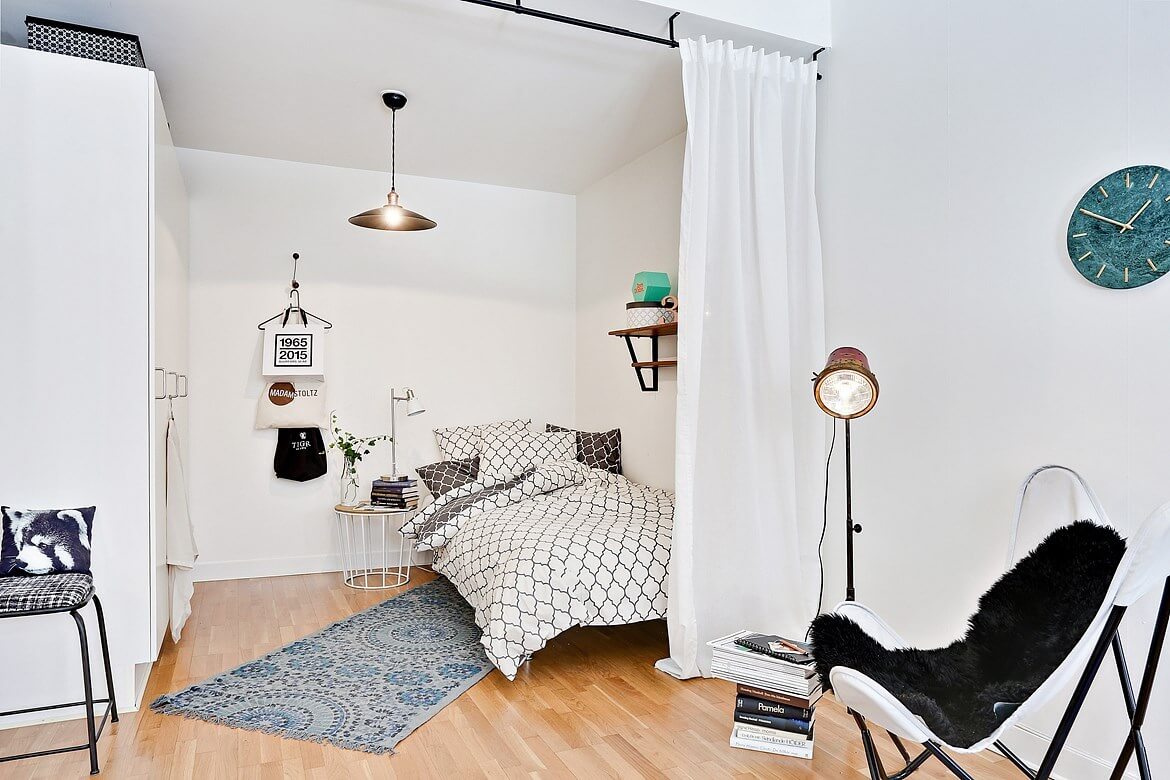 42. Black and White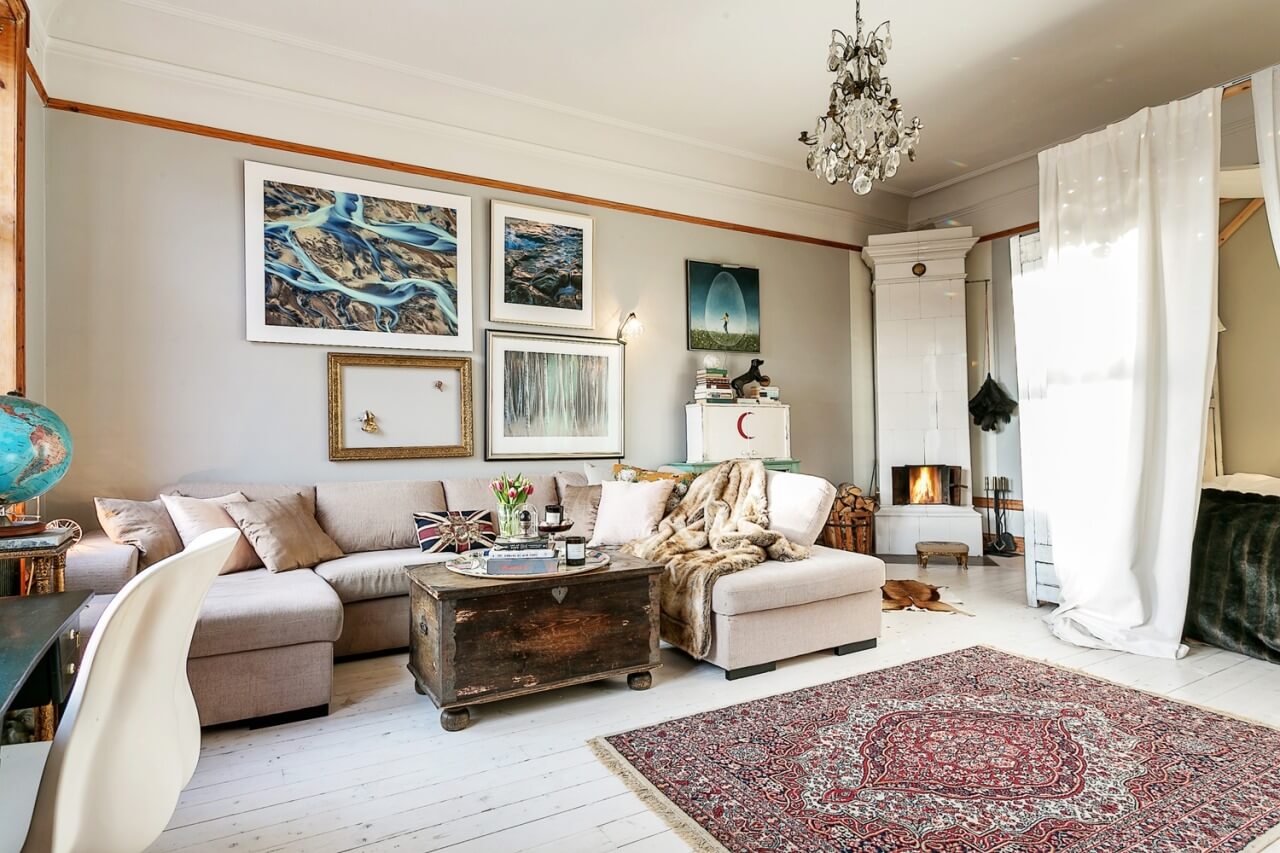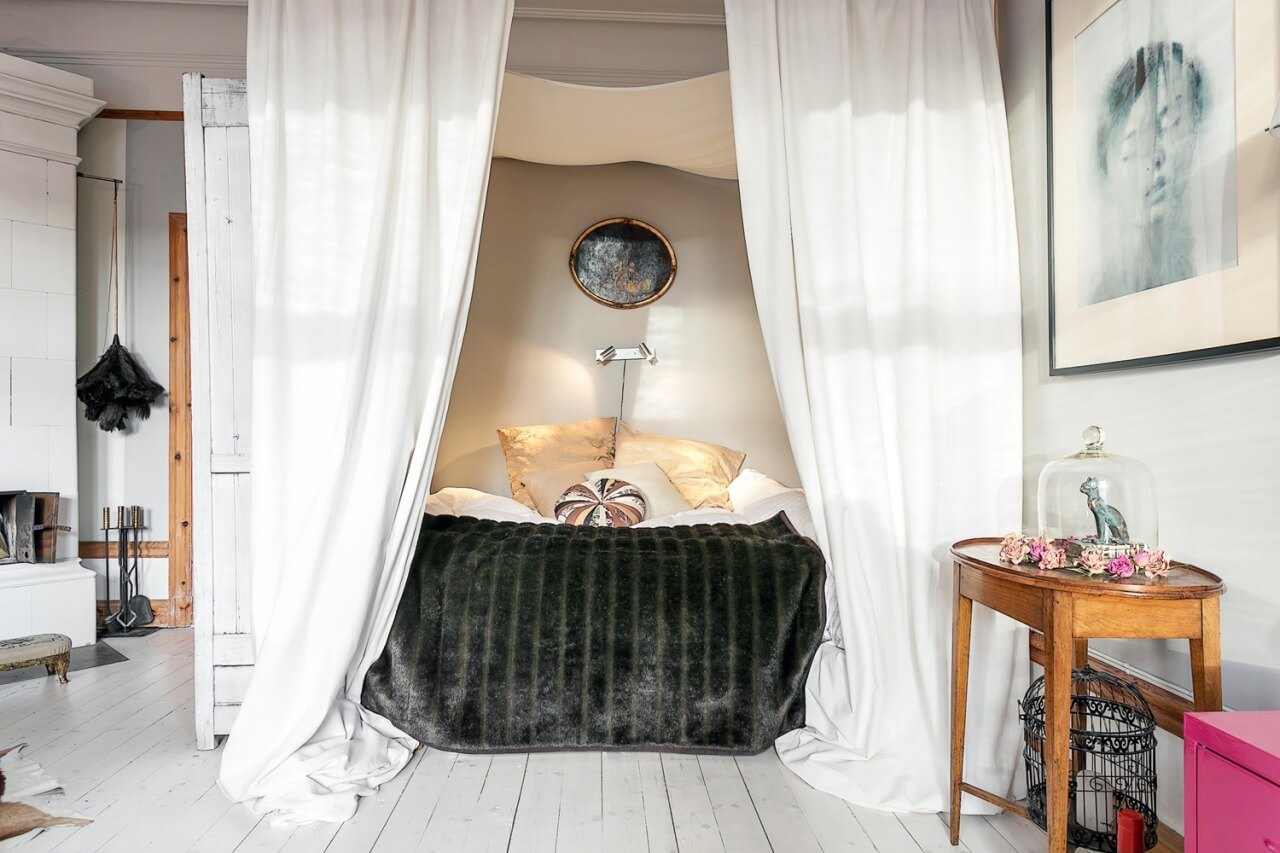 43. A Light Vintage Bohemian Look with Oversized Curtains
You can choose longer curtains that run over the floor for a playful and slightly bohemian look. They used white curtains in this room, but you can opt for bolder colors or patterns for a proper bohemian look.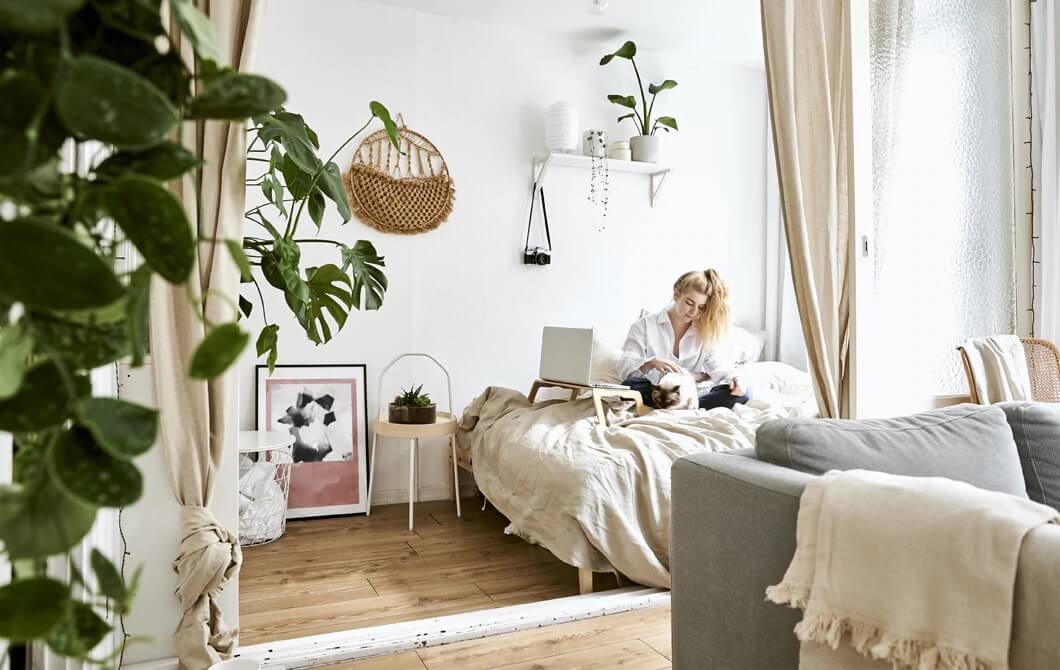 44. A Beige Natural Look
Beige accents in the bedding and curtains strengthen the natural look that this studio already has with the plants and the wooden floor.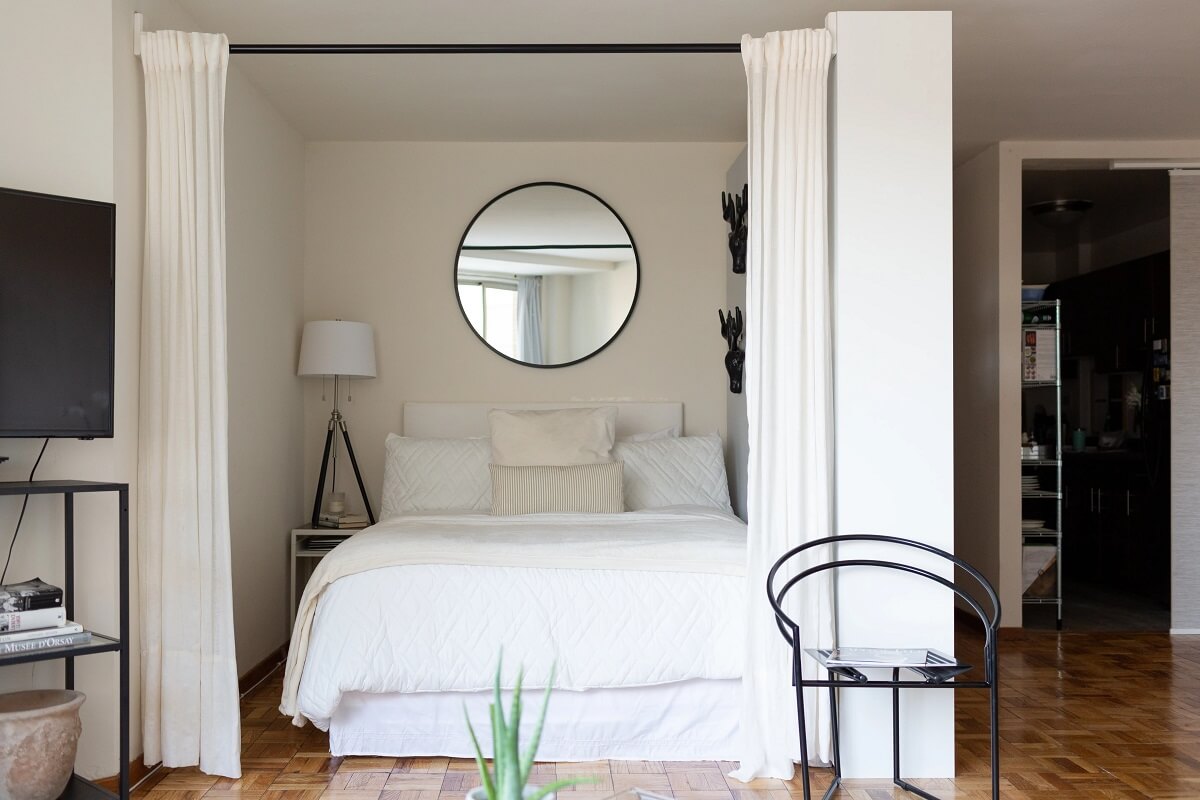 45. Black and White Minimalism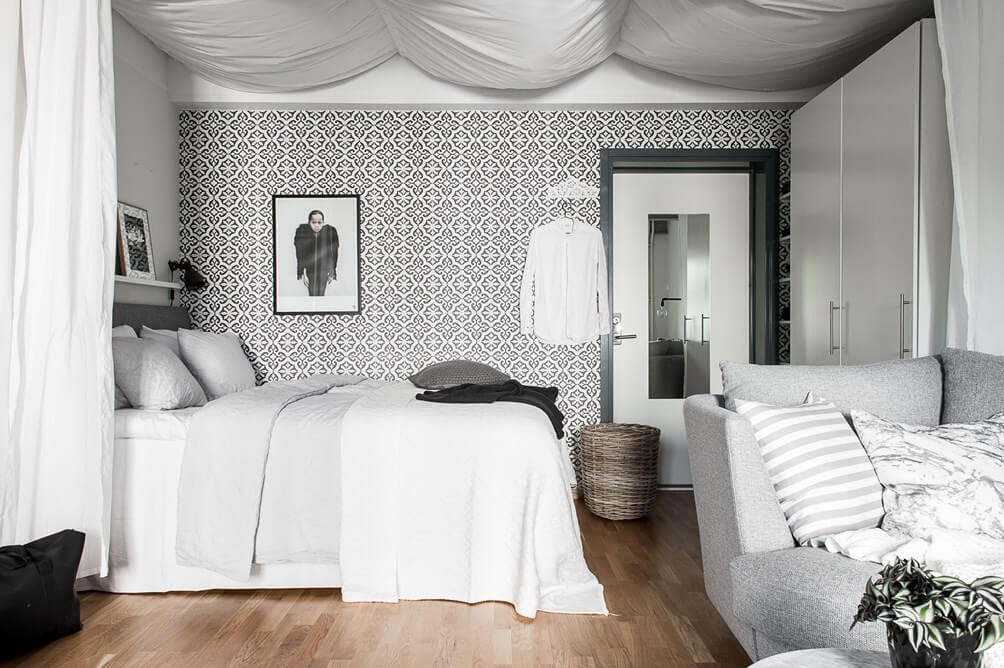 46. Curtains on the Ceiling
Curtains have been added between this monochrome studio's living space and bedroom area. But they also added curtains on the ceiling to create a canopy, making the bed area so much cozier.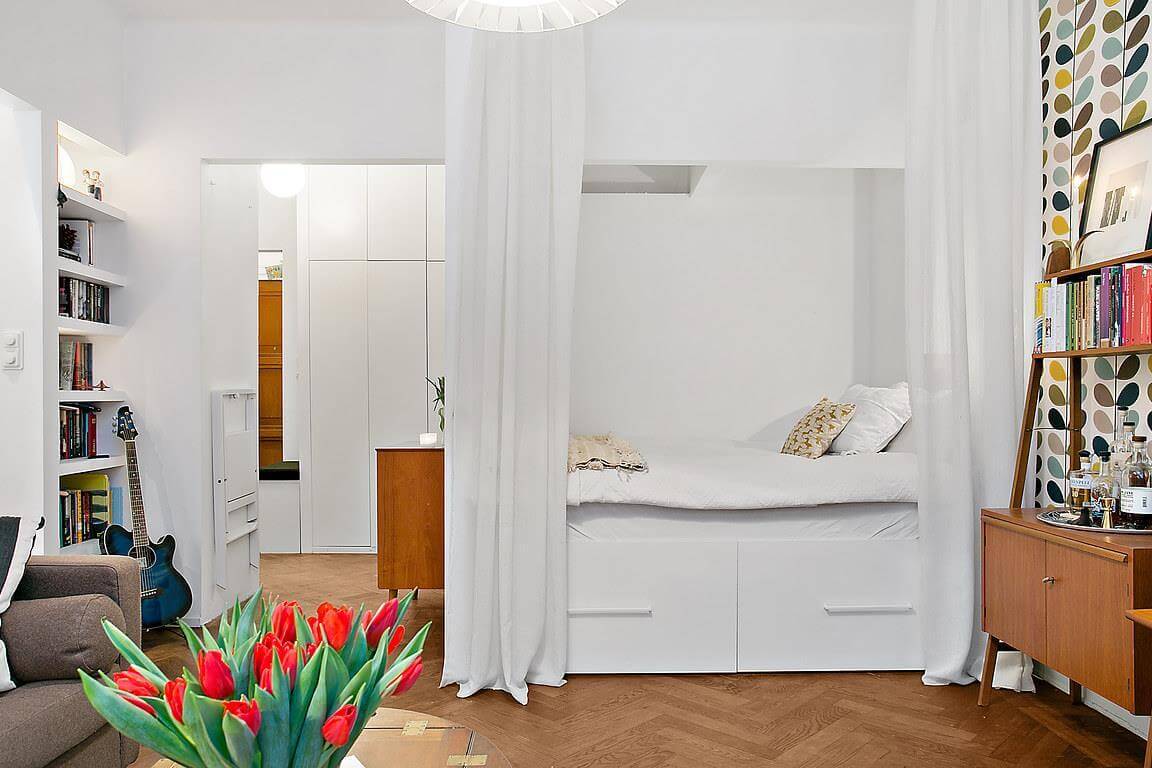 47. White on White with a Storage Bed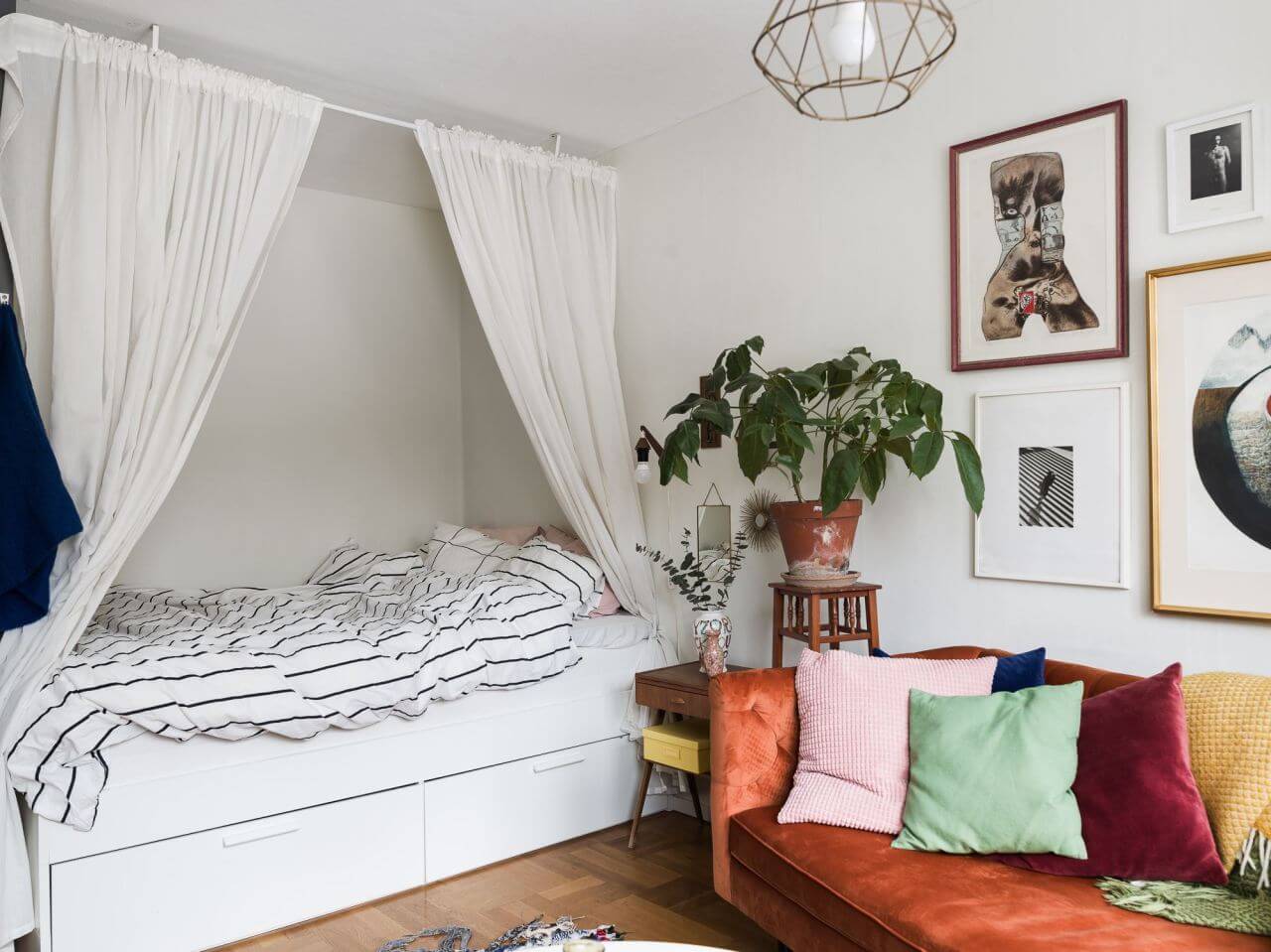 48. A Canopy Effect
Instead of completely opening the curtains, here they have been tucked behind the bedframe to create a canopy effect.
49. Short Curtains
if the curtains don't run all the way to the floor, you keep a sense of space. And when you have beautiful wooden floorboards, you surely don't want to hide them from view.
50. Dramatic Black
White is the most popular color for a room diving curtain, but you can go darker and add black velvet curtains for a dramatic effect.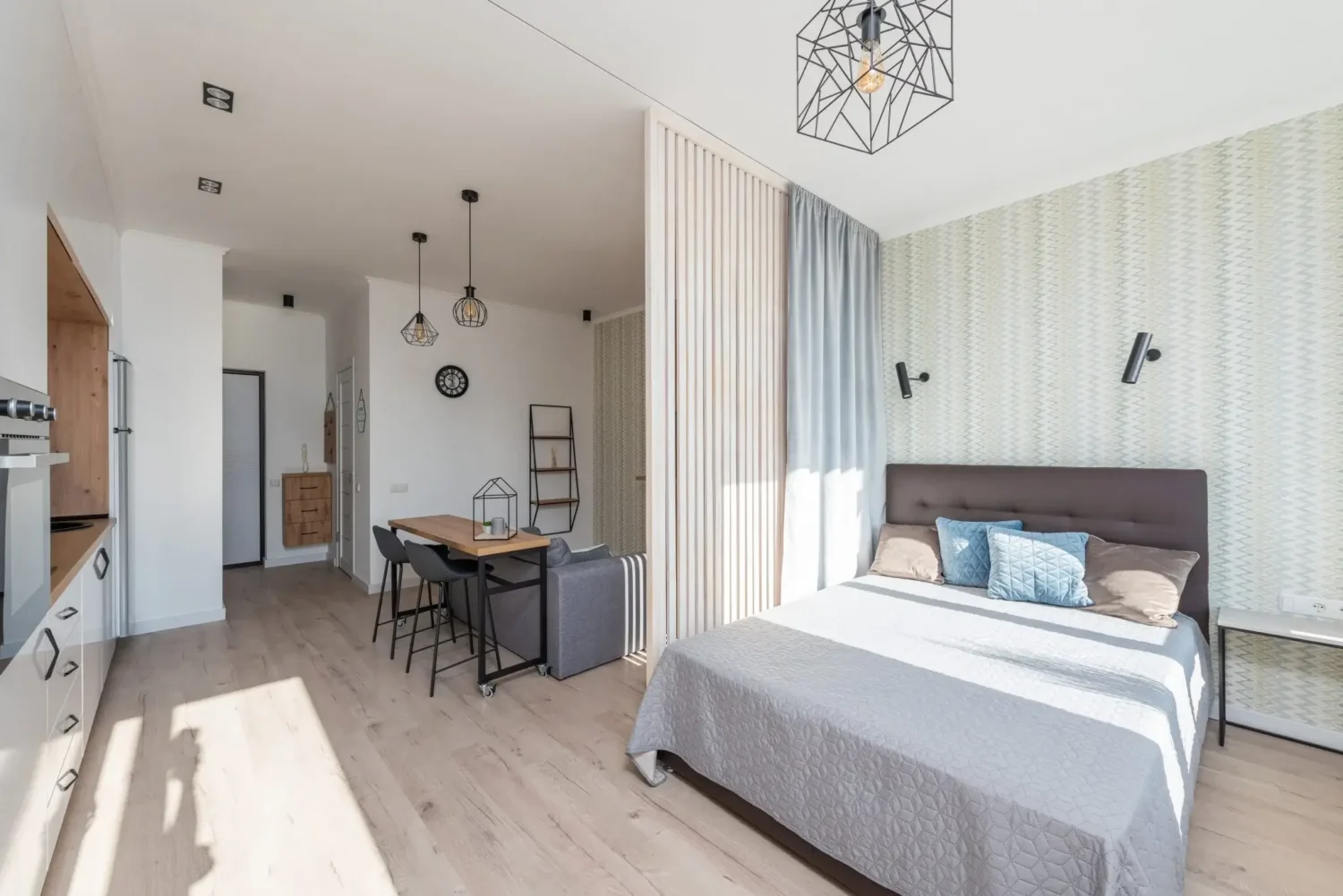 51. Combine a Curtain with a Wood Slat Divider
Curtains can also be combined with other room dividers. We've already seen curtains combined with bookshelves and a steel frame; a light blue curtain is combined with a wood slat room divider in the room above. The wooden room divider already separates the different areas, but the curtain adds more privacy when needed.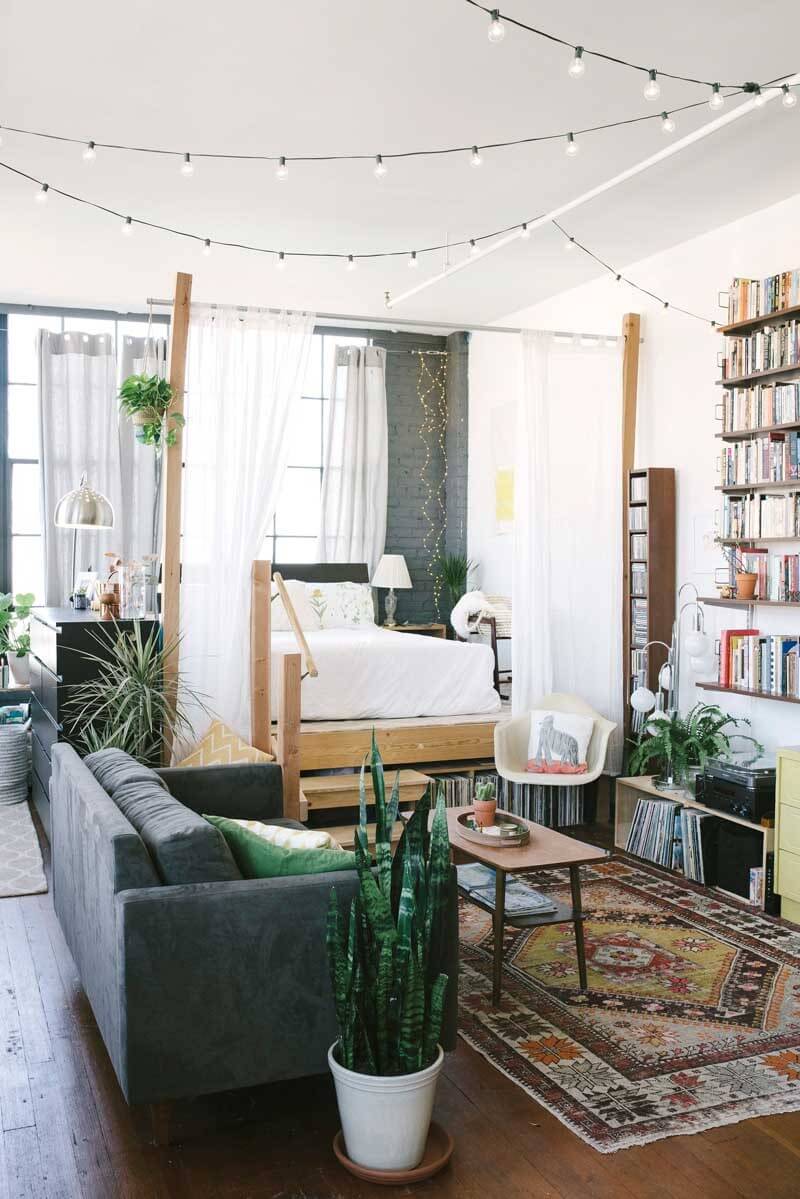 52. Sheer Curtains and a Bed Platform
A wooden platform has been created in one part of this room to house the bedroom space. The platform includes wooden poles with a curtain rod in between, from which hang two sheer curtains that can subtly hide the bed from view.
This post has shown you 51 studio apartments with a curtain room divider. A curtain is versatile, stylish, and affordable for creating separate spaces in a one-room apartment. You can keep it simple or go bold with vibrant colors and rich textures. Whatever your interior style may be, you can add a curtain room divider if you want to create separate zones in a studio.