New IKEA Products October 2023: Bold Colors & Rustic Designs
The Autumn season is at our doorsteps, and what better way to celebrate this new season than with new products from IKEA? Fall is the season for indoor gathering and socializing, so it's time to put the home in focus and decorate with beautiful new IKEA items.
Whether you like bold colors or a calmer style, the new IKEA collection has smart storage, textiles, and furniture that will transform your home and give it new energy.
The new IKEA products released this October are divided into two style expressions: Rustic with a Twist and Turn Up the Tempo, from bold colors and patterns to calm natural materials and earthy shades. Whatever your style, this new IKEA collection has something for you.
The new IKEA products will be available in stores and online from October 2023. Follow the new IKEA collections article to stay up to date with the latest news.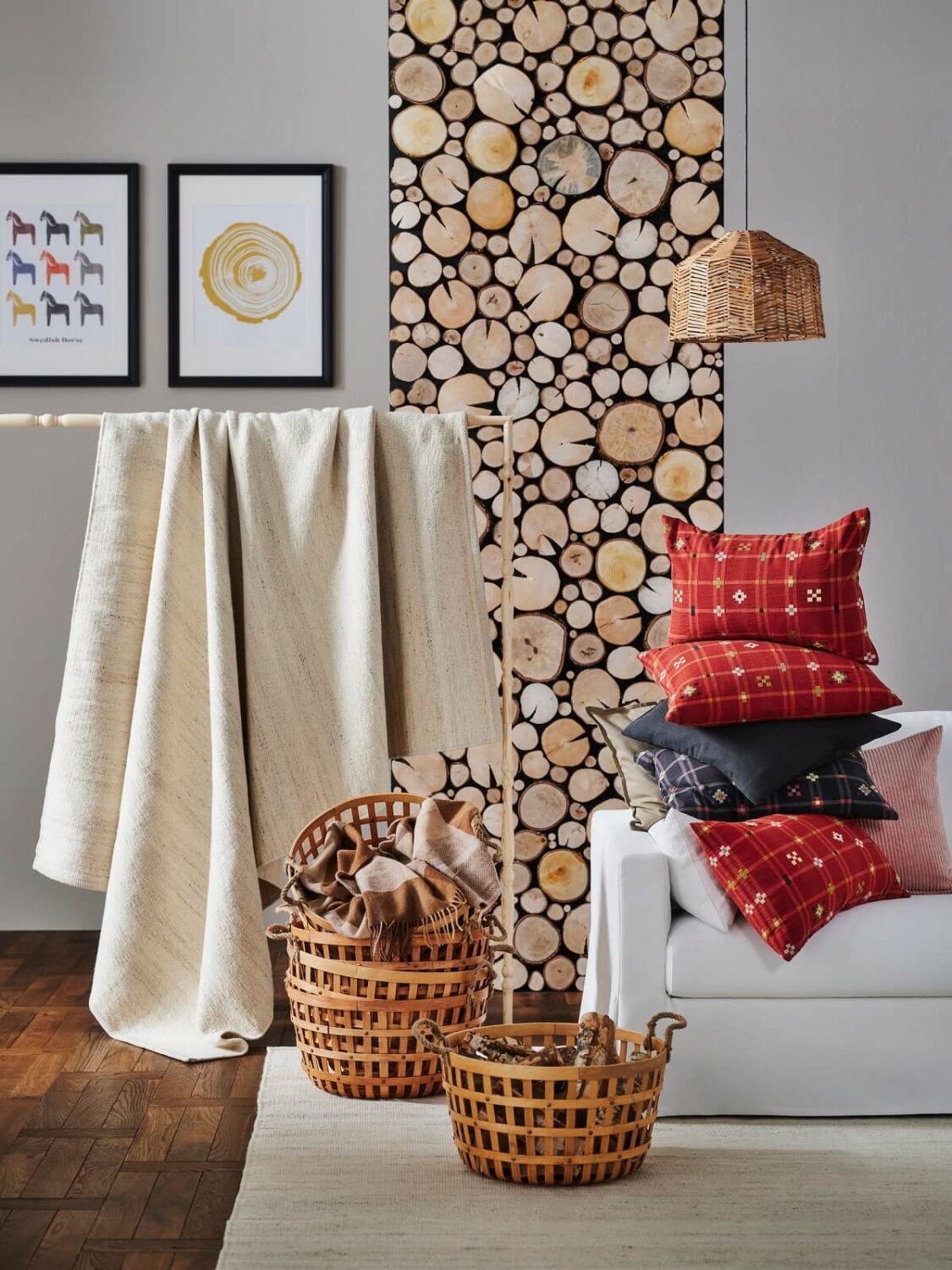 Amplify Your Style
It's that time again. It's time to open your home to friends and family for get-togethers of all kinds. It's time to put your home in focus and inject it with new energy – updated and styled to suit your personality and your life.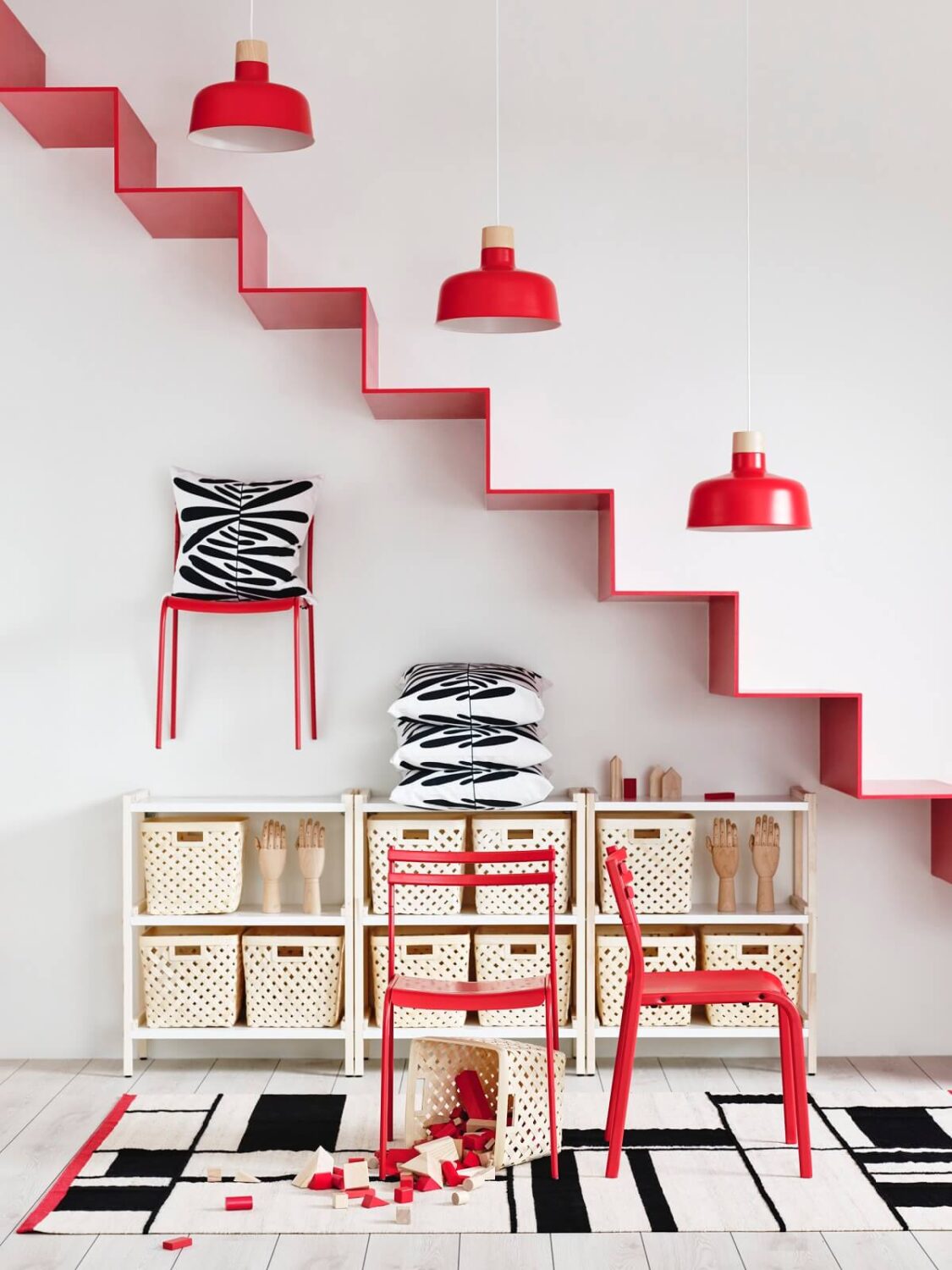 Whether you like bold colors and patterns or prefer a crafted and homier look, IKEA can help you find your style with clever storage options, plush textiles, and inspiring combinations guaranteed to turn your home into this season's star.
Go on, amplify your style no matter the beat you follow.
Style Expression: Rustic with a Twist
Forget old-fashioned. This is mellow, crafted, and cool. Plush natural materials, crafted details inspired by the heritage of Swedish folklore art, and warm earth tones reminiscent of traditional farmhouses in the Swedish countryside characterize the new take on rustic. It's all about creating a comfortable and welcoming retreat for you and your guests. You're going to love lingering here.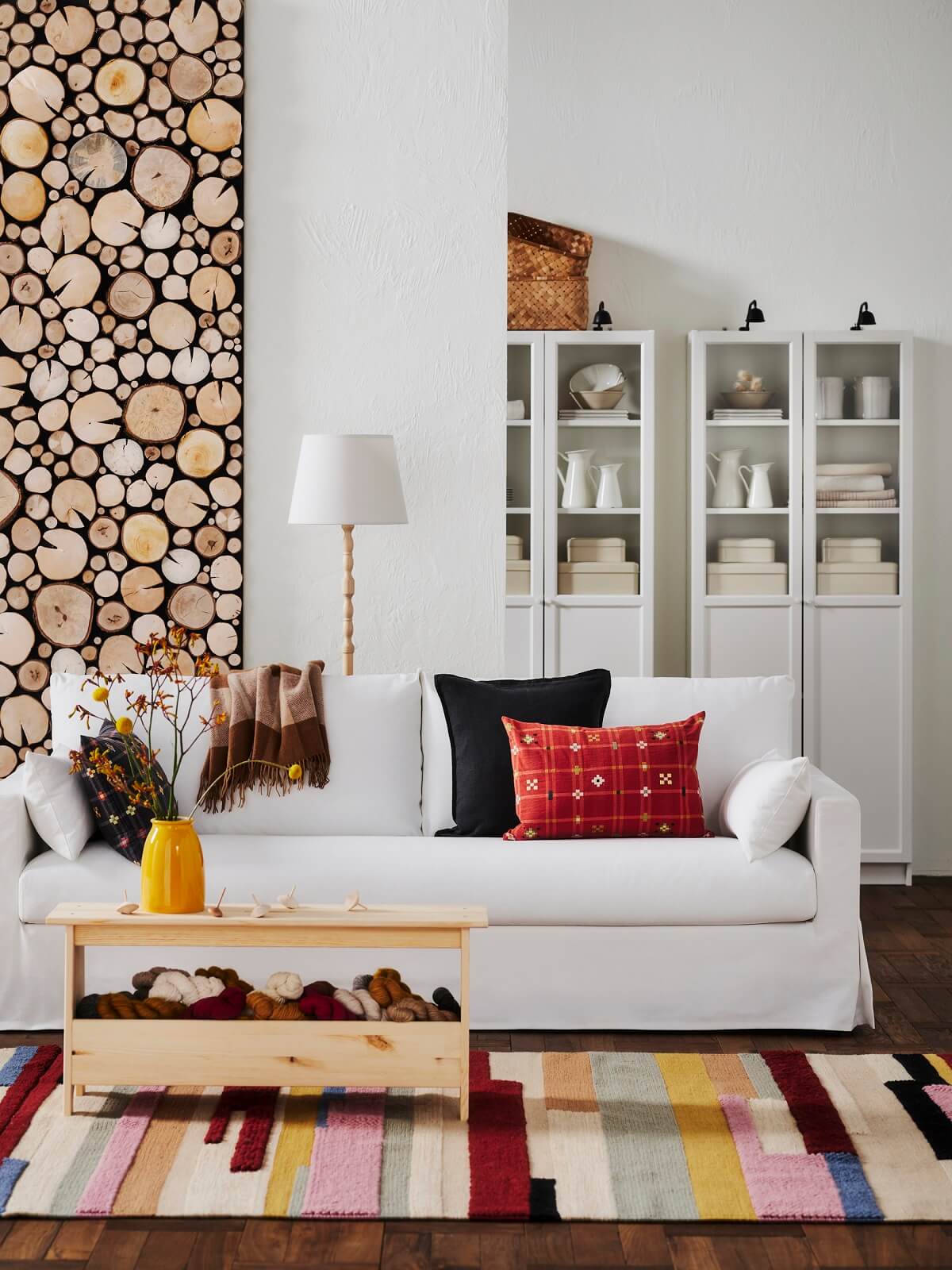 Rustic with a twist is classic yet modern, focusing on crafted quality and natural textures. We love its mix of whites, warm neutrals, and rich, earthy tones, which radiates a relaxing and welcoming vibe.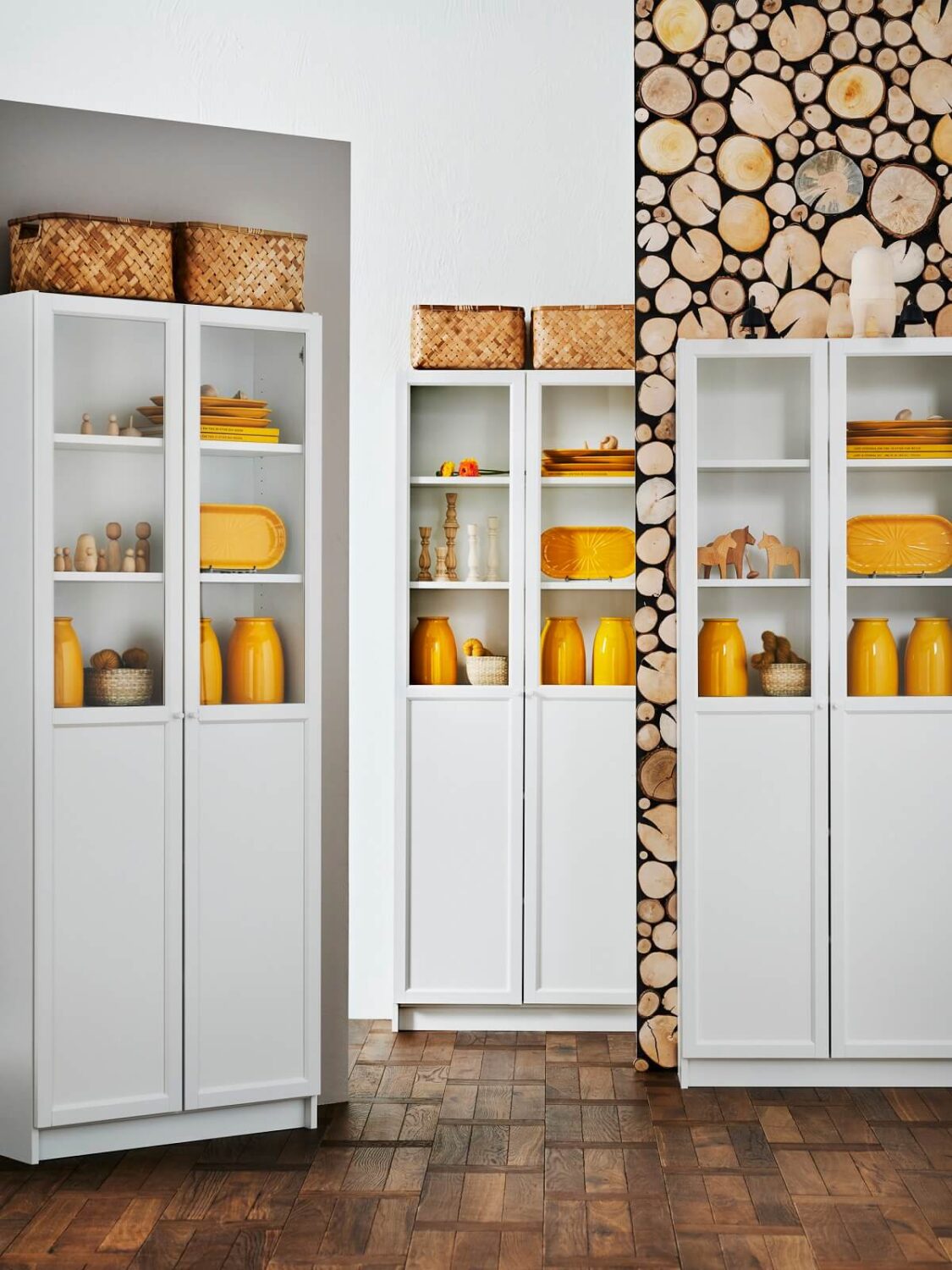 Display what you want and show off your style. Hide the rest with BILLY bookcases fitted with glass panel doors and VÄXTHUS baskets.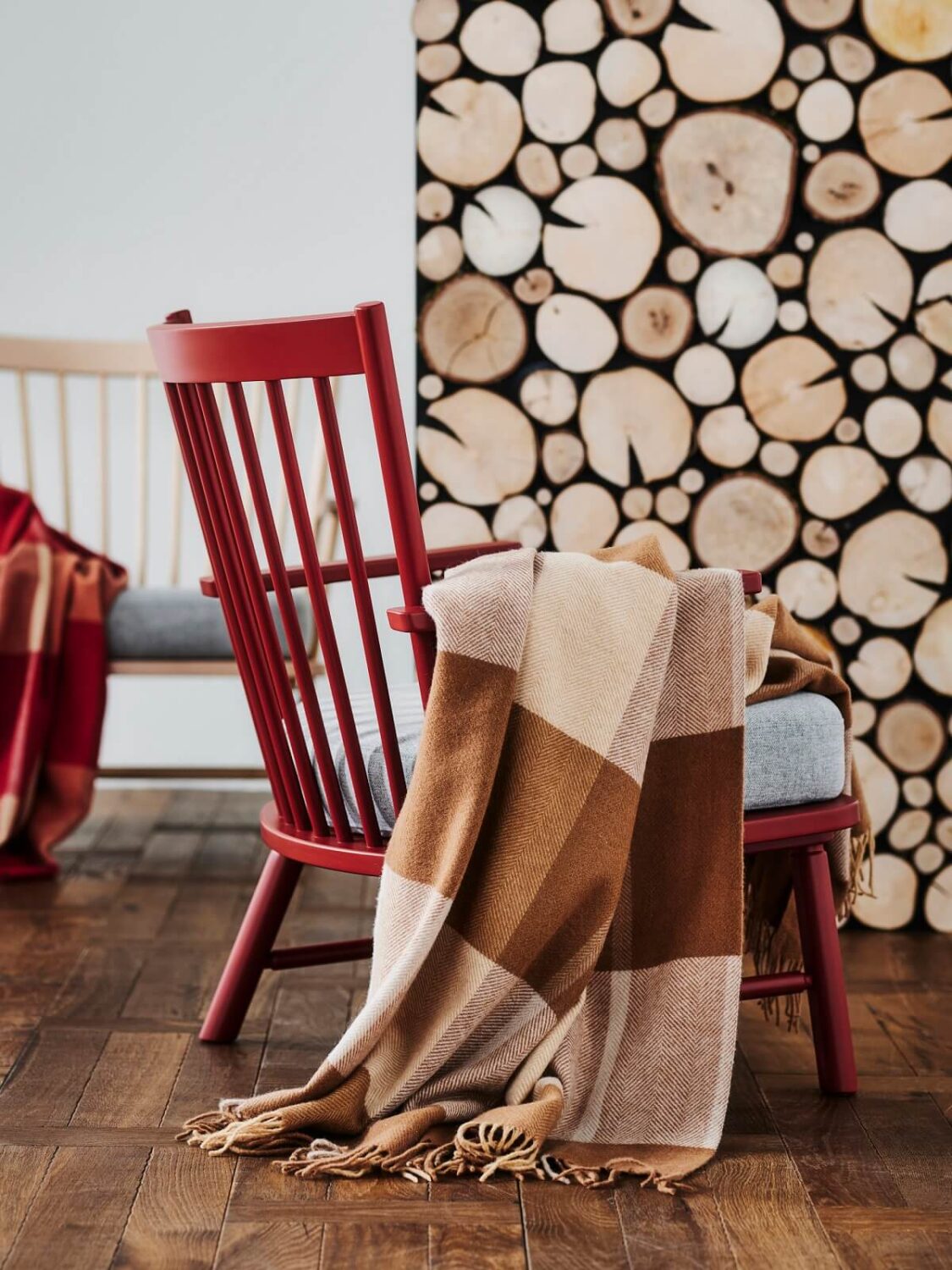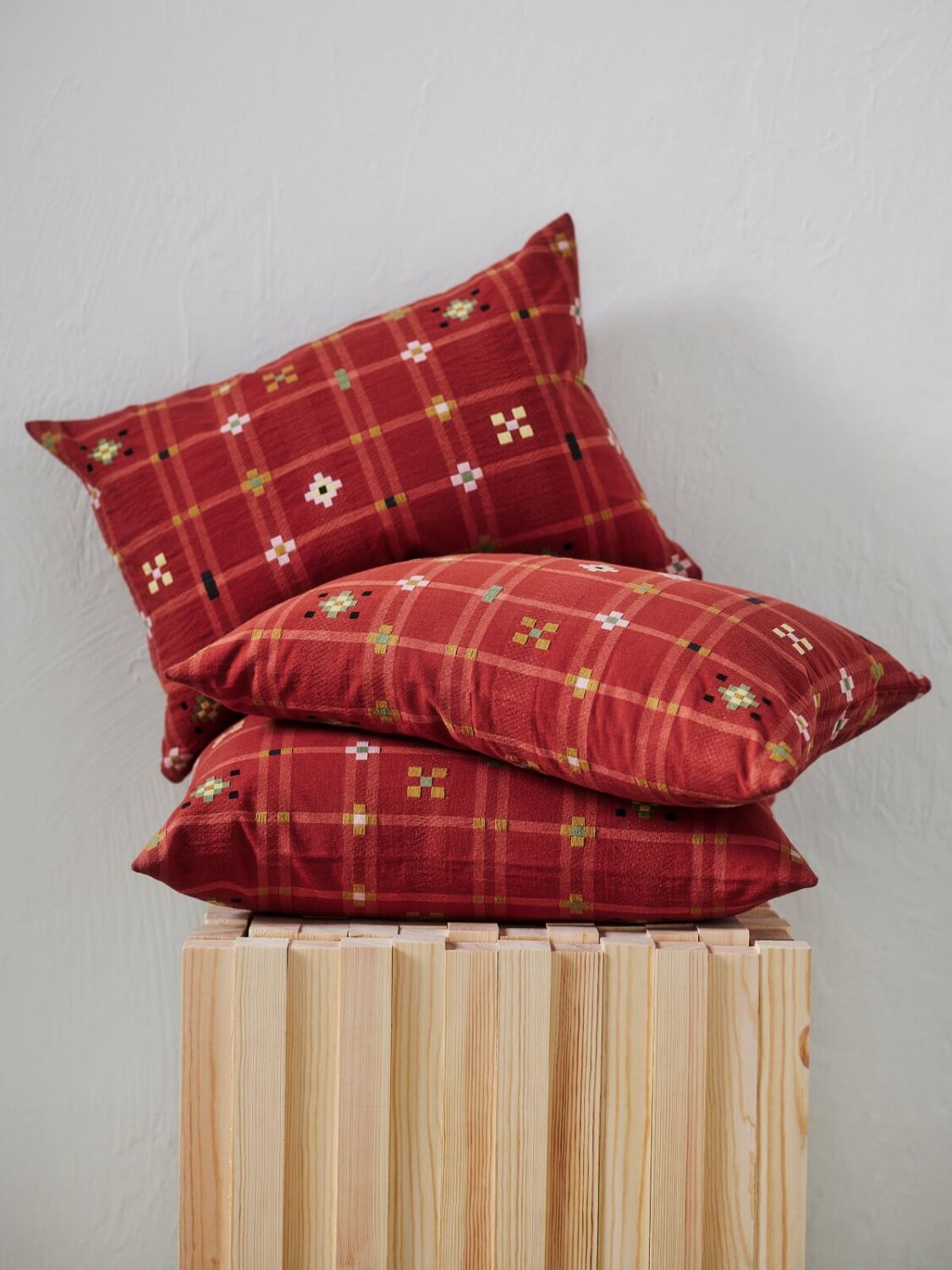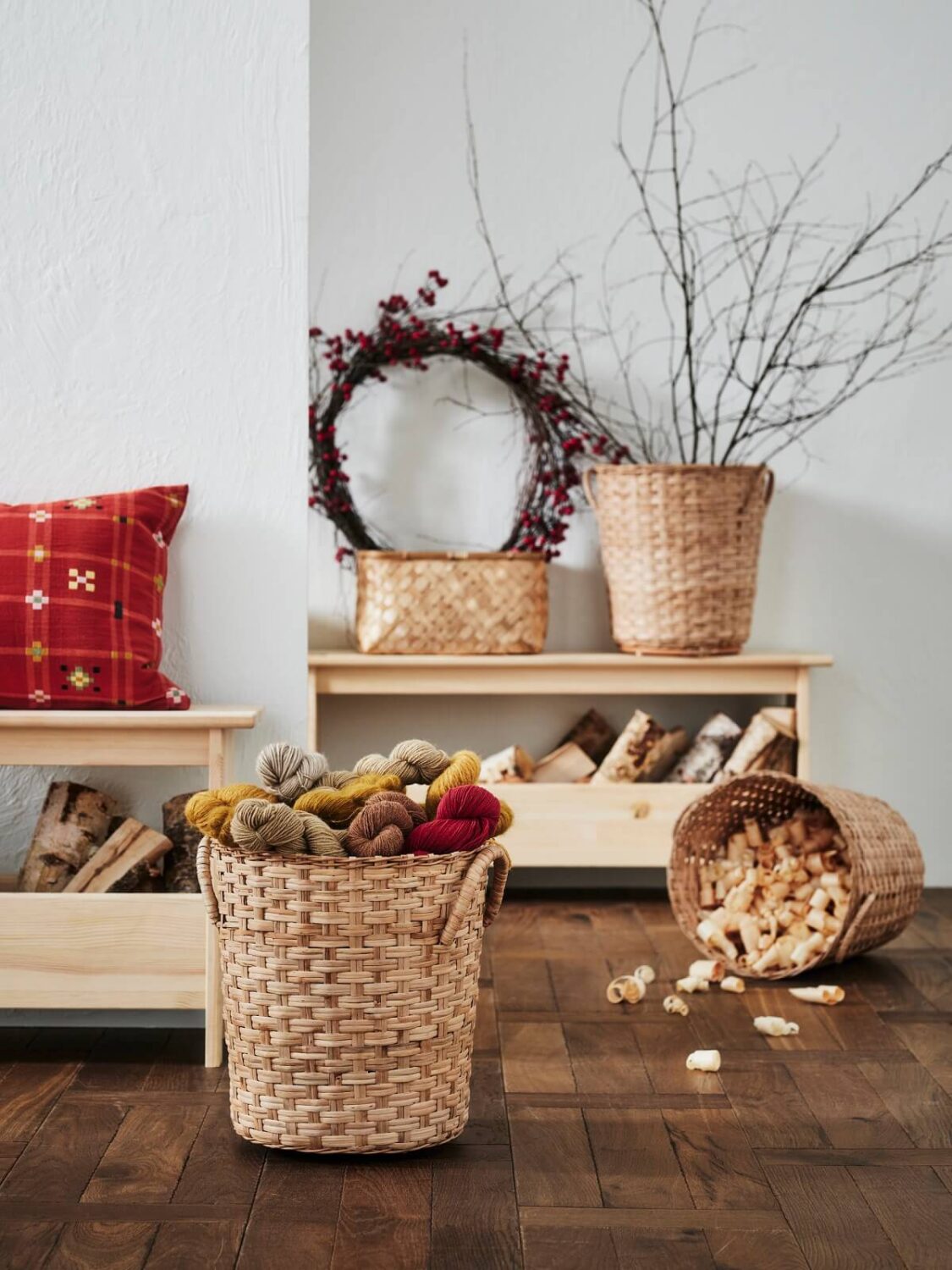 Hand-embroidered cushion covers, plush wool throws, and handwoven baskets elevate cozy to coo. The folk art-inspired detailing and earthy tones of the KUSTGRAN cushion covers, and handcrafted elegance of VÄXTHUS baskets keep this modern rustic style warm, welcoming, and timeless.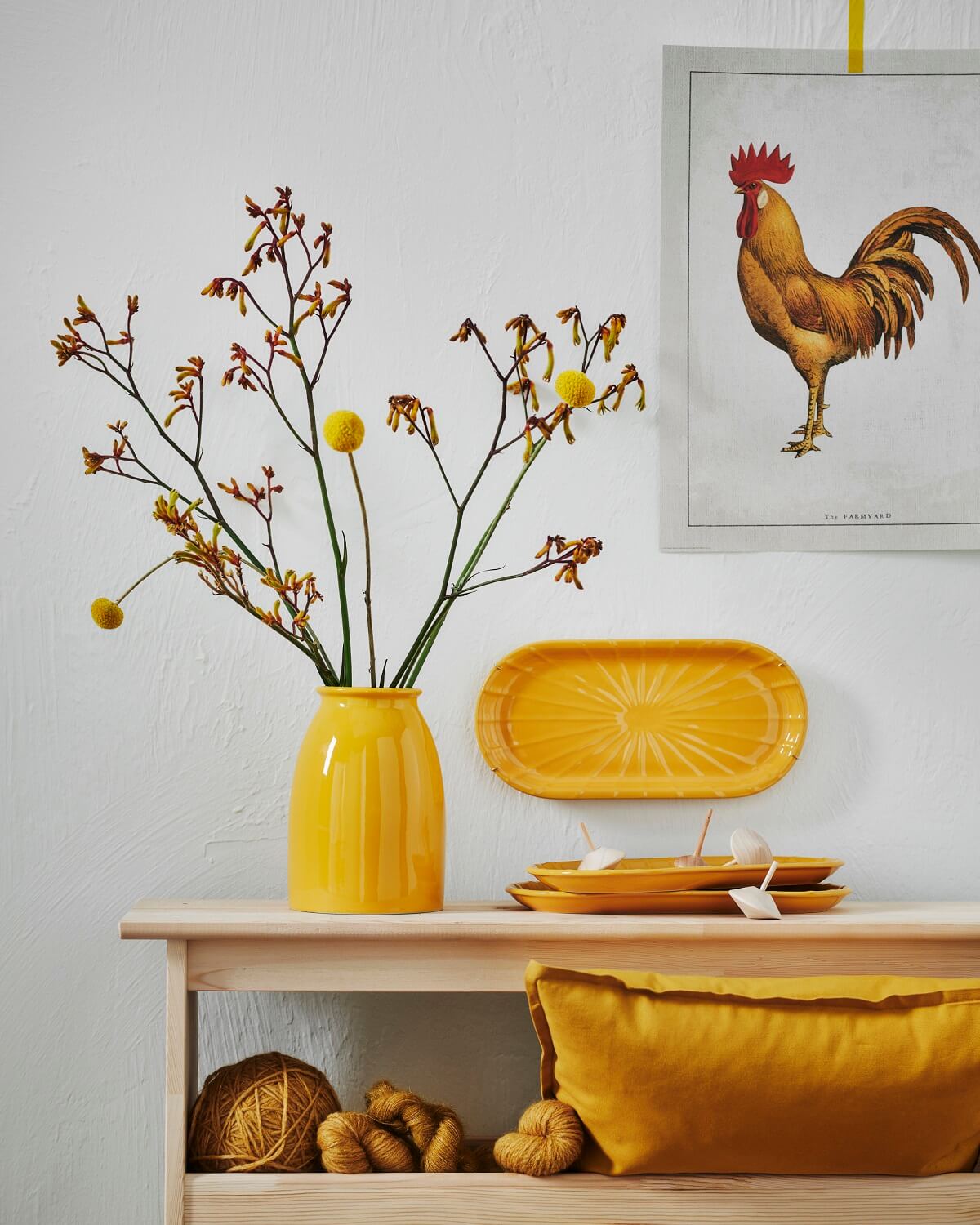 The KOPPARBJÖRK vase and decorative plates' surprising burst of mustard yellow keeps them looking and feeling fresh yet classic.
The KINNAHULT floor lamp's design is reminiscent of turned wood and has its roots in Scandinavian craftsmanship. Its stylish figure in solid ash gives it a timeless expression.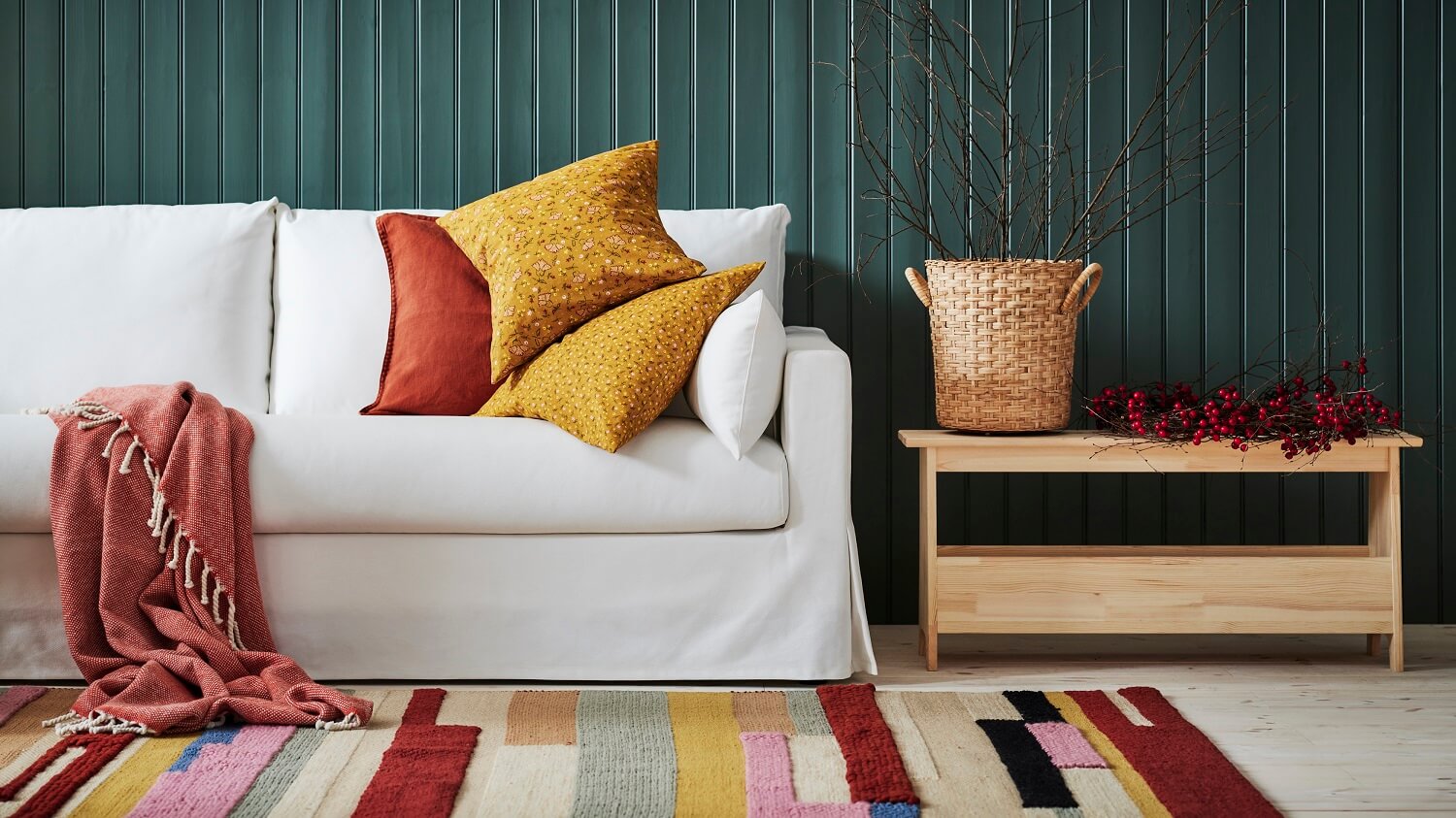 Mellow Crafted Cool
There's always a surprise guest at the table this time of year. Don't panic. There's always room, an extra chair, and a place setting for someone new.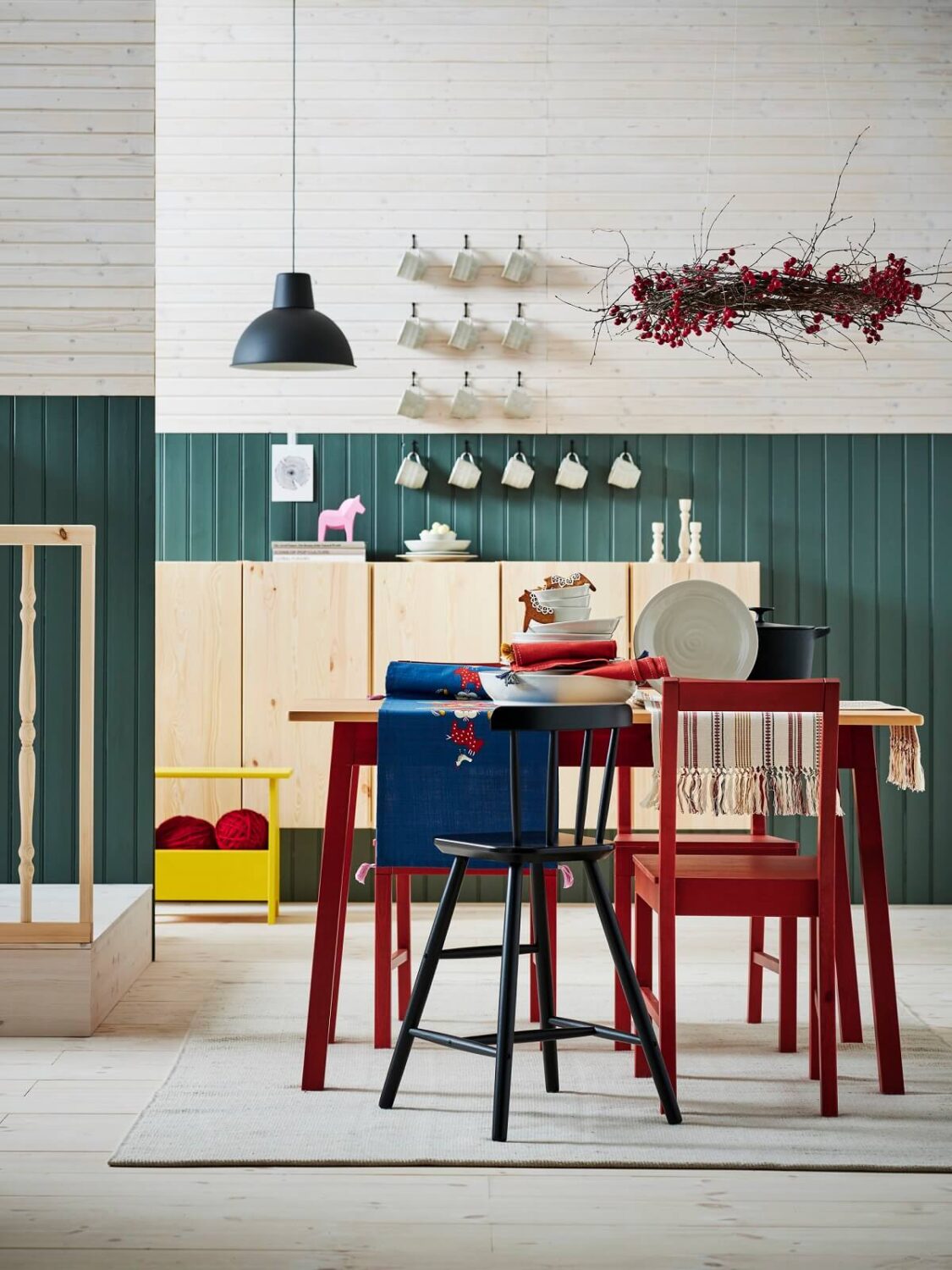 Set a relaxed table with dinnerware inspired by traditional craftsmanship and handcrafted textiles featuring the rich colors and motifs of Swedish folkloric art.
When your dining room looks and feels this mellow, guests of all ages will always feel welcome.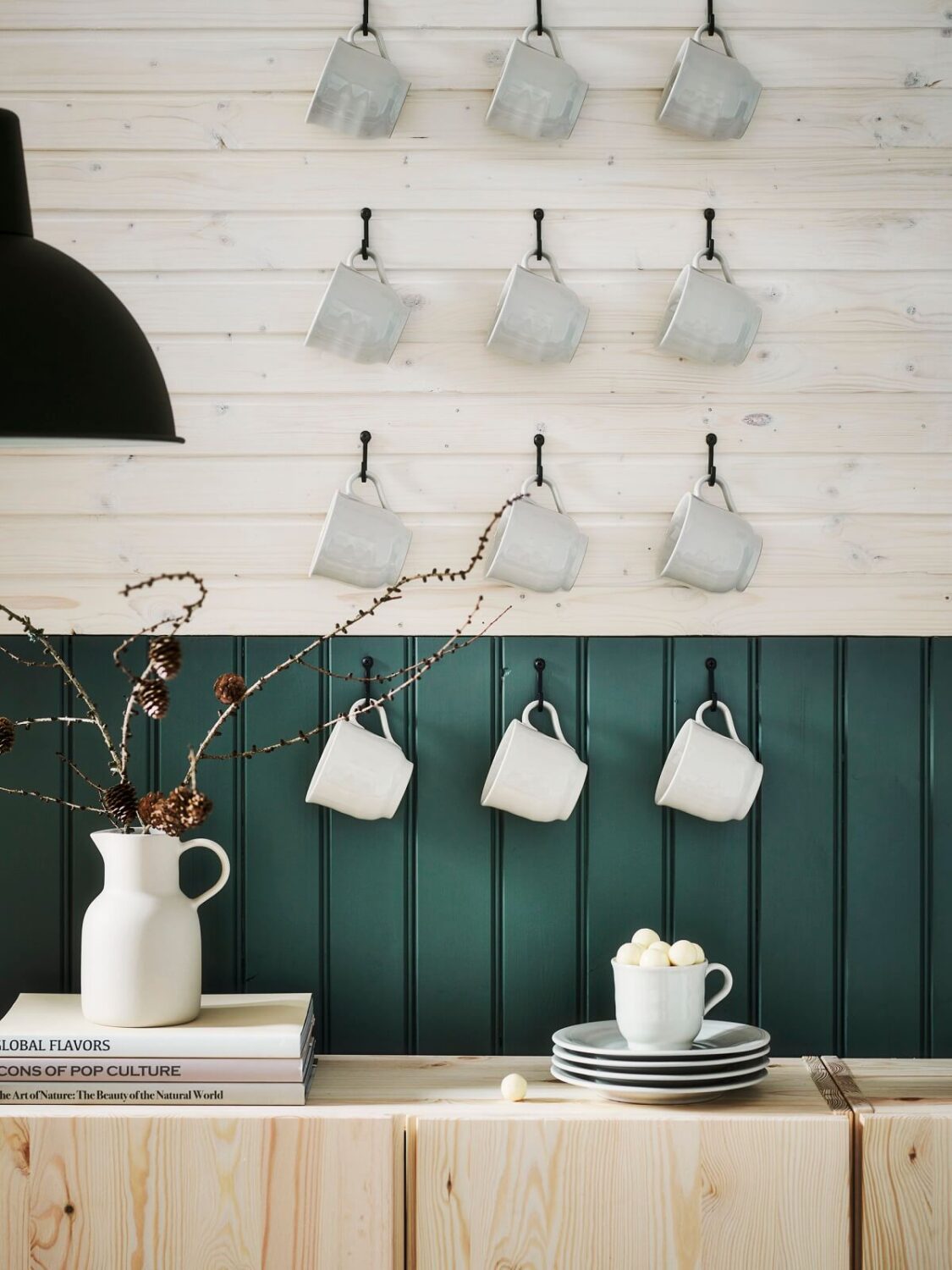 Think wall space is just for hanging pictures? Think again. Make more space for living and celebrating by hanging what you need close to hand on the wall. So go on -show off those extra mugs and plates. Practical, stylish, and perfect.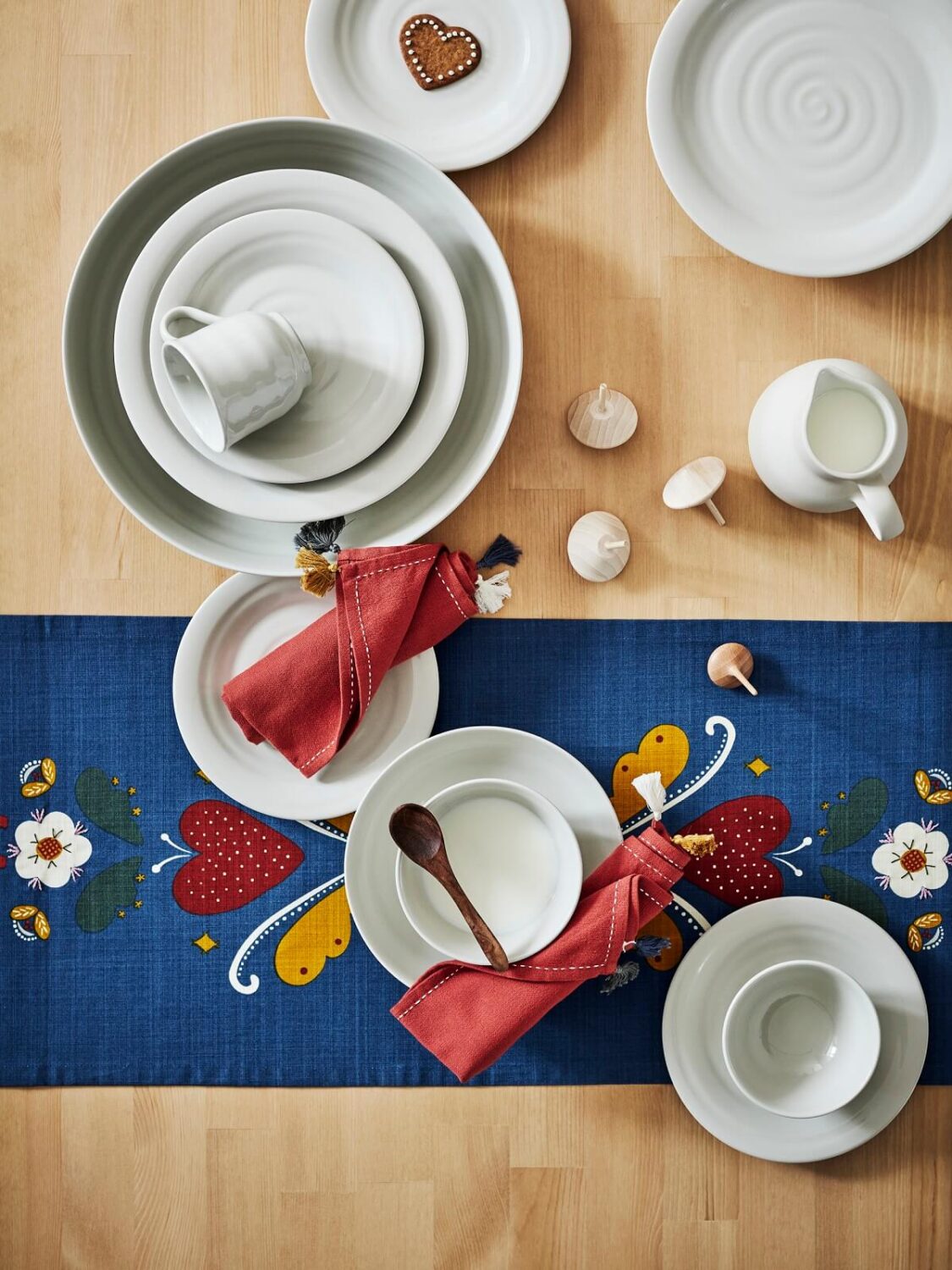 The SANDSKÄDDA dinnerware and hand-embroidered SLÄTTIKA table runner and napkins are the perfect match. They celebrate craftsmanship and add folkloric charm to your table.
Crafted with Care: SLÄTTIKA Collection
Inspired by Swedish folkloric art, the SLÄTTIKA collection showcases statement-making textiles and glazed stoneware. The collection was designed by IKEA and handcrafted by artisans from their partner social businesses, Rangsutra in India, Jordan River Foundation in Jordan, and Doi Tung in Thailand. This collaboration helps to provide jobs and economic stability to people who need it most.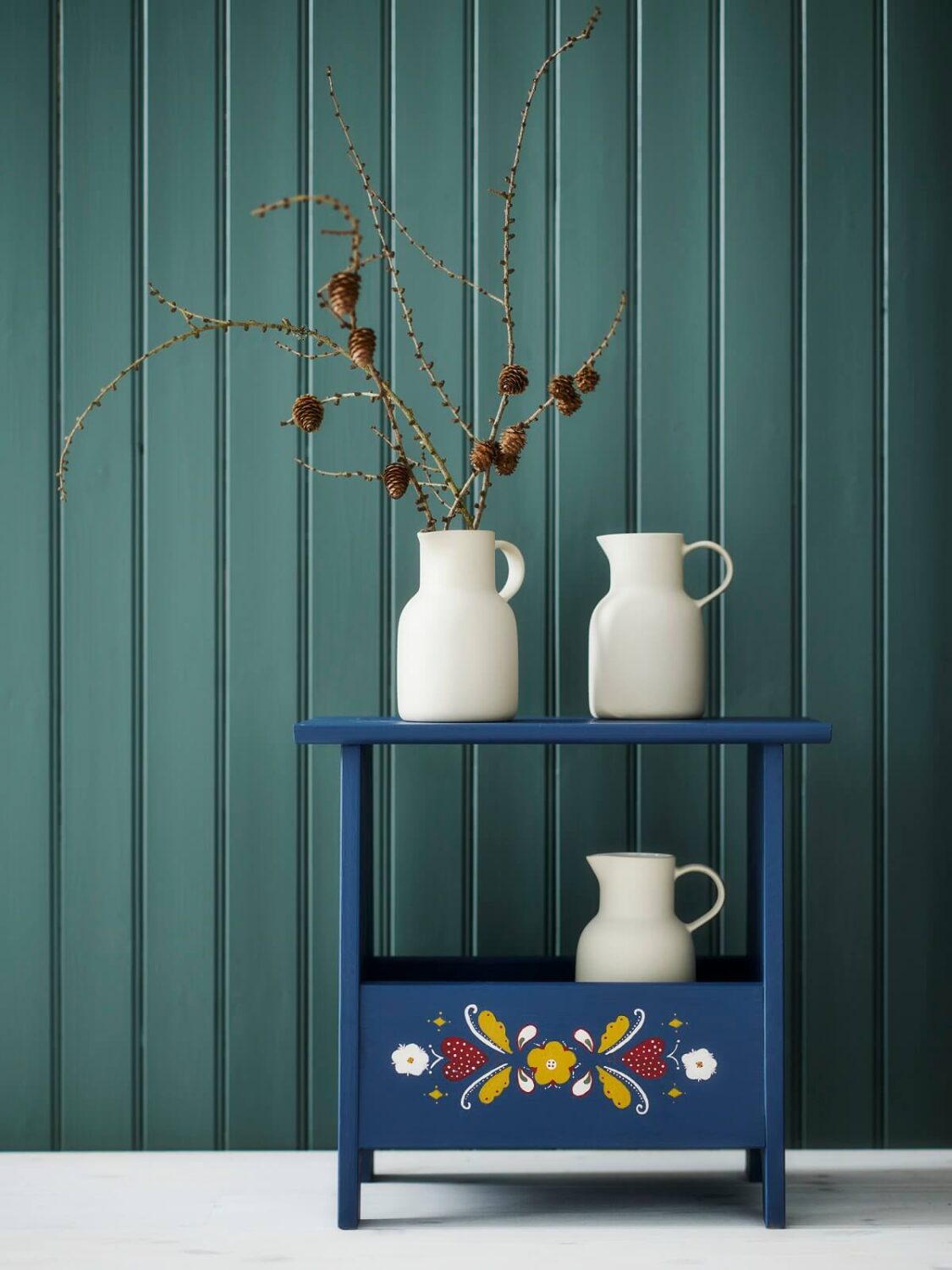 The PINNTORP dining chairs in red are perfect for your adult guests. Plus, they add the right amount of color to tempt the eye. AGAM junior chairs are ideal for the youngest guests; no kids' table is needed.  
Fill Your Home with Natural Beauty
Furnishings and textiles in natural materials like wool, cotton, stoneware, and wood add warmth and beauty to your home and mellow with age. And when they're part of IKEA's partnerships like the SLÄTTIKA collection and help to provide jobs and economic freedom, they become even more beautiful and meaningful.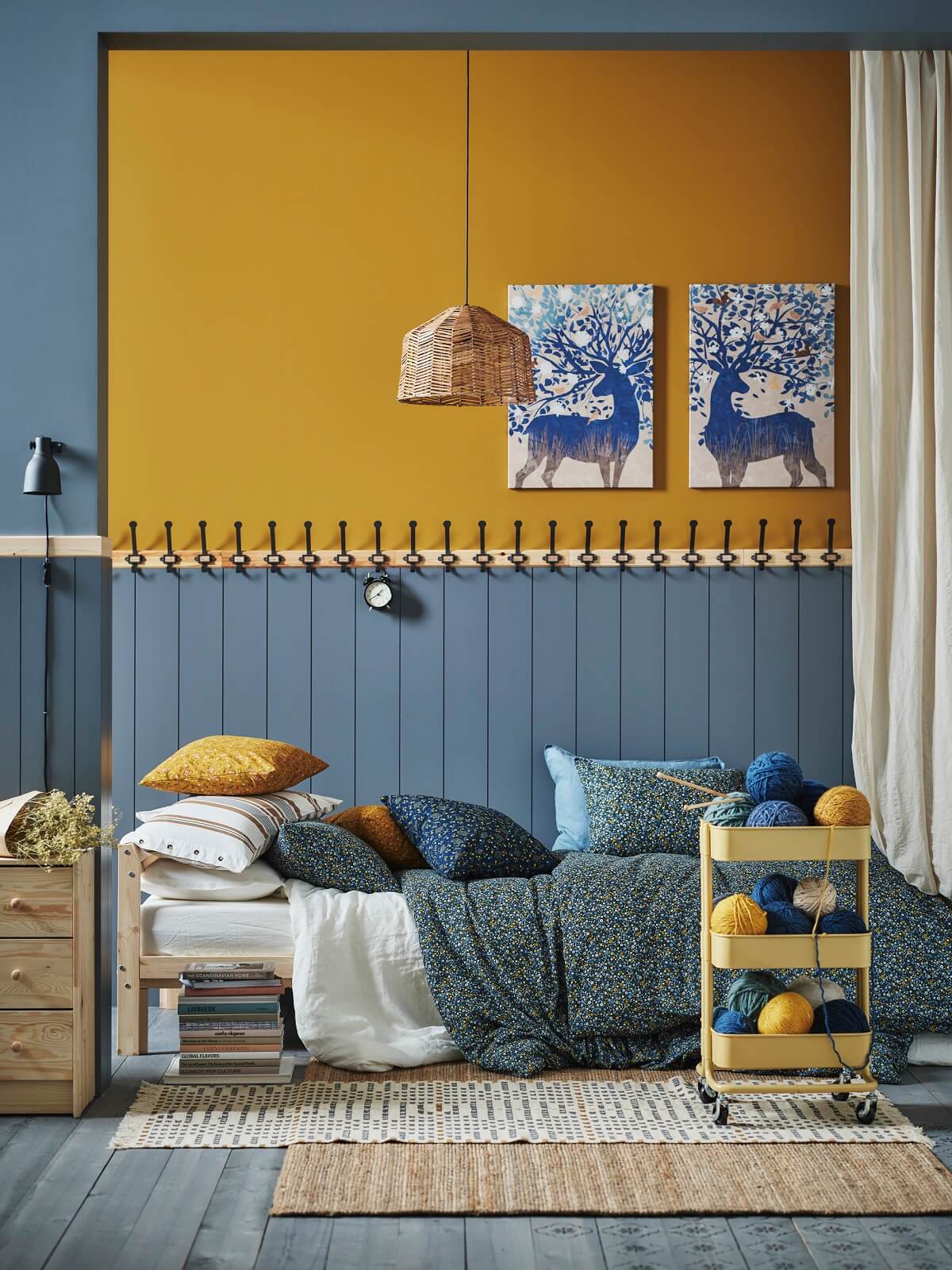 No Lullabies Required
Want to have a dreamier guest room? Pile on layers of soft duvets, throws, and pillows. Make it rustic with a twist -yes, different floral prints work together! Think of it as your own paradise for lazing the day or night away.
Come closer and enjoy the tiny flowers. We love how good these floral prints look together. It's absolutely dreamy.
"The ÖKENSAND floor lamp delivers soft mood light and more sustainable design – the lampshade is made of a minimum of 90% recycled polyester, and the legs are solid beech from a renewable source". Says designer Ebba Strandmark
Style Expression: Turn Up The Tempo
It's time to switch up the beat of your home. Thread in red, add a dose of black and live to a different beat.
Nature and modern art come together as inspiration for the season. It adds an exciting edge to bold black cutout prints and imperfect dotted lines on a neutral background. And with the UNDERVISNING rug, red ties it all together.
Warm, vivid and bold, red and black lift neutrals from sedate to sizzling. It's eye-catching and energetic. They add that extra rhythm to the soundtrack of your home.
Don't be shy. Throw in big, bold prints with clean lines and natural materials like rattan, wool, and blond woods. Turn up the volume on your personal style.
Red is too much? Only if you don't dare. Red adds warmth and takes a room from nice to stellar, especially when paired with graphic prints inspired by nature and soothing neutrals.
Combine handwoven VÄXTHUS baskets with the simplicity of EKENABBEN open shelving units for storage that looks too good to hide.
A Delicious Dose of Red that's Perfect for the Party Season
IKEA loves portable tray tables. They're lightweight and easy to move to wherever you need them, which is exactly what we need when it's time for more guests and get-togethers.
This time of year, when you're entertaining even more, don't settle for neutral, bring in a delicious dose of pizzaz with a red GLADOM tray table. It's that little extra oomph that can help turn up the tempo of your home and make entertaining a breeze.
Turn It Up with Lots of Red
VAPPEBY Bluetooth speaker has a cool minimalist look and delivers on clear, powerful sound. Connect your phone and stream your party playlist to get the evening started.
It's red hot! Hang your VAPPEBY portable Bluetooth speaker on a TIPPVAGN hook to take your favorite tunes wherever you go.
Pendant lamps and a metal chair in red add a deliciously energizing buzz and raise the pulse when paired with rattan, blond wood, and white walls.
The red trim and bold, modern art-inspired blocking on the RASTPLASTS rug quickens the tempo and elevates the room to electrifying.
"I think the GENESÖN chair is a good example of what IKEA stands for – smart design at a good price. It's easy to assemble, is made entirely of metal, and has a graphic shape in playful colors inspired by modern Scandinavian design". Says designerZhelin Lian
We Don't Waste Leftover Wood
IKEA puts it to good use instead. IKEA has used wood recycled from furniture production to create SMÖRLING serving trays and SÅPÖRTMÅL chopping boards.
Products made from recycled wood have the same features and beauty of virgin wood at a lower price for the customers.
And while there may be variations in wood pattern, it only adds to the charm and personality of these products.
The dashed lines and circles in the complementary colors of the SNÖKRABBA collection were meant to be seen together. Bring on the layers of patterns.
Bold & Inspired by Nature
"I got carried away with big and bold graphic patterns. I started out drawing by hand. I like how the hand makes things naturally asymmetric. Random checks and wild, untamed leaves were my inspiration." Says designer Emma Hagman
The beige and white palette of MAJSMOTT curtains gives a calmer, more soothing take on the untamed leaves pattern and coordinates beautifully with the boldness of the MAJSMOTT bedding and cushion covers.
The KUNGSCISSUS duvet cover and pillowcase are made of tightly woven cotton percale. It's smooth, pill-resistant, and feels cool against your skin.
Dream Big, Dream Bold
Your bedroom is your place to recharge and get inspired. Make it warm with blond bentwood. Make it comfy with soft bed linen. This is your new sanctuary, so let your imagination run wild. Relaxing is never boring, especially when your bedroom looks this good.
"A happy and simple, yet untamed leaf pattern. It is quite bold but in a calm, soft, and positive manner. A rhythm of differently scaled leaves, pointing to different directions and following each other like in a dance". Says designer Emma Hagman  
The BÄRFIS door hanger isn't just eye candy – it's a smart storage solution for necklaces, scarves, and stray clothing. The length can be adjusted to suit your needs.
The TRINDSNO floor lamp does triple duty as a lamp, side table, and a handy hideaway for clutter.
The LJUNGAN laundry bag is made of handwoven jute and adds its own harmony to your bathroom. And if you can't get enough of the untamed leaves pattern, you can bring it into your bathroom with the MAJSMOTT guest towels in red/beige.
When Storage Is This Beautiful, Why Hide It?
Just say no to bland and boring boxes and baskets. IKEA has something better – the VÄXTHUS basket collection.
Available in various styles and durable materials, every VÄXTHUS basket is handwoven by skilled craftspeople and varies in color and shape, making each unique in its own way.
So, whether you want to keep extra throws and cushions nearby, a catch-all for bits and bobs in the hallway, or a basket for keeping your kitchen tidy, there's a VÄXTHUS basket that suits you and your style.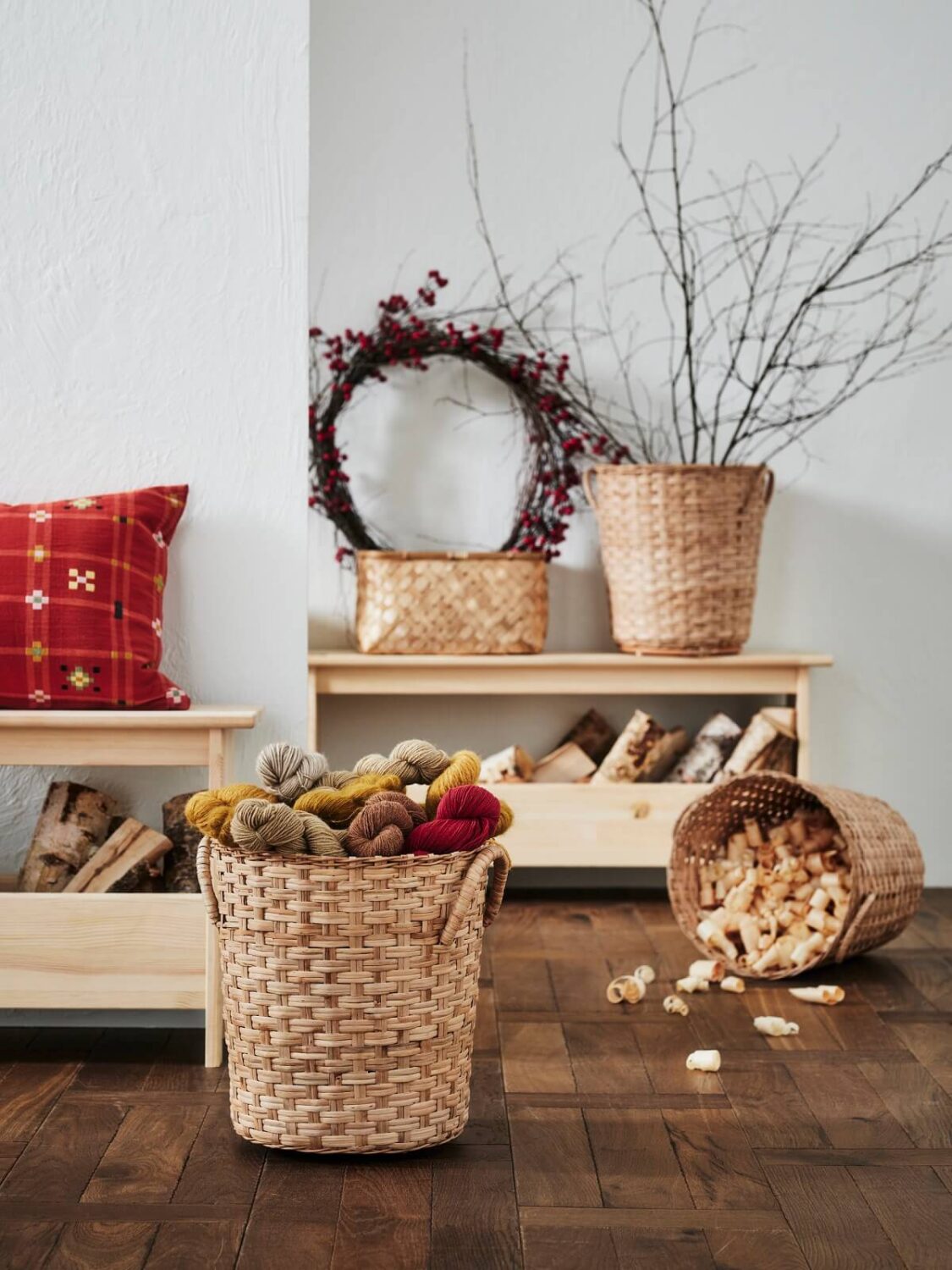 The versatile VÄXTHUS baskets come in a variety of natural materials such as poplar, bamboo, and sedge. They develop a unique color and character over time.