How To Style Terracotta Floor Tiles
So you have terracotta floor tiles in your home and you want to know how to style it with modern furnishings. One of my readers asked for help with this styling project and I'm happy to delve into terracotta tiles.
Terracotta floor tiles are most popular in countries with warmer climates. In Southern Europe and Southern America, you see many homes with terracotta floor tiles.
Terracotta tiles can be used throughout the home. But especially in kitchens and hallways it's a popular tile choice.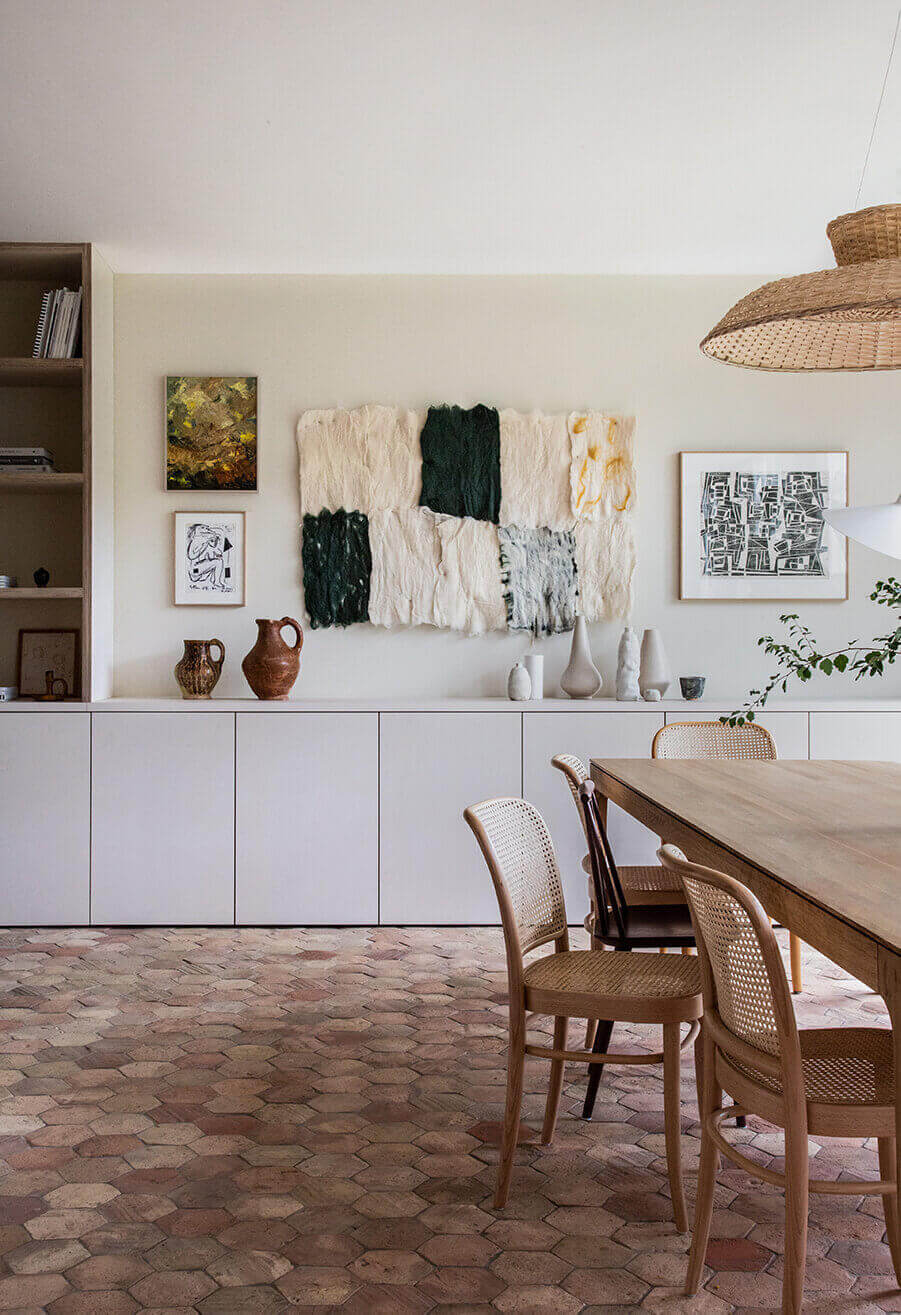 What are terracotta tiles?
In Italian, terracotte means "baked earth". The tiles are made from a specific type of clay with a high iron content, which gives the tiles their reddish colors.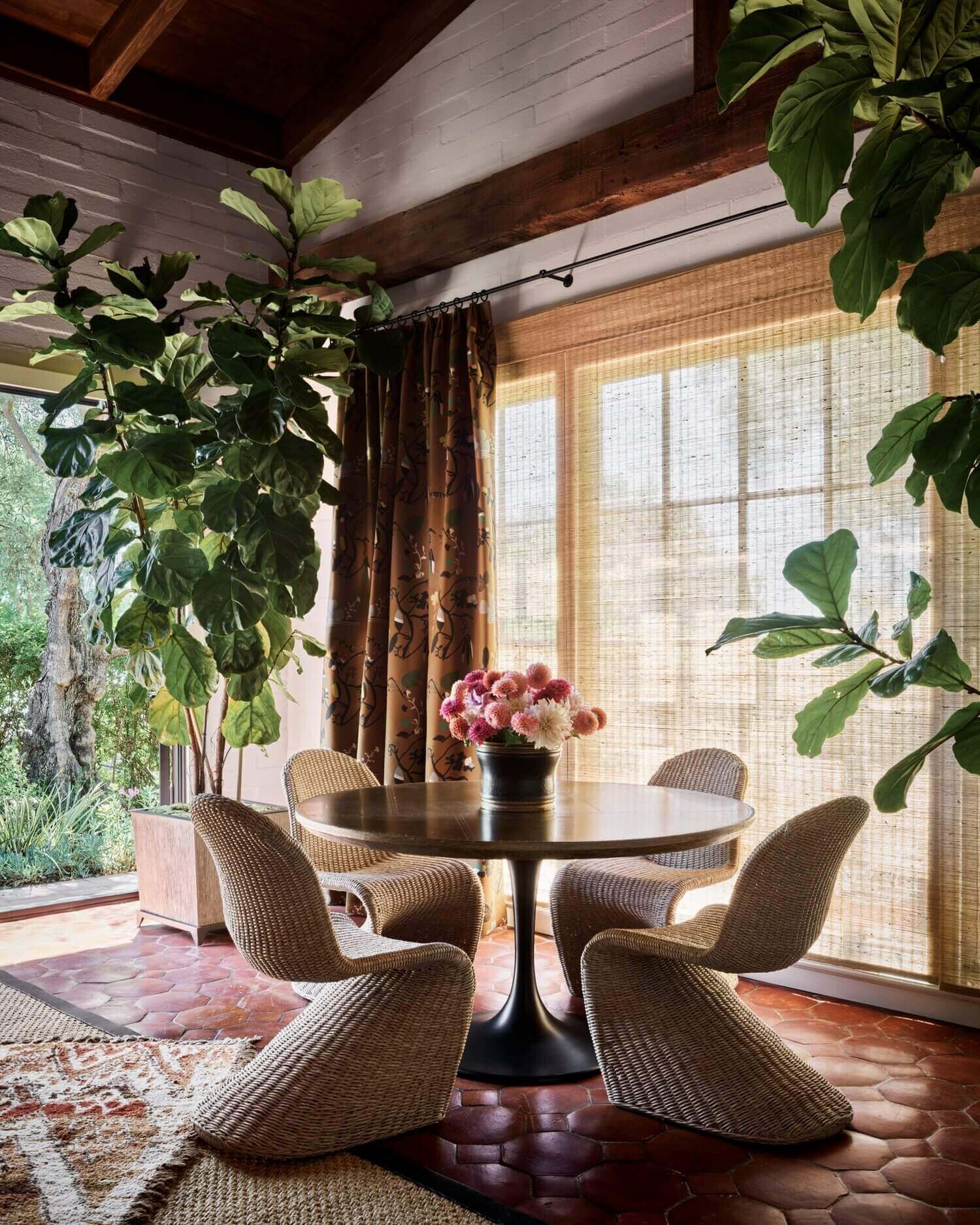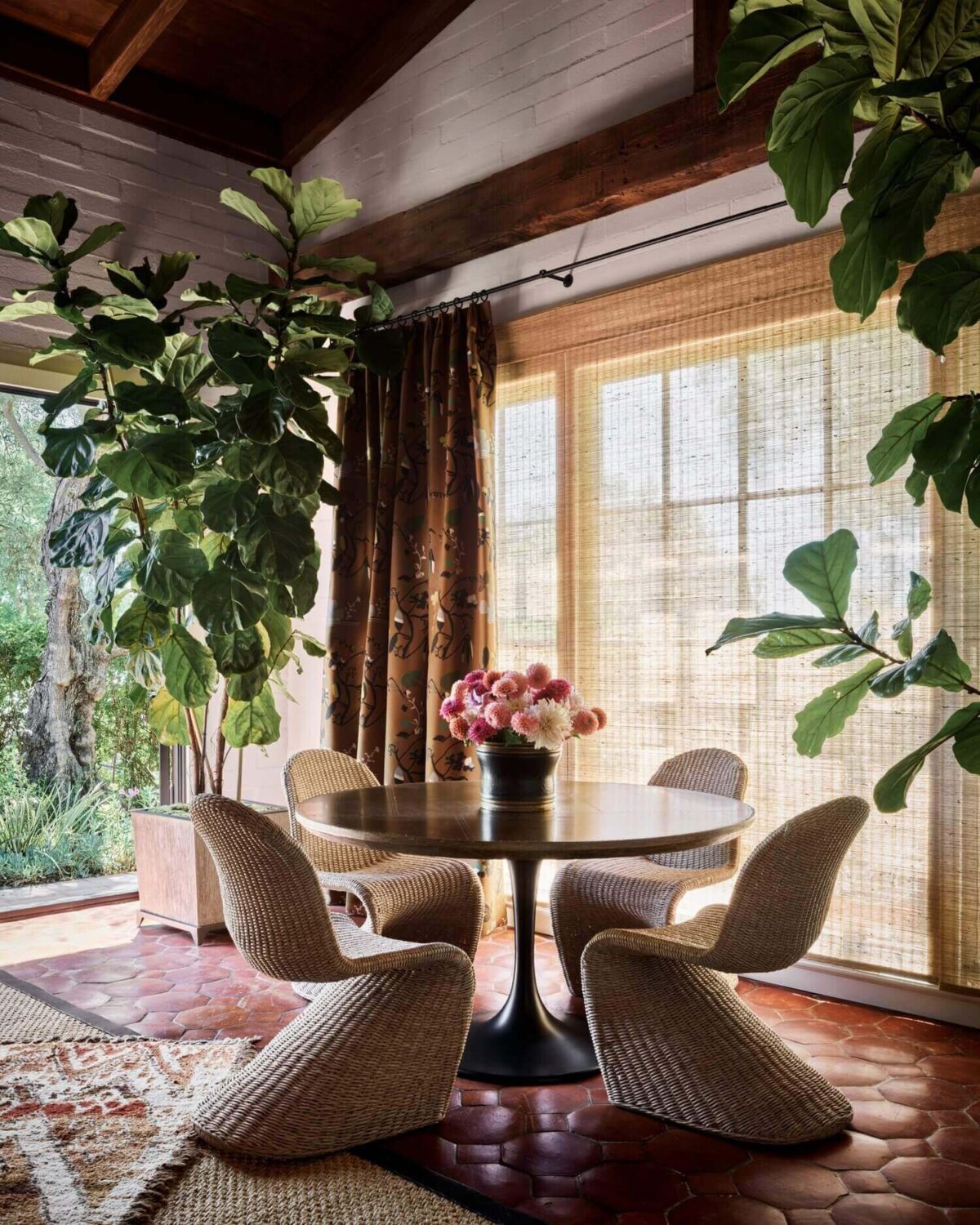 The colors of terracotta tiles range from yellow tones to dark brown. The color depends on where in the world the clay is obtained. Terracotta is a ceramic tile but less expensive than other ceramic tile choices.
Terracotta tiles are porous. Therefore they need to be sealed to avoid stains. But when you care for your tiles as you should then they can last a very long time (and they only get more beautiful with age).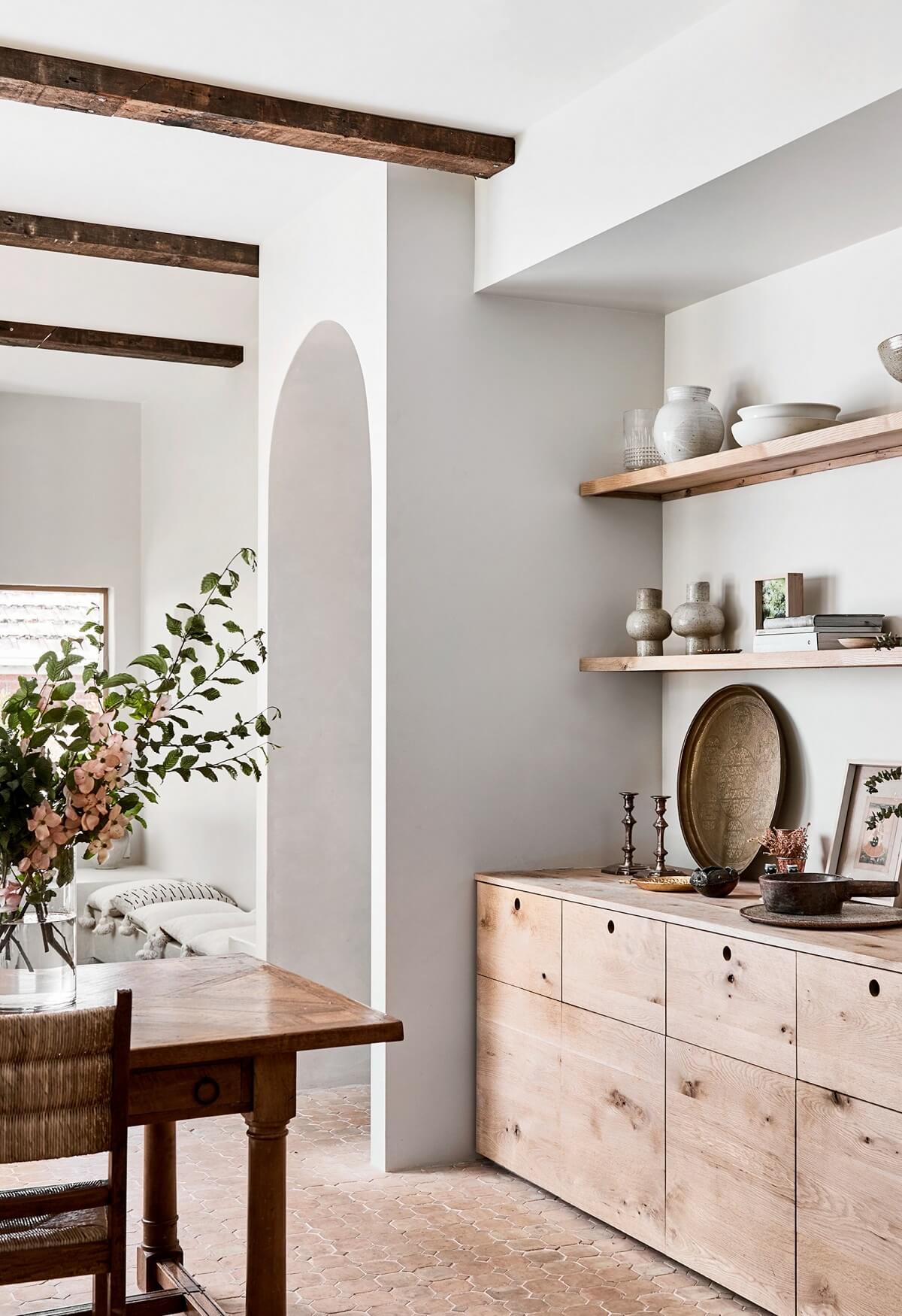 Terracotta is always trending
Terracotta tiles are a timeless design feature. But in the last couple of years, the terracotta floor tiles have become very popular again. The earthy red tones from the baked tiles create a warm look in every room of the house.
A wonderful cheerful kids bedroom where terracotta is combined with blue in several shades.
What colors go with terracotta floor tiles
Terracotta is far more versatile than you might think. And you can combine terracotta tiles with many colors.
The warm earthy floor tiles obviously lend themselves very well to a natural home look. Combine the tiles with wood, plants, and white tones and you create a warm, natural home.
But when you want to go a bit bolder with color choices you can combine terracotte with blue, green, yellow, pink, red and black.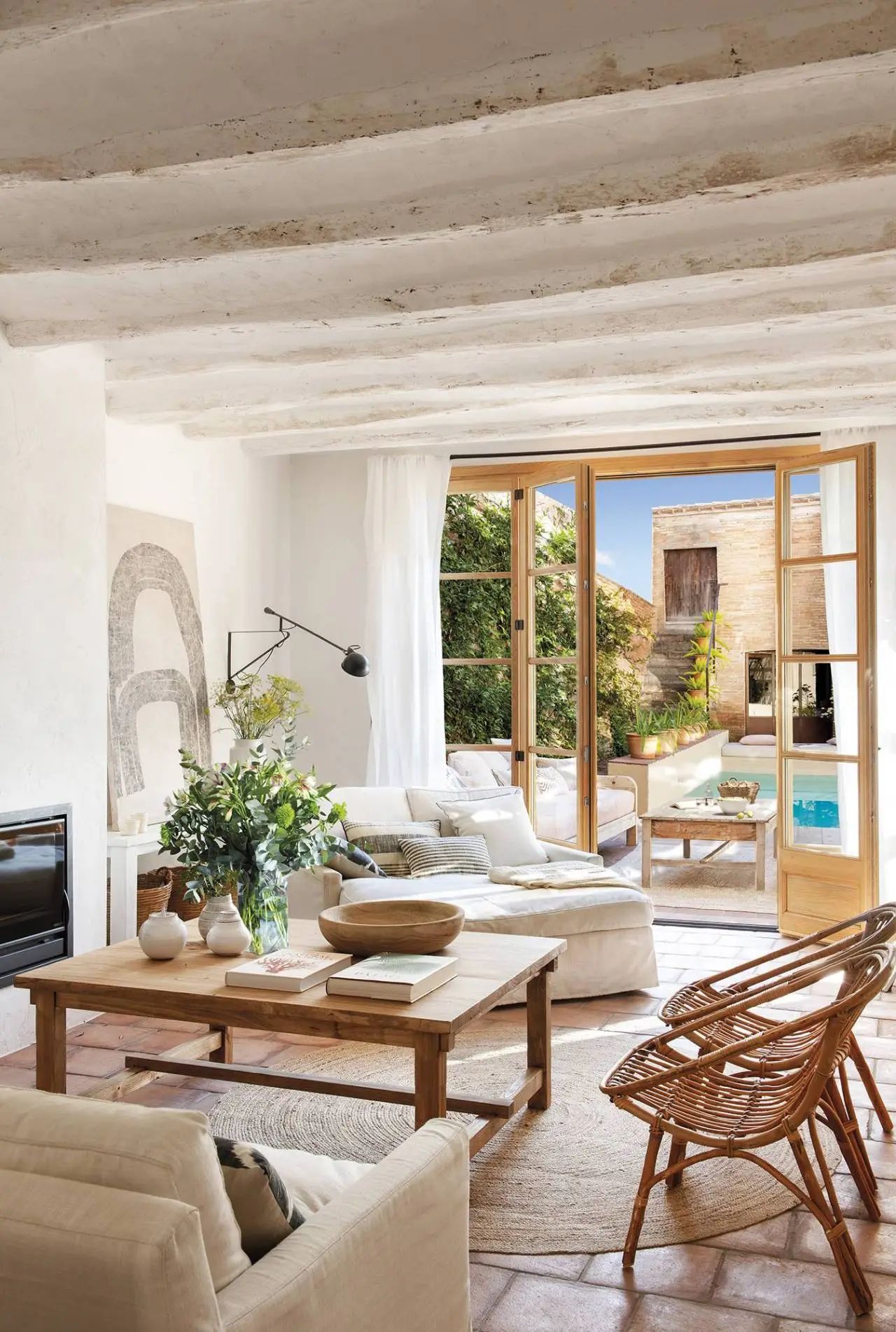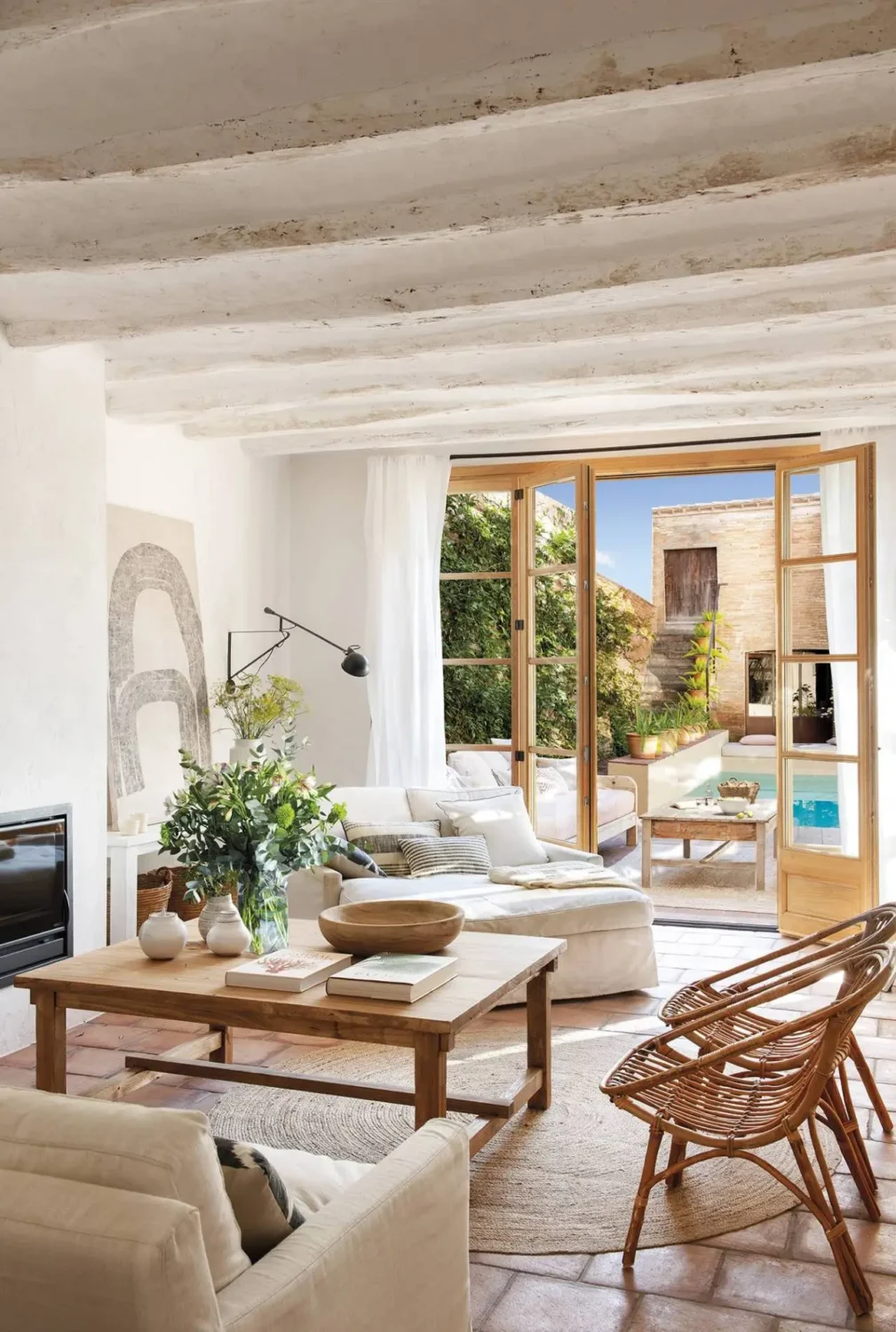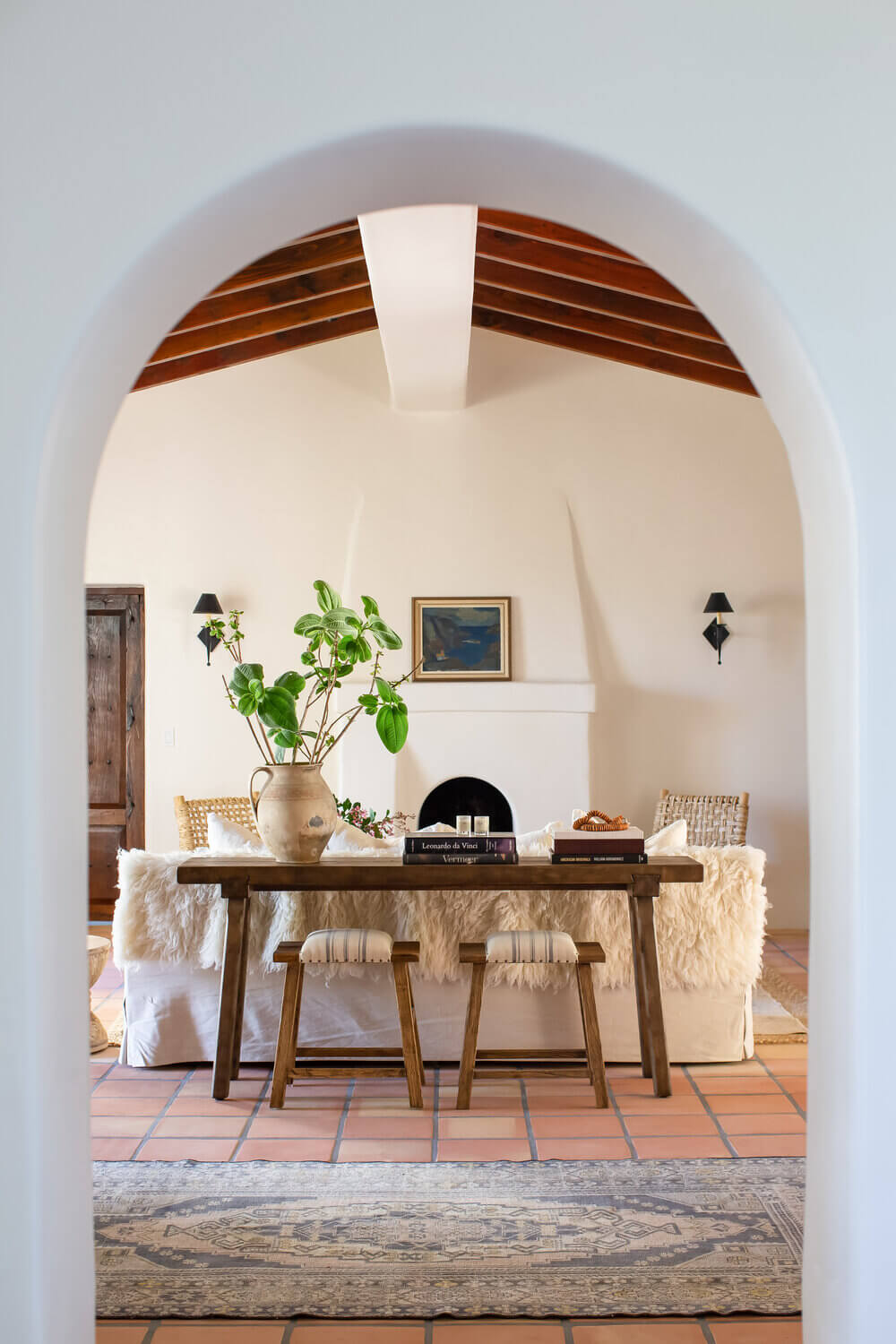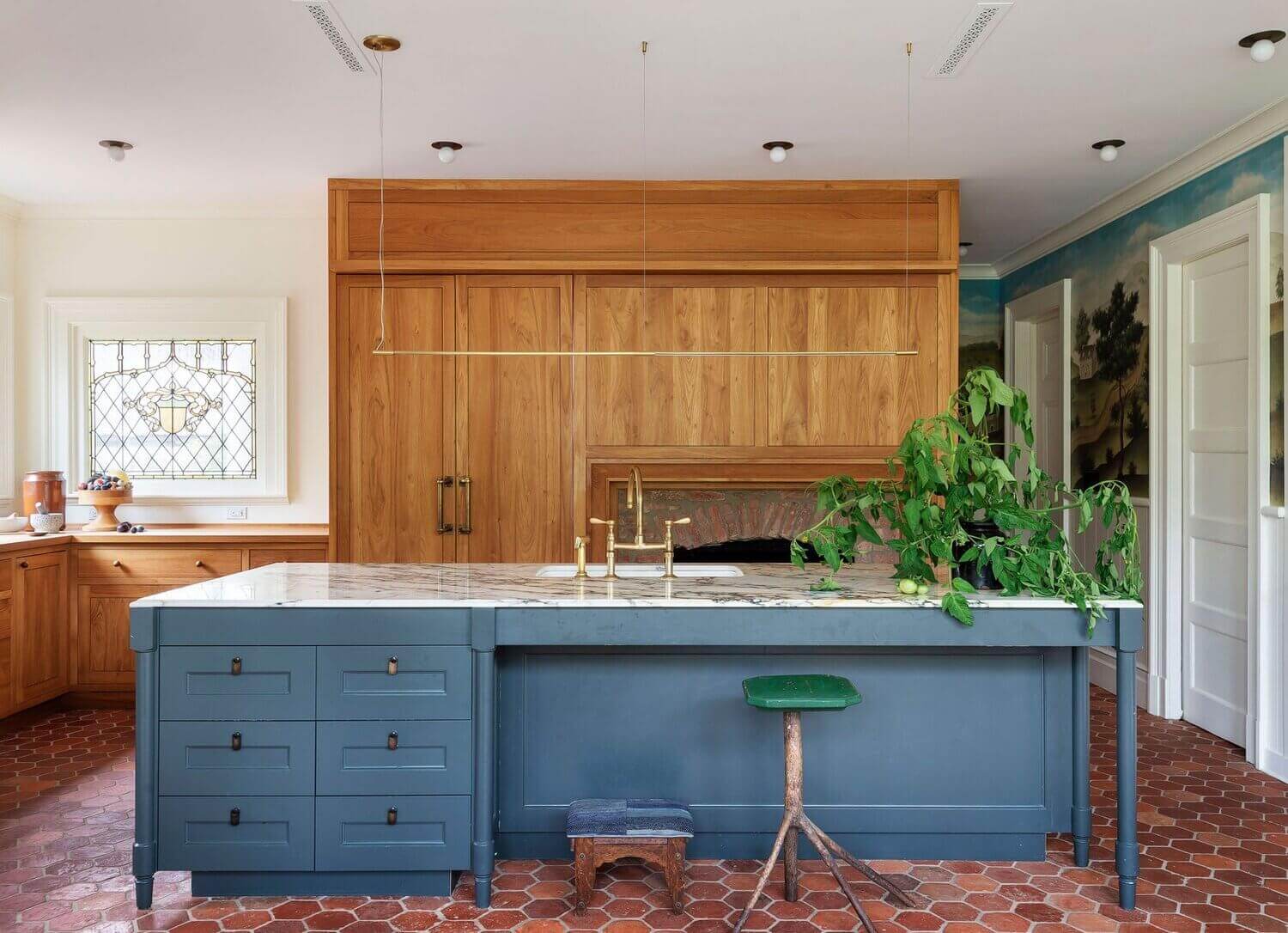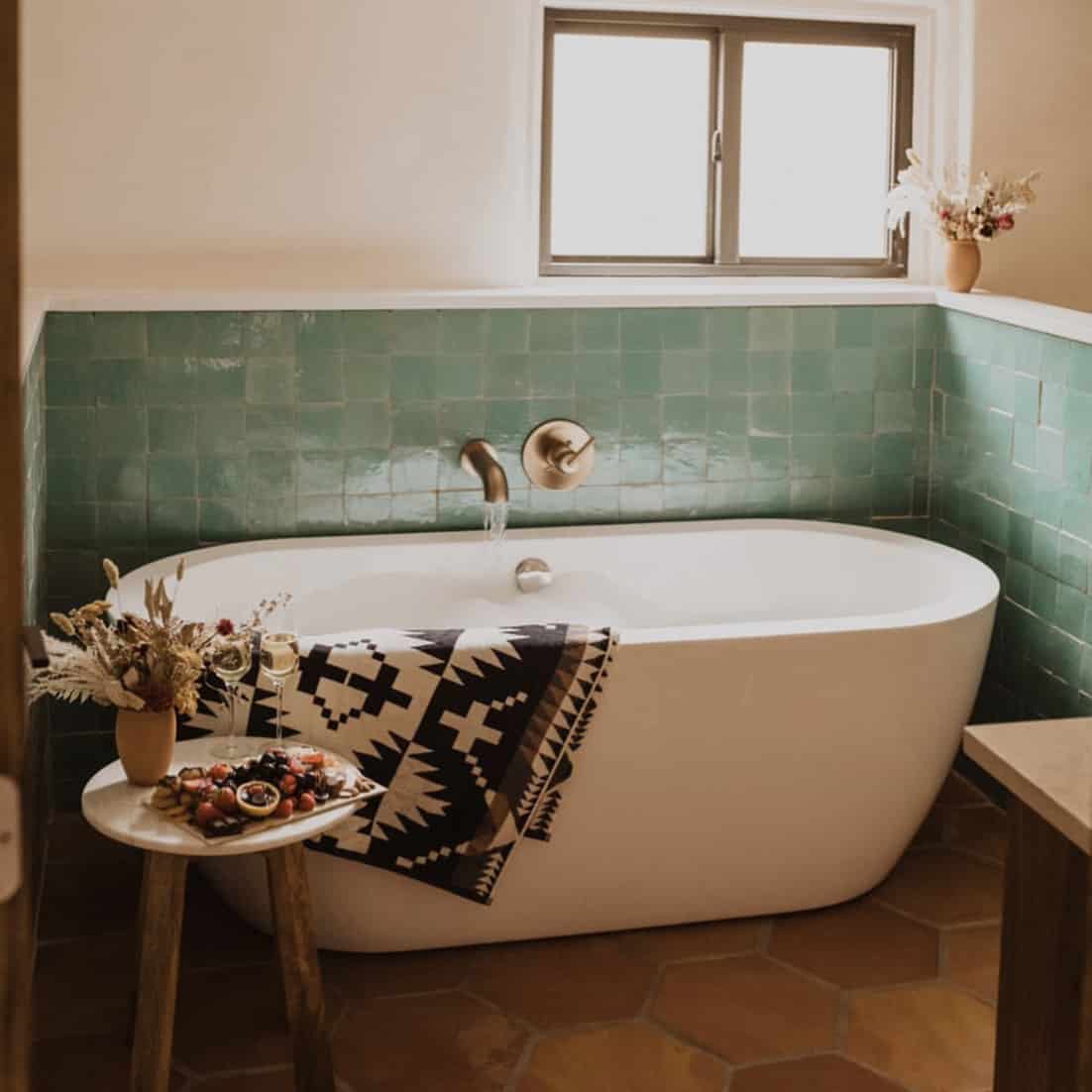 Hexagon floor tiles together with sea green wall tiles in the warm and natural bathroom.
That terracotta works well with natural color tones in well known. But you can definitely go bolder as this reading room shows. The bright yellow bookcase and colorful rug add bright color pop to the room.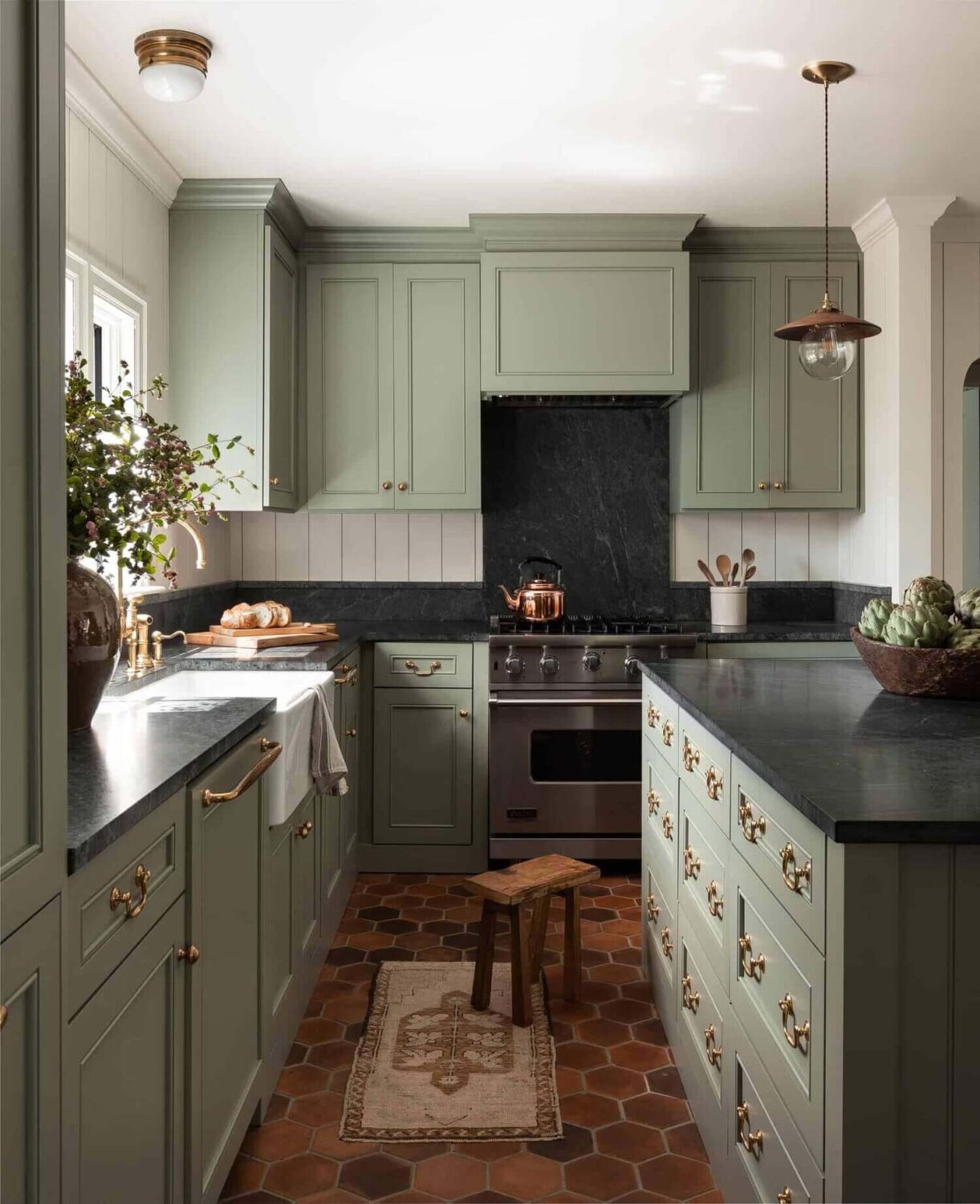 The kitchen of designer Heidi Caillier is one of the most popular of this moment. She used a terracotta floor that varies in color which creates this stunning look. Especially combined with the green cabinets. (click here fo the full home tour)
Do you love green? The 2022 color trends provide a lot of inspiration if you love green and blue tones.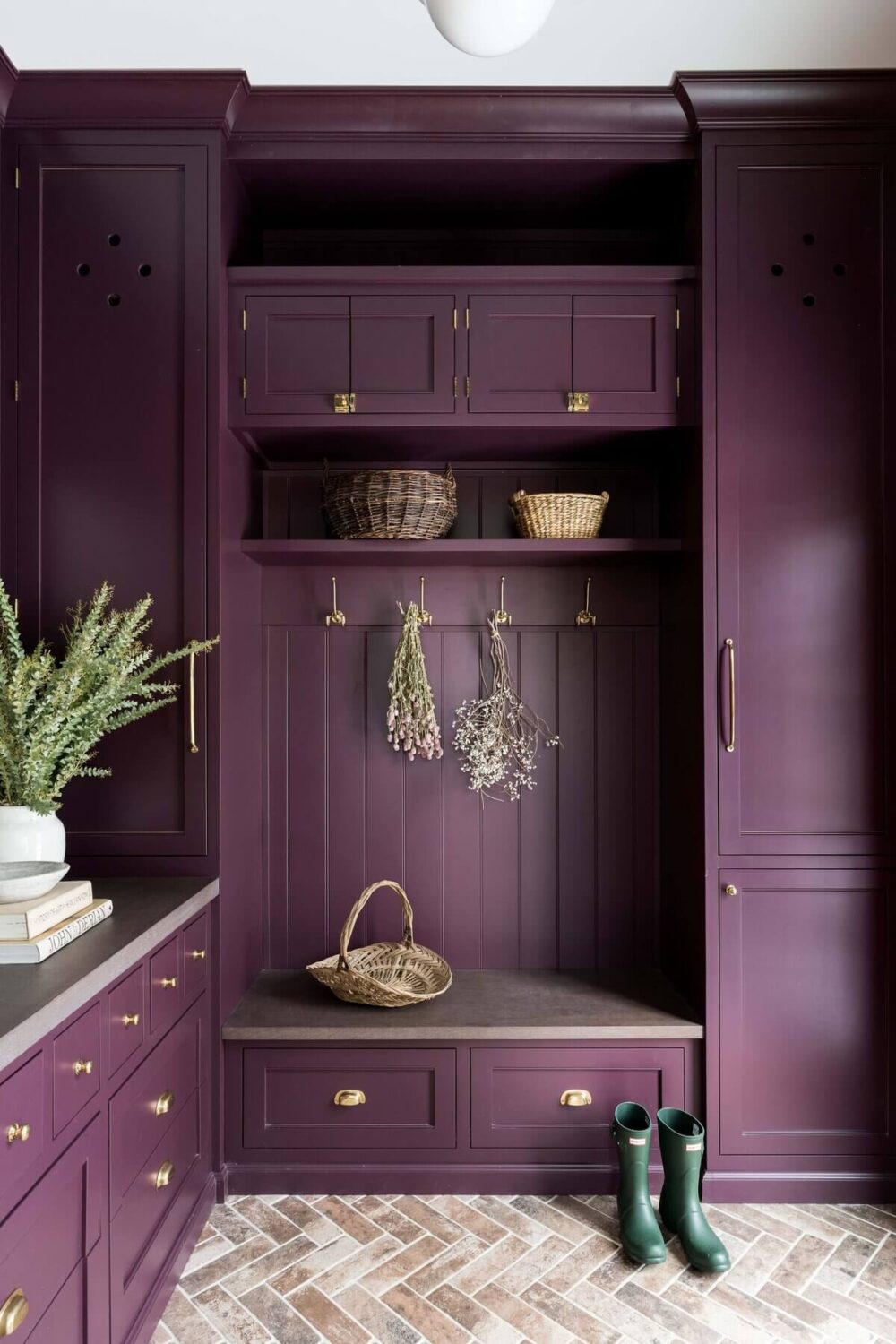 A modern home with terracotta tiles
Terracotta tiles give a home an earthy and slightly rustic look and it's therefore perfect when you want a farmhouse-style interior. But you can also combine the tiles with modern furnishings to get a more contrasting and exciting modern look to your home.
In this home the tiles are combined with a sleek with black cabinets, a modern round table and white Eames chairs.
Terracotta in the living room
Terracotta floor tiles are perfect for a living room. They are durable and when they are sealed properly they're very easy to clean.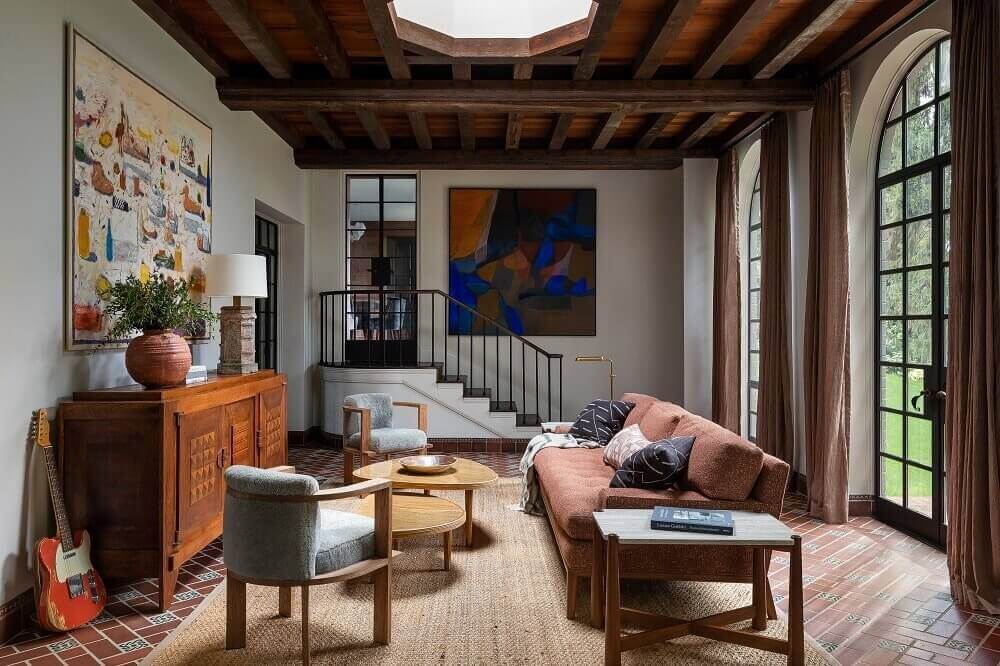 An earthy red sofa with light blue armchairs stands on a jute rug. Colorful art adds nice color pops to the room. A warm living room look designed by Hoedemaker Pfeiffer.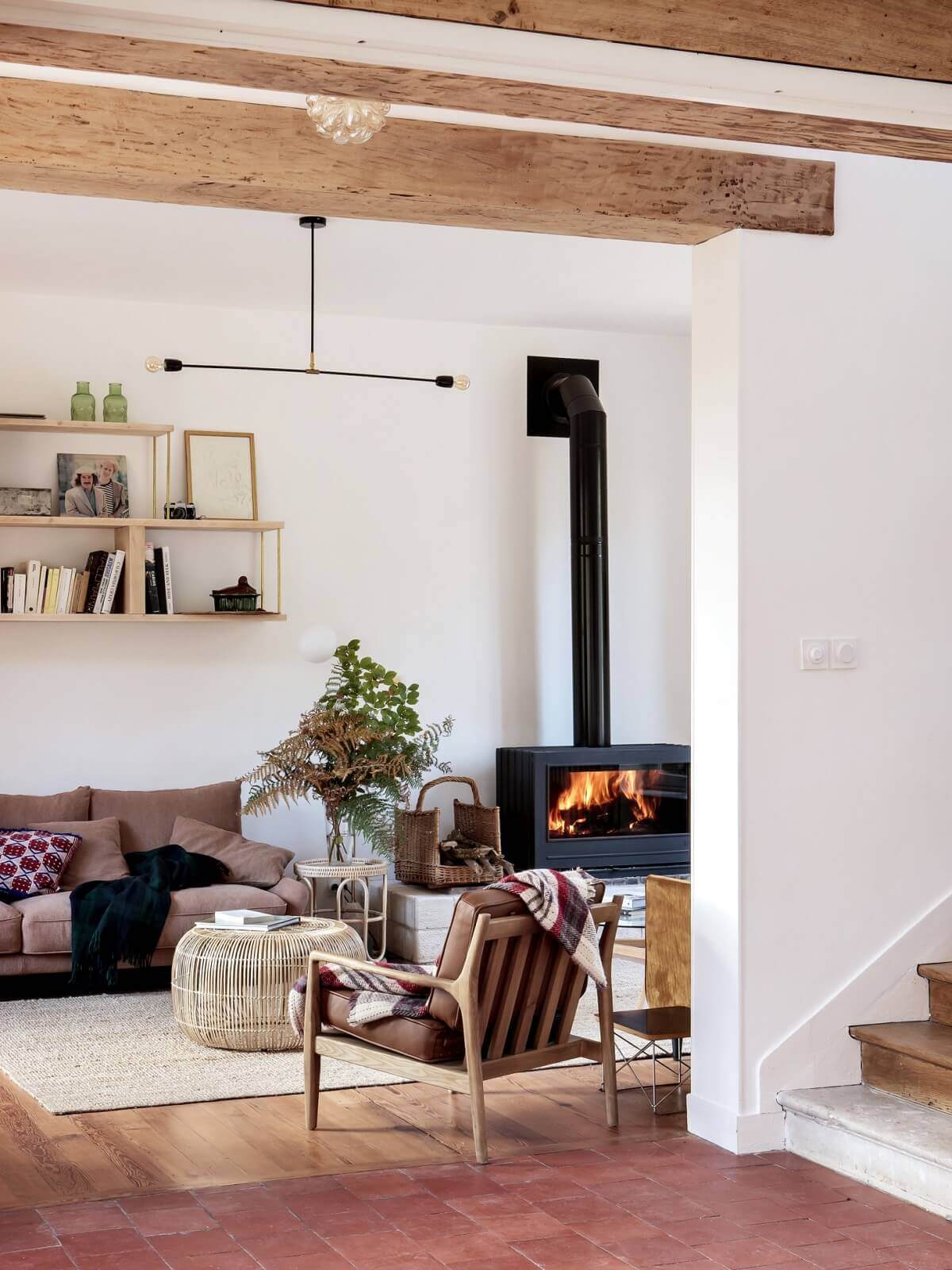 In Riverside House rental guesthouse they combine terracotte with wood and brown tones.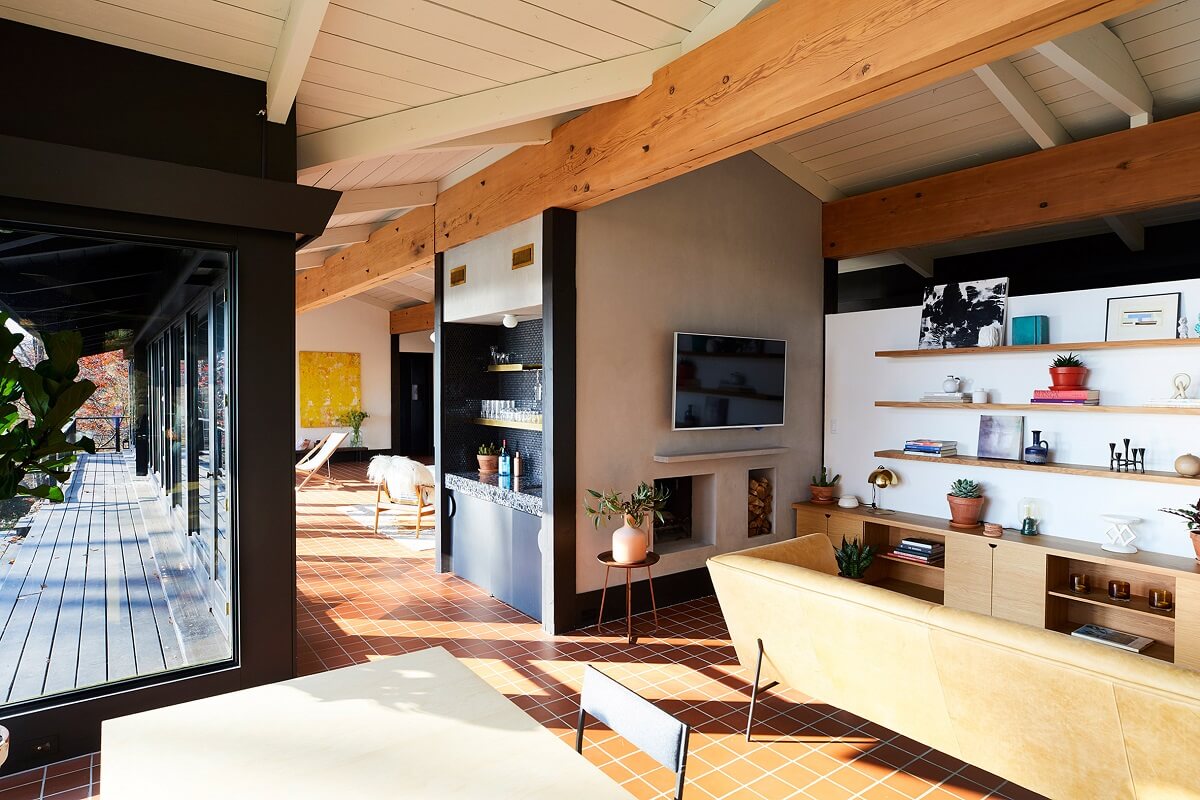 A modern bungalow with terracotta floors and modern Scandinavian-style furnishings. The black walls add a dramatic touch.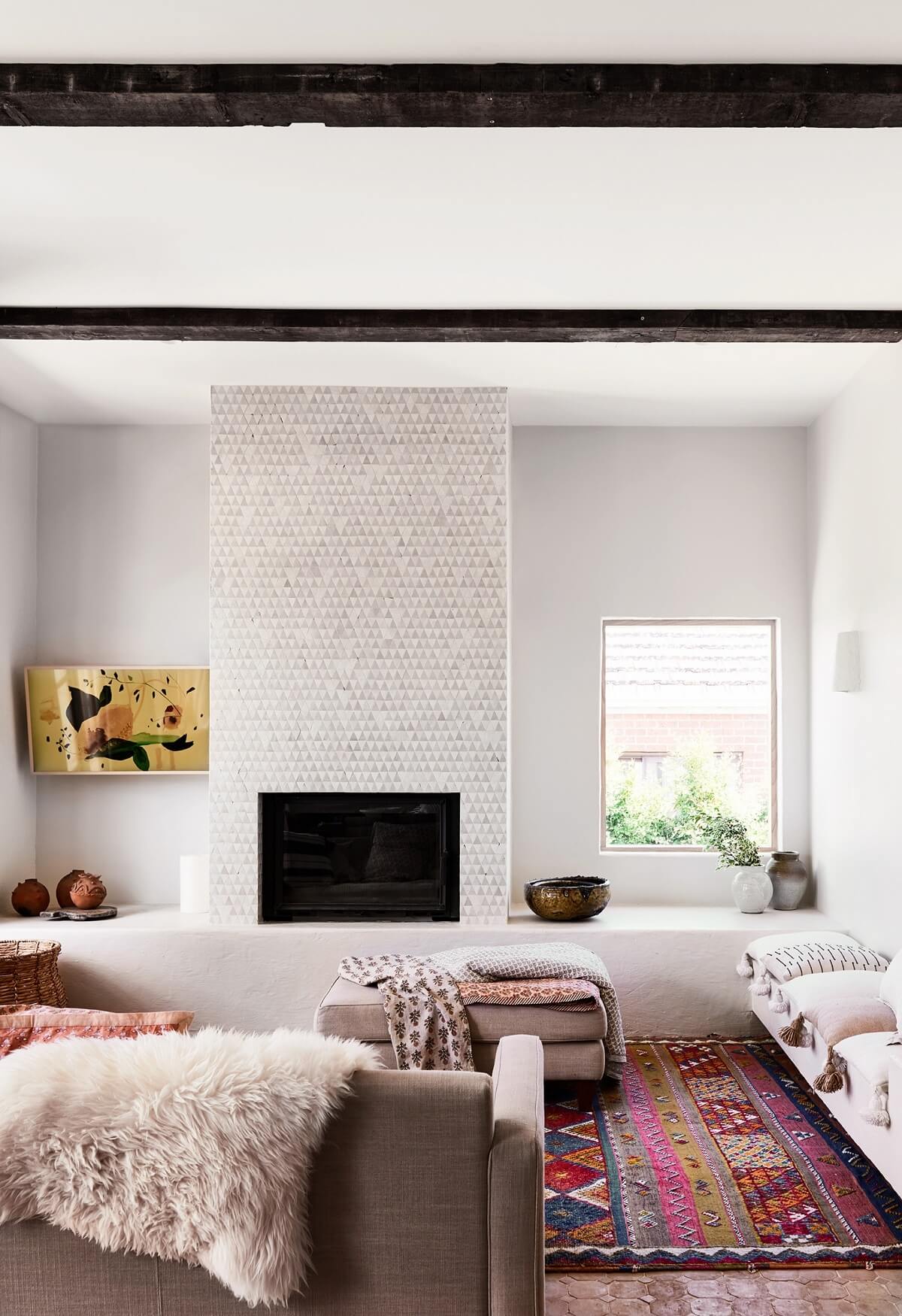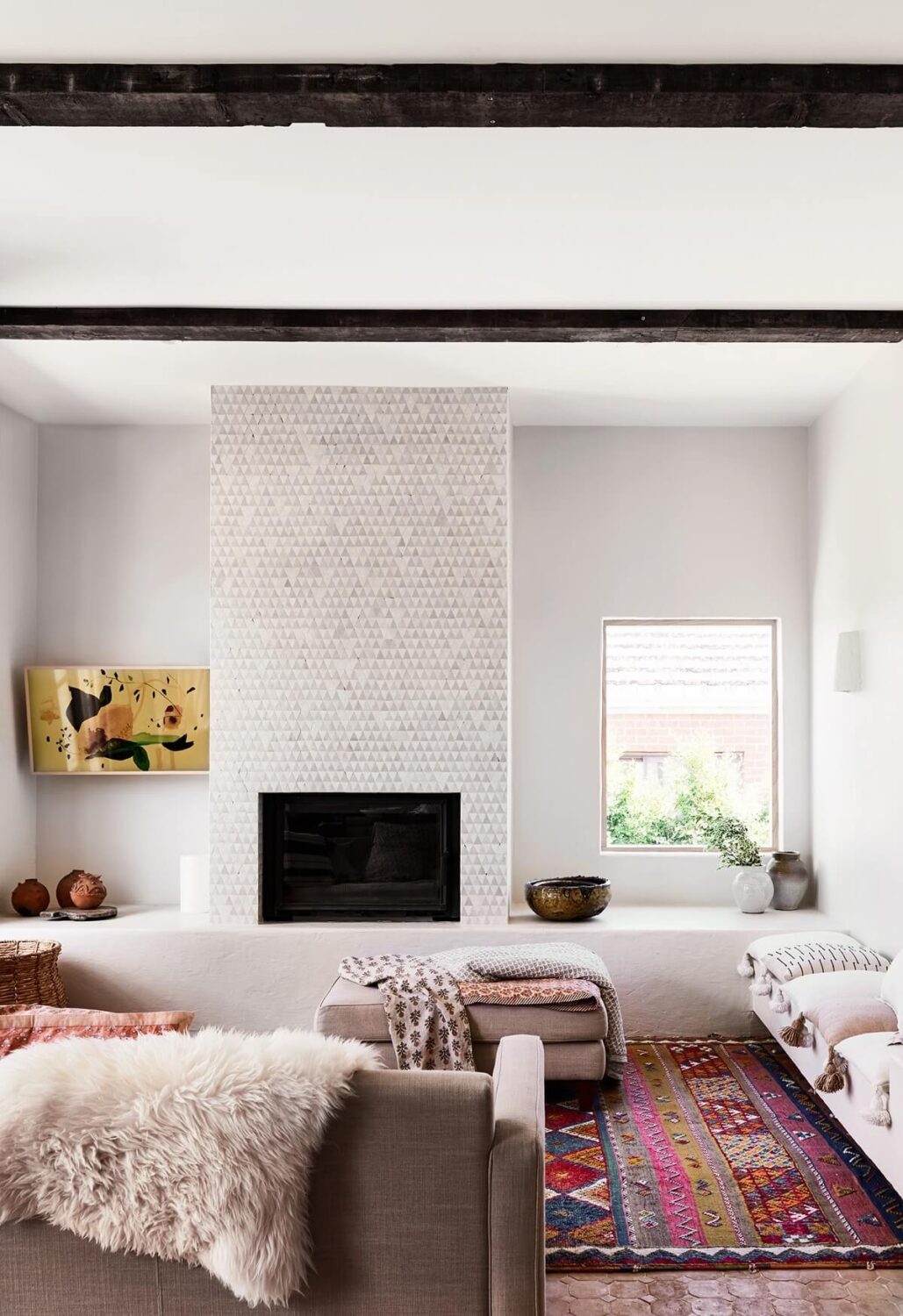 This is a wonderful blend of neutral shades, a warm terracotta floor, and a bright colorful rug.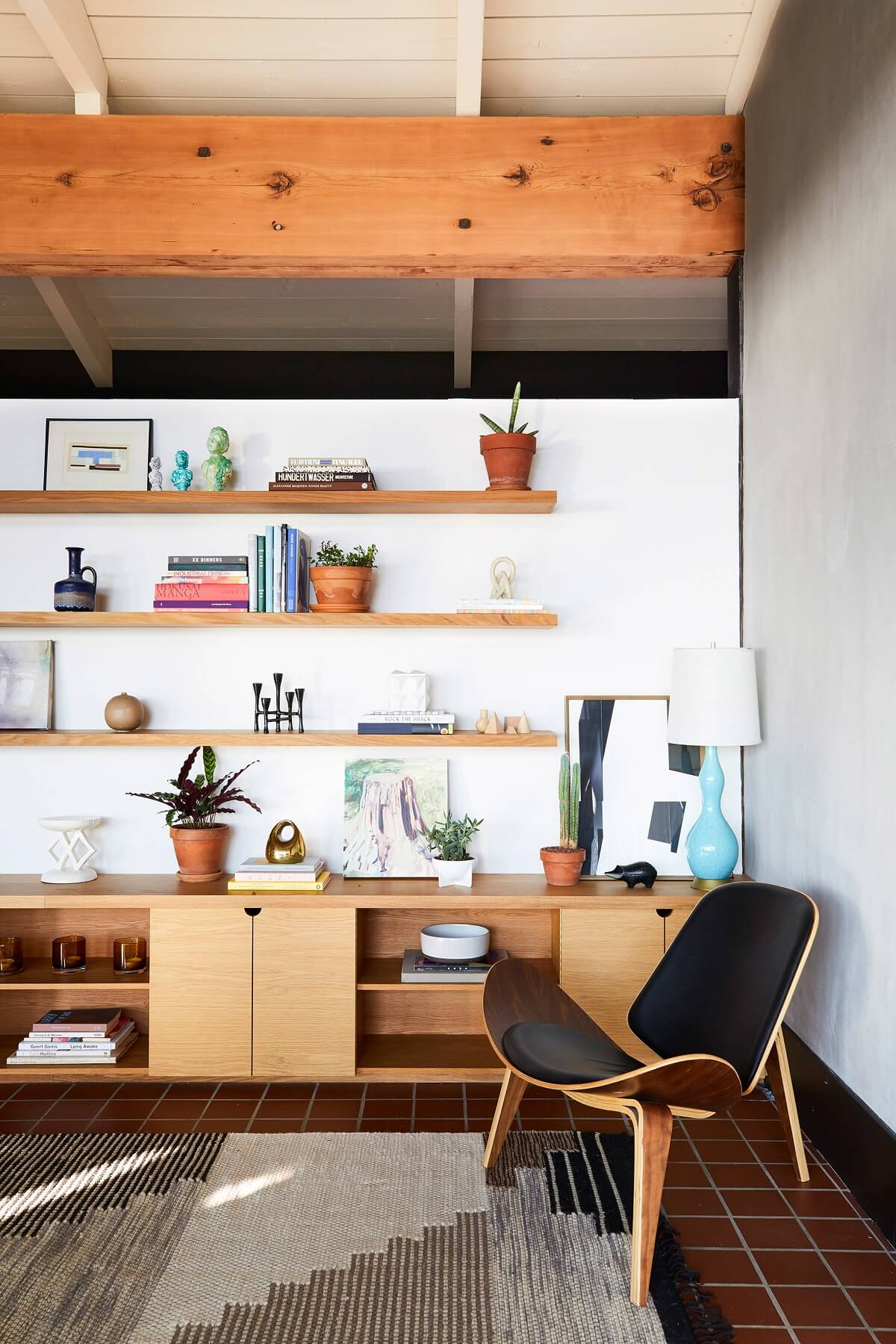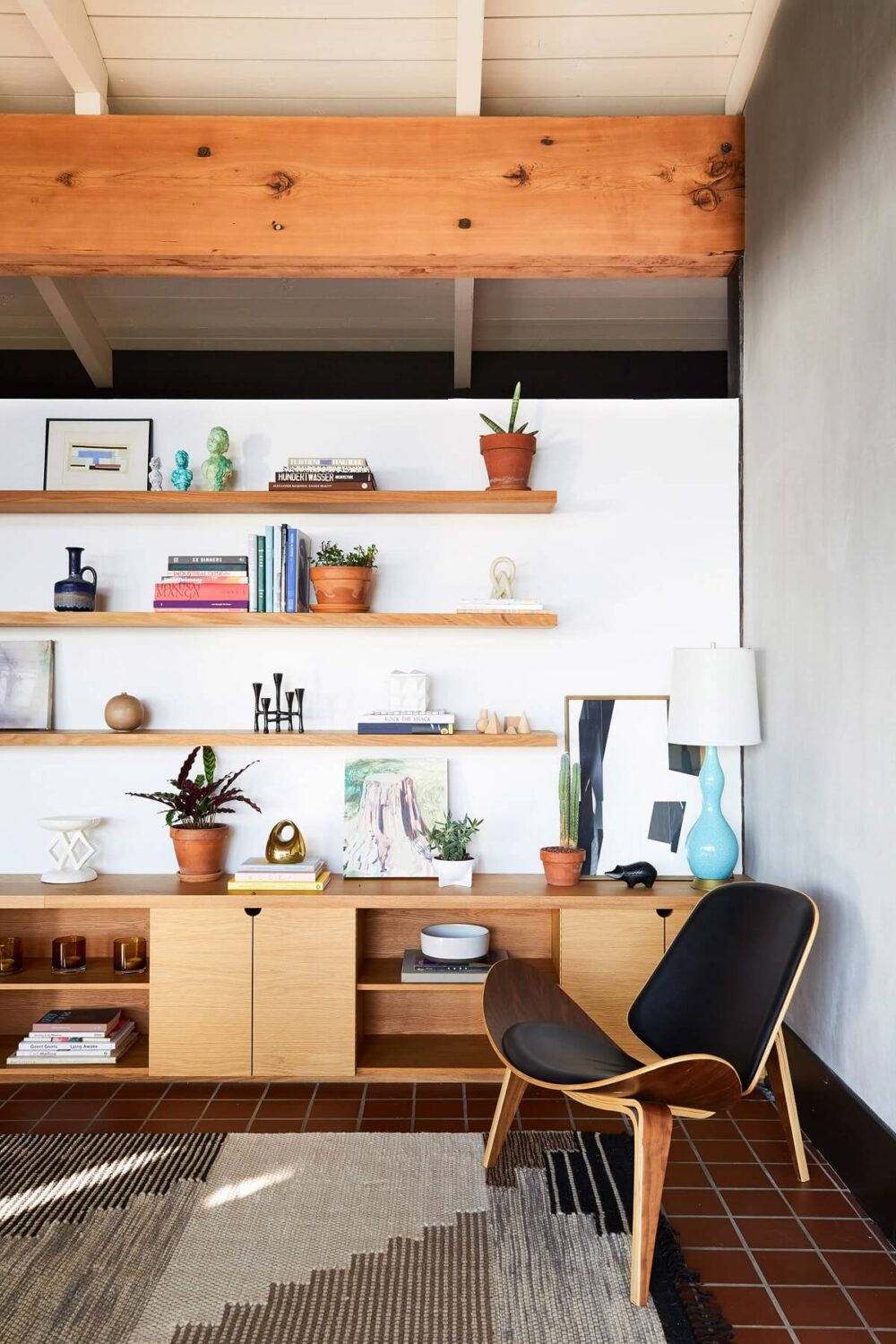 Terracotta in the kitchen
Perhaps the most popular room for terracotta floors is the kitchen. You can combine it with classic furnishings or go for a sleek modern look.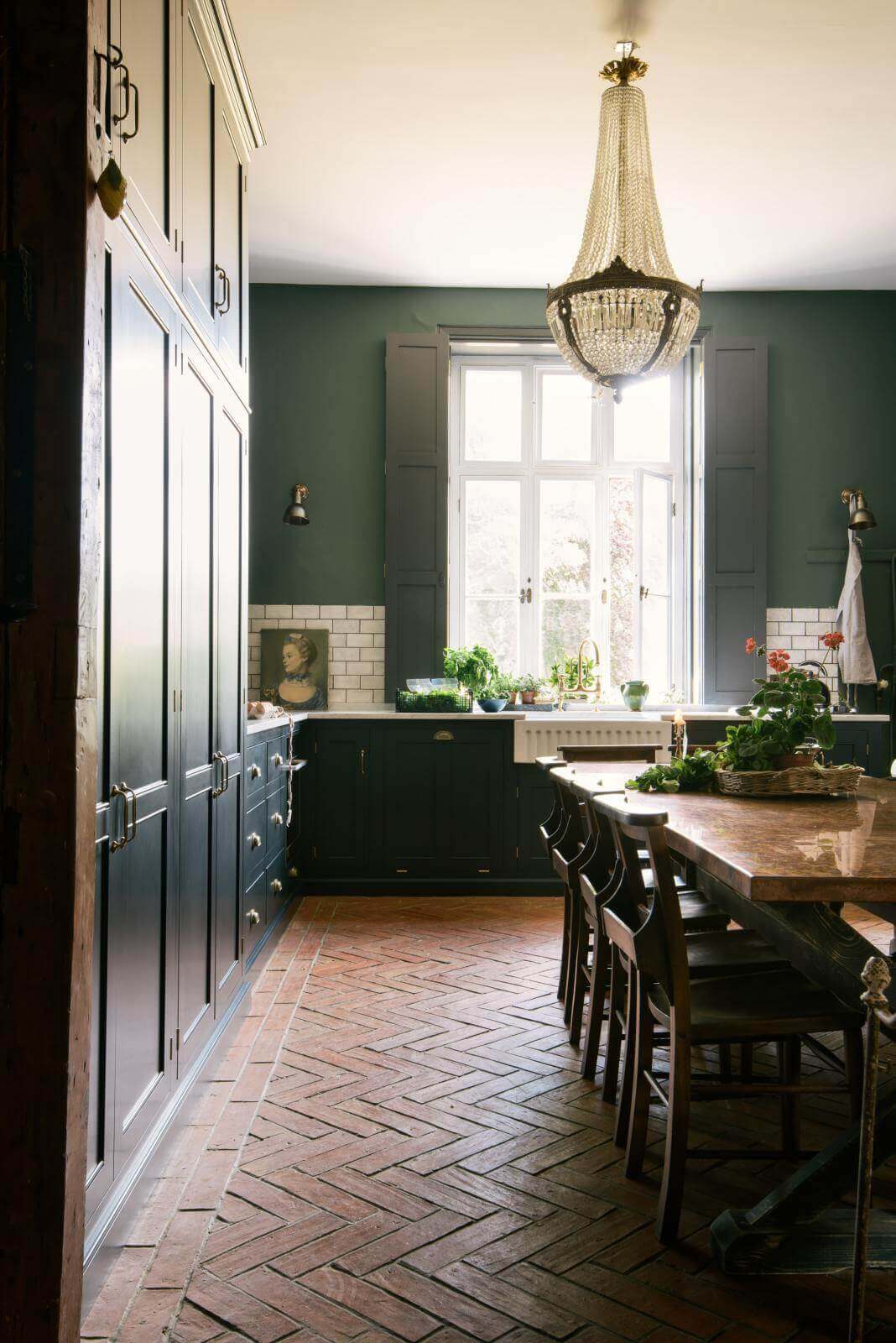 For a more moody look, you can combine terracotta floors with dark blue and green. Keeping it natural in the Victorian Rectory kitchen by deVOL.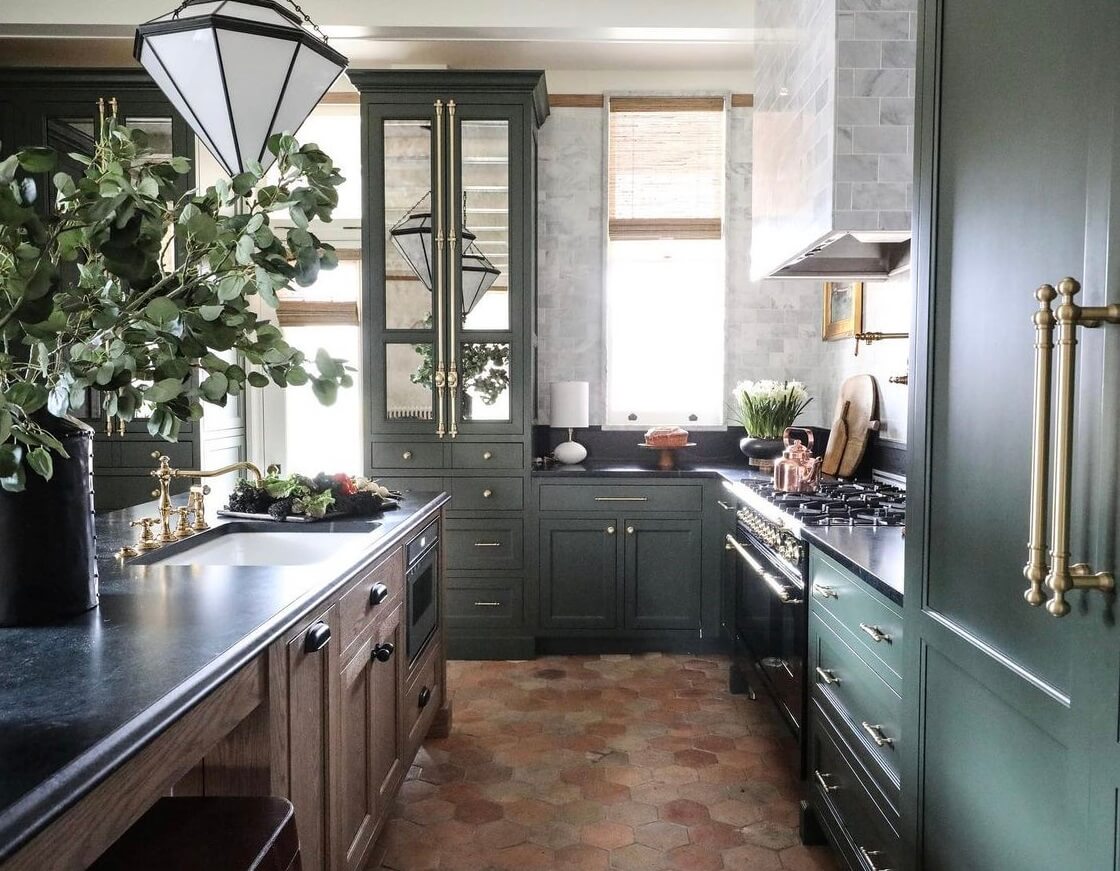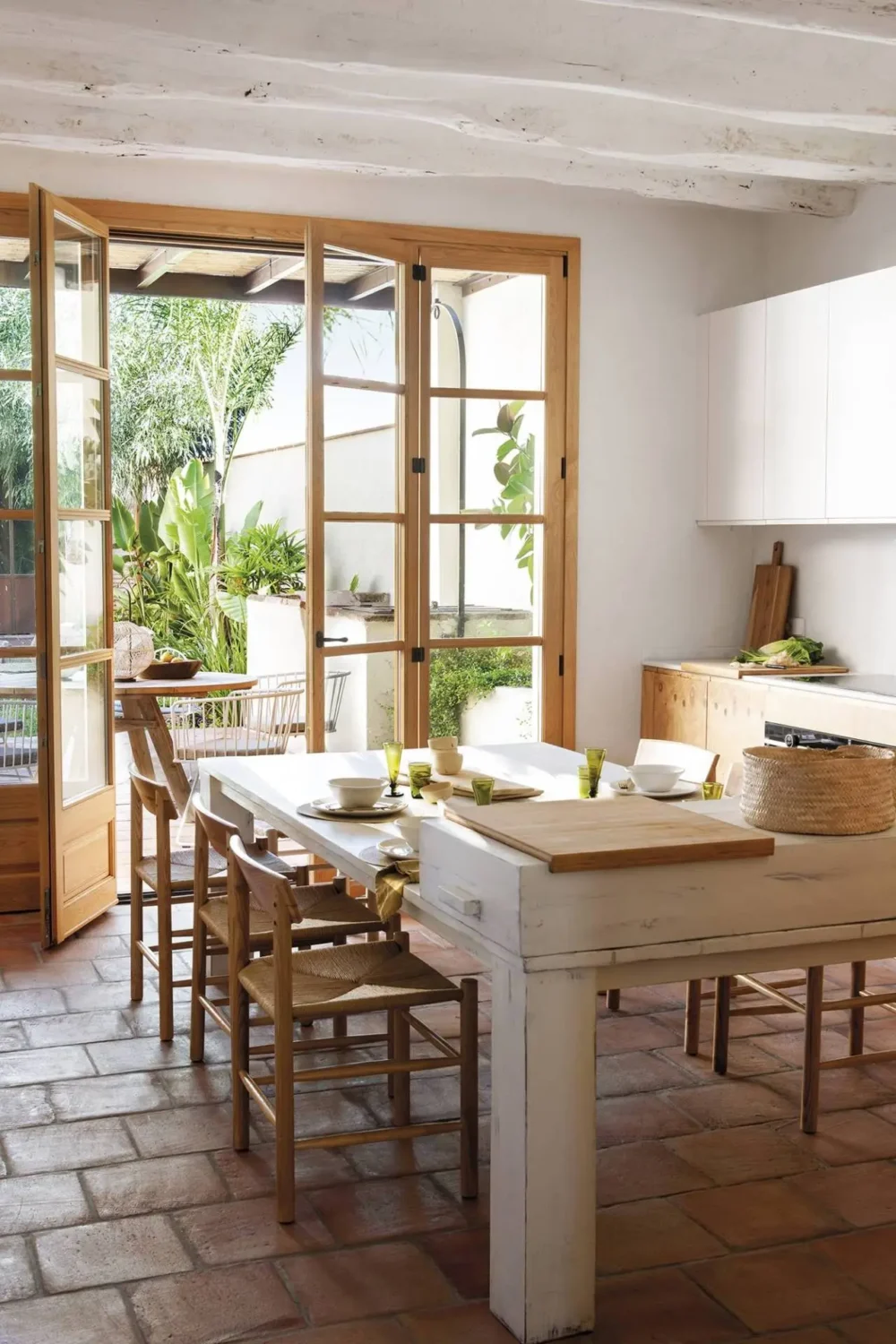 Terracotta, white and wood is a winning combination as this kitchen shows as well.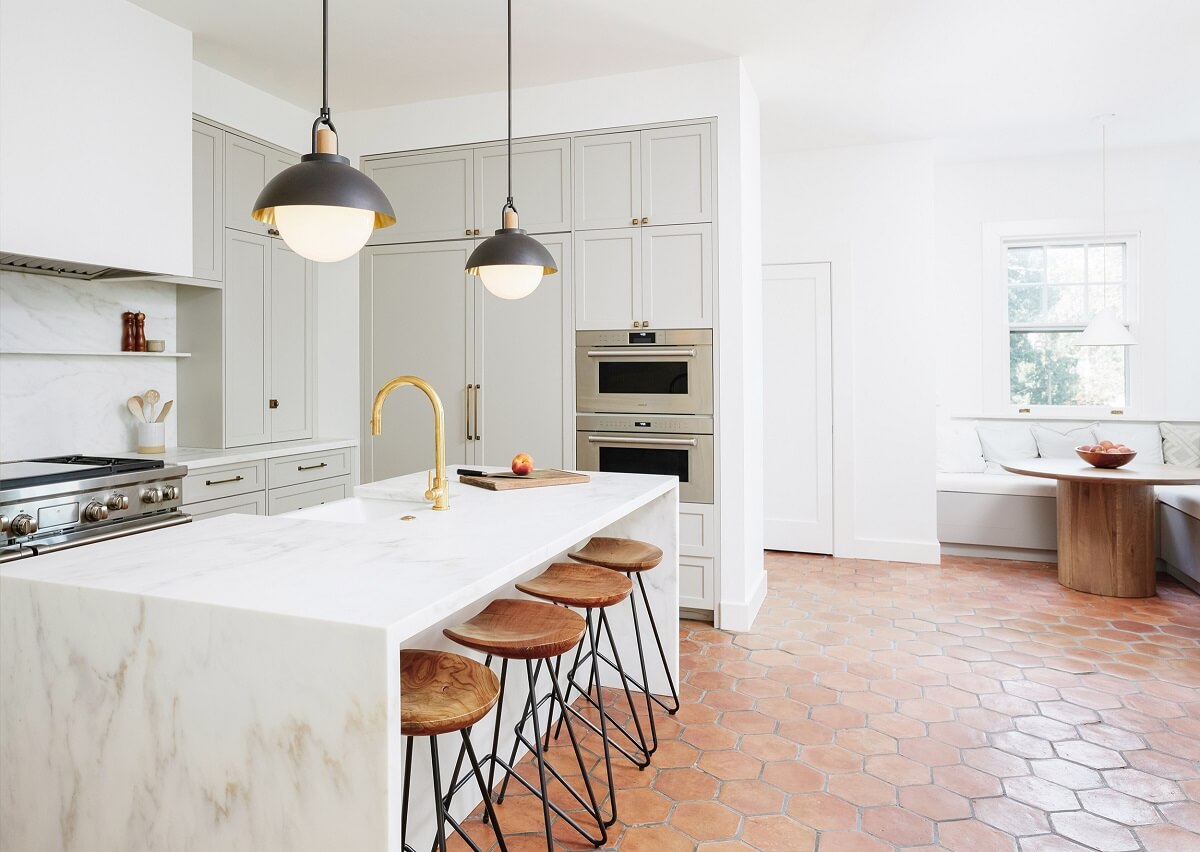 A modern kitchen with marble kitchen island, light grey cabinets and hexagon terracotta tiles create a modern but warm look.
Oak fronted cabinets with deep red floor tiles. For a touch of bling they added a brass backsplash.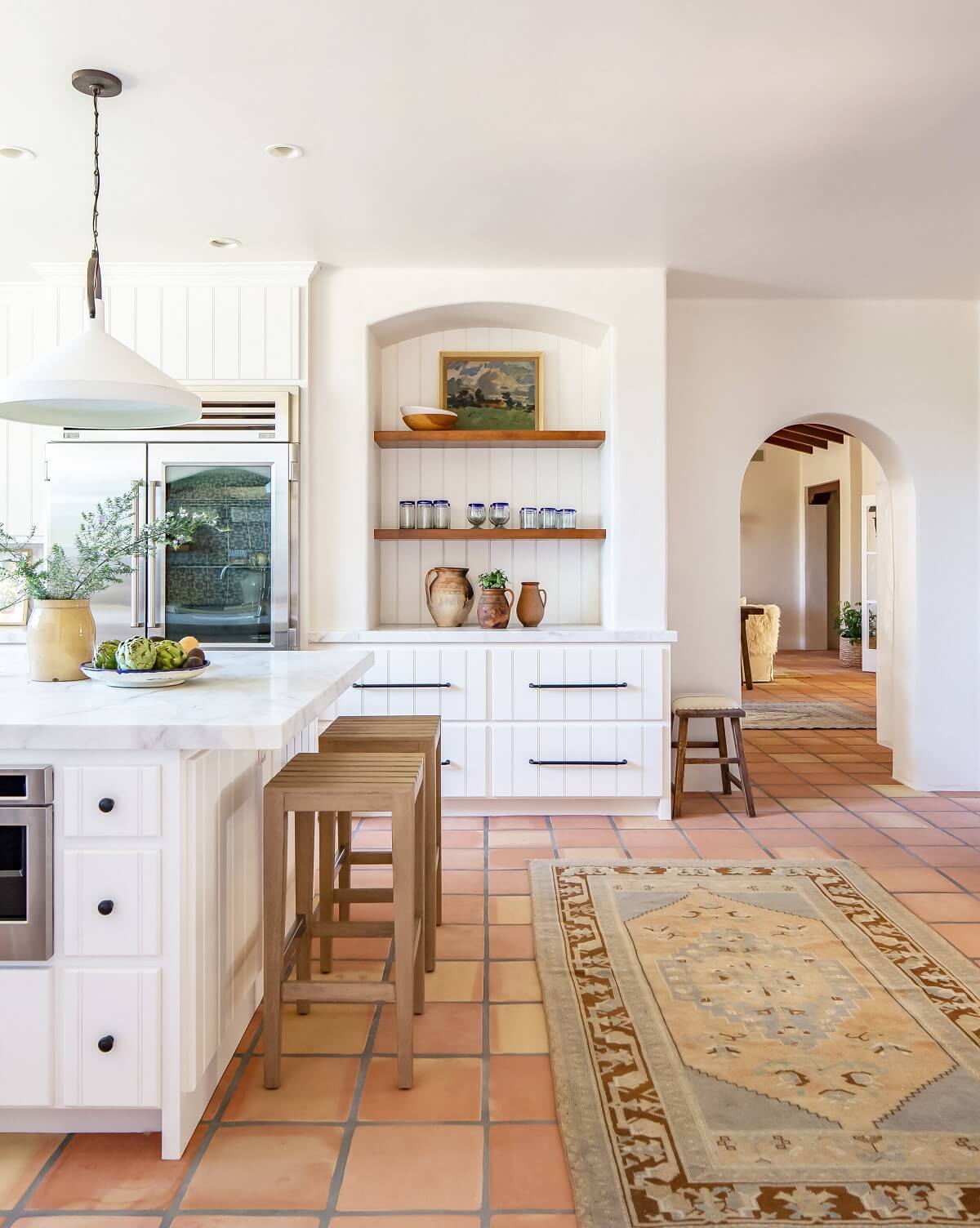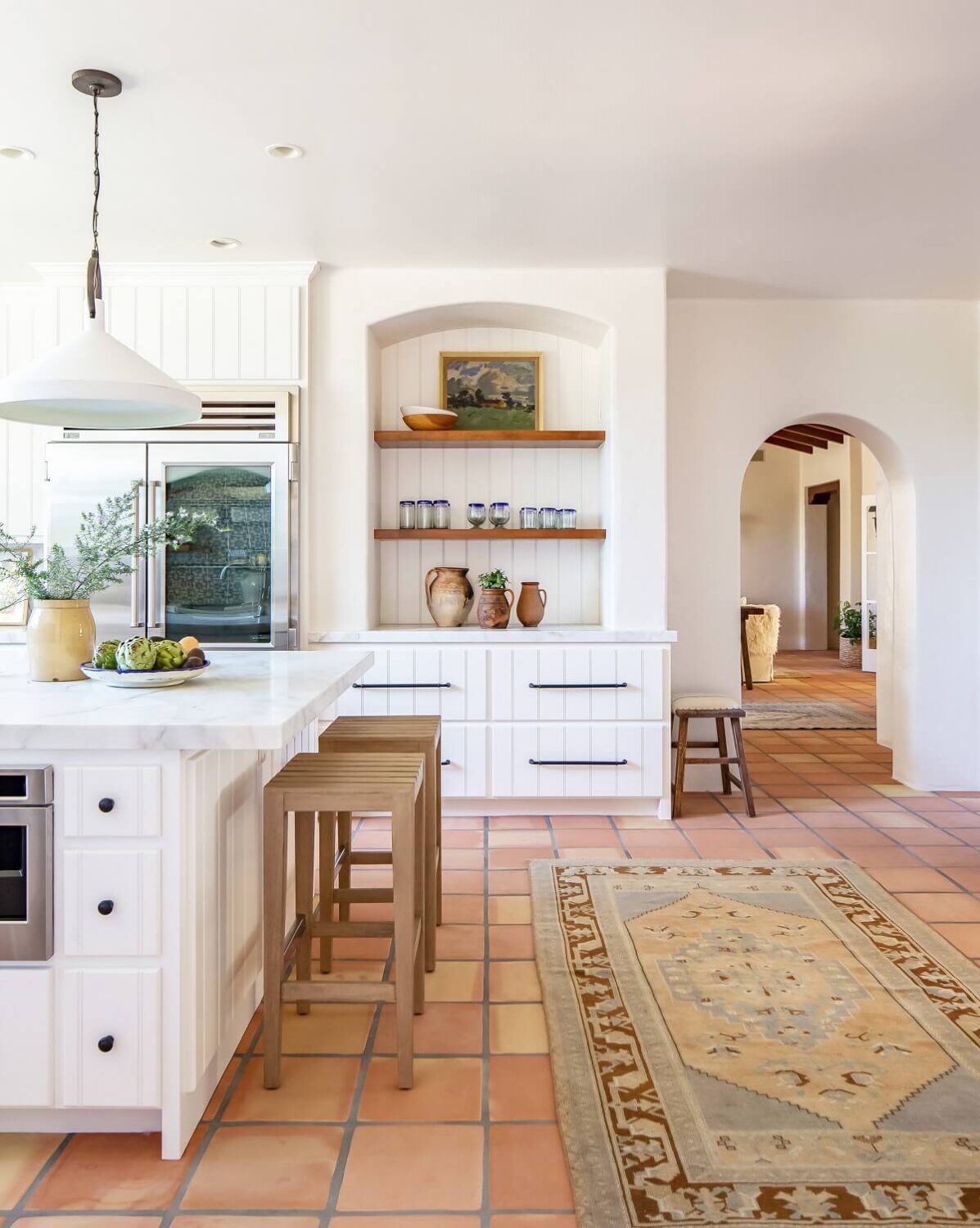 The breakfast nook in Heidi Caillier's home pairs terracotta with light green and white.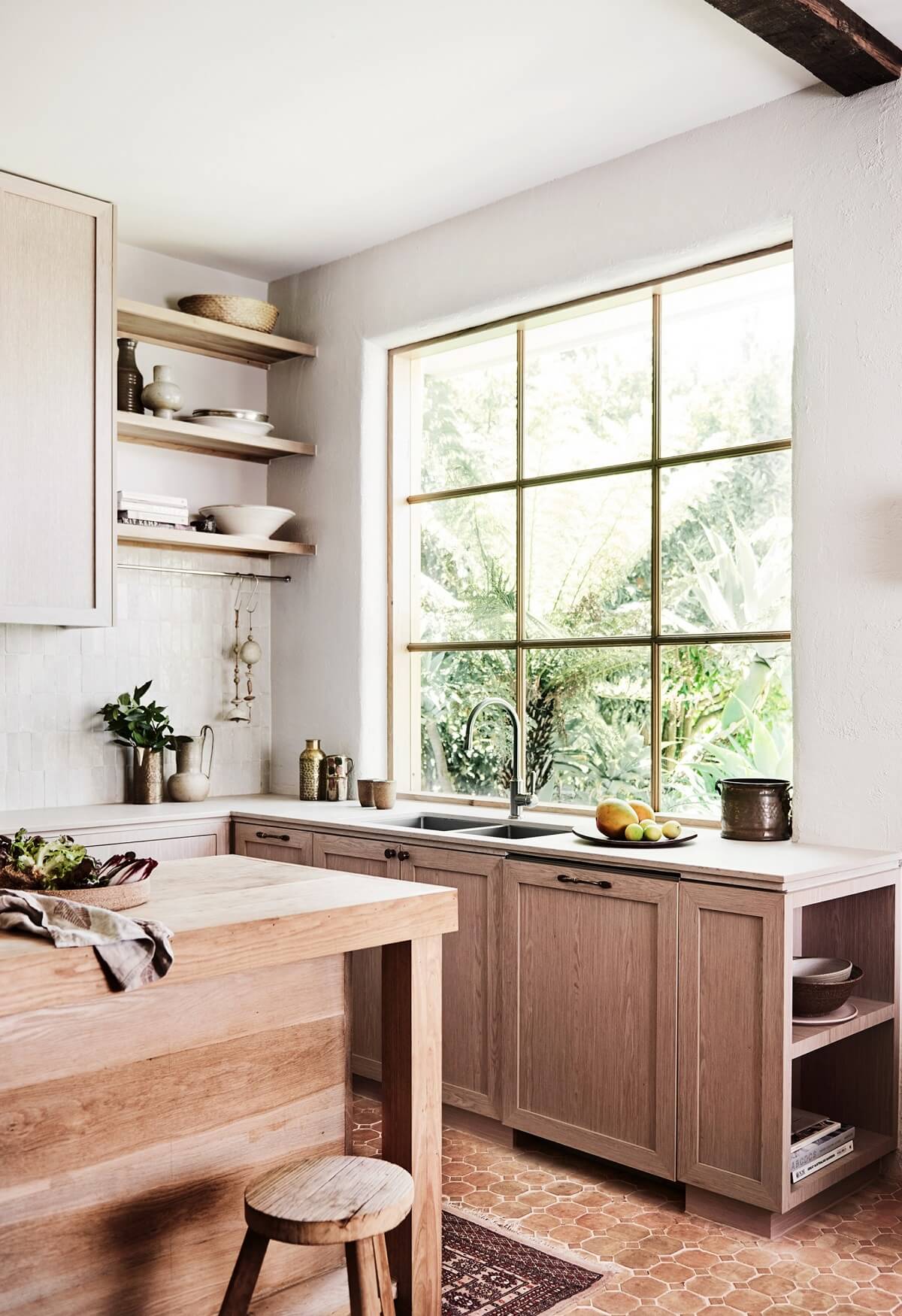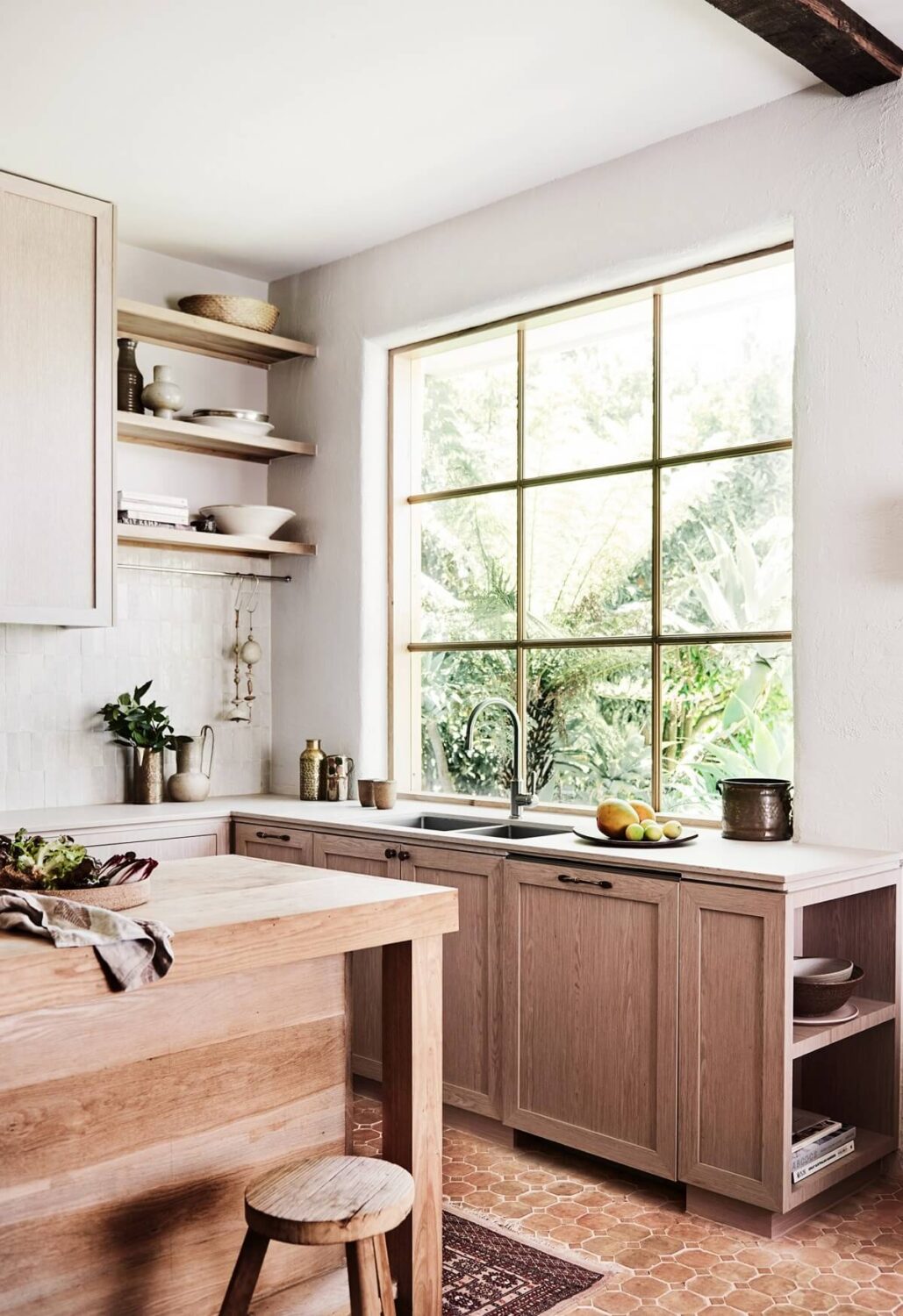 A very natural look with a kitchen made of oak cabinets combined with small floor tiles.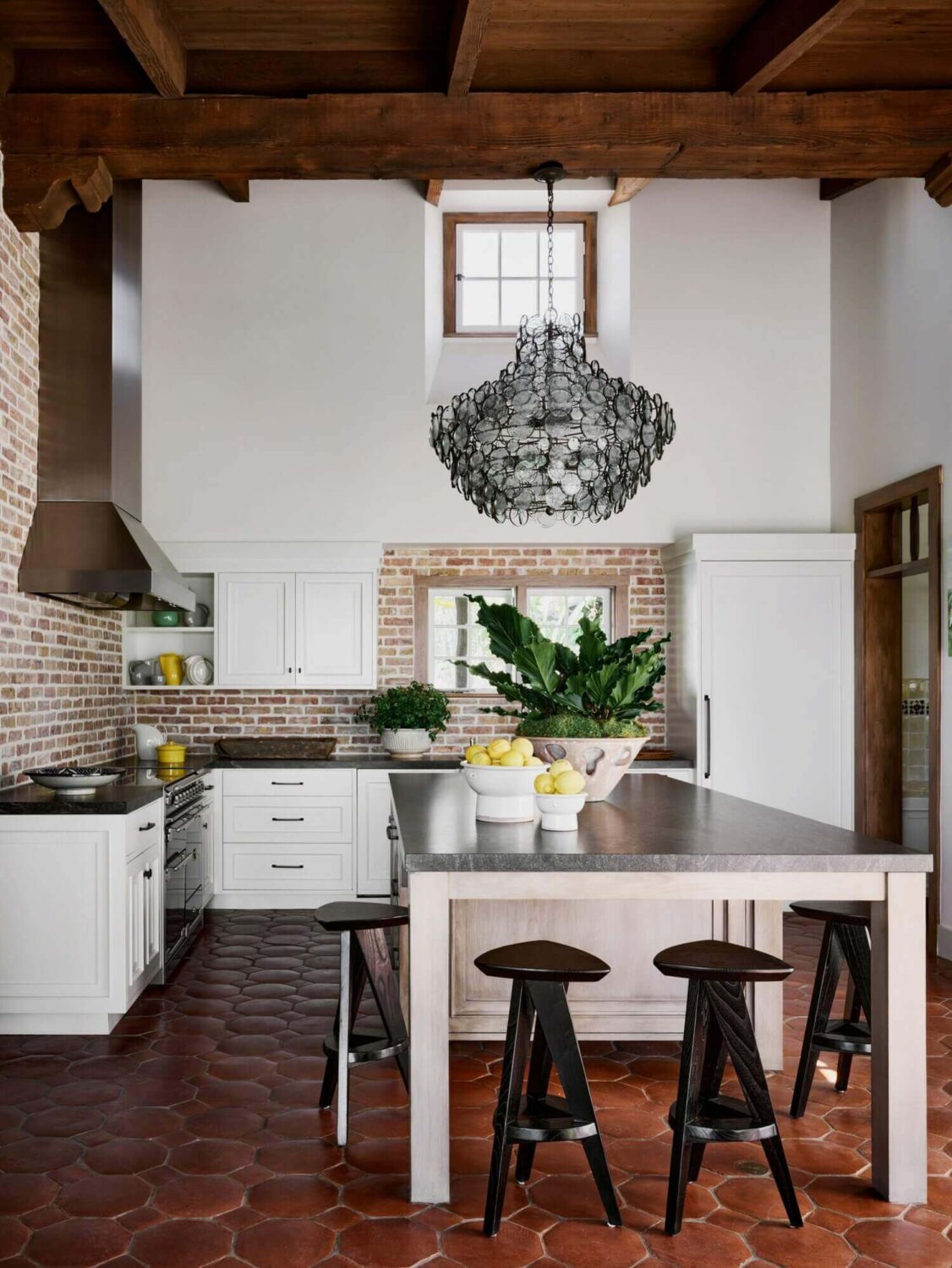 See also: The Best Flooring Ideas For Your Kitchen
Terracotta in the mudroom
The durability of terracotta tiles make them perfect for intesively used rooms, such as a mudroom or a hallway.
We've already seen that paring terracotta with black is a winning combination. This mudroom with black cabinets and bench show that as well.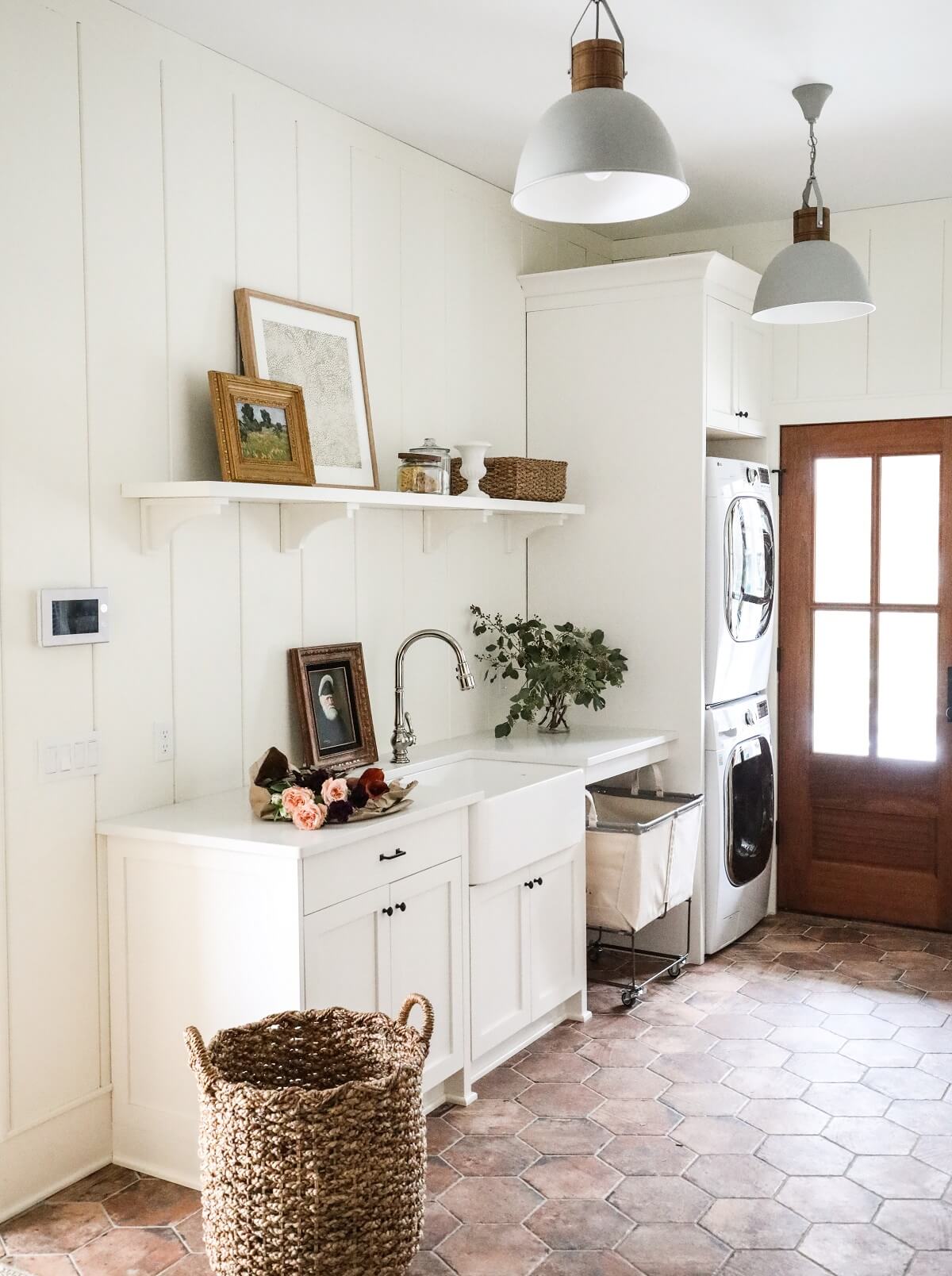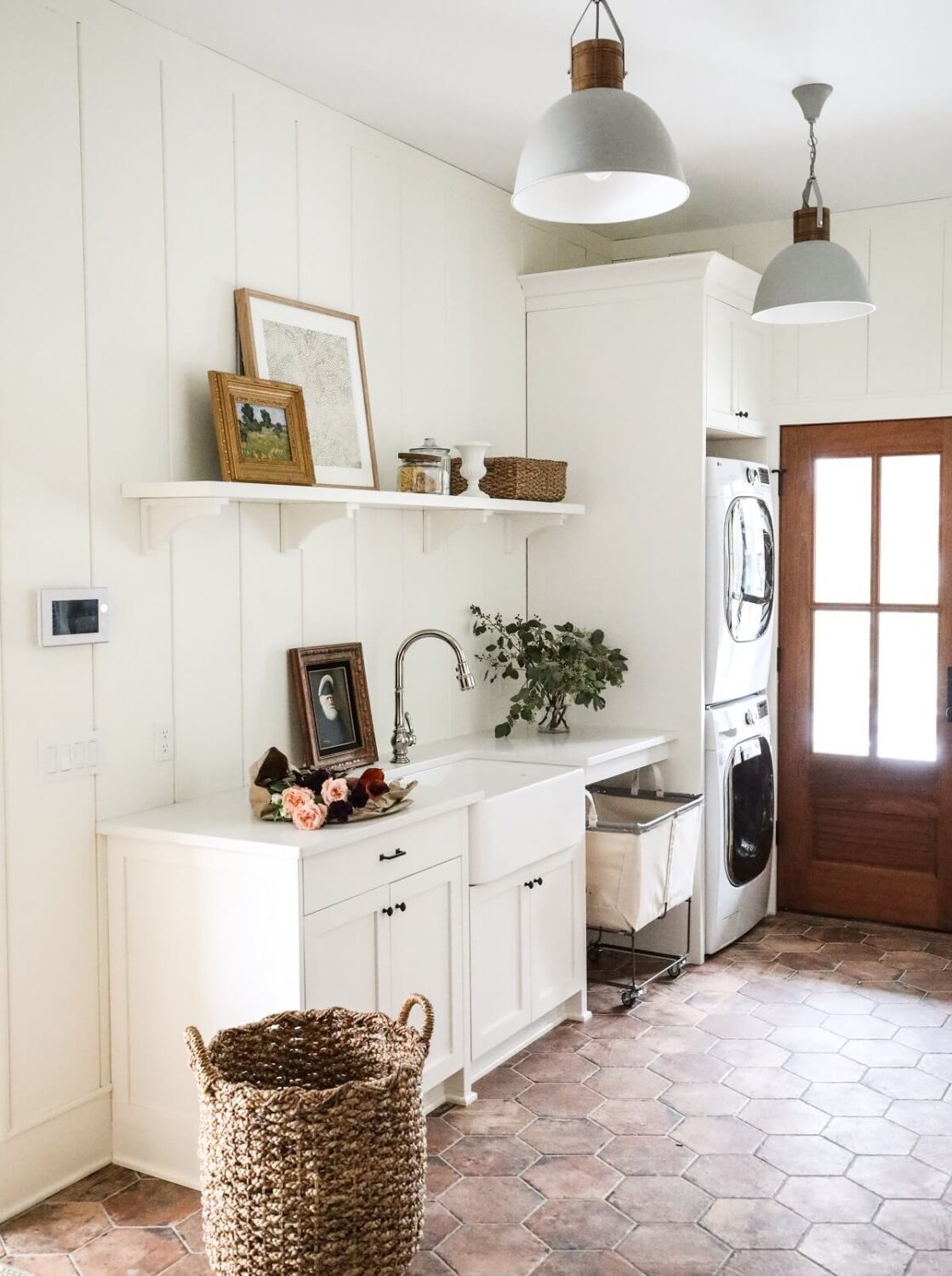 This mudroom designed by Park and Oak has terracotta tiles that are less intense that their deep red sisters. It creates a lighter look, especially in combination with the white cabinets.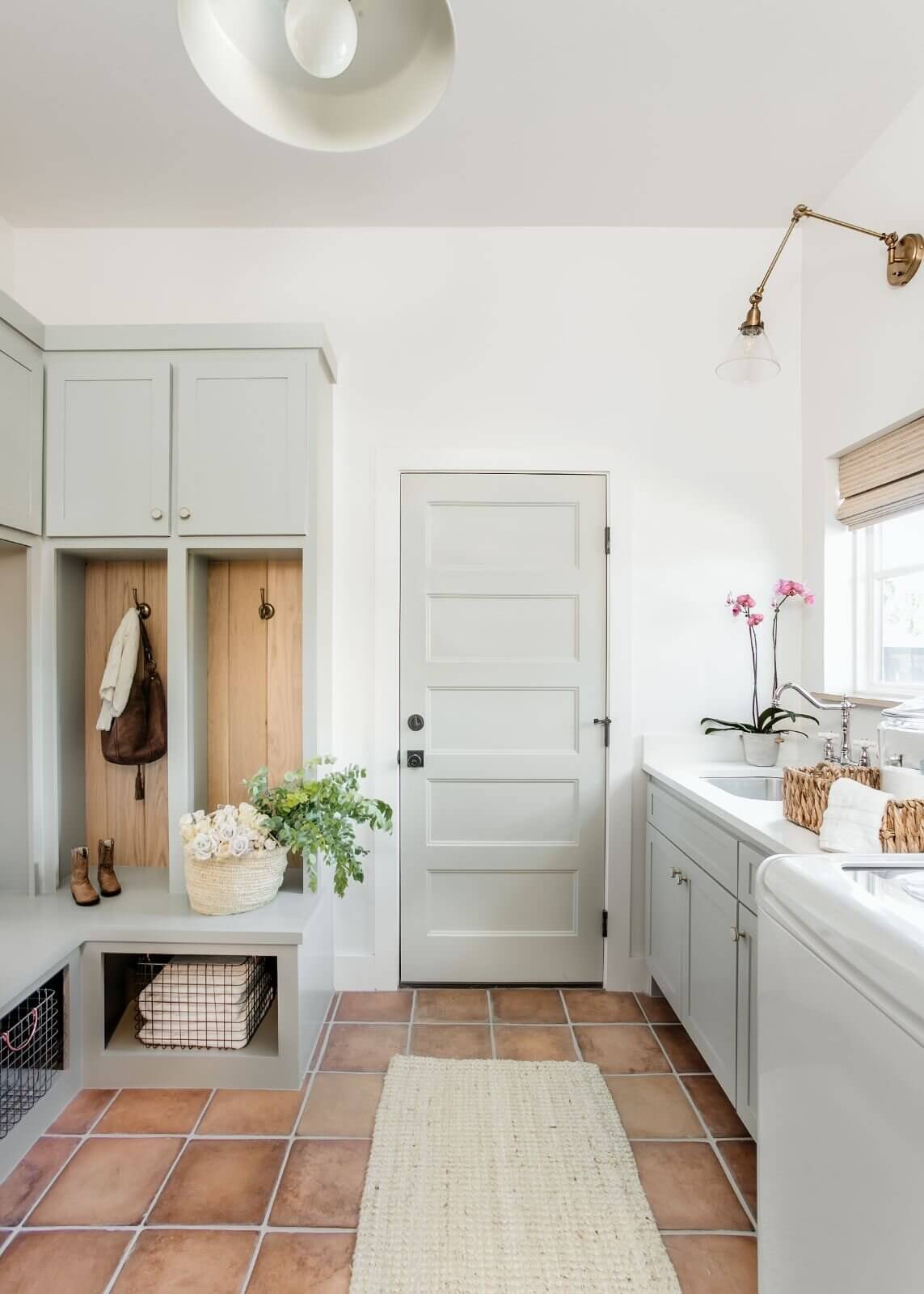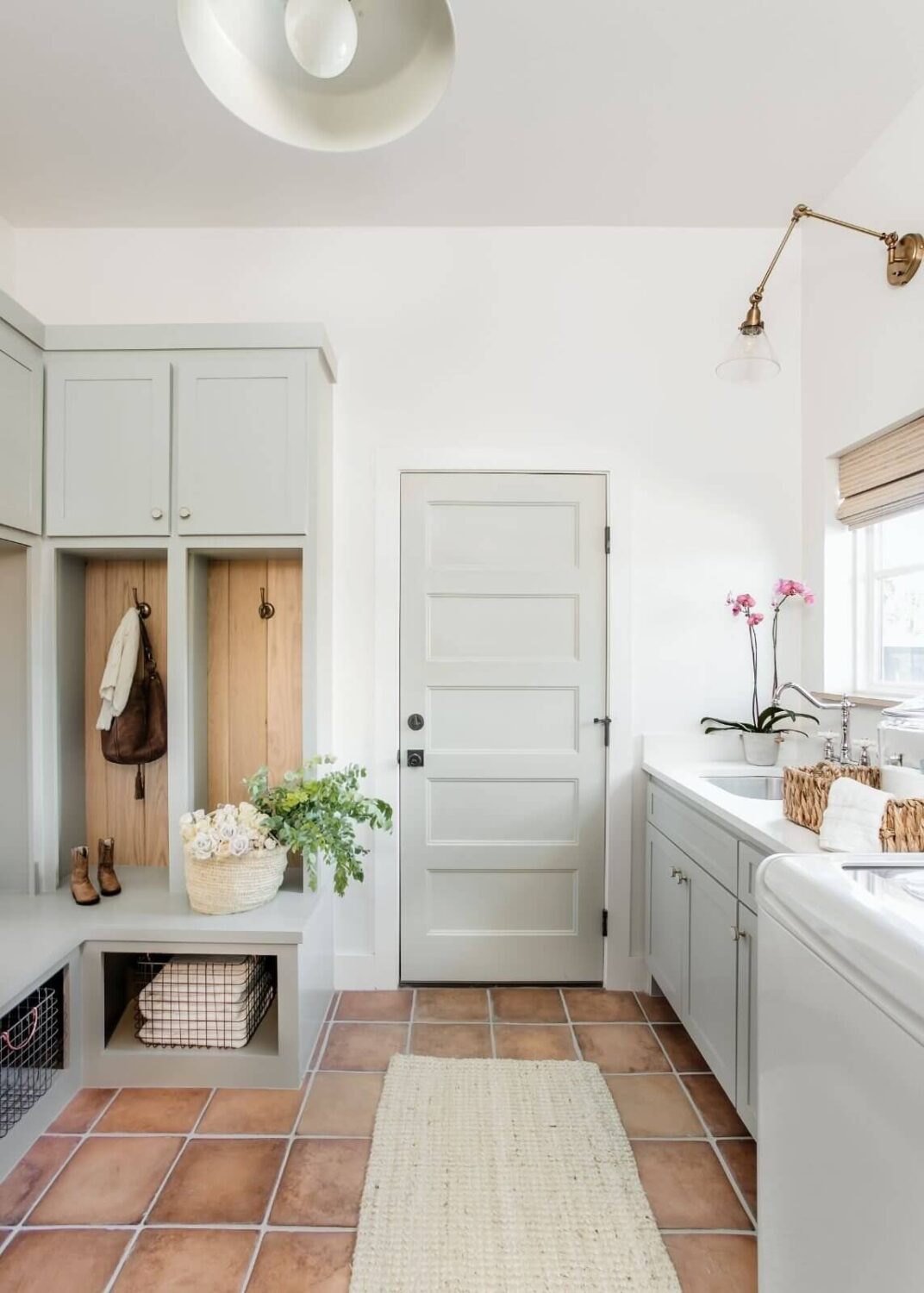 The mudroom combines brown terracotta flooring with mint green built-in cabinets.
Terracotta tiles in the bathroom
Terracotta tiles can also be used in wet rooms like a bathroom. However, the terracotta tiles will need to be sealed to create a non-porous surface. With this glazing process, they melt glass over the tiles to make them waterproof. After this process, the tiles can withstand water, molds, and other liquids.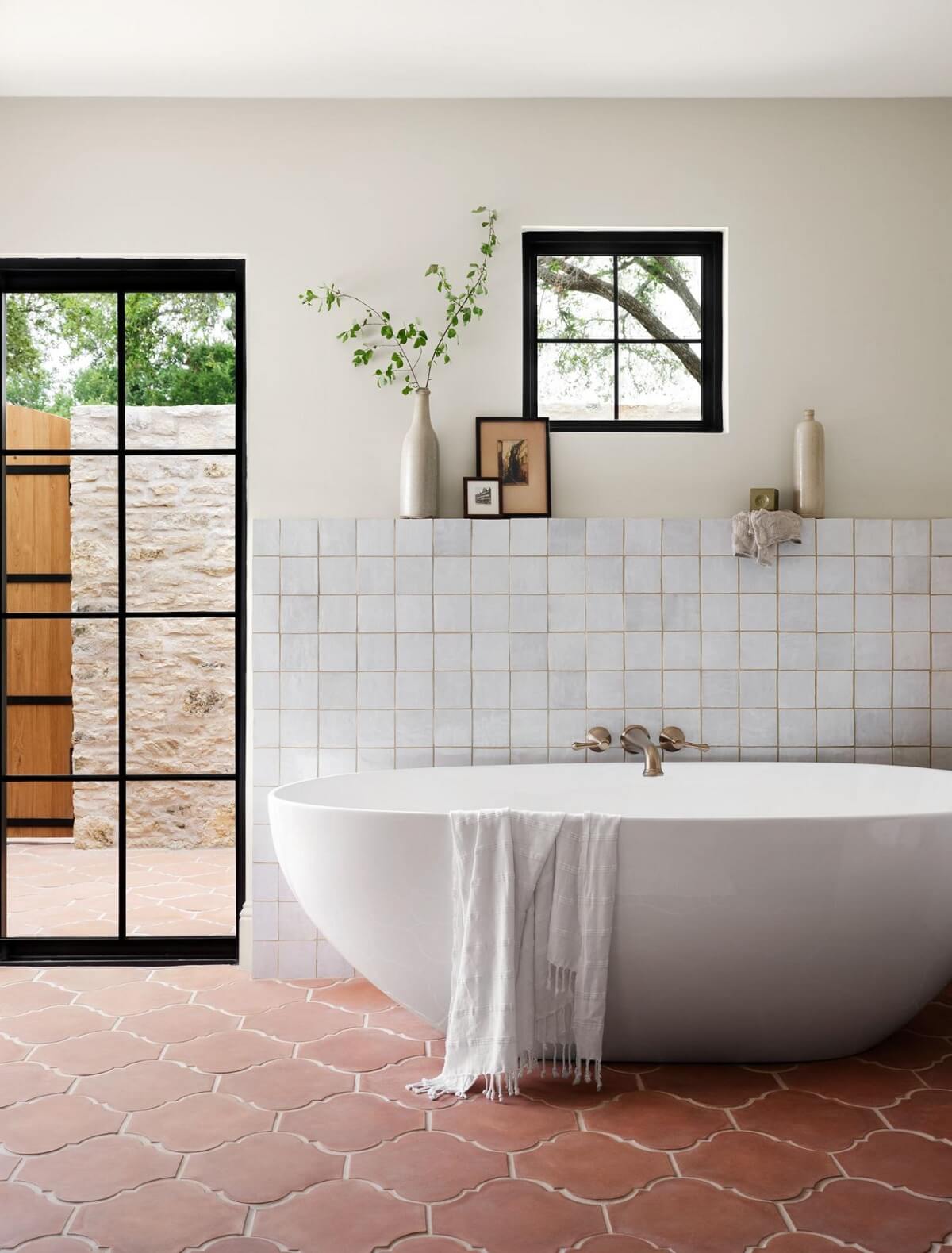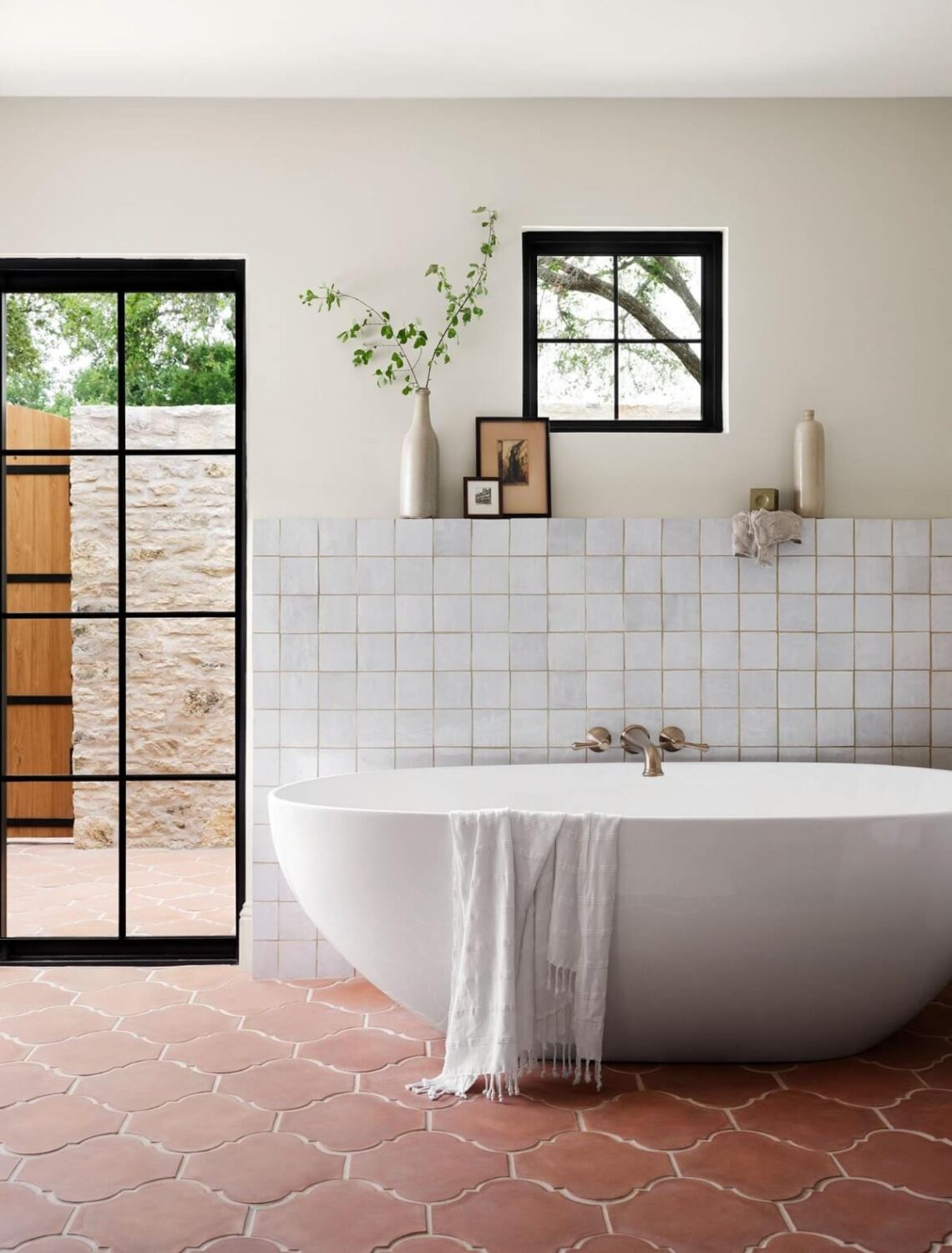 Combine the tiles with modern industrial features. Like in this bathroom with a steel framed door.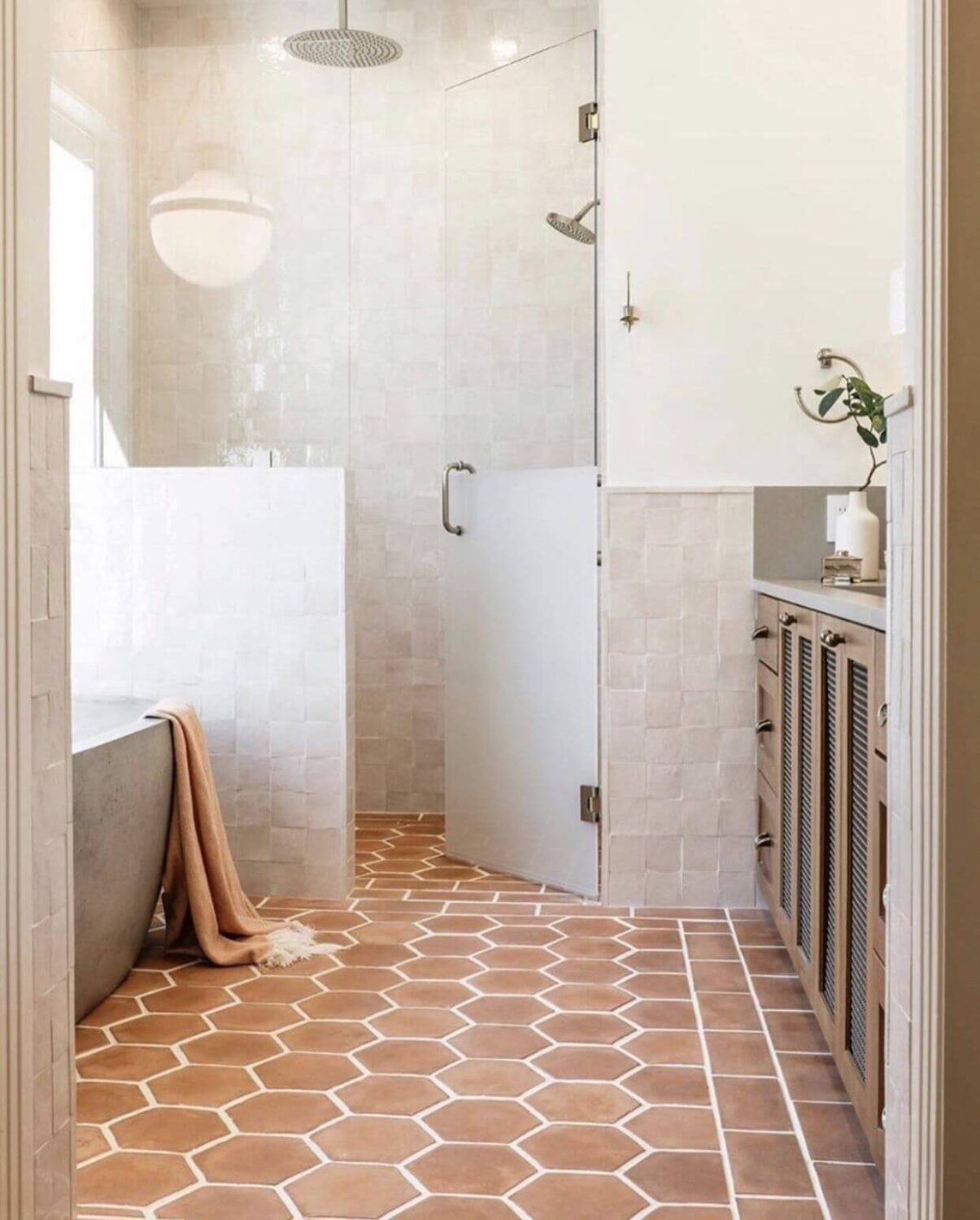 A modern bathroom with a terracotta floor that even runs into the shower. The off-white wall tiles create a light look.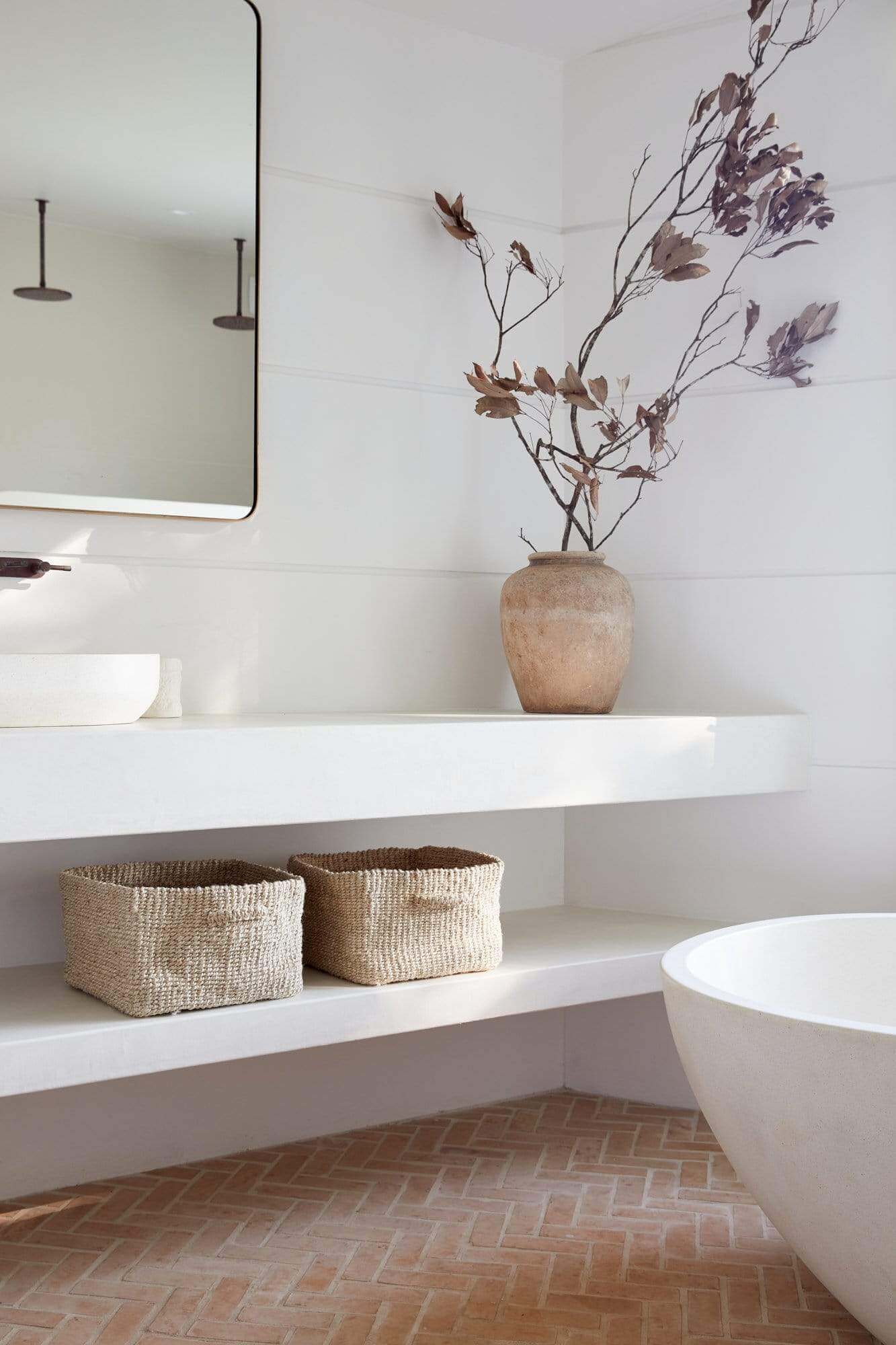 Sleek white floating shelves, a large mirror and an overall minimalistic look in this modern bathroom with terracotta tiles.
Now you see how you can style terracotta floor tiles and create a modern look for your home. Don't be afraid to use bright colors in combination with these earthy floor tiles. But of course, an all-natural look is timeless and beautiful.
Pin me for later!