A Light Pink and Gray Nordic Home
I adore many interior design styles, but I always come back to Scandinavian homes. And today I want to share this lovely Scandinavian apartment painted in gray and pink tones.
The apartment looks out over a green courtyard, so even though the home is located in a busy neighbourhood in Stockholm you are still connected to nature.
The light gray and pink tones work beautifully together with a light gray kitchen and pink walls. And if you scroll further you will also find a nice and relaxing surprise in the bathroom.
The house was renovated in 2019 when they changed the layout to make room for a larger living room with open kitchen.
The kitchen has classic style cabinets that are combined with brass fittings and sink. The worktop is made of Carrara marble.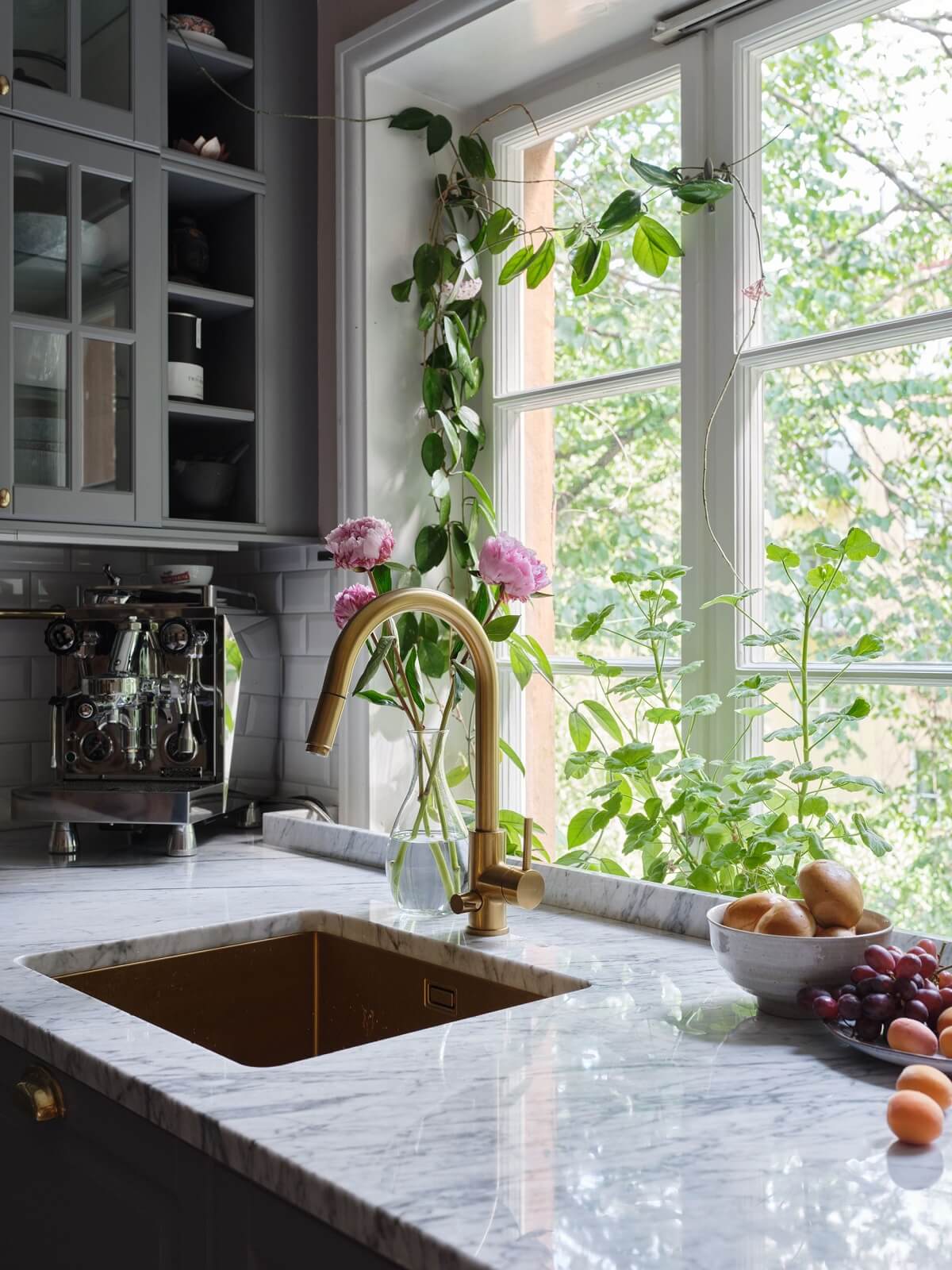 The kitchen has a combination of closed and glass cabinets that reach all the way to the ceiling to maximize storage space. A vintage dining space sits at the center of the kitchen.
The main sitting area has lovely pink walls and bookshelves that even continue above the doorframe. Connected to the living room is the balcony so you can extend your living space in the warmer months.
The pine bookshelves are from Elfa and they are painted in the same color as the walls for a calmer look.
Next to the living room and hallway is a smaller room that is now used as a tv room, but which could also be a great home office.
You can also enter the tv room from the hallway. It can be closed off with an ochre yellow curtain.
The master bedroom has been painted in gray limestone paints which adds a nice effect to the walls.
The dark pink curtain in the bedroom hide the wardrobes.
There is a smaller second bedroom behind the kitchen. This bedroom also overlooks the green courtyard and has been painted in a lovely gray/green shade.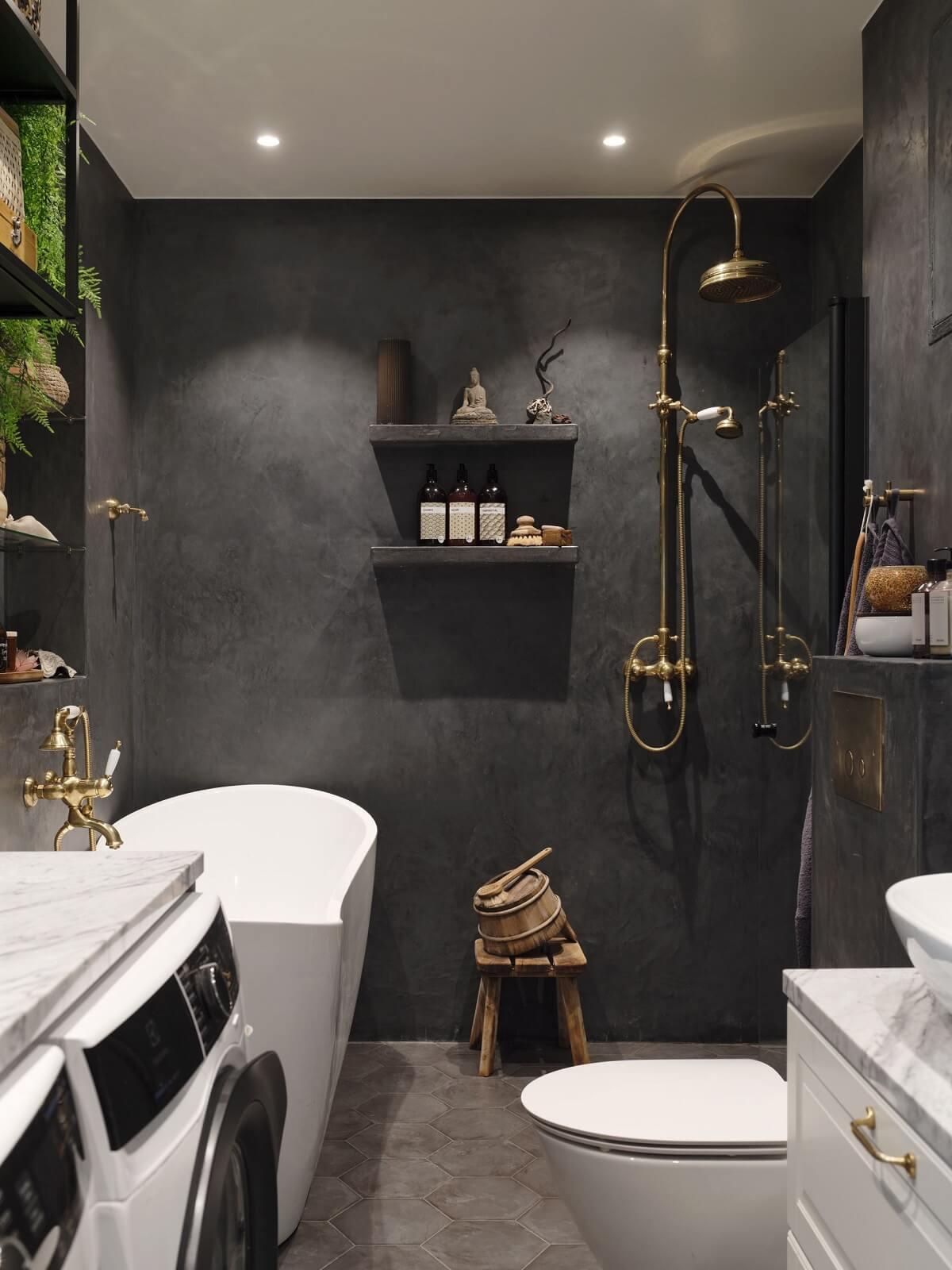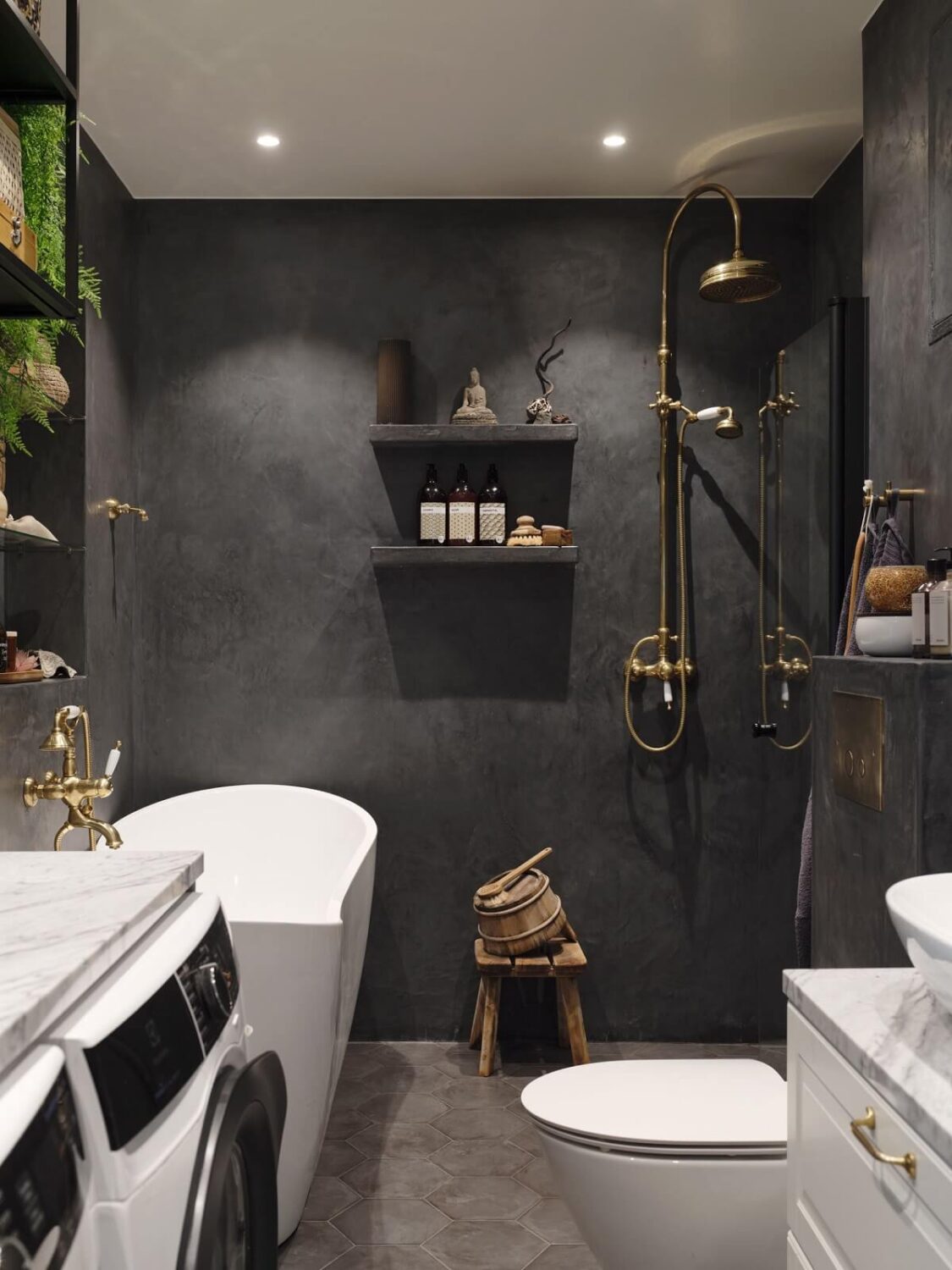 The dark gray bathroom may be small but it oozes luxury. The room has dark gray walls combined with brass fittings. The room isn't very big but it has plenty of storage with clever shelves and a bathroom vanity with two drawers.
And here is a surprise! The bathroom has been extended with a sauna that is specially ordered from Finland with lichens in heat-treated aspen and a unit from Bastuspecialisten that can be controlled via mobile. The walls and doors are made of smoked glass.
The balcony overlooks a green courtyard. Stockholm is known for its connection to nature and even when you live in an apartment complex there are often green courtyards.
styling by Staaf and photography by Sylwan for Historiska Hem