A Split-Level Attic Apartment with Blue Bedroom
In Gröndal, a southern suburban part of Stockholm, stands a former church building that has been converted into apartment. This one bedroom apartment is located on the top floor and has great wooden beams and gorgeous views.
The apartment on the top floor of the building is divided into three levels which gives the apartment a playful touch. The apartment has sloped ceilings in every room of the house but it doesn't feel cramped at all. Large windows are added to the slanted ceiling which not only makes the rooms very light but it also gives a wonderful view of the green surroundings.
The apartment is also decorated with color, from a subtle pink wall in the kitchen to a velvet green sofa in the living room, and a blue bedroom. Let's take a look at this creative penthouse apartment.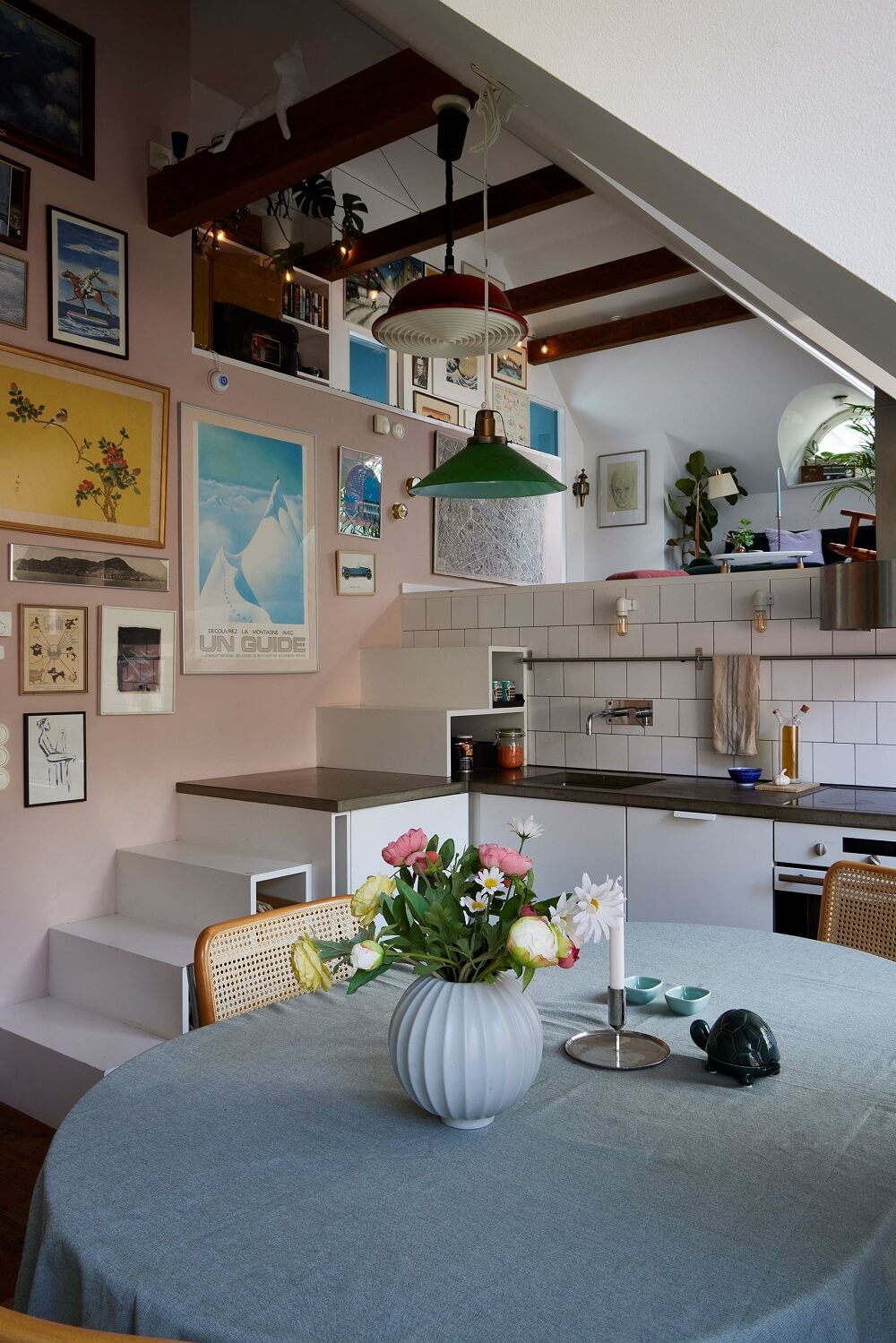 The kitchen is located at the lowest level of the apartment. The white cabinets are combined with a concrete worktop that extends to the left where it's integrated with the stairs to the living room.
The apartment has no hallway but instead, you enter into the kitchen space. They added small storage for keys and a large built-in cabinet for shoes.
A few steps up from the kitchen is a small but cozy sitting room. While the base is kept light and neutral with white walls and a large white rug. They did add some color accents in the deep green velvet sofa and red pouf.
Two big skylights add planty of natural light and you have a nice view of the surroundings.
A raised level is added to the living room which is now set up as a paint studio but which could easily be a home office or cozy reading nook. The bookcases are already there and I love that the walls are filled with a variation of artworks.
The apartment has a small bedroom which is completely painted blue. A large skylight with windowsill adds a gorgeous view from the bed and it makes for a great reading nook.
Attached to the bedroom is a walk in closet that also houses the washer/dryer.
The room is small so instead of nightstands did they add a headboard with storage and a ledge.
A desk is built into the bedroom. By painting the desk and drawers the same color as the walls it blends in nicely.
The apartment has a tiny bathroom with a handmade Decorech sink that sits atop a concrete worktop (same as the kitchen).
photography via Historiska Hem