A Small Nordic Home Decorated in Warm Light Colors
Located in Stockholm's hippest area Södermalm stands this lovely 1920s apartment. You can see that the home has been lovingly looked after with small but cozy rooms, decorated in light color tones.
The small home has been renovated at the end of 2020 with all the walls getting a new lick of paint, new wallpapers were added, and all the wooden floors were sanded and varnished.
The result is a charming small home with comfortable rooms that you will instantly feel at home in.
During the renovation, the wall between the living room and kitchen was removed. So instead of two small rooms, you now have a more spacious and social floor plan.
The sitting room is small but big enough for a generous sofa and a dining area. The walls are painted in a warm beige shade and the herringbone wooden floor also adds warmth.
Another benefit of removing the wall between the kitchen and living room is that the room now gets more natural light. Originally the sitting room only had a small window but now it is so much brighter thanks to the kitchen window also brining natural light to the room.
The dining area in the living room with round dining table and pink &tradition flowerpot pendant.
The kitchen has green wood cladded walls, wooden floors and built-in cupboards.
Entry to the kitchen is through the original slatted door.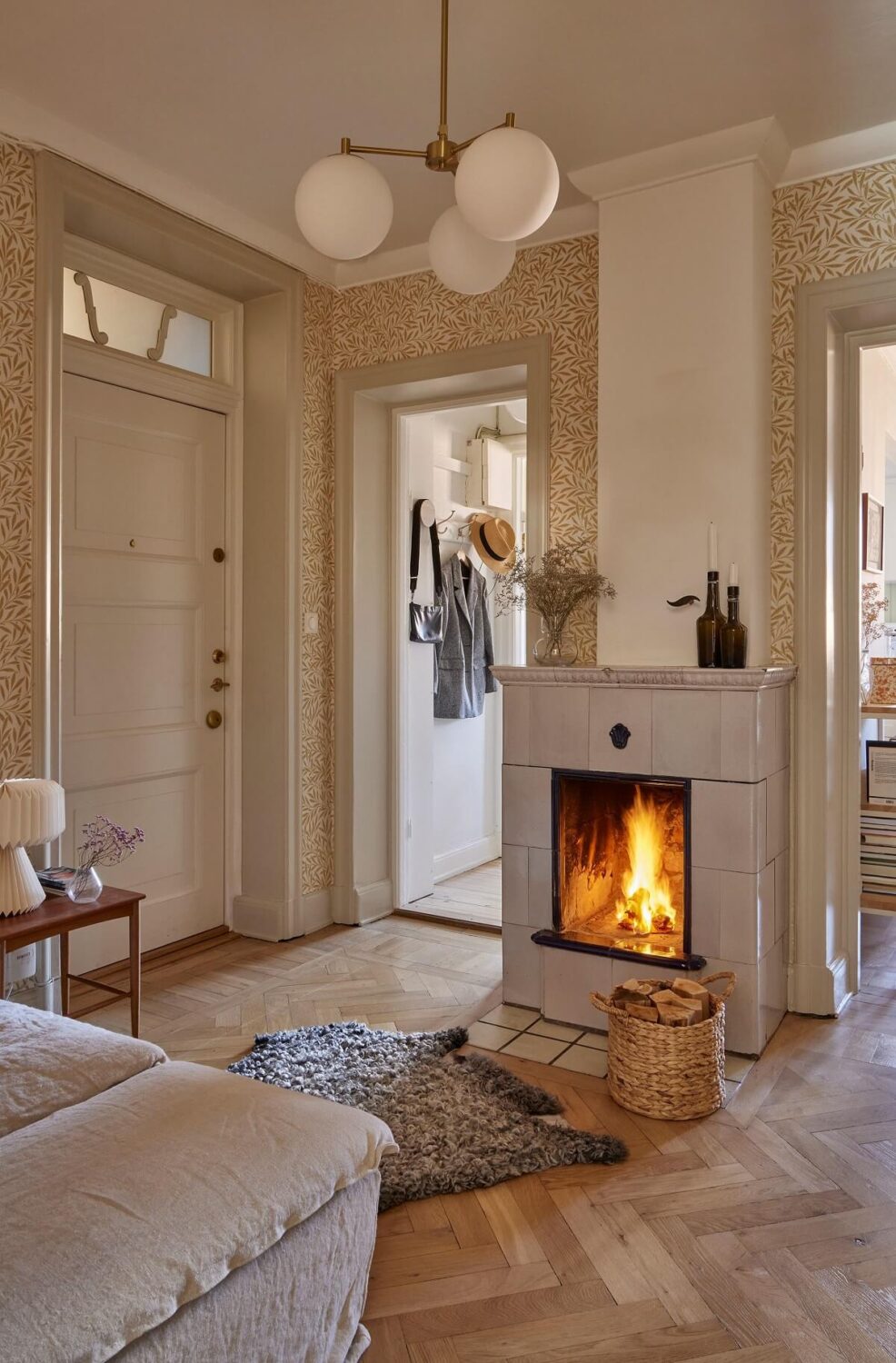 The hallway is more than just a hallway. With the tiled fireplace and a chaise longue did the current owners created a cozy reading.
The walls in the hallway are cladded with beige William Morris Willow wallpaper.
The only bedroom of the house faces the courtyard and inlcudes a sunny balcony.
In the corner they created a small bedroom home office.
The walls in the bedroom are painted in a warm beige shade with a green undertone.
The wardrobe is hidden behind the curtains, that are in the same color as the bedspread for a harmonious look.
styling by Lingsell & photography by Emilsson for Historiska Hem