The Kitchy Cabin: A Lovely Airbnb Home in California
Close to the Snow Summit Ski Resort in Big Bear, California stands this wonderful midcentury Airbnb cabin. The Kitchy Cabin – as the home is called – is designed by Claire Thomas and it's a perfect holiday stay in Southern California.
The Kitchy Cabin has high wooden a-frame ceilings for a true cabin vibe. And the decor is midcentury with wonderful color accents in most rooms.
The midcentury chalet is filled with personal touches, amenities by True Botanicals, bedding by Parachute, luxury beds by Saatva, and designer furniture. So if you're looking for a holiday stay in California that's not only cozy but also satisfies your design-loving mind then this is the place for you.
The living space has beautiful high wooden ceilings. The rustic touches truly create that cabin vibe that you're looking for in such a holiday rental. And the colorful furnishings are a bright note to the room.
No cabin is complete without a fireplace. I am loving the colorful tiles that you see in this living room. These are the colors you will see throughout the house.
The cabin includes a spacious kitchen with the same color tiles as we saw in the living room. The open-plan living room and kitchen include a breakfast bar and dining table for more formal dinners.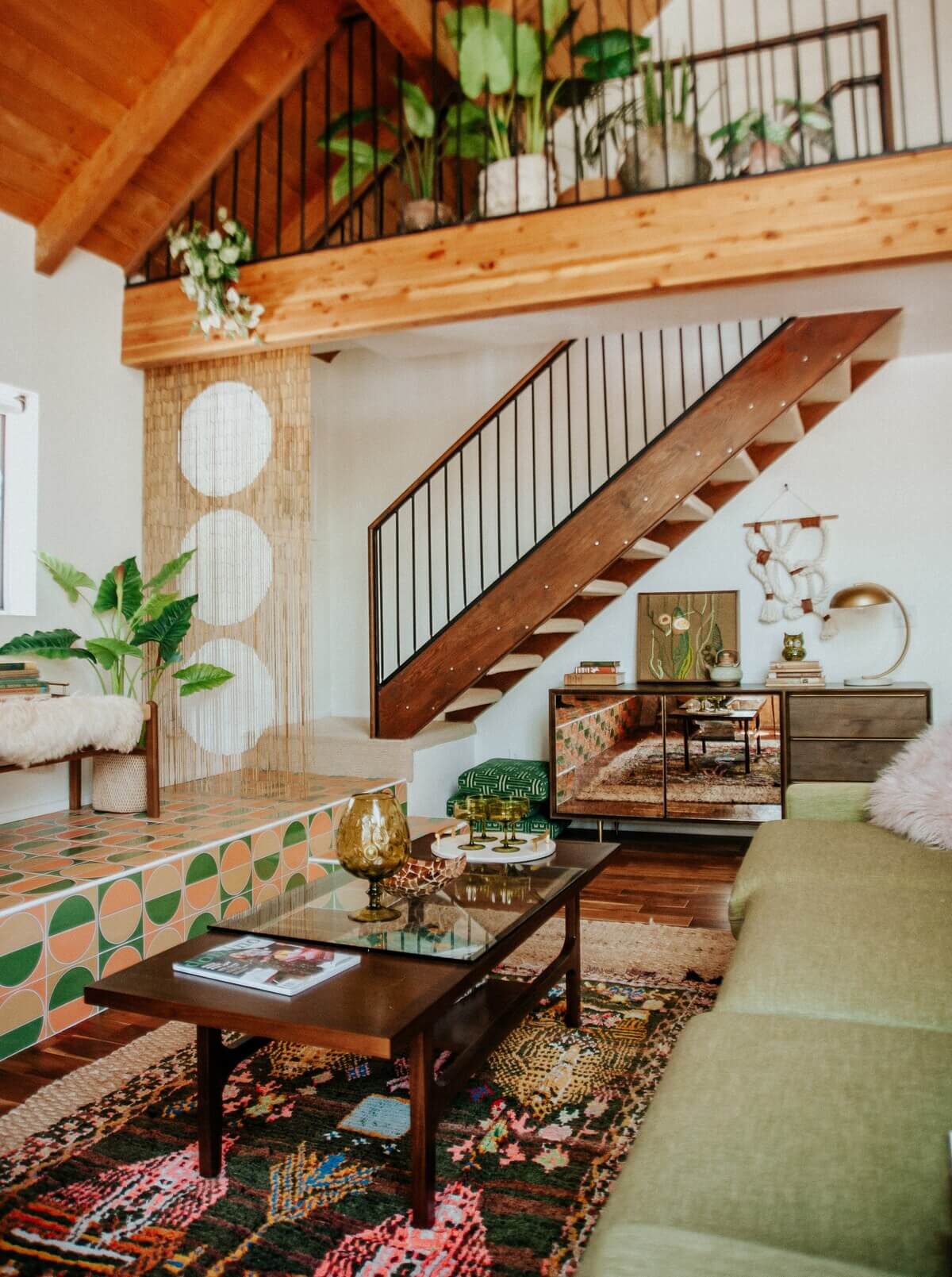 The cabin has three bedrooms. The master bedroom that we see here has high sloped ceilings and a balcony attached.
The master bedroom even includes a seating area with pink armchairs and a fireplace. So cozy!
The bathroom only has small windows but the light blue and white tiles turn this small room into a bright and lovely space.
The cabin includes a large outdoor space with a dining and seating area. Perfect for cozy dinner parties.
Take a look at these homes designed by Claire Thomas:
You can book The Kitchy Cabin on Airbnb