A Charming Colorful House in The Netherlands
Located in a rural setting just under the city of Amsterdam stands this beautifully renovated house filled with color and raw materials. This building wasn't always a family home. For years, it was used as a bakery, and later the house was divided and rented out.
When the current owners bought the property, it was in a very bad state. For three years, the new owners renovated the historic house while also trying to honor the original features. They used authentic materials and a consistent color palette to tie the rooms together.
The house is a beautiful blend of industrial and rustic materials in combination with a blue, pink, and yellow color scheme. It's a wonderfully unique home that you simply want to see.
The front door opens into an open-plan kitchen and living room with on one side the black kitchen and a comfortable seating space on the other side.
The kitchen is situated under the stairs. The modern black cabinets and open shelves give it an industrial look. To contrast the black look of the kitchen, the owners painted the kitchen wall a warm mustard yellow.
The other side of the room is decorated in a pink and blue color scheme. The blue painted double doors lead to the private garden.
The space has a comfortable seating area with a pink couch and a woodburning stove. The double doors lead to a second living room.
The second sitting room is a more private space that also has double doors leading to the garden.
The bathroom has a double walk-in shower and an antique cabinet that now serves as the bathroom vanity.
On the top floor lies the master bedroom with a black wooden floor and exposed wooden beams on the ceiling that add a lot of charm to the space.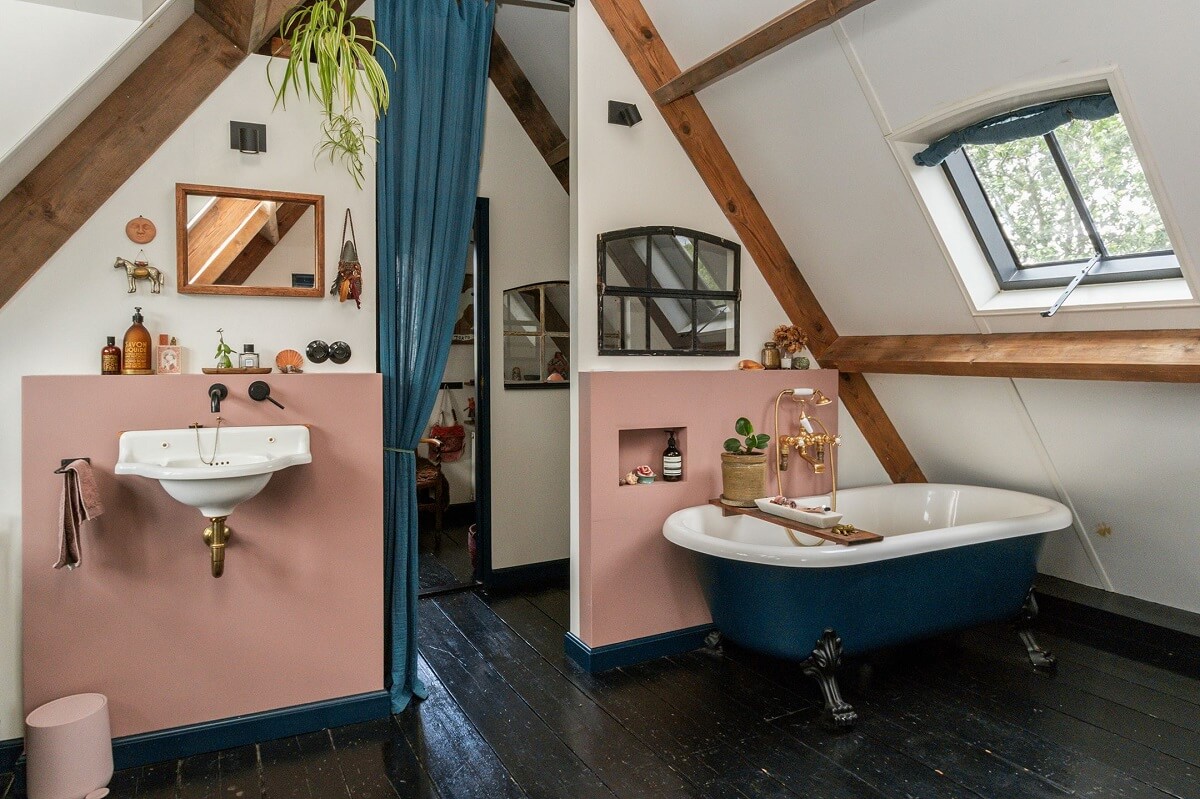 The master bedroom also has an open bathroom with a blue freestanding bath and a half-painted pink wall.
Behind the master bathroom is another small room which is now used as nursery.
photography by Westeneng Verbeek Makelaardij