A Warm Neutral Colored Nordic Home
A comment I often hear about Scandinavian homes, is that people find them calm and relaxing. And I think that's certainly the case with this Scandinavian home.
The house is located in Sweden's second city Gothenburg and has beautiful relaxing rooms. The main living space in acutally one big open space with flows together really well. But on the other hand you still see very clear separate areas. This makes the house feel bigger but still cozy.
Throughout this Nordic home they chose a neutral color scheme, with beige, gray, and green hues for a calm natural look.
The sitting room is calm and cozy, with a gray/beige color on the walls and decorated with plenty of textiles.
The IKEA IVAR cabinets are painted in a light gray hue to blend in perfectly with the walls.
From the living room you enter the dining area. On the walls is a William Morris wallpaper (Chrysanthemum Toile). The round jute rug adds a natural touch to this room.
Behind the curtains are built-in cabinets. I like that they added a curtain instead of normal doors. Curtains (especially in this color tone) add more warmth to a room.
The apartment isn't big (57 square meter), but by removing all the indoor doors and making it open-plan it actually feels bigger. It also has a rather spacious kitchen as you can see here.
The color combination in the kitchen is a bit harder than in the rest of the house with gray/green walls and black kitchen cabinets.
The same gray/green hue you see in the kitchen is also on the bedroom walls. The bedroom isn't big, but big enough for a double bed. The bedroom is divided into two parts which would also make it easy to add a home office to the bedroom.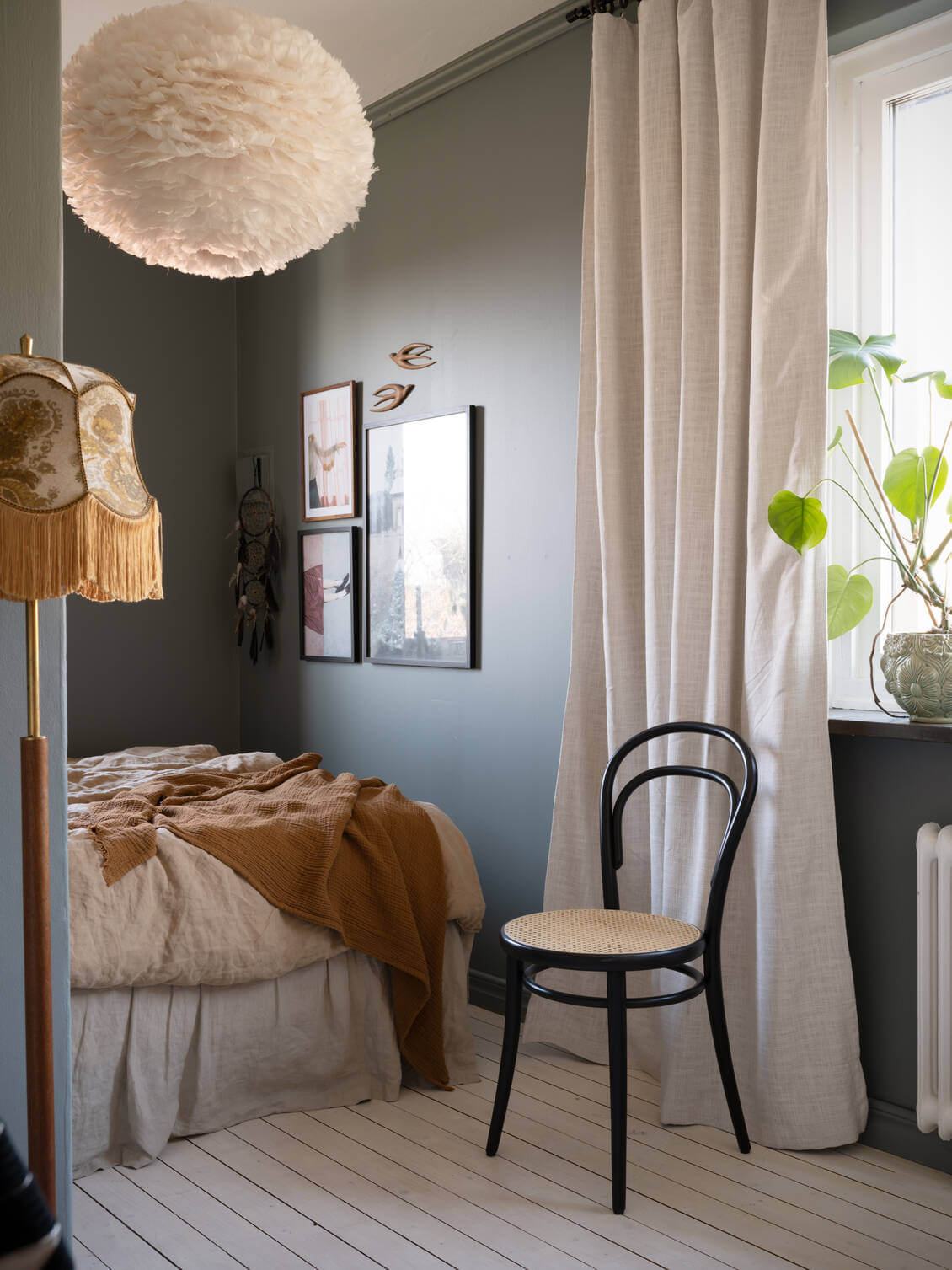 Take a look at these Scandi homes in natural colors:
photography by Mariette Svensson for Stadshem