Dunlap Hollow A-Frame Cabin in Ohio
What's not to love about a cabin in the woods? Dunlap Hollow is an a-frame cabin in Rockbridge, Ohio. And the cabin is as beautiful inside as the nature is outside.
An hour from Columbus, Ohio you will find this a-frame cabin. The cabin is surrounded by sandstone cliffs, a lush green forest, and a trickling stream flowing through the ravine. So it's perfect for a hiking trip.
But even if you like to stay indoors this a-frame cabin is absolutely perfect. The cabin has plenty of space for a group. With 3 bedrooms, a spectacular glass loft area (sleeping 4), and 2 bathrooms.
And what's even better is that you can rent this a-frame cabin on Airbnb. So if you ever want to stay is a stylish cabin in the woods, then this might be for you!
If this doesn't draw you in then I don't know what will. I immediately fell in love with the glass facade.
The open plan living room and kitchen is light (no wonder with all that glass) and modern. The wooden details and tan leather sofa add warmth to the room.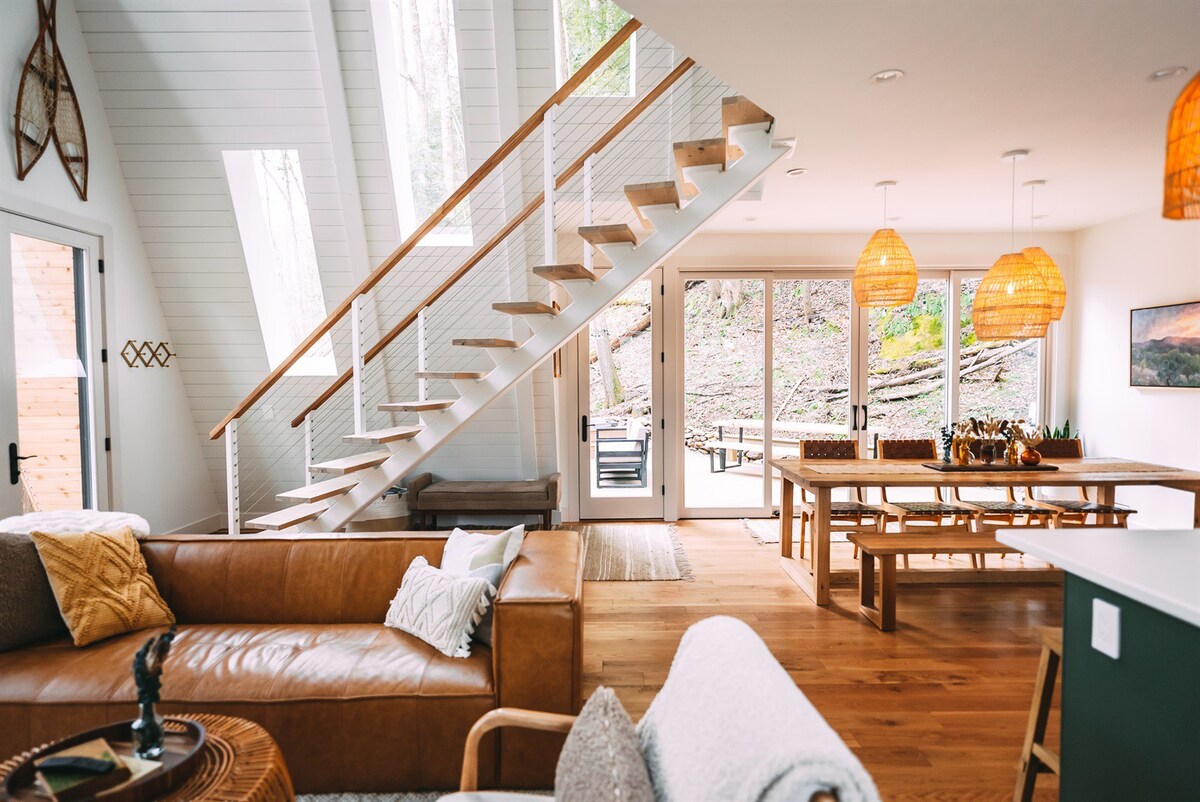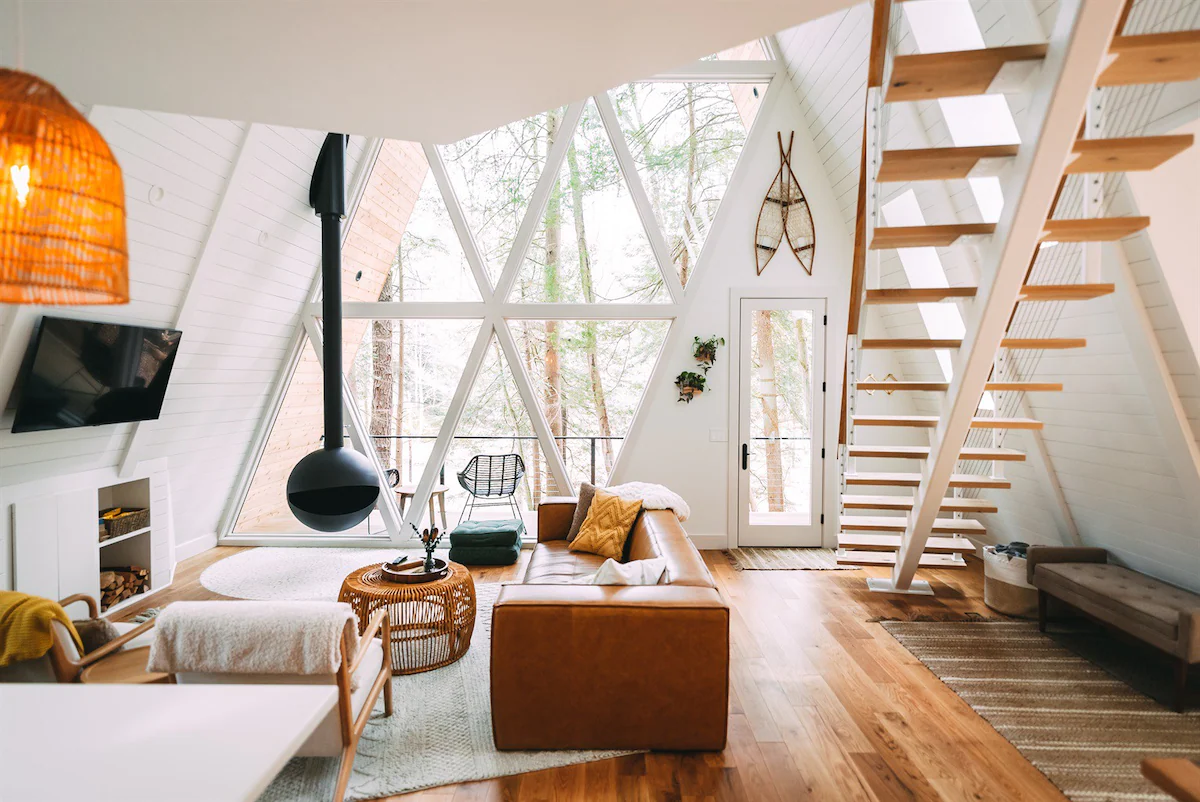 From the sitting area (of course wíth fireplace) you have a lovely view of the greenery outside. There is also a deck if you prefer to be outdoors.
I'm sure you know by now, but green kitchens are trending! I absolutely love the windows above the sink area.
Take a look at this blog post for more green kitchen inspiration.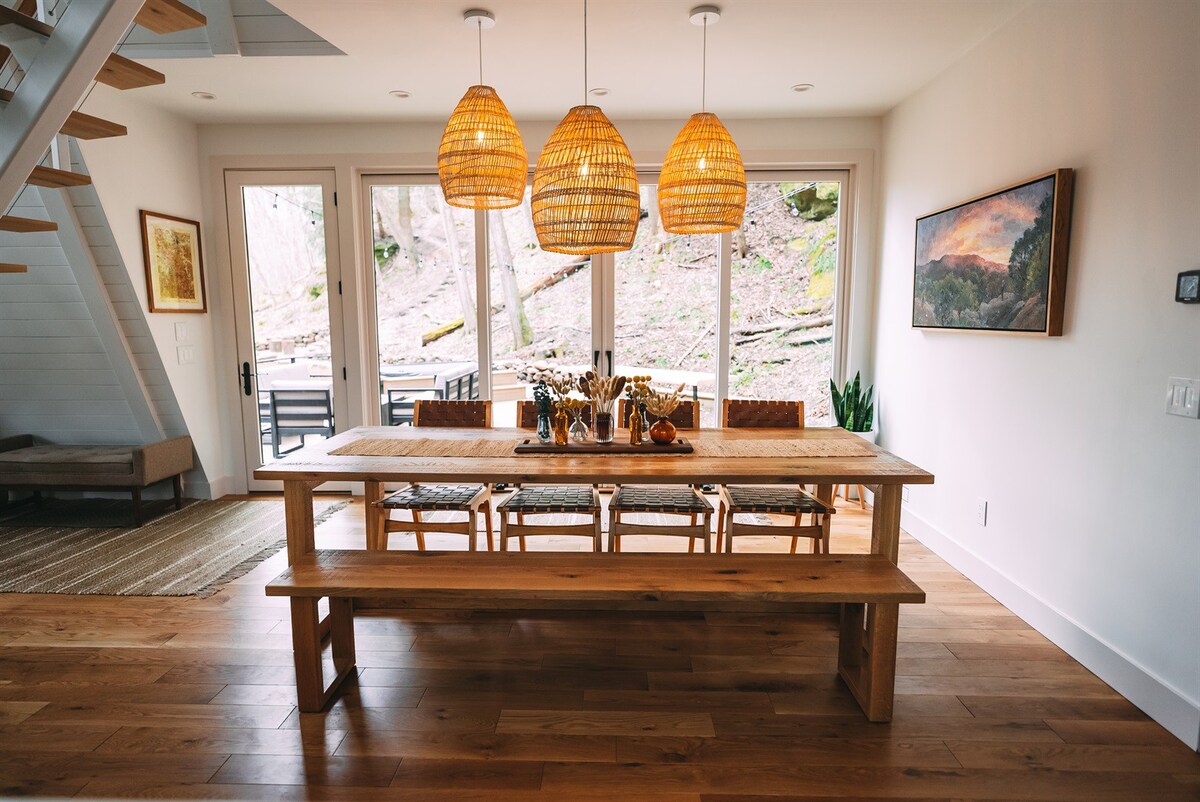 The view from above. The wonderful high ceilings give the cabin such a spacious feeling.
One of the three "normal" bedrooms, decorated with earthy color details.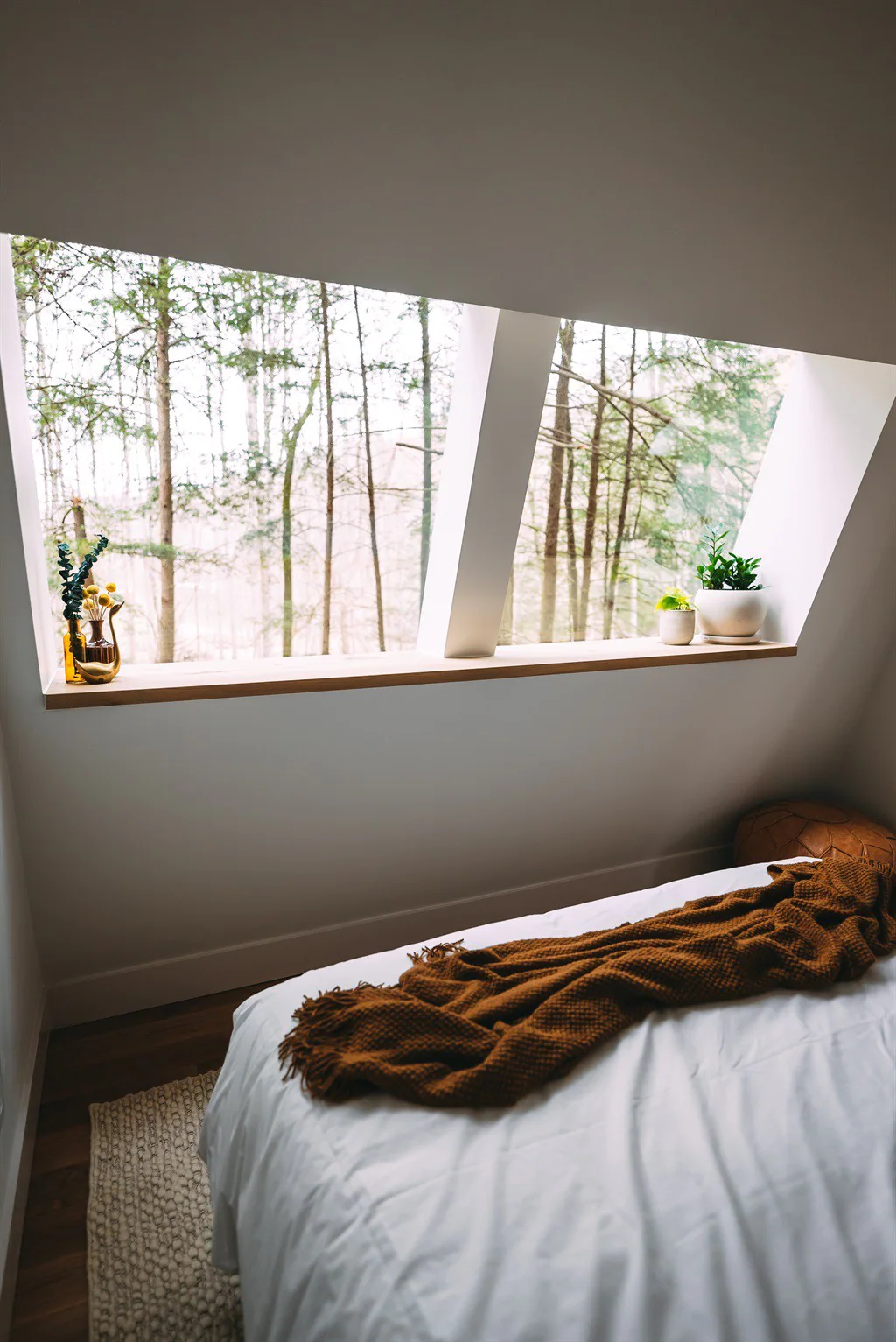 The first of two bathrooms has green tiles and a walk in shower.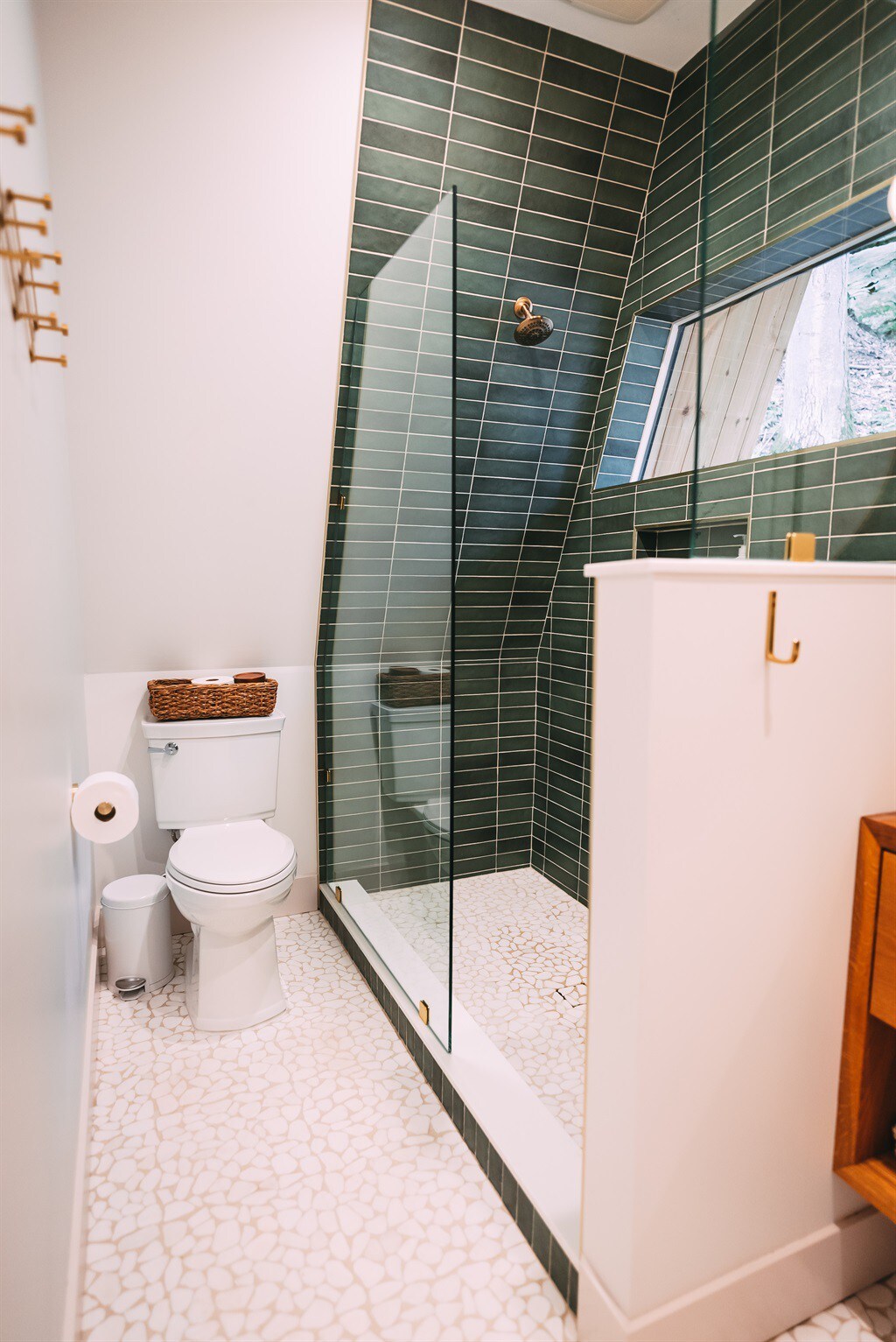 This is it! The best bedroom of the house. Tucked up under the eaves you'll find this light loft bedroom with a built-in bed. And with all the windows surrounding the bed I'm not sure why you would ever leave this room.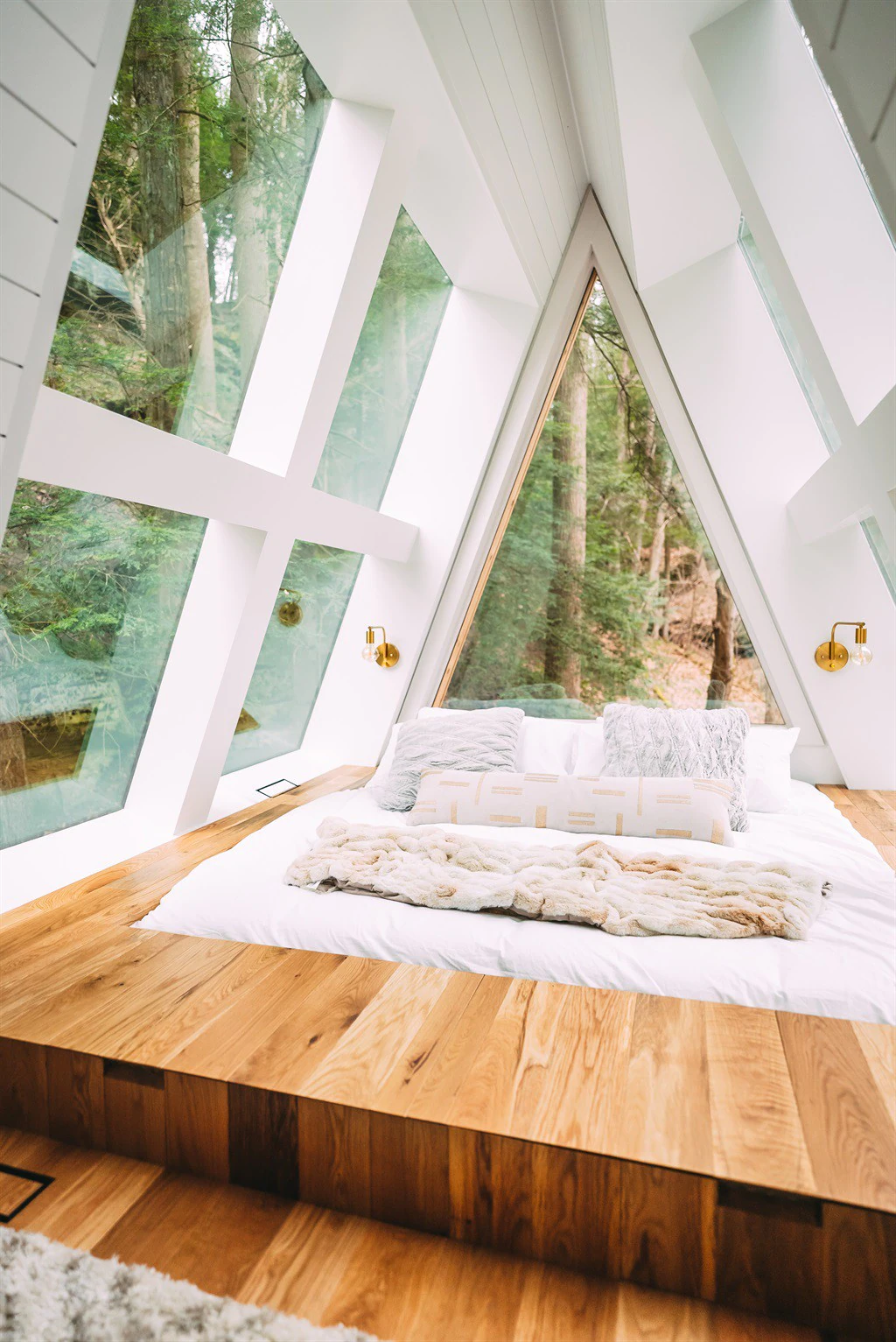 The loft area also has these two fold-out beds. Because the space is so narrow here, this bed solution is extremely clever. Just fold them back in when you don't need them.
The second bathroom with earthy colored tiles. They used mainly earthy and green tones in this home. Which fits the surrounding so perfectly.
There are several outdoor seating areas. This one is connected to one of the bedrooms.
Hiking trails and stunning nature surround the cabin. Whether you want to have a active stay or you want to relax and stay indoors. This cabin is the perfect accomondation.
You can rent this a-frame cabin in Ohio on Airbnb