A Modern Family Loft in a Former School Building
A 19th-century former school building in Amsterdam has been transformed into bright loft apartments with high ceilings and exposed wooden beams. In 2020, the current owners hired interior architecture and design studio Framework to transform this space into a perfect family loft.
The 170m² (1829 square foot) home has a large open-plan living space with a modern kitchen. The space is flooded with natural light thanks to the high ceilings and large windows.
Three of the four bedrooms are located on the first floor, with internal windows overlooking the living space. The concrete floor and white walls add to the modern look of this Amsterdam family home.
The high ceilings are definitely the star of this modern loft apartment. The open plan living and kitchen are located in a former classroom of the historic school building.
The modern kitchen has plenty of storage on either side of the sink. I like that in the center they didn't opt for closed cabinets. Instead, they added open shelves made of the same marble they used for the worktops.
The concrete floor and dining table add an industrial touch to the space.
On the other side of the living space (which spans 75m²) is the sitting area with fireplace and a home office. A large jute rug adds a natural warm tone to the area.
The architecture of this loft is amazing, the 5 meter high ceilings have exposed wooden beams and the large windows bring so much light to the home.
The master ensuite has a large closet area that overlooks the living space.
The bedroom is not big, but with the internal windows you not only have a view of the living space but you can also look outside through the exterior windows. This makes the room feel bigger.
The master bedroom has its own bathroom with a bath and shower. From the bathroom you can reach the large wardrobe area.
Contrary to the living spaces, in the loft area which houses the bedrooms they installed a warm wooden floor.
The nursery with exposed wooden beams and earthy color accents create a gender neutral baby room.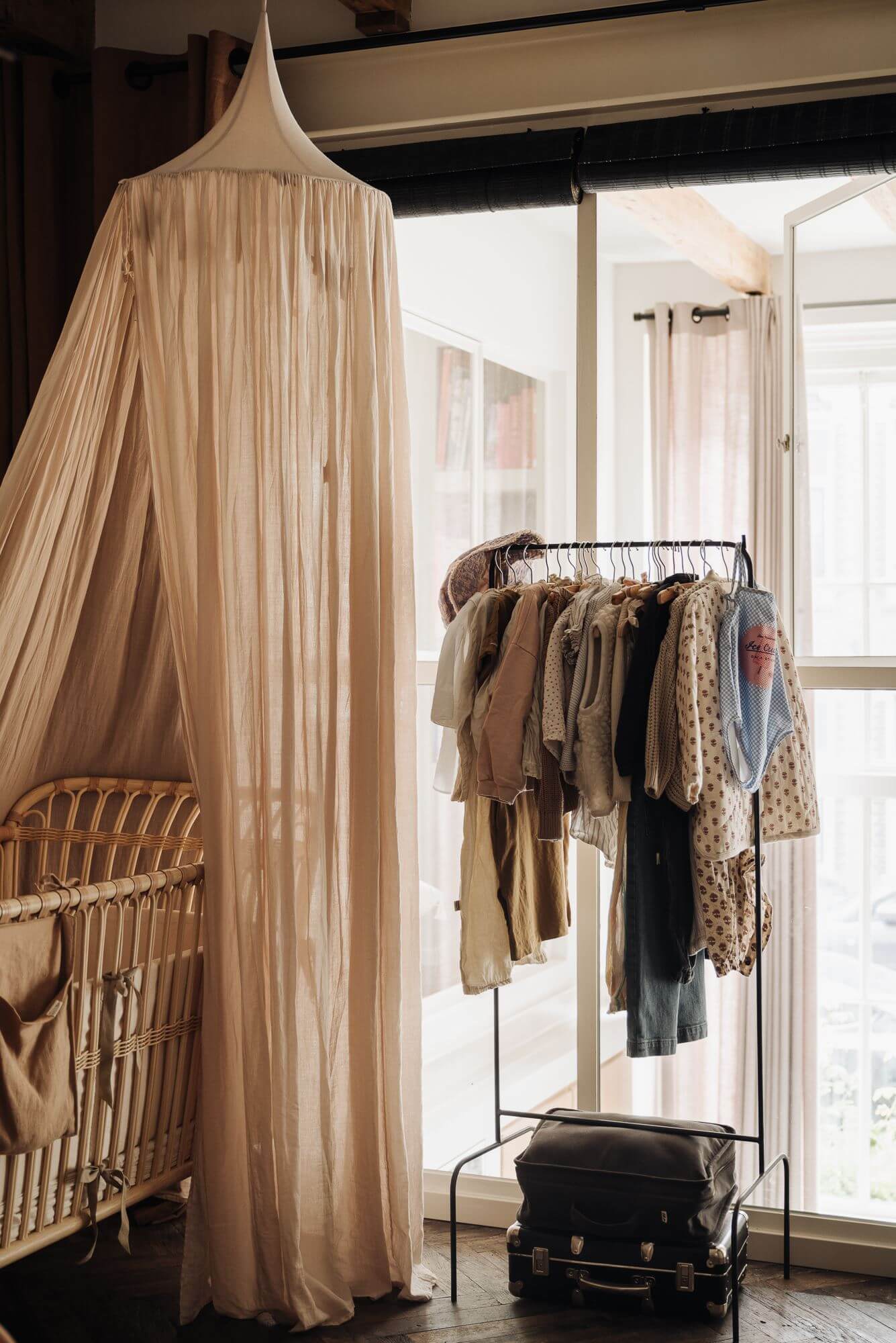 A double kids bedroom where each kid has their own space spans the width of the home. Built-in wardrobes provide plenty of storage space.
See also: a modern loft in a converted school building
This family loft in Amsterdam is currently for sale at Ankersmit Makelaars found on Funda