Warm Neutrals in a Lovely Home in Silver Lake, Los Angeles
In Silver Lake, Los Angeles stands a beautiful romantic traditional home that has been renovated and it's now a stylish and warm design home.
The home sits at the base of the hills surrounding the Silver Lake reservoir. From the house you also have a lovely view over this sparkling pool of water.
The home is decorated in a typical laid back Los Angeles style with white walls, stylish furnishings and warm color accents. This home feels fresh and inviting with beautifully styled rooms and a lovely garden.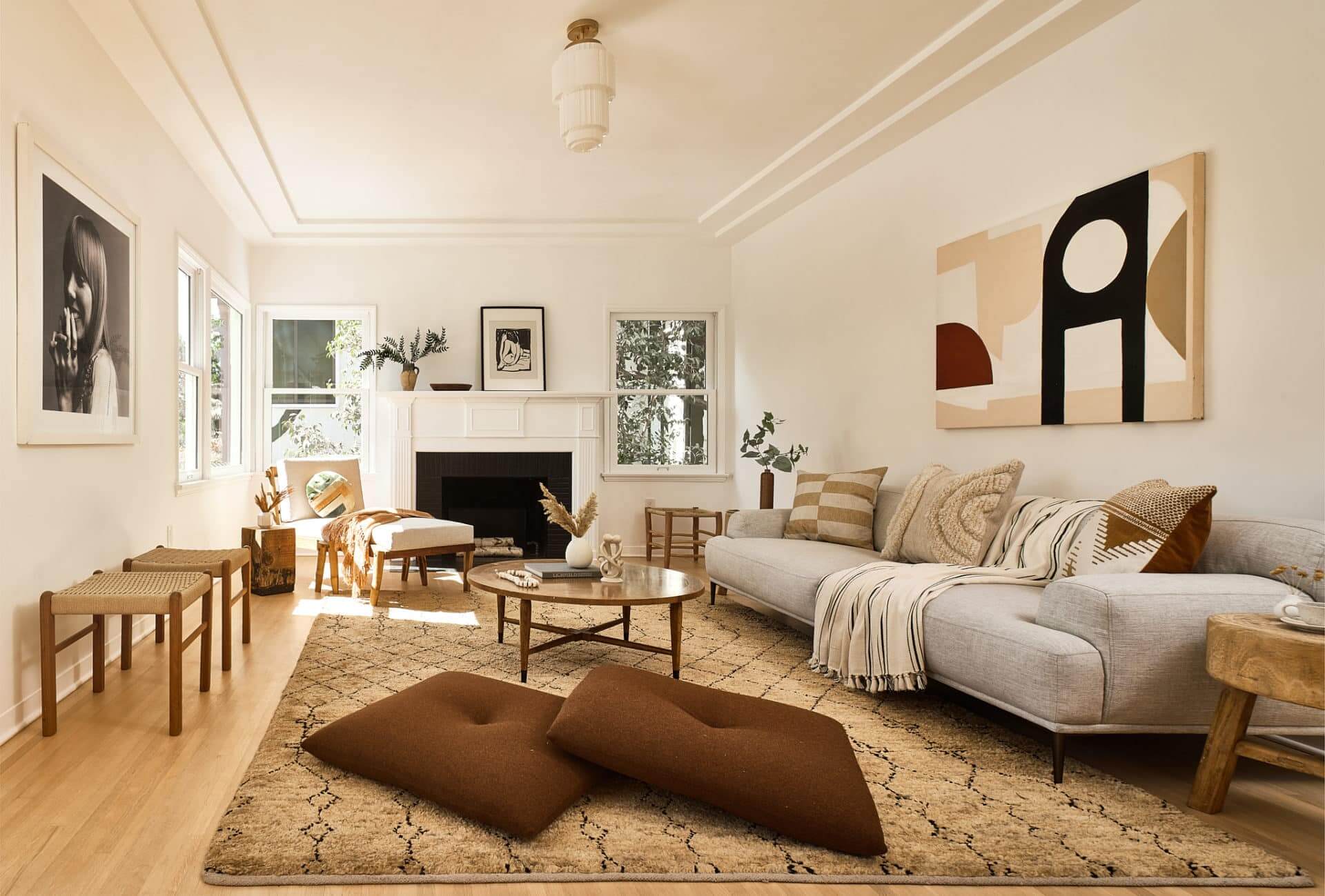 The light flooding into the living room is absolutely beautiful. On the floor lies an original oak wooden floor. The room has in-set tray ceilings decorated with an art deco pendant light.
From the chaise longue in the corned of the room you have a lovely view of the water reservoir opposite the house.
Despite the white walls the rooms feels warm thank to the earty colored textiles and wooden furniture.
Opposite the living room is a light and new kitchen dining room.
The kitchen island/breakfast bar has a marble worktop.
Behind the stove they placed a 120-year-old Belgian transferware tile backsplash. The counters are made of soapstone.
The house has three bedrooms, the master bedroom has built-in wardrobes with a window seat in between. The room is just like the rest of the house decorated with earthy color accents for a warm look.
The first of two bathrooms is clad in a delectable green Bedrosian tile with detailed marble floor tiles in a basketweave pattern. The wooden vanity with brass fittings add warmth to the room.
The second bathroom has handmade black Clé tile, soapstone double vanity, brass fixtures and separate soaking tub + shower.
In the basement is a utility room with built in cabinets and a niche for the washer/dryer.
The stone patio with outdoor wood-burning grill, babbling water feature, a green lawn accented with colorful blooms, herb garden, olive tree and a loquat tree stands tall at the center.
At the front of the house is another terrace with views over the reservoir.
The home is listed by Andrew Sanchez and Courtney Poulos for ACME Real Estate.