A Playful Maximalist Home in London
I am calling out to every maximalist decor lover to take a look at this house, I promise you will love it. This one-bedroom apartment in London is packed with cheerful colors, patterns, and art (and it all works together).
Our maximalist home is located in a Victorian terrace house in East London called "De Beauvoir Terrace". The Victorian townhouse is now divided into flats and this one-bedroom apartment is 55sq meter / 595 sq ft big.
The charming apartment has original pitch pine floorboards and a new kitchen and bathroom, which have been painted in vibrant colors. Let's take a look!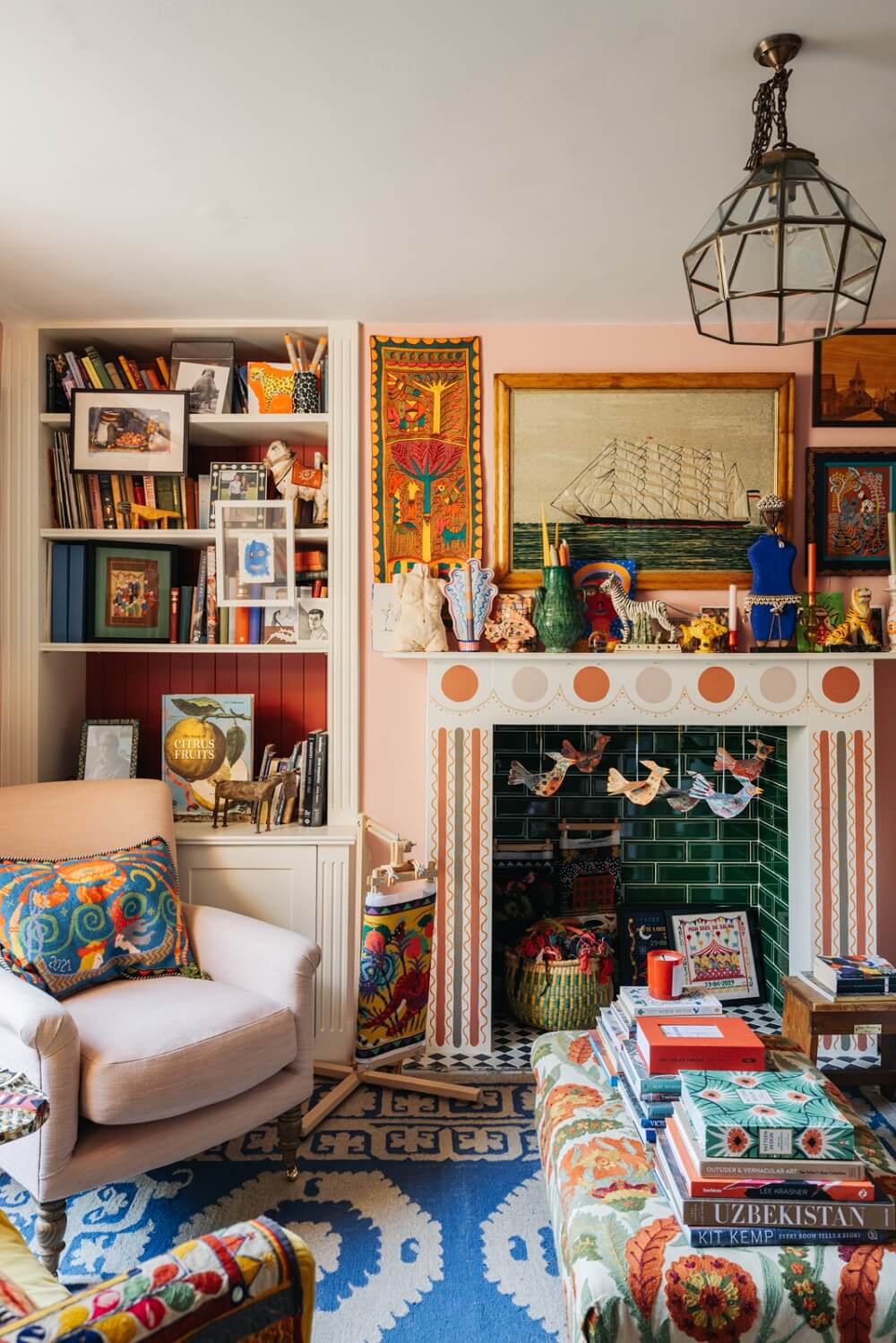 The charming and colorful sitting room is painted in a lovely salmon pink shade. The (working) fireplace has emerald green tiles and the bookshelves on either side have a red backdrop.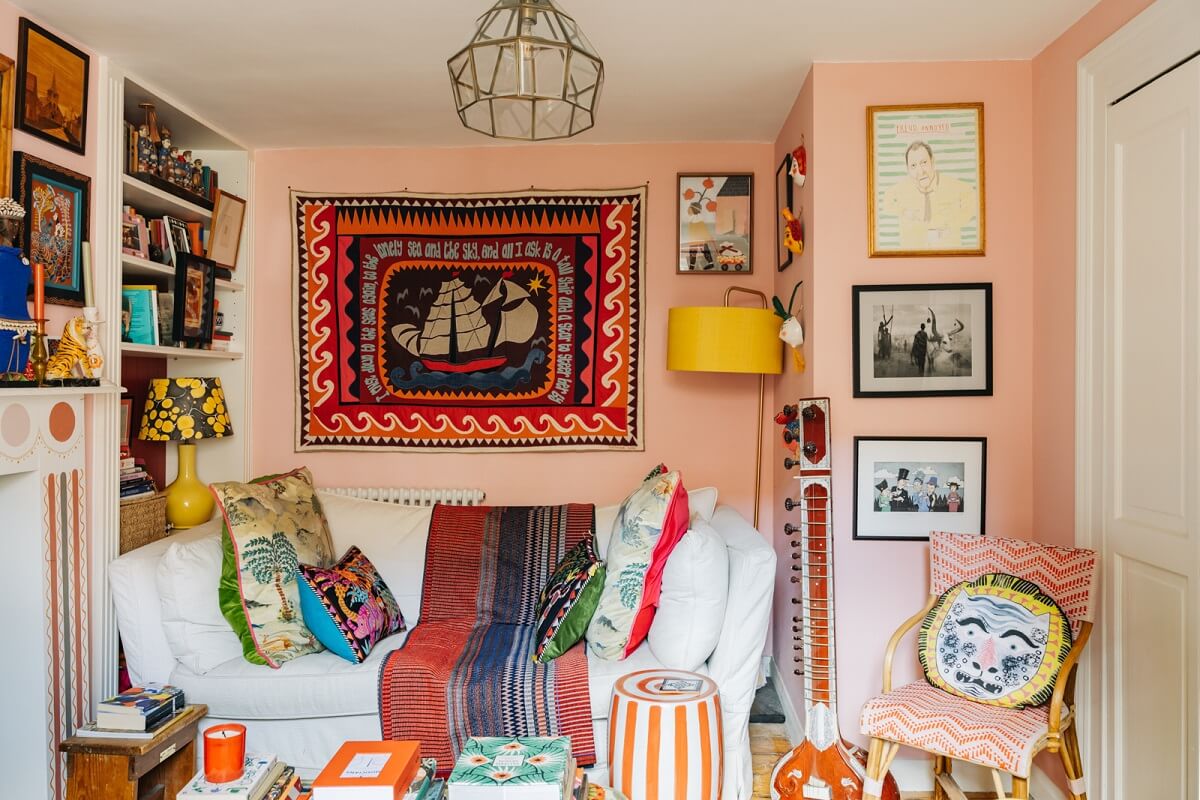 More color is added in the textiles, with a blue rug on the floor and red tones in the curtains and wall hanging. Despite the small size and the maximalist decor style, the room actually feels light and very charming.
The sitting room is small, but by opening the harmonica doors to the hallway you create the feeling of more space. The hallway has "Willow Boughs" by William Morris wallpaper.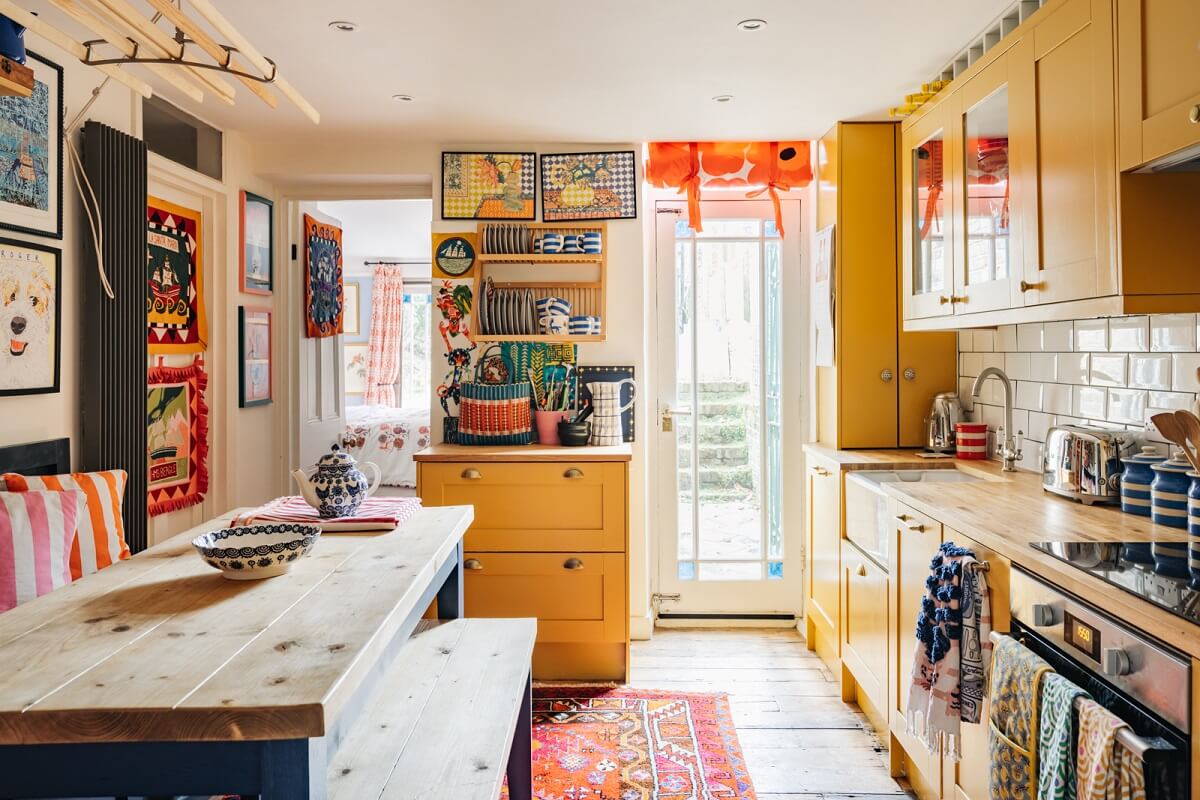 From the hallway you reach the kitchen with kitchen cabinets painted in 'India Yellow' by Farrow & Ball, that are combined with oak worktops. From the kitchen you can also enter a private outdoor terrace.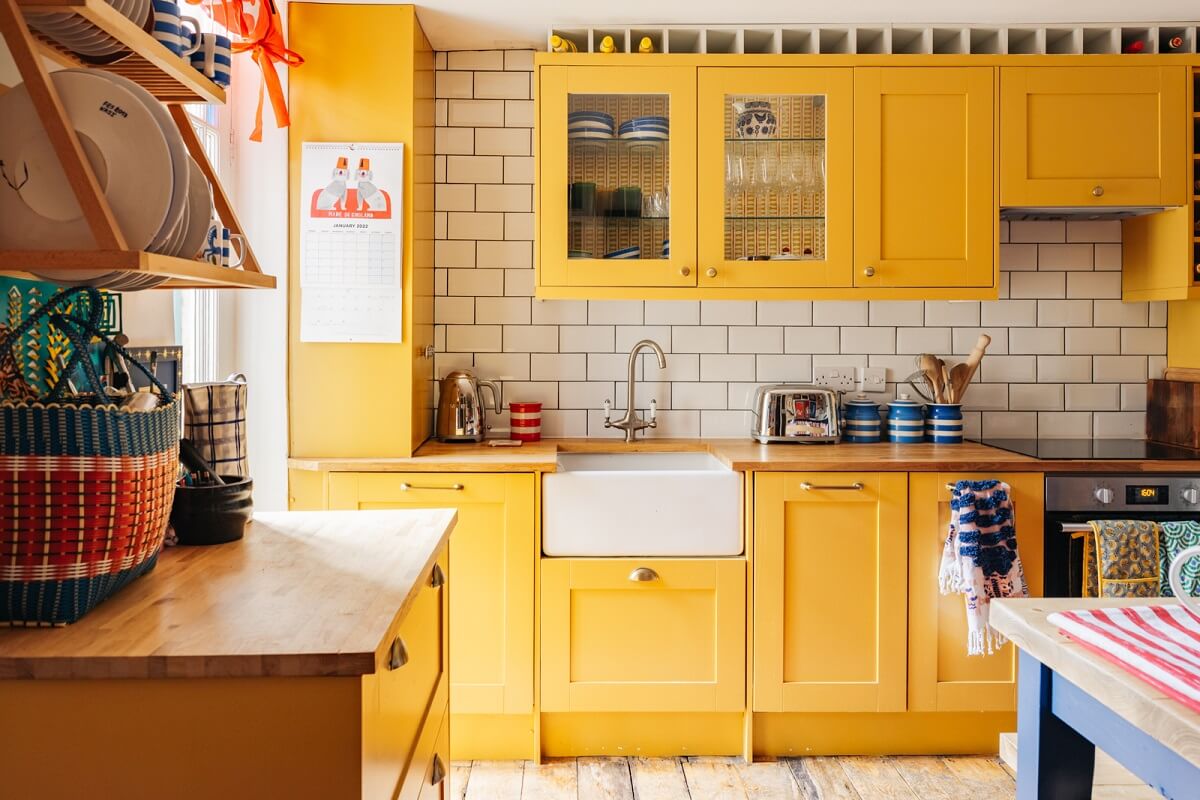 The kitchen is only 11 square meter, but a dining nook has been added which can seat at least 6 people. By using benches instead of chairs you save a lot of space, and it also makes it look more spacious.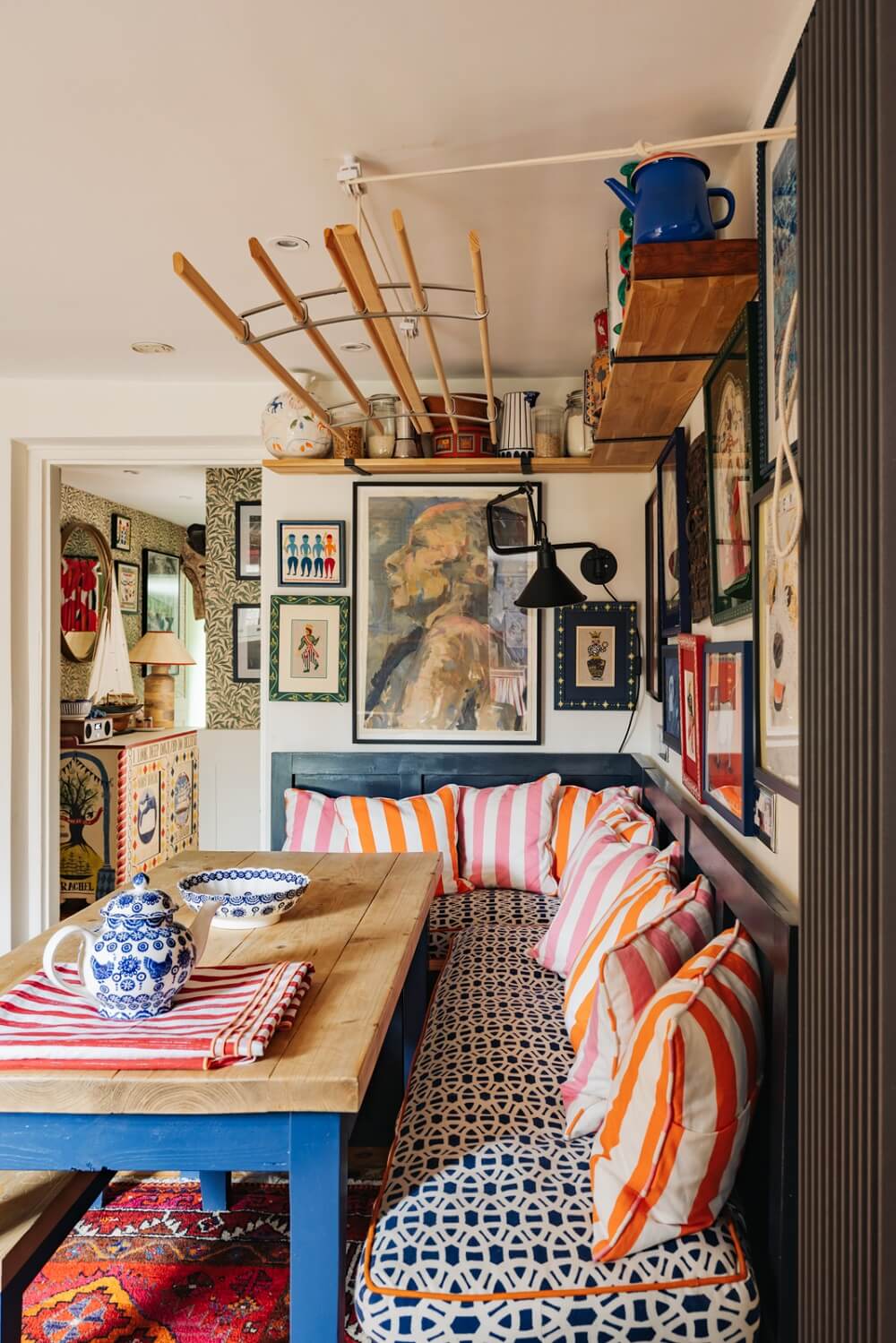 The kitchen dining nook is decorated in a wonderul mixture of textiles. Stripes and geometeric designs go hand in hand.
If you're low on space you have to be creative. Above the dining table, the owners added a drying rack which can be pulled down/up however it is used at the time. And all the way up to the ceiling a shelf has been installed for more storage room.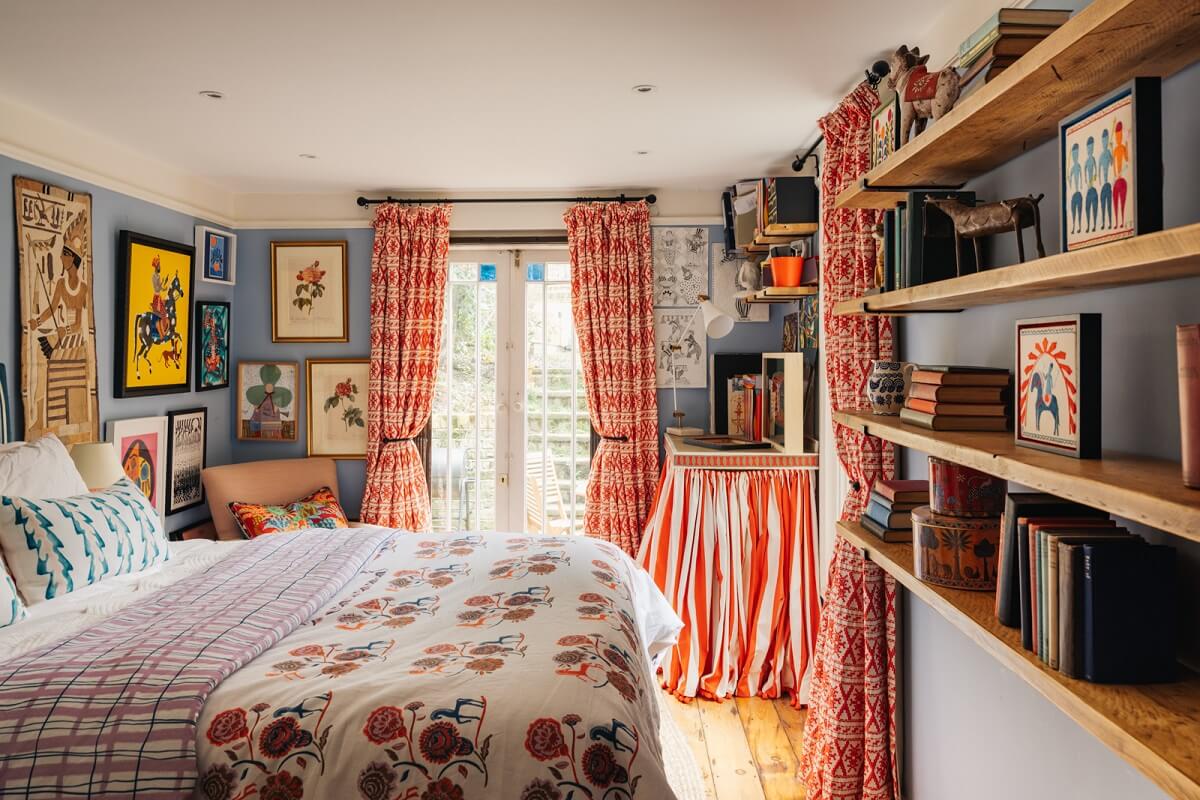 The master bedroom can be reached though the kitchen. The walls are painted in "Lulworth Blue" by Farrow & Ball. Same as in the sitting room they added red & white curtains to the bedroom.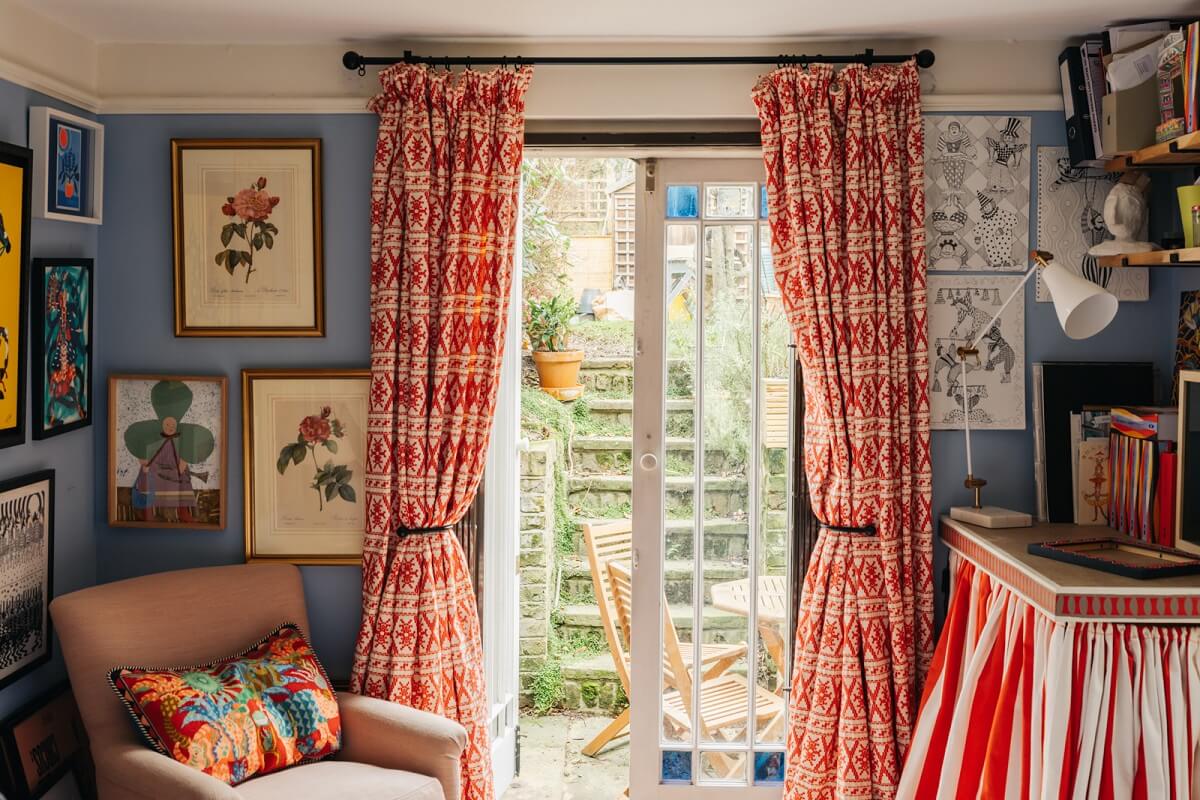 Attached to the bedroom is a private outdoor terrace.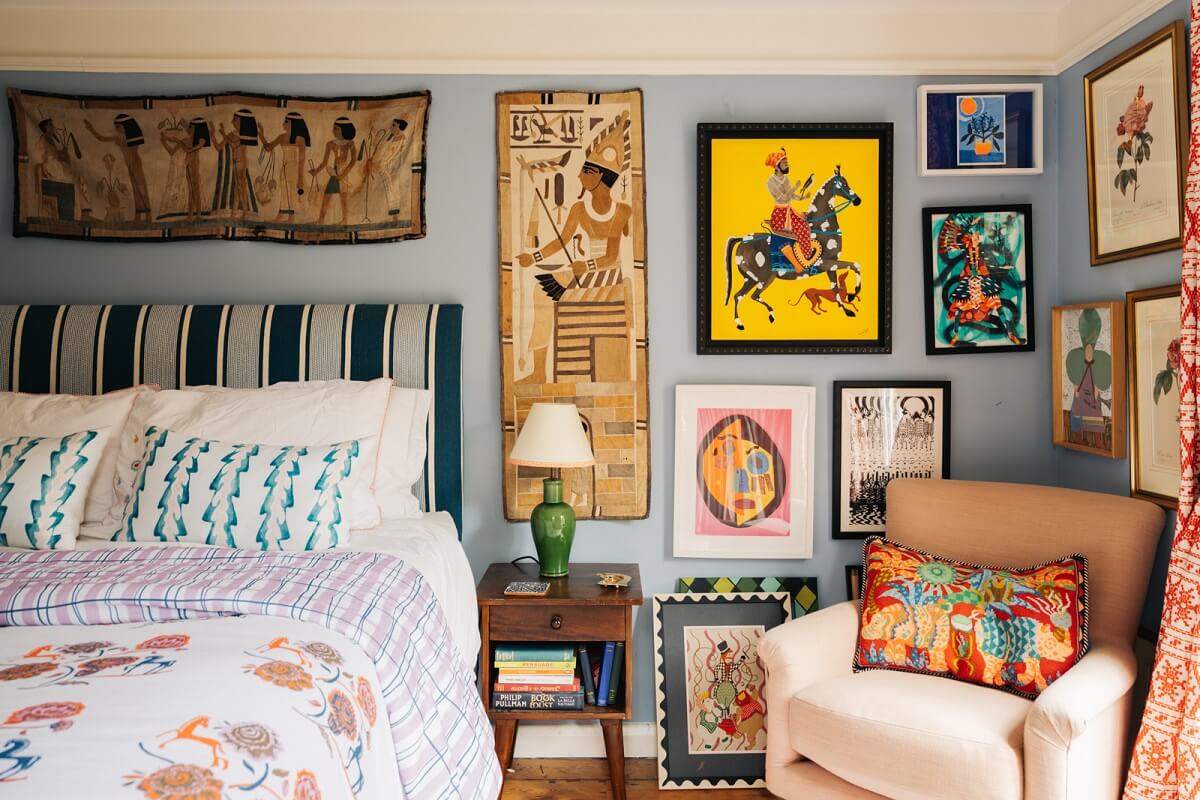 This homes shows that you don't have to be afraid to combine textiles, colors, and styles. Not pictured in this bedroom are the built-in wardrobes next to the door.
With windows on two sides, it's a lovely bright room.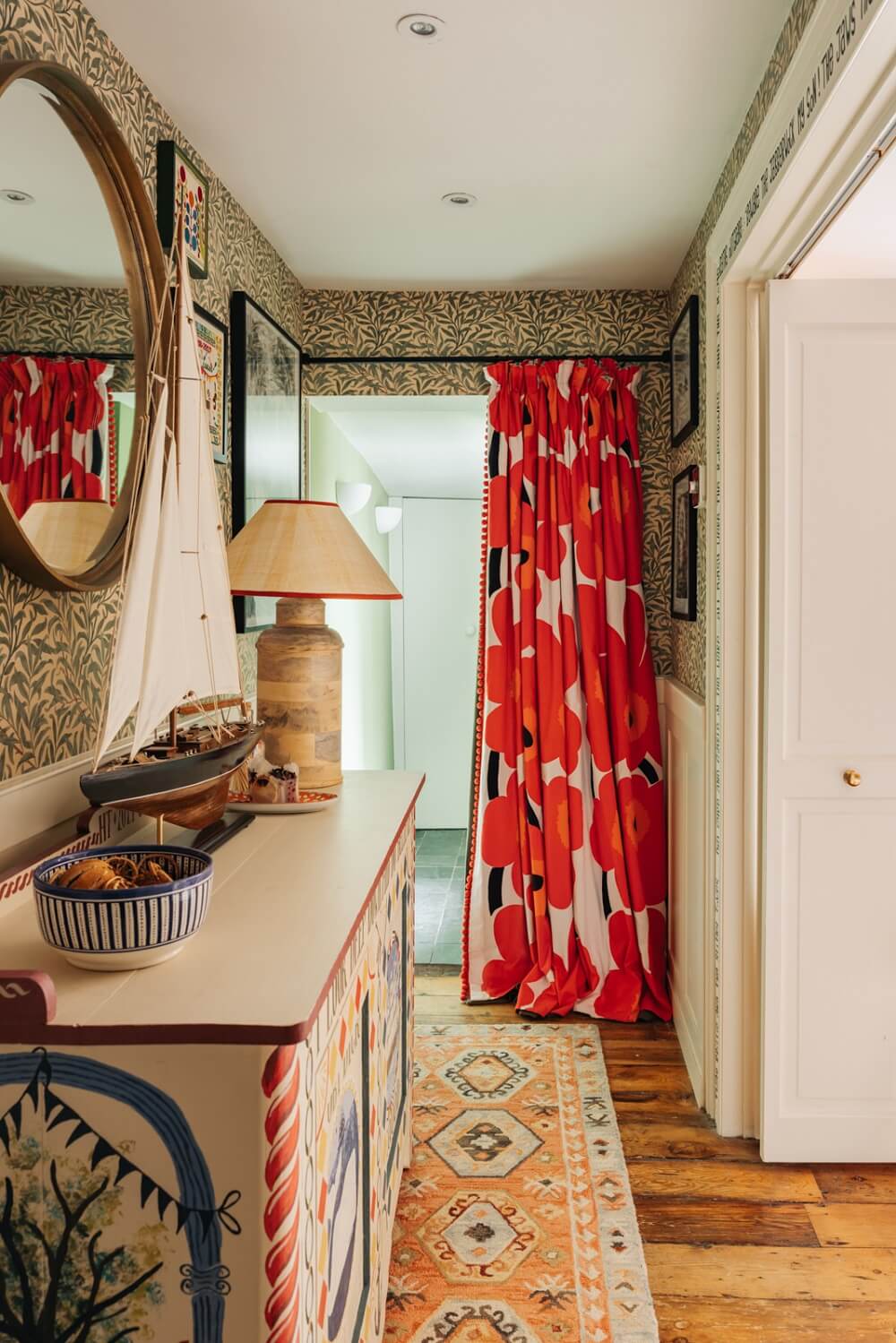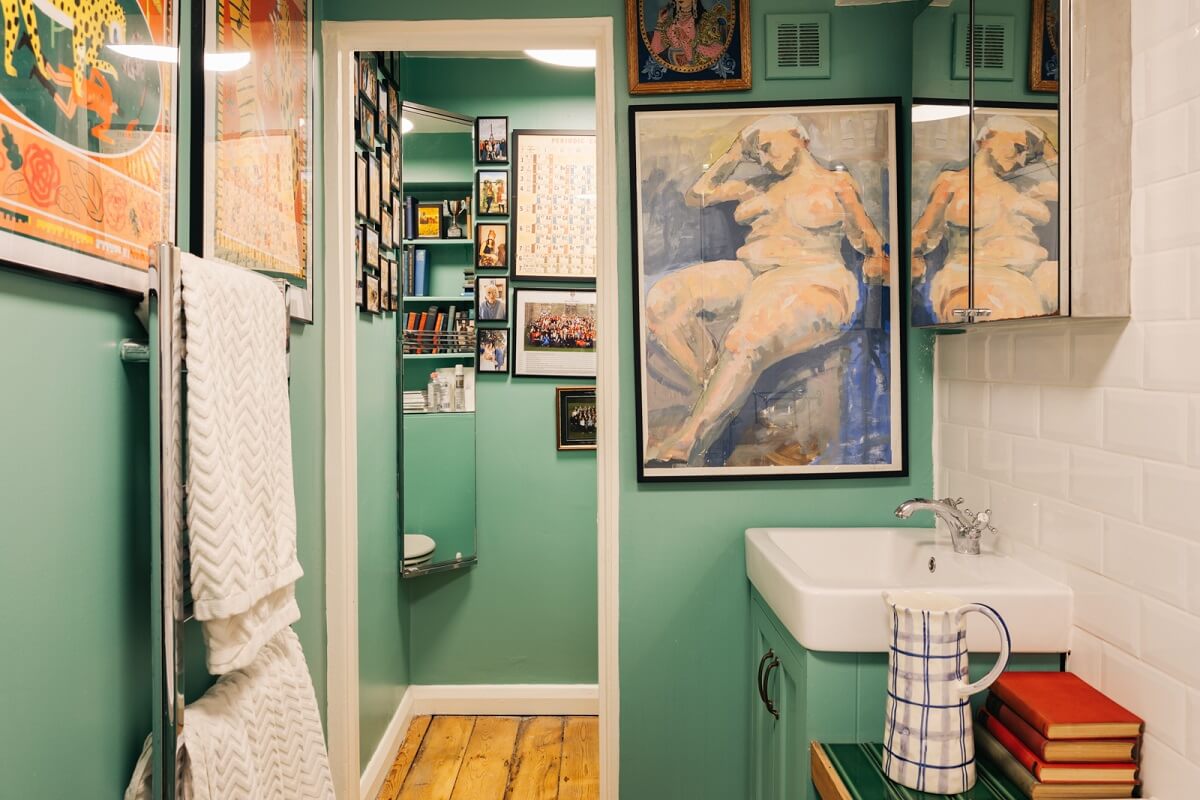 The bathroom is reached through the kitchen. The walls and woodwork are ainted in "Arsenic" by Farrow & Ball.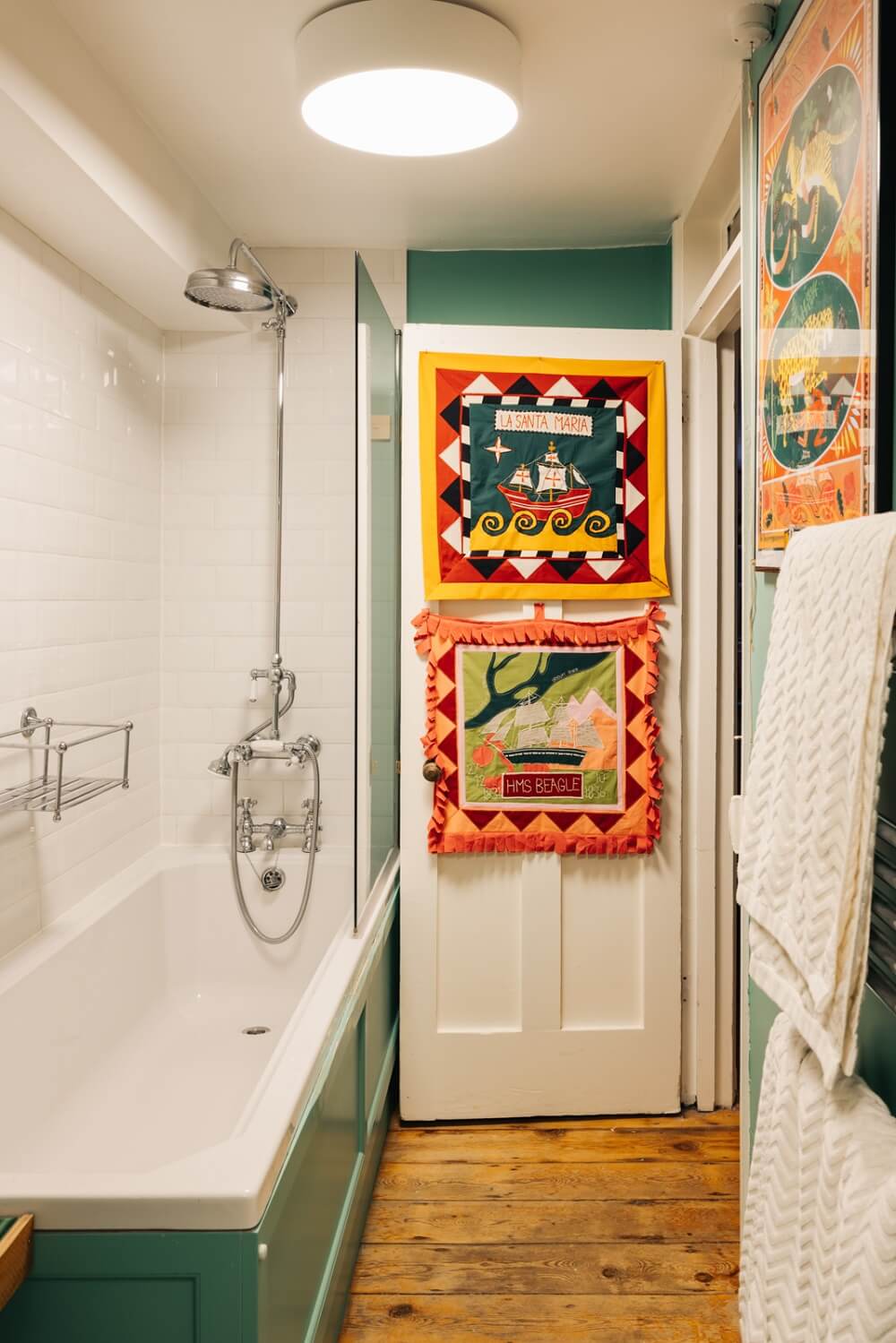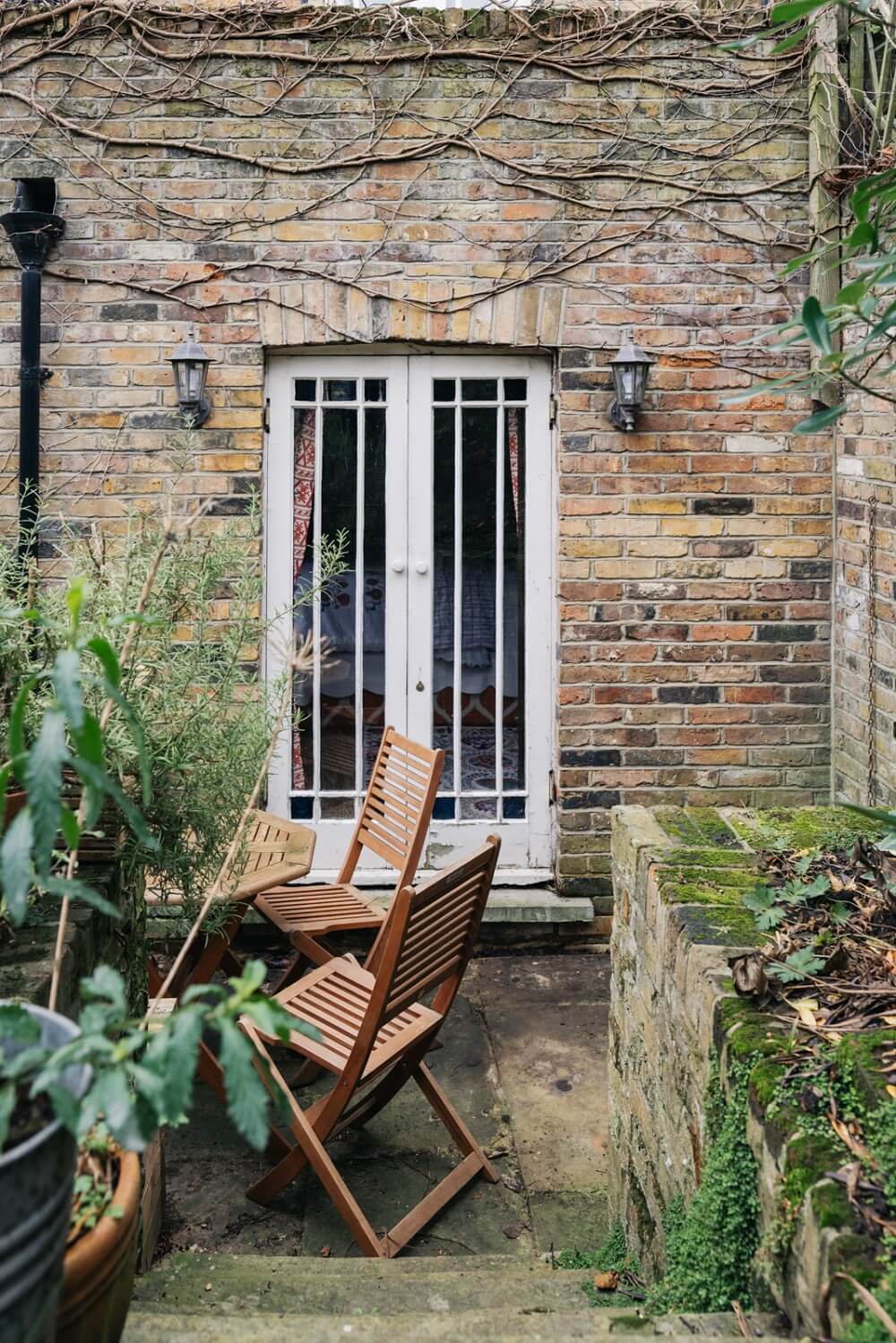 The apartment has two private terraces, and attached is a shared garden.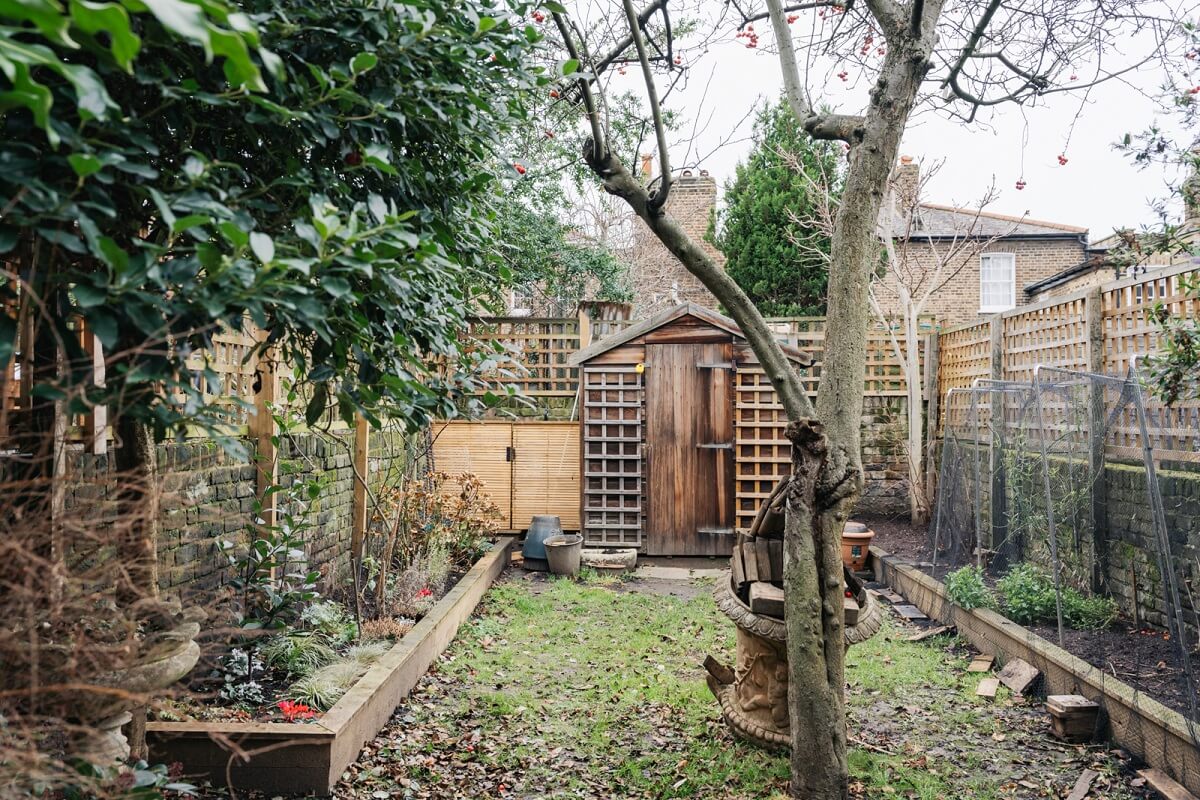 photography by Inigo