Before and After: Kacey Musgraves' Nashville Home
After so many years of blogging it has happened multiple times that I see a certain home twice. And if I'm lucky, the home changed hands from one stylish owner to another. And that's what happened when singer-songwriter Kacey Musgraves bought the Nashville home of designer Louisa Pierce. And the home styles couldn't be more different.
The home of Louisa Pierce is one of the most popular house tours on The Nordroom. With her vintage, eclectic style she created an absolute dream home. Kacey – together with interior designer Lindsay Rhodes – completely redesigned this home into a serene, light-colored abode.
So let's take a look at both homes to compare the two styles. Vintage eclectic or serene minimalism, which isyour favorite?
Before: Louisa Pierce's hallway
The hallway is already a good indicator as to how Louisa Pierce decorated her Nashville home. Art adorns the walls, a bookcase to the left and vintage decor.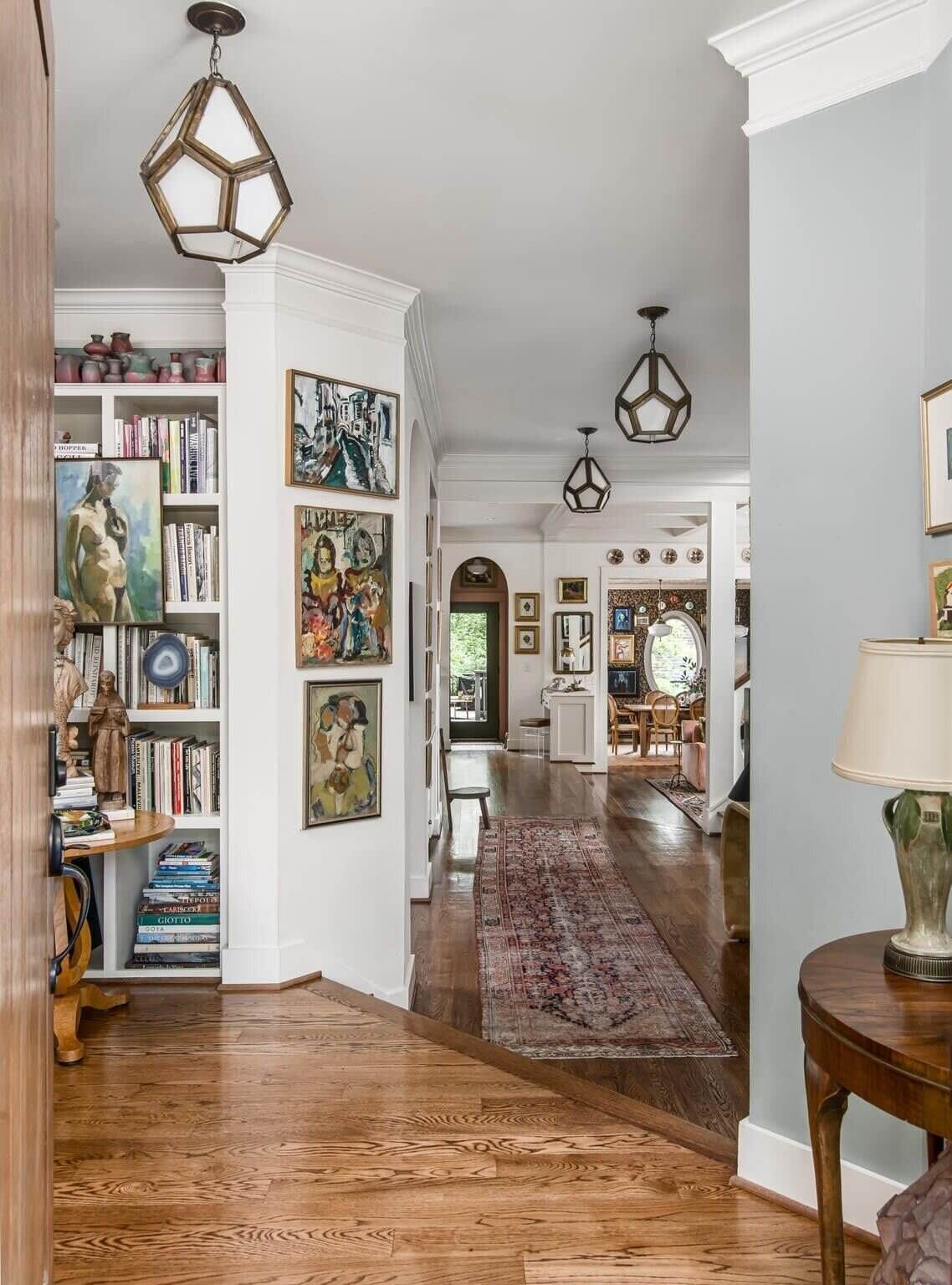 After: Kacey Musgraves' hallway
Moving to Kacey's home you see a lighter and more minimalistic look. The warm wooden floor has been replaced by a lighter wood. But some vintage touches remained with the vintage Murano glass globe light and an antique Moroccan mirror.
Despite what it may look like, the 3,500-square-foot Nashville house was built in 2012. When Louisa and her family moved from New York to Nashville she couldn't find a home that felt right for her. So she drew her own dream house and found a contractor to built in.
Her impeccable sense for architecture as well as interior design led to a home with more character than you'd expect from a new-built. That's why the less is more interior approach from Kacey also works so well. The bones of this home are so amazing and the serene minimal decor make it shine even more.
Before: Louisa Pierce's sitting room
The sitting room in Louisa's home is warm and eclectic. Textiles, materials, and styles are effortlessly combined.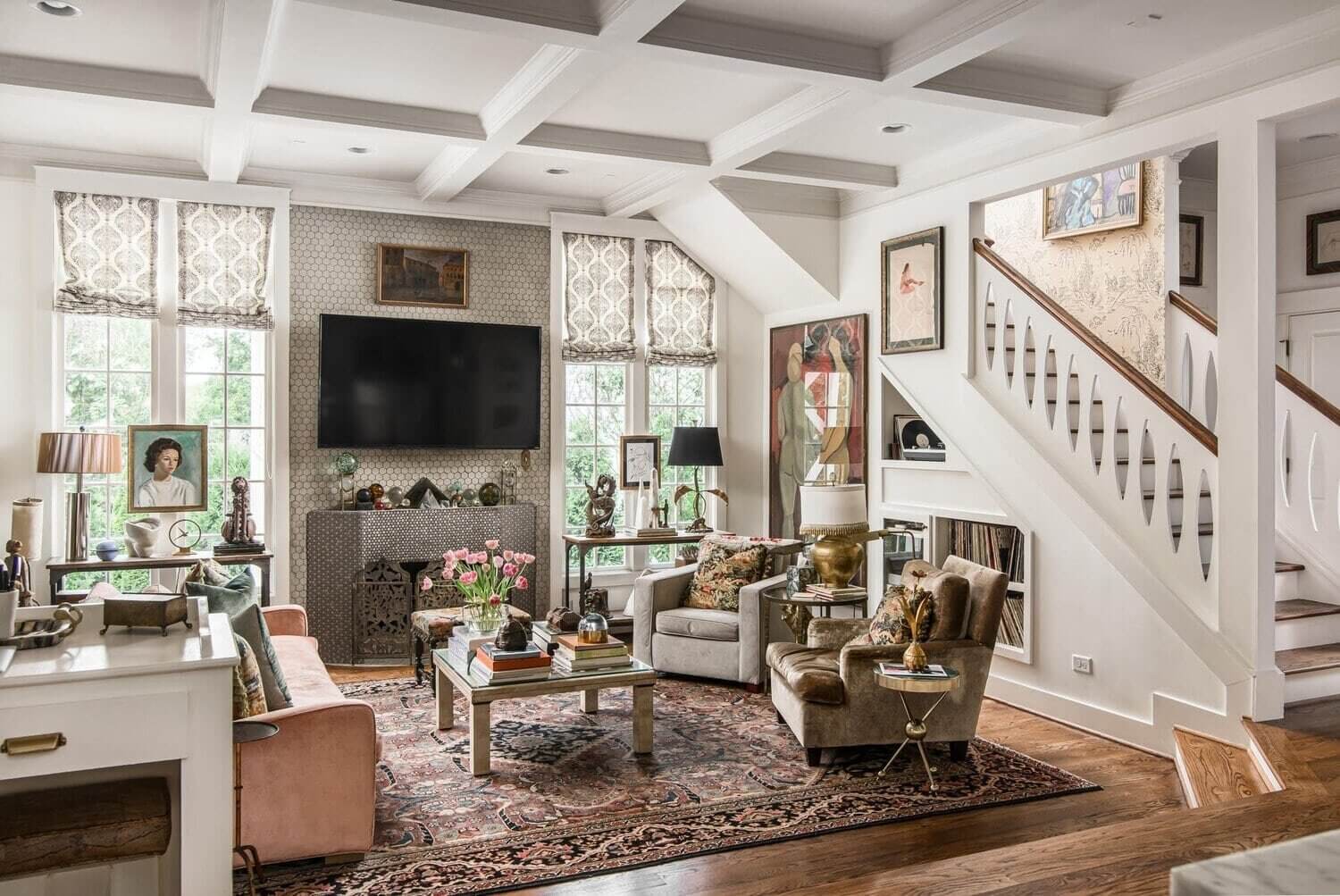 After: Kacey Musgraves' sitting room
The sitting room is now an all-white affair and the staircase is now closed off for a clean look. Though the room decor is minimalistic and white, the choice of furnishings with round shapes create a cozy vibe. The sofa is by Verellen which is accompanied by a vintage Maitland-Smith cocktail table.
Before: Louisa Pierce's dining room
That Louisa Pierce likes bold decor statements is surely known by know. And you can see that in the dining room where the two different wallpapers are used, one for the walls and one for the ceiling. Surrounding the dining table are vintage cane chairs and a pink chaise longue sits in the corner.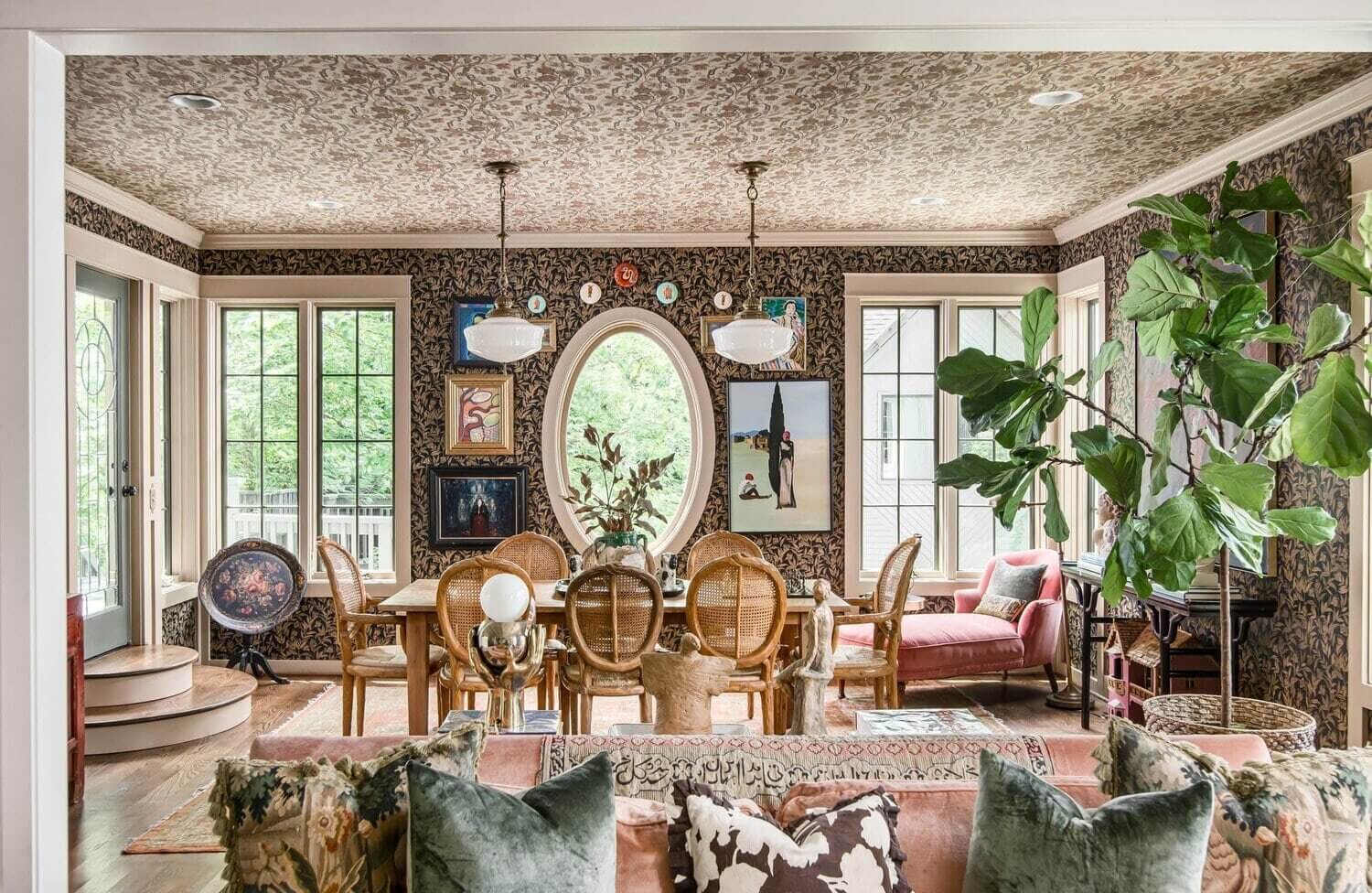 After: Kacey Musgraves' dining room
A clean look in Kacey's dining toom with beige walls. A travertine dining table is surrounded by CB2 armchairs and Faina side chairs in Pierre Frey mohair velvet.
Before: Louisa Pierce's sitting room
A second sitting room in Louisa's home has black & white striped wallpaper and a large window bench with floral seating.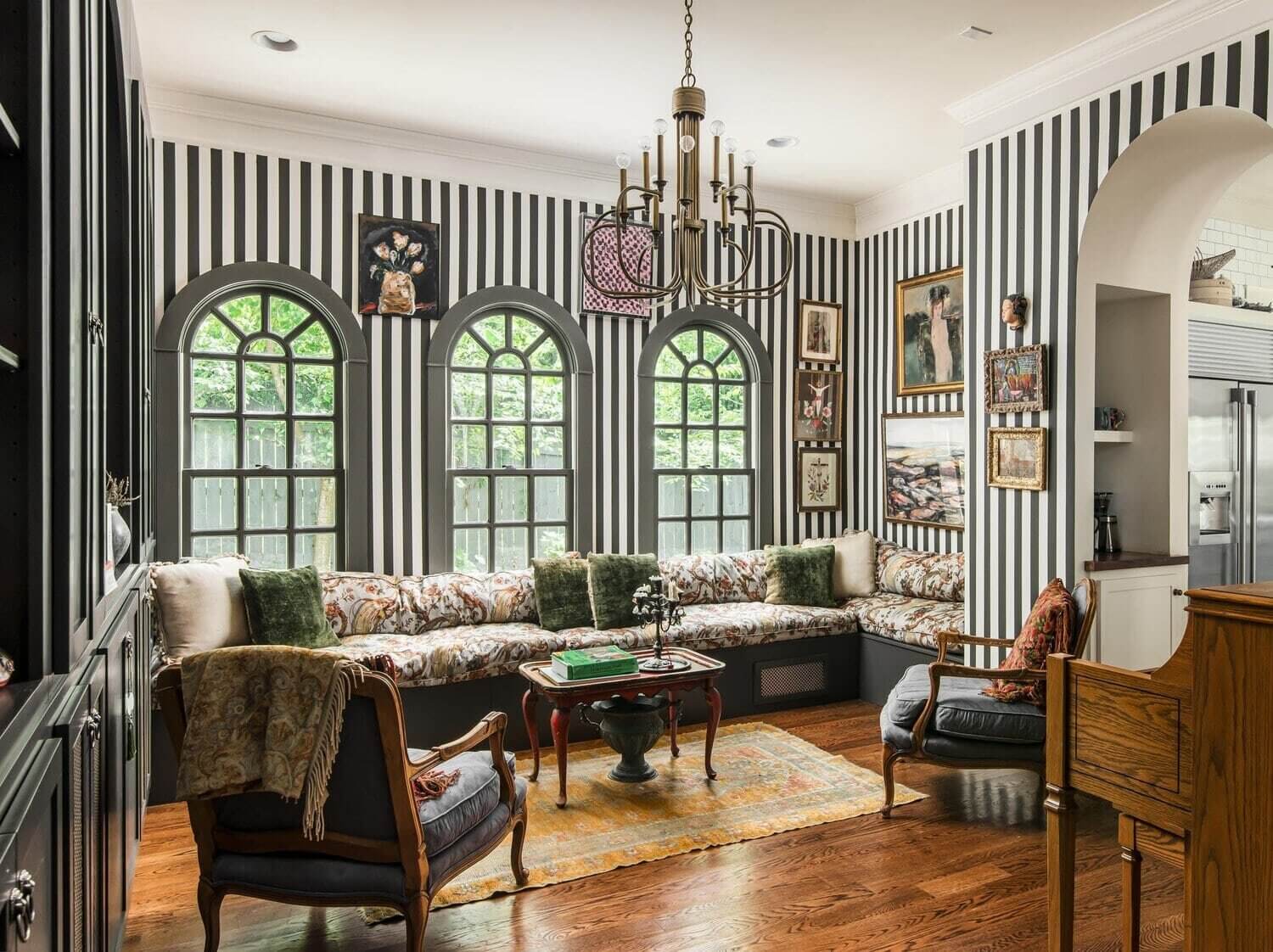 After: Kaces Musgraves' sitting room
Kacey turned this room into a paino room with pink walls ("Dead Salmon" by Farrow & Ball) and the window bench cushioned in velvet and mohair fabrics.
An unchanged powder room
The only room in the house that hasn't changed is the powder room where the walls are covered with vintage nude sketches.
Louisa or Kacey, what is your pick?
Two extremely different home styles, but both are very beautiful. Do you prefer the vintage eclectic vibes from Louisa Pierce's home? Or do you like your home design clean and minimal like Kacey? Either way, I absolutely loved looking at these different home styles. How different a home can look by changing its decor. And my pick? I think I'll go for Louisá home, I love all the patterns and styles, it's busy but so very cozy.
To see more of Kacey Musgraves' Nashville home you can take a look at the tour on the Architectural Digest website. If you want to see more of Louisa's home, you can take a look at the home tour here on The Nordroom.