Subtle Color Touches in a Light Apartment
Decorating a home with color doesn't have to be overwhelming. This apartment in Sweden shows that with subtle color shades you can create a wonderful calm home that's still colorful.
The living room and both bedrooms have been painted. But overall the apartment has a calm Scandinavian look. With bright rooms and light furnishings.
The apartment is built in the 1920s and in the living room you can still see ceiling ornaments. But overall the apartment has a modern look and it has a new kitchen and bathroom.
As many Scandinavian homes it has been wonderfully styled. This time by one of my favourite interior stylists JosefssonLjung.
The first thing I noticed in this living room is that wonderful rustic wooden wall. It adds so much character to the room.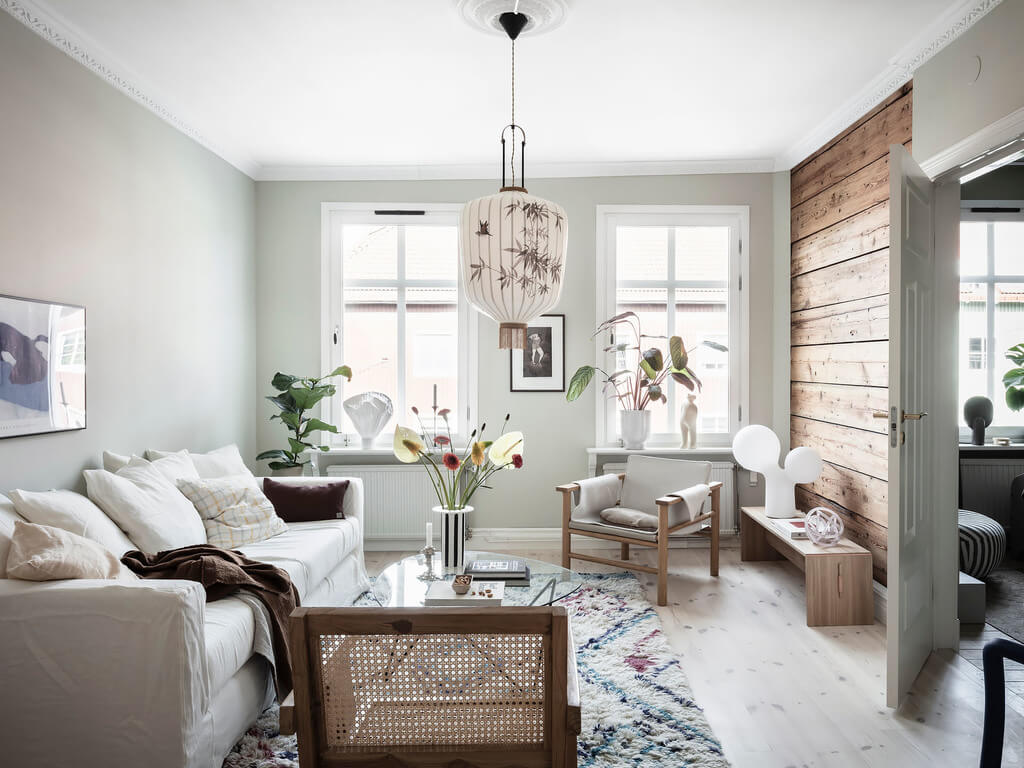 The light green shade on the wall is "Vit Ljung" by Jotun
String shelves are an easy and minimalistic system to create a home office.
Adding a little cabin touch to the living room with these rustic wooden planks on the wall.
The white kitchen has recently been renovated and is practical and stylish. I always love open shelves in a kitchen.
See more homes styled by JosefssonLjung
The master bedroom with pink walls (Desert Pink by Jotun) and white wooden floor.
The kids bedroom is painted in Lagerträd by Jotun.
Teeny tiny, but functional. The bathroom has white subway tiles and there's even room for a washing machine.
styling by JosefssonLjung & photography by Anders Bergstedt for Entrance Mäkleri