Dutch Boy Color of the Year 2024: Ironside
Paint brand Dutch Boy has released its color of the year 2024. Ironside is a deep olive shade with dark undertones that creates a level of comfortable sophistication. According to Dutch Boy, people are reexamining their daily habits with an emphasis on habits that enrich their lives.
The concept of home has evolved into a sanctuary for well-being, with self-care, meditation, and healing practices at the forefront. To support this longing for a comfortable home life, Dutch Boy has selected a Color of the Year that is part of their One-Coat paint color collection.
"Creating a space for wellness should be a driving factor in everyday life; that's why taking a natural approach to healthy living and safe spaces is a pivotal part of the current landscape. Dutch Boy® Paints' 2024 One-Coat Color of the Year—the stunning, strong Ironside—incorporates all the above in one bold color and can be applied in one single coat." Said Ashely Banbury, NCIDQ and color marketing manager of Dutch Boy.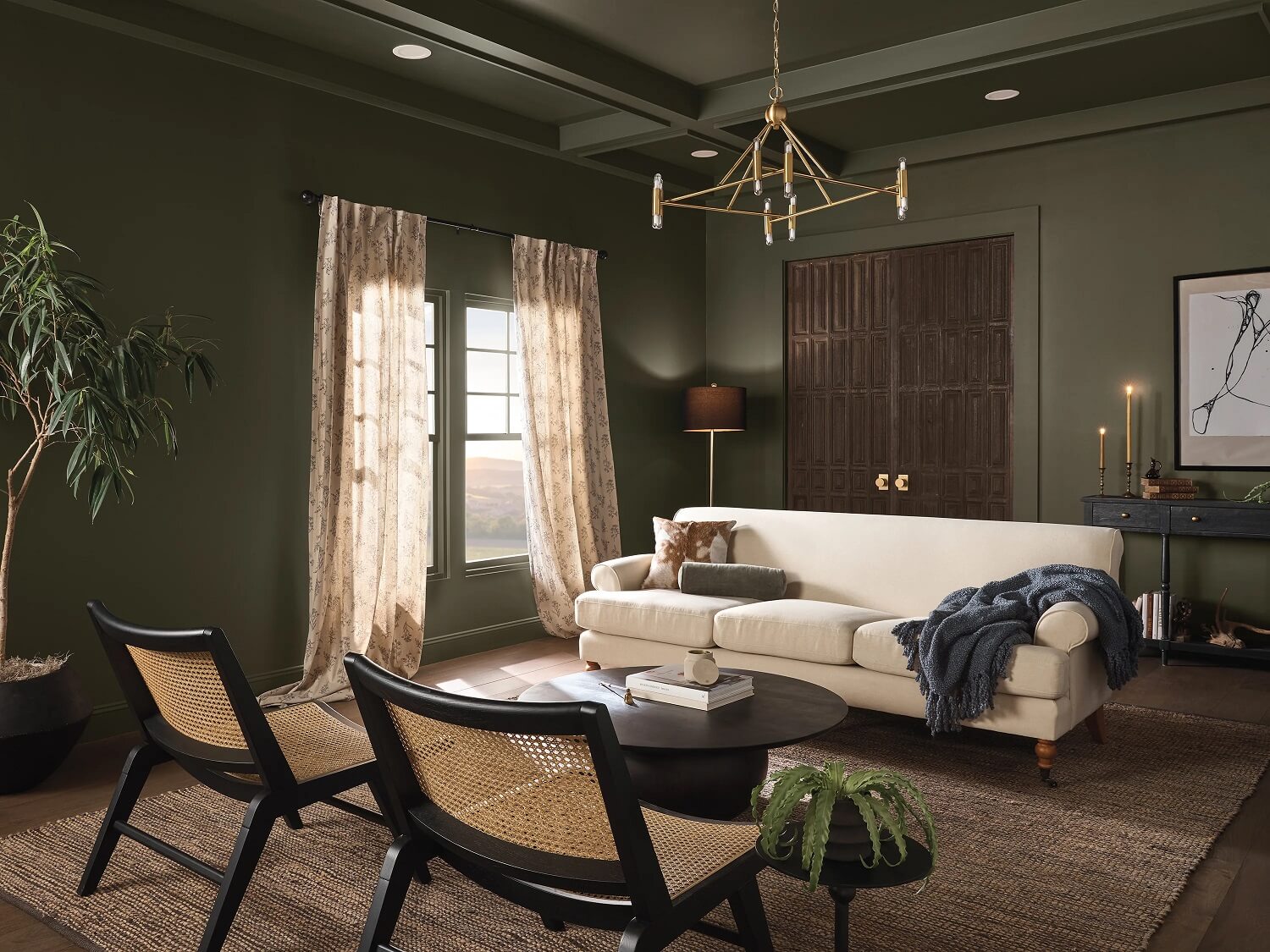 See also: The Color Trends for 2024: Timeless Comforting Hues
Dutch Boy Color of the Year 2024
Dutch Boy's 2024 color, Ironside, is a beautiful, deep, and versatile color shade that works in any room of the house. You can create a cocooning space by painting the walls and ceilings this deep green shade or using it as a dark color accent in home accessories.
Dark shades become more appreciated in the home, as the research by Behr Paint also suggested, and Ironside's deep olive shade is versatile in wide open spaces and in smaller, comfortable rooms. Ironside is rooted in comfort and creates an elegant and charming space.
Dutch Boy® Paints' 2024 Color of the Year, Ironside, and all the shades in the complementing 2024 color palettes are proven to be one-coat hide colors, providing a simple solution for DIYers. The brand's tested one-coat colors deliver optimal coverage with just a single coat, helping achieve a beautifully finished project in three easy steps:
Selecting a favorite one-coat trends color
Pairing it with Dutch Boy® premium paint and Purdy applicators
And using the recommended technique to apply with confidence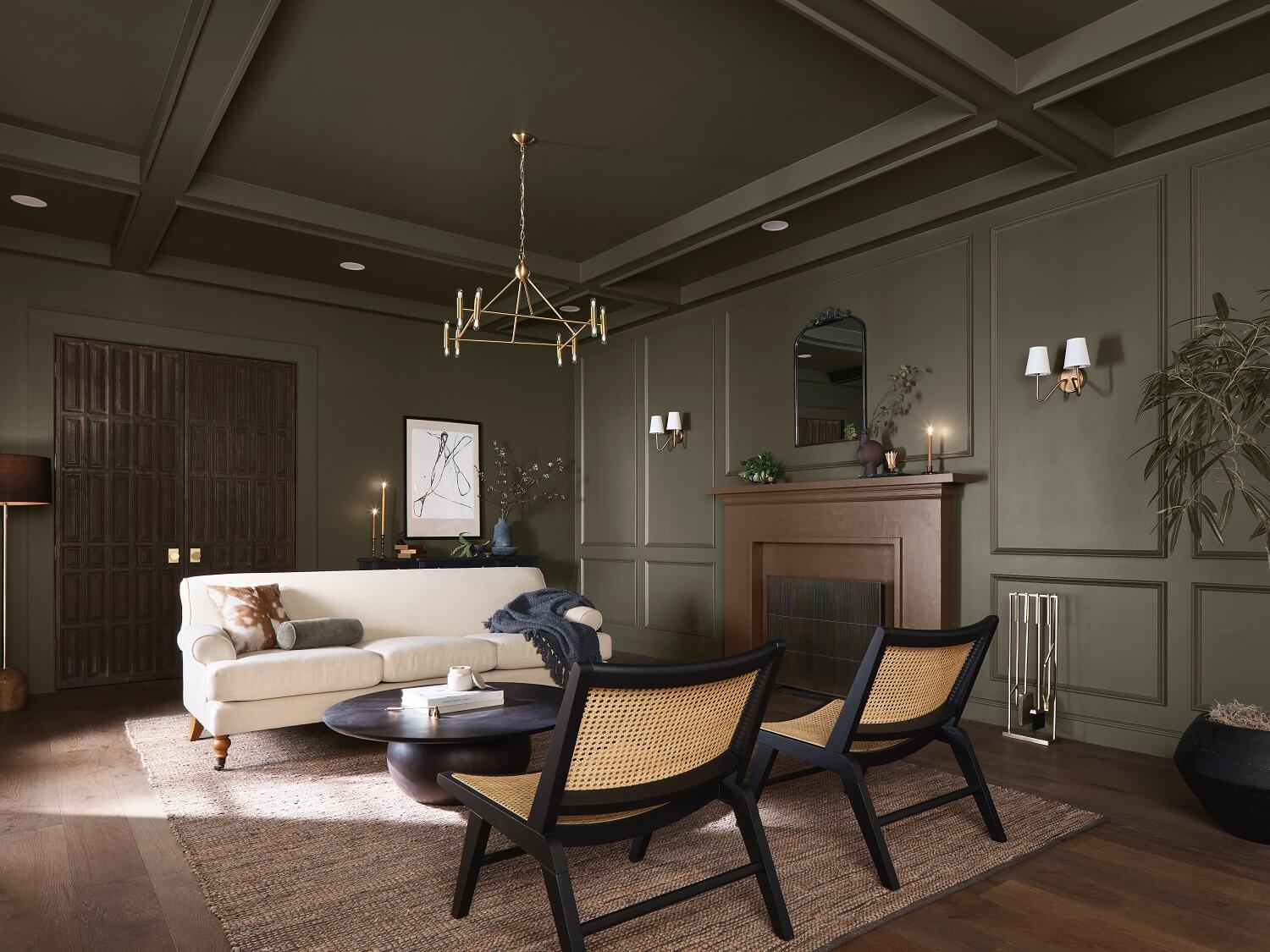 Dutch Boy 2024 Color Trends Palettes
Ironside lays as the foundation of three color palettes that create the Dutch Boy 2024 One Coat Color Trend Forecast. By building on Ironside's deep olive tones, these color palettes deliver a multifaceted, comforting, simple look while embracing individual design styles.
The Dutch Boy One Coat Color Trend Forecast speaks to homeowners, DIYers, and anyone with a taste in color selection. We are taking a comforting approach by embracing restoration and nature while bringing harmony into the home.
The Color Trend palettes can easily be customized to complement your personal style and the preferences of DIYers everywhere.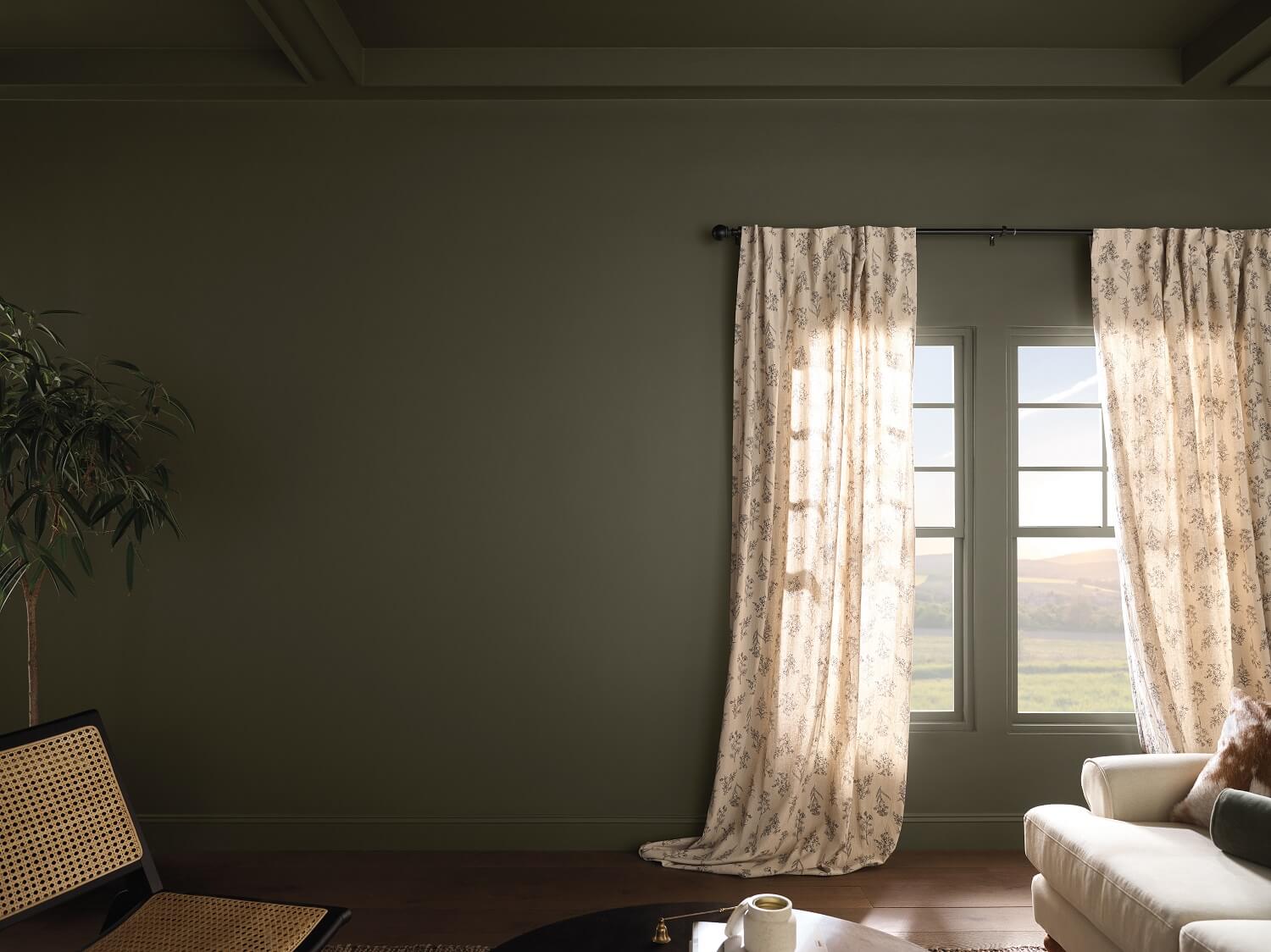 Embrace Palette
Homeowners emphasize the comfort of slowing down, and the Embrace Palette elevates a room as people make their homes a primary place for self-care and wellness. The calming color shades paint the picture of a retreat to rest and recharge with shades like Antique White, Whale's Tail, and Heritage Brown.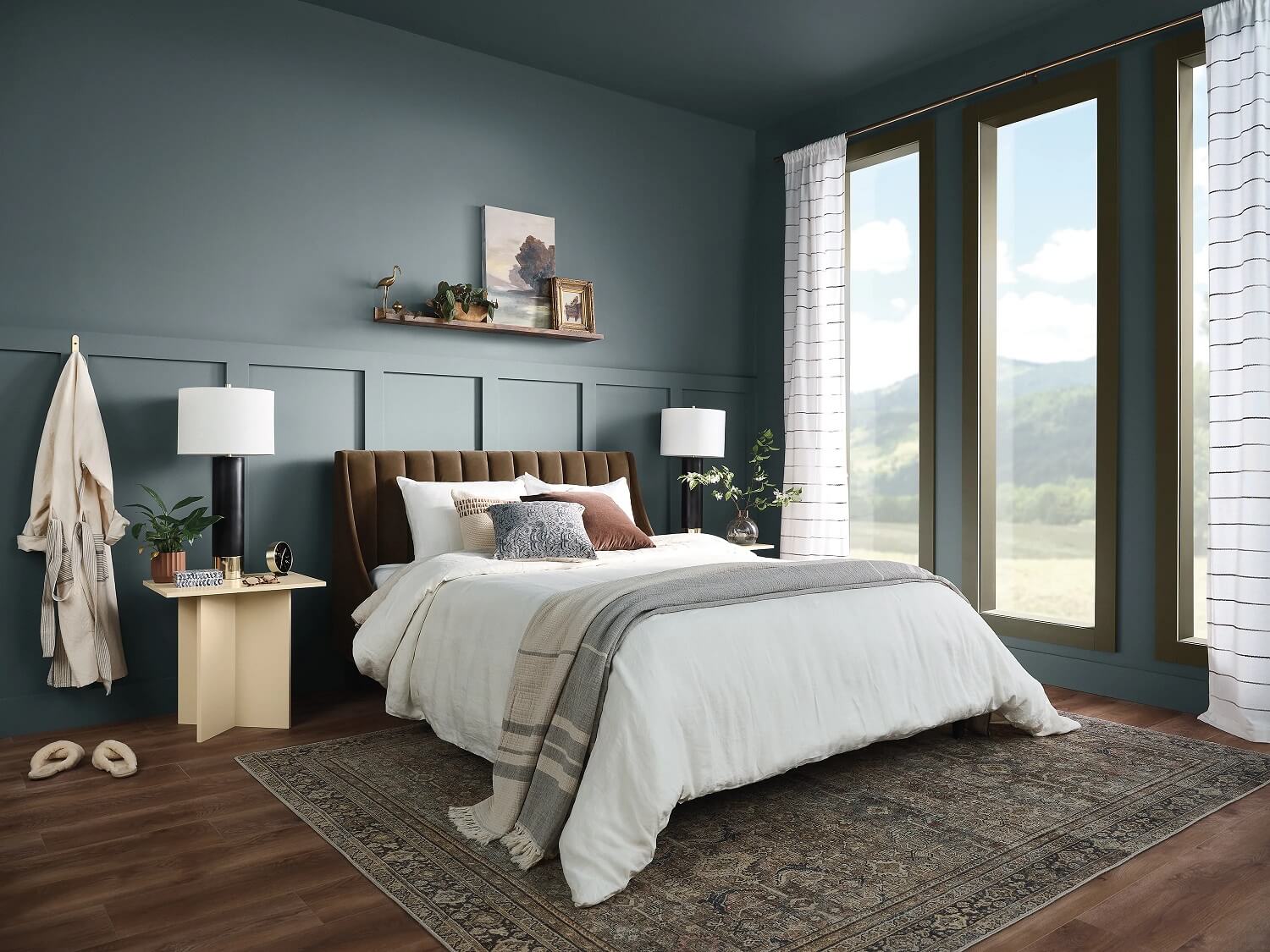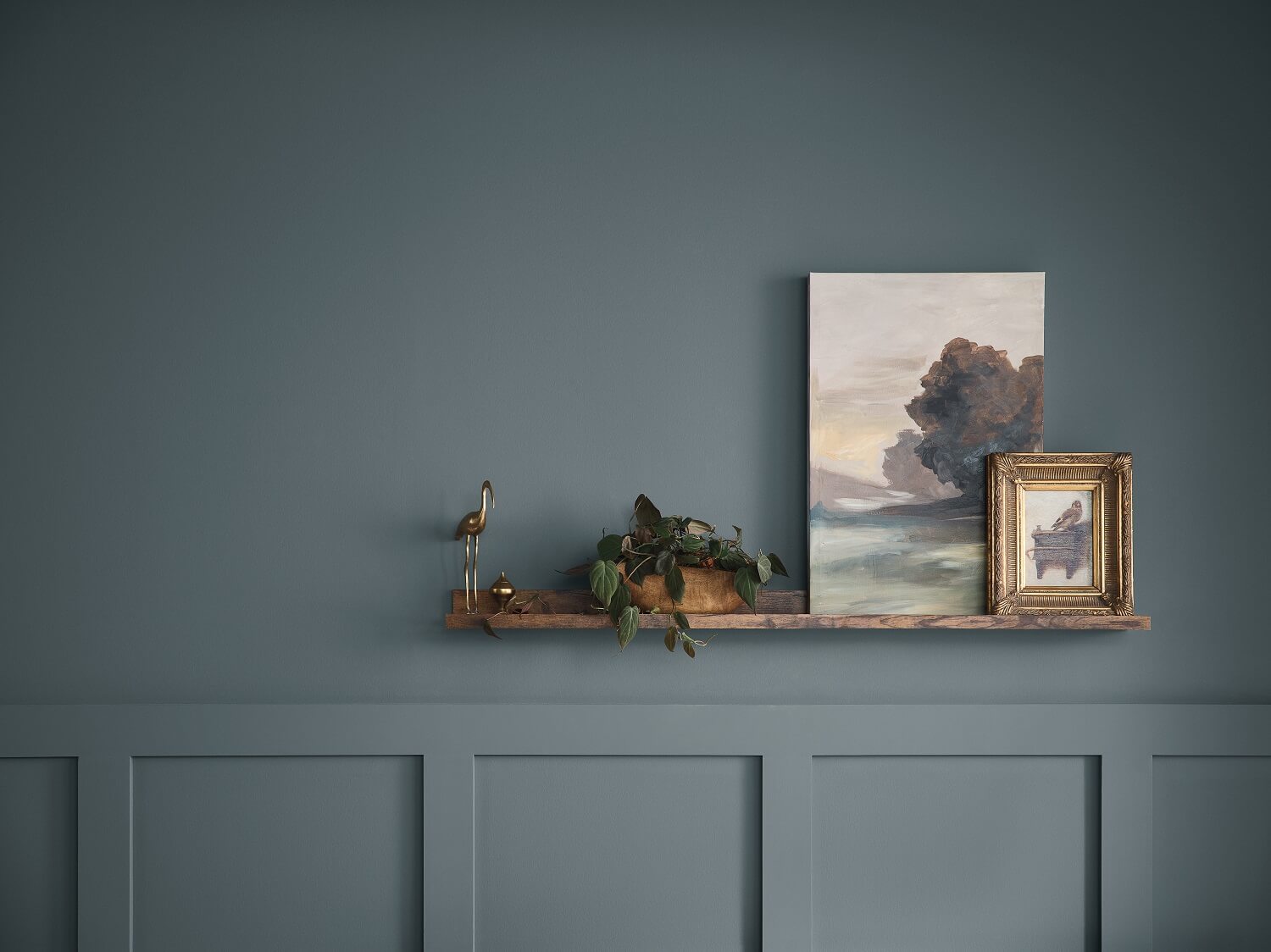 Retreat Palette
In a quest to be present, we rave for simplicity in our surroundings. The Retreat Palette gives us peace of mind to explore new angles in our lives as we take extra time for ourselves. Ironside is the color that ties Sanded Grout, Wild Orange, and Antiquated Olive together. These shades bring both cleanliness and warmth to the home.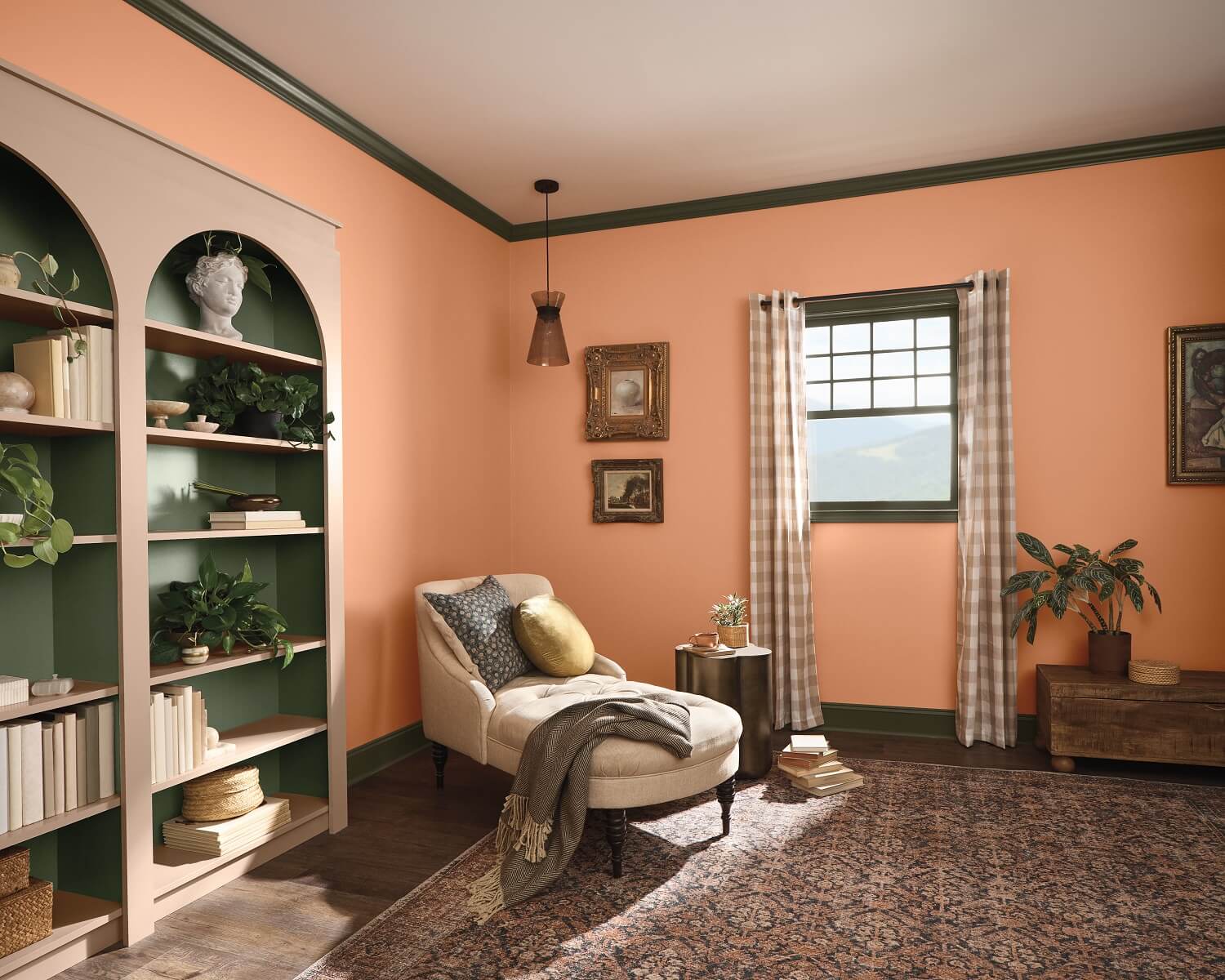 Inspire Palette
Personal expression and creative outlets have become therapeutic. Bold uses of pattern, color, and curated spaces in the Inspire Palette create self-inspired trends and environments. You can explore color by combining shades like Ultra White, Pineapple Flan, and Strawberry Shade.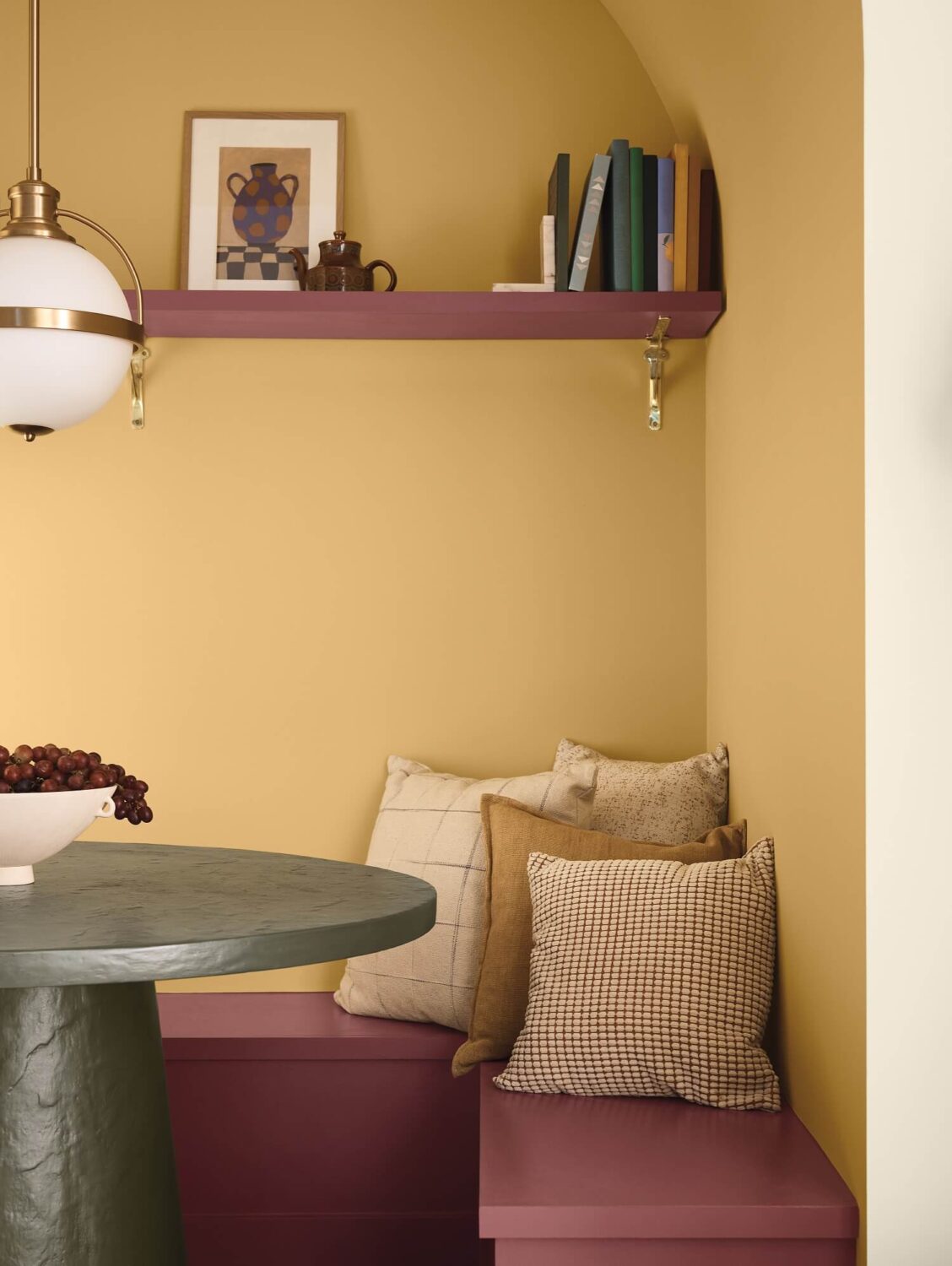 How To Use Dutch Boy's Ironside in Your Home
The deep olive shade Ironside works really well in any room. Despite the dark shade, it can be used as a colorful and moody neutral for a living room or kitchen. But if you prefer more subtle color accents, you can incorporate this dark green shade in home accessories like art, cushions, or vases.
Please note that these interior examples do not use the same color but are similar enough to give you design ideas using Dutch Boy's Ironside.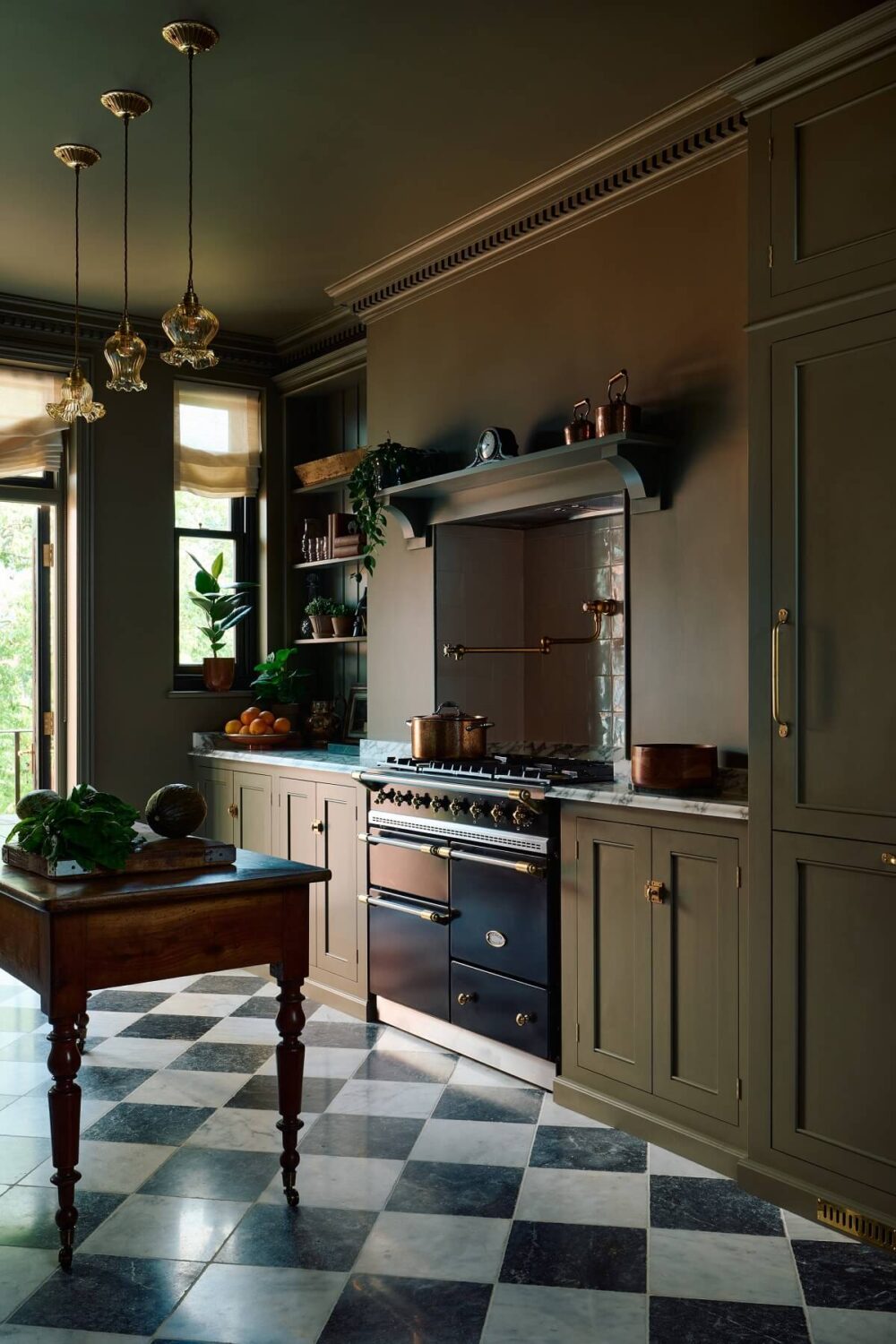 An All-Green Kitchen
British kitchen company deVOL has designed this all-green kitchen where the walls, ceiling, and kitchen cabinets are painted in a dark green shade like Ironside. They have created a classic and timeless kitchen design with a checkerboard floor and brass accents.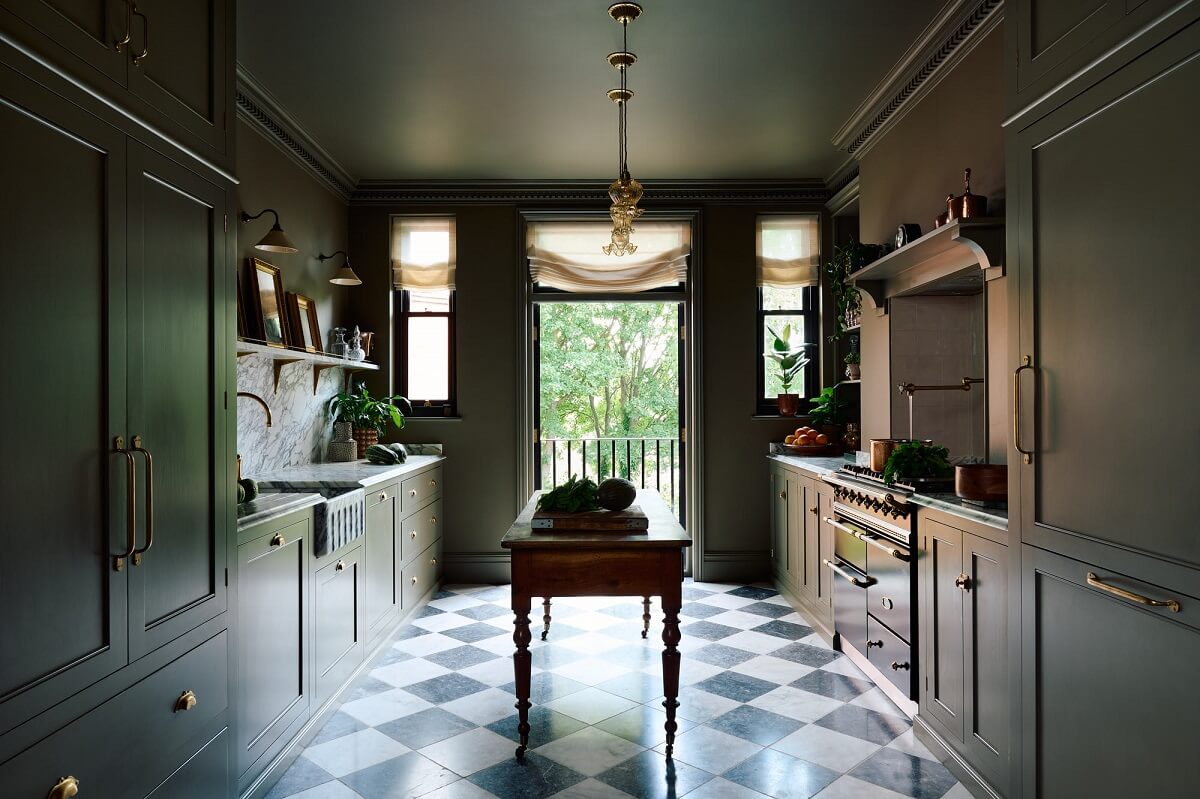 See more of this dark green deVOL kitchen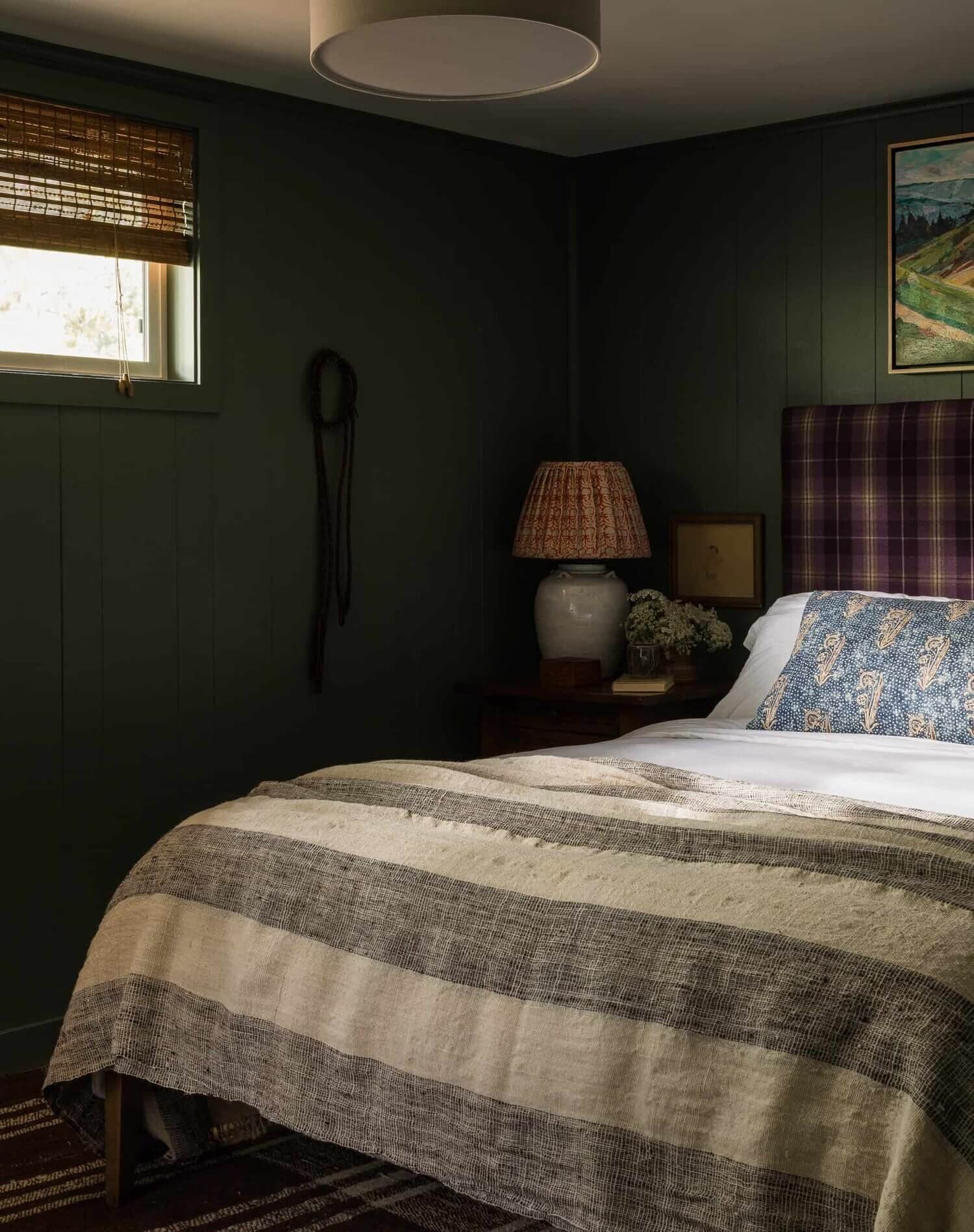 A Cozy Bedroom
You can create a cozy and comforting bedroom space by painting the walls in a dark olive shade. Designer Heidi Caillier created this beautiful bedroom space with layered textiles in light gray and burgundy shades.
See more of this moody cabin designed by Heidi Caillier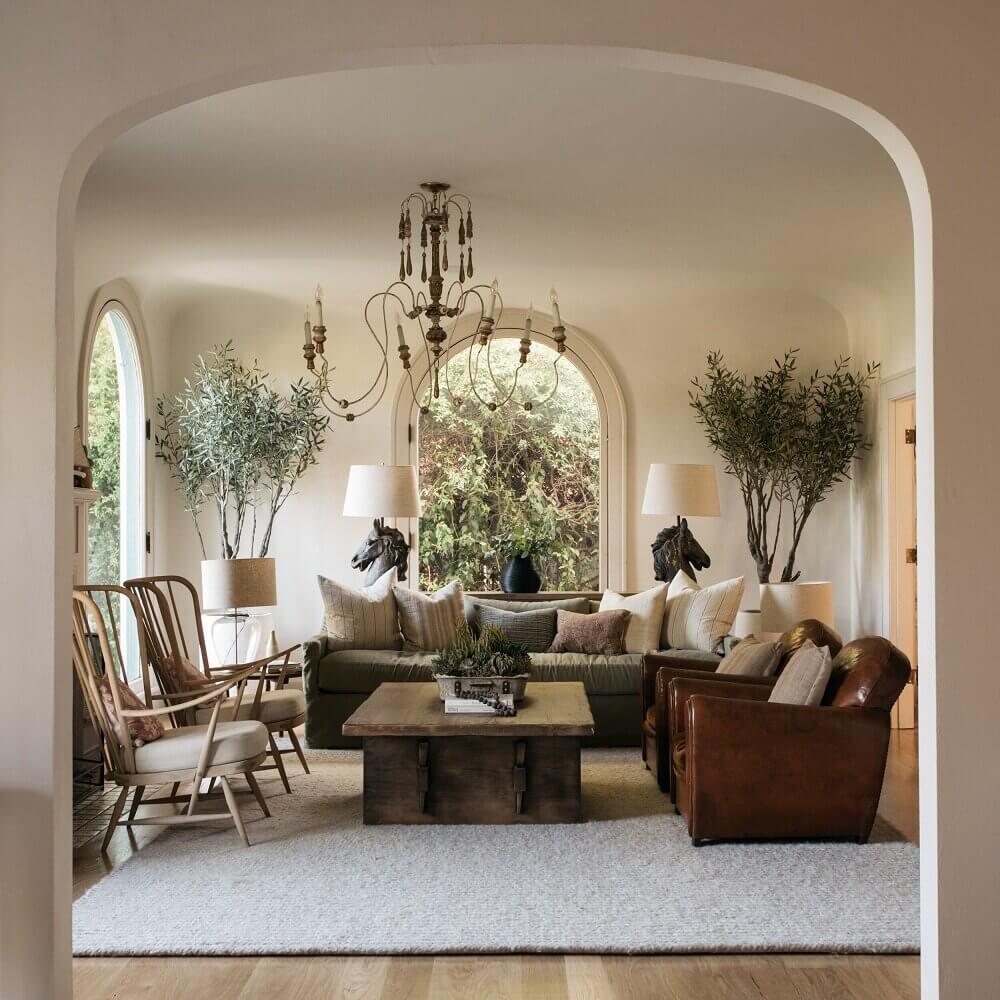 An Olive Green Couch
You can think about an olive green sofa for a more subtle dark olive green accent. In this Los Feliz home, they furnished the living room with a green sofa that stands out, while the rest of the room is decorated in lighter colors.
Green Paired with Bold Pink Tones
Olive green is a beautiful serene and natural color, but it's also nice to spruce things up by adding some bold color accents, as you can see in the log home of Nicky and Grizz. Dark olive walls are paired with pink and purple shades.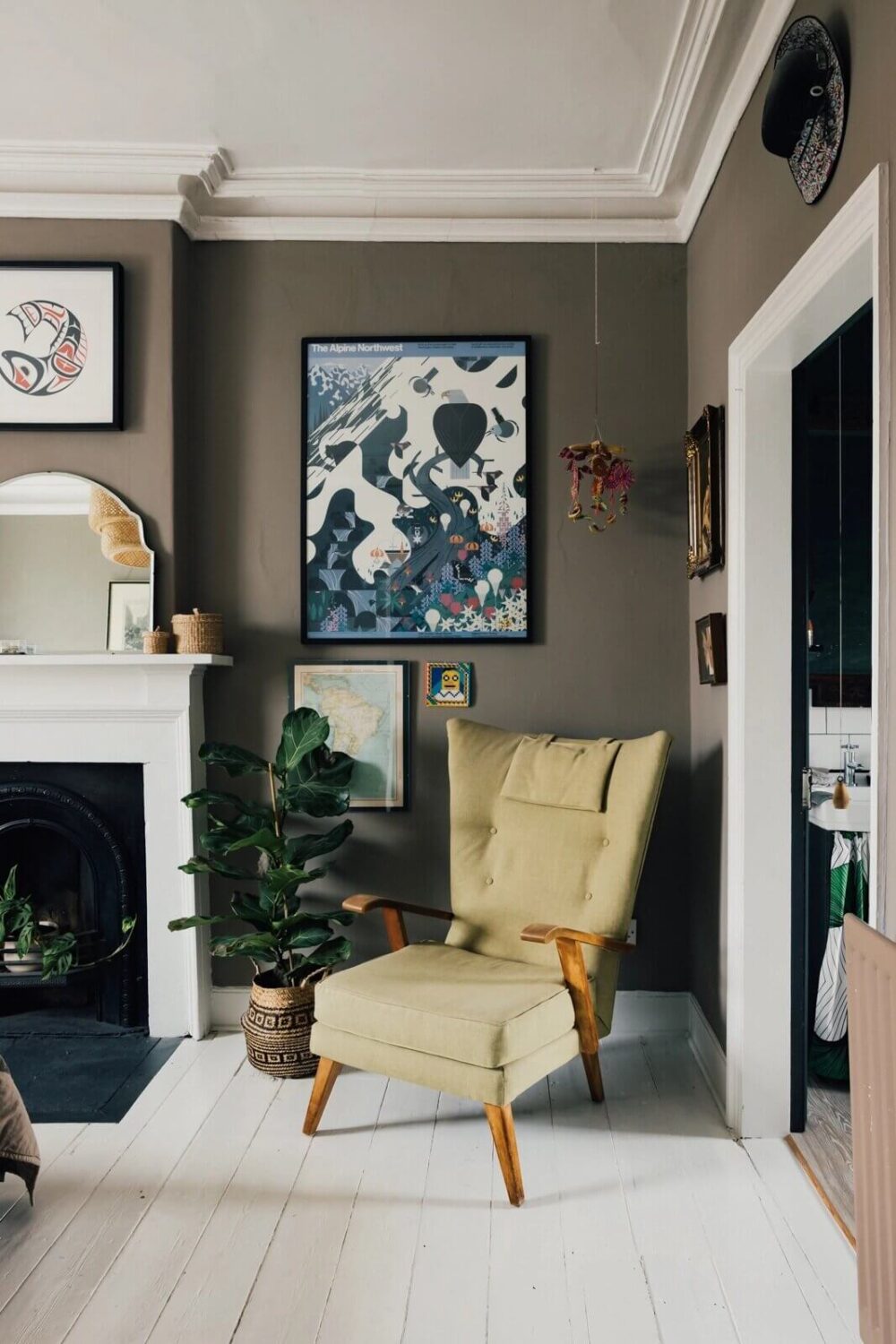 Green on Green
A bedroom reading nook in a colorful English house pairs olive green walls with plants, a light green armchair, and white painted floorboards.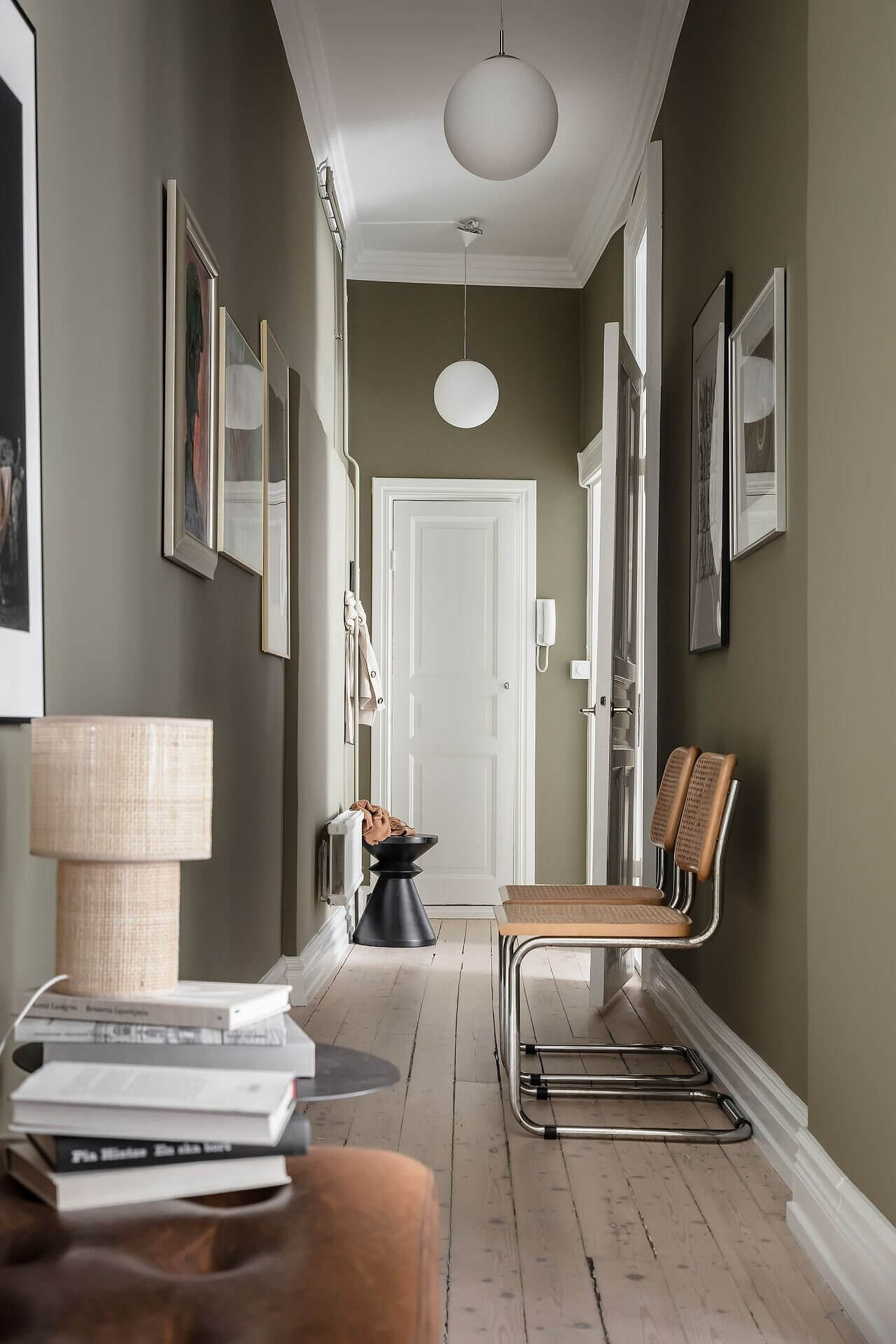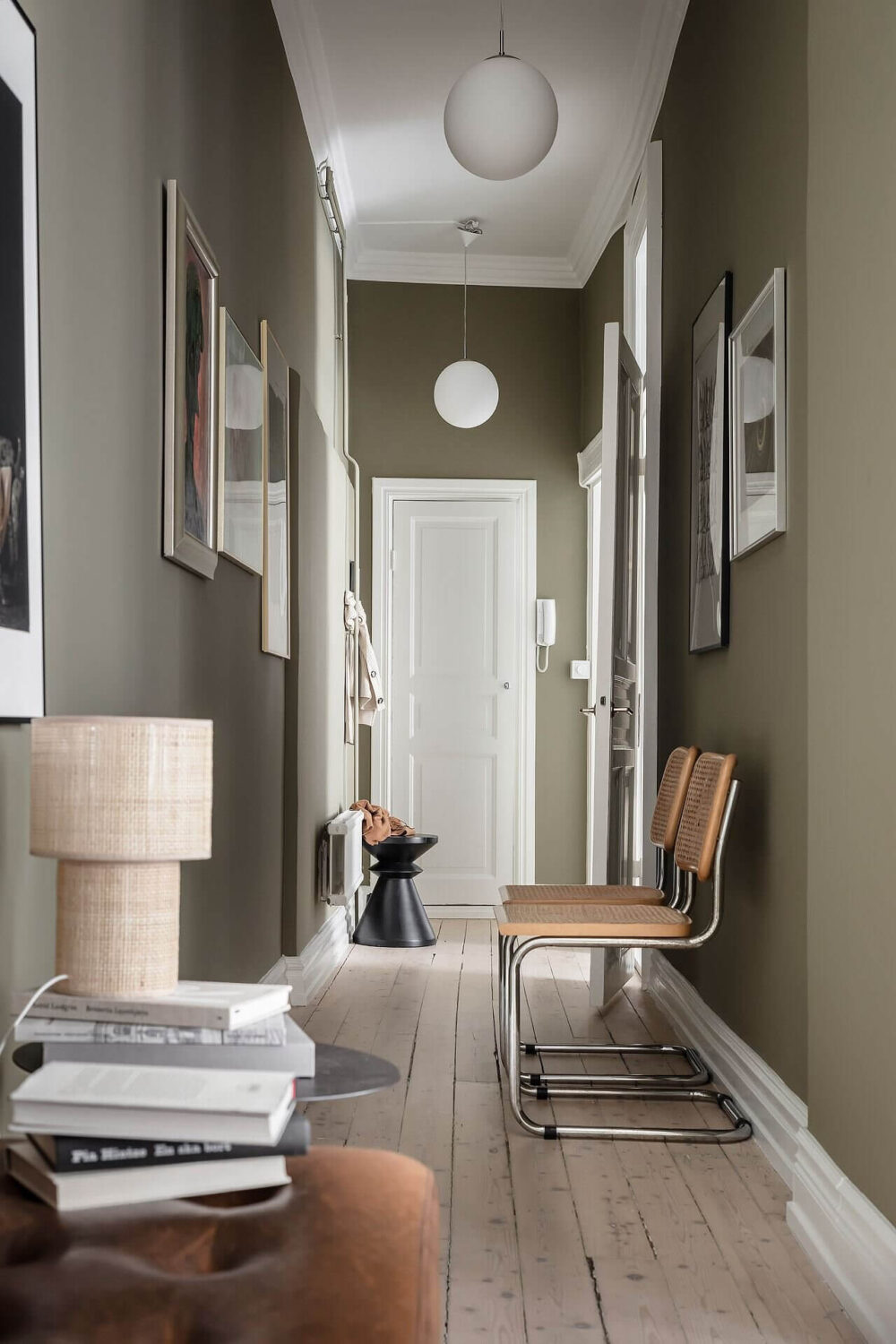 Olive Green with Light Natural Tones
The walls in this Scandinavian apartment are painted in olive green. Though the shade is slightly lighter than Irsonside, it gives a nice idea of combining it with lighter natural tones and wood. In the living room, they also paired it with a yellow shade.
Pair it with Dark Earthy Shades
Dark olive green looks wonderful with dark earthy shades. In this Christmas living room, they opted for earthy candles, artwork, a sofa, and curtains to contrast the green walls.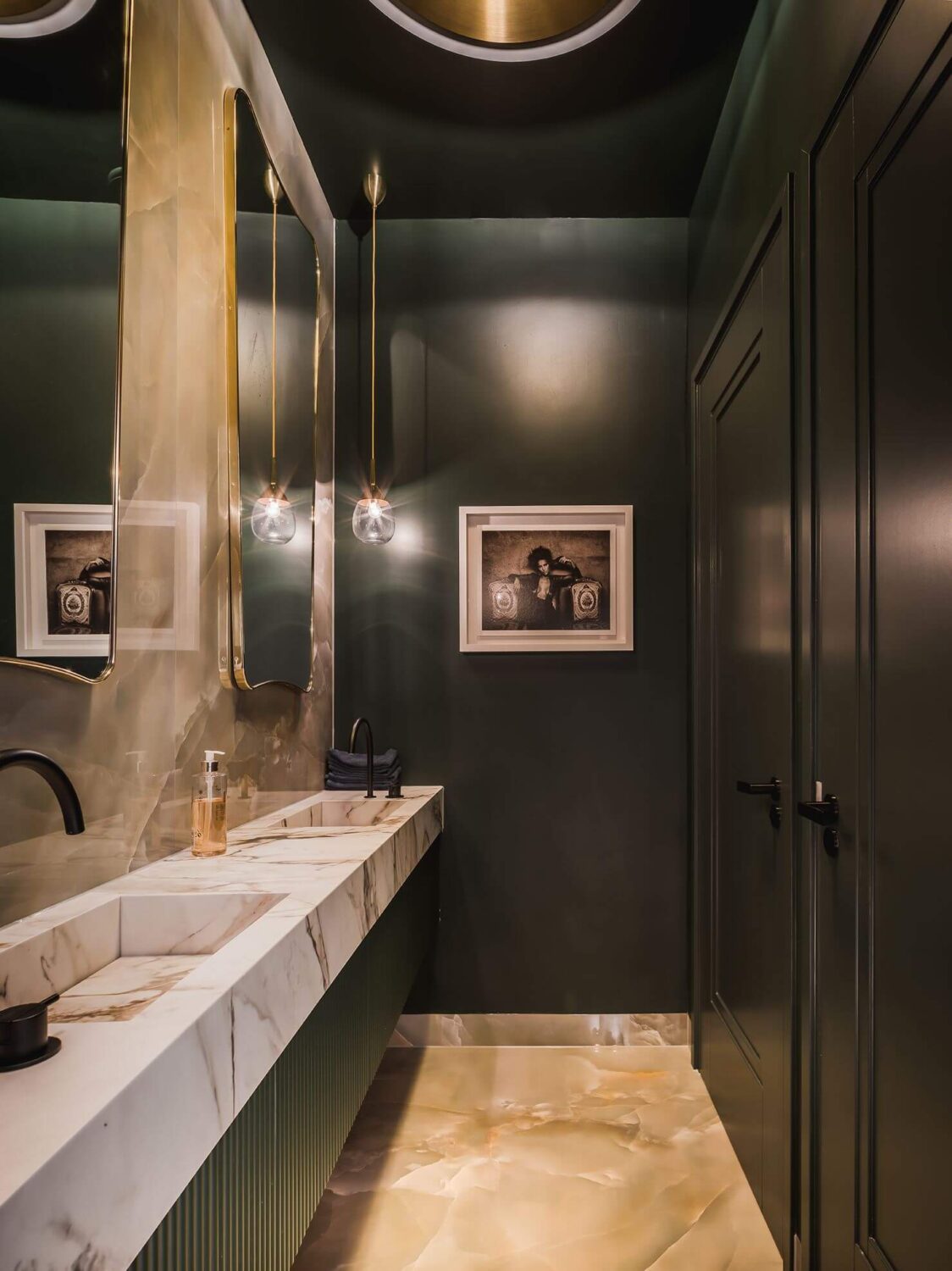 An All Green Bathroom with Marble
Dark green looks luxurious and elegant, so it works beautifully in a bathroom when it's combined with luxurious materials like marble.
Green Paired with Light Wood
Pair a dark olive green wall with other shades of green and light wood for a natural-looking room.
If you love decorating your home in green tones, you can also look at sage green interior inspiration or teal green interior inspiration.