Herringbone vs. Chevron Flooring Patterns: Differences & Inspiration
Herringbone vs. chevron flooring, what is the difference and how do you incorporate these styles in your home? Chevron floors and herringbone floors are two classic floor styles. These flooring patterns are timeless and will elevate the interior design of your home.
At first glance, these two floor types look similar as they both use shorter floorboards or tiles laid out at angles. And therefore chevron pattern and herringbone pattern are often mixed up. But there are differences between these floor patterns in terms of design and installation.
In this post, you will read more about these classic patterns, including the key differences between these two flooring patterns, and plenty of inspiration for real homes using these classic floor designs.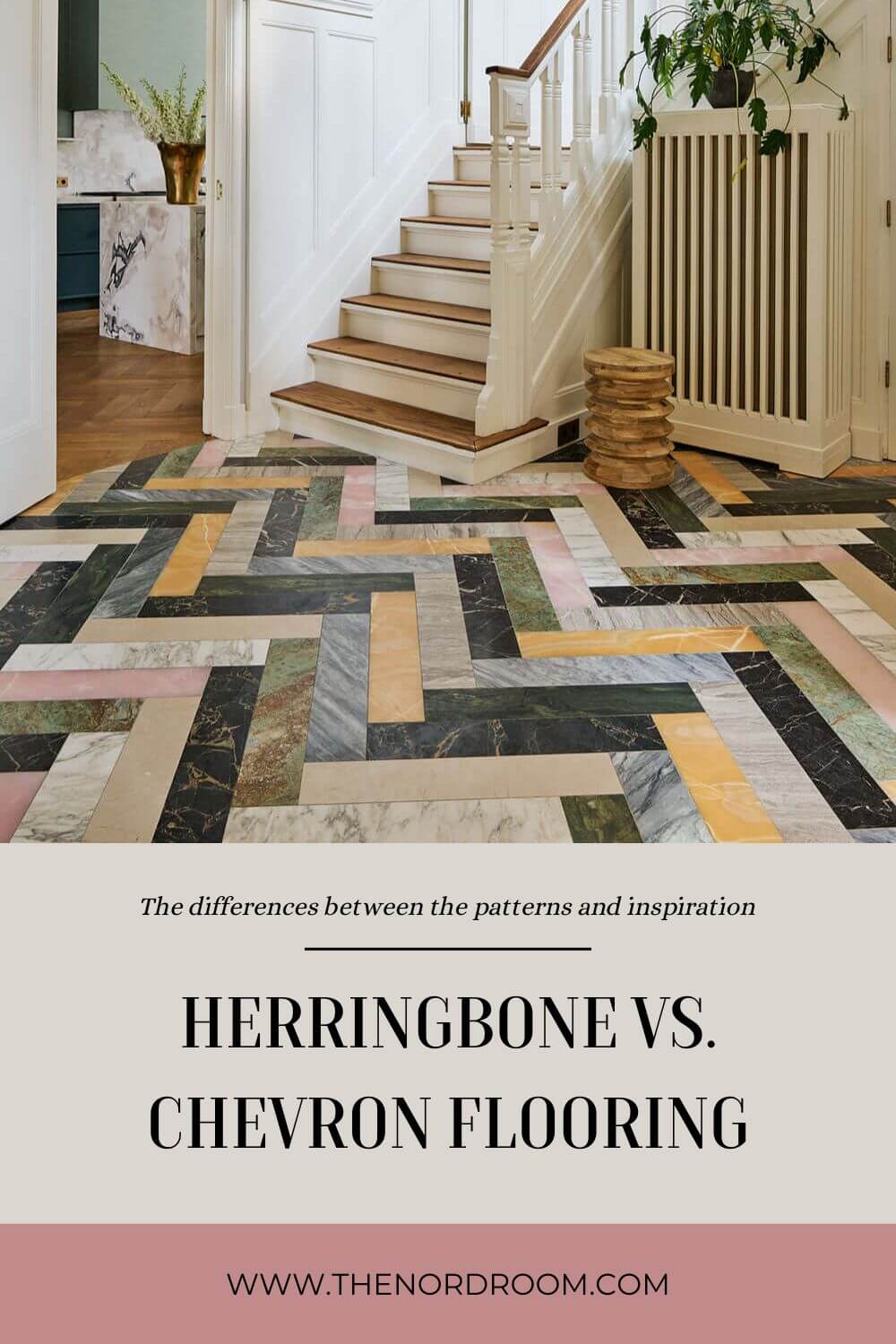 Herringbone Pattern
A herringbone floor pattern is made with rectangular planks or tiles that are all cut the same size. These rectangular pieces are laid out at 90-degree angles from each other, creating a broken and continuous zigzag design.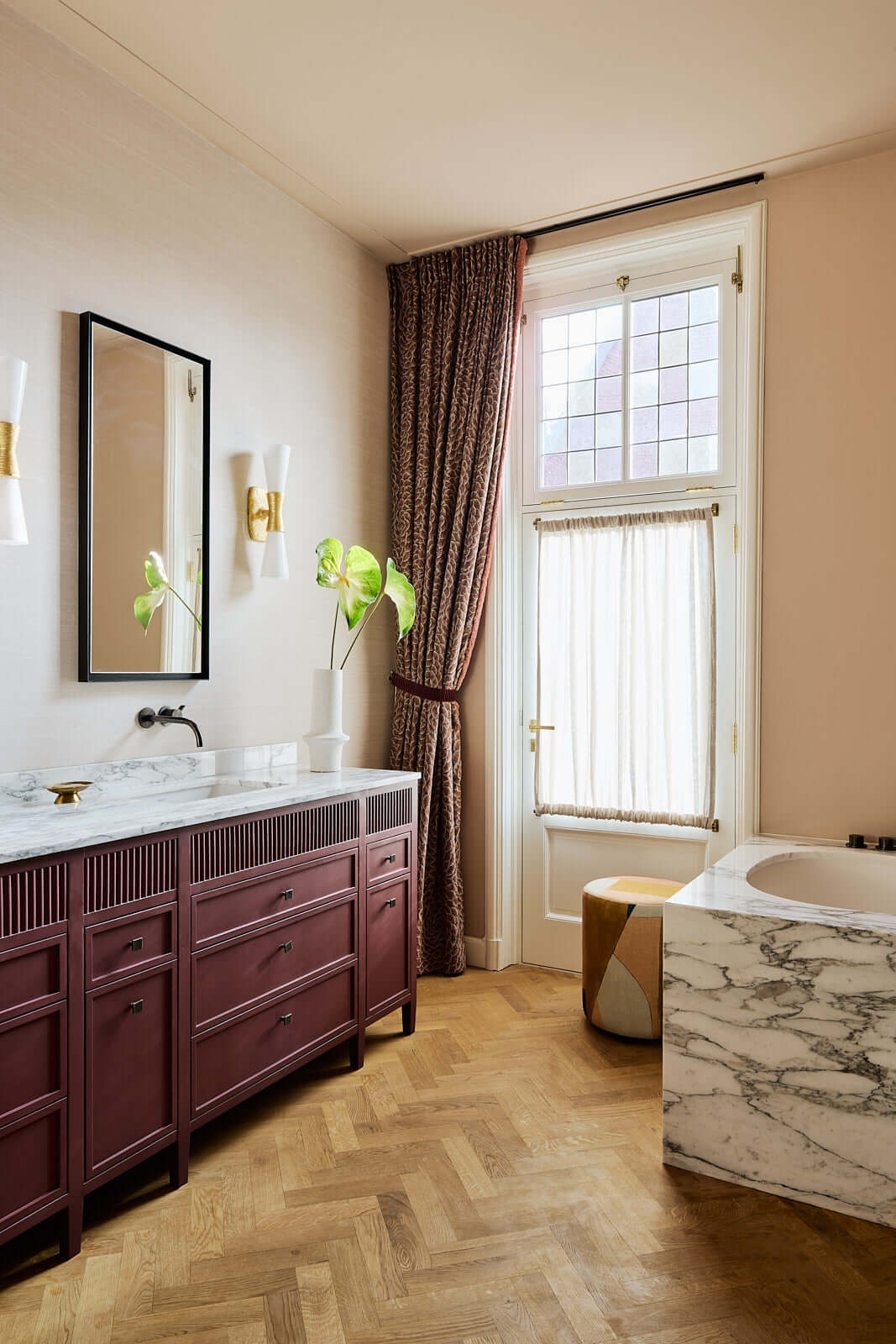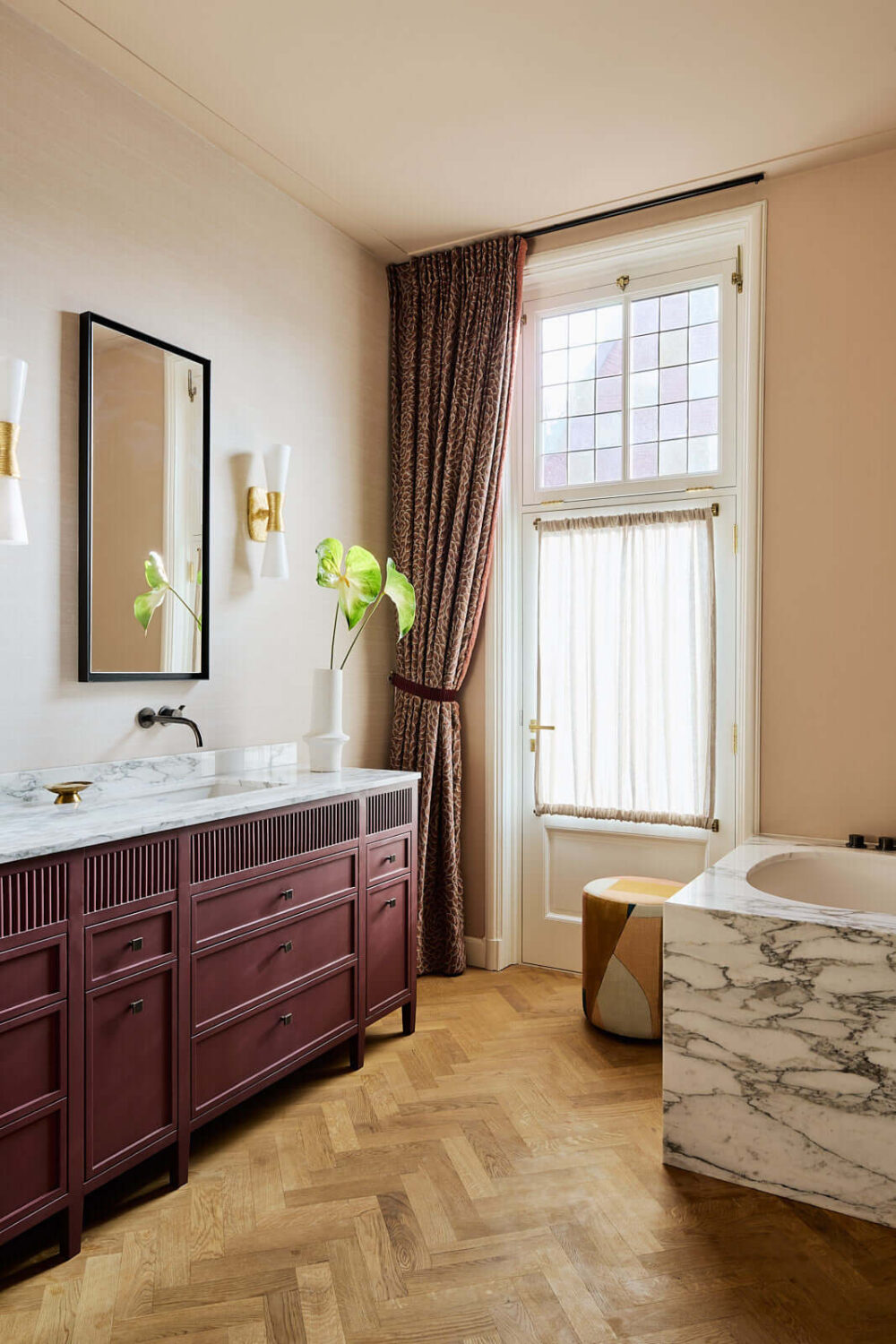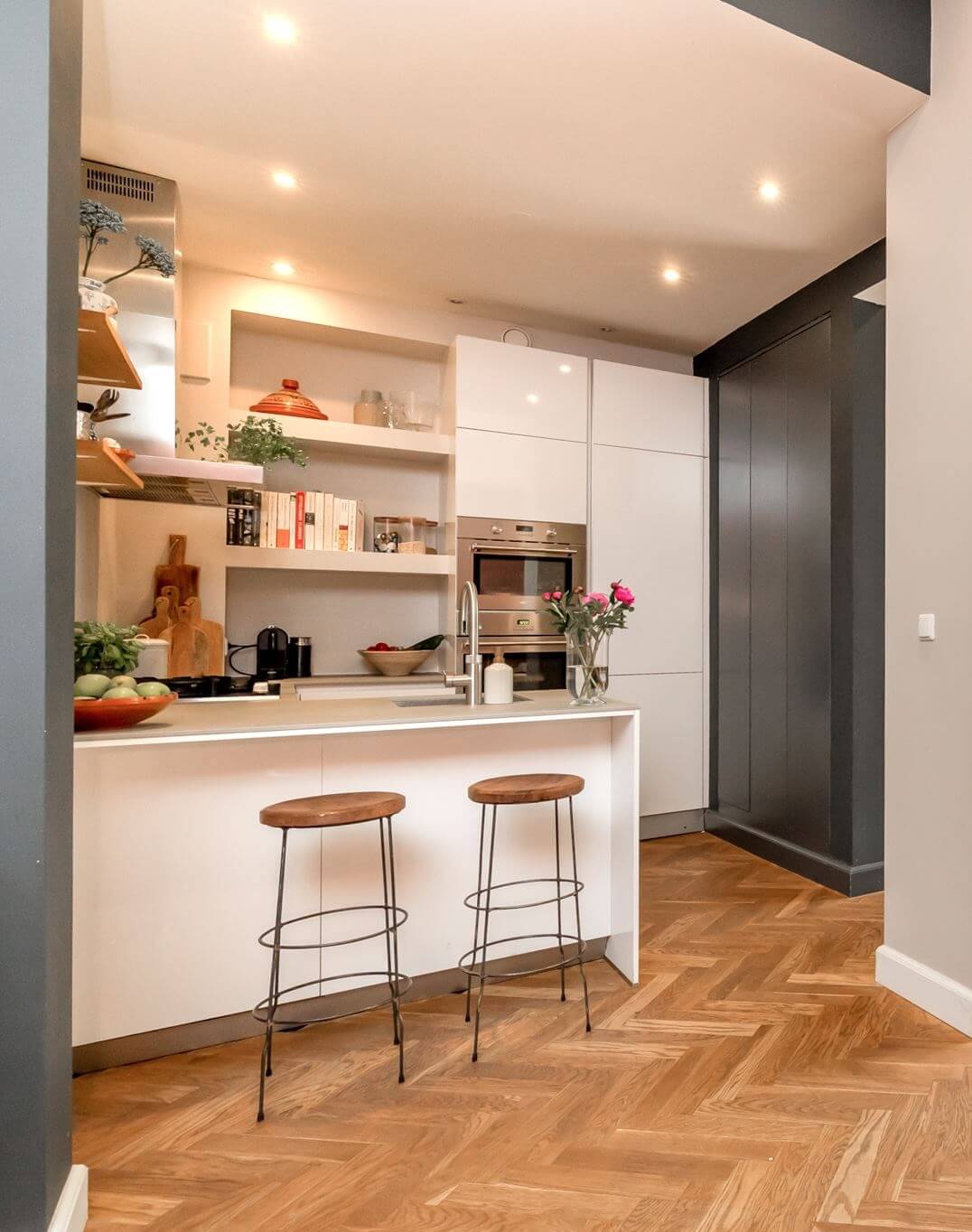 The History of the Herringbone Pattern
The name herringbone comes from the skeletal structure of a fish, for example, the herring. The history of the herringbone pattern goes back centuries, it was already used in the Ancient Roman Empire as a road pavement. But you can also find the herringbone pattern in wallpaper, jewelry, textiles, and sculptures.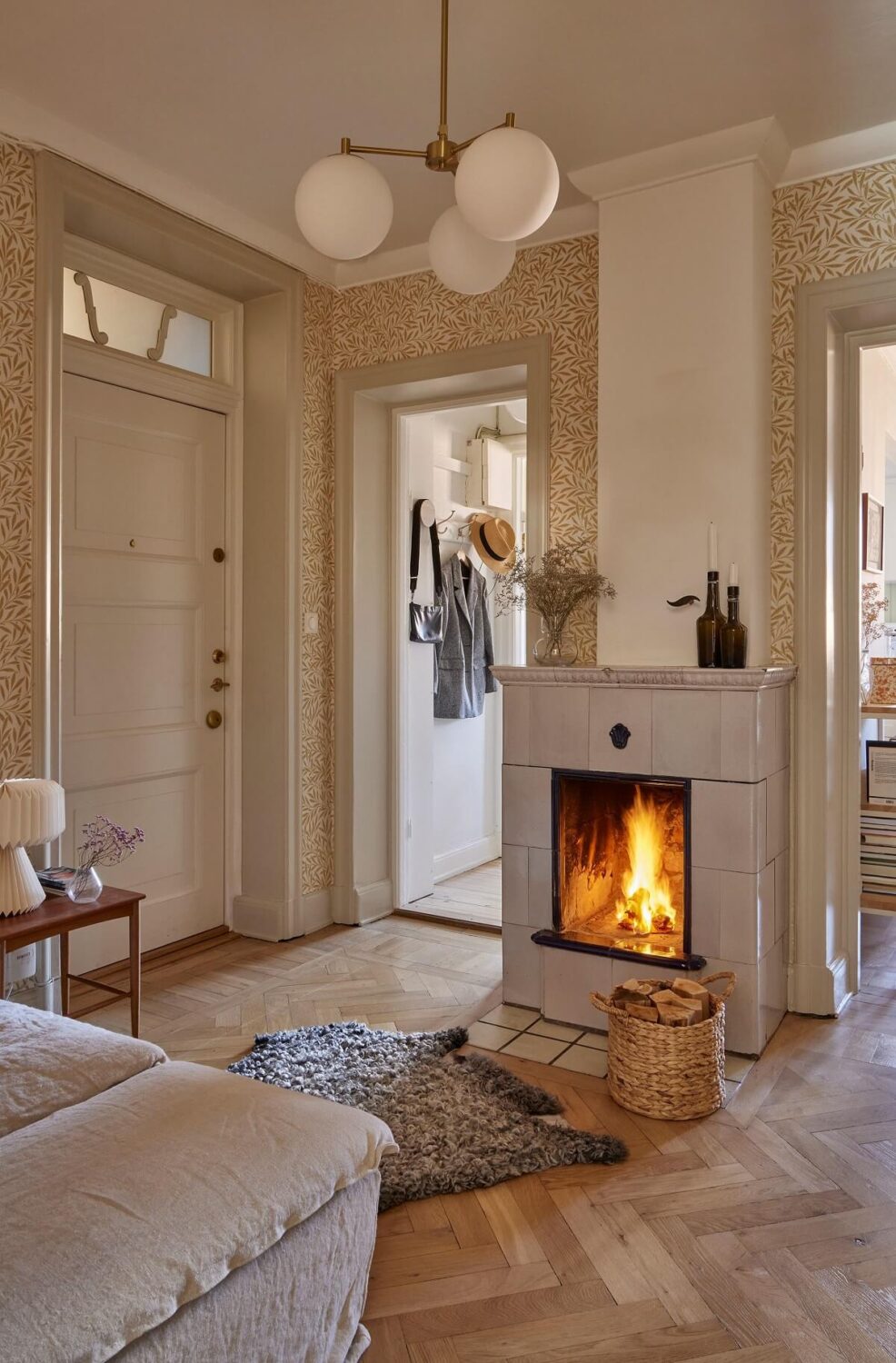 The Chateau de Fontainebleau (a former Royal palace in France) features some of the earliest examples of herringbone flooring. Since this construction in 16th century Europe, herringbone has become a popular choice for parquet floors in palaces, grand houses, and historic homes. In some houses, you can still find the original herringbone floor.
Chevron Pattern
While similar to the herringbone pattern, the chevron pattern is made with planks that are cut at an angle. These planks are put together creating a V or arrow pattern on the floor.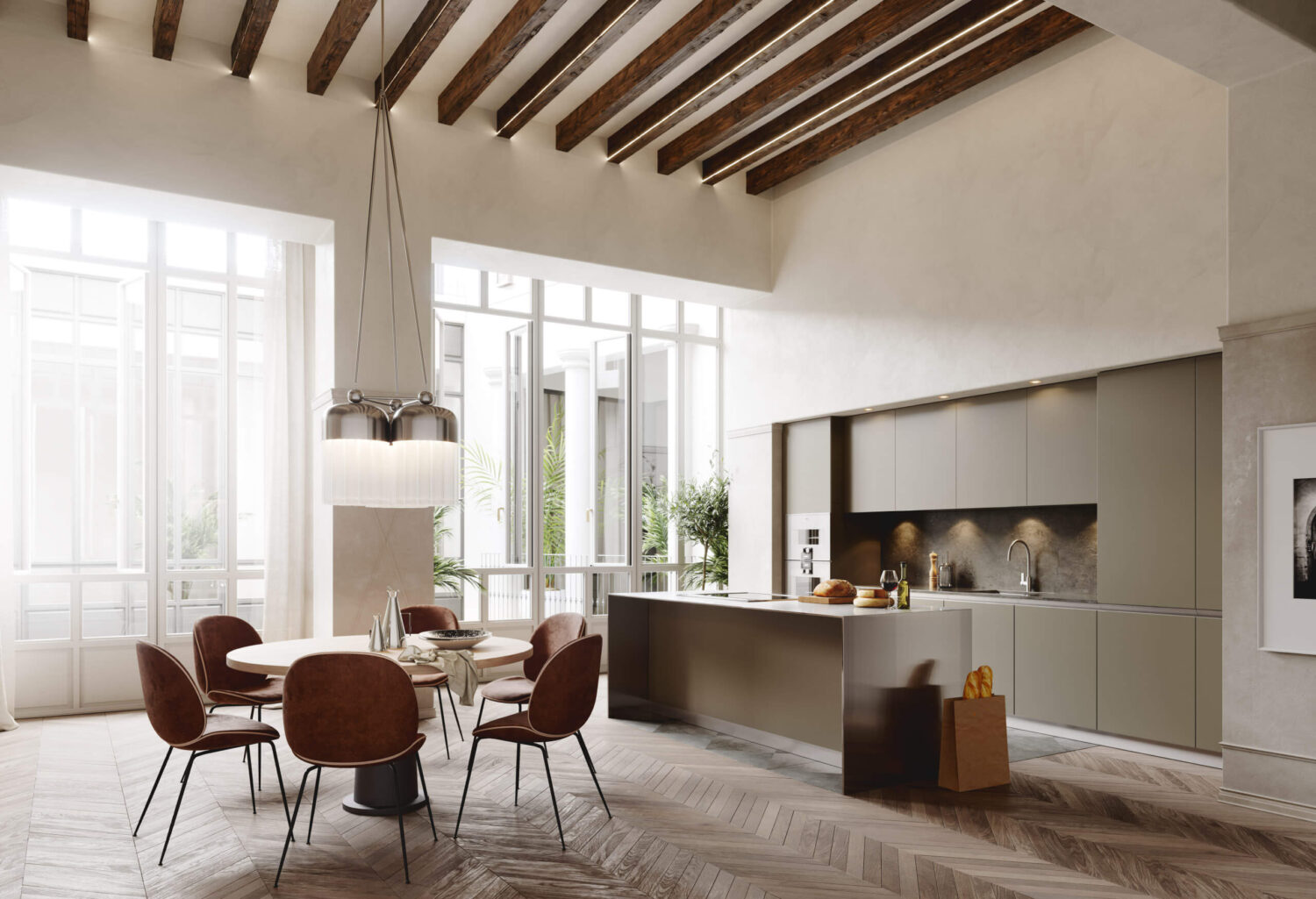 The History of the Chevron Pattern
Just like the herringbone pattern, the chevron pattern goes back centuries and it is considered one of the oldest symbols in human history. The earliest examples of the chevron pattern appear on pottery and petrographs (rock art) dating from ancient times.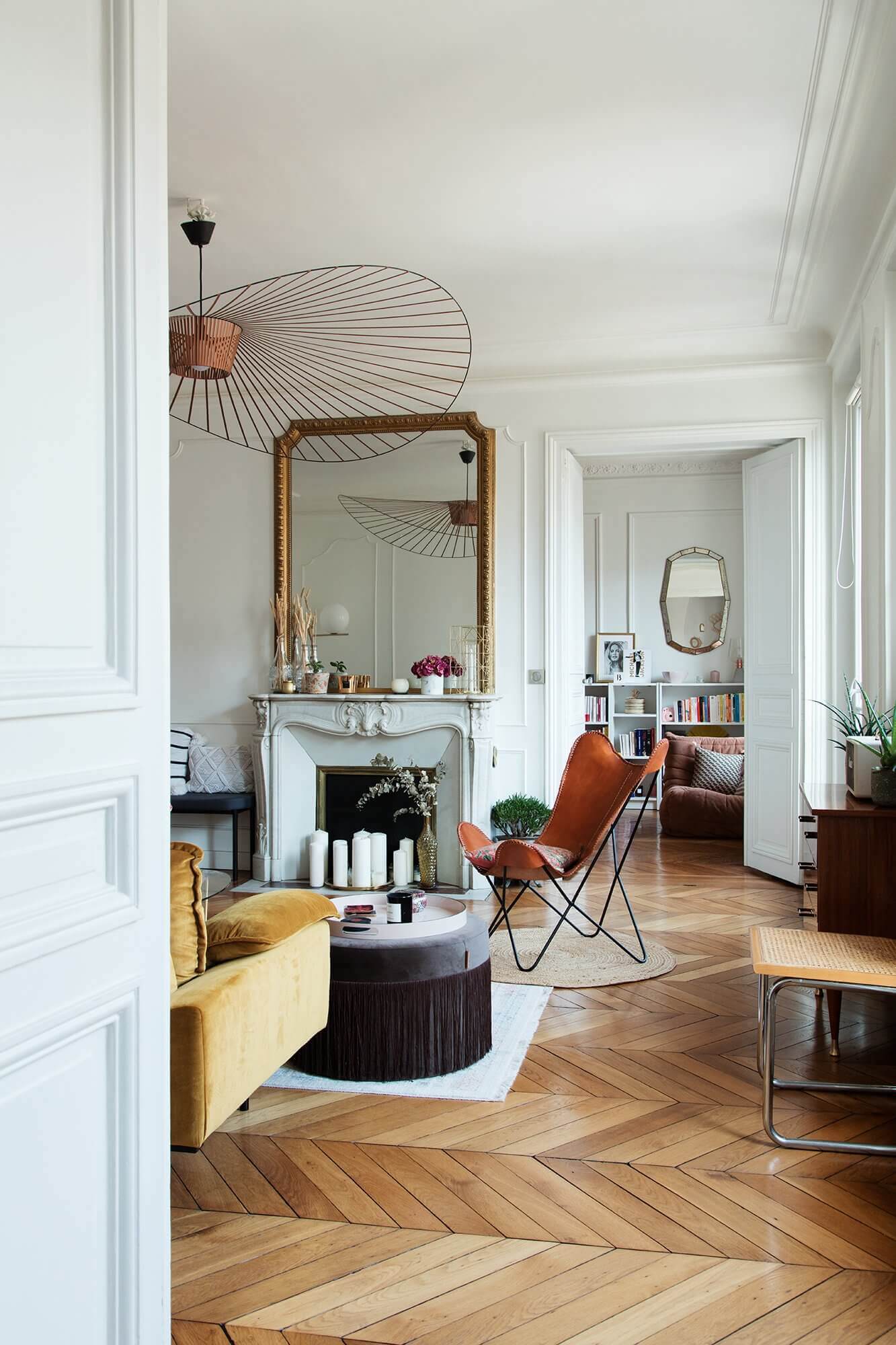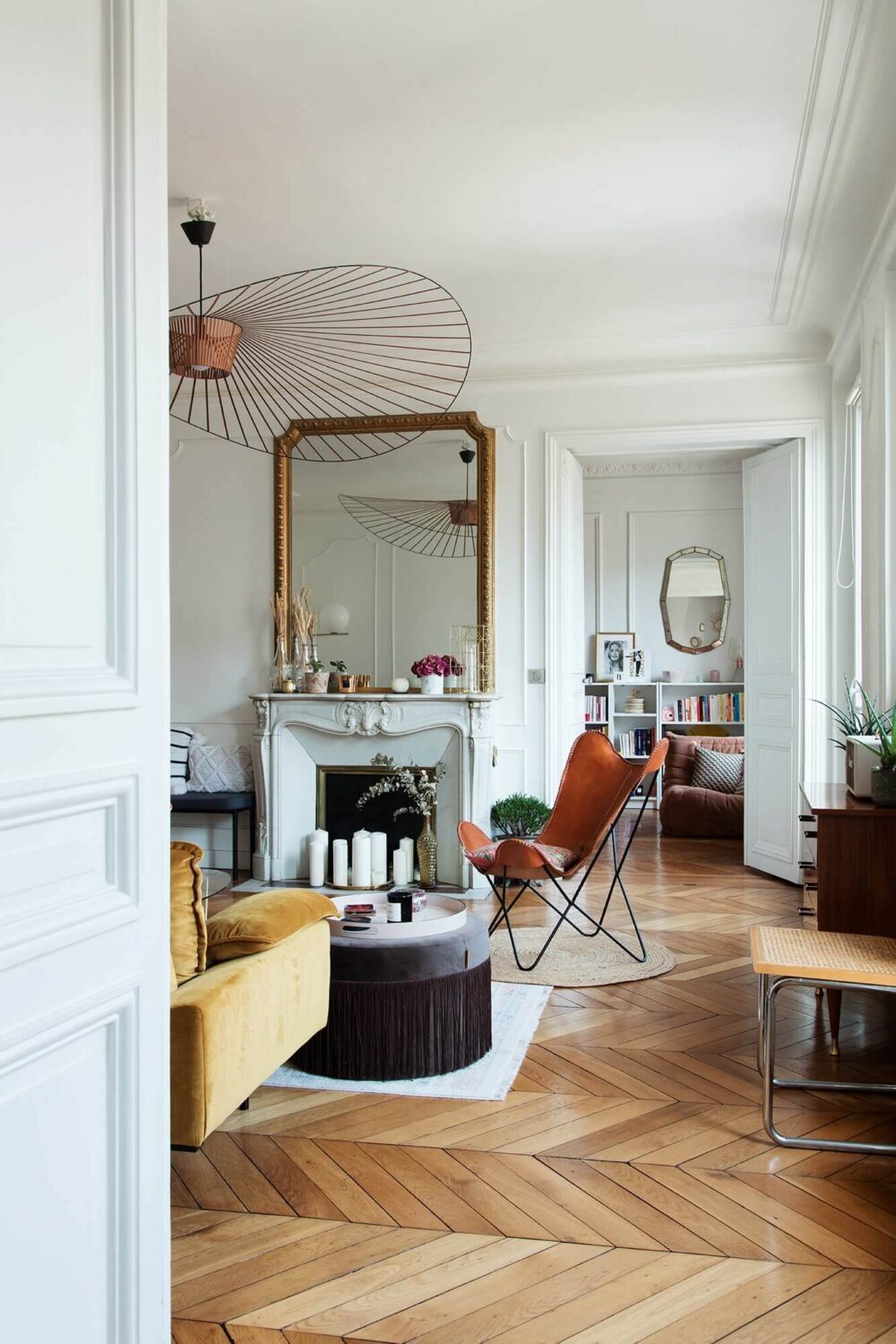 The chevron pattern also appears in early examples of heraldry, like a coat of arms. Especially in Normandy and Scandinavia, it was often used. In Western Europe, it is also used as an insignia of the ranks in the military.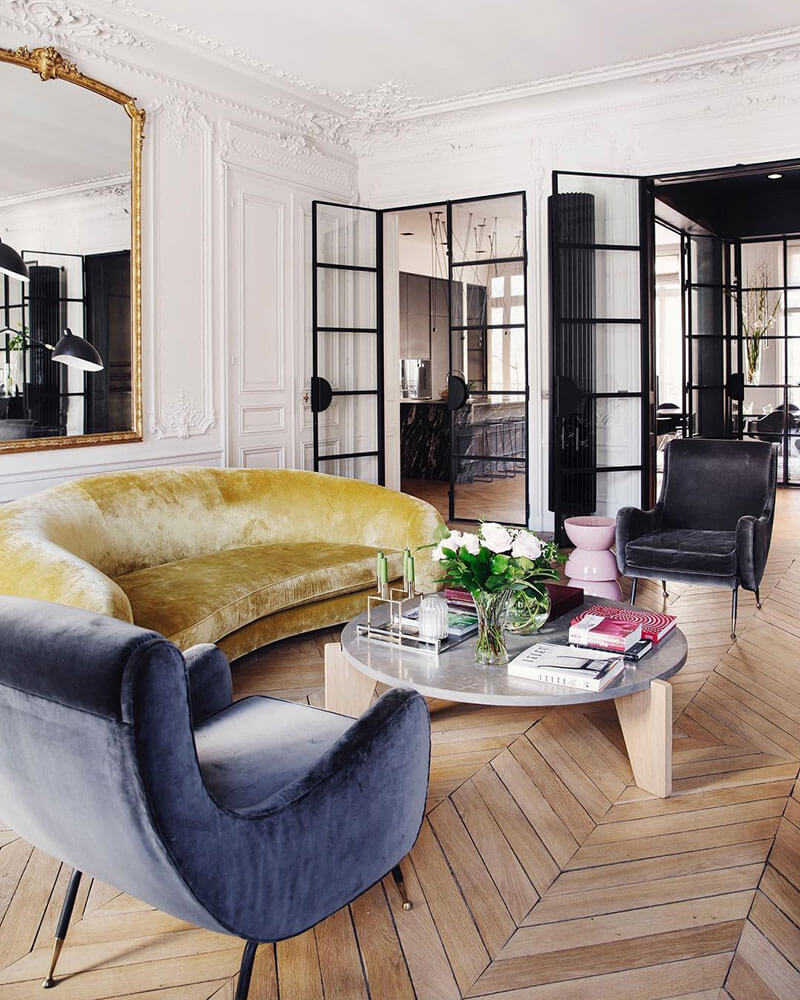 The Difference Between Herringbone vs. Chevron Flooring Patterns
The main difference between a chevron and a herringbone is the pattern. But there is also a difference in the way these two floors are installed. And when you know what to look for it is quite easy to spot the differences between these two classic patterns.
Kitchen with herringbone floor
photo: Ricardo Labougle

Paris home with chevron floor
The chevron pattern is laid out in a V-shape. Depending on your own preferences, you can cut the planks as sharp as you want, creating a different angle. This way you can create a subtle V-shape or a sharp V-shape. Due to the way you lay out the chevron planks, you can see a clear straight line that runs the entire length of the floor.
The herringbone pattern has rectangular boards that are always laid out at a 90° angle to each other. The floor is laid from the center of the room working its way to the sides.
Herringbone Floorboards
From historic palaces to modern homes, the herringbone pattern is a popular choice in any room of the house for hardwood floors, like a classic parquet flooring.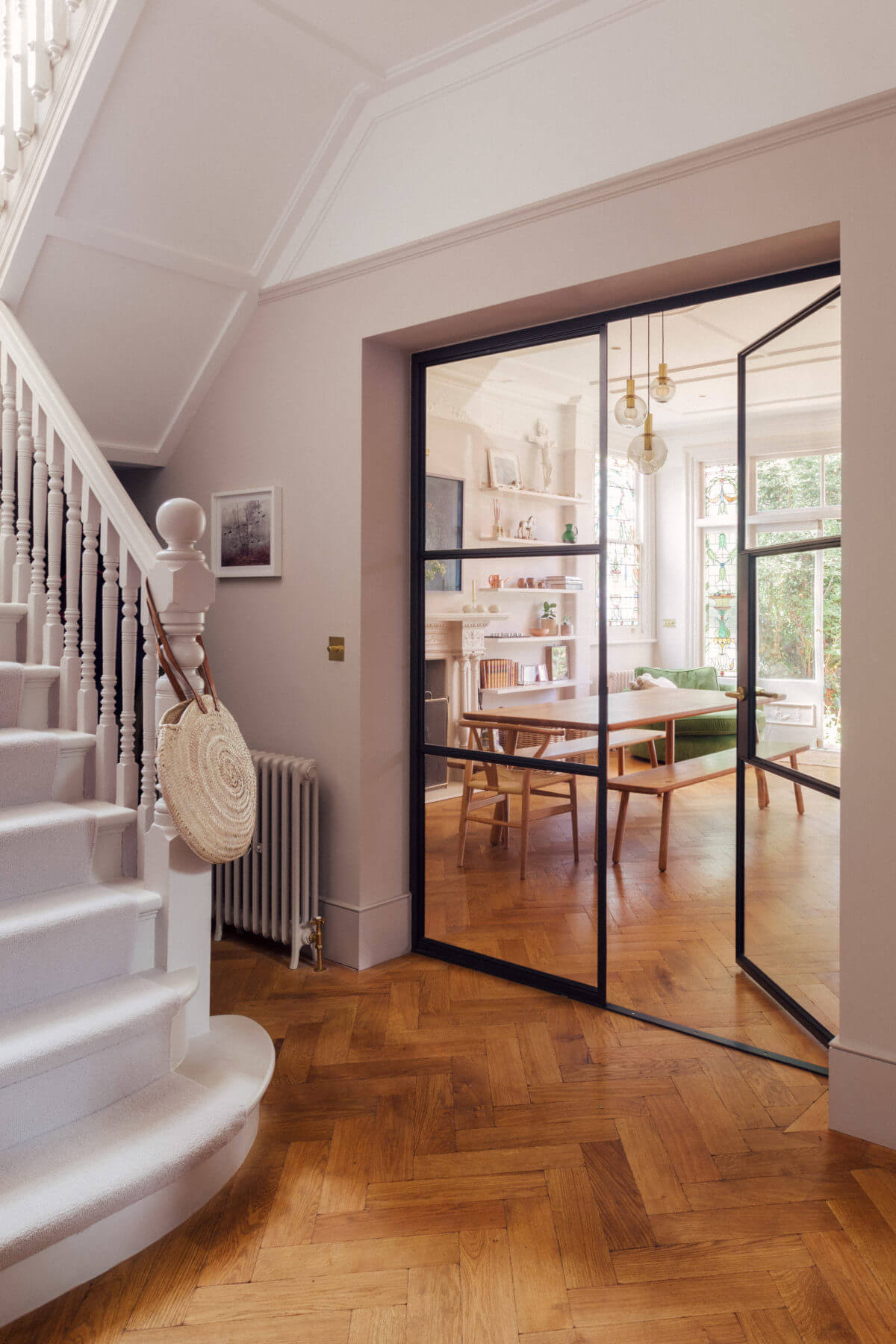 This light filled Victorian family home in London has oak floors on the ground floor laid in a herringbone pattern.
This modern green kitchen has a wooden floor laid in a herringbone pattern. Each wooden plank has its own characteristic which gives this modern room a warm and rustic touch.
Herringbone Tiles
Besides floorboards, you can also create a herringbone pattern using rectangular tiles. The herringbone pattern can be added to the floor but also as a kitchen backsplash or the bathroom tiling can be laid out in a herringbone pattern.
Tiles are a great option in wet rooms like a kitchen, a bathroom, and a hallway. And there is great variety, think of marble tiles, brick tiles, or ceramic tiles in all kinds of colors and patterns.
See also: The Best Kitchen Flooring Ideas For Your Home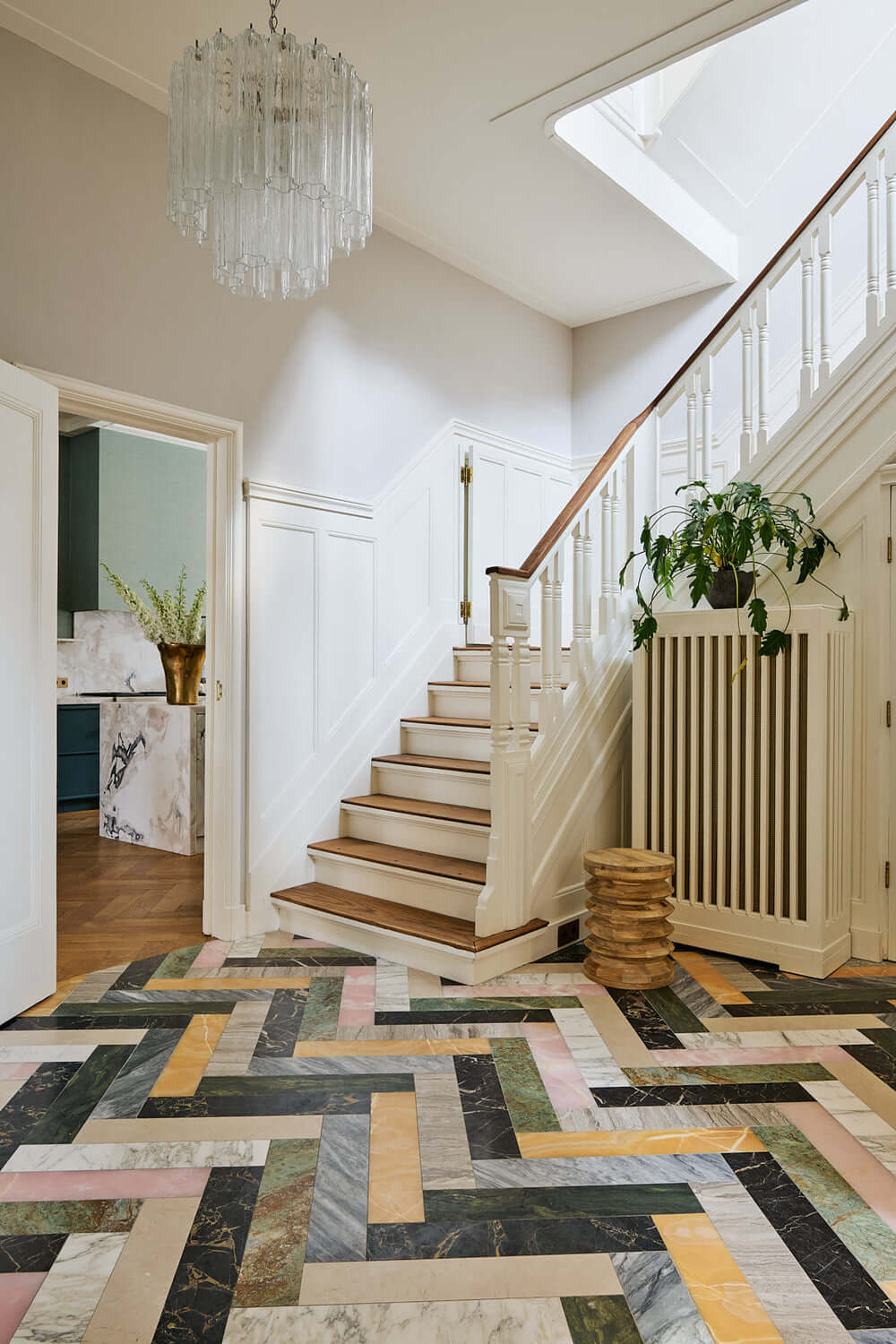 An Amsterdam villa designed by Atelier ND Interior has incorporated a herringbone tile pattern in a unique way. They used ten different types of marble to create this colorful hall floor. In this Amsterdam home they also chose for a herringbone design in the living room and kitchen floor.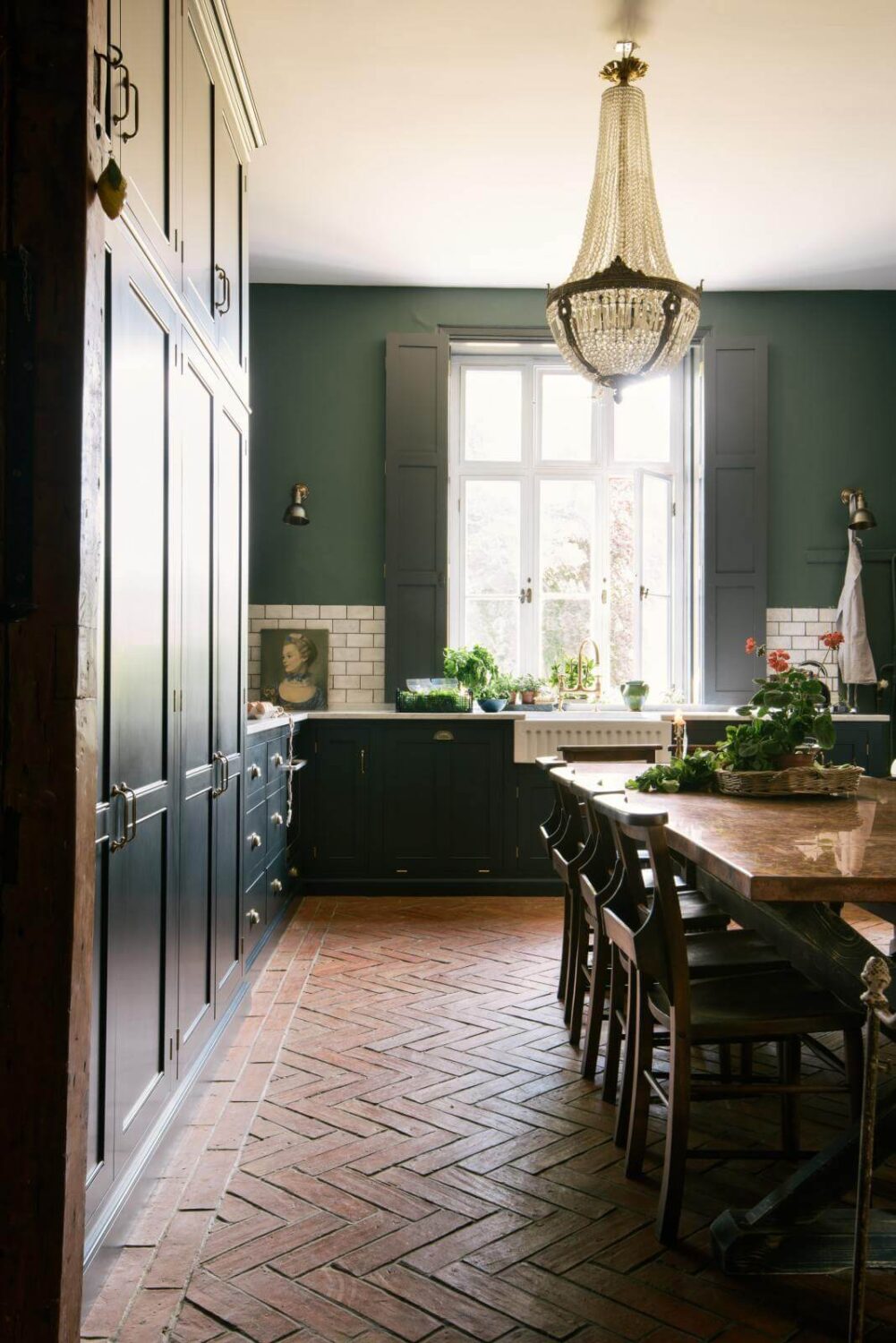 A brick floor is not common but it adds so much character to a room. This deVOL kitchen in a former rectory added brick tiles on the floor in a classic herringbone pattern.
Sus Mogensen (@susliving) transformed an old industrial building in Copenhagen into a warm family home. On the floor in the kitchen and dining room she laid brick tiles in herringbone pattern which adds to the historic feeling of the home.
A small modern bathroom has a walk-in shower with marble herringbone tiles on the walls and floor.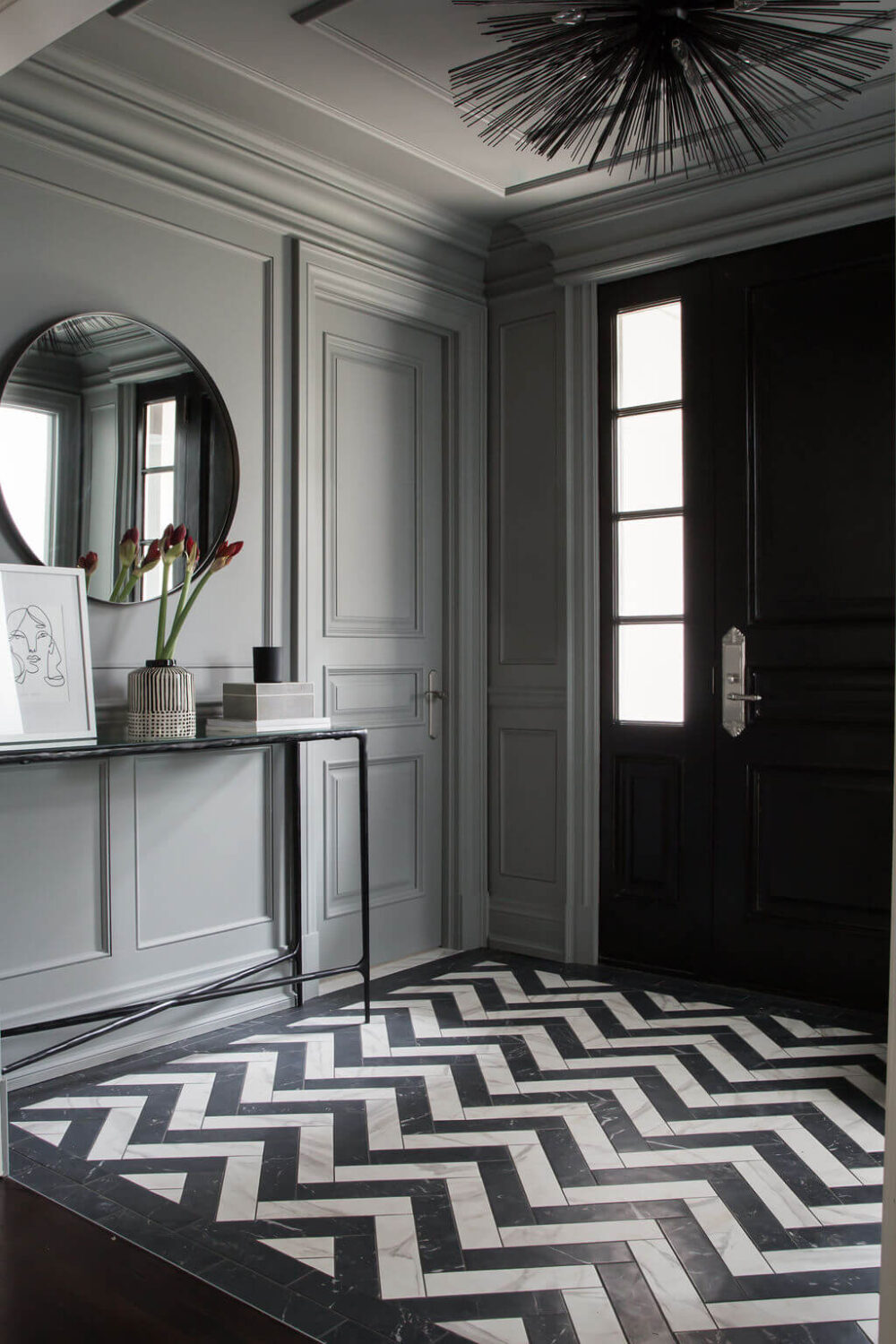 Another hallway where they incorporated a herringbone pattern. This time, Meg Cassidy chose a monochrome black and white color scheme with marble floor tiles.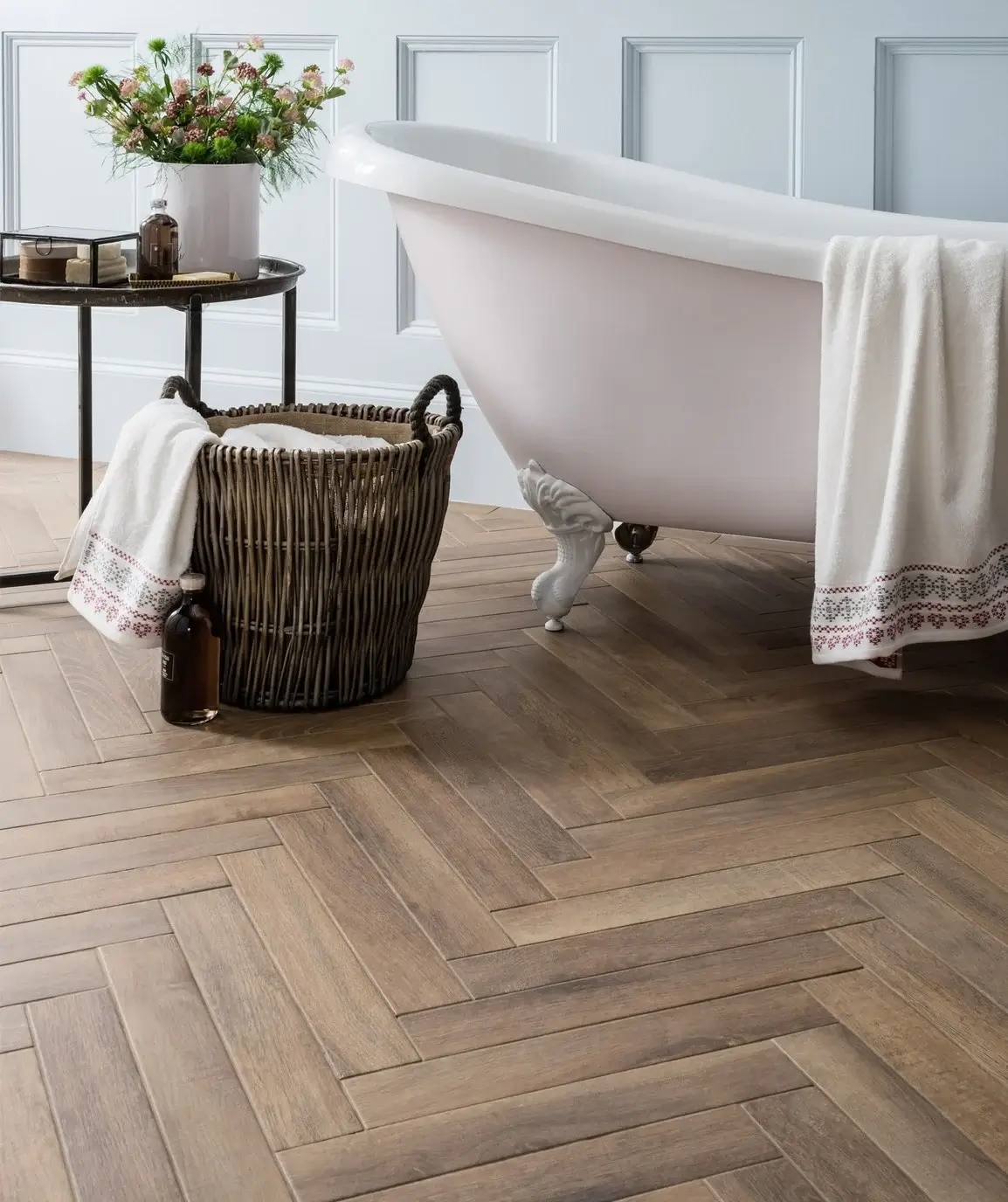 Despite the look, this is not a wooden floor instead they are tiles with an oak wood effect. They are beautifully laid out in a herringbone pattern for a warm and classic bathroom design.
Chevron Floorboards
Chevron wood flooring is a classic and interesting floor pattern that looks a bit calmer than a herringbone floor while still adding warmth to the space.
A beautiful example of a home with a chevron floor is this townhouse on Mallorca. The house is designed by WhyteLilja Architects and visualized by Talcik&Demovicova. Almost every room in this home features a wooden floor laid out in a chevron pattern.
The modern classic kitchen of Joseph Dirand features a wooden floor in a chevron pattern.
Herringbone and chevron patterns are often associated with Parisian homes. And as it was a French palace who was one of the first to use a herringbone style on the floor it's no wonder that so many French homes have copied this look.
The 19th century Haussmannian apartment of interior architect Jean-Charles Tomas has chevron wooden floors. He wanted to salvage the original floors though in some places the wooden boards had to be replaced.
Chevron Tiles
The chevron pattern can also be added to the bathroom or kitchen using tiles.
This black and white bathroom designed by Amy Storm and Company has beautiful black tiles laid out in a chevron pattern. Here you can clearly see the straight line in the chevron tile pattern which is so defining of this floor pattern.
Herringbone vs Chevron: What is The Right Choice For You?
In recent years, herringbone and chevron floorings have become popular options in all kinds of homes, including modern homes or industrial homes. What the right choice is for your home depends on your personal preference.
A chevron floor pattern creates a calmer look and creates perhaps a more modern look in your interior compared to a herringbone floor which is a bit busier. With a herringbone floor, you can create a more dynamic floor style by using planks with different wood stains.
But one thing is certain. It's not a matter of herringbone vs. chevron flooring, both options are beautiful. Whether you choose a chevron pattern or a herringbone pattern, you are creating a timeless interior.