Interior Design Trends for 2024: Comfort, Nature, and Warmth
Interior design trends come and go. Some last long while others will not be seen after a short period. And while I believe you shouldn't decorate your home according to the latest trends. It is nice to see which trends are up and coming in the design world and take inspiration from them.
After popular design weeks like Milan Design Week, Stockholm Design Week, and the Three Days of Design in Copenhagen, we can now look closer at the home décor, furniture, materials, and styles we expect to see in our homes in 2024.
This year's trending interior styles show us futuristic elements while also craving a nostalgic touch in vintage and personal items. The cottage core style will remain a fixture in interiors, strengthening our bond with nature and a quieter life.
In the last few years, the design world has kept innovating regarding sustainable design using reclaimed materials. This is also visible in the trends of 2024 with reclaimed textiles or using materials that can be recycled repeatedly. Let's take a look at the interior design trends for 2024.
2024 Interior Design Trends
The interior design trends for 2024 built further on trends we've seen in the design world in previous years. Sustainability, comfort, and warmth play an important role in the new interior trends.
Curved Shapes
No straight lines and hard edges, as we're longing for a comfortable home, you can expect to see rounded shapes in our interiors. Think about a sofa with rounded edges or an asymmetrical mirror. Add cushions with a shell shape, or go for a wavy headboard in the bedroom.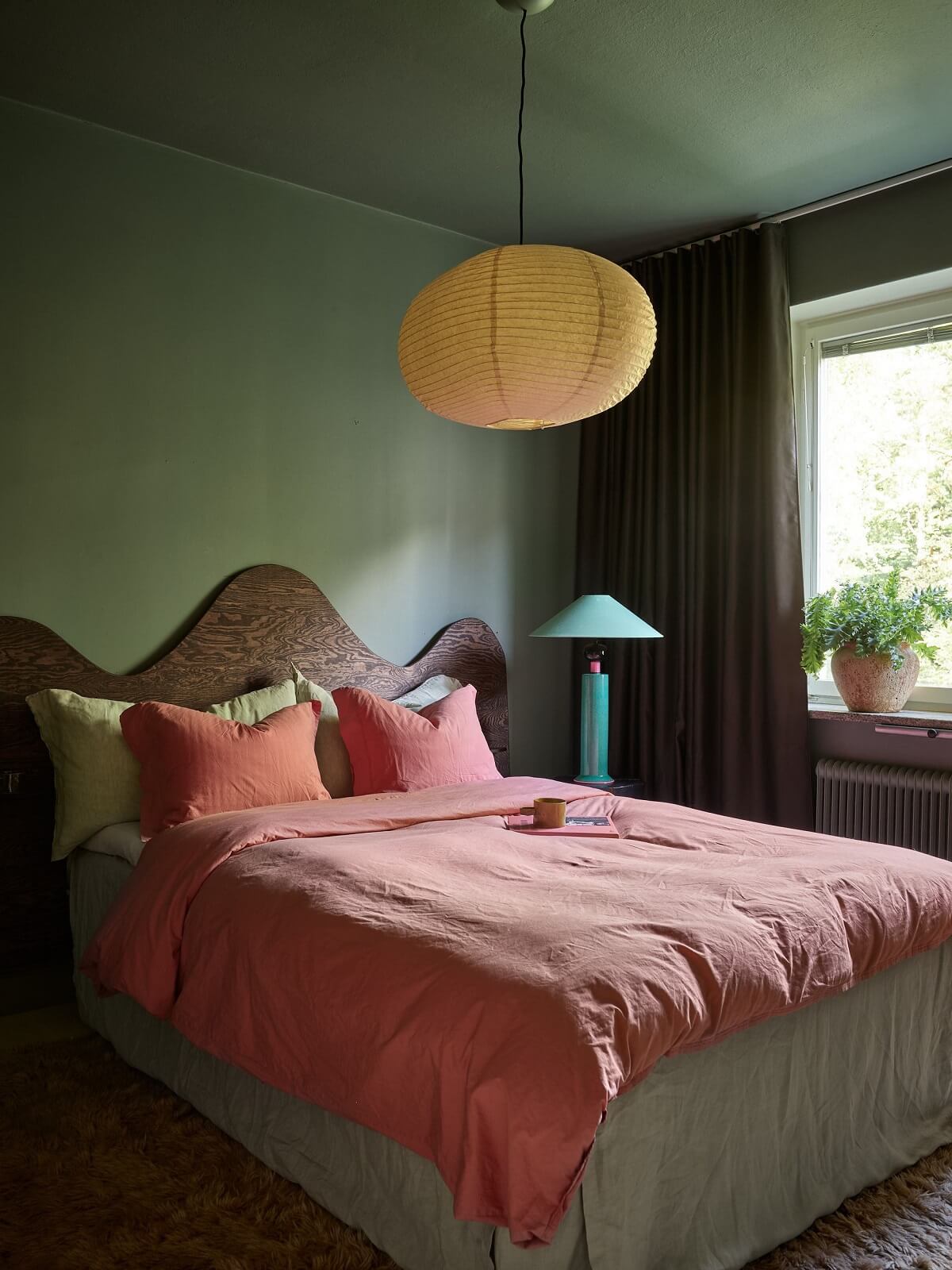 The new Frilly Chartreuse Light from deVOL combines a wavy shape with a warm and comforting color. The ochre yellow glass pendant light brings a vintage vibe to your room. The lamp is also available in a pink cranberry color for a little color pop.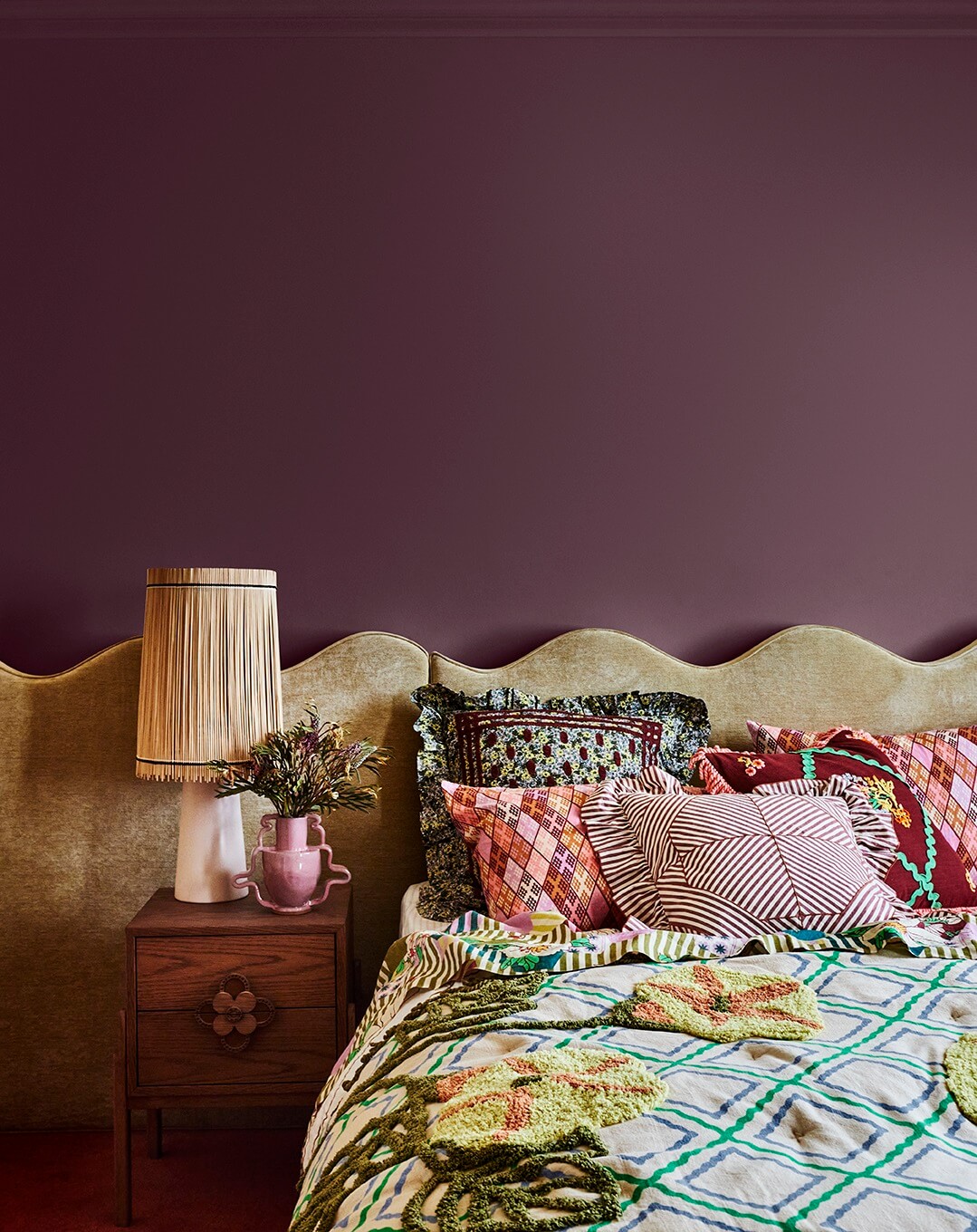 The Dulux Color Forecast 2024 is packed with amazing color inspiration, but you can also find furniture trends like this wavy ochre yellow velvet headboard.
These wavy side tables from Gustaf Westman are a great way to add color and wavy shapes to your home.
Glasswork
In 2024, we expect many homes decorated with high-quality glassworks. You can add color, shapes, and textures to your home's decor with unique glasswork.
These beautiful, colorful glass candlestick holders are now for sale at Anthropologie.
Stripes
Striped furniture upholstery, striped accessories, or striped wallpaper. You will see a lot of stripes in stylish homes from around the world. Stripes are a great way to add a unique, colorful touch to a furniture piece or a room. It also looks great with muted color tones, which give the room just a little extra character.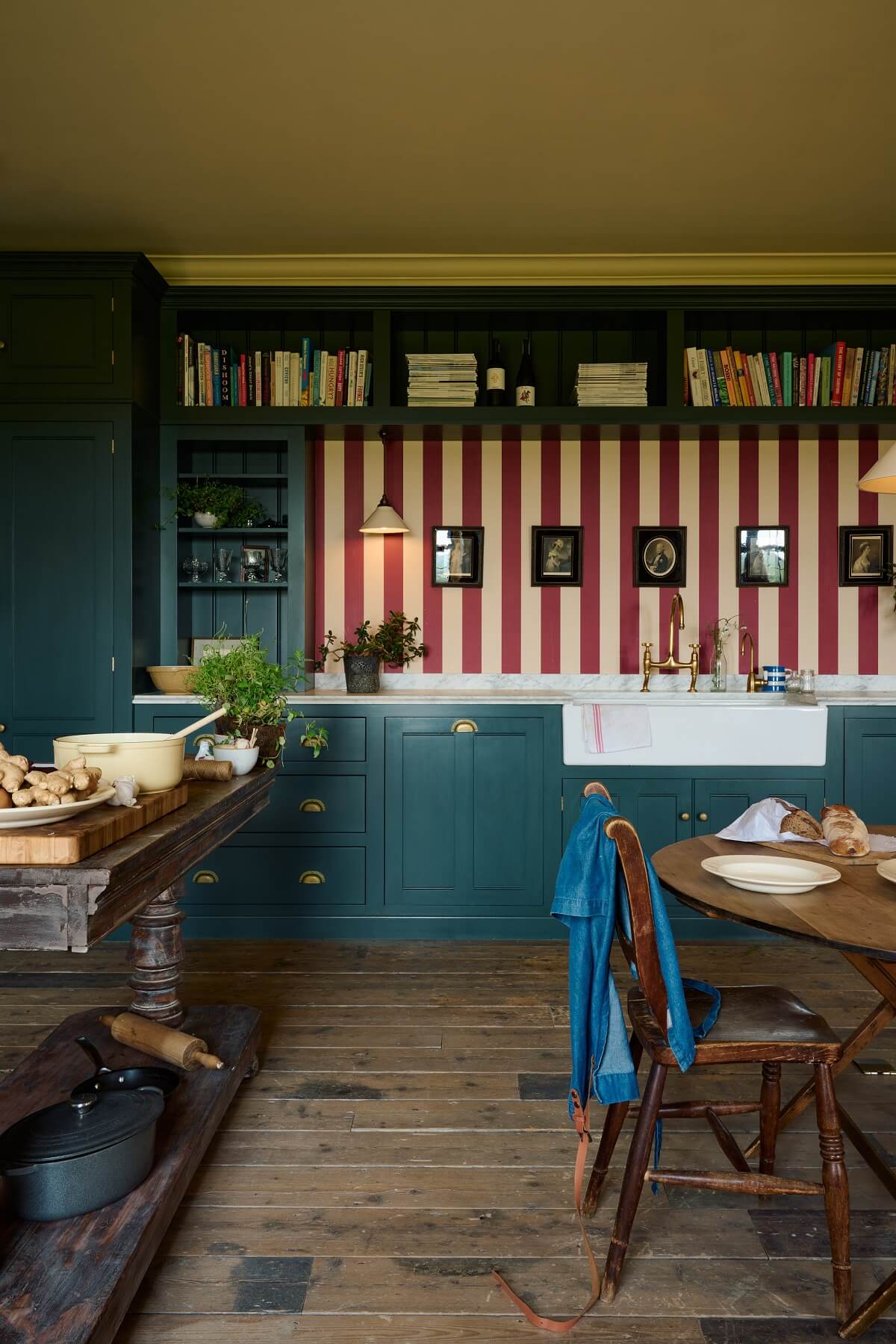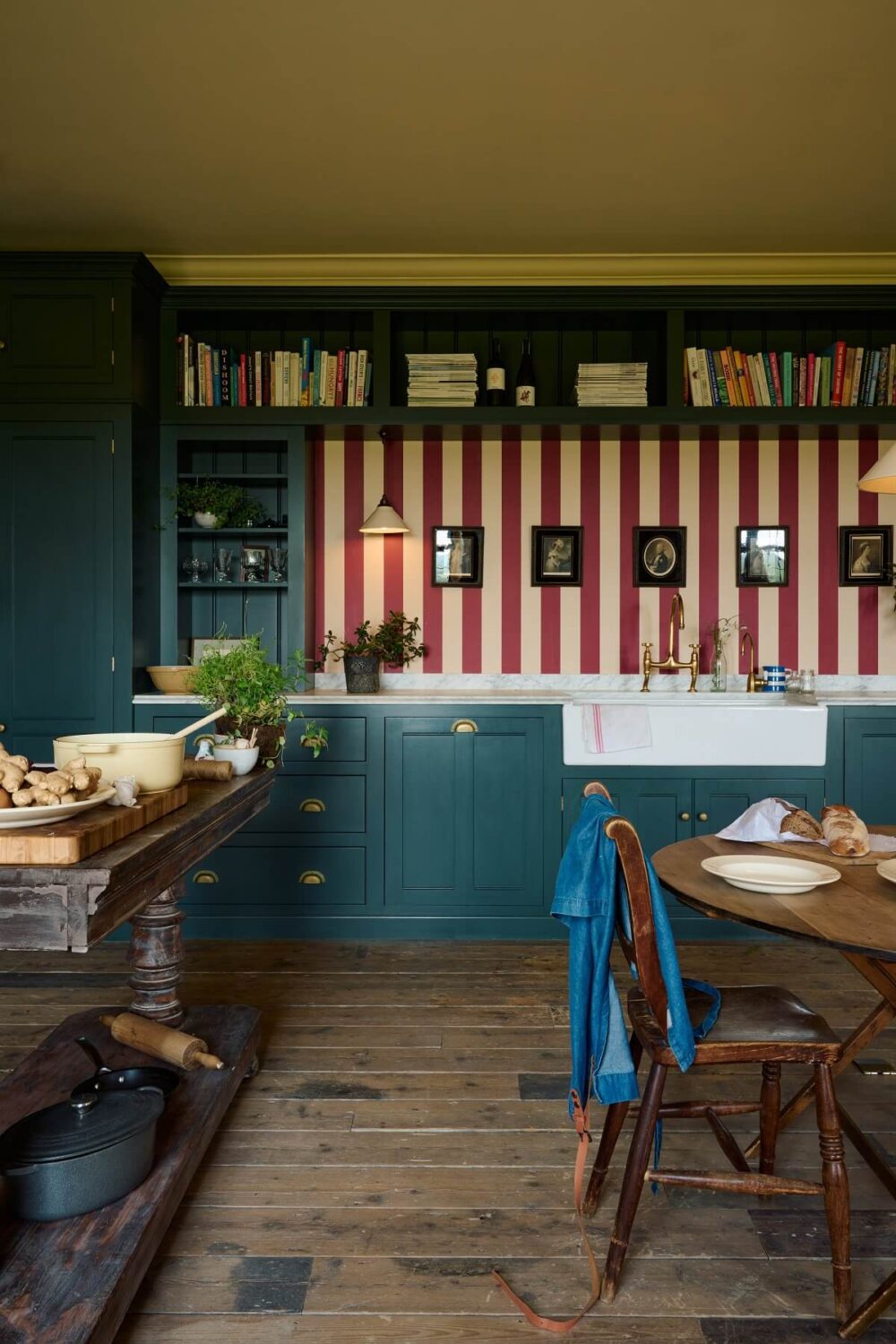 The deVOL kitchen in the English countryside home of designers Clarence and Graves features a striped red and white Ralph Lauren wallpaper, creating a unique and colorful backsplash.
The soft geometric shapes and fluid forms of 1970s furniture inspire the Studio Chair by Buchanan Studio. The chair combines generous proportions with curved edges and bold design.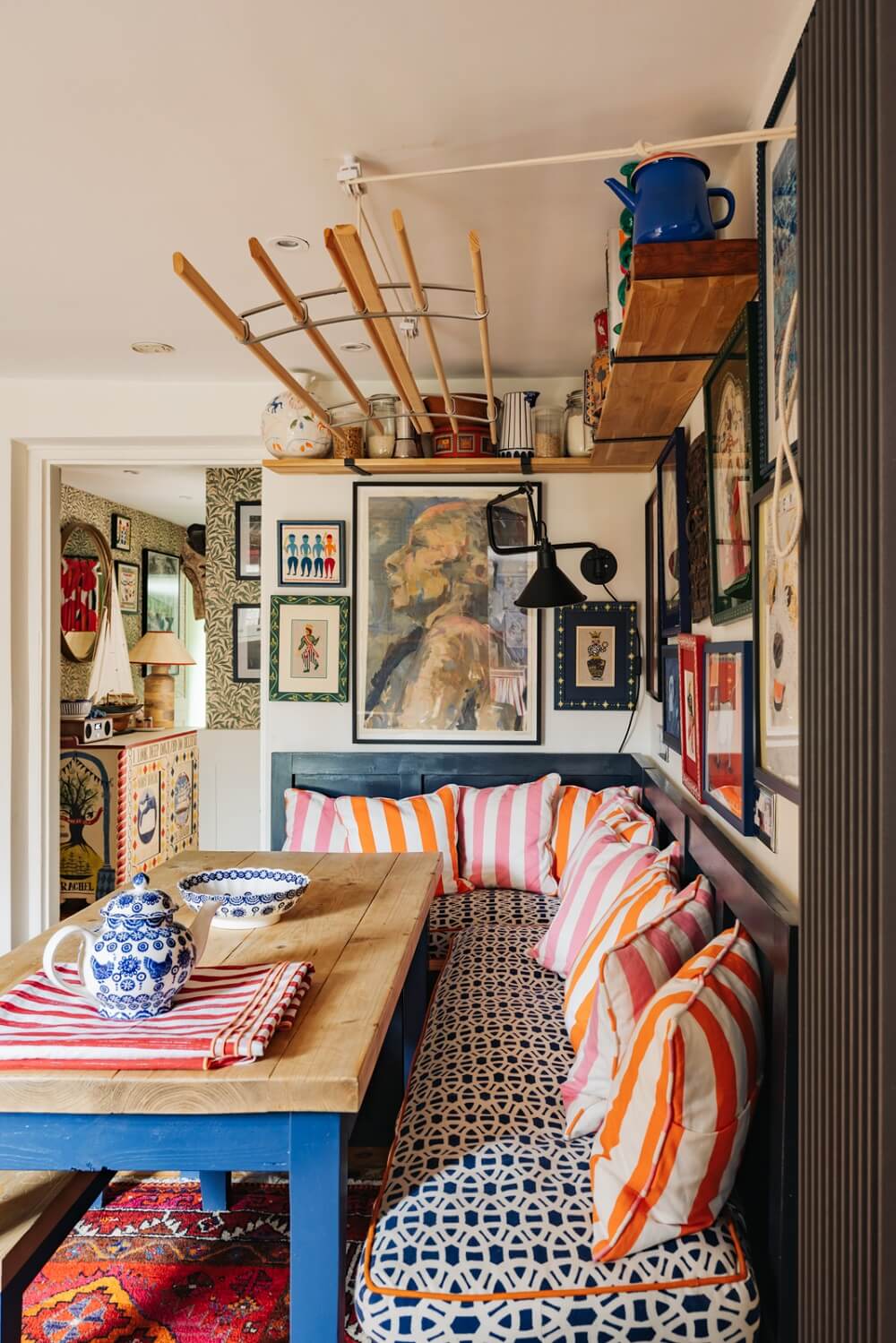 Pair colorful striped cushions with other patterns and colors for a unique and vibrant look as seen in this playful London home.
stripes are easily added to your home style in the form of cushions or a lamp shade like these examples from Alice Palmer.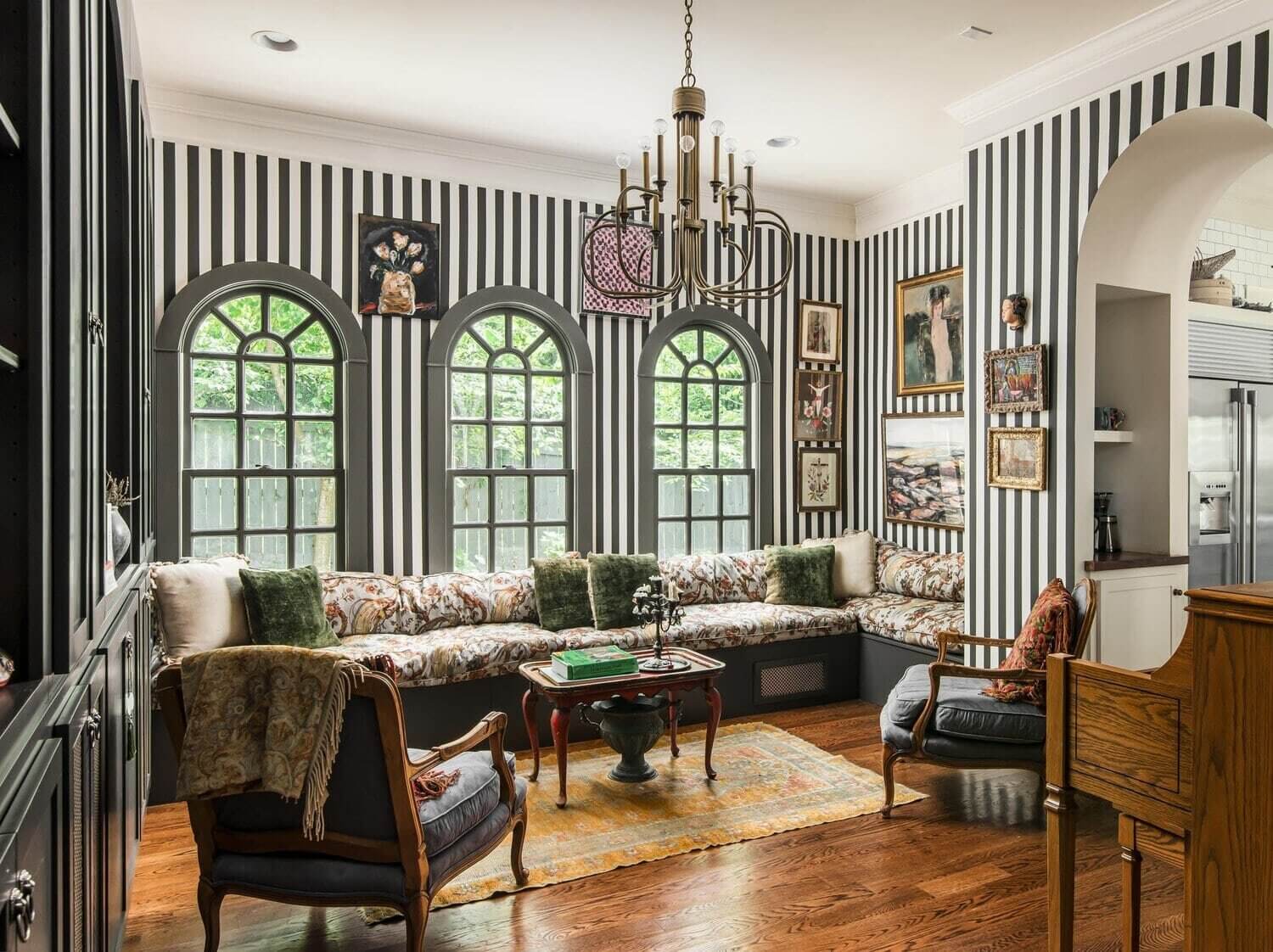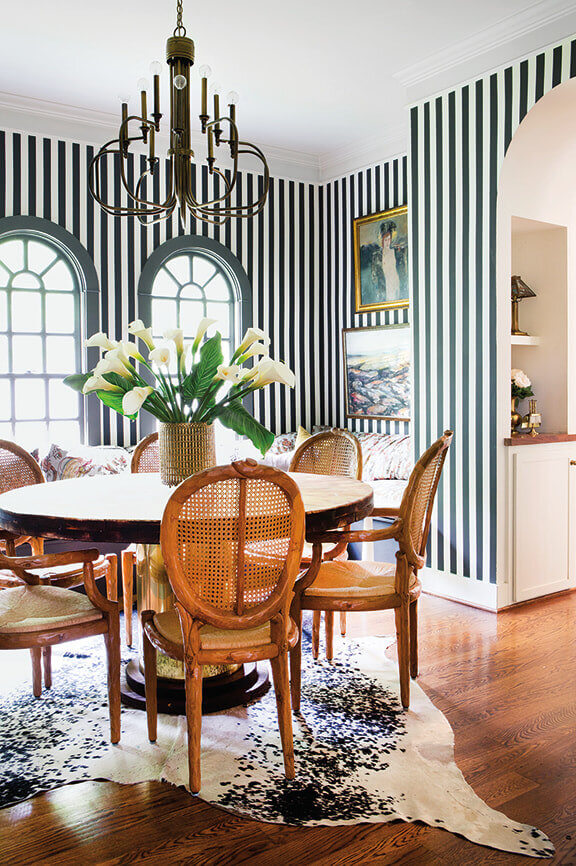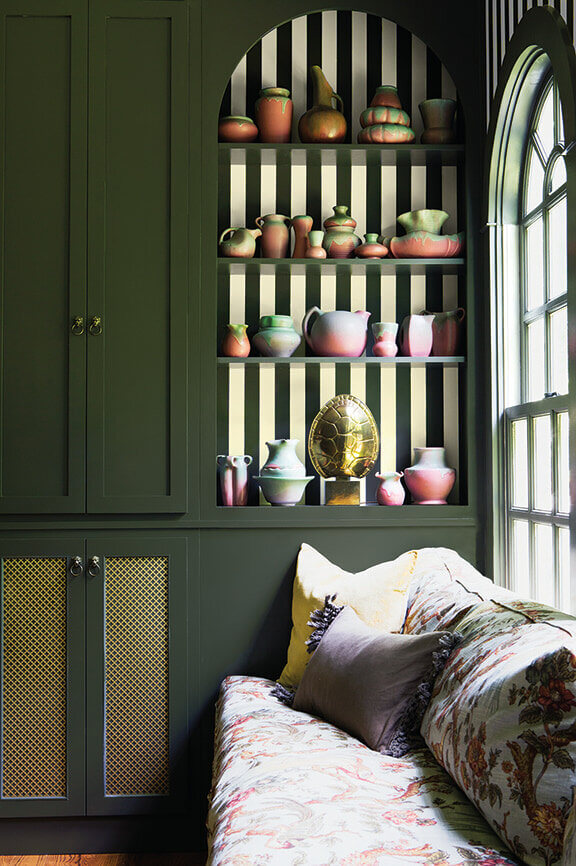 Interior designer Louisa Pierce knows how to create a cozy and interesting room. In her Nashville home, she added a striped wallpaper to her dining room and as the background for her shelves.
Checkerboard
Besides stripes, we also see more checkerboard patterns in the design world. You can opt for a classic black and white checkerboard pattern or combine the pattern with color and go for a bolder design piece.
The rug in this living room combines two trends: warm colors and a checkerboard pattern.
Spanish interiors studio Viruta Lab renovated a historic fisherman's house. In every room, they added a checkerboard pattern. In the bedroom, the checkerboard floor continues upward to an accent wall.
The bathroom also features a checkerboard pattern on the floor and the vanity table.
A checkerboard rug in white and ochre yellow is paired with olive green doors and a fireplace mantel.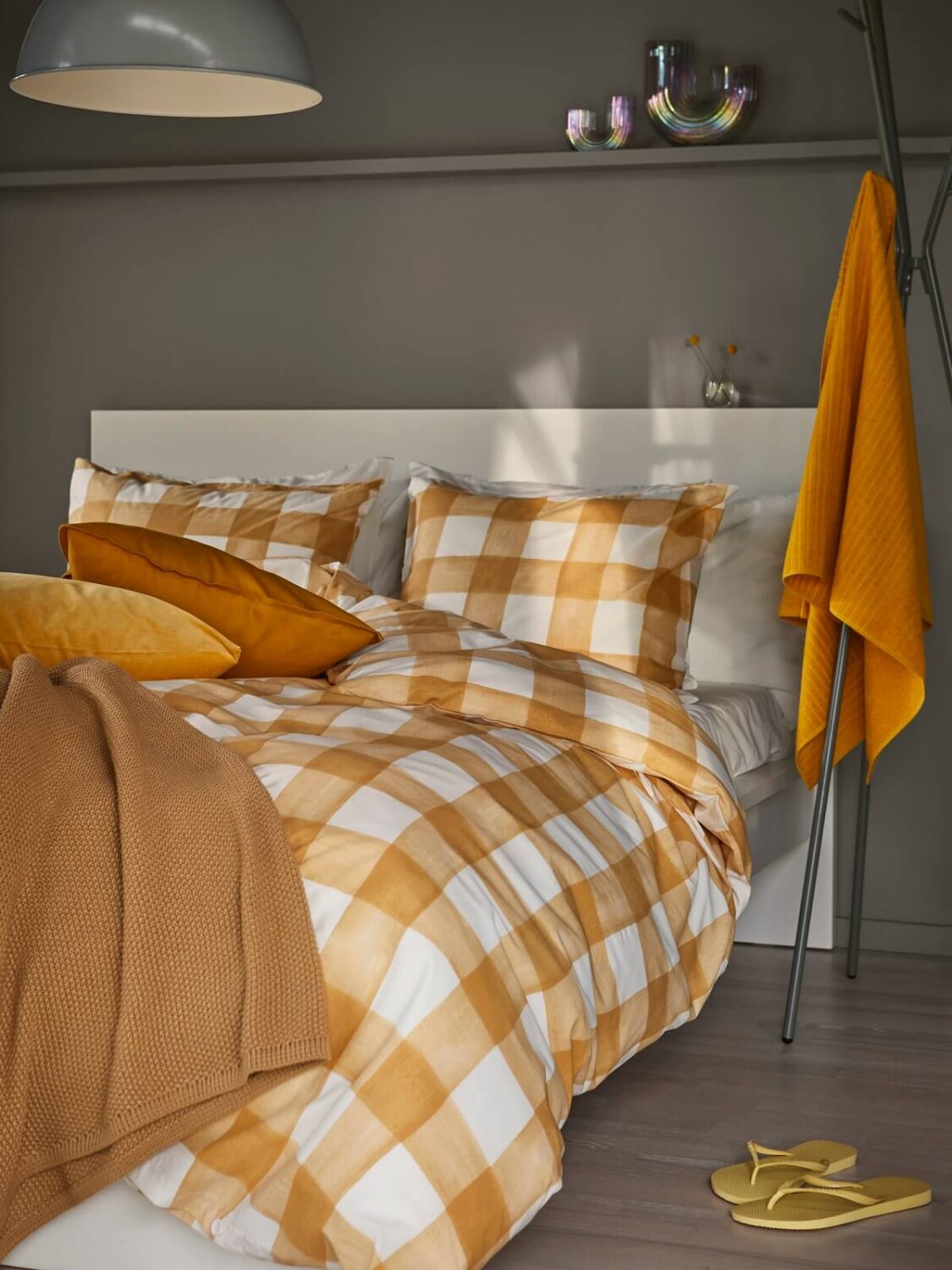 The yellow IKEA KANTNEPETA checkerboard duvet cover adds warmth and playfullness to the bedroom.
You don't have to pair a checkerboard pattern with color; this rug in a Hollywood Hills home shows that you can also add this pattern by using different types of texture.
Pine Furniture
A material that was often seen at 3 Days of Design in Copenhagen is pine wood. Pine was often branded as cheap, but this material is making a comeback.
The Swedish duplex apartment features a pine wooden floor.
The architects of Bornstein Lyckefors decided to pair pine wood with concrete in this Scandinavian loft apartment. The contrasting materials create a stunning home.
Natural Wood
Showcasing the natural grain and imperfections of timber is another trend we're seeing. Natural wood adds character and warmth to a room and shows that your home's items don't have to be 'perfect.'
Cottagecore
The cottagecore trend will rise even further. People love the comfort, coziness, and charm of this interior trend. Combine floral patterns, colors, textures, and prints to create an inviting home.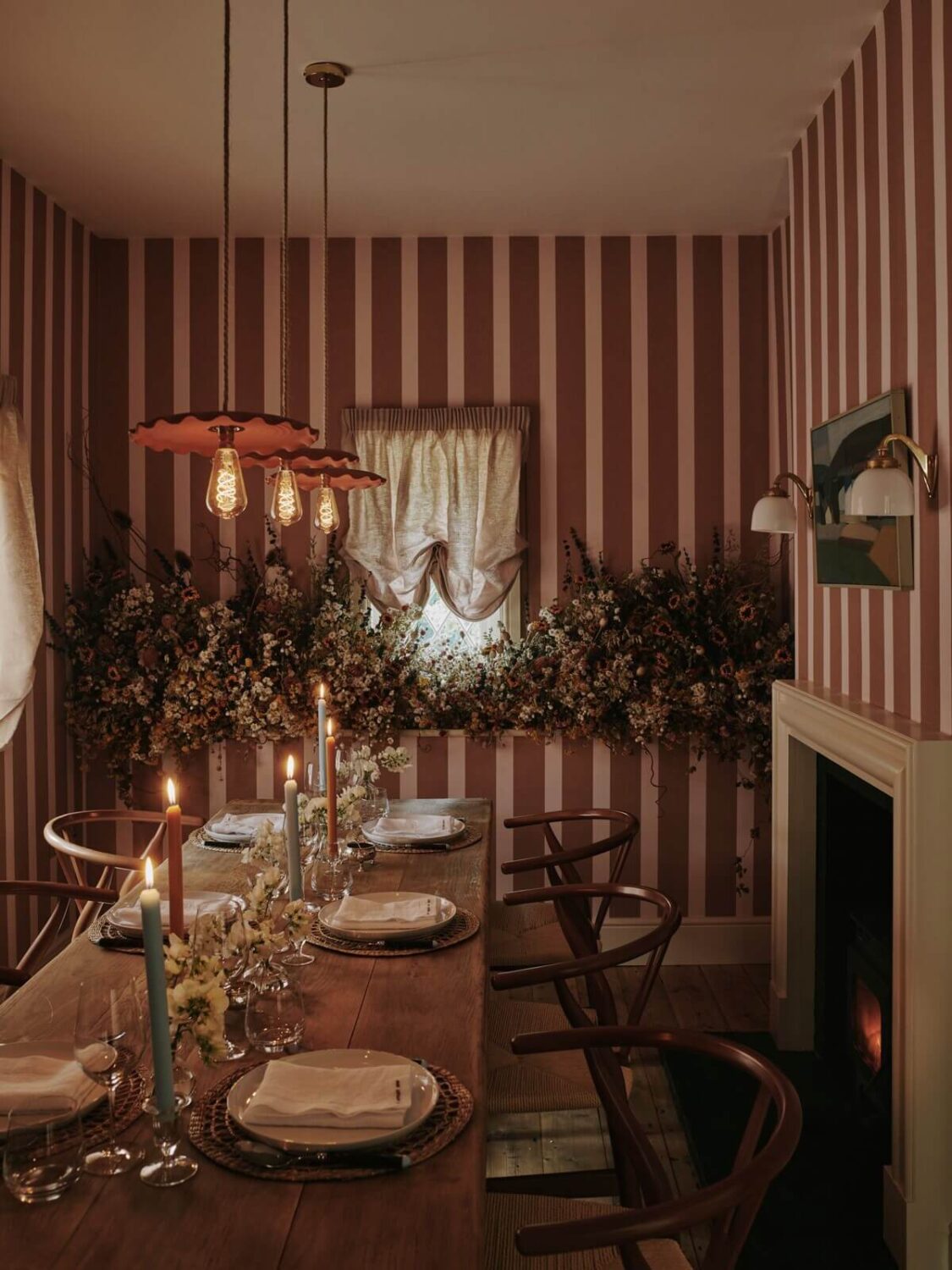 The magical pink cottage on the estate of the Viscount and Viscountess Newport in Shropshire has been redesigned by Emma Ainscough. With florals, stripes, pink tones, and frilly lampshades, it's cottagecore at its finest.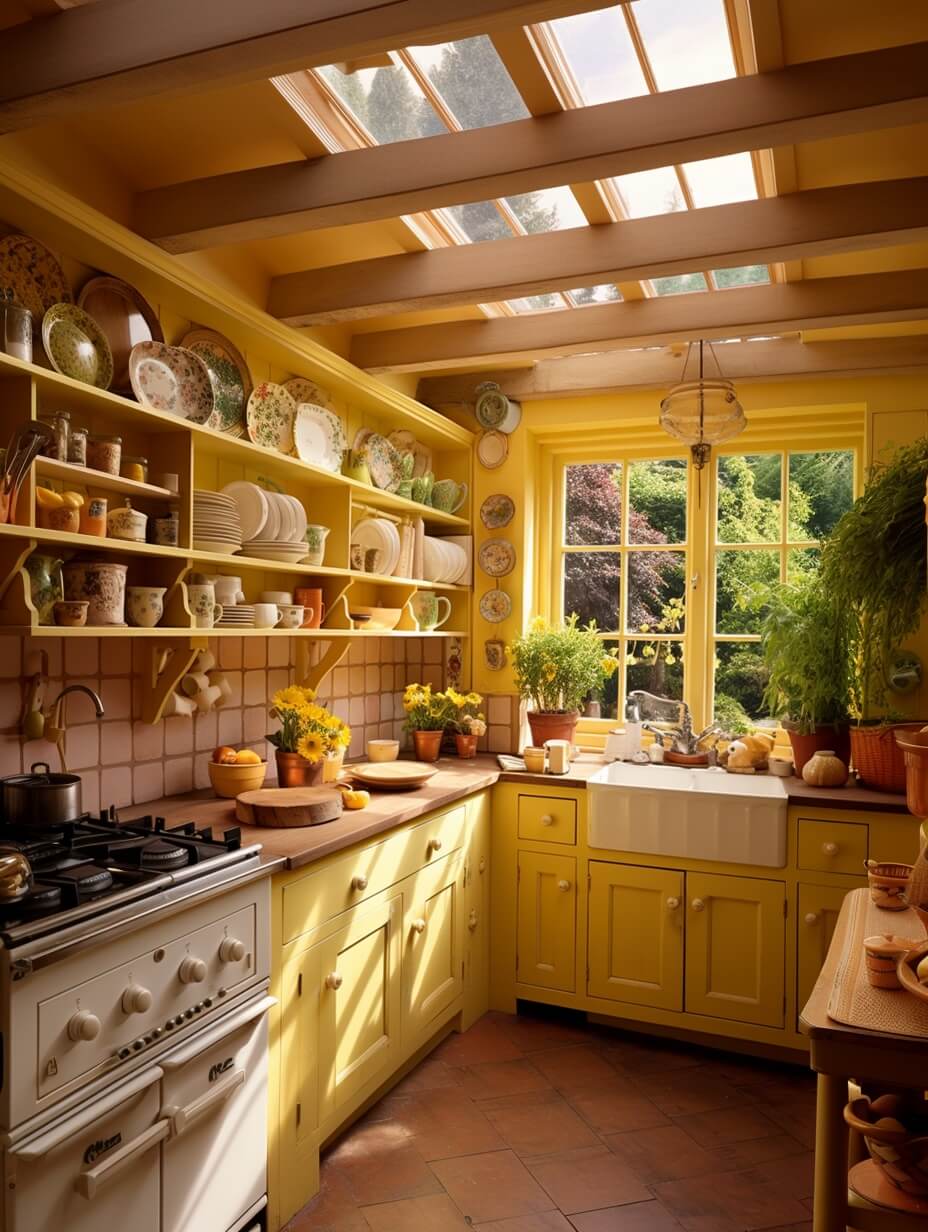 Nature
There has been a growing pull toward nature in the last couple of years. We saw this in earlier color trends using green and blue tones. But also by adding plants and natural materials to our homes.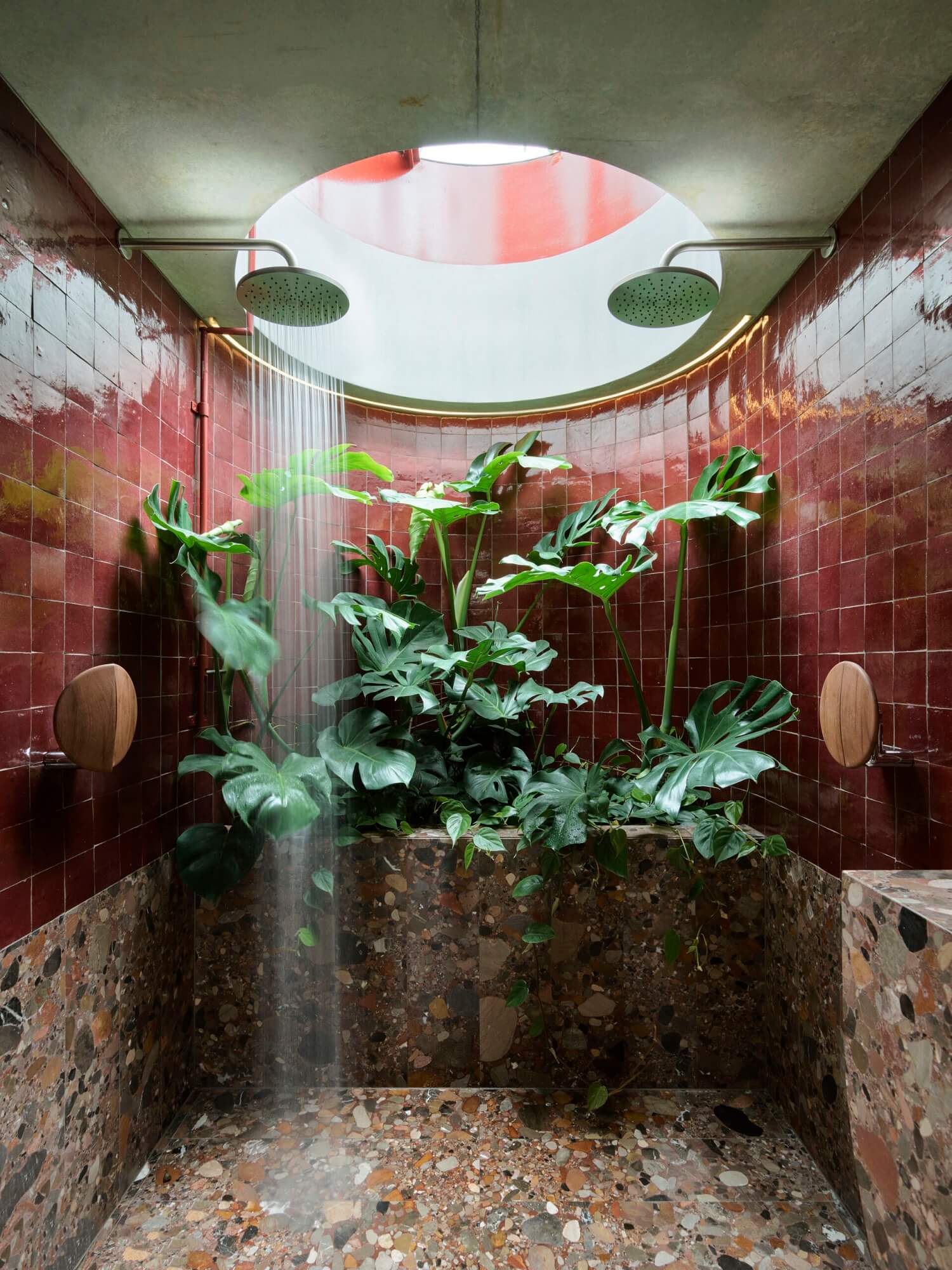 This shower designed by SJB connects to nature in two ways: first, with the plants/indoor garden, but also, thanks to the roof window.
Textiles Made From Reclaimed Materials
The design world has an ever-growing focus on sustainability, and products made from reclaimed materials are something we see more and more. In 2023, IKEA launched the Mävinn Collection, where they made pillows and other items from overrun denim, and this trend continues in the new year.
We see recycled denim, but Natural Material Studio and Zuzanna Skurka have also designed textiles made from bricks sourced from demolition projects.
The pastel blue checkerboard floor in this historic home designed by Clarence and Graves is sourced from a hacienda in Seville. In the kitchen, they laid reclaimed Georgian wooden floorboards.
Quiet Luxury
Quiet luxury is a trend that takes the fashion and interior world by storm. Some also call this trend an anti-trend as it doesn't fix on a style but is more about an interior design philosophy.
A quiet luxury interior feels timeless, harmonious, and subtly luxurious. The material choices are of high quality, and craftsmanship, provenance, and personality are more important than labels.
This design trend is not about minimalism. Instead, you will create a simple and relaxed home that is sustainable, calm, and timeless. Don't instantly buy something that you like, but think properly about how you will use this piece in the long run.
This quiet luxury design aesthetic also holds hands with the pull toward sustainable and reclaimed materials and durable materials.
Original Use of Curtains
Curtains are being used in more ways than just in front of the window. A curtain is a diverse and stylish element to use in your home.
On The Nordroom, you have already read that a curtain is great as a room divider in a studio apartment, but you can use a curtain in every room of the house.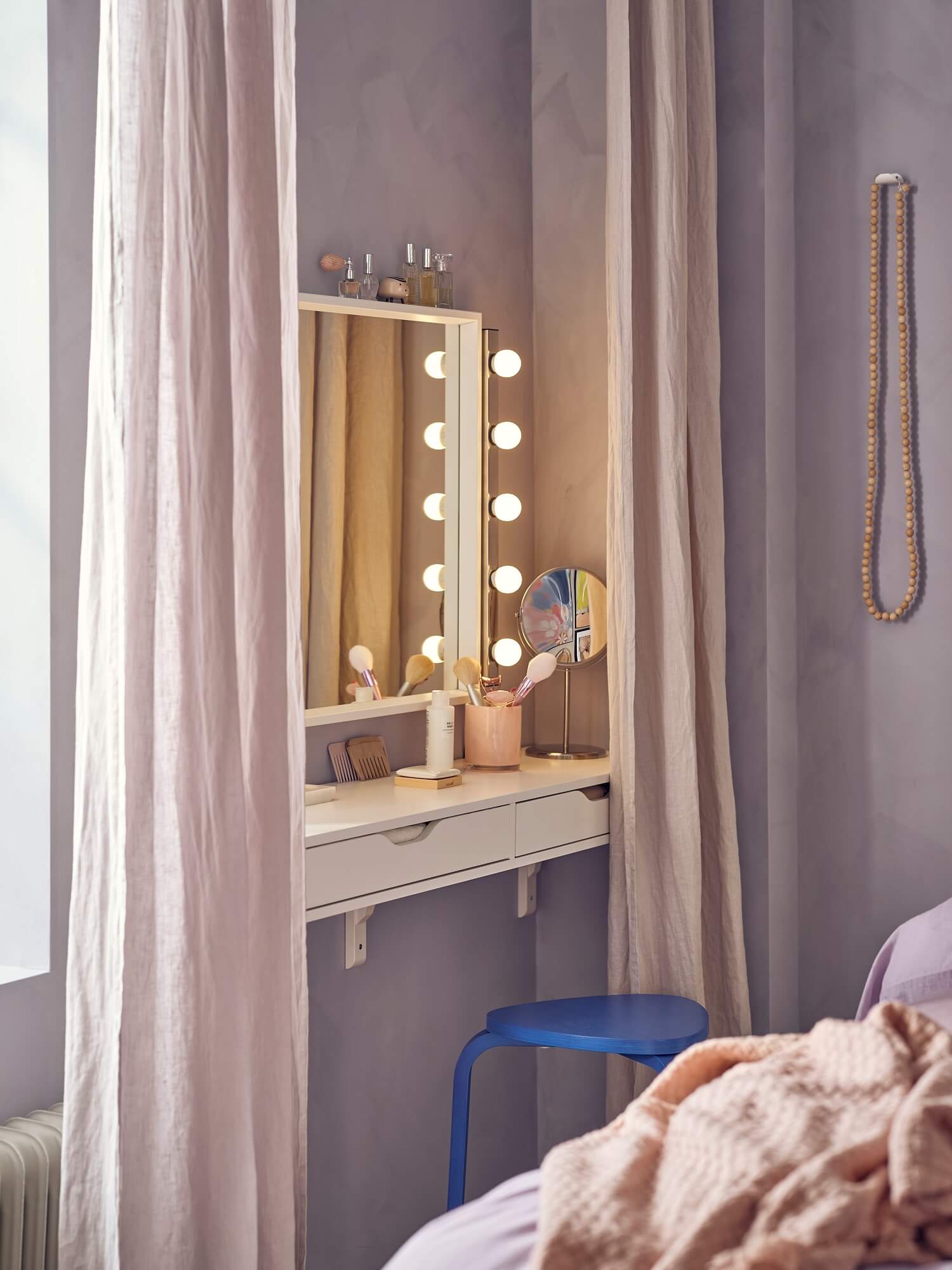 Maybe you want to hide a home office from view in the living room. A curtain is a stylish way to do so. You hide the office and add texture, warmth, and possibly color to the room.
Color Trends 2024
Every year, leading paint brands from all over the world announce a color of the year and a color forecast for the year. The overall color trends we're seeing for 2024 are warm and comforting colors with positive color accents. Behr and Dutch Boy have chosen a dark neutral, while paint companies like Sherwin-Williams, Dulux, and PPG have chosen a light neutral shade.
More vibrant colors can be found in the color forecasts for 2024. In particular, paint company Dulux has chosen bold and positive colors with bright pinks, yellows, and blue shades in its color forecast.
Comforting Neutrals
A pastel pink, moody green, light blue, and soft yellow. These are just a couple of colors that have been chosen as Color of the Year 2024. These shades create a comforting atmosphere in a room while also adding a nice color accent.
Warm Colors
After years of cooler tones, we now gravitate to warmer colors to decorate our homes with. Warm colors can be added to your space in many ways, from painting the walls to adding warm color accents in home accessories, posters, lighting, and curtains.
Combine several warm-colored curtains to add a nice color touch to your room. When the light shines through these sheer curtains, the entire room will get a warm glow.
Bold Color Accents
Add some bold color accents for a positive vibe in your home. Yellow and pinks are cheerful color accents, but I also expect to see more vibrant blue shades in trending interiors, like cobalt blue or Benjamin Moore's 2024 color Blue Nova.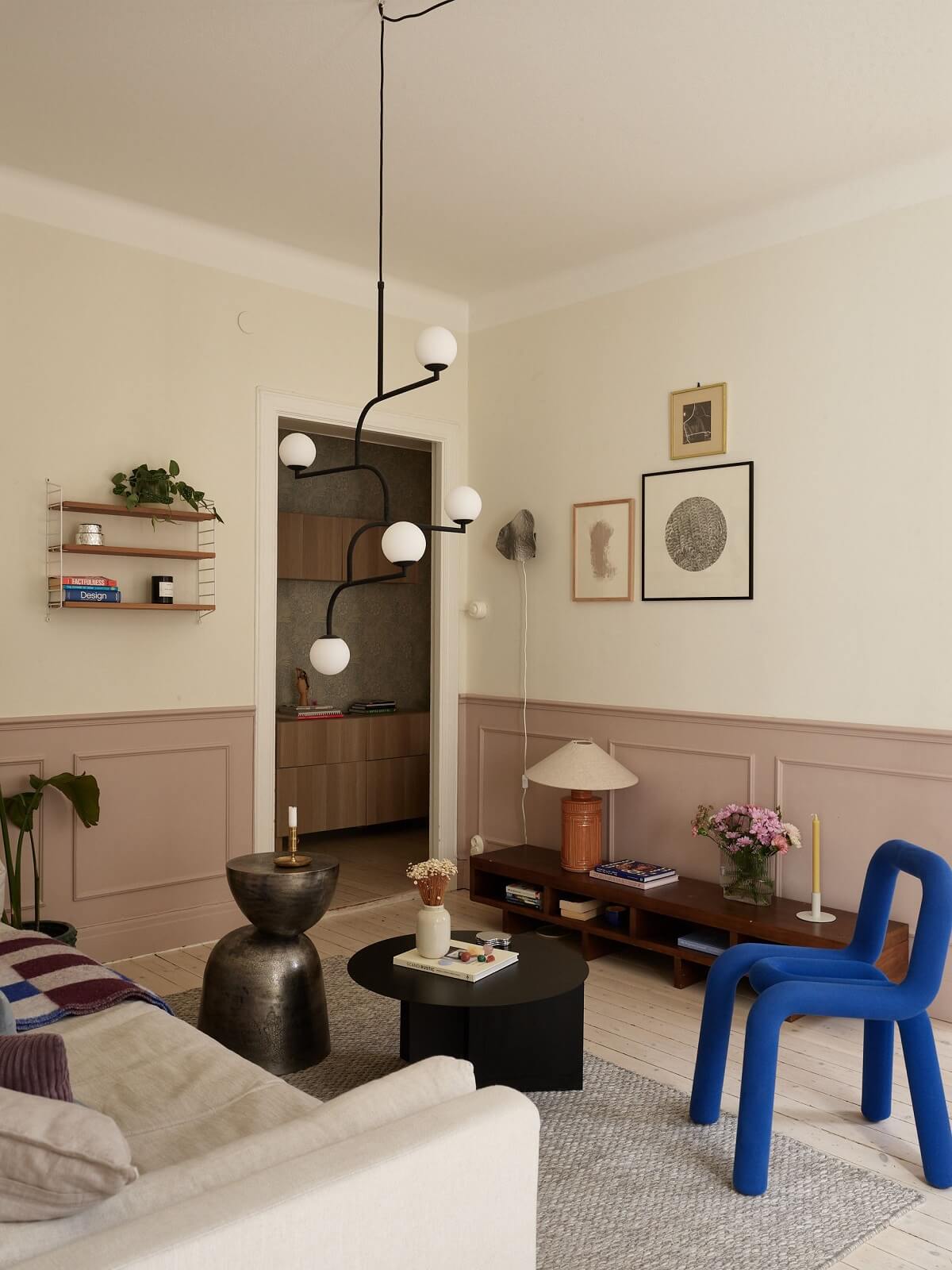 See also: The Color Trends for 2024: Comforting Neutrals & Positive Accents
Japandi Style
Japandi is a design trend that is here to stay. It was up and coming a couple of years ago, and now this design trend is moving forward.
Japandi is a mixture of Japanese and Scandinavian designs. The two design styles have a lot in common. Both styles are known for their clean lines, simplicity, and natural materials. So, combining these two styles is a match made in heaven.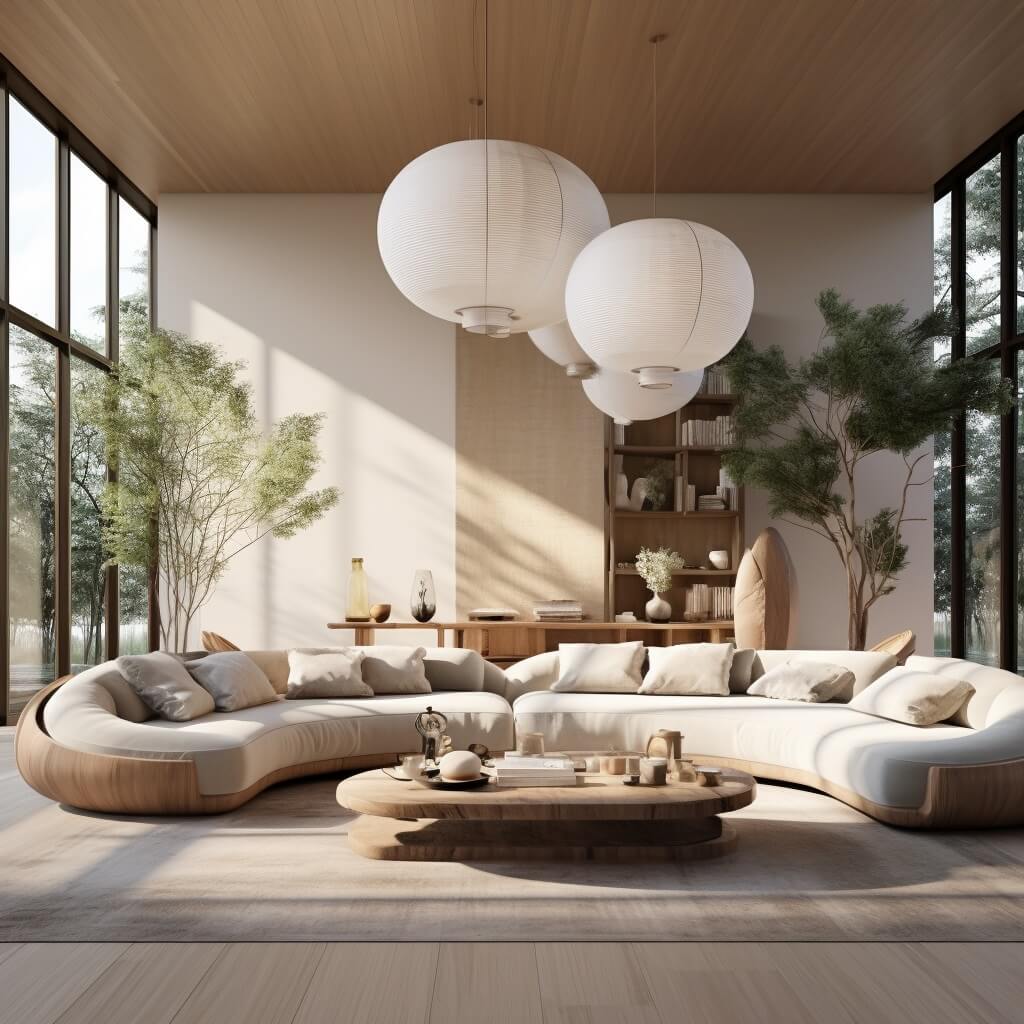 We now see a lot of lamps in a Japandi style. The lamps are made of natural materials and are designed in unique forms. Sometimes, they even combine shapes like curves and straight lines into unique lamp designs.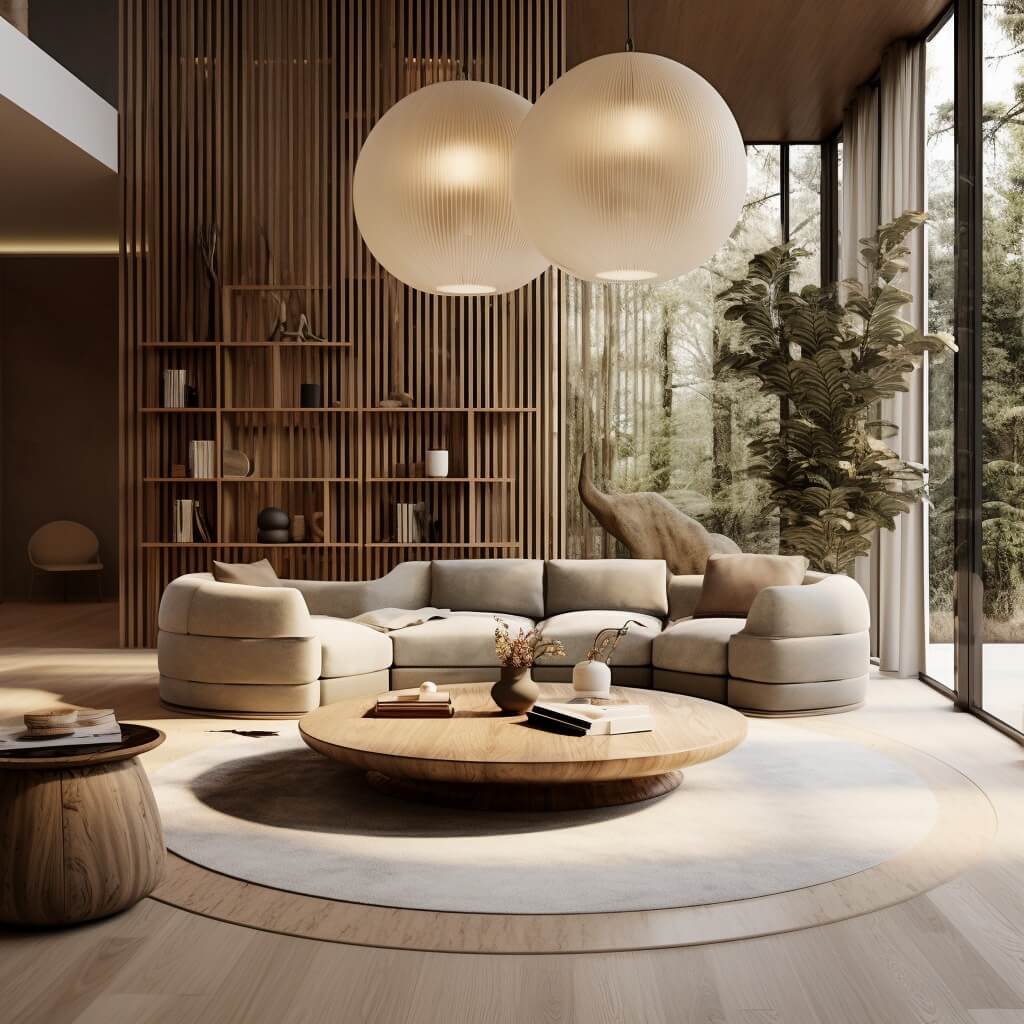 Metallic
A metallic finish is a new interior trend that has moved from the kitchen to all over the house, from kitchen cabinets to coffee tables and shelving systems.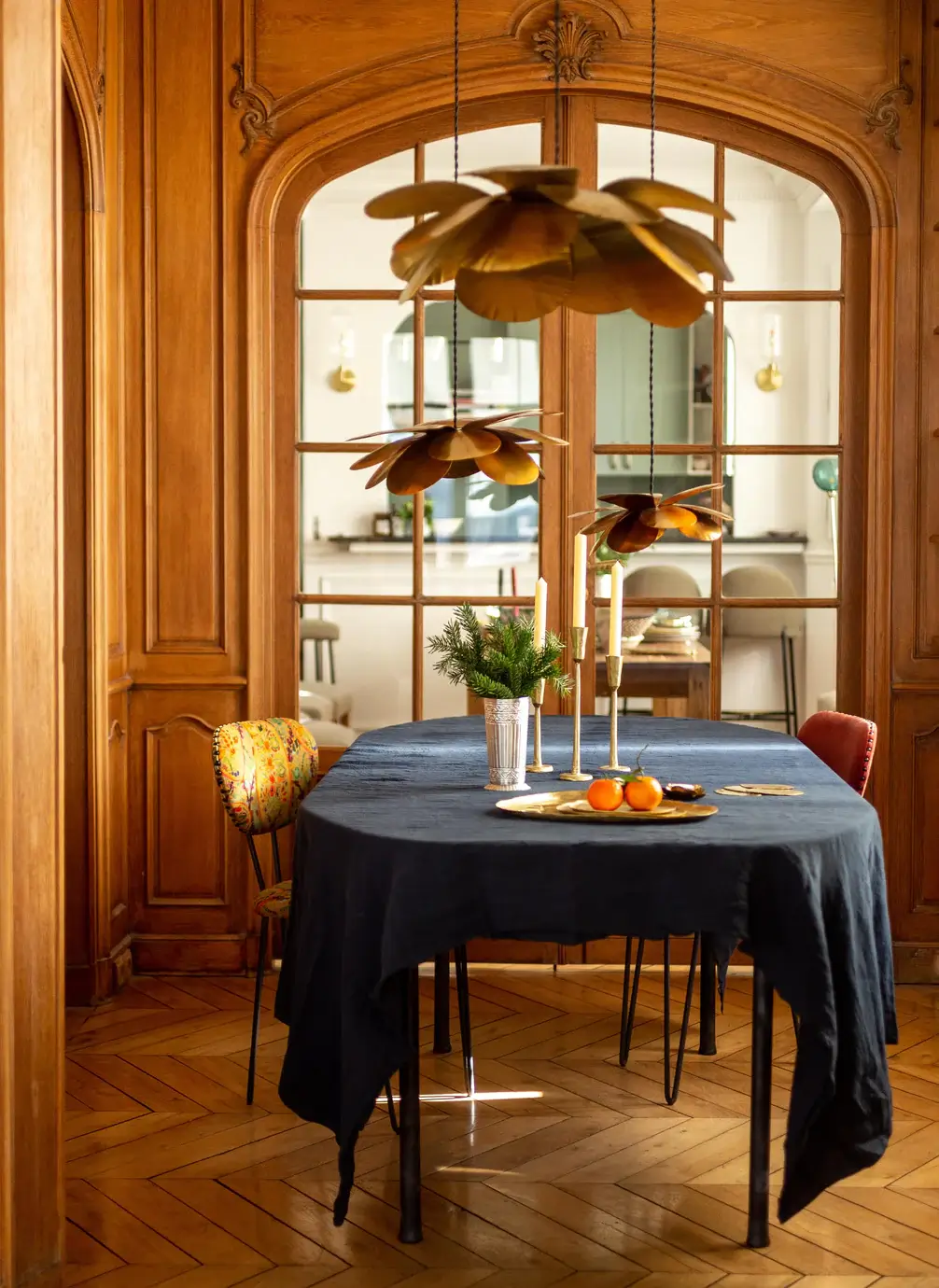 Space Age
As the name suggests, the Space Age is an interior trend that gets its inspiration from space travel, but the 60s are also a huge source of inspiration for this design style.
What characterizes this style are the round shapes, silver tones, and shiny textures. Don't always look for new items to add a design style to your home. You can probably find items in this Space Age style in vintage stores or your parent's attic.
Aluminium
Aluminium is a lightweight but strong metal that can be infinitely recycled, making it a very durable material. In a world where we have to think about the future of our planet and how we are using our products, this material is a new favorite of designers worldwide.
Go Big
It's not new, but we keep on seeing big furniture pieces. We still crave comfort in our homes, and what better way to feel comfortable than on a big sofa or armchair that you can curl up in?
But it's not just in the seating that we see this trend for big furniture. Also, think of coffee tables or dining tables with wide legs.
Trends are just that.. trends. And you don't have to follow interior trends to create a beautiful home, but these trends can inspire you to create the home of your dreams.