Beautiful Kitchens with Skylights That Add Light and Style
Roofs are often forgotten during the design and decorating process, but there is much to gain by focusing upward toward the ceiling, for example in a kitchen.
A kitchen is the heart of the home and therefore it's important to create a stylish, comfortable, and light room that everyone loves to spend time in. Adding a skylight to a kitchen can greatly improve the most important room in the house.
This article will look at the benefits of adding a skylight to the kitchen as well as giving you plenty of kitchen inspiration with a window ceiling.
The Benefits of A Skylight in the Kitchen
A skylight in the kitchen is a wonderful way to add more natural light to a kitchen. But there are more advantages to adding a kitchen skylight.
Natural Light
A skylight in the kitchen brings natural light to a room that might otherwise be without (or not enough) natural light. Natural light brings a softer and obviously more natural light flow to a room. Natural light is important as it's a well-known reason why you feel happier in a home.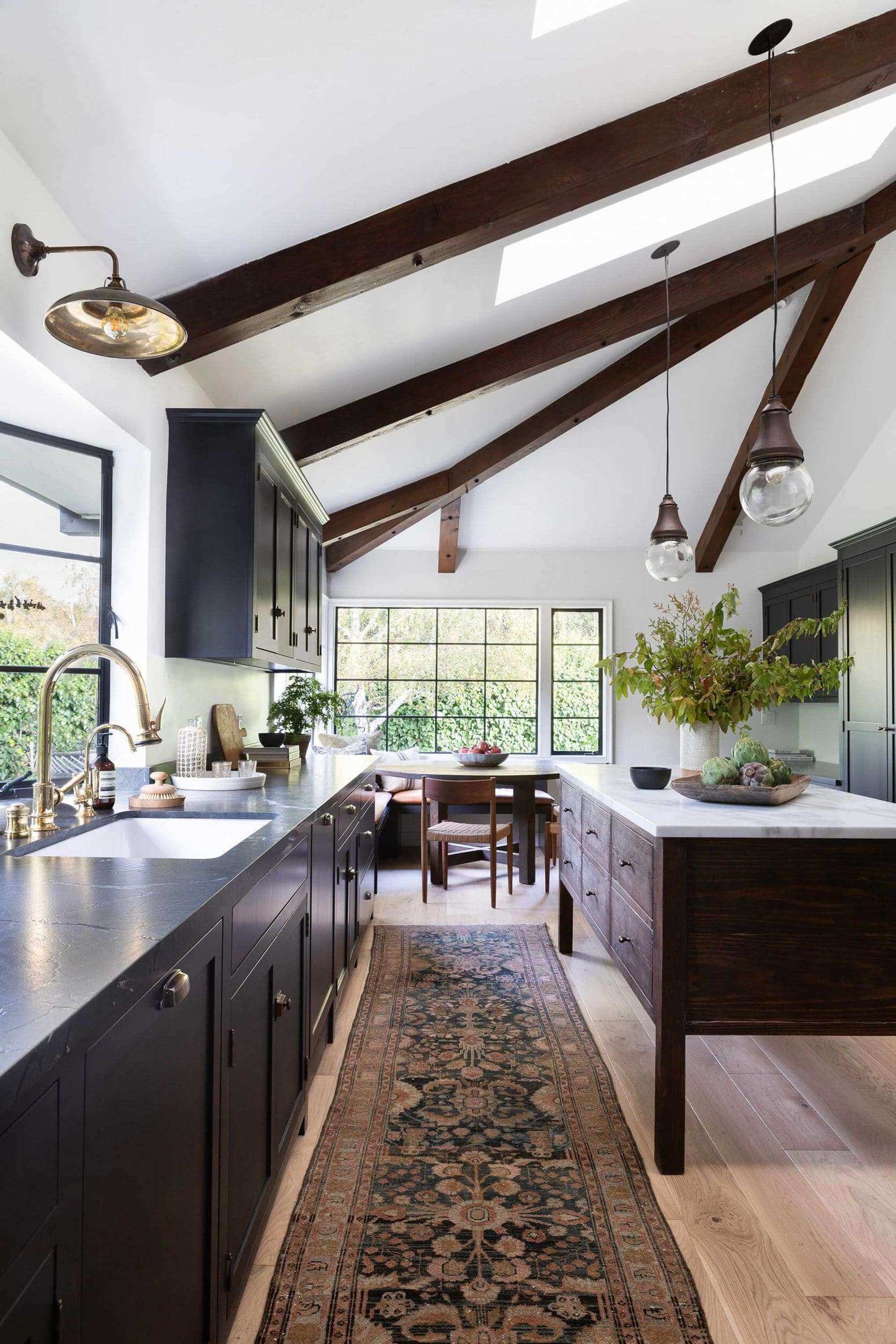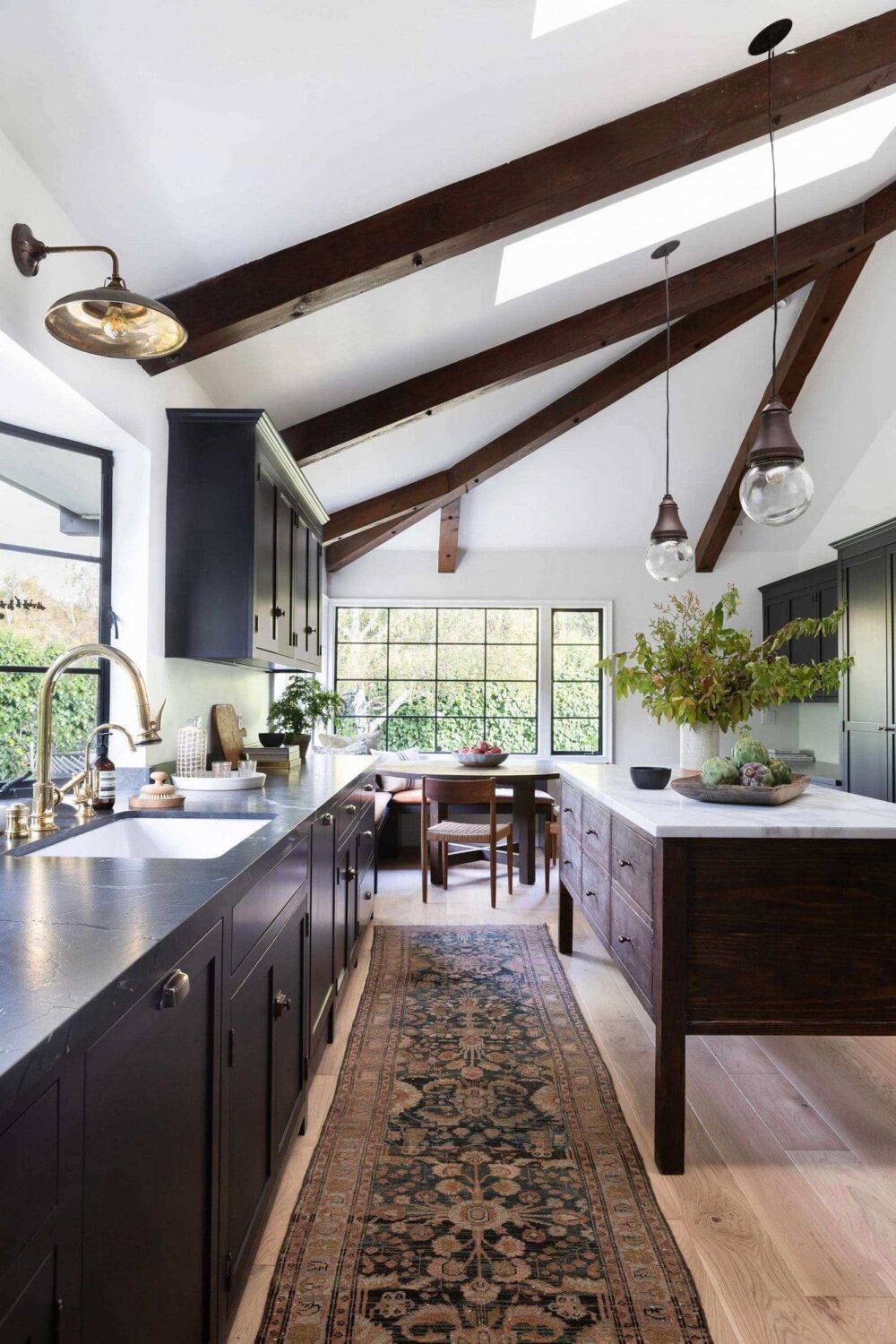 More Storage Space
A skylight instead of wall windows means that you can use the wall space for kitchen cabinets or shelves. Especially if you have a small kitchen, you need every inch of space you can find. A skylight instead of a normal window adds extra wall space which you can now use for storage.
Fewer Costs
After the initial installing, a sky window means that you need less artificial lighting reducing the cost of your energy bill. The light coming from a skylight is also softer and generally nicer than from a lamp.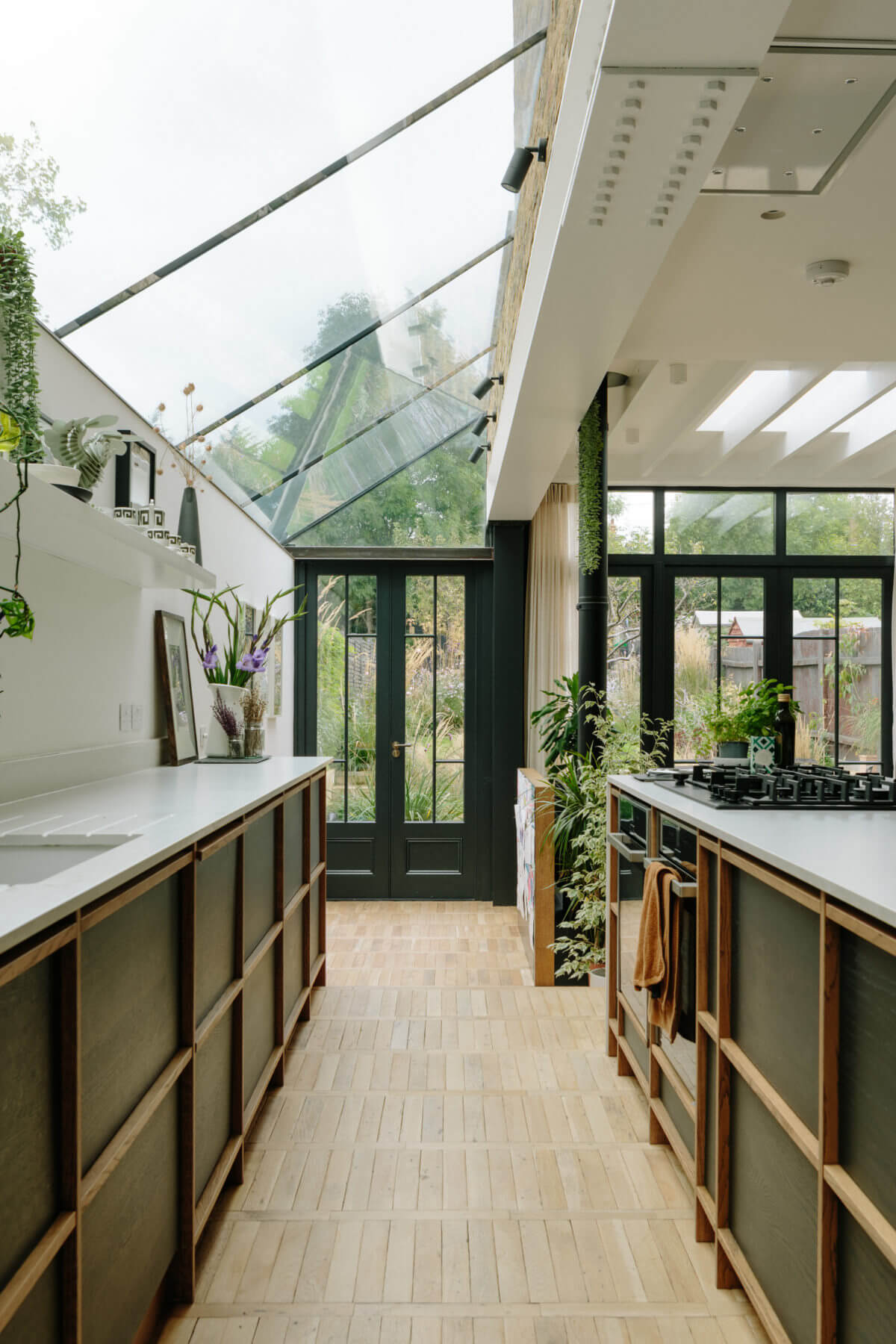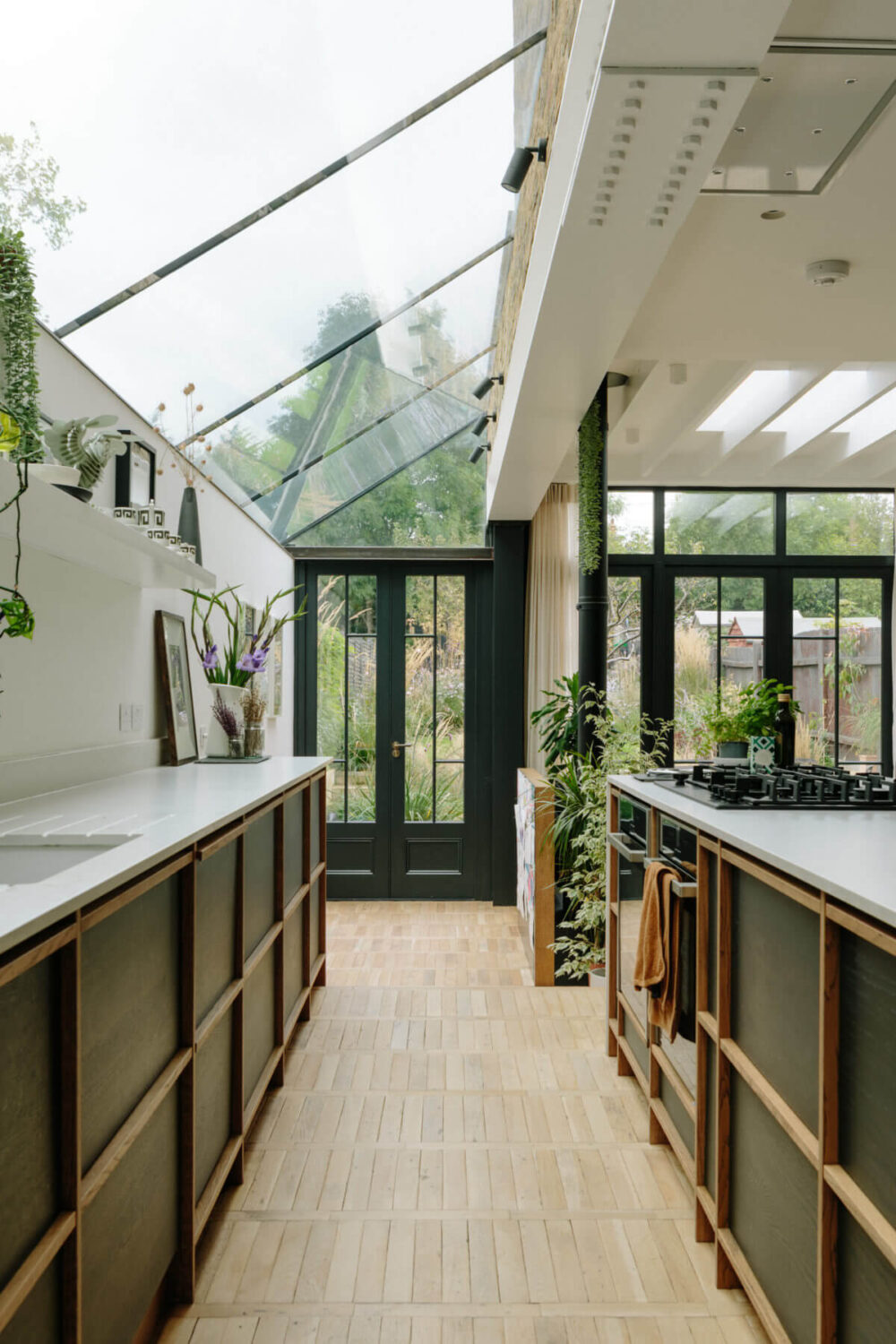 Fresh Air
Most kitchen roof windows can be opened and with a skylight in the kitchen, you can add a natural air refresher to a kitchen.
Design
If you're reading this blog, then you're probably a design lover and a skylight can also add a fantastic design feature to your kitchen. Skylights come in various shapes and sizes and it's more than just a way to provide light to a home. Turn your kitchen skylight ceiling into the statement piece of the room.
Home Value
A skylight transforms a dark room into a sunny bright room. Not surprising that a kitchen skylight raises the value of your home. This might come in handy if you ever decide to sell.
Big Kitchens with A Skylight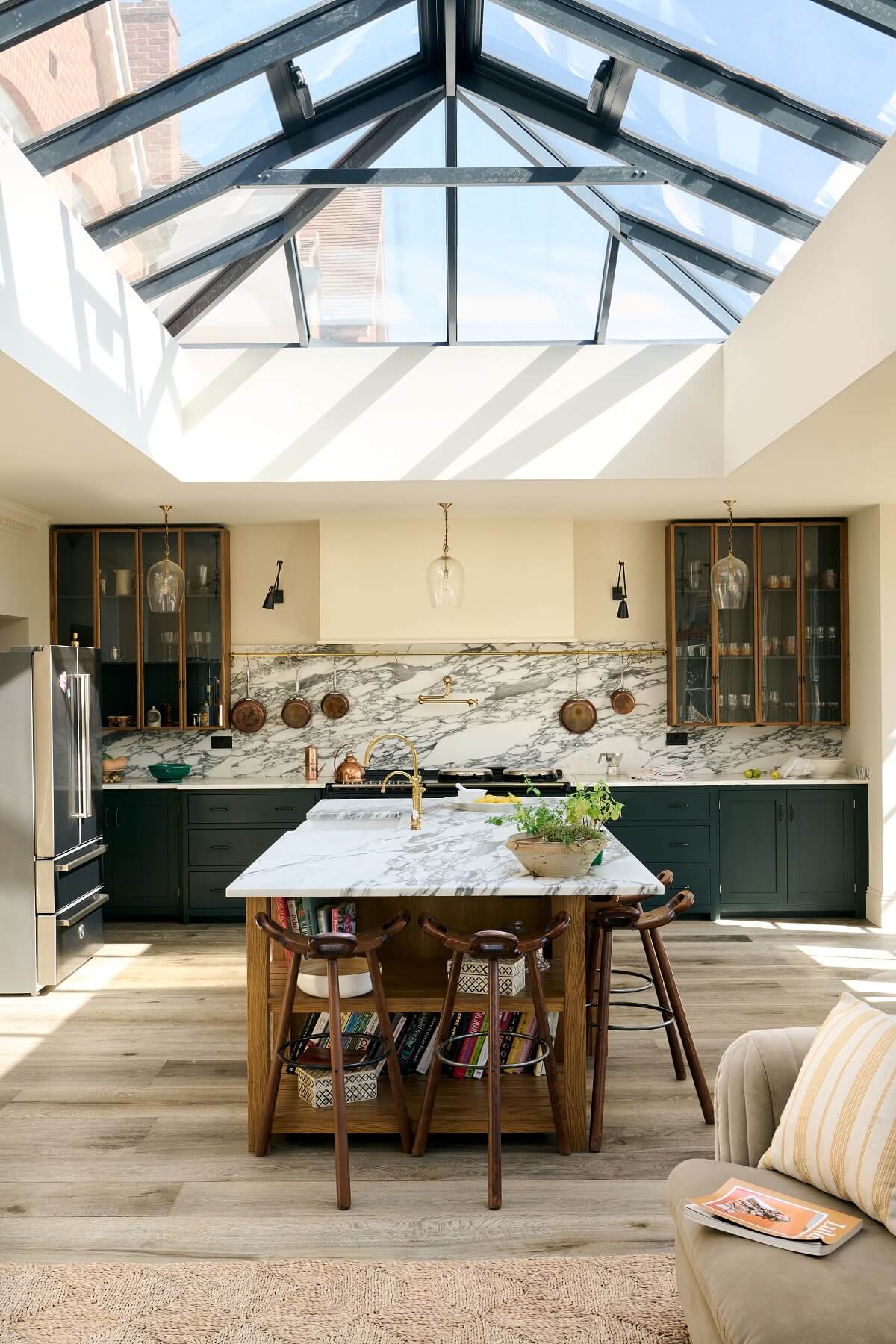 This kitchen in the English countryside has taken the skylight to the extreme. They added a large glass roof structure right above the kitchen island. It not only floods the room with light but it is also an amazing architectural feature.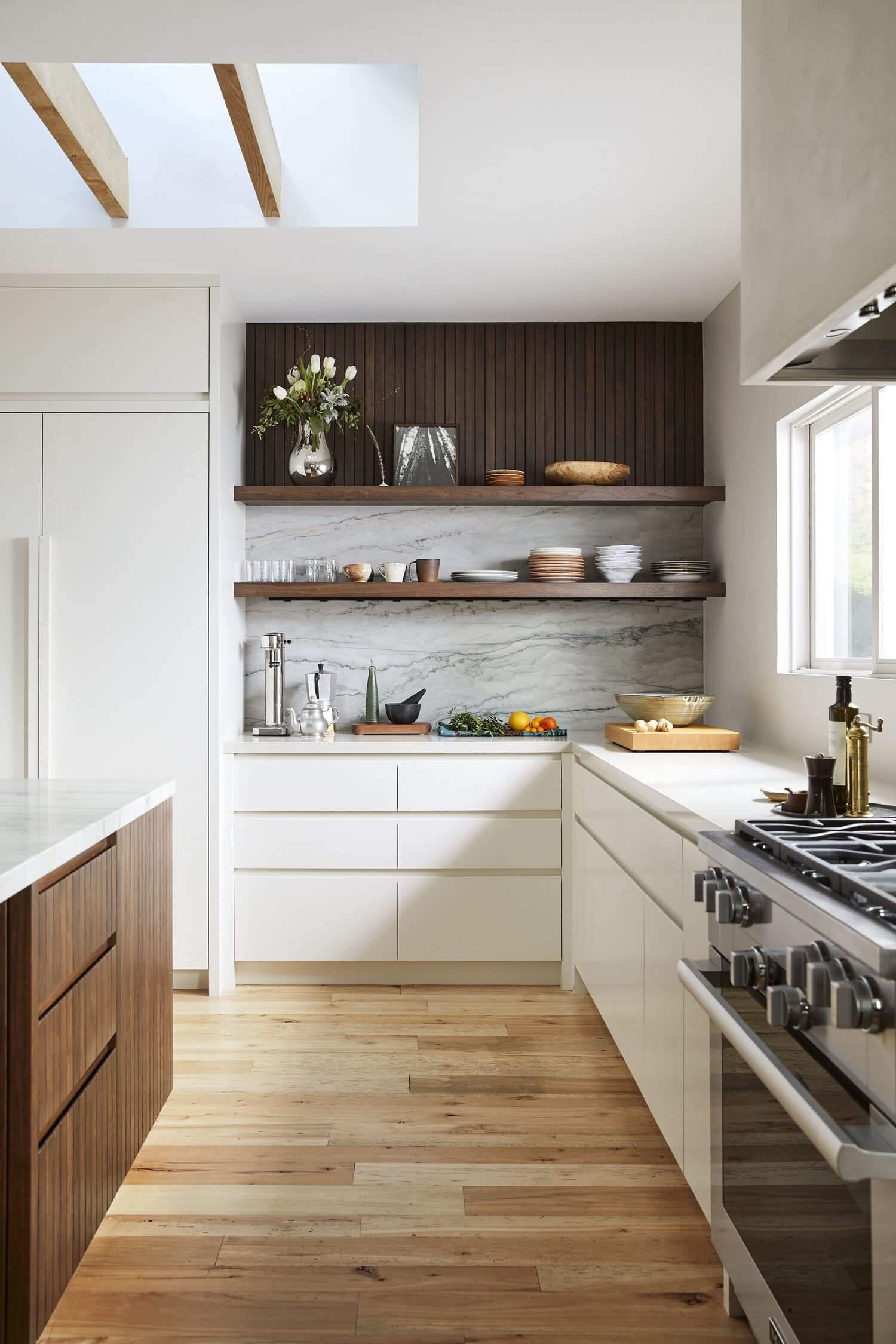 The modern white cabinets in this kitchen designed by BK Interior Design already make this a bright room, but the skylight adds just an extra bright spot.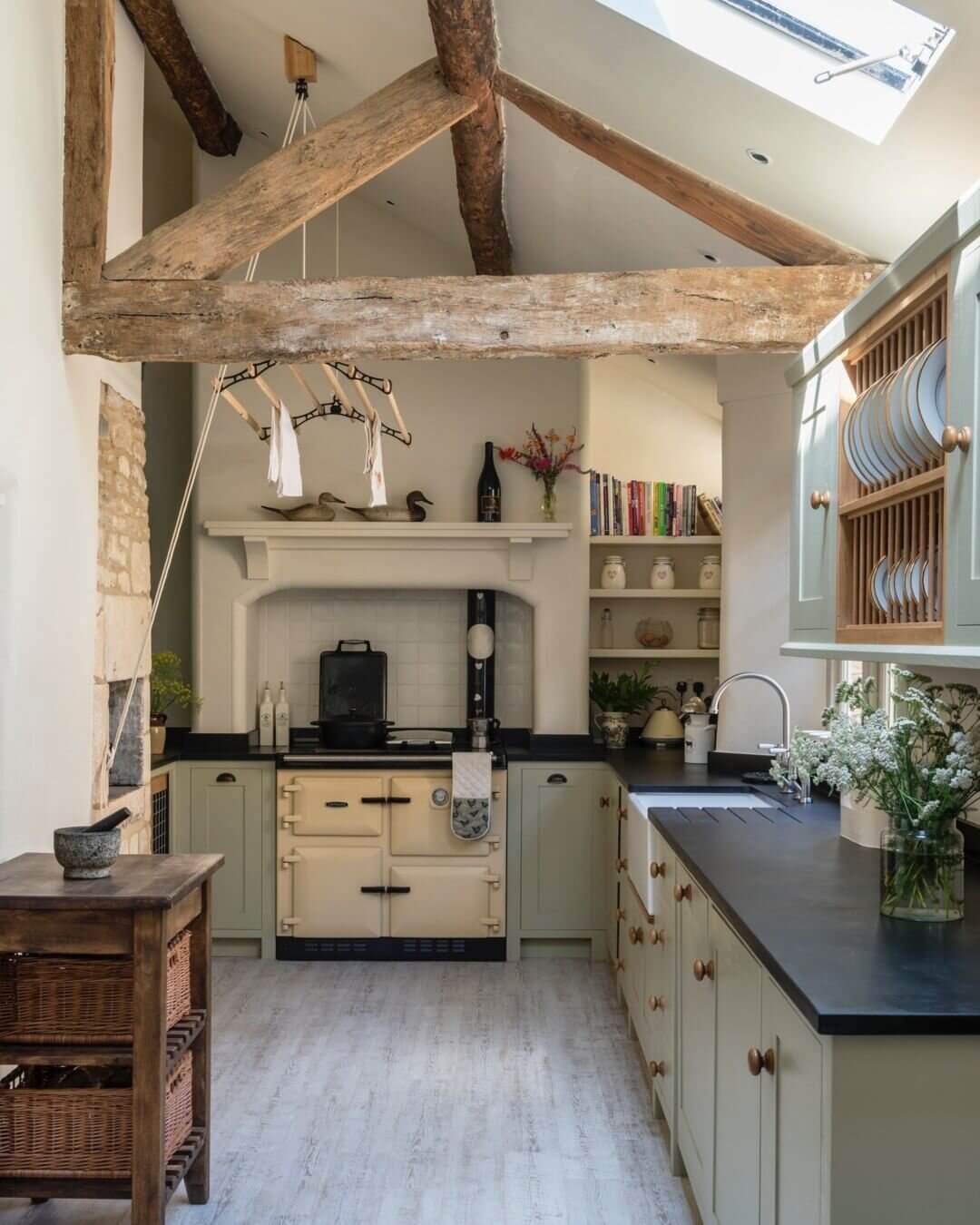 This rustic country kitchen with exposed wooden beams has no wall windows but they added a skylight for natural light.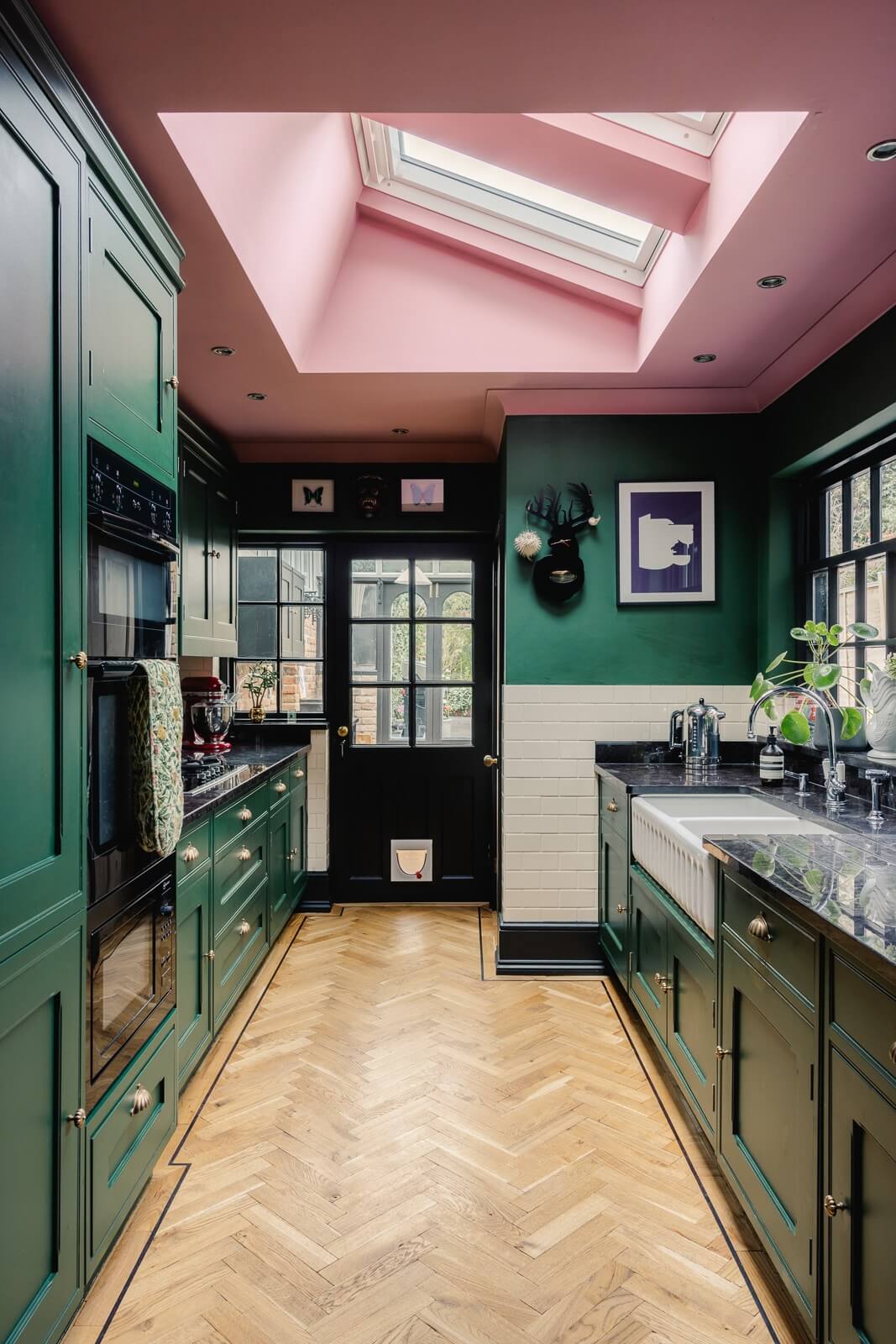 The owners of this colorful London home certainly turned the ceiling into the focal point of the kitchen. Not only does it have two roof windows they also painted it in a vibrant pink shade which isntantly makes you look up.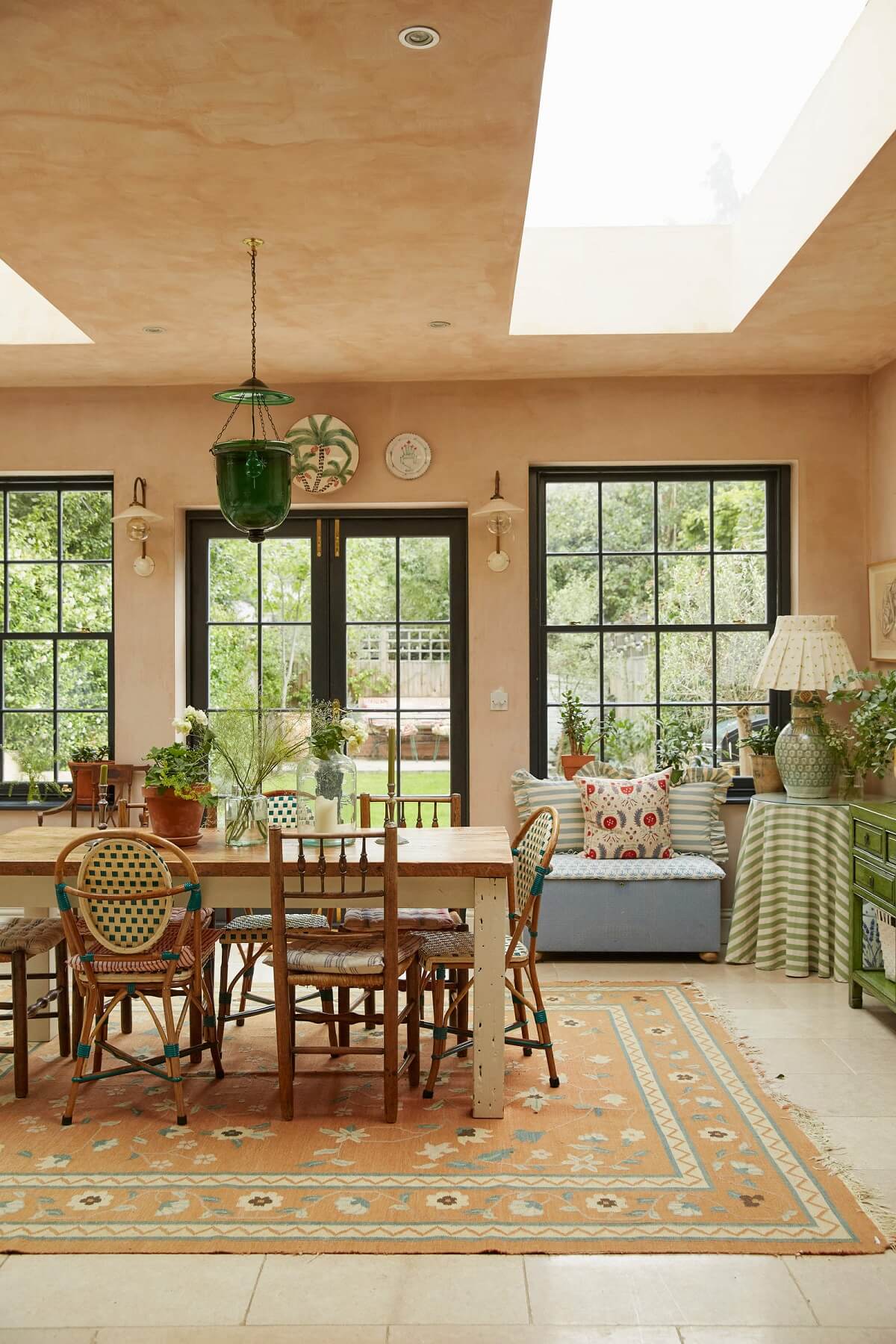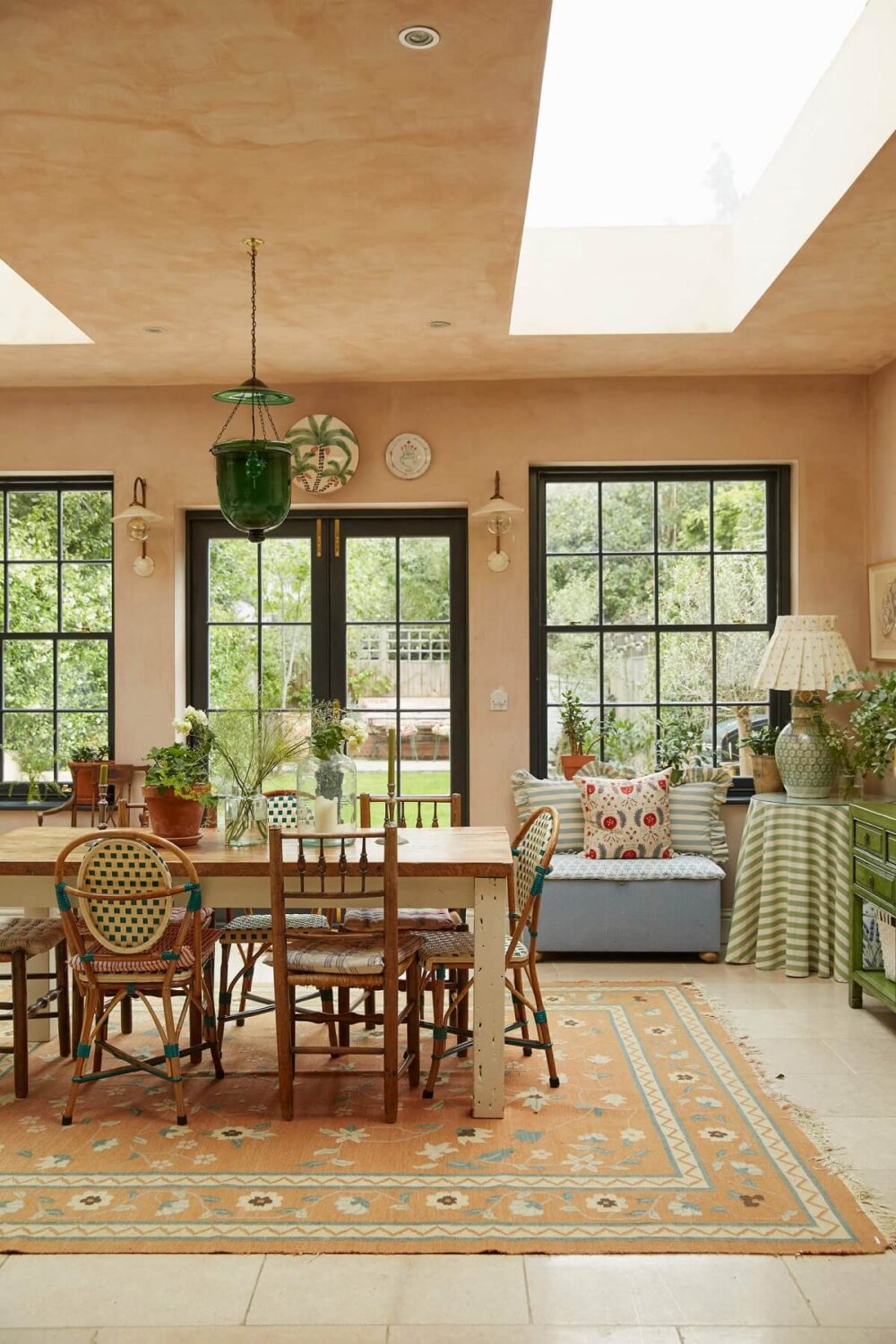 The eclectic home of designer Alice Palmer has two large skylights in the open plan kitchen and dining area. As the room is fairly big it needs this extra light.
It's not big, but this country style kitchen with stone floor has a teeny tiny sky window in the pitched roof.
A timeless green kitchen in a Dutch townhouse designed by Avenue Design Studio has a large pane of glass above the workspaces of the kitchen.
A former silk merchant's house has a double height kitchen/dining area that was formerly a billiard hall. The room has only small windows so a skylight adds much needed natural light, especially since the interiors are fairly dark.
The main source of light in this French style country kitchen comes from the sky window.
A Victorian terrace house in London was redesigned and extended by architeture firm Fraher and Findlay. They added a modern wooden kitchen in the new extension with polished concrete floor and clean lines.
This is also visible in the window treatments. A seamless wall and ceiling light is added to the kitchen that offers views to the garden and adds light from above.
The large kitchen and dining space in this Victorian house has Crittall windows in the back and skylights in the ceiling that flood this room with light. This is why the owner of the house knew she could add a dark cabinet color.
The open plan kitchen and dining room has two large skylights, one above the kitchen island and one above the dining table.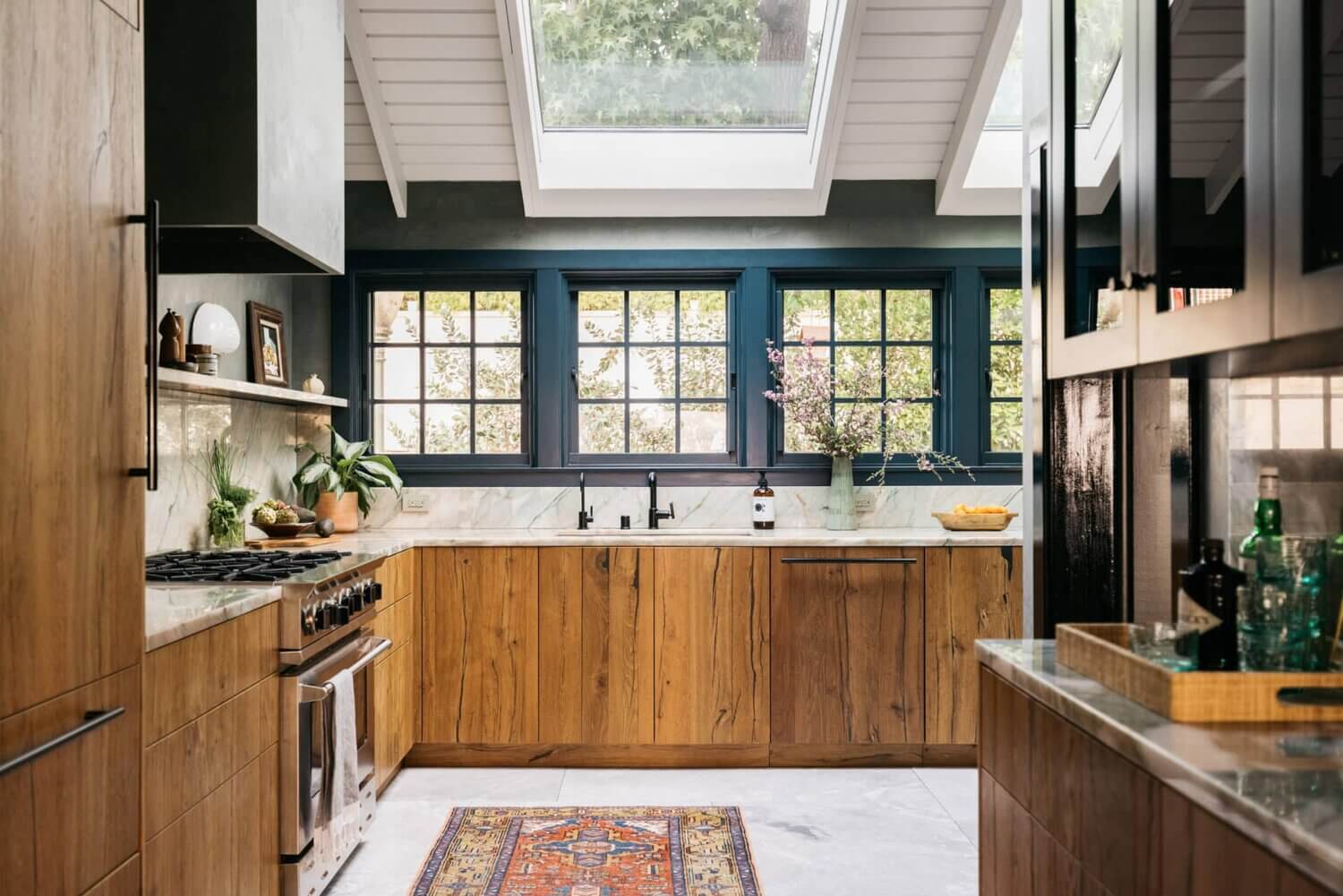 The wooden kitchen in a midcentury home in Los Angeles has sloped ceilings in which they added skylights. This was a welcome addition as the wall windows are rather small.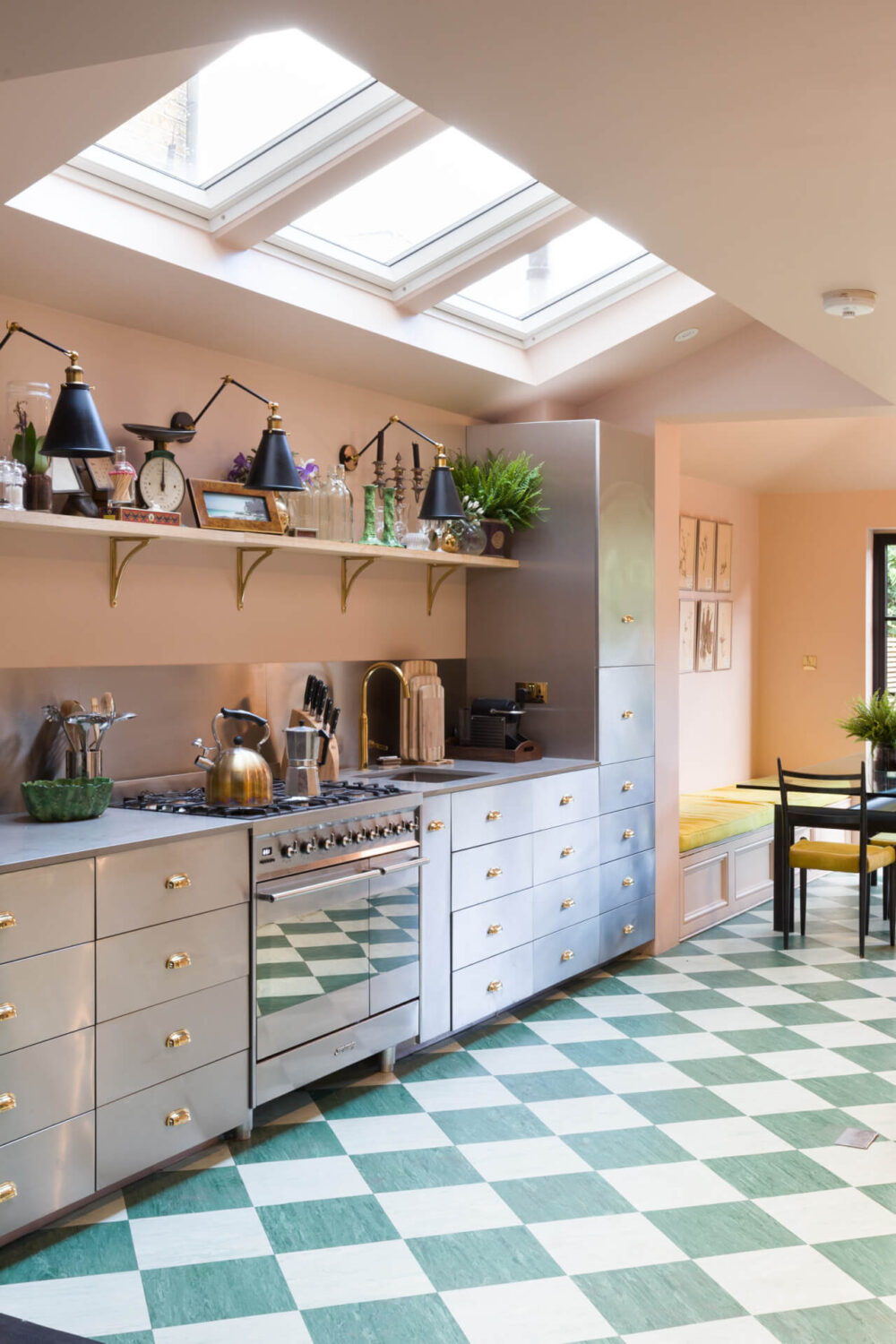 This kitchen and dining space is a long room with only windows at the end by the dining table. For extra lighting above the kitchen worktops skylights were added.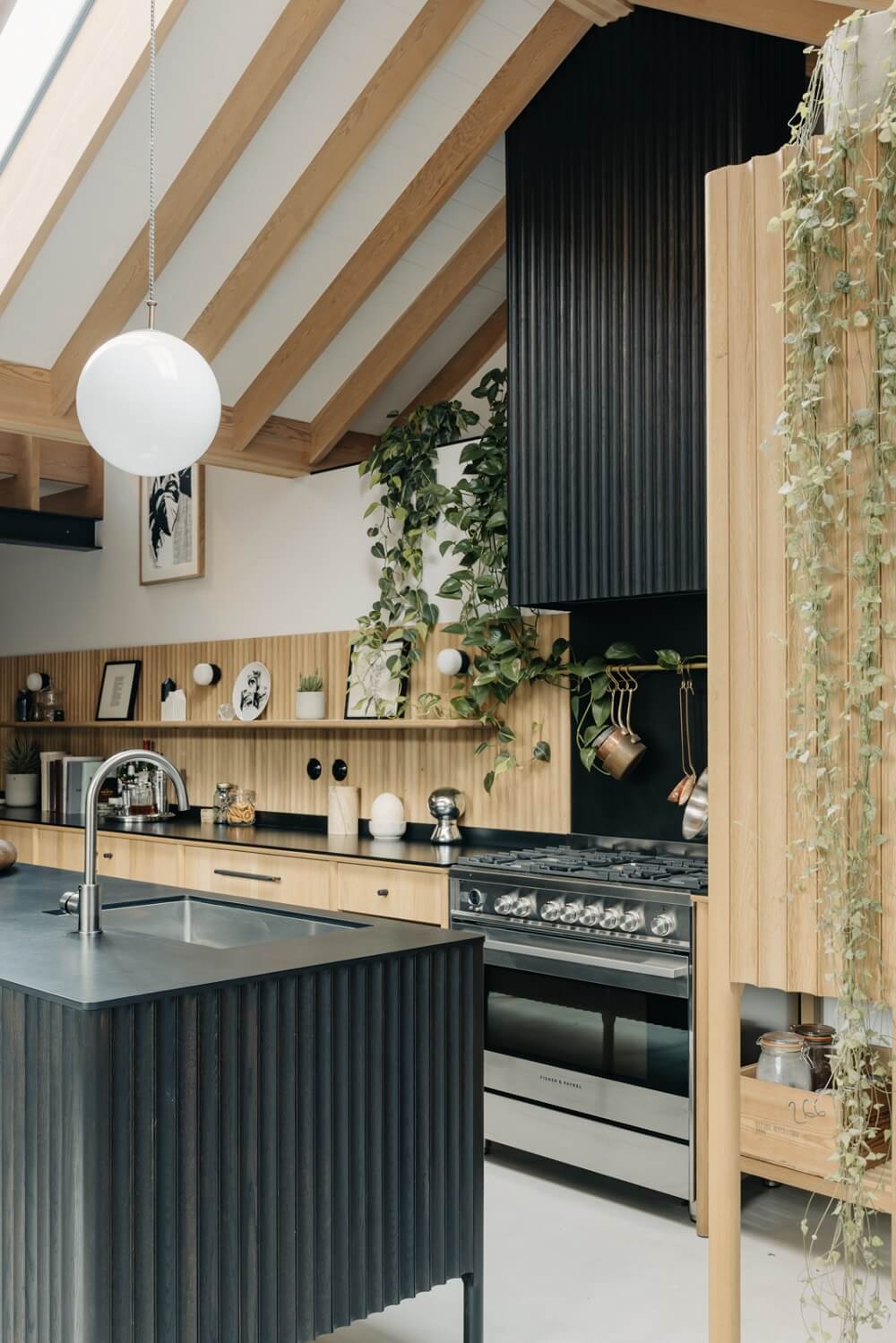 The skylights and large windows to the courtyard make this kitchen a light room. The black from the kitchen island and brickwork is softend with exposed beams made of Douglas fir.
The colorful home of Swedish artist Bobo Wallmansson features a green/blue kitchen with a skylight. The room has small normal windows but as it needs to light more than just the kitchen. On the left you can see an indoor window to the hallway that also needs natural light so by adding an extra window they add more light into the home.
Many Victorian (or other historic) homes in London have modern extensions. Usually the kitchen is fitted in these extension which is also the case in this colorful Victorian home. Look how the natural light floords into the room from above. Absolutely beautiful.
Small Kitchens with a Skylight
This deVOL Kitchen has a wonderful blend of modern and classic design. The kitchen is located in an extension designed by George and James Architects which has a huge sleek ceiling window that flood the room with light.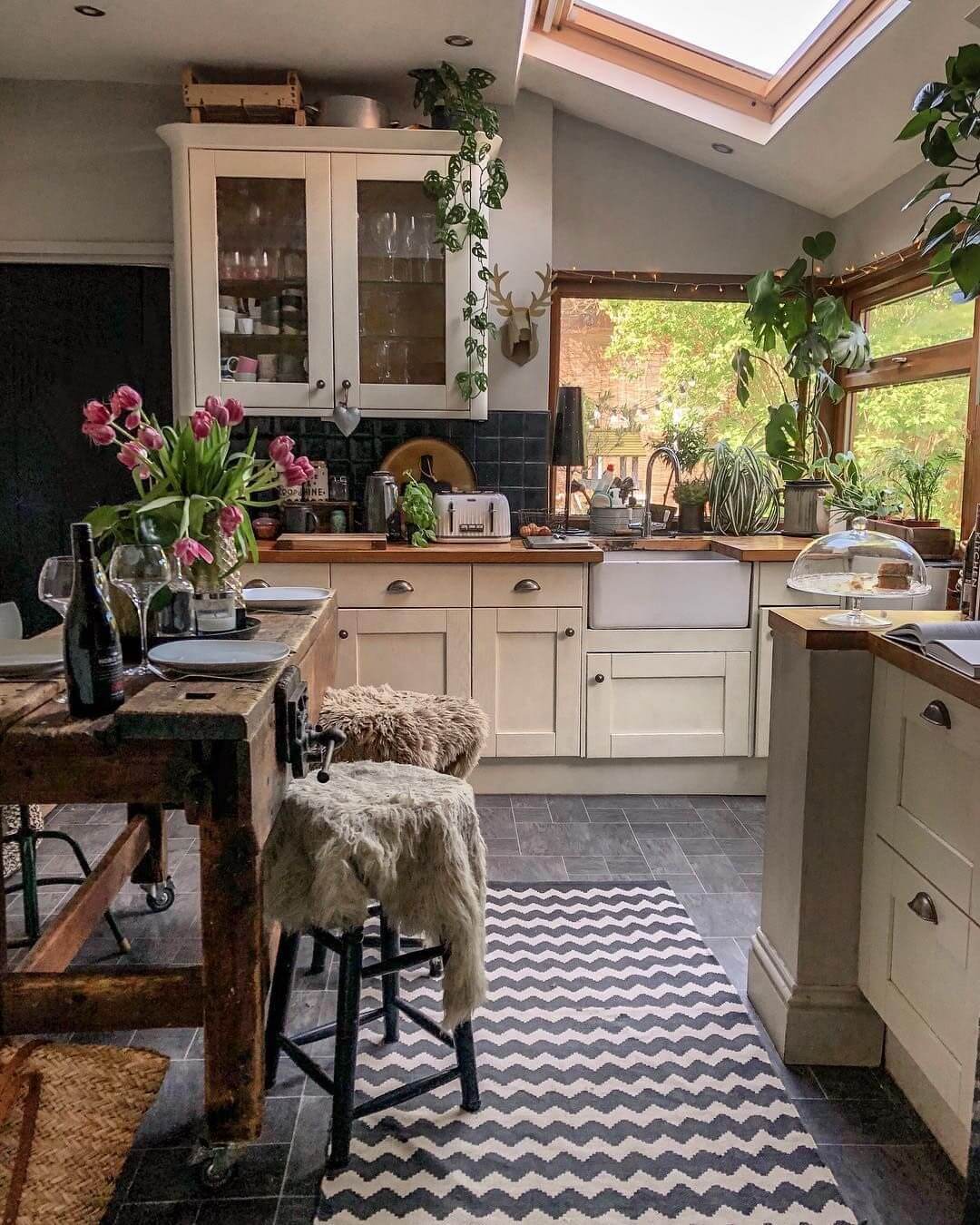 You can hardly believe it, but this wonderful kitchen by Kerry Lockwood stands in a rental home. Luckily for Kerry her landlord let her do much customization and the kitchen is a fantastic space with a skywindow.
This small kitchen with industrial elements was pretty dark but two small skylights bring much needed light to the space.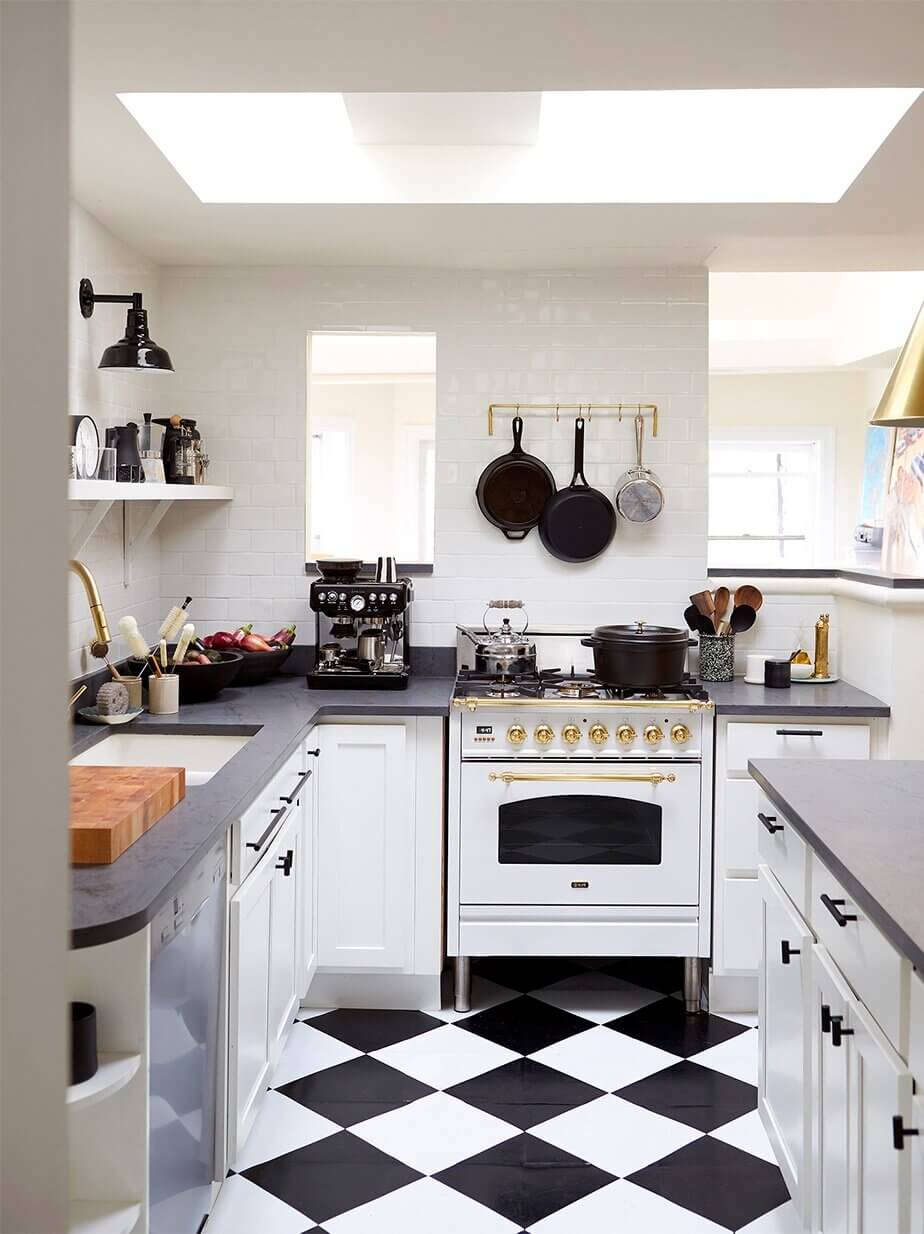 A colorful home in New York has many awkward nooks and rooms. While the entire house in filled with color the kitchen is a calm monochrome space with white kitchen cabinets, a black & white checkerboard floor, and white tiles walls.
The windows in the wall look over to other interior spaces so they needed to add an extra source of lighting and found that by adding a skylight to make this room brighter.
A small green kitchen in Ship Inn Stanley, a historic inn in Tasmania, has a skylight added for extra light. Small, light and beutiful.
The small l-shaped kitchen in a historic London home is extremely bright thanks to the skylight. Orange color accents turn this room into a light and vibrant room.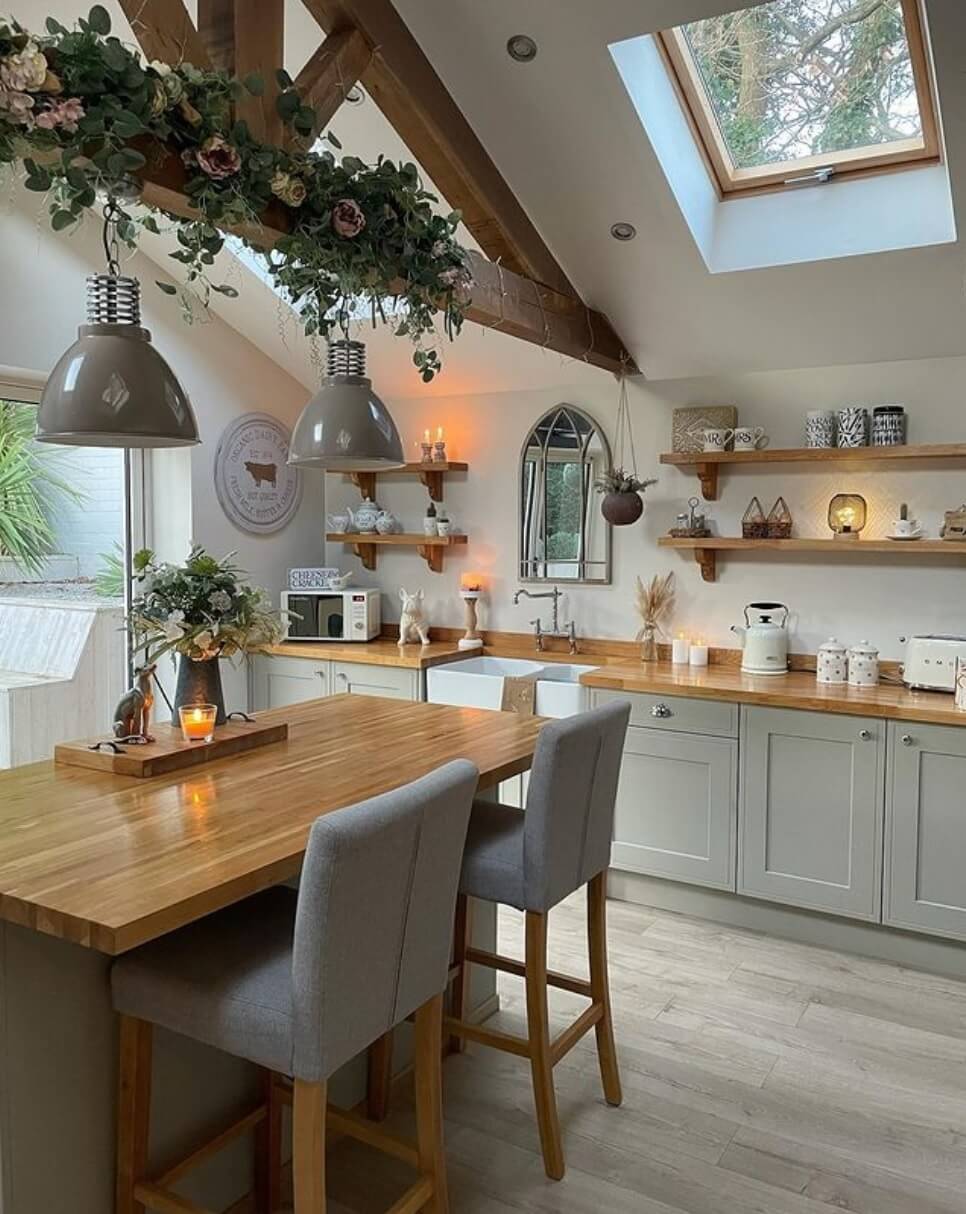 This small gray kitchen by Hector's House has a high pitched roof which is perfect for a skylight.
The cozy Polish home of Marzena has sloped ceilings including in the kitchen. The skylights add most welcome light to the bright space which is here subtly decorated with Christmas lights for a cozy vibe.
Pin me for later