36 Home Library Ideas That Are A Book-Lover's Dream
A home library is every booklover's dream. And, in my opinion, a room filled with books makes any room design infinitely better. These home library ideas will show you that you don't need a large house or a separate room to create a cozy home library.
Of course, everyone who loves books dreams of floor-to-ceiling bookshelves, and the room gets extra bonus points if there's a library ladder and a cozy fireplace. But you can create a home library in many ways, whether you live in a big house or a small rental.
Wherever you have space, you can create a home library. It doesn't have to be in a living room or even a separate reading room. Why not transform a hallway or use the niches in your room?
In this post, you will find many beautiful book-filled spaces, from big home libraries in historic houses to modern libraries and small space home libraries. Get inspired to create your dream reading nook.
36 Home Library Design Ideas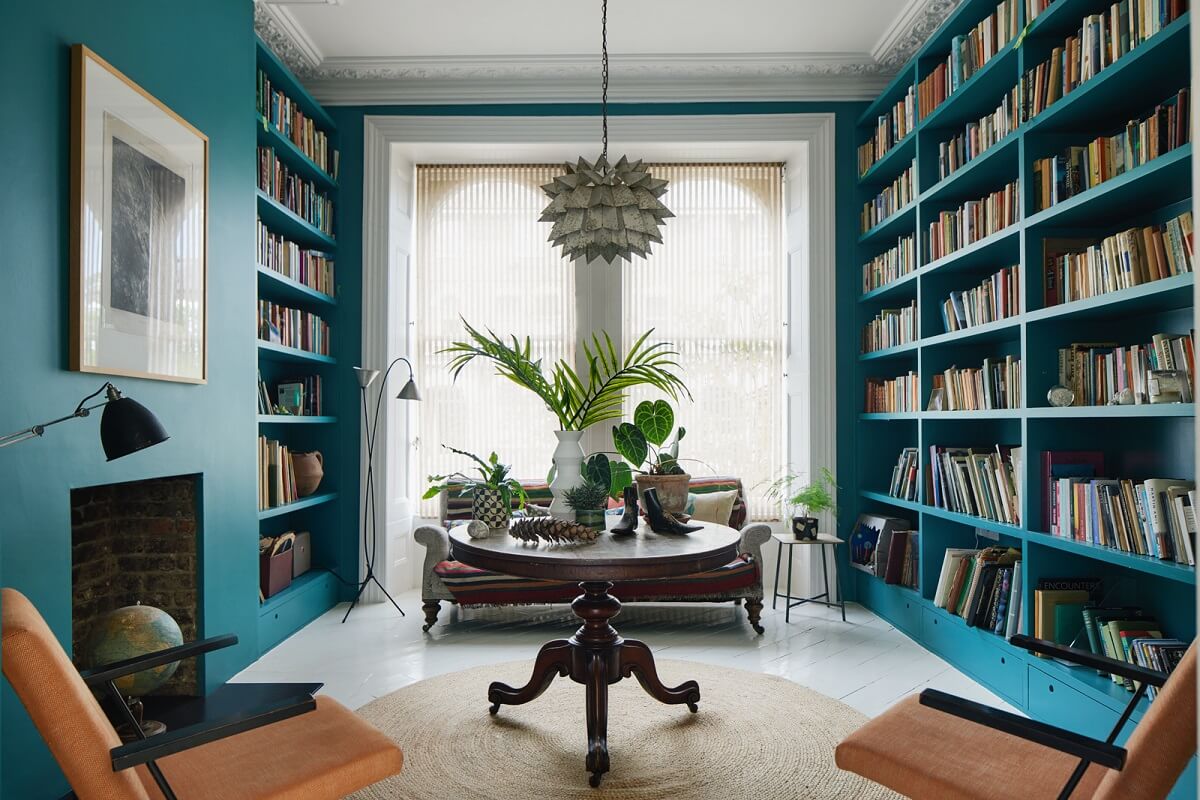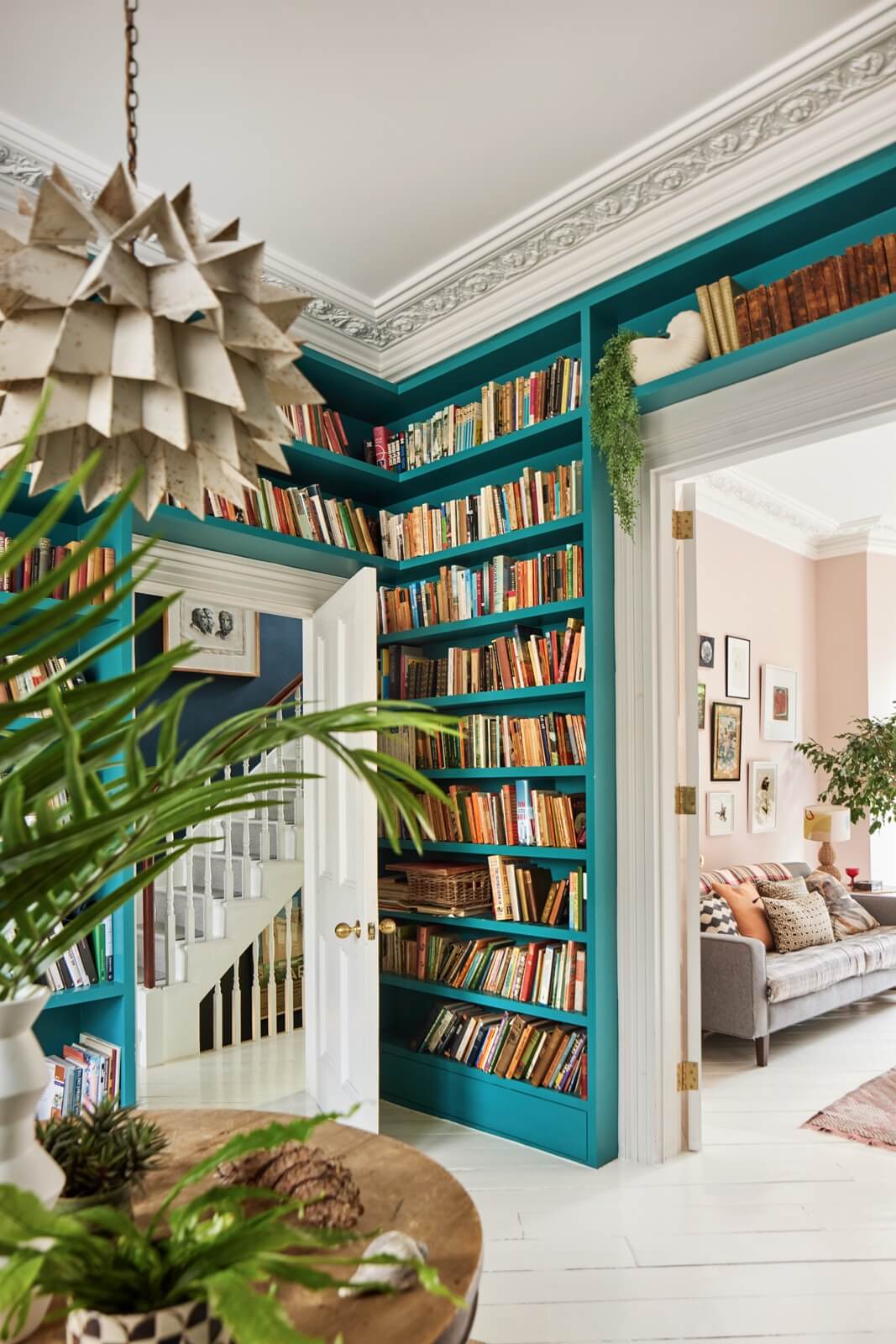 Dare to Go Bold
If you want your home library to be the star of the home, then why not opt for a bold color to paint the room? In this light Victorian townhouse that was redesigned by Arts Lettres, the designers opted for a vibrant teal blue reading room. The walls as the custom-made bookcases are painted in 'Vardo' by Farrow & Ball.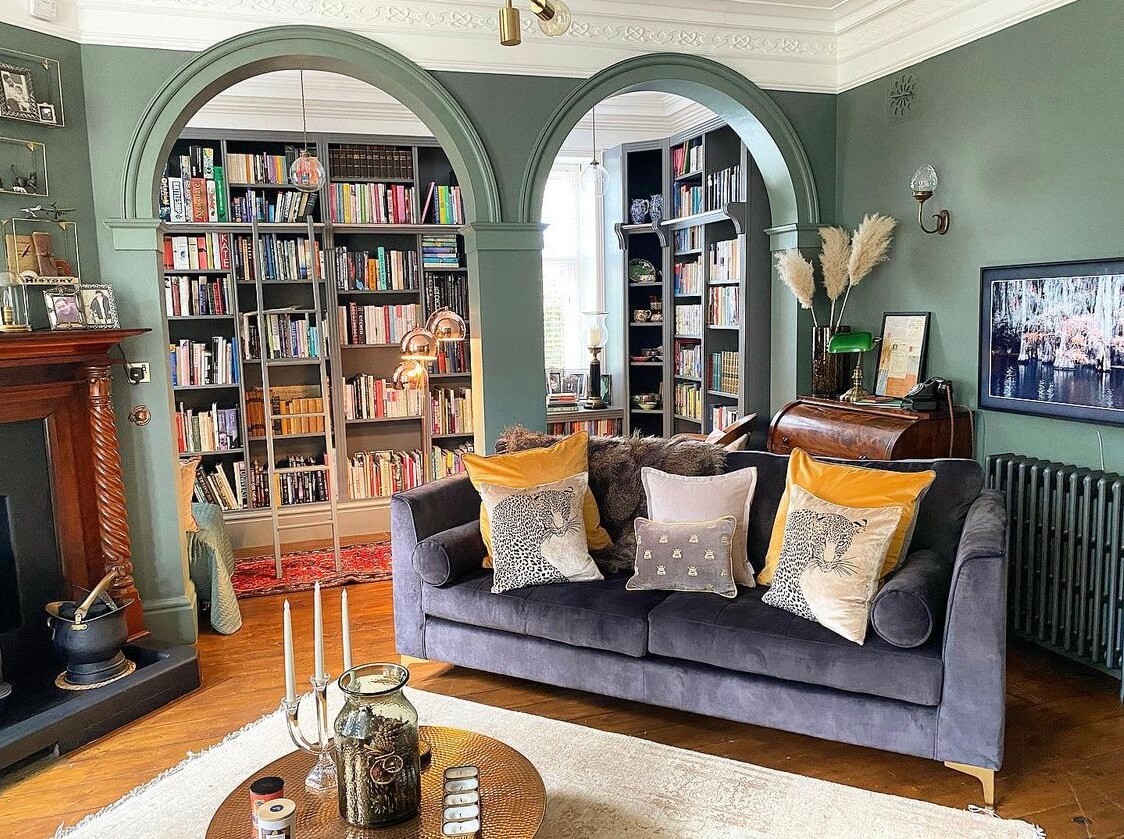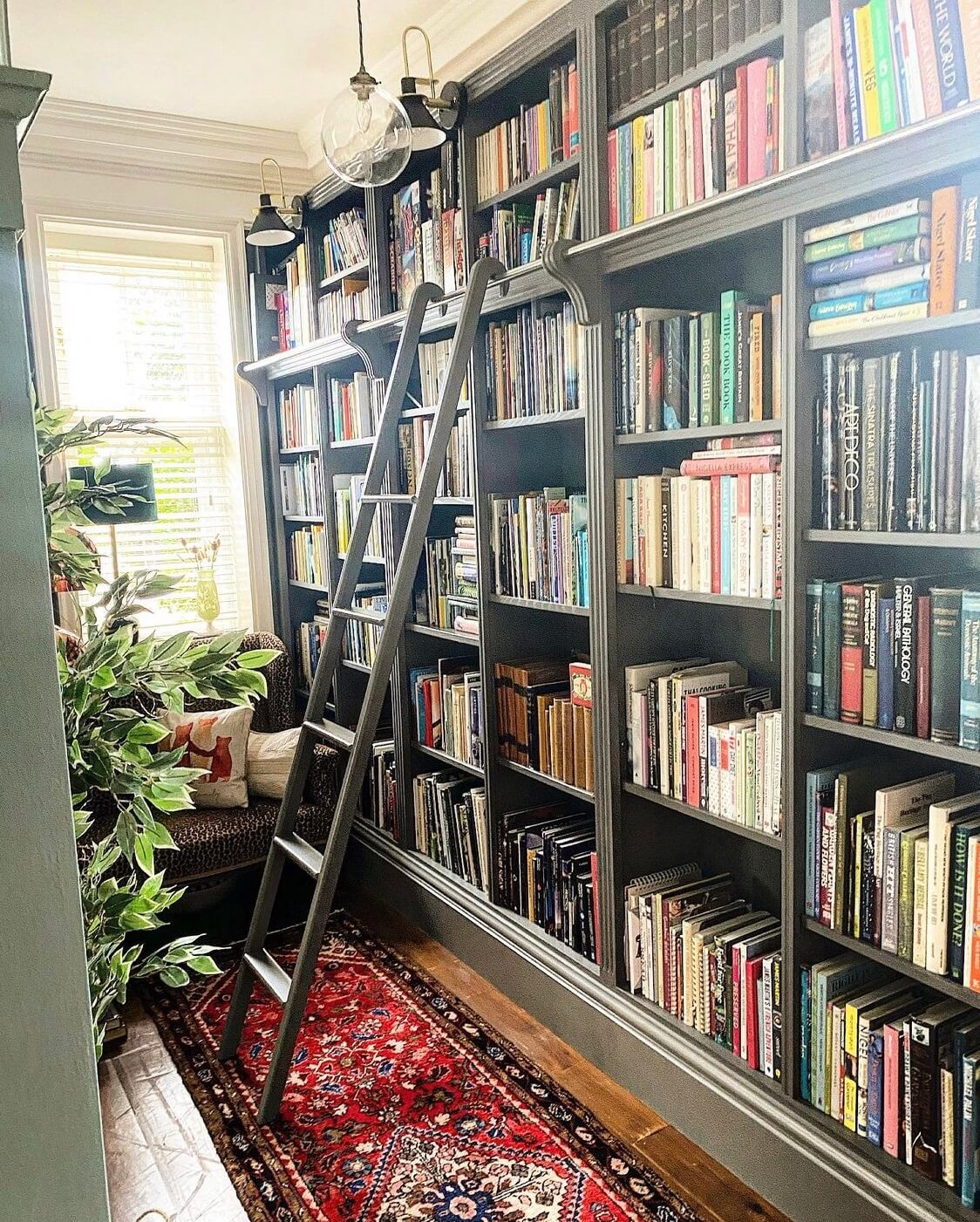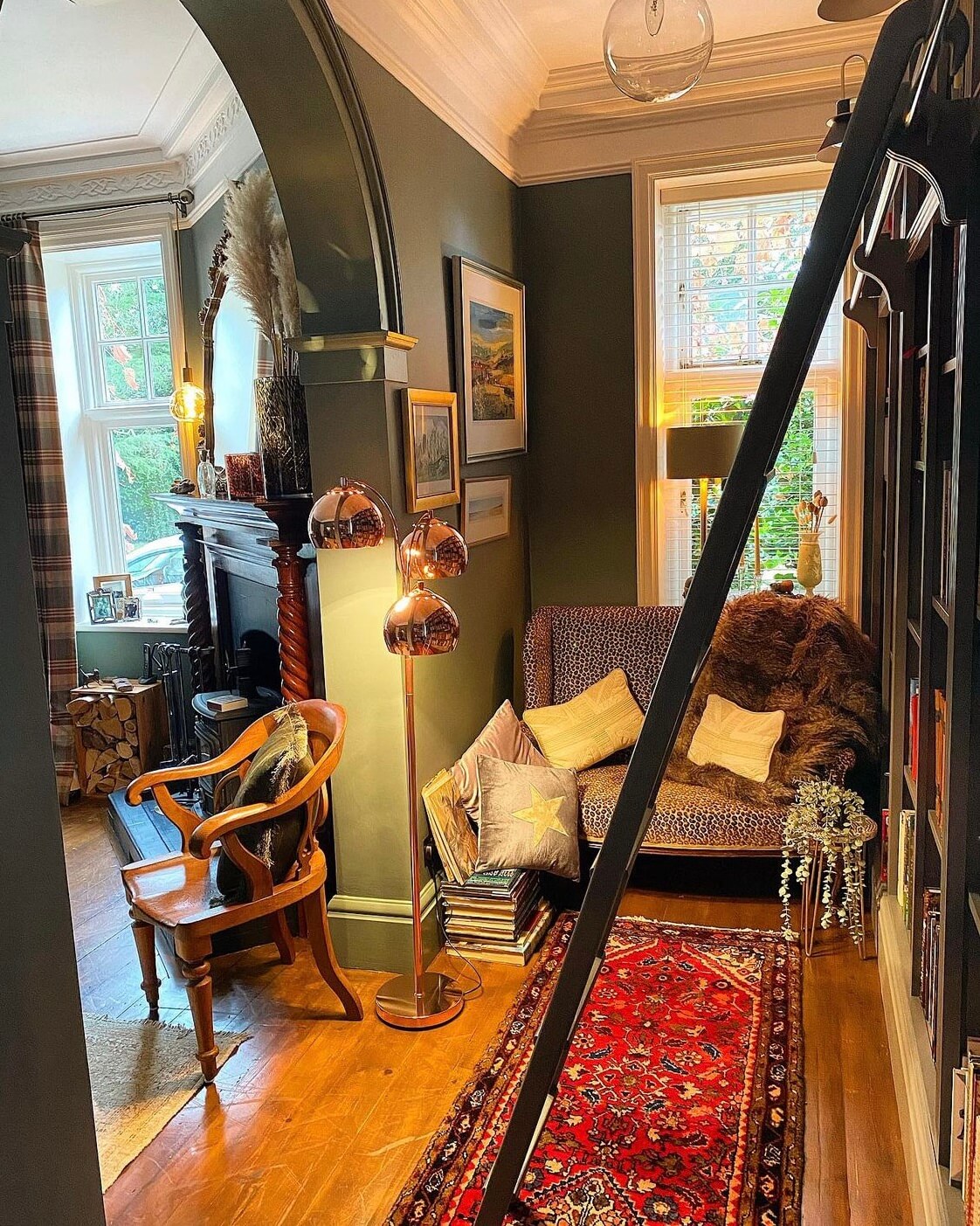 Create A Sperate Reading Nook with Arches
The arches in Susan's living room divide the normal sitting area with the custom home library they created. The bookcases are painted the same color as the wall to blend in. They also added a ladder and a reading nook in front of the window to make it extra special.
A Home Library Made From IKEA Billy Bookcases
IKEA is known for its affordable but good-quality furniture. You can make a perfect home library using their best-selling Billy bookcases. In the above living room, they paired the Billy bookcases with layered textiles and deep colors to create a true library atmosphere.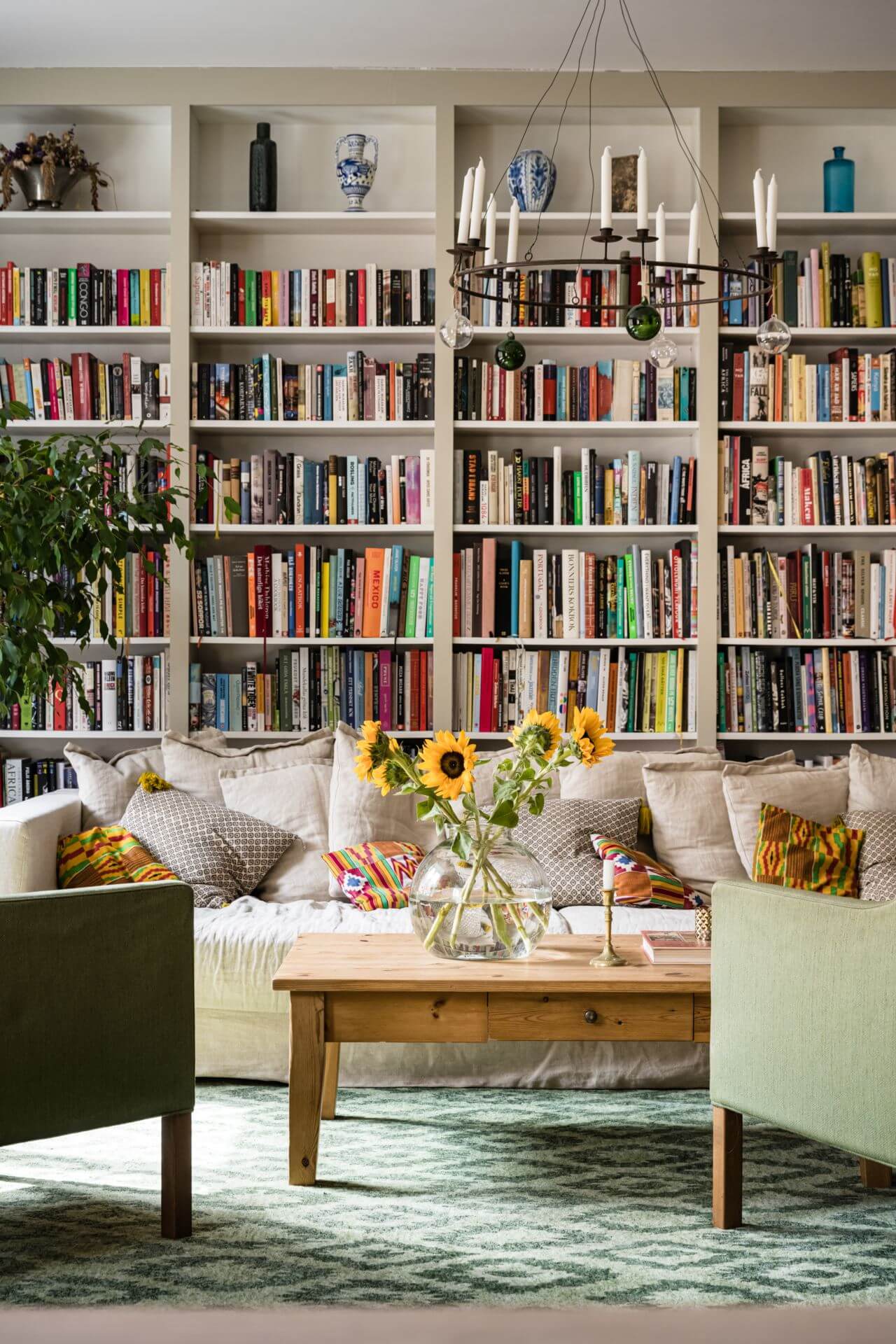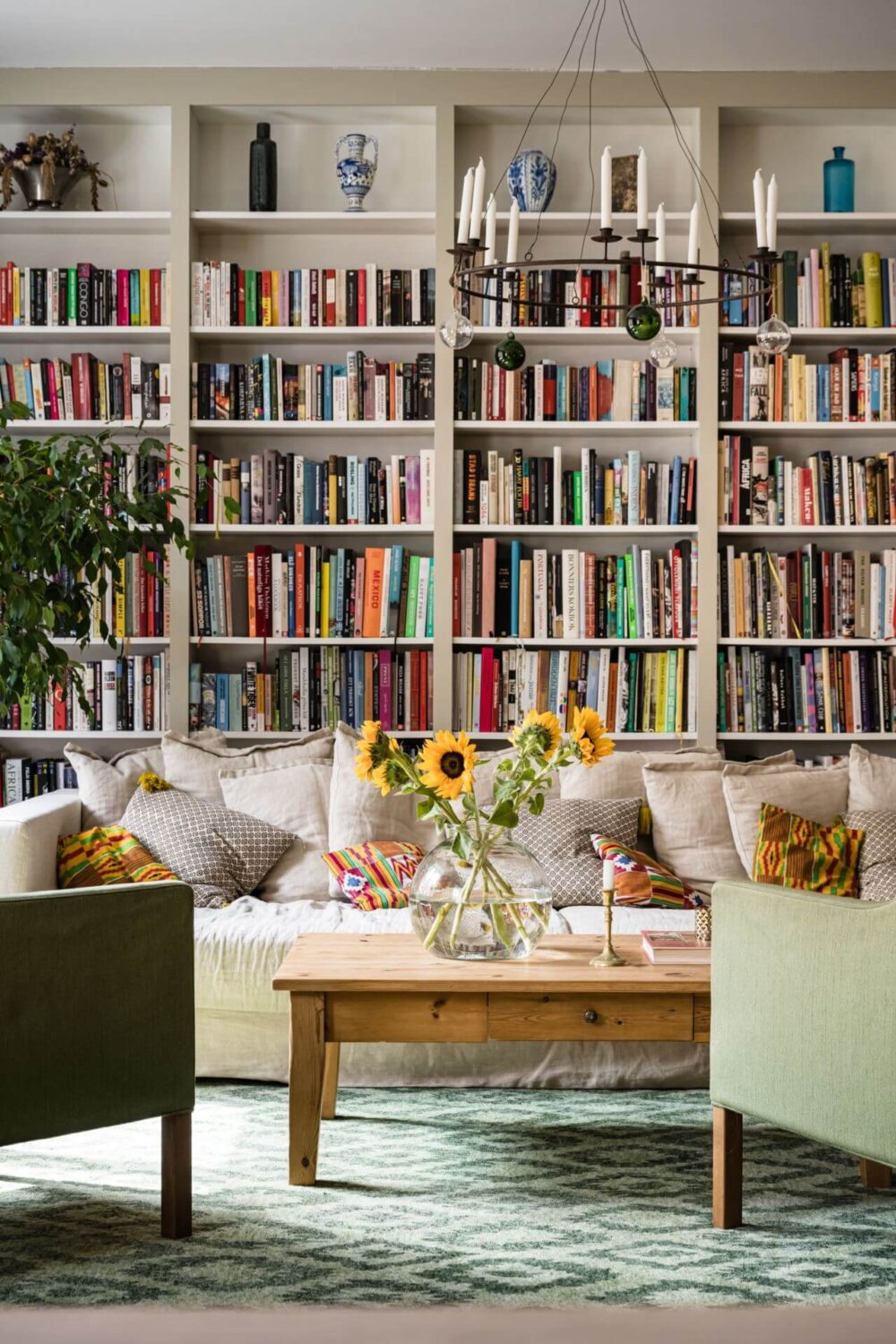 A Built-in Bookcase in the Living Room
There is no need to leave the sofa in this Scandinavian living room with green accents. From wall to wall, a custom bookcase has been built in.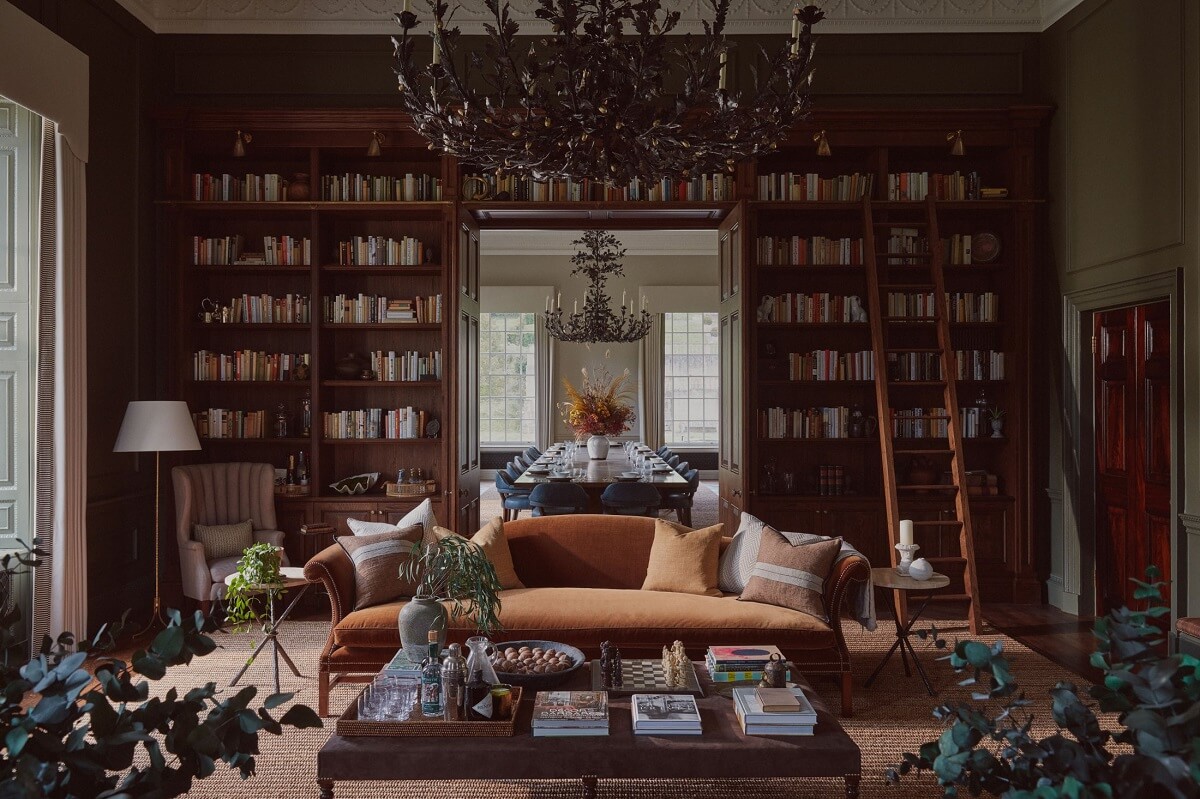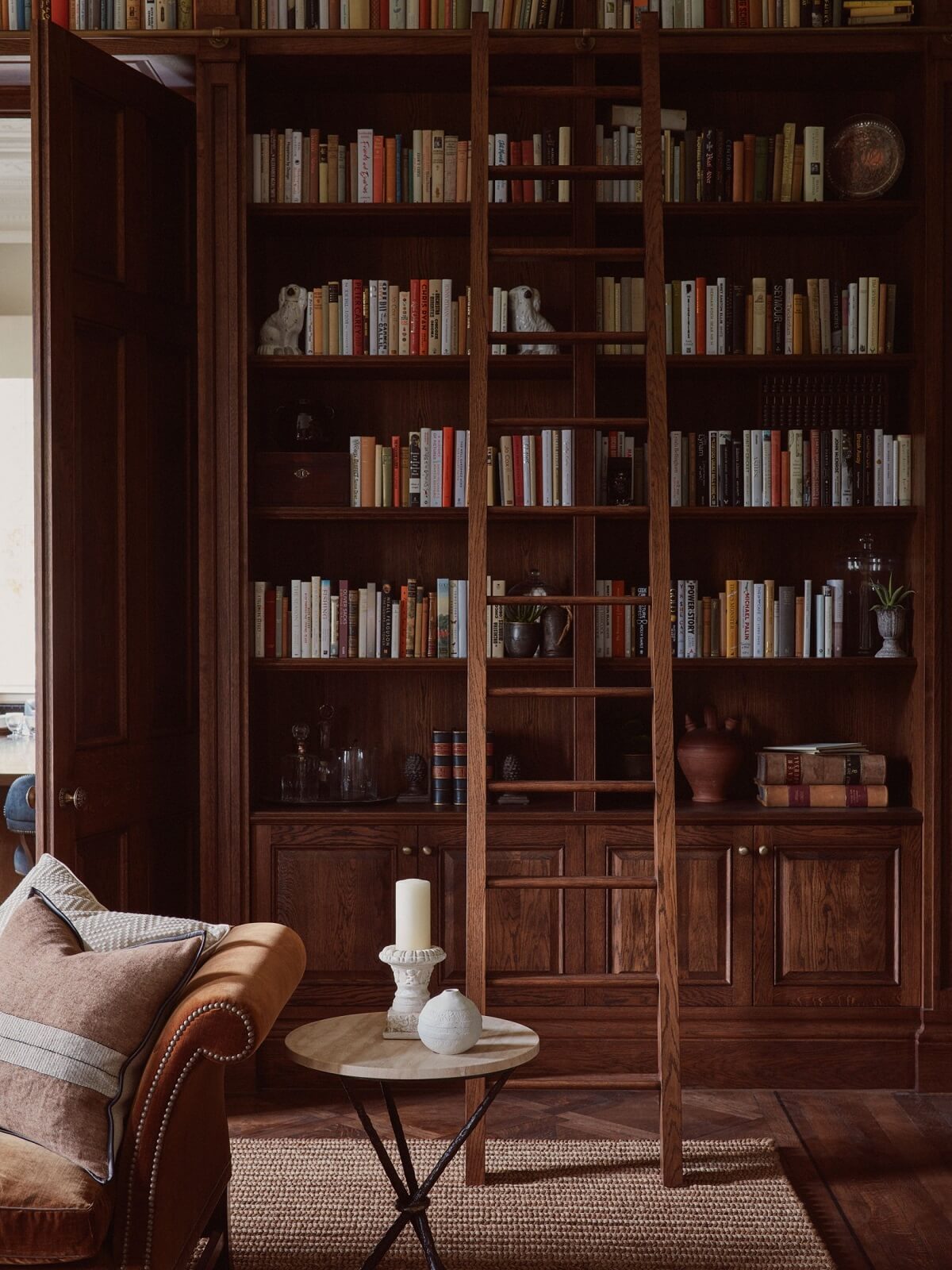 A Library in a Historic Country House
Benham Park is a Georgian country house in England that has recently been restored and turned into a family residence by design studio Albion Nord. The house features a warm, classic library room with wooden bookcases and a comfortable seating area.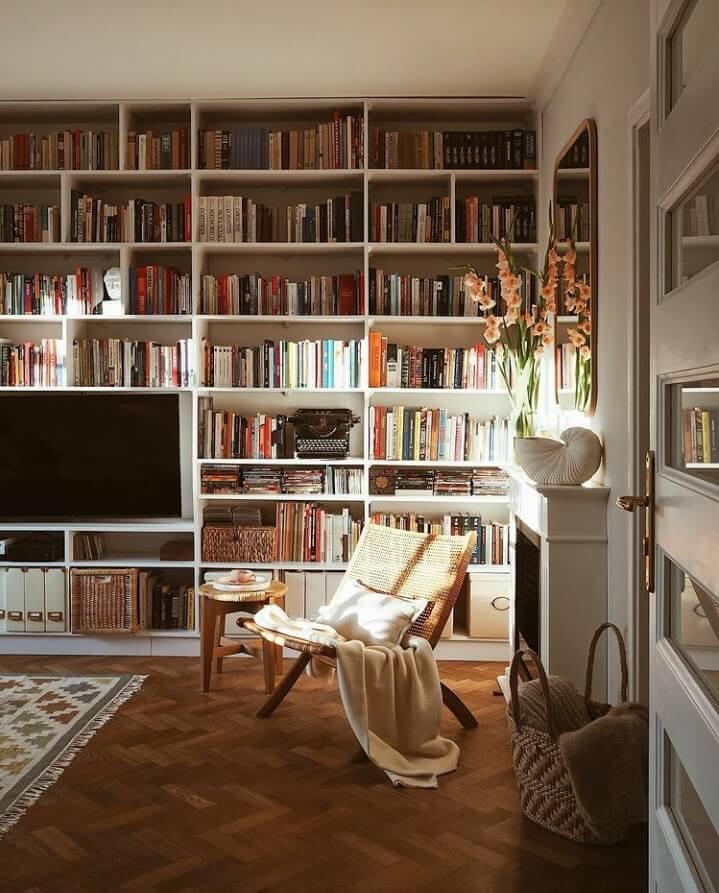 Combine Music with Books
The Scandinavian-inspired home of Justine, a.k.a. @i.tam.i.tu, features a living room with wall-to-wall bookcases. She combined her book collection with her large music collection to create a book/music library.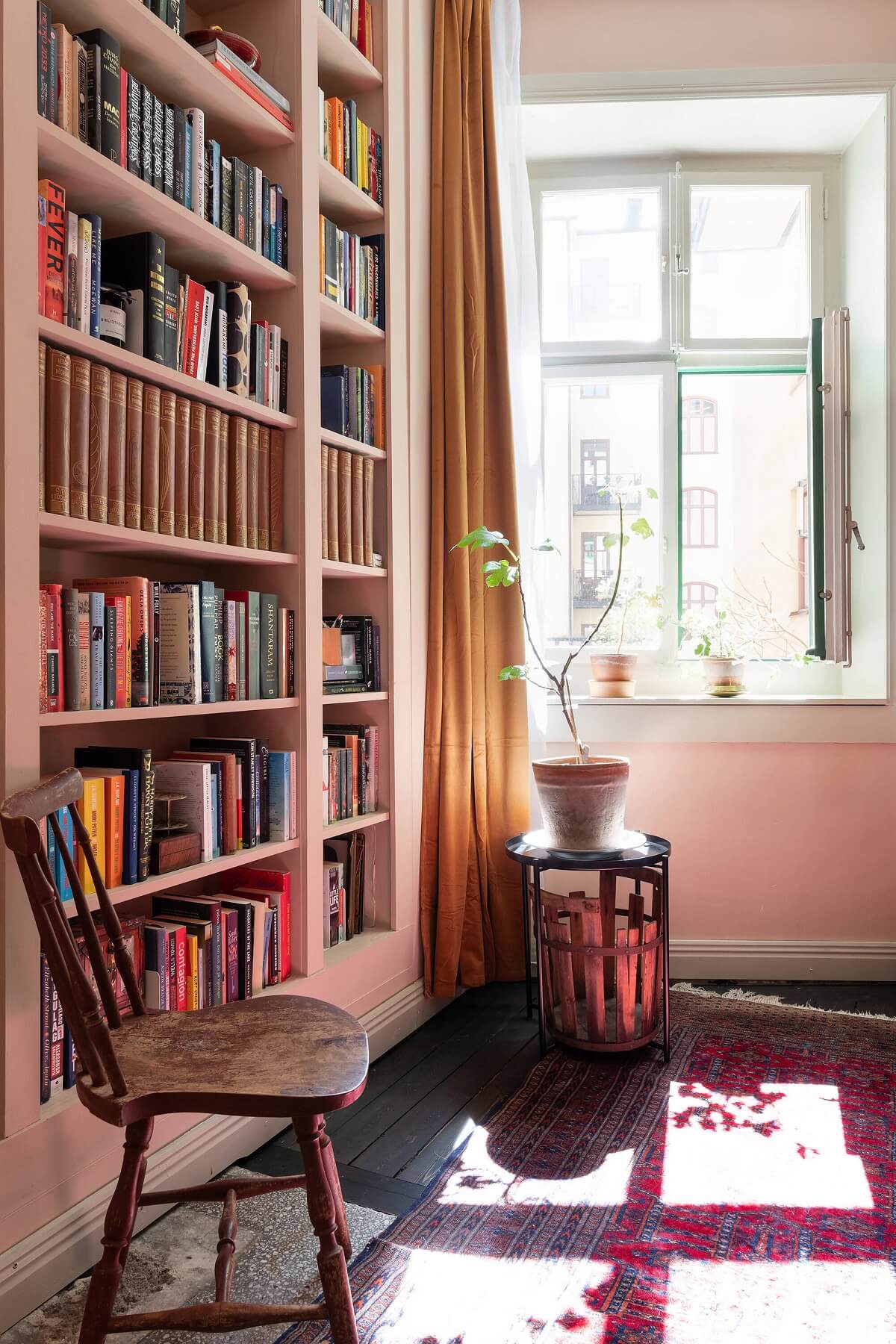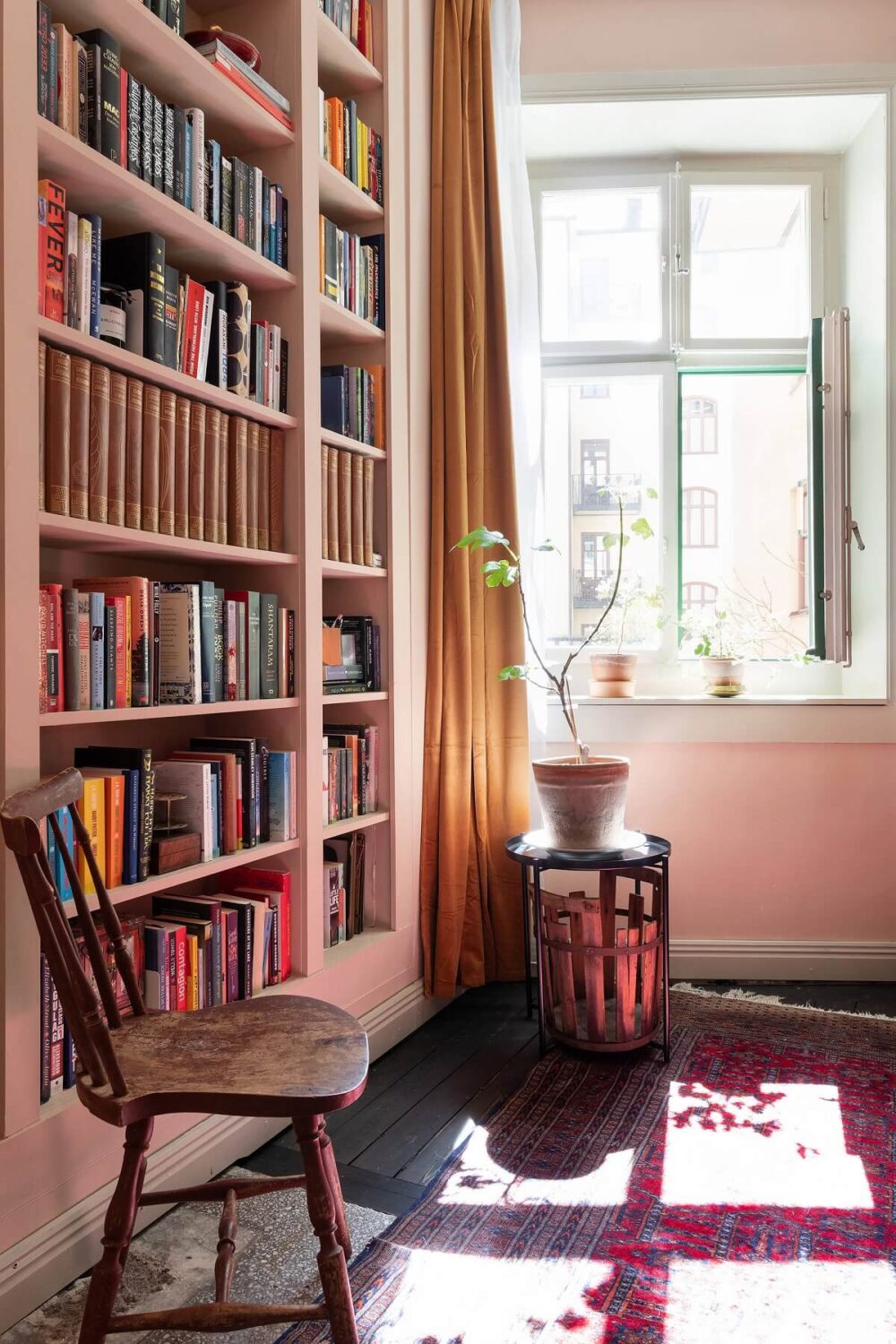 Go For Pink
Display books and add a color accent to your home by adding a colorful bookcase. In the above maisonette home in Stockholm, they added a pink built-in bookcase paired with mustard yellow curtains.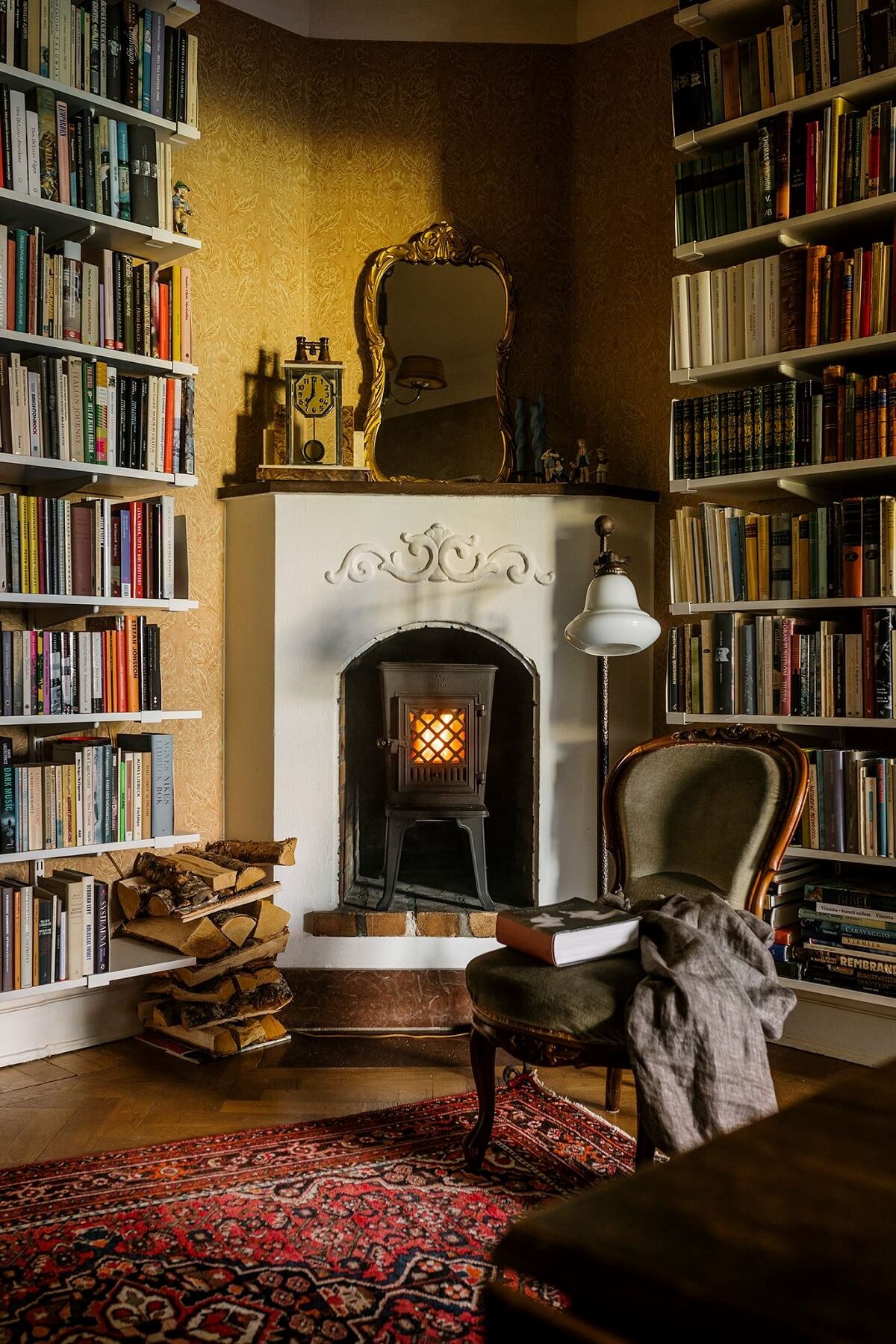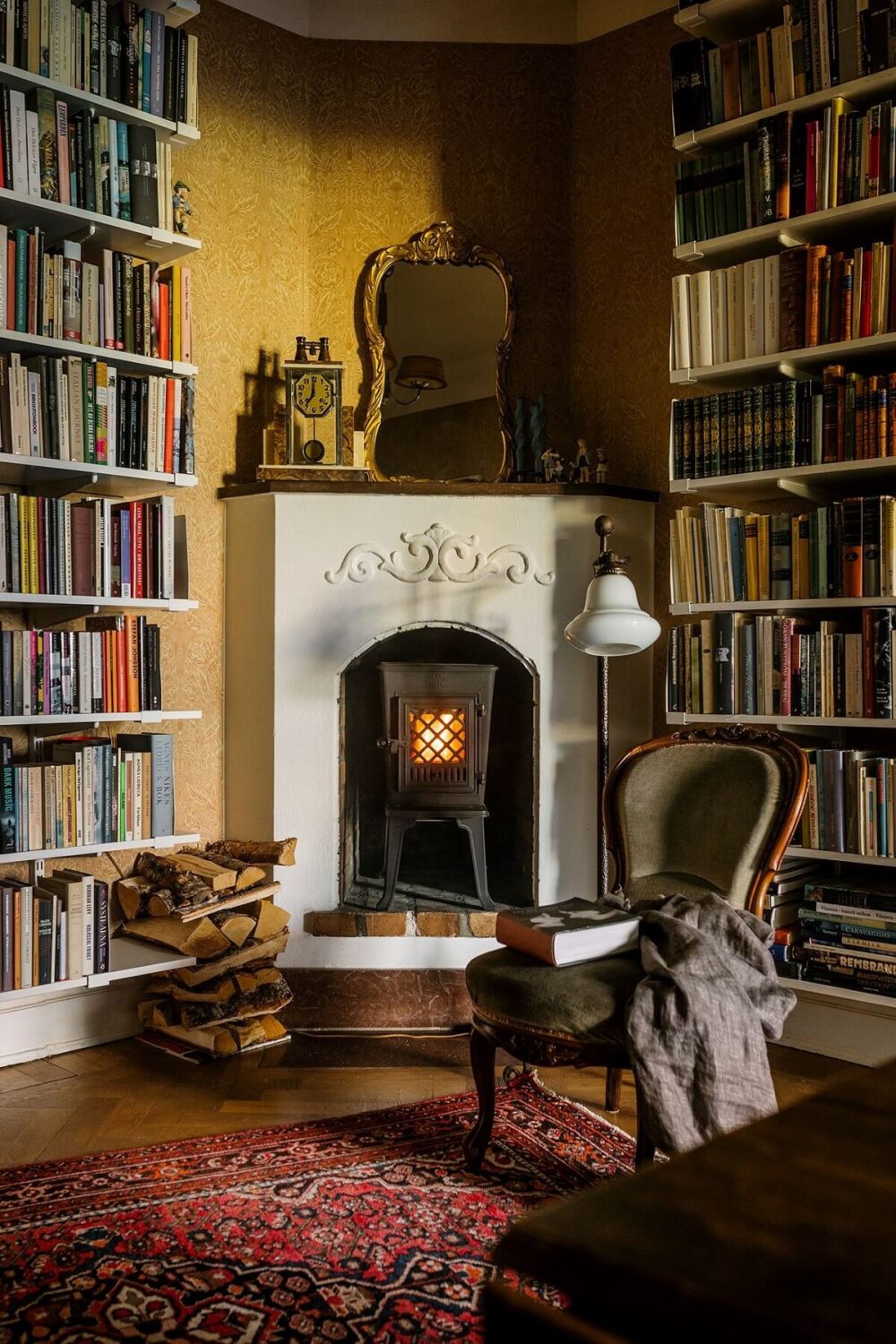 A Vintage Reading Room
Some historic Swedish houses have an "inner hall"; it's a space that connects all other rooms but is usually a little bigger than a hallway. In this inner hall, they turned this space into a vintage reading room. With the historic fireplace, vintage furniture, and yellow wallpaper, it's a charming and warm space.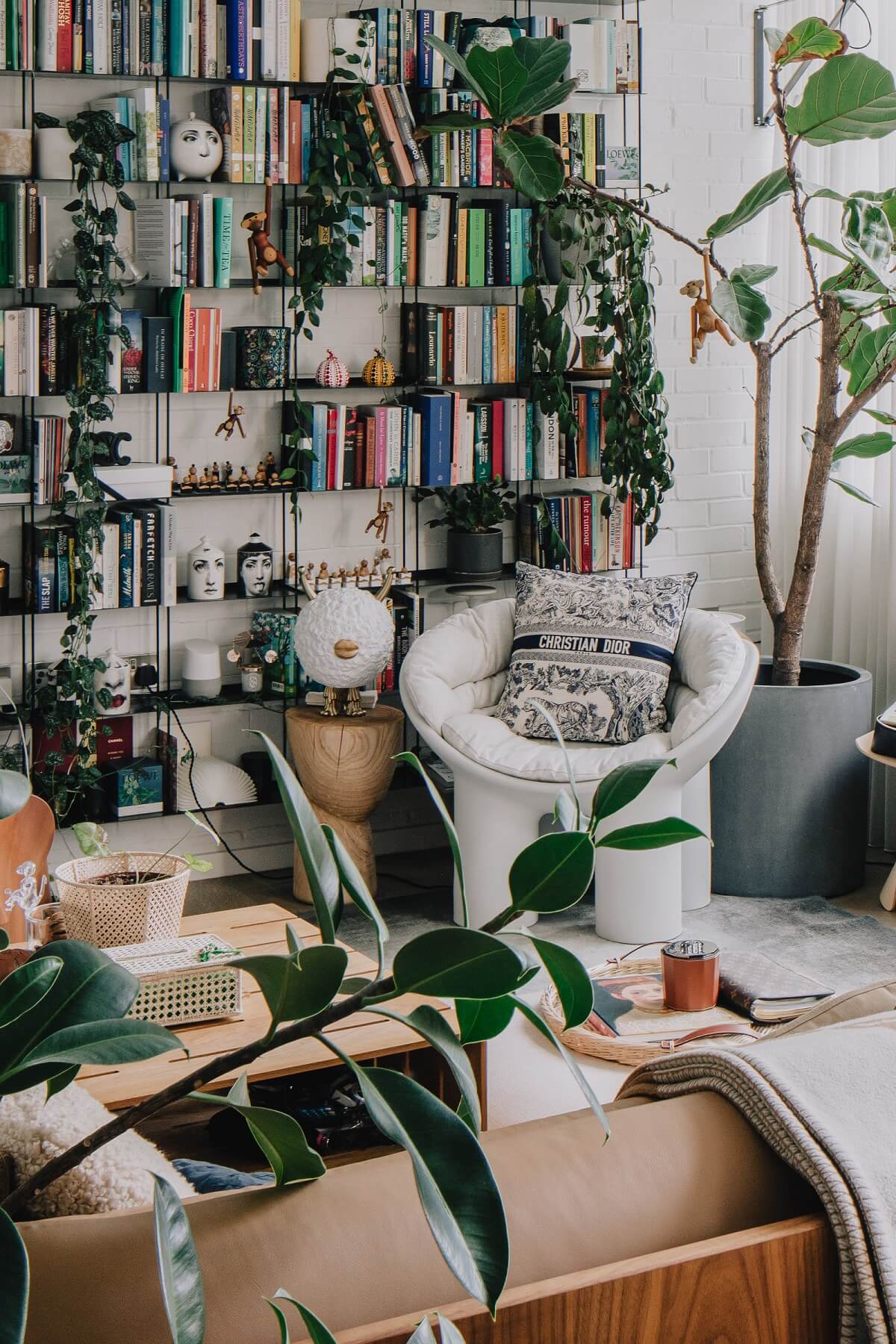 A Modern Design with Plants
Do you prefer modern design? Then, you can take inspiration from this home library in a warehouse apartment in London. The sleek black bookshelves are paired with modern classics like the Faye Toogood Roly Poly chair and plants for a natural look.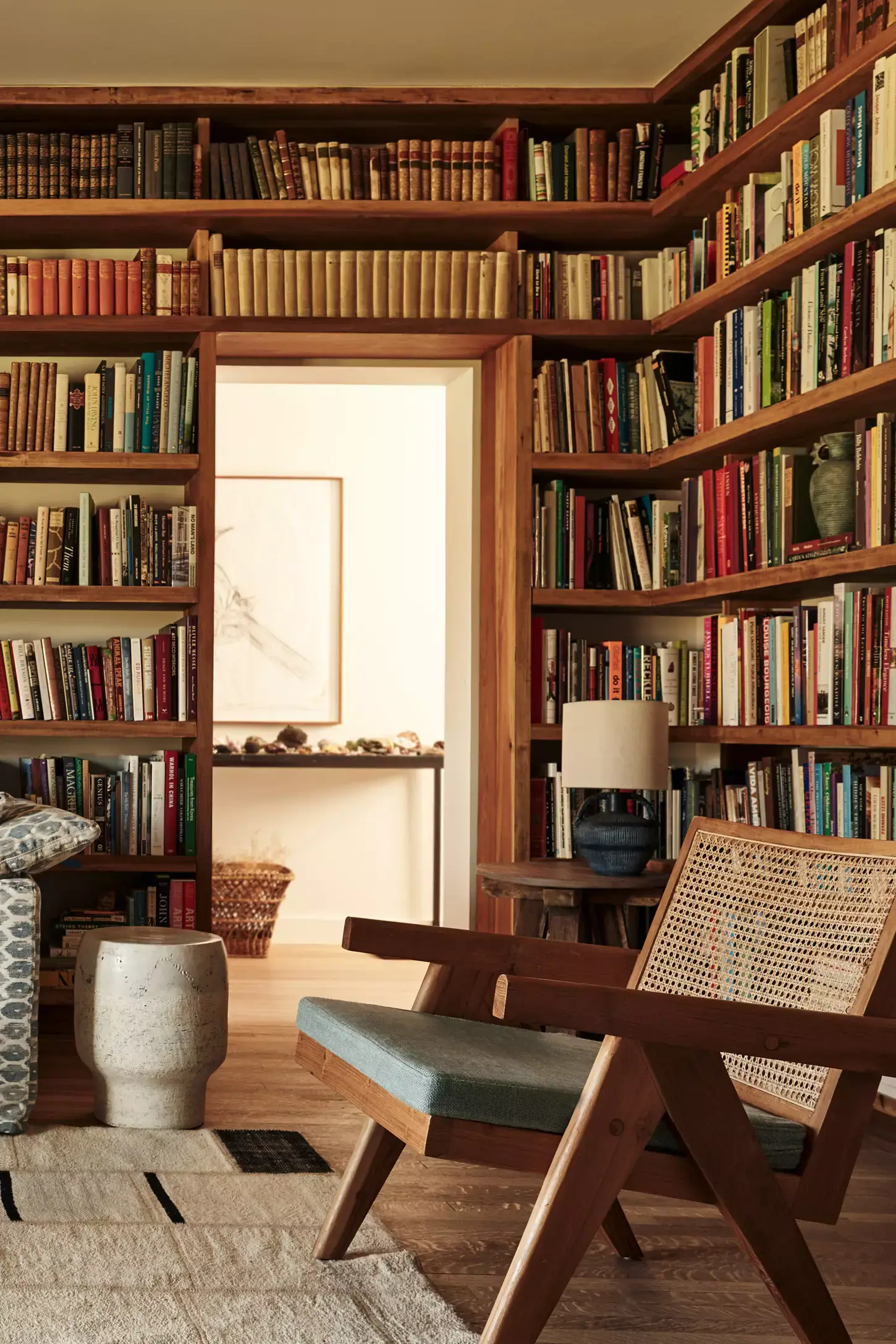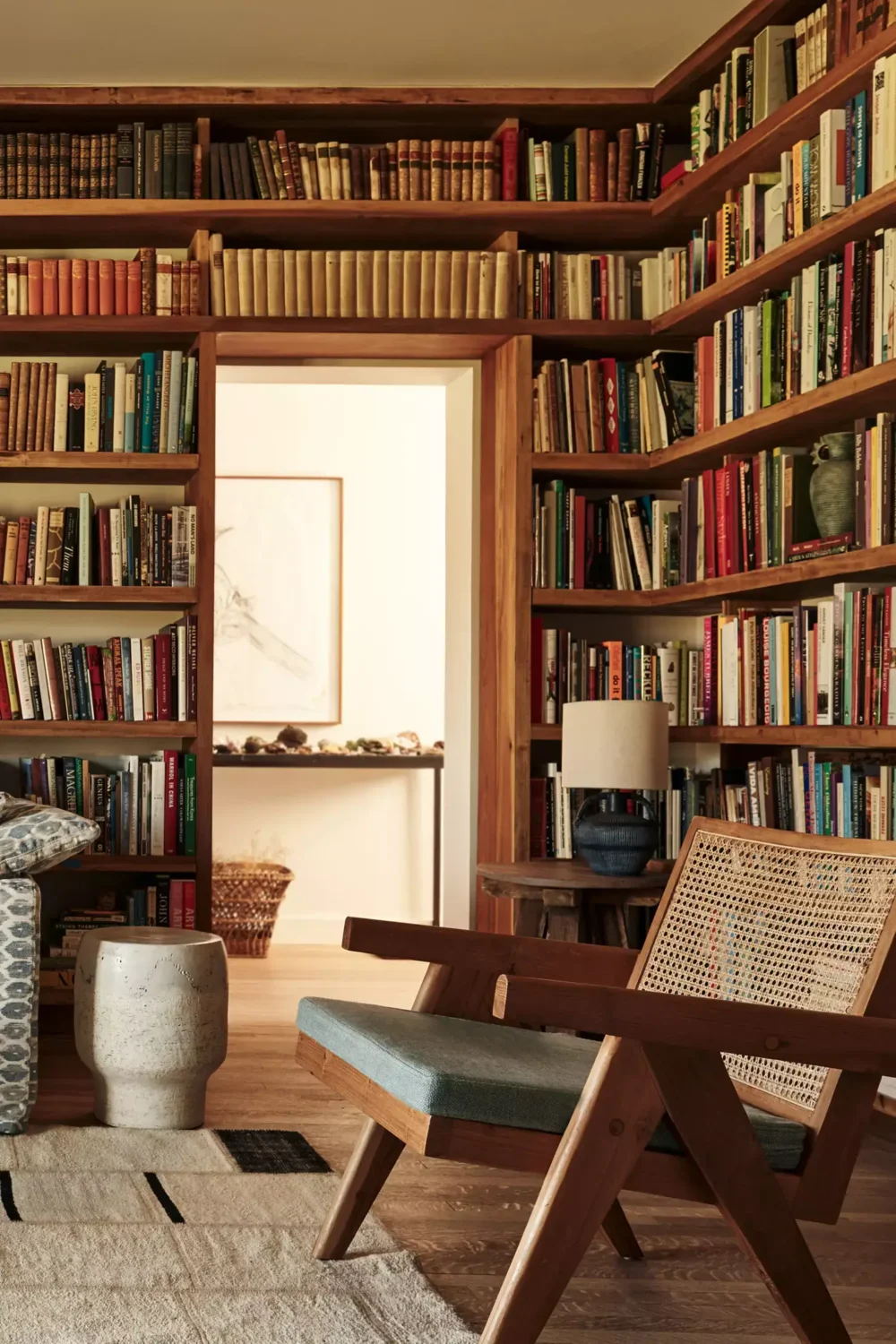 Warm Wooden Floor to Ceiling Bookcases
This room, styled by Anthropologie, shows floor-to-ceiling wooden bookshelves paired with a wooden floor and a wooden armchair for a warm home library look.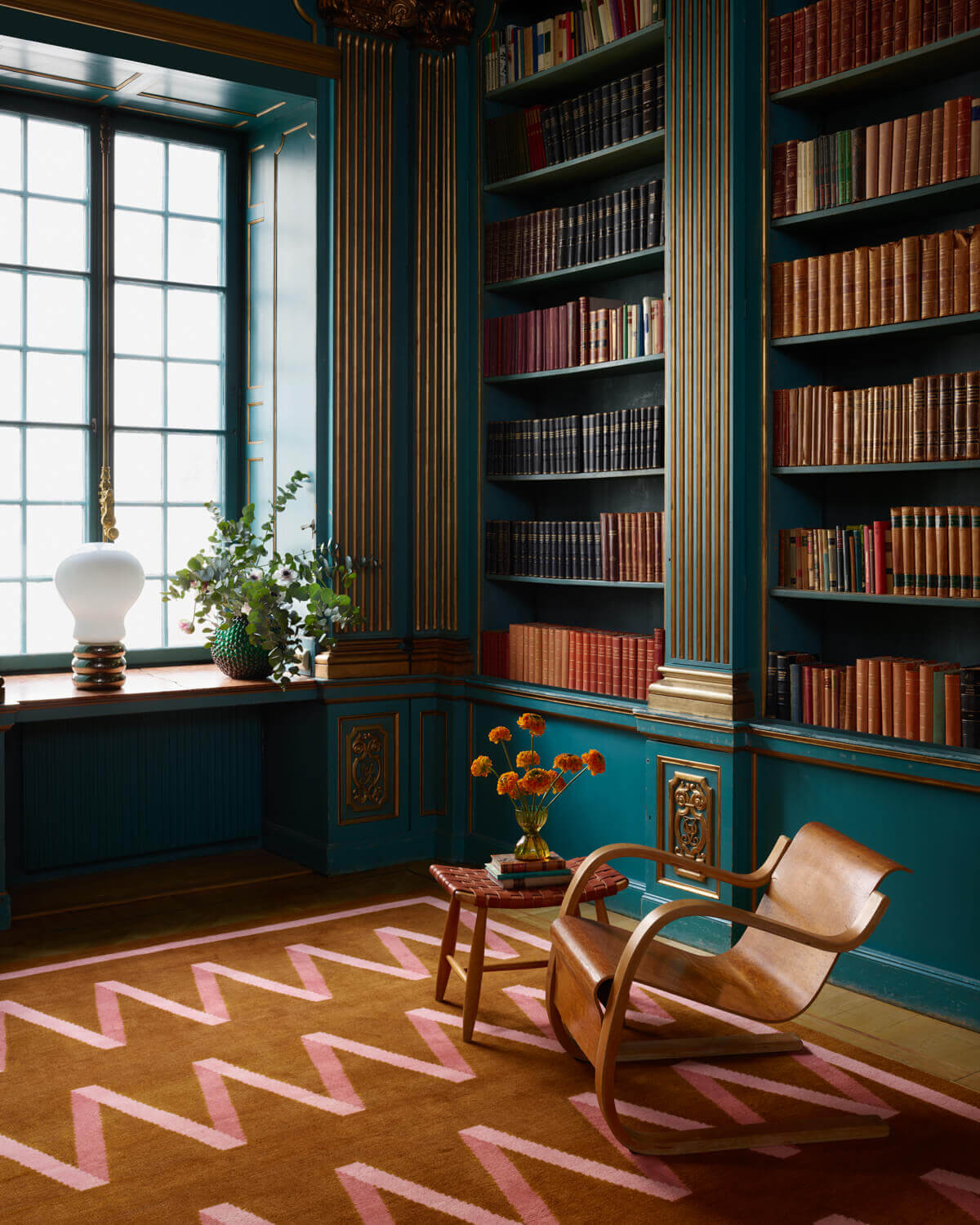 A Teal Bookcase
Doesn't this look amazing? The historic teal bookcase with old books is paired with a modern brown and pink rug from the Campbell-Rey x Nordic Knots rug collection.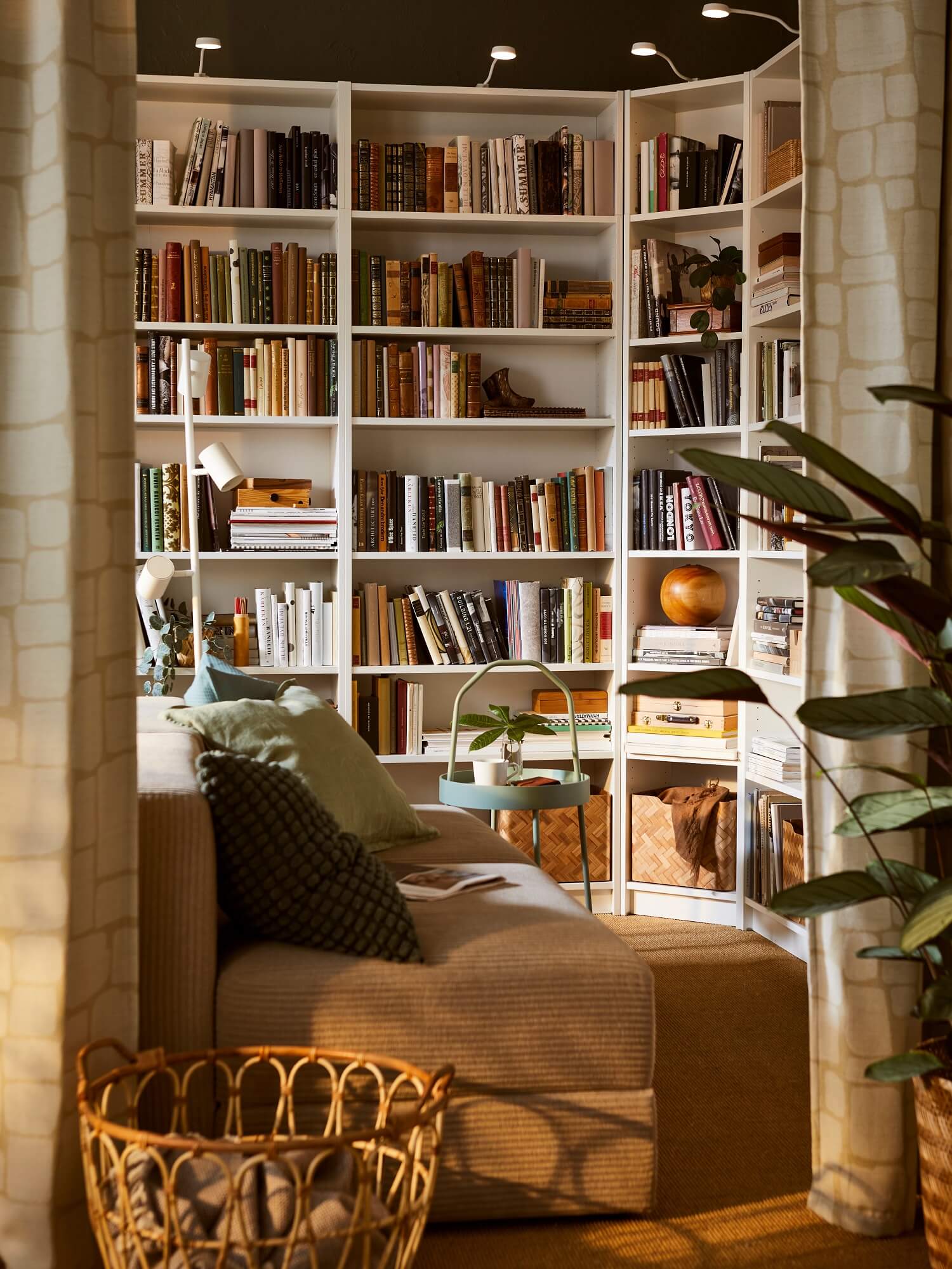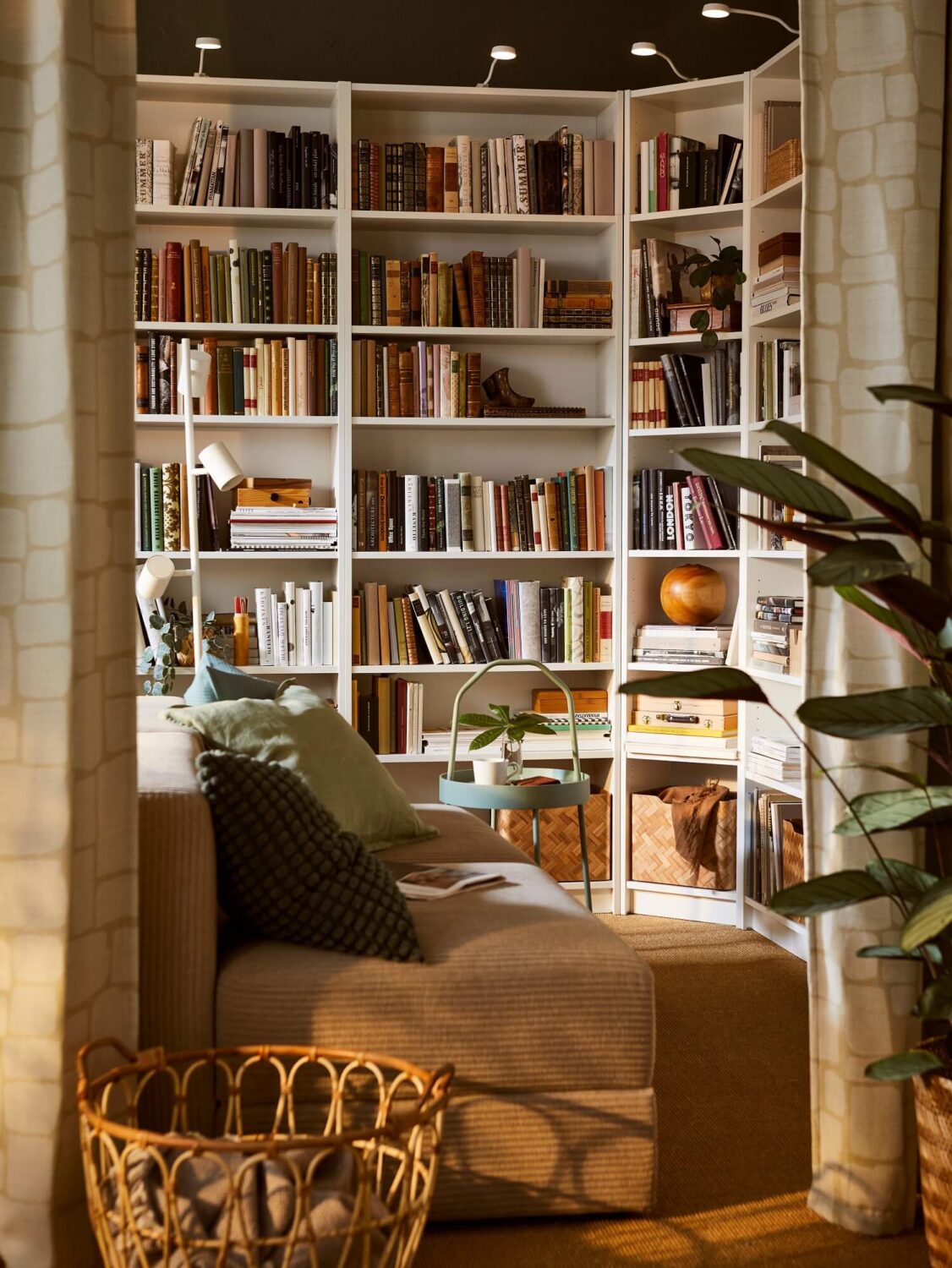 A Dark Ceiling for More Cozyness
Another home library designed by IKEA shows that you don't have to spend a lot of money to turn your room into a perfect reading spot. They painted the ceiling a warm brown shade to make it look cozier.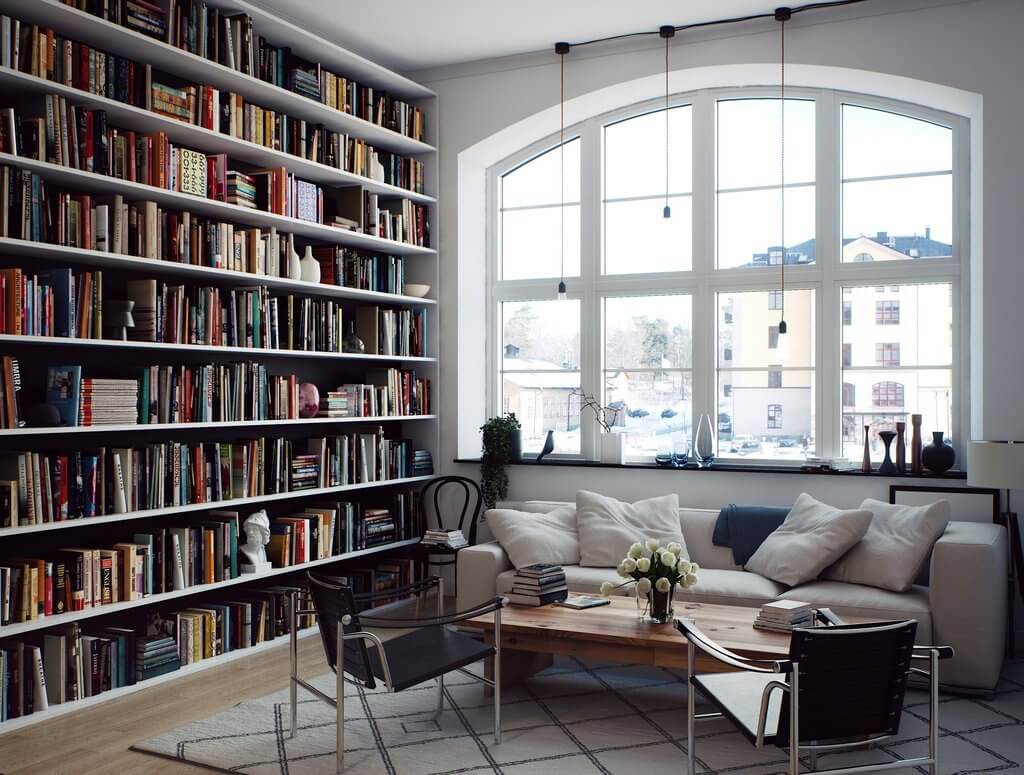 Black and White
Thanks to the huge window, lots of natural light floods into this Scandinavian living room. One wall has been fitted with a custom bookcase. The back of the bookcase is black to contrast the white walls and lightness of the room.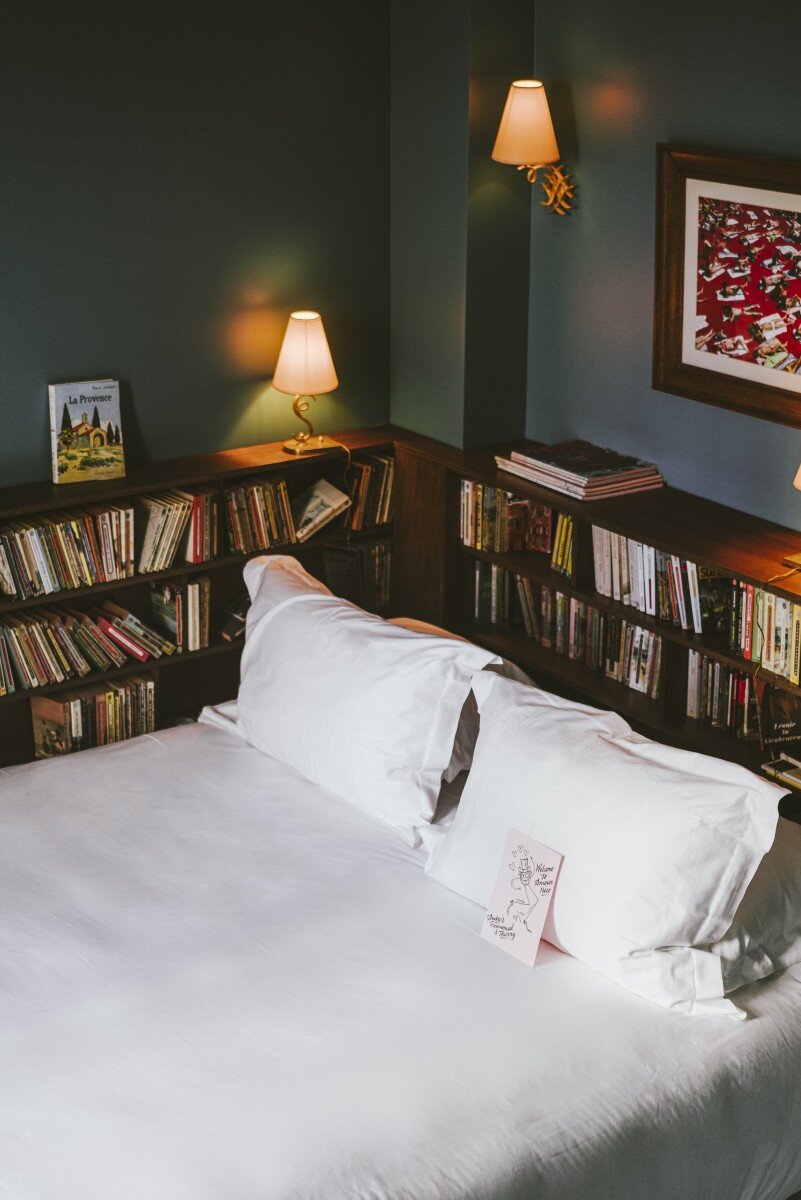 Never Leave the Bed
Turn your bedroom into a sleep and library room. Bookcases have been fitted around the bed at the Hotel Amour in Nice to create thé perfect reading spot. What's better than reading in bed?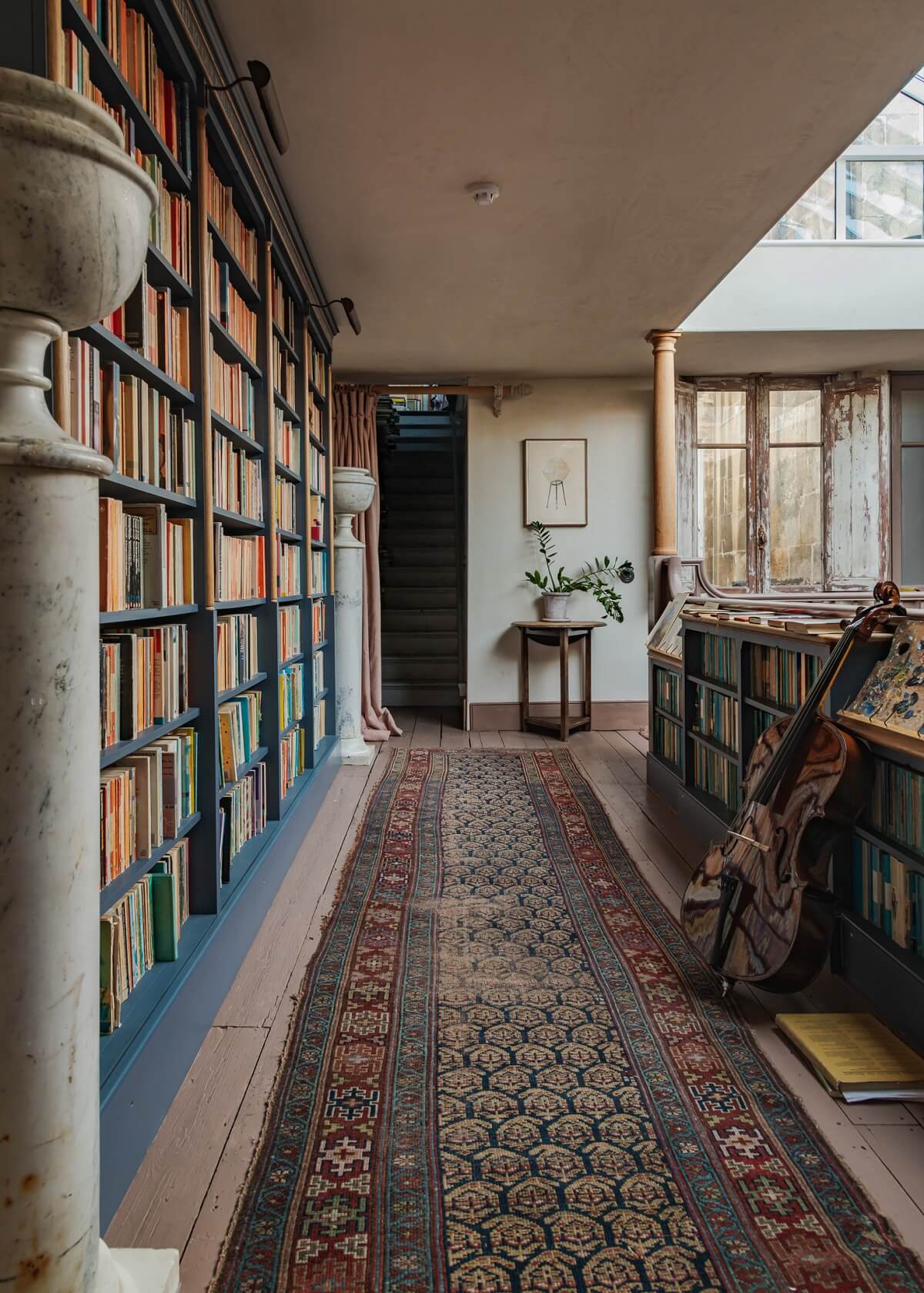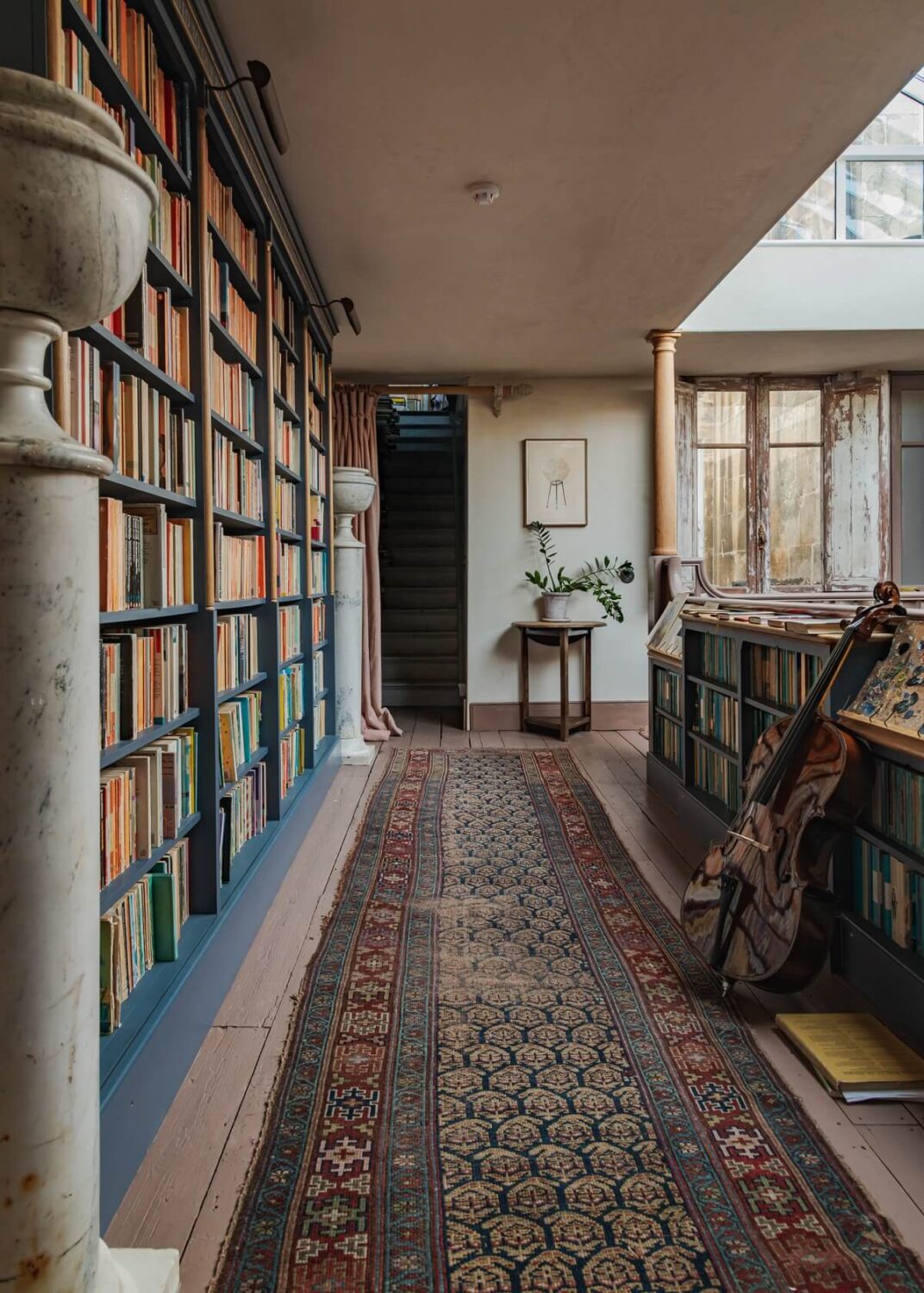 Turn the Hallway into a Library
You can also turn a long hallway or landing into a home library as the owners of this historic home in Bath did.
Deep Blue Walls and a Comfy Chair
The deep blue walls in this reading room create an instant, cozy vibe. It's paired with the affordable Ektorp armchair to curl up in.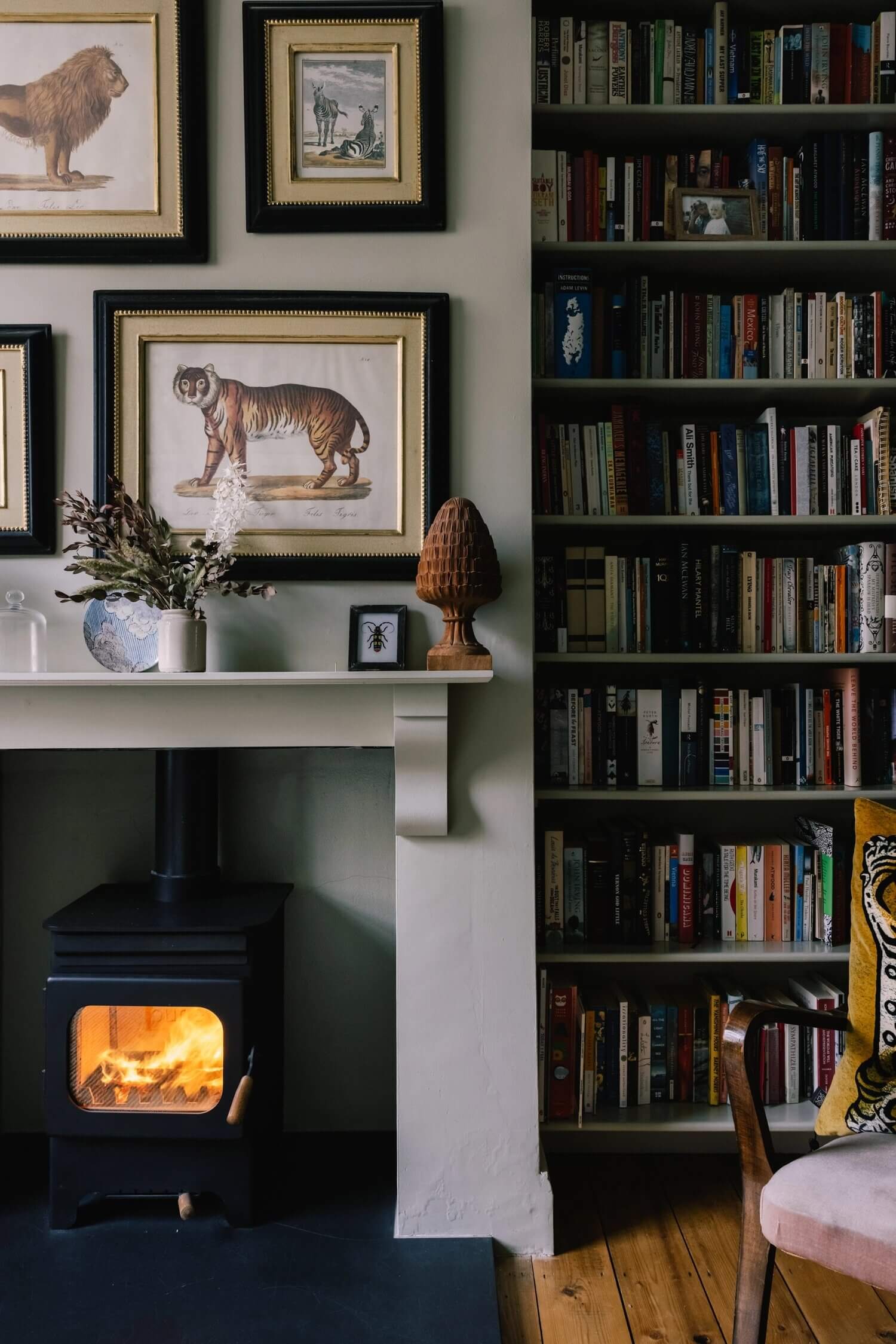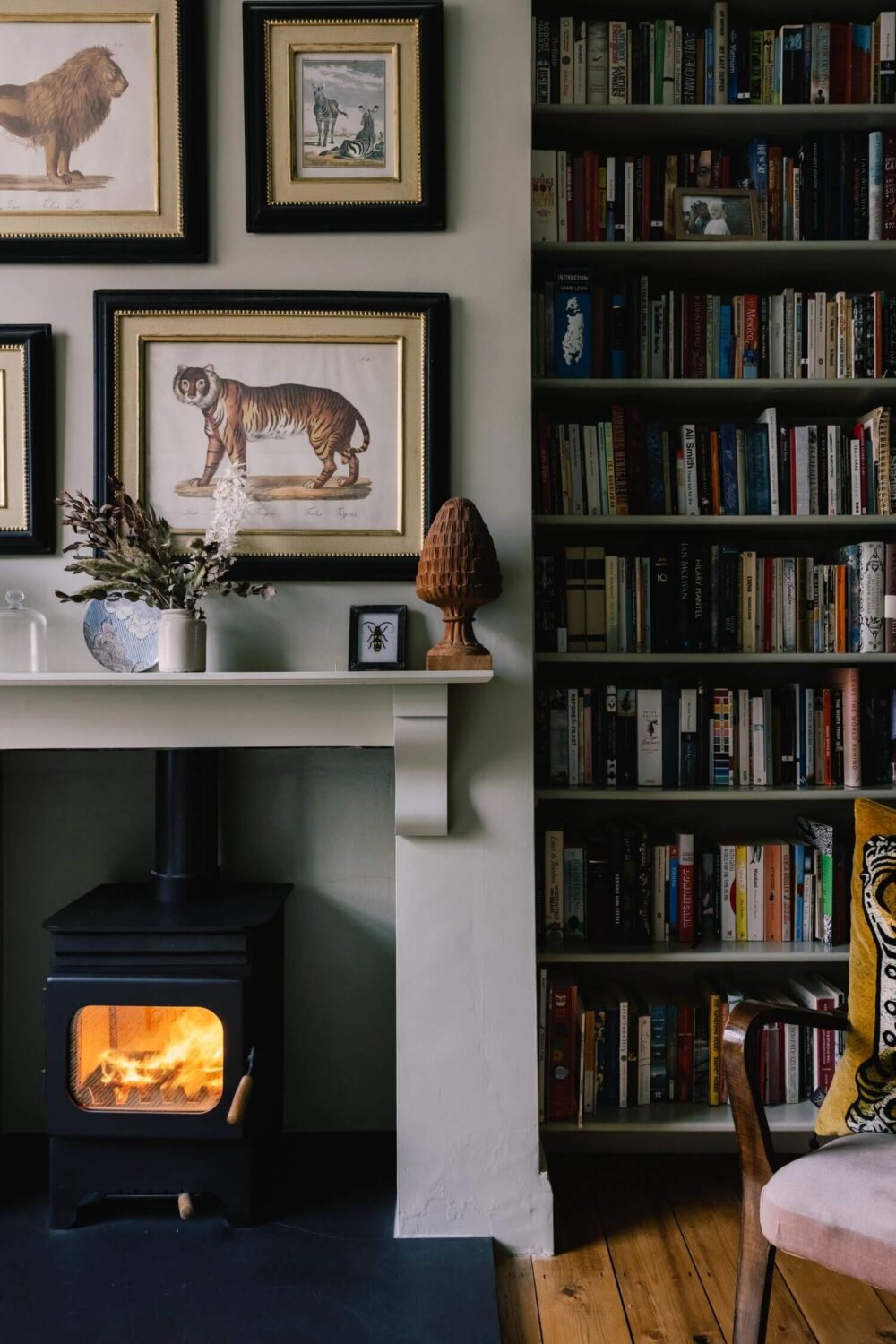 Fit Niches with Shelves
The niches next to the fireplace in this London home designed by Parsnip Interior Design are fitted with bookshelves in the same gray shade as the walls. This is a great way to incorporate a home library in a room with little space.
Small Academic Style
A leather brown sofa, floor-to-ceiling bookcases, and a rustic wooden ladder. This looks like a dream home library to me.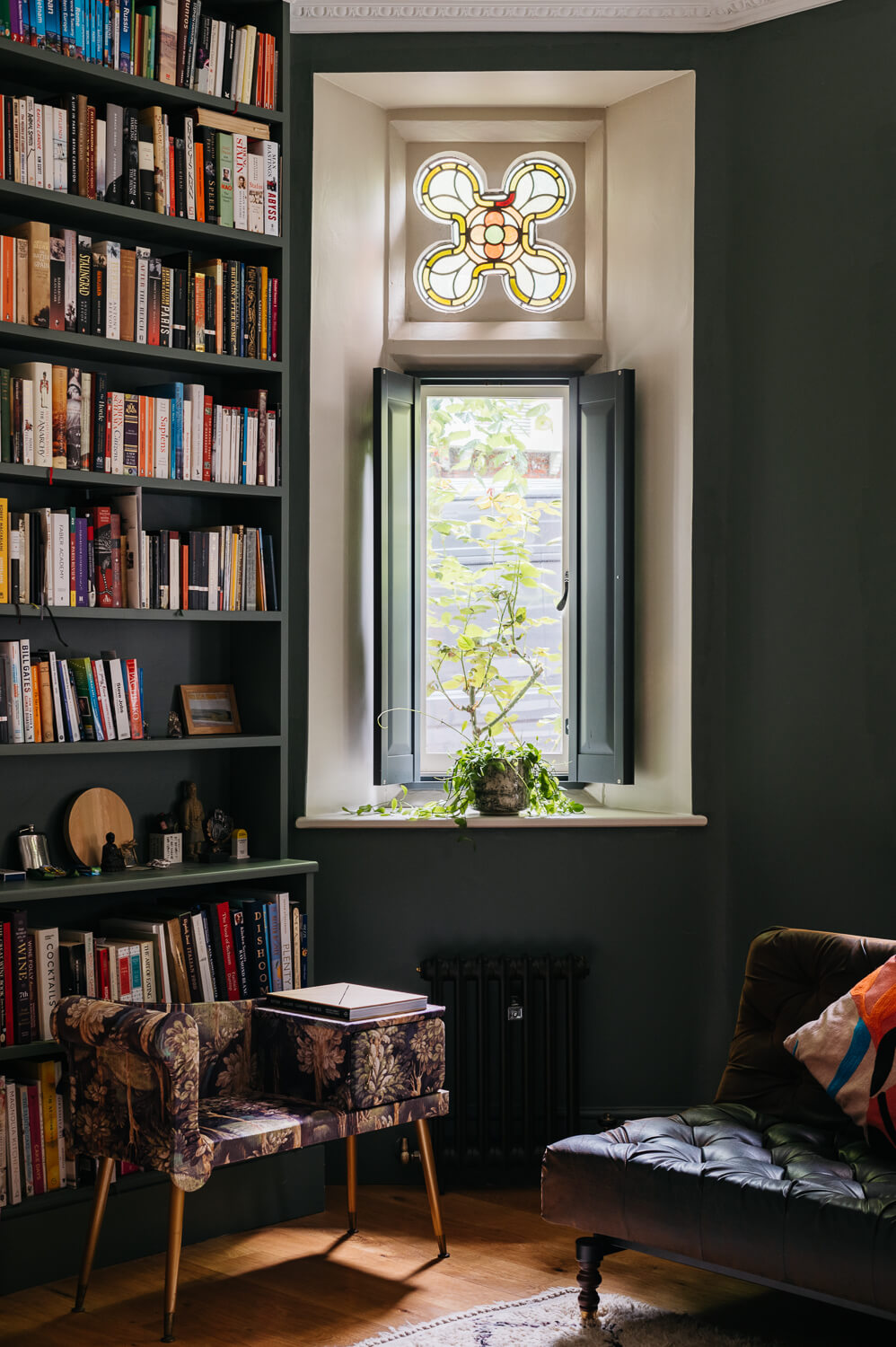 A Small Green Reading Nook
This living room in London is only small, so it's smart that the homeowner painted the bookcase in the same color as the walls to make it stand out less.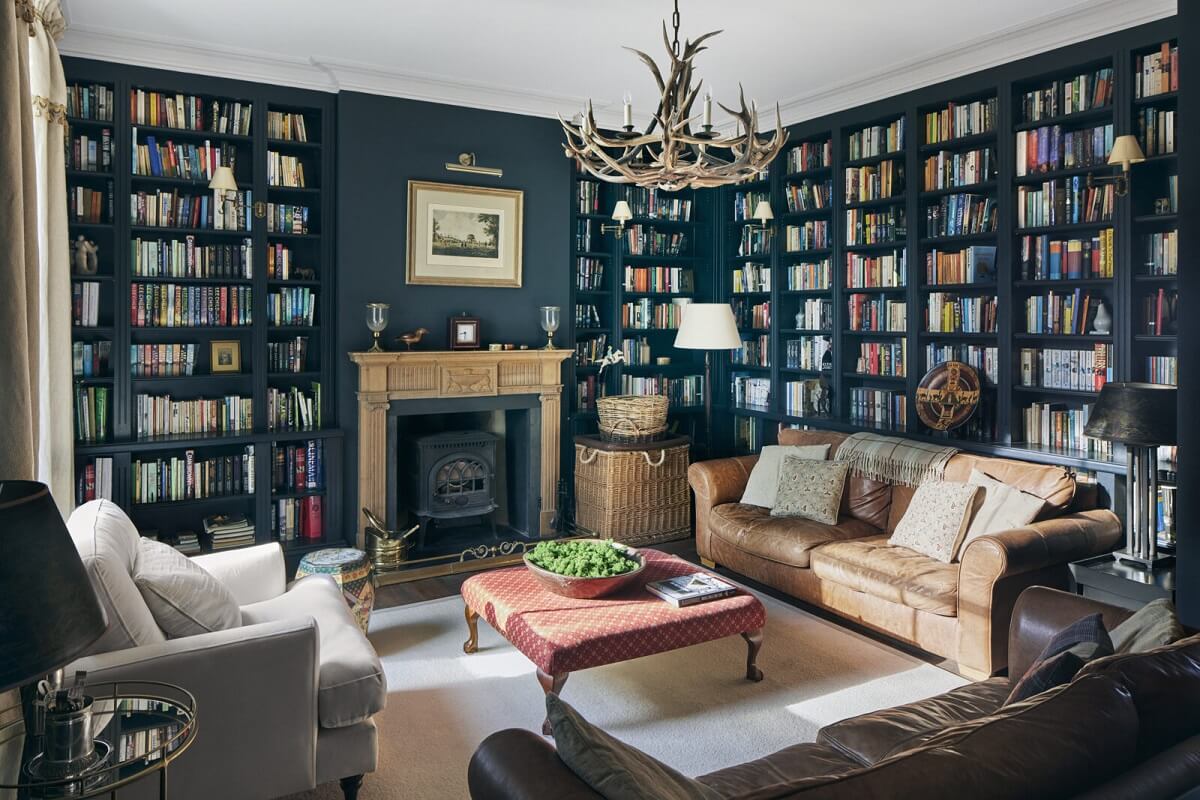 A Dark Library Room
A Georgian country house in England has been restored to its former glory. One of the great rooms of the house is the library room with floor to ceiling bookcase and a beautiful wooden fireplace.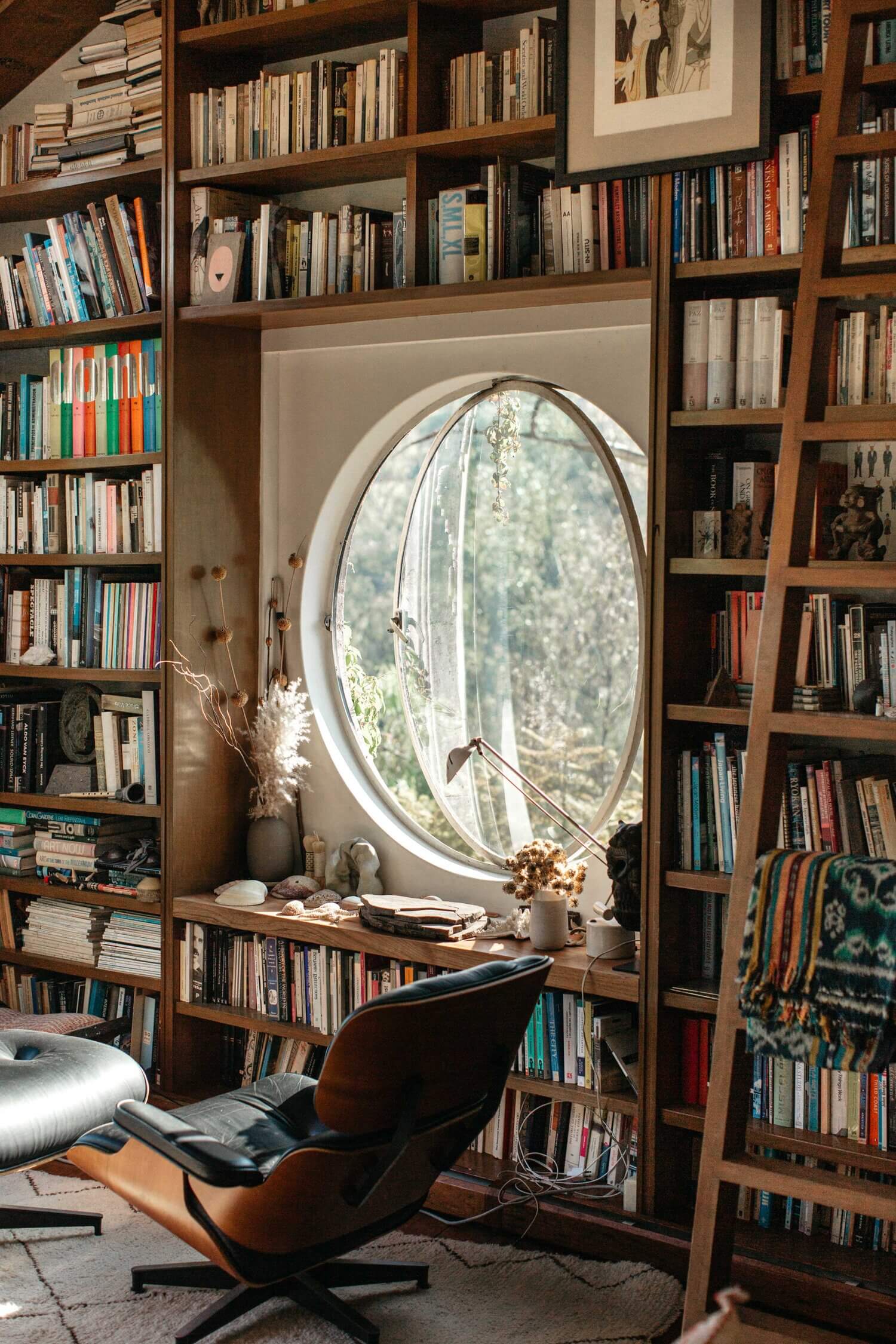 Bookcases Around the Window
Warm wooden bookcases with a ladder have been built around the unique round window. A comfortable Eames chair sits in front of the window, turning this into the perfect reading spot.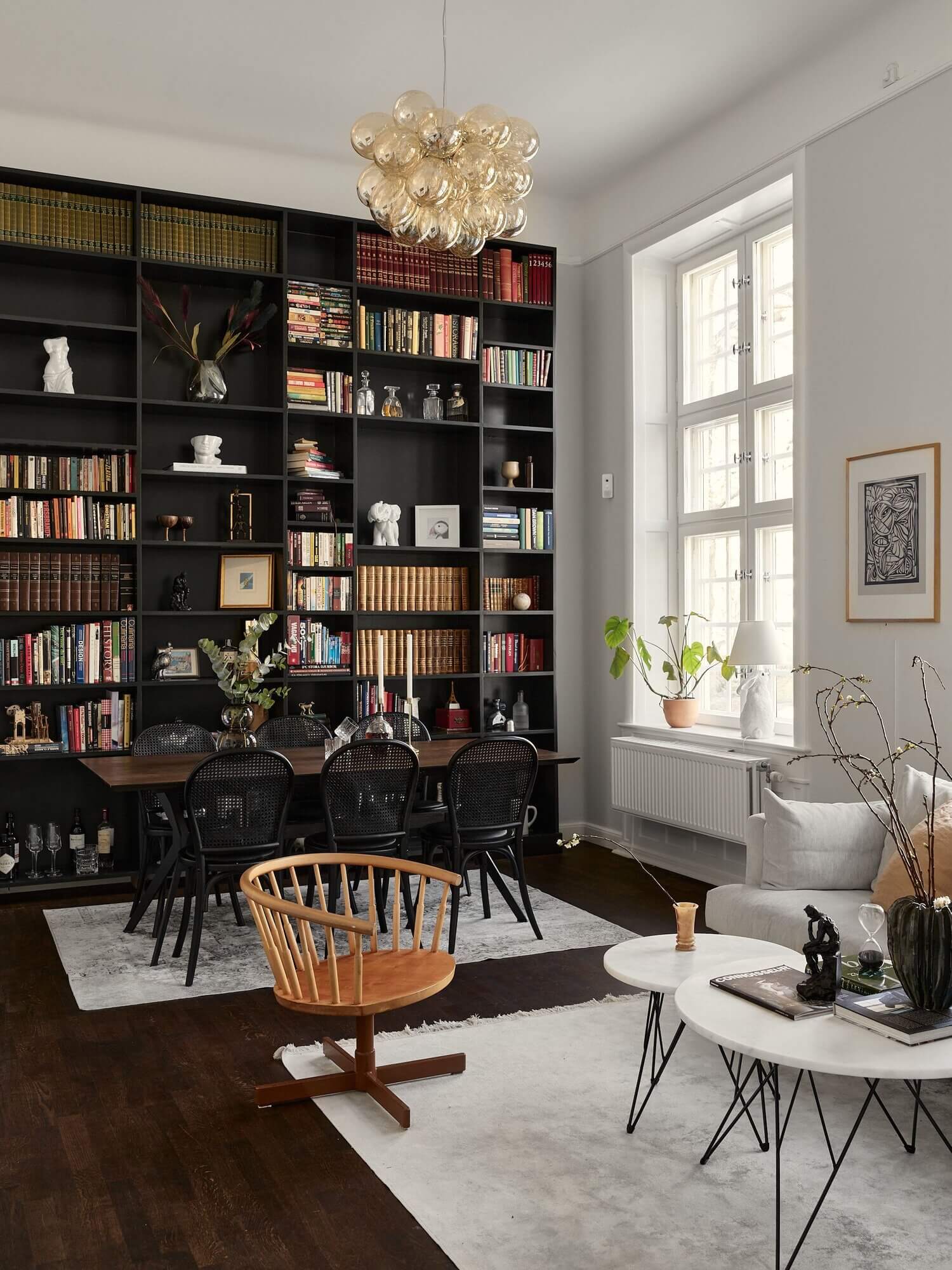 Light and Dark
The dark bookcases really stand out in this Scandinavian living room. The high ceilings lend themselves well to a great statement piece.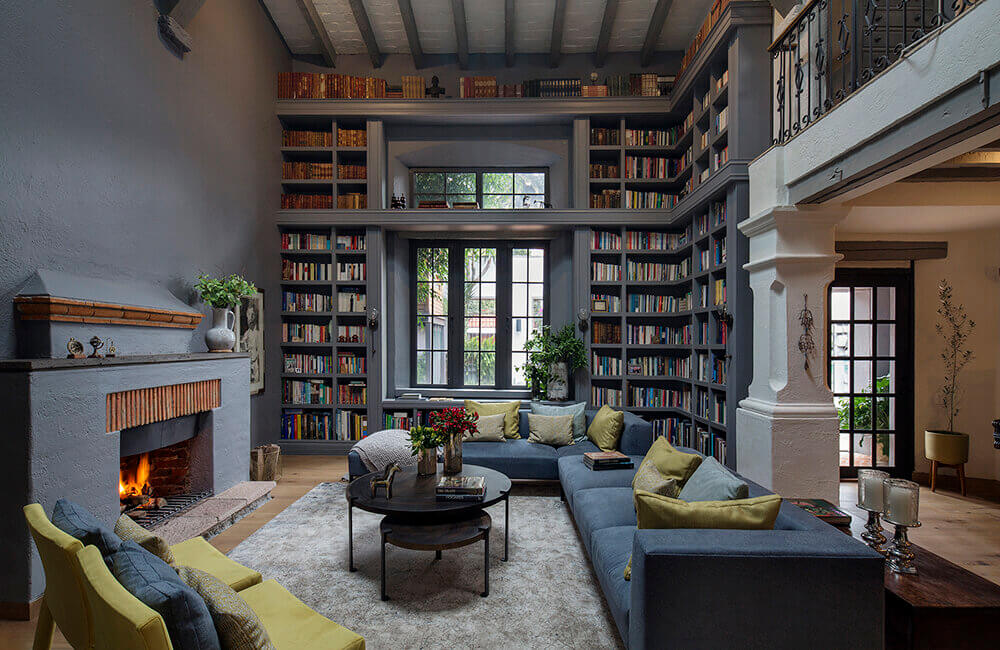 High Ceilings with Bookshelves Around the Window
The muted gray-blue shade adds a calm look to this room. The floor-to-ceiling bookcases are fitted around the window to add character to the room. Why would you ever leave this space?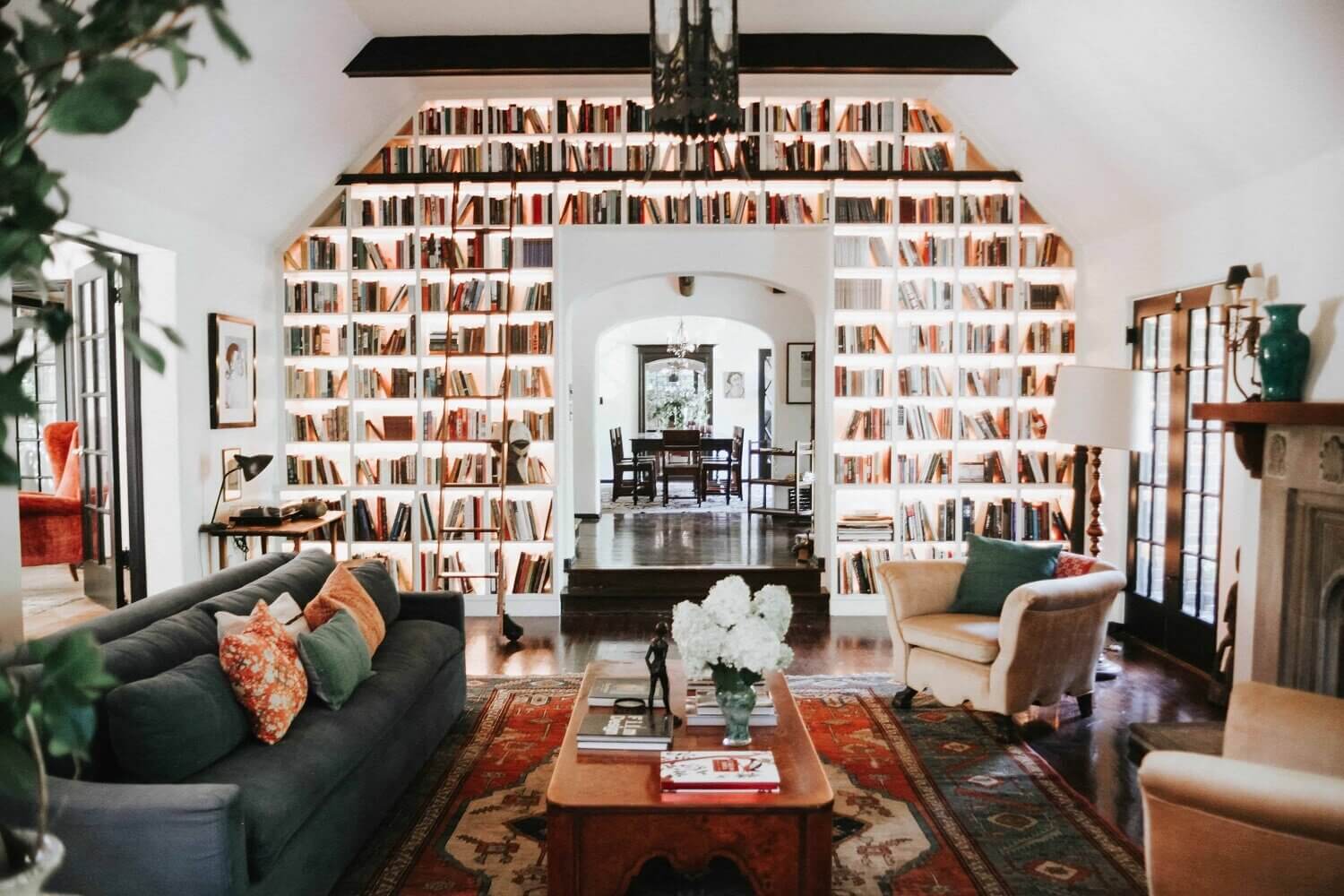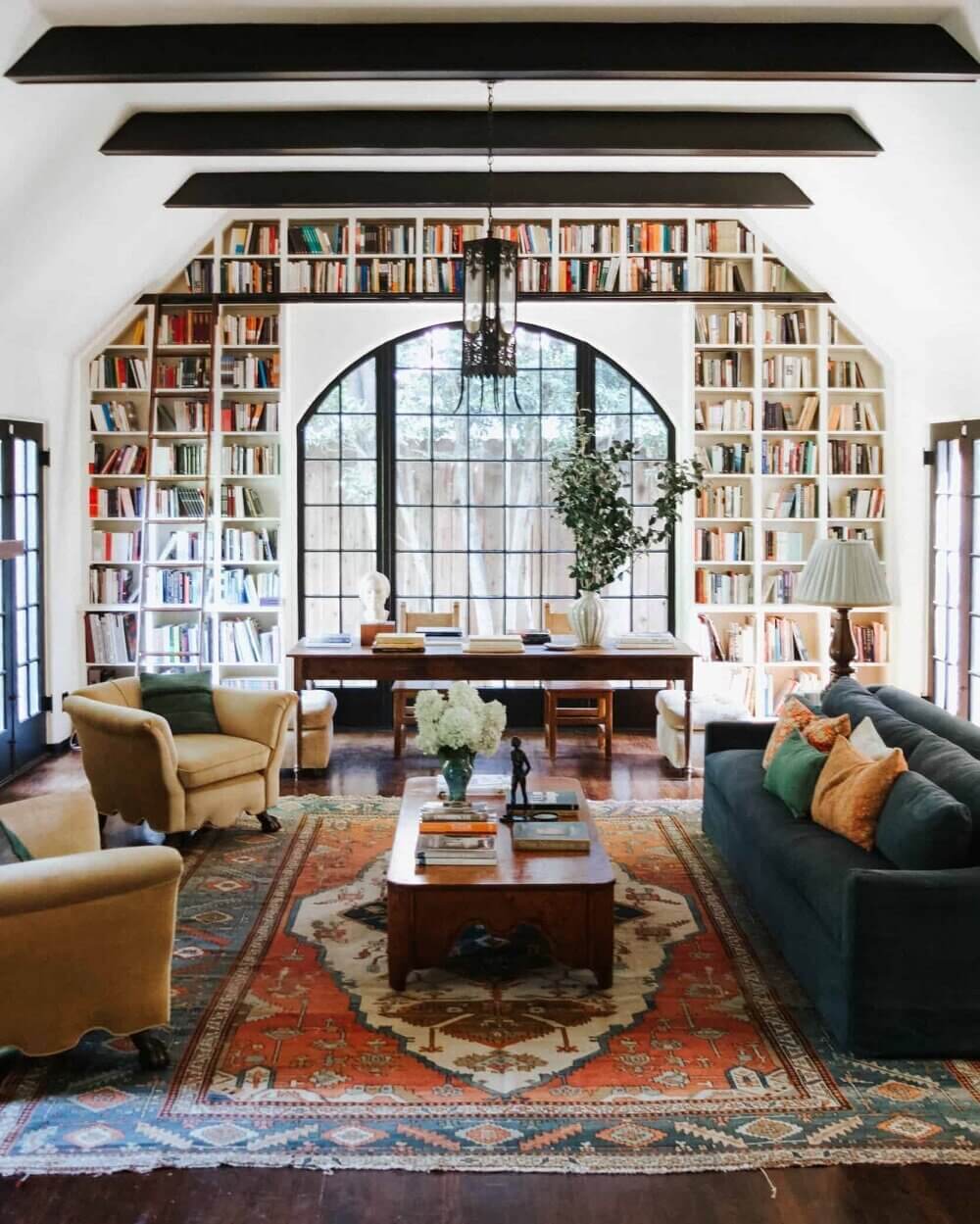 Bookshelves on Two Sides of the Room
An English Tudor house in Los Angeles features a sitting room with a home office with floor-to-ceiling bookshelves. The walls on two sides are decorated with books, and the large vintage rug and wooden furniture create the perfect library look.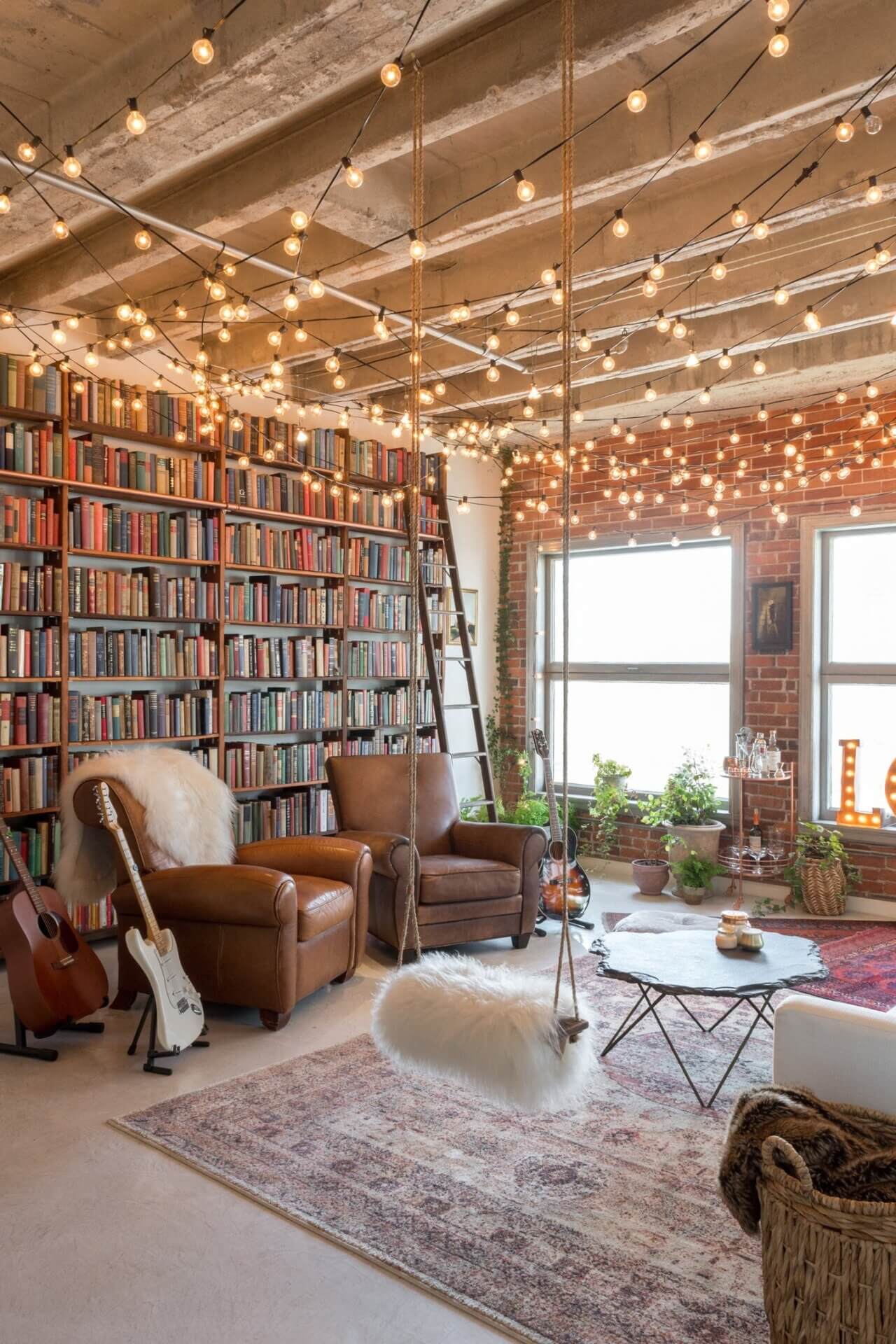 A Fairytale Room
The exposed brick wall, bookshelves, and string lights on the ceiling turn this loft living space into a fairytale room that is perfect for a day of reading.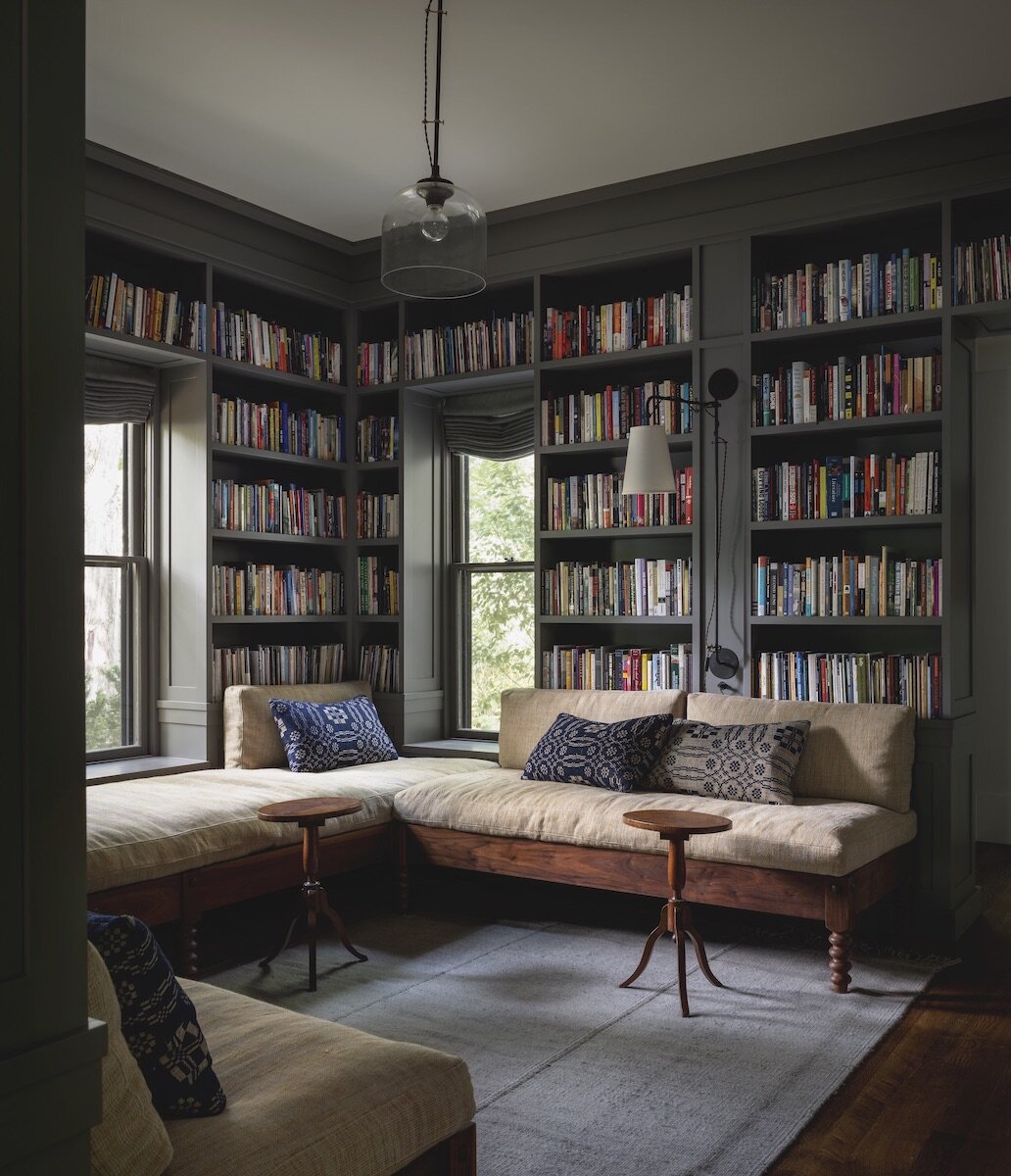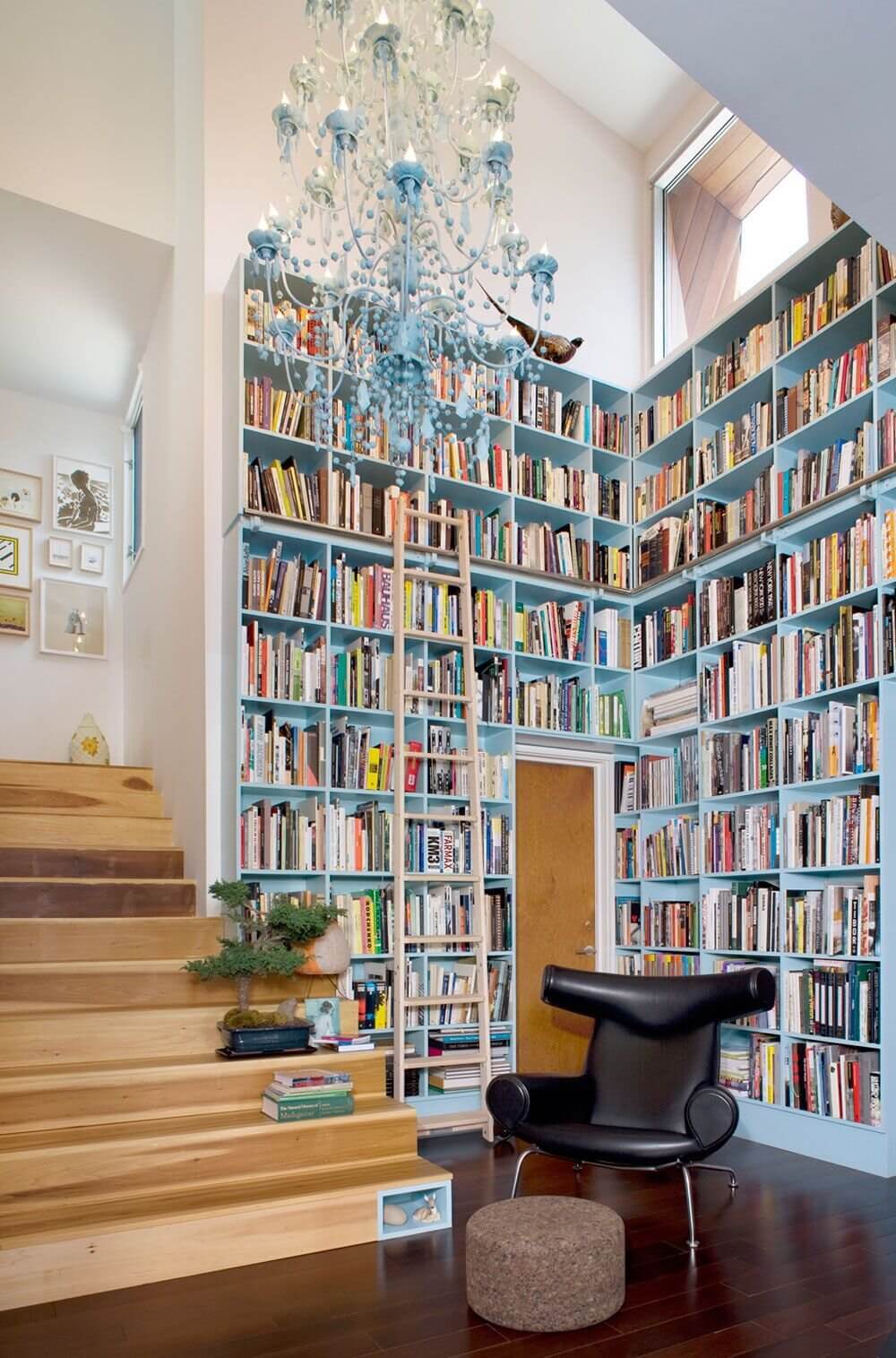 A Light Blue Library
This house makes the most of its high ceilings by fitting the walls with high bookcases. The light blue design adds a vibrant color accent to the room.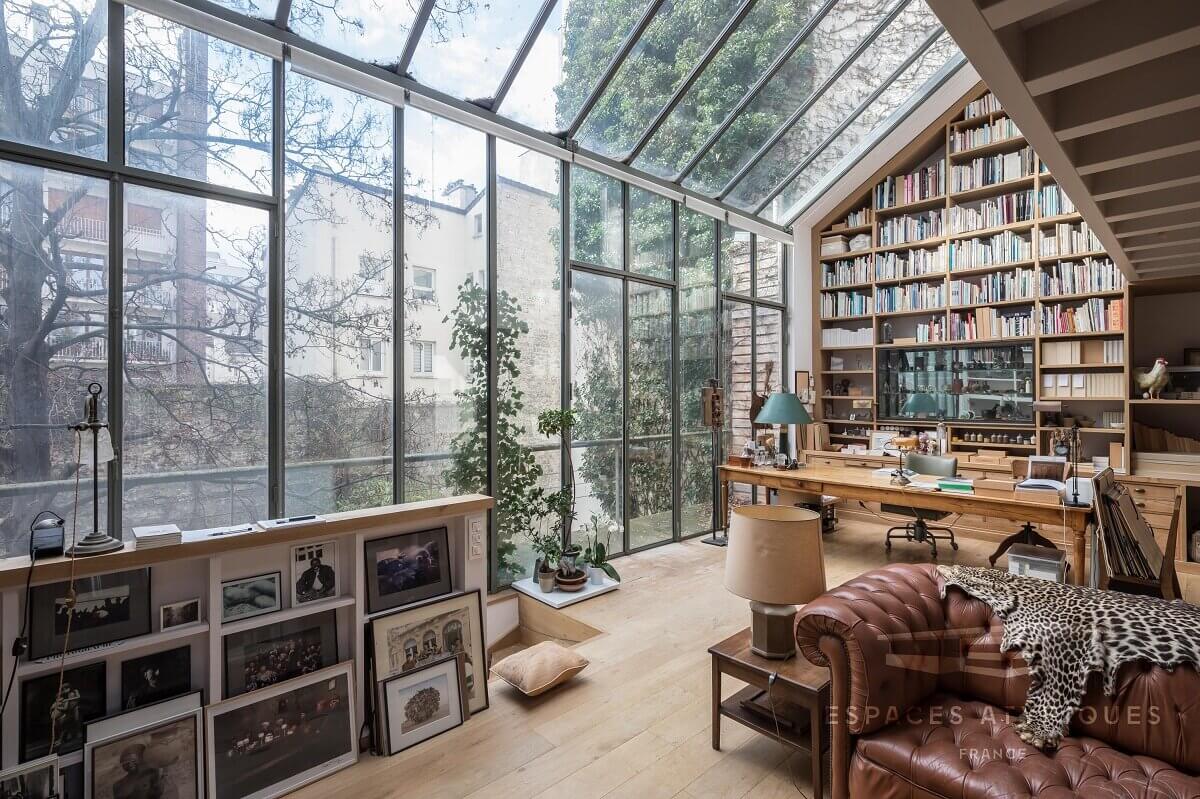 Bookshelves under a Slanted Glass Ceiling
Do you see yourself sitting here? The rain is hitting the glass ceiling, birds are chirping in the trees outside, and you sit on the leather sofa with a good book. Sounds good, right? This Paris house is a book lover's dream.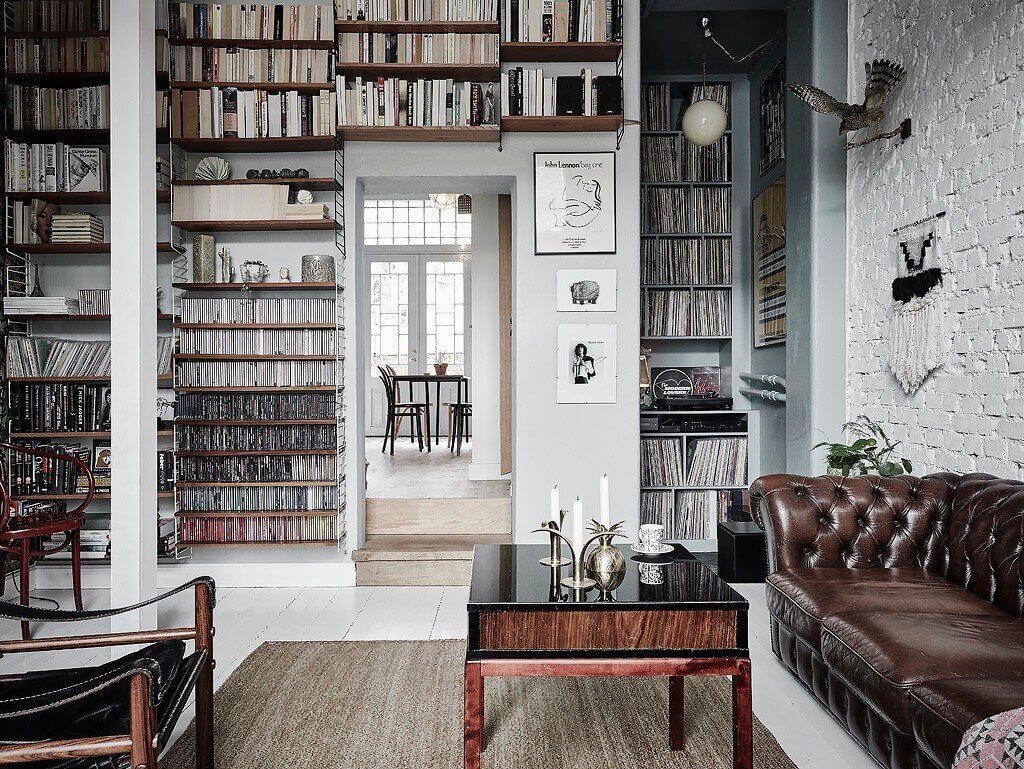 Use the Space Above the Door
This isn't a small room, but it gives great small space inspiration with the bookshelves fitted to the wall above the door. Don't waste any space when you live in a small home.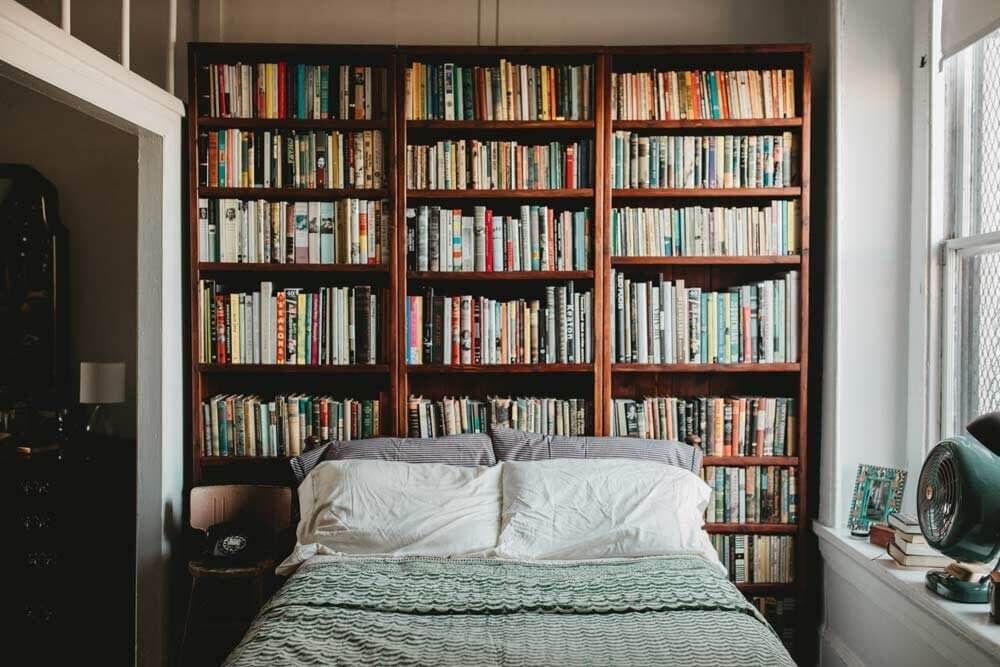 Bookcases as Headboard
Don't do this if you live in an area with earthquakes, but if you live in a quiet area you can use bookcases as a bed headboard. You don't even have to leave the bed to find a good book.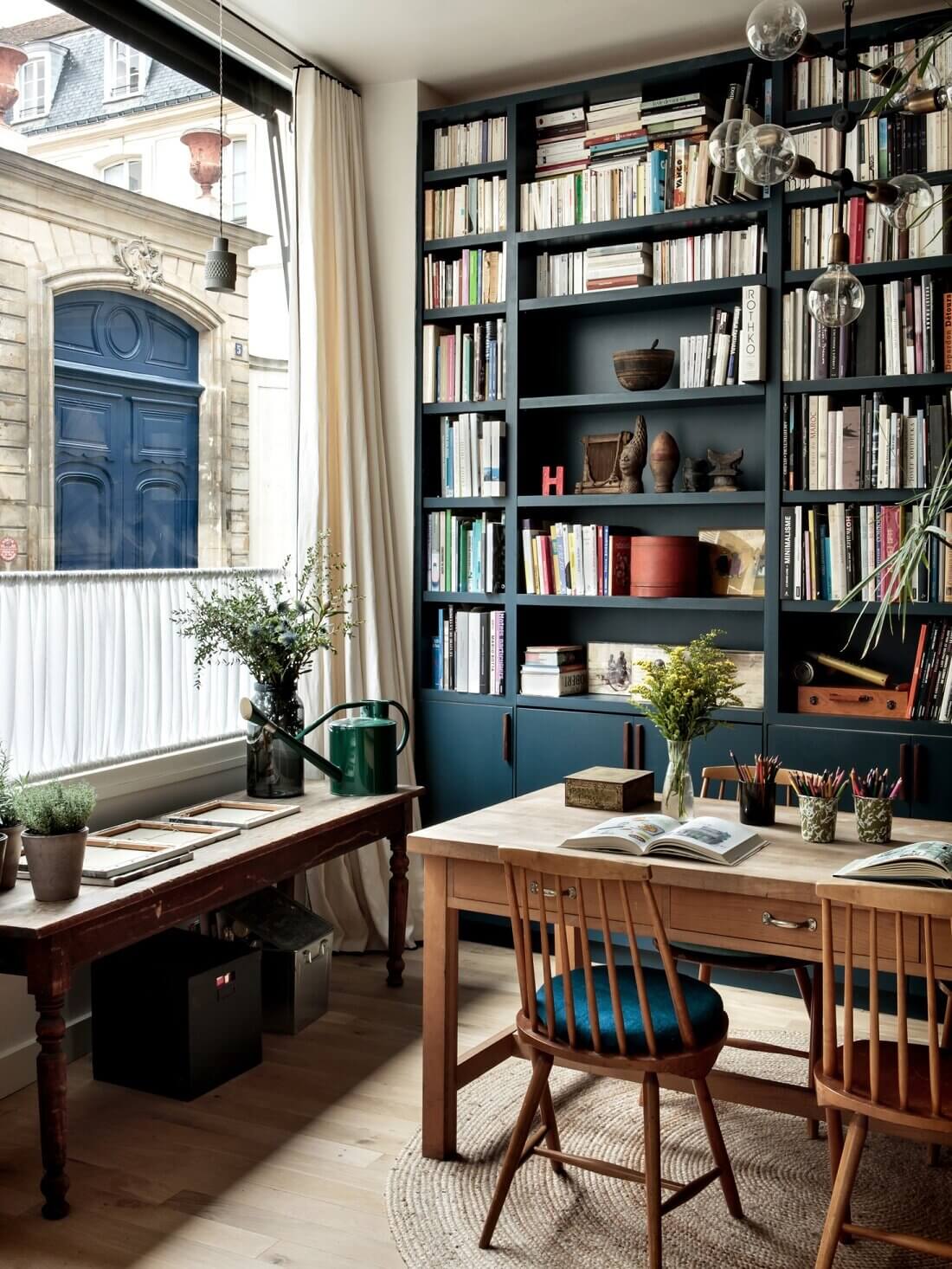 A home library in Paris – see the full home tour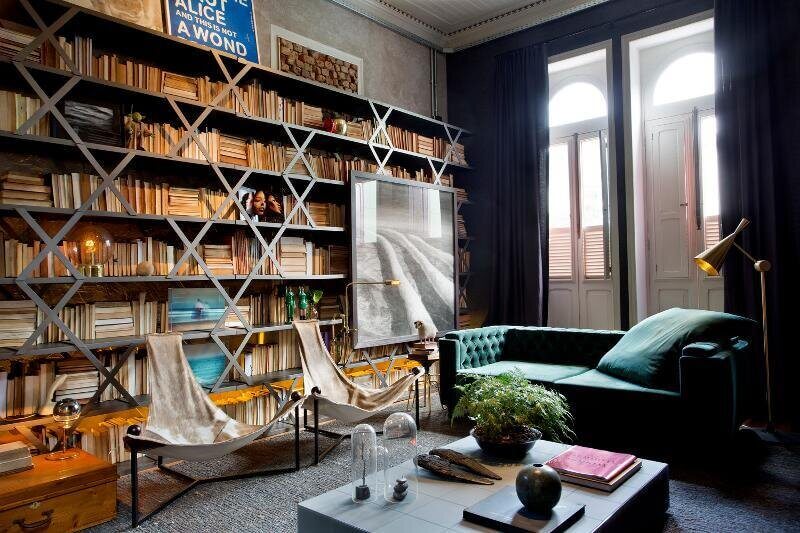 Industrial Style Bookcases
These unique bookshelves give an industrial look to the living room. The gold gray of the shelves is paired with deep green and blue tones for a beautiful home space.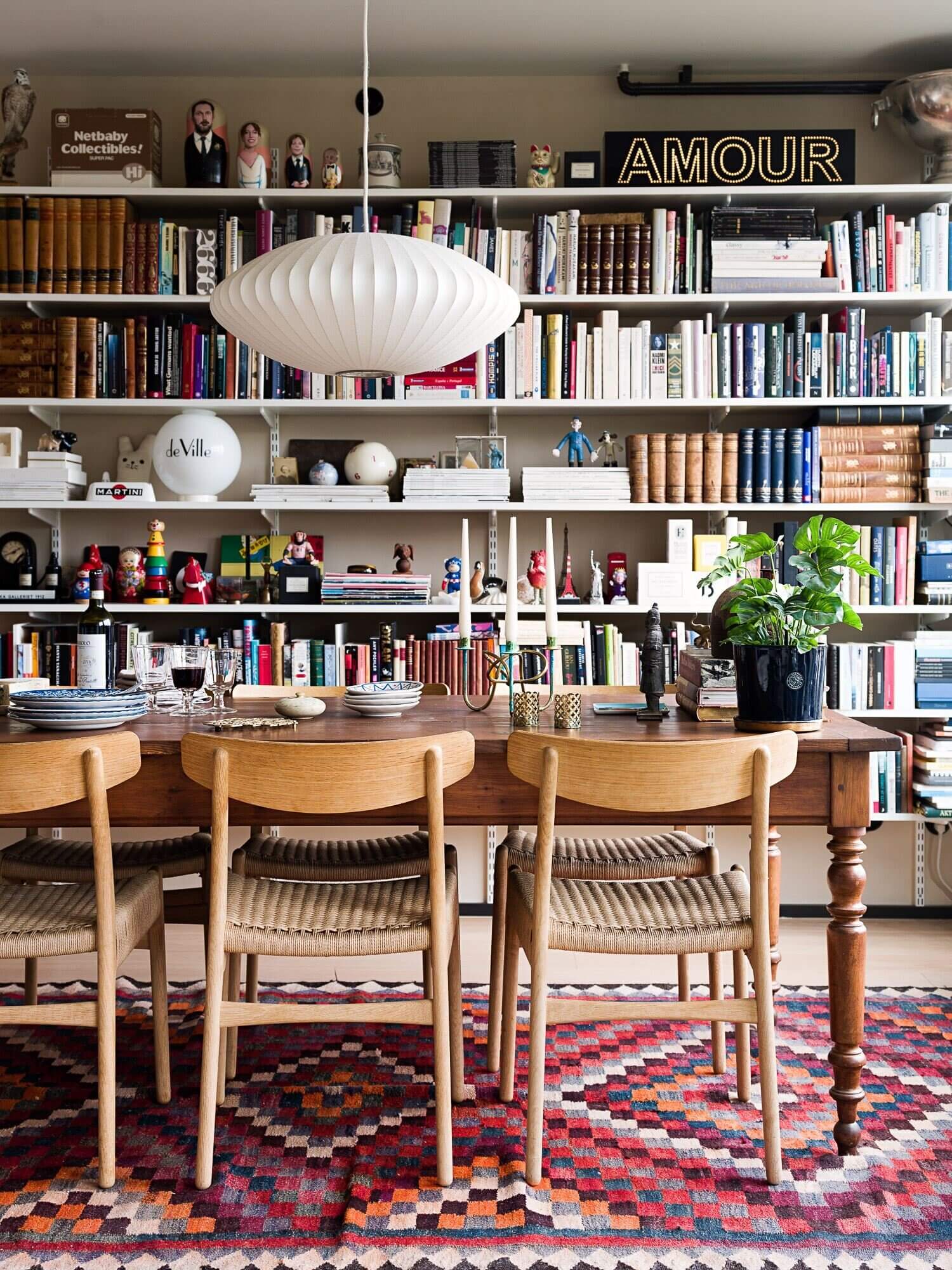 A reading spot by the dining table – see the full home tour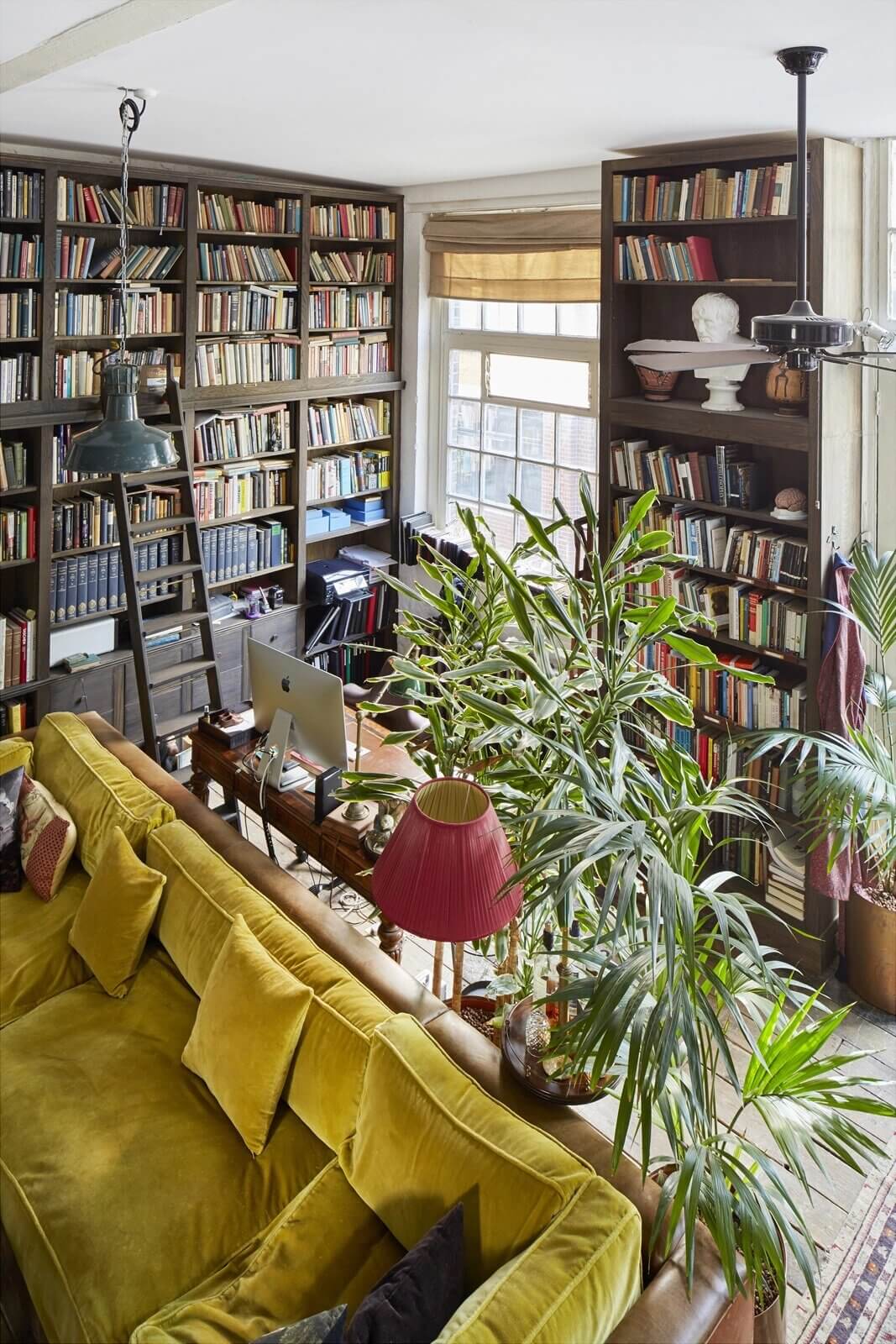 A unique book-filled home in a 19th-century print shop conversion – see the full tour here
Bookshelves in a living room nook create a cozy reading spot – see the full home tour